Georgian Trail E-Bike Rentals aims to empower Ontarians of all types to explore the sights, sounds, businesses and communities that make South Georgian Bay so worth exploring. In our humble opinion, they're providing a missing ingredient for a seriously memorable visit to this region.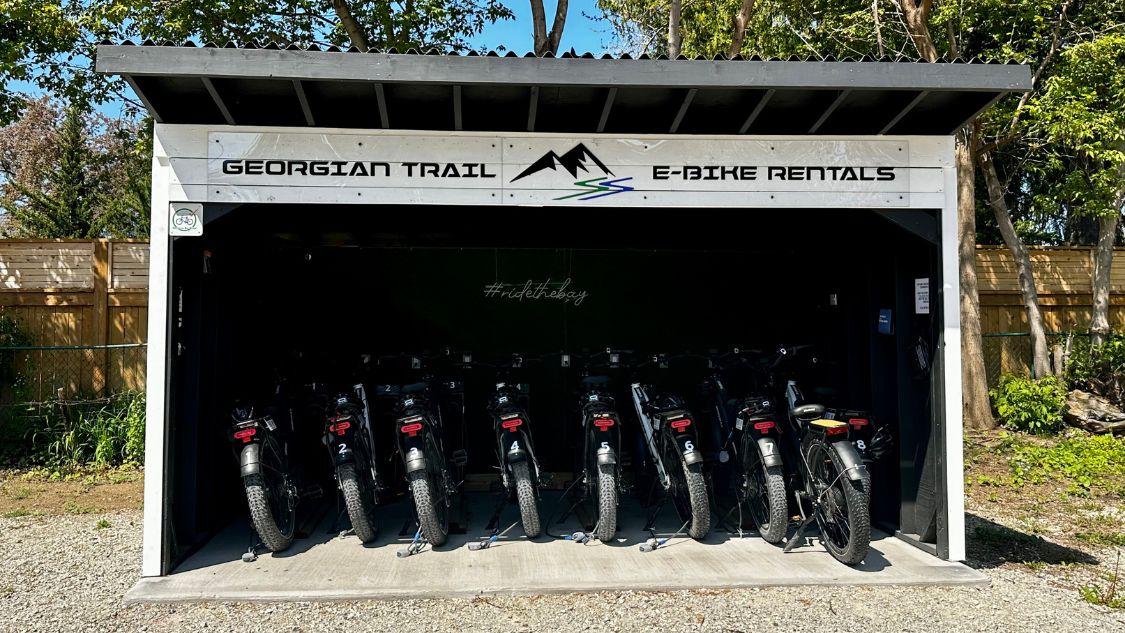 ---
Don't get us wrong, we love road trips, but there's no refuting the fact that it's hard to take everything in when you're going 100 kilometres per hour. And, when walking, it's hard to cover enough ground to feel like you've genuinely explored a destination.
That's why we've always shouted from the rooftops that cycling provides a happy medium – you're going the right speed to take everything in, and you can cover a good amount of an area of this province. That's even more true when you're on an e-bike, as you'll have assistance and support to cover a fair distance, and not arrive at all your stops exhausted.
Cycling purists miss the fact that e-biking makes cycling more accessible for all. You don't need to even use the assistance, but it's there, and that's comforting for a lot of folks, as well as being extremely useful.
Everyone deserves the chance to explore a region like South Georgian Bay on their terms, and Georgian Trail E-Bikes does a brilliant job of facilitating that. It's about not letting ailments or age get in the way of adventure.
How Did Georgian Trail E-Bikes Come to Be?
Ultimate Ontario, as many of you know, stands firmly behind the small businesses that make this province such a joy to travel in. We were fortunate to catch up with the team behind this venture to get you the inside scoop!
"Georgian Trail E-Bike Rentals is run by two sisters. On a family vacation to Florida our then-three-year-old son/nephew (depending on the sister you're talking to) stopped in his tracks to ask his dad if a bike he saw outside a restaurant was a bicycle or a motorcycle. The owner of the bike happily chimed in and replied to this curious toddler with an 'actually it's kind of a mix of both.' After about 45 minutes of chatting with him about his passion for e-biking we knew we had to give it a try, and we knew we had to find a way to offer this experience back home in Collingwood.

It's hard not to embrace the outdoors when living in Collingwood or its surrounding areas. We were prompted to start this mainly because of South Georgian Bay's amazing trail systems and scenery. Locals and tourists to this area know better than anyone how to make the most of all seasons and turn the simplest day into an adventure.

We quickly decided a rental service would be a fun way to get as many people as possible trying out e-bikes, and after some prior hands-on experience getting creative with business models that were suitable for pandemic restrictions we went with a contactless service for ease and efficiency.

After only a few months in business we were presented with the Best Bicycle Business award by Ontario by Bike for our region (RTO7)!"
How Can You Take Advantage of What They're Offering?
Currently, Georgian Trail E-Bikes have locations in Collingwood, the Blue Mountains, and Creemore "with intentions to expand further by the fall and into next season."
Reservations can be made on their site. Guests can instantly select the location to rent from under "Book Now," then selecting the e-bike and date they'd like to book. You can technically book this minutes prior and be on your merry way, but you're smart to book in advance to ensure e-bike availability. You can use the code "ultimateontario" to get 10% off, by the way!
Once the order is complete, an email is sent out with important information and friendly reminders of what they recommend to bring with you, along with a link to their electronic waiver. Before you access the waiver, you'll watch a brief video explaining how to operate the e-bike and its controls is shared as a tutorial.
Once the waiver has been completed a code for the bike lock(s) is sent out via text message.
When you're finished your ride, simply return your bike and helmet to the same location, and place the lock over the frame. Easy peasy.
We should note here as well that there are signs and friendly reminders at each of the locations (think epic shed lined with e-bikes), in case you have any trouble.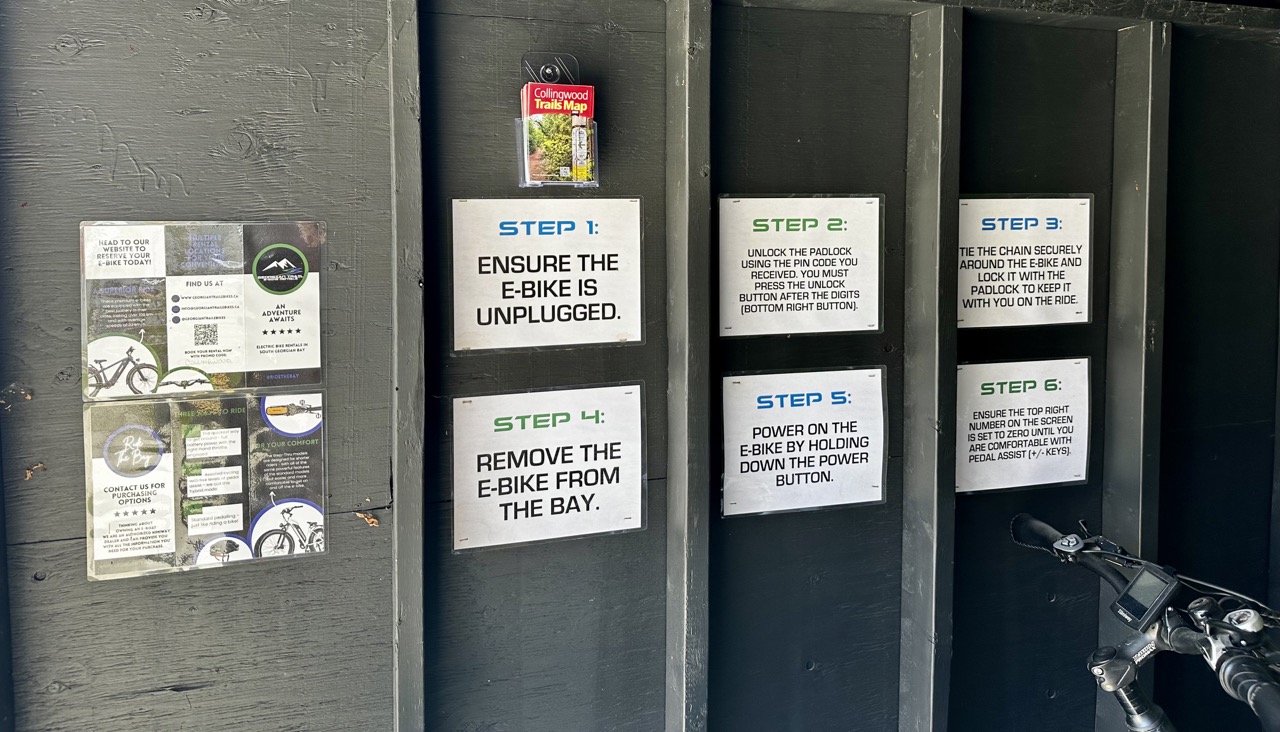 As they note, "many people (us included!) find operating an e-bike easier to do than traditional cycling. Our guests often tell us it took just a couple of minutes before they felt totally comfortable. There's nothing better than hearing people take off with an impressed 'WOAH!' once they start cycling with power during demos we have hosted.
Our e-bikes are just like pedal bikes, but with the added, yet optional, assistance of power. With 5 levels of pedal assist, riders can change up the levels depending on the challenge or assistance they are looking for. There's so much to see and do in these towns, and an e-bike is an environmentally friendly alternative to driving around, and a time-saving alternative to traditional cycling."
Where Should You Explore?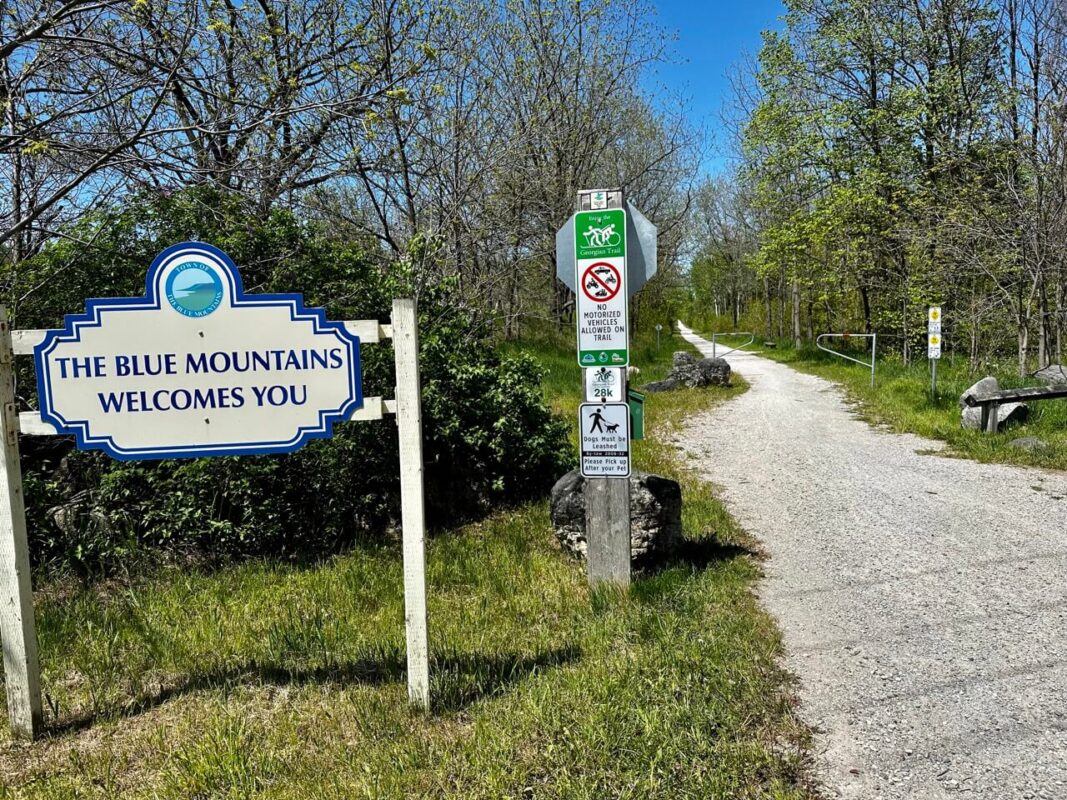 This will depend, of course, on where you rent from, but in general, riding between communities so that you get a taste of local culture is a smart idea.
We based ourselves in (and rented from) Collingwood, largely because there were a handful of spots we wanted to visit in the city itself. Namely, Gibson & Company for lunch, Low Down for dinner, and to sneak in a wellness session at the wonderful Vortex Wellness Studio on our last day before we took off (and to rest a little after all the great riding we'd done).
It was easy to hop on the famed Georgian Trail from here and head into lovely little Thornbury. It was just the excuse we needed to stop into the ever quaint Thornbury Bakery Cafe.
If you've got an adventurous group, then Scenic Caves Nature Adventures in the Town of Blue Mountains could also be on your radar.
The world is honestly your oyster in terms of how you plan your routes. We also made stops in Creemore, and dined at the The Old Mill House Pub, but there's no right or wrong way to do things.
If you're someone who likes to do planning of routes before you hop on the bike, then Cycle Simcoe's Road and Trail Maps are a great resource. Keep in mind as well that Google Maps now has a bicycle option, which will naturally prioritize bike friendly routes, so if you were in Collingwood and typed "Thornbury" into the navigation, you'd be led along the Georgian Trail.
You might also want to plan some stops on the Apple Pie Trail!
The Down By the Bay Passport Program
Georgian Trail E-Bikes aims to help people explore this region in more depth, and they do that standing side by side with some of the local businesses that make it special.
Currently, they've partnered up with the following businesses, and you'll get individual promotion details on them after you've made a rental booking.
Low Down (Collingwood)
Blue Mountain Tea Company (Collingwood)
Good Grief Coffee Roasters – (Thornbury)
YF Patissier Chocolatier – (Creemore)
Bank Cafe – (Creemore)
"What we've always loved about the area is the collaboration among local businesses and it's really important for us to showcase not only the amazing trails and scenery, but also the one-of-a-kind shops and stops. Community over competition is the epitome of South Georgian Bay and we are having a blast meeting new people from local businesses and teaming up on unique ways to collaborate."
What Else Do You Need to Know?
Hopefully, by now, you're as excited by all this as we are, but to make sure you ready to rock and roll, we want to provide a few further details.
There are two bikes that you'll have the chance to rent. The Zebra (what we rode) is an all terrain electric fat tire bike that's perfect for tackling those trails. It has a range of about 130 kilometres, and comes equipped with headlights and tail lights. The Zebra Step-Thru is roughly the same, but is a little more comfortable and easy to ride, so could be prioritized for shorter distances. The bikes are in excellent shape, we might add.
The process is contactless and seamless. Rentals are available 7 days a week between 8am-8pm. As of the time of publishing, you can purchase a half-day (4 hours) for $55, or a full day (8 hours) for $75. Keep in mind, with an e-bike, you can cover a lot of ground in a short period of time.
The team at Georgian Trail E-Bikes is passionate about cycling and helping people explore. As they noted to me, "we want to make e-biking accessible for as many people as possible and will make modifications where possible to accommodate as many people as we can."
They do that while recognizing that "there is so much to see and do here…there's always something fun to experience, an event to attend, and great places to see."
They currently have 16 e-bikes on offer, double from what they had last year, and we want to see them grow because we firmly believe this is a venture which directly improves the way that people can explore and appreciate the South Georgian Bay Region at large.
Christopher Mitchell is the Cofounder of Ultimate Ontario. He's visited over 80 countries, and has lived on 4 continents, but now has his eyes set squarely on exploring this incredible province, and helping others do the same.