The Indigenous Walks Ottawa art tour offers a unique view of the sculptures and monuments that are presented across Canada's capital city.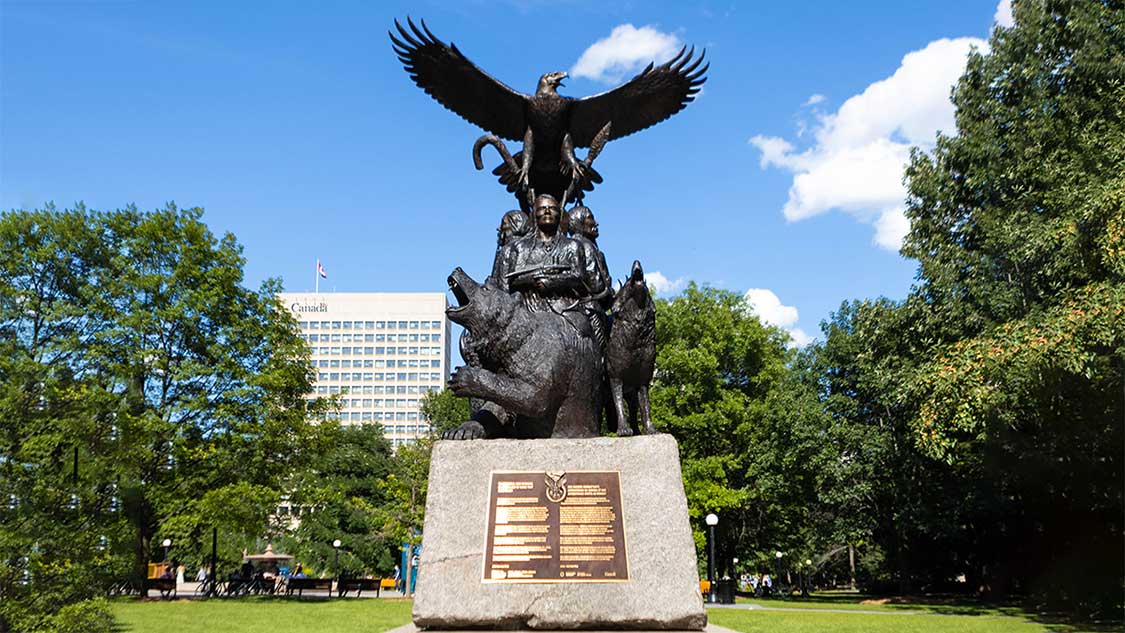 The summer heat was just starting to make itself known when I met up with Indigenous Walks founder Jaime Morse at the Monument of Human Rights on Elgin St. in Ottawa. I didn't expect this to be one of those moments where I was confronted with my own privilege as a middle-class white guy, but by the time this Indigenous Ottawa art tour was over, I was seeing the city through a completely different lens.
I was exploring the city with my wife and children on a large project with the Indigenous Tourism Association of Canada, taking in some of the acclaimed Indigenous experiences in the province. I had already spent time stand up paddling along the Toronto waterfront and exploring the beauty and history of the Six Nations community near Brantford. And while those experiences were amazing, none of them hit me quite like this Ottawa art walk.
As I walked up to the monument there was a small protest taking place nearby, a group of passionate people shouted and chanted and handed me flyers which I promptly tossed into the nearest recycling bin.
Jamie waved at us as we approach, her broad smile was hidden beneath a mask, but her eyes made it clear that it was there. She greeted us and we got right down to business. Her choice of starting her tour at the Canadian Tribute for Human Rights was not one that subtle.
Morse is of Michif (Métis), with Nehiyaw (Cree) and German ancestry. When she isn't offering tours of the public art installations in Ottawa, she works as art educator at the National Art Gallery of Canada. So when it came to understanding the Indigenous perspective on installations around the city, there are few people better equipped.
Human Rights Is All About Perspective
This understated structure stands as a tribute to Article One of the United Nations Universal Declaration of Human Rights: "All human beings are born free and equal in dignity and rights."
And this sentence is repeated, brick by brick, in 73 of the Indigenous languages used across Canada. This monument, Morse pointed out, was a street named for Lord Elgin, a former Canadian Governor General who was not only partially responsible for the development of Canada's infamous residential school system but was instrumental in convincing many of the communities to pay for it out of their Treaty funds. He was also instrumental in encouraging the forced sterilization of many Indigenous women.
The second that this bomb dropped, my attention was rapt. And so was that of my children.
You see, I consider myself relatively well-versed in Canada's aboriginal history. I work regularly to promote Indigenous owned and run experiences not only across the province but throughout Canada and the world.
In fact, just before leaving Ottawa I had been talking with my eldest son who was reading about Tom Longboat and his escape from the residential school system. My son looked to Longboat as a hero, and I held that as a point of pride.
But the glaring oversight of placing a monument dedicated to human rights on a street named after one of the architects of Canada's worst human rights abuses was gut-wrenching.
Indigenous-Led Ottawa Art Tour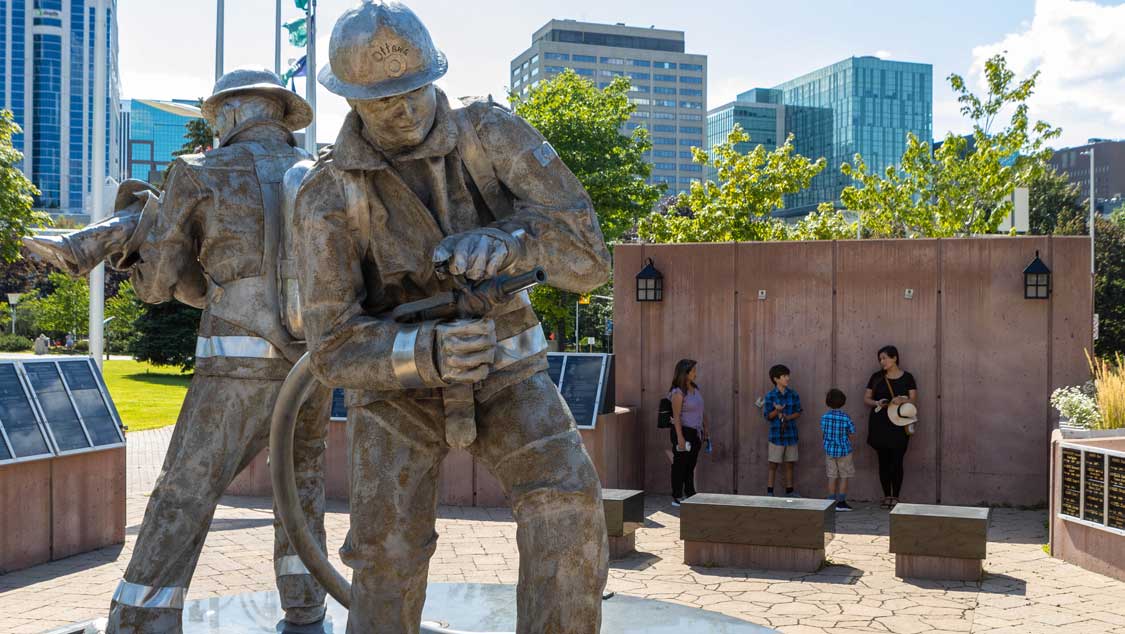 Jamie's tour lasted about an hour and a half. As we walked through some of the many installations throughout Confederation Park, City Hall, and the Canadian Sports Hall of Fame, I was hit, time and time again, with the oversight, whether intentional, or not, of the placement and consideration of Canada's Indigenous population as these exhibits were either crafted, planned, or placed.
Now, not all of the artwork took on a negative twist. There were absolutely beautiful pieces that expressed stories of strength and perseverance. Yet these were often tucked away in alcoves or within walkways, far from the eye of the general public.
However, some were striking either in their lack of stature or in their complete omission. This brings us back to Tom Longboat. Longboat was one of Canada's most celebrated and famous distance runners. He grew up in the Onandaga First Nations in the Six Nations community in Ontario and went on to world fame as one of the top distance runners in the world back in 1918 before being sent to war.
As Jamie brought us along the walls of the Canadian Sports Hall of Fame, the boys kept asking "where is Tom's statue?" And that is when Morse turned to us and let us know that Tom Longboat, one of the most famed athletes in early Canada was never honoured with a place in the Canadian Sports Hall of Fame. And the only statue of him sits in his home community of Six Nations.
A Lesson In Contrasts
One of the most fascinating stops was in Confederation Park. There were two Indigenous monuments here, the first, and most popular photo stop is the 12 metre tall totem pole created by Henry Hunt of the Kwakwaka'wakw First Nations of Fort Rupert, B.C.
The second, and most stunning is the National Aboriginal Veterans Monument. This gorgeous monument features a golden eagle acting as a messenger between the Creator and man. Below sit the likeness of four Indigenous peoples representing First Nations, Inuit, and Metis. Each faces one of the four sacred directions.
This sculpture, created by Lloyd Pinay of the Peepeekisis First Nation in Saskatchewan is at all times striking, powerful, and humble in its depiction of the Indigenous peoples in Canada. The sculpture though is dwarfed by a single factor. It is placed directly opposite the towering Lord Elgin Hotel. And due to its positioning, spends its mornings in the shadow of the very name that began a culture of oppression of many of the Indigenous peoples in Canada.
But the First Nations soldier that stands opposite the Lord Elgin Hotel is presented with such grace and stature that it seems to stand in quiet defiance of the mortar and stone across the road. He stands holding a peace pipe, and by his side are the roaring figures of a wolf, signifying healing, and a bear, symbolizing family values.
Indigenous Walks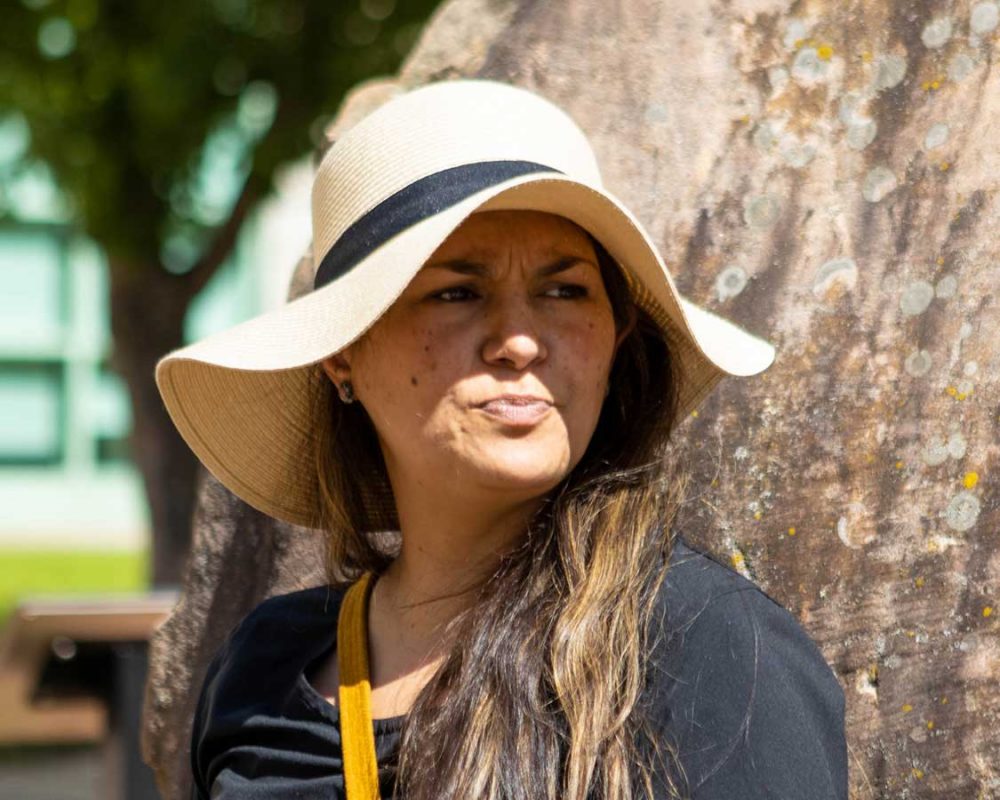 Canadian history is steeped in missteps that the government and it's people are continuing to learn from. As a nation, we still break, and ignore many of the treaty rights that were negotiated long before we were born. But hopefully, with the help of leaders and educators such as Jamie Morse, we'll continue a path of healing and leave many of our false teachings and preconceptions behind.
Jamie's ability to speak to sensitive topics in a language that anyone can understand was inspiring. Even my six-year-old son could comprehend was able to take in information that I thought would be far beyond his years. And she was able to answer and guide some of those difficult questions that only the innocence of a child could think to put into words. In fact, this tour led to some in-depth discussions about all that we had learned along the way.
Indigenous Walks is a tour that every Canadian and visitor to Canada should take if they make the trip to Ottawa. You will learn more in this short Ottawa art tour than you might have ever learned in the classroom. And when you're finished, you'll learn to look at everything around you with new eyes. And that is the kind of travel experience that you just can't put a value on.
You can register for Jamie's Indigenous Walks tours right here.
Note: I was a guest of Indigenous Walks and the Indigenous Tourism Association of Canada for this activity. All words and opinions are my own.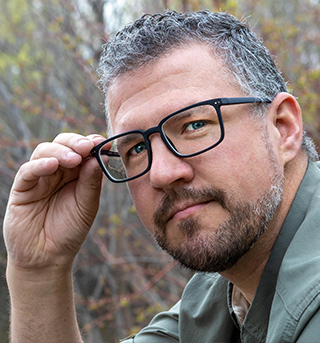 Kevin Wagar is a founder and editor of Ultimate Ontario. He has been working in the travel media industry since 2015 when he founded his family travel website Wandering Wagars – Adventure Family Travel.
Over the years Kevin has developed a deep love for his home province of Ontario and aims to showcase the incredible experiences and amazing small businesses found within it.