With 49-foot walls and rock climbing for all ages and skill levels, Mississauga rock climbing has never been better. Tackle the Dragon at Hub Climbing Mississauga, Canada's largest rock climbing gym.
Indoor rock climbing is one of the fastest-growing sports in Ontario. With a combination of strategy, fitness, balance, and determination, rock climbing is a fun and exciting way to get in shape and have fun while doing it. With three gyms spread across the city, Mississauga rock climbing has never been more accessible.
The three rock climbing gyms in Mississauga are Cave Rock Climbing on Argentia Rd., Up The Bloc on Dundas St. E., and Canada's largest rock climbing gym, Hub Climbing, on Hawkestone Rd.
While the thrill and strategy behind conquering vertical walls and overhangs might not appeal to everyone, those who take on the challenge embrace it with a near feverish resolve.
On a recent visit to Hub Climbing Gym, it didn't take me long to understand the draw of the sport and why those who get hooked just can't seem to keep away from it. And the skills learned from the sport opens up a whole world of outdoor adventures in Ontario.
Hub Climbing Mississauga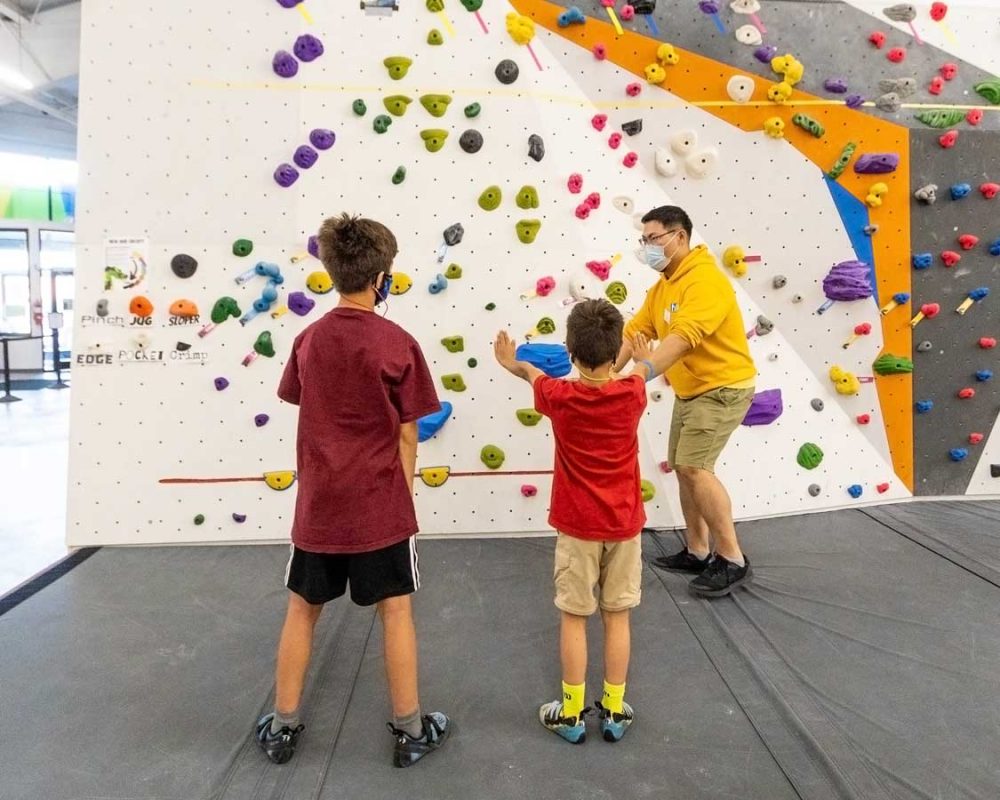 Hub Climbing Gym launched in February 2019 after three years of construction and team-building. Build as an expansion from Hub Climbing's popular Markham gym, the company had one goal in mind when they settled on their Hawkestone Rd. location, that was to build Canada's largest rock climbing gym.
Although the building they chose was just 39-feet tall and their lease prohibited them from raising the roof, some creative thinking and engineering had them looking down. They dug a pit in the centre of the building allowing them to blow past the current 45-foot record and reach a top wall height of 49-feet.
At the top of the pit, sitting 48-feet high is the highlight of the gym. Darwin the Dragon is a 48-foot climbing wall topped with a massive overhang in the shape of a dragon's head. And it holds indoor rock climbing routes for both beginner and expert climbers.
Spread across the 30,500 square feet of gym space gym are a wide array of both top rope and auto-belay systems, so even if you don't have a partner to climb with, you can still join the Mississauga rock climbing gym. Hub Climbing Gym also has a great range of bouldering routes, fitness equipment, and even an augmented reality climbing wall that is perfect for kids.
Mississauga Rock Climbing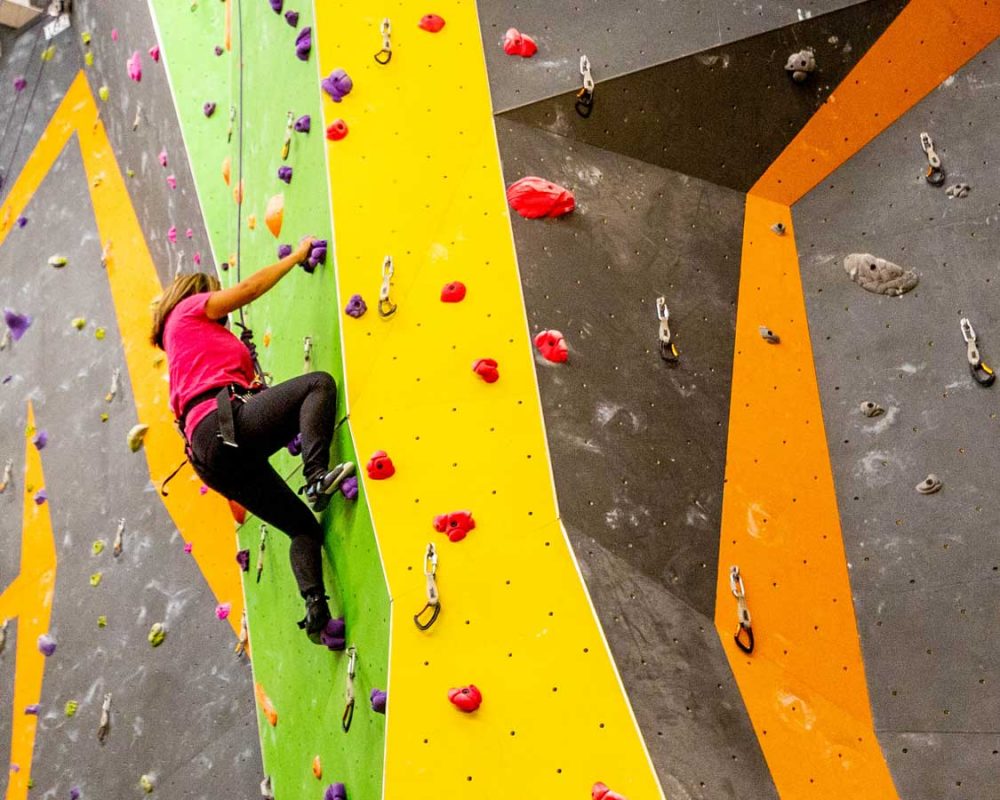 I made the visit to Hub rock climbing gym in Mississauga with my wife and kids. Due to current regulations, the gym is accessed by appointment only and most climbing sessions last 90-minutes, although once things open up they will also have all-day passes that include in-and-out privileges.
It had been about 15-years since I had last been climbing, and my wife and two boys hadn't ever climbed before. The staff at Hub Climbing, in the case of our visit, an awesome guy named Sunny, helped get us comfortable with the auto-belay systems that would lower us gently to the ground if we fell.
The system was incredibly easy to learn, but less so to get comfortable with. It took a few tries before I could comfortably drop off the wall and trust that the rope would take my weight.
Rock Climbing
The gym has a fantastic beginner area set away from the main gym so that those new to climbing can "learn the ropes" so to speak, and get comfortable without feeling overwhelmed by seeing climbers tackle the expert routes out in the main climbing gym.
After a few runs up and down though, we were all ready to try something bigger. So we made our way out to the advanced area to try some of the 30-35-foot walls that line the outside of the A-Frame building. Soon, we were zipping up and down 5.5, 5.7, and even a 5.8 wall. Well, I should say that my kids were zipping up and down. My style was closer to a hippo climbing a tree, but it was still a lot of fun.
Bouldering
We took a break from the big walls and spent some time bouldering. Bouldering is similar to rock climbing, but there are no ropes involved. Instead, you climb without ropes along smaller walls with a goal of scrambling across the walls rather than reaching the top.
These walls have softer pads at the bottom to absorb the impact of any falls. And the HUB Climbing team has a whole process in place to teach all of their visitors how to fall properly before they are allowed to attempt any of the walls.
The bouldering walls had every level of difficulty that you can imagine. Some looked to us newcomers as physically impossible, yet there were still climbers spread out along each one trying their best to find angles and holds.
The bouldering was a lot of fun. We would spend time scrambling along the walls, contorting our bodies in ways that would help us stay close to the wall and keep our hands and feet from slipping off. Bouldering was, without a doubt, more challenging than standard rock climbing due to the lack of rope support, but that just made every choice that much more important. And that made it just as much fun.
Artificial Reality Bouldering Wall
My kids had so much fun bouldering at Hub Climbing Gym that we had to, literally, tear them off the walls to get them to try the artificial reality bouldering wall. But once they hopped on, it was almost impossible to pull them away. This AR climbing wall is packed with different games for 1-2 players.
The wall is specifically designed to get young kids excited about rock climbing. It's built for kids aged 10-and under. But a bigger concept would be a blast for adults as well. This wall alone could have kept my kids active for hours on end as they competed to rack up the highest score on bubble-burst.
Conquering The Dragon At Hub Climbing Gym in Mississauga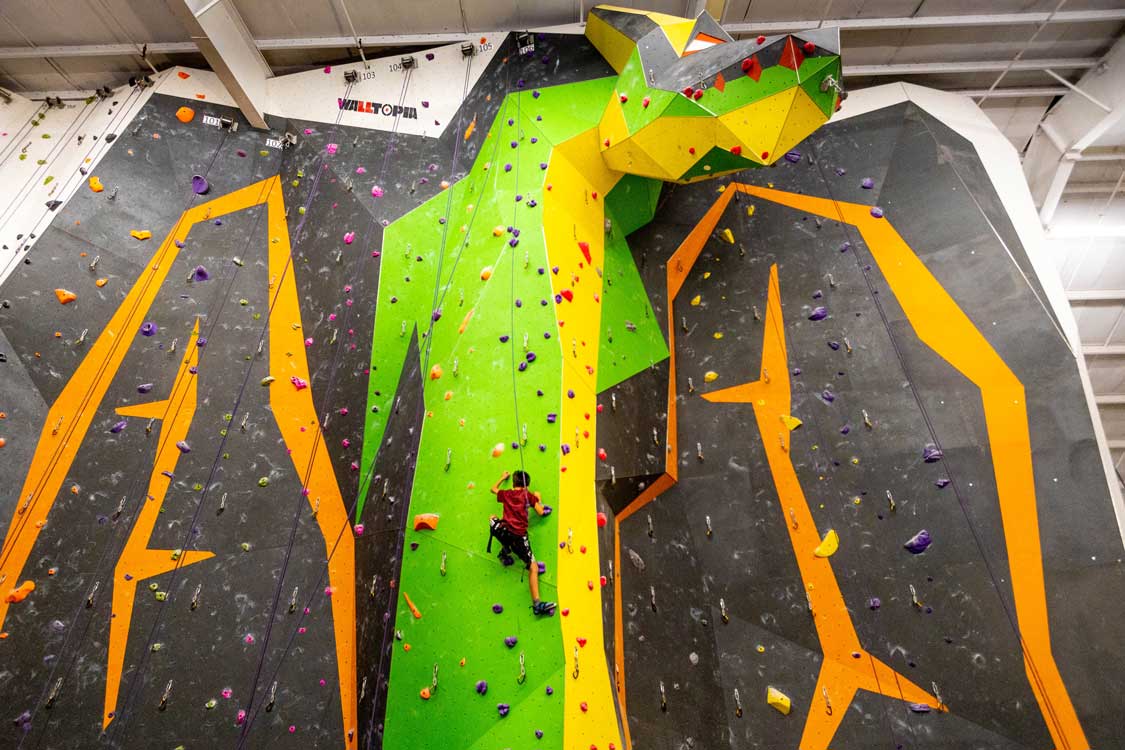 With our fingers trembling from 90-minutes of climbing, there was just one more thing for us to tackle before our day of Mississauga rock climbing would come to an end. And it was staring down at us from 48-feet above the base of the Pit.
Darwin the Dragon is the resident mascot of Hub Climbing Mississauga. And, this towering green monster represents one of the most challenging climbs in the gym. However, Darwin also has a relatively tame 5.6 difficulty climb that is an awesome experience for all skill levels. Although, at 48 feet, it helps to have the stamina to make it to the top.
The climb to the top of Darwin is only offered with a manual belay system, so Sunny from Hub Climbing was kind enough to run the ropes while we made the climb. And climb we did, all four of us made it eye-to-eye with Darwin, although our fingers were trembling from the effort by the time we made the top.
Now It's Time For Your to try Mississauga Rock Climbing at Hub Climbing For Yourself
Whether you're just considering trying Mississauga rock climbing for the first time, or if you're an expert looking to test out your skills at Canada's largest rock climbing gym, Hub Climbing Mississauga is a place that you shouldn't miss.
Many of these businesses and restaurants are anxious for visitors after a tough year. So let's support local and make the most of your Ontario travel experience.
Do you have a favourite city, attraction or restaurant in Ontario? Head over to the Ultimate Ontario Facebook Community and join the conversation! You'll find an amazing group of people passionate about Ontario and who love to share their local secrets.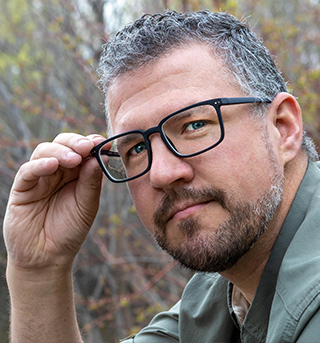 Kevin Wagar is a founder and editor of Ultimate Ontario. He has been working in the travel media industry since 2015 when he founded his family travel website Wandering Wagars – Adventure Family Travel.
Over the years Kevin has developed a deep love for his home province of Ontario and aims to showcase the incredible experiences and amazing small businesses found within it.