Perth County's Farm Gate Map is all about getting right to the source of the local food scene in an area that's been known for its farms and agriculture for quite some time, and rightfully so.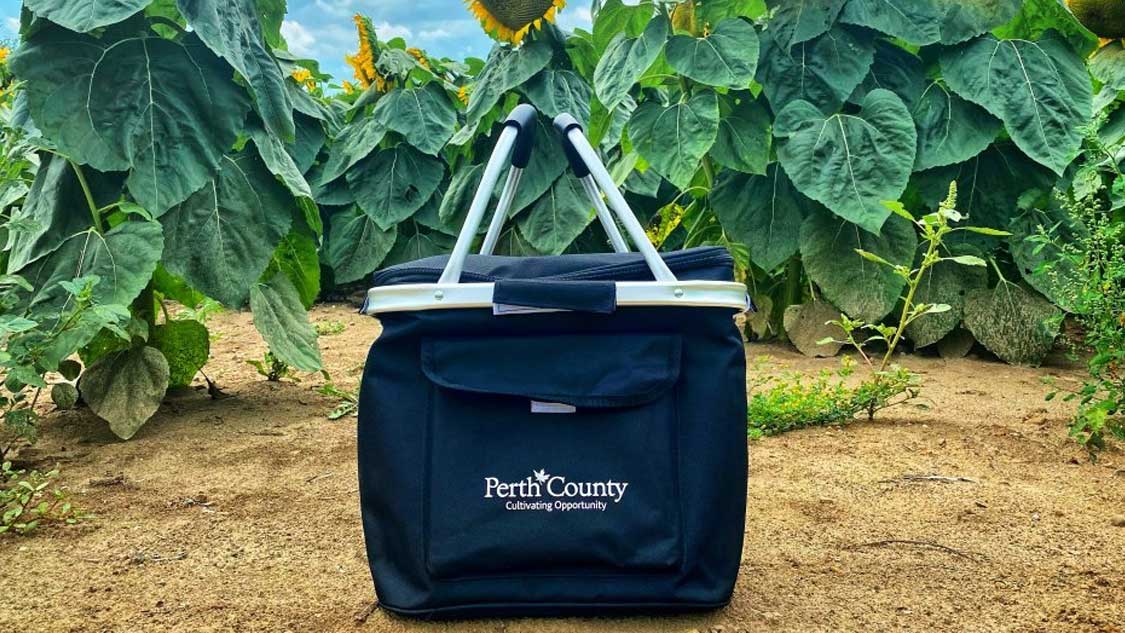 ---
Sometimes, it's downright fun to just hop in your car without too much of a plan and to decide that it's road trip time. However, without a little structure and intention, sometimes a road trip can accidentally veer off course. That's part of the reason that we're a huge fan of Perth County's Farm Gate Map.
Those who love to carefully plan can use the Farm Gate Map to plan things down to the very last detail, while those who like to wing it can know that, wherever they are in Perth County, they're never far from one of the over 65 Farm Gate locations and, if need be, they can use the map to find the nearest spot.
Longtime readers will also know that, at Ultimate Ontario, we try to put our money where our mouth is as far as supporting local initiatives, and that means taking the time to let our readers know about fantastic initiatives such as this, as well as the farm locations and businesses associated with it.
If you use their map as your guide, we can all but guarantee that your next visit to Perth County will be an incredible one. Let's not forget that Perth County is home to over two hundred thousands hectares of prime Ontario agricultural land.
What Exactly is the Farm Gate Map?
The first Farm Gate Map came to fruition in Perth County back in 2019, and their work on that project earned them a number or awards and accolades in the world of Ontario tourism. This year's edition was founded on the premise of three words – "Discover More Flavour."
It's more than just a user friendly map this year, however. They've got themed itineraries, signage across the county (keep your eyes open if you're headed there), and themed activity sections on the new printed map. Don't worry, we'll share the itineraries below, along with a few personal recommendations!
Also, if you're keen to get a printed version, fire off an email to [email protected]. We're told that, while supplies last, you can also pick up a printed map at municipal offices in North Perth, Perth South, Perth East and West Perth.
It's a very impressive initiative that, in our humble opinion, is a win-win. On the one hand, you're giving people the tools and motivation to get out and explore and, on the other hand, the hard working business owners of the community have some more people coming their way.
Ashley Brockelbank, the Perth County Tourism Officer, is understandably excited about the headway they've made on the Farm Gate Map. They've even got their new digital map on Google which is user-friendly and can send directions straight to your smartphone (we've embedded a digital map above for your convenience).
"I'm really excited about the improvements we have made to this program over the last couple of years. This revamped program will help promote our incredible local food producers, as well as be a valuable resource for residents and visitors looking to discover and explore local food and agriculture offerings."
Her last point is an important one. It's not just about "tourists" when it comes to Ontario tourism now. It's about helping people better explore their own backyards, and this map certainly aids in that endeavour.
What Kinds of Locations Are on the Map, Anyhow?
You'll find a few different kinds of locations on Perth County's Farm Gate Map.
Local food shops: These are locations that aren't technically located on a farm, but they source or sell locally sourced food from Perth County farms.

Home based sales: Typically, these are personal homes on a farm. They may not have a stand, but keep your eyes open for the Farm Gate sign!

Farm Gate stands: Informal Farm Gate stands that operate on a self-serve system. You can grab your desired items, and then leave money in the container provided. Don't be stressed at all if you don't see anyone operating the stand, that's the way it often works!

Farm Gate stores: Essentially, stores which operate on a farm which will have regular hours.
Please note that Amish Mennonite farms will not offer sales on Sundays.
The itineraries which you can find on the Perth County website also include suggested lunch locations and other spots in the region that they think make the region well worth the visit.
Some Farm Gate Locations That We've Checked Out For You!
Here are a few spots that we've had the pleasure of visiting thus far. Some of the businesses or locations that we'll mention below are not explicitly farm locations (restaurants etc.), but are included on Perth County's suggested Farm Gate itineraries, so we figure they're fair game to say a word or two about.
River Valley Golf Club
River Valley Golf Club is pegged as a destination on the Vegetable Exploration Farm Gate itinerary. They note that you can head here and "take a break from all the vegetables" for a moment and have a "tasty lunch with incredible views of the golf course."
They're not exaggerating either, the restaurant there looks over the 18th hole, and it's awfully nice to have a meal or a cold beverage there and watch folks finish up their round.
You might not want to follow suit is you're pressed for time, but we also decided that it was worth playing a round while we were there. It's an 18 hole semi-private course which is a shorter style course (measuring just 4734 yards from the longest tees), but it has plenty of character, and it's a fun play overall. It's also quite a pretty course.
It's not a golf resort or anything too fancy, but it's a nice little golf course if you're looking to sneak a quick round in! You can head to their website if you're keen to book a tee-time.
McCully's Hill Farm
We're huge fans of McCully's after getting the chance to visit. We arrived figuring we'd snap a few pictures, and left with more cookies than we knew what to do with, a homemade Hawaiian BBQ sauce, and carrot cake jam that, it turned out, was as good as we thought it might be.
They describe themselves as a place that "grows fresh foods in harmony with the environment," and it does seem like that's the case. They've also got a stunning patch of sunflowers, some goats on the property, and more.
It does not surprise us that Perth County has added McCully's to their Meat and Cheese Tour, their Animal Encounters Tour, and their Syrup, Jam & Honey Tour.
Itineraries aside, we'd recommend adding this to your Ontario bucket-list. They make great stuff in a picturesque Ontario setting – what more could you ask for?
Anna Mae's Bakery & Restaurant
Anna Mae's is the suggested lunch stop if you're tackling the Meat and Cheese Tour, and you should not bypass that recommendation. It's a great way to experience Mennonite culture while you're in Perth County and it's absolutely delicious.
It's a family owned and operated establishment located in Millbank that's best known for their famous broasted chicken. Basically, it's fresh marinated chicken that's dusted in their secret, special seasoning and then is carefully broasted until it's golden brown. We're hungry just writing that sentence, to be honest!
Pro tip – get the Full Meal Deal here if you've got a big appetite so you can try the homemade soup to start and have a dessert after your main course. The dessert here is sensational. If you're on your own, bring some dessert home for your partner or family, and we can guarantee they'll lovingly thank you for it!
Millbank Cheese & Butter
They've been making artisan cheeses here since 1908, and a visit to their store in Millbank suggests that they've managed to keep their passion for cheese making very much alive. We're keen to head back there with a cooler and load up on cheese (particularly some of their caramelized onion cheese).
They also offer local poultry, ice cream, frozen yoghurt, and gourmet salad dressings. There's also a little LCBO section in their store if you want a little wine with your cheese.
It's a locally owned store (and factory) located in small town Ontario, so you know we're big fans here at Ultimate Ontario.
Millbank is a stop on the Farm Gate Meat and Cheese Tour.
The Best Little Pork Shoppe
Located in Shakespeare, the Best Little Pork Shoppe has been around since 1987, and they've been a staple in the community ever since. As they say on their site, "we started with 3 kinds of whole hog sausage, and it is still made the same way today."
Beyond pork, they also have chicken (including chicken schnitzel), and in recent years, they've become rather famous for their burgers as well. With a spot like this, it's really about what your preference is because everything they make is held up to a certain standard and is seemingly made with a focus on care and quality.
Perth County's Farm Gate Itineraries
If you're looking to go in-depth on these itineraries, head to their site, but we'll give a brief overview of each below so that you know what sorts of places are included, as well as where they're located.
The Farm and Vegetable Tour
Atwood Cafe (Atwood)
Bornholm Produce (Bornholm)
Kawthoolei Farm Organics (Staffa)
Good Luck Gardens (Kirkton)
Megens Family Farm (Perth South)
River Valley Golf Club (Perth South)
Chris Produce (Shakespeare)
Lynn River Farm Store (Stratford)
Organic Oasis (Amulree)
Summers Harvest (Gadshill)
Cedar Crest Acres (Milverton)
Karen's Kitchen (Milverton)
The Meat and Cheese Tour
The New Monkton Diner (Monkton)
Atwood Heritage (Atwood)
Mcintosh Butcher Shop (Listowel)
Windy Pine Bulk Foods (Carthage)
Zehr's Country Market (Millbank)
Millbank Cheese and Butter (Millbank)
Anna Mae's Restaurant and Bakery (Millbank)
The Best Little Pork Shoppe (Shakespeare)
Koskamp Family Farms Water Buffalo (Perth South)
One Happy Chicken (Perth South)
Stonetown Artisan Cheese (Perth South)
McCully's Hill Farm (St. Mary's)
The Fruits and Flowers Tour
Petals and Foliage (Rannoch)
The Crazy Glad Lady (Perth South)
Walch Family Strawberries (Perth South)
TNT Berries: Blueberries (Perth South)
The Tin House (Shakespeare)
Lynn River Farm Store (Perth East)
Organic Oasis (Amulree)
Cedar Crest Acres (Gads Hill)
Zehr's Country Market (Millbank)
Scott's Greenhouses (Mitchell)
The Rose and Crown Public House & Eatery (Mitchell)
The Animal Encounters Tour
Country Style Family Restaurant (Listowel)
Goats on 86 (Listowel)
Organic Oasis (Amulree)
McCully's Hill Farm (Perth South)
West Perth Animal Park (Mitchell)
TLC Alpacas (Mitchell)
Dublin's Family Diner (Dublin)
Pick-Your-Own Experiences
Harwill Farms for pumpkins (Gowanstown)
Smelski Pumkin Farm for pumpkins (Shakespeare)
Black Creek Flower Farm for flowers (Sebringville)
The Crazy Glad Lady for flowers (Perth South)
TNT Berries for blueberries and sea buckthorn berries (Shakespeare)
Birch Creek Strawberry Farm for strawberries (Perth South)
Walch Family Strawberries for strawberries (Stratford)
Cedar Crest Acres for strawberries (Milverton)
Syrup, Jam & Honey Tour
Diana Sweets Restaurant (Listowel)
Hoover's Maple Syrup (Atwood)
Scott's Greenhouses (Mitchell)
Urquhart Farms (Kirton)
Stonetown Artisan Cheeses (Perth South)
McCully's Hill Farm (Perth South)
Lynn River Farm Store (Perth East)
Cedar Crest Acres (Milverton)
Zehr's Country Market (Millbank)
Huckleberry Hives (Gadshill)
Dave's Diner (Sebringville)
A major goal of ours at Ultimate Ontario is to create content and showcase initiatives which can impact the bottom line for Ontario businesses. With such a well thought out and creative campaign, Perth County made it easy for us to feature the Farm Gate Map, and we hope that you, our readers, use this to discover more of the county, and to create some lovely new memories along the way.
It sounds like, as Perth County says, it just might be time for you to discover more flavour. Bon appetite!
---
We want to humbly thank Perth County for hosting us as media. All opinions are completely our own.
If you appreciated this article, you'll love our newsletter, as well as our Facebook group! Feel free to join, all are welcome.
Christopher Mitchell is the Cofounder of Ultimate Ontario. He's visited over 80 countries, and has lived on 4 continents, but now has his eyes set squarely on exploring this incredible province, and helping others do the same.