Tips for planning your Amherstburg itinerary. These fun things to do in Amherstburg, Ontario will fill your visit with fun, food, history, and adventure.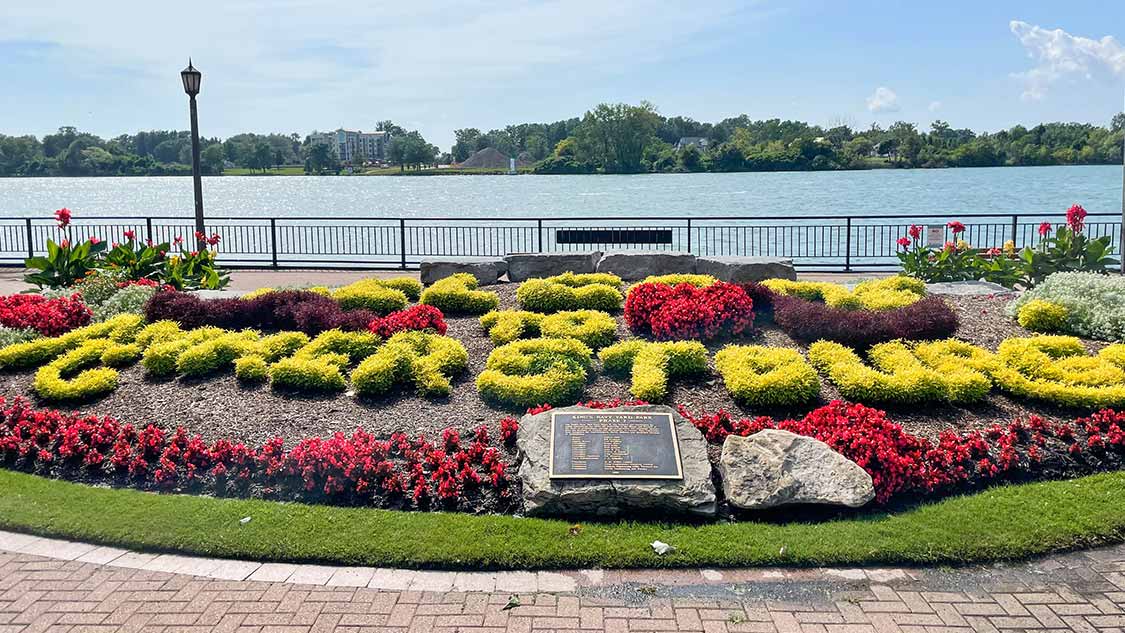 The town of Amherstburg, Ontario might just be the prettiest little town in Southwestern, Ontario. And that is saying something considering just how gorgeous much of this region of Ontario is. And at less than 30-minutes from the city of Windsor, it's incredibly accessible.
Here at Ultimate Ontario, we have a deep love for charming small towns in the province. But the appeal of Amherstburg isn't just skin deep. in fact, this is one of the oldest towns in the province. And a visit to Amherstburg can combine a tremendous amount of culture, history, and of course, mouthwatering food.
Whether you're interested in strolling a picture-perfect waterfront, learning about the community's unique part in the war of 1812, or just taste-testing some of the best ice cream shops in the province, you'll find something here that will suit your fancy.
A Little About Amherstburg, Ontario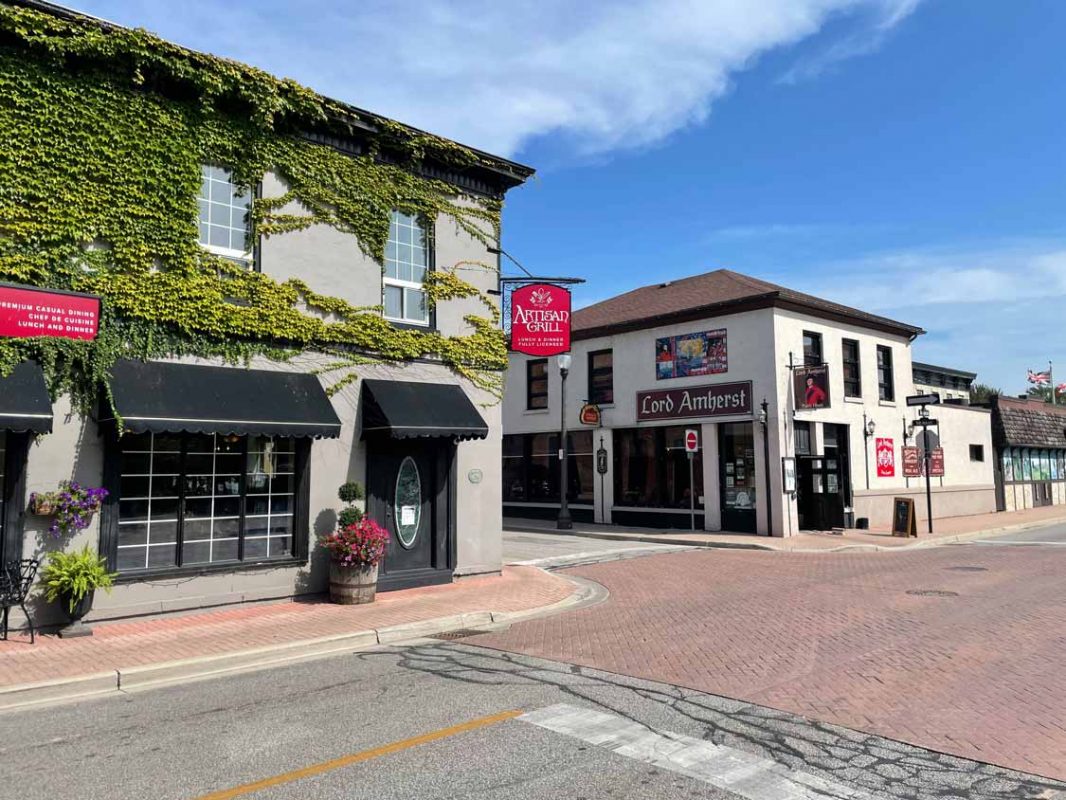 The growth of Amherstburg started with the establishment of Fort Malden, a British military base on the shores of the Detroit River. The growth of the base stimulated the local economy and led to the development of several communities in the region.
The region was primarily settled by French colonists which led to a unique architectural and cultural style that flourished for many years. Amherstburg was also a very important point in the Underground Railroad that helped to freed slaves escape from American bounty hunters. Many of these refugees were shuttled across the Detroit River to Fort Malden in order to gain freedom in Upper Canada.
Today, the town is home to the Amherstburg Freedom Museum which tells the stories of the slaves who sought freedom in the north and the industry that they helped bring to the region, which included one of the few black churches, which can be found next door to the Freedom Museum.
Amherstburg itself was incorporated as a town in 1878 and over the next century combined with several nearby towns to form a larger town.
Things To Do In Amherstburg
If you're looking for things to do in Amherstburg, you won't have to look far. This small town is packed with beautiful architecture, scenic parks, scrumptious restaurants, and fantastic attractions.
Fort Malden National Historic Site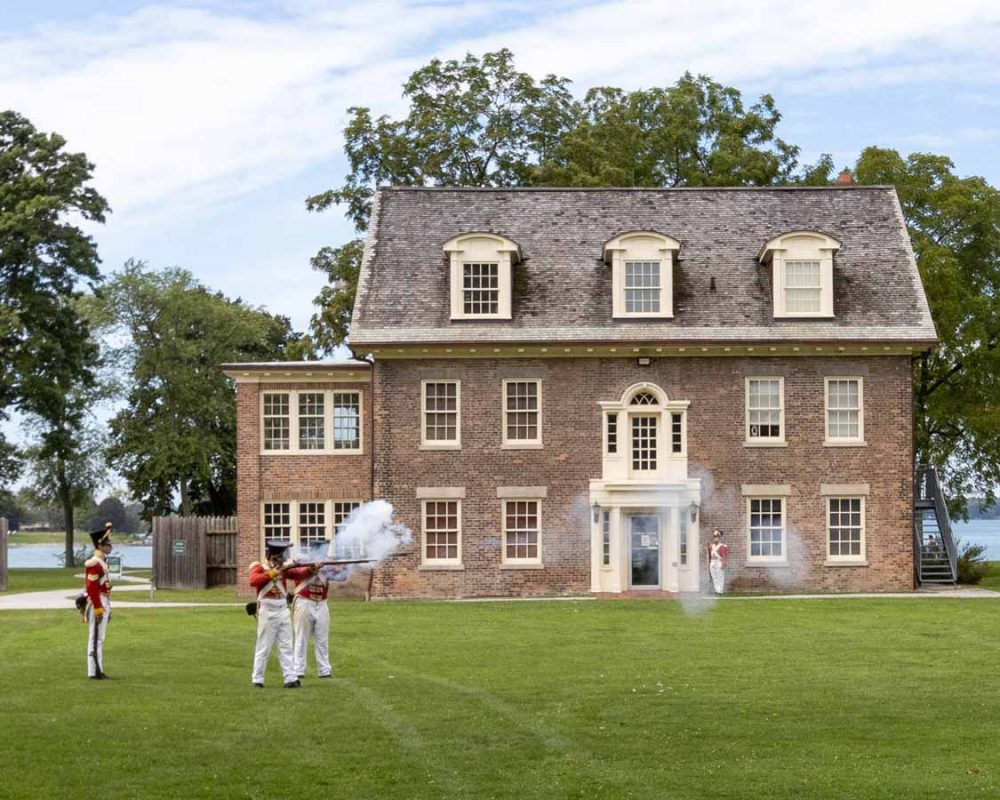 One of the coolest places to visit in Amherstburg, Ontario is the place that started it all. Fort Malden Historic Site is a Parks Canada attraction on the site of the original British defense fortification that was established in 1795. Fort Malden was strategically placed overlooking a narrow, deep-water channel in the Detroit River and gave it full control over any large transport ships making their way along the river. It was at this historic fort that Sir Isaac Brock and Tecumseh met to plan the siege of Detroit.
Over the centuries, this fort changed hands and functions many times. But now it has been established as one of the best places to visit in Amherstburg. At the site, you'll find reconstructions of many of the buildings, fortifications, camps, and barracks that once existed here.
There are also regular musket firing demonstrations as well as plenty of on-site experts in period costume ready to share the experiences of those who lived, worked, and fought here. You can find out more on their website.
Holiday Beach Conservation Area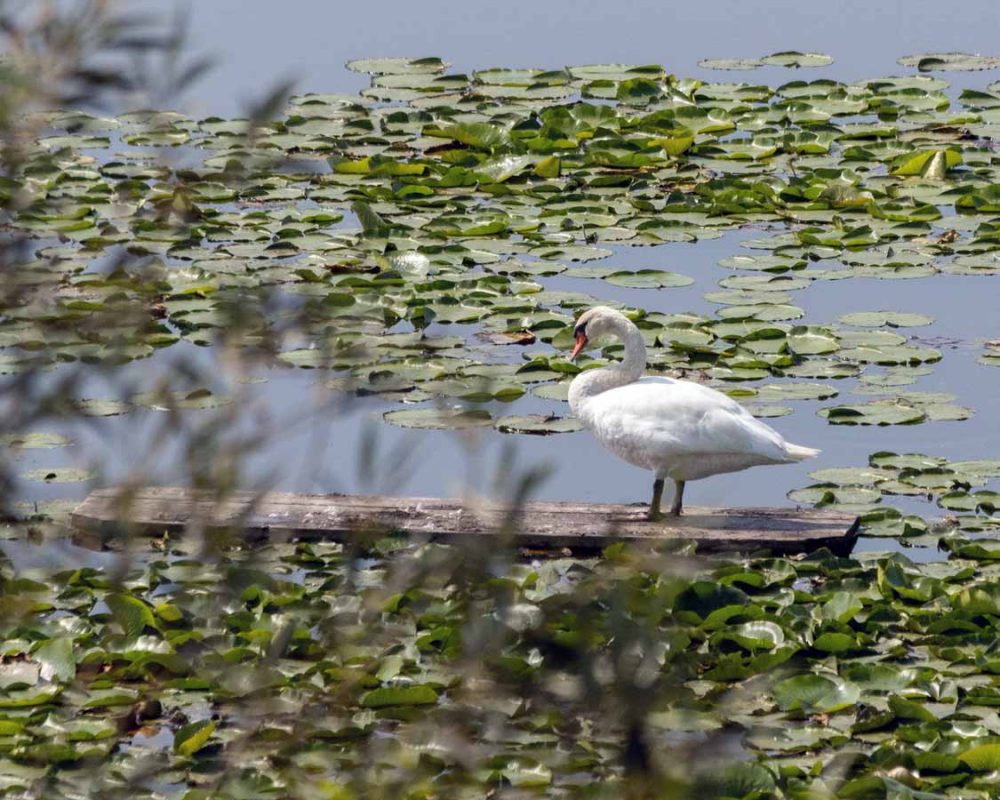 Sitting on a long stretch of beach just 15-minutes from Amherstburg, a visit to Holiday Beach Conservation Area is a must for anyone looking for the best things to do in the city. The park offers a great selection of seasonal campsites as well as a beautiful rental cottage. Near the beach, visitors can access clean indoor and outdoor showers as well as a comfort station.
While Holiday Beach camping is popular, one of the biggest draws of this Amherstburg conservation area is that it's one of the best places in Southwestern Ontario for bird watching. The large observation tower is a popular place for birders looking to see the hundreds of species that make their way through or set up their nests in the sprawling marshland.
And from September to the end of October, Holiday Beach holds its annual Festival of Hawks. During this time, thousands of raptors, including hawks, falcons, and eagles stop in the park as they make their yearly migration. There are often experts on-site to do tagging demonstrations and to talk about the wide range of bird species on display.
Ure's Country Kitchen & Mini Golf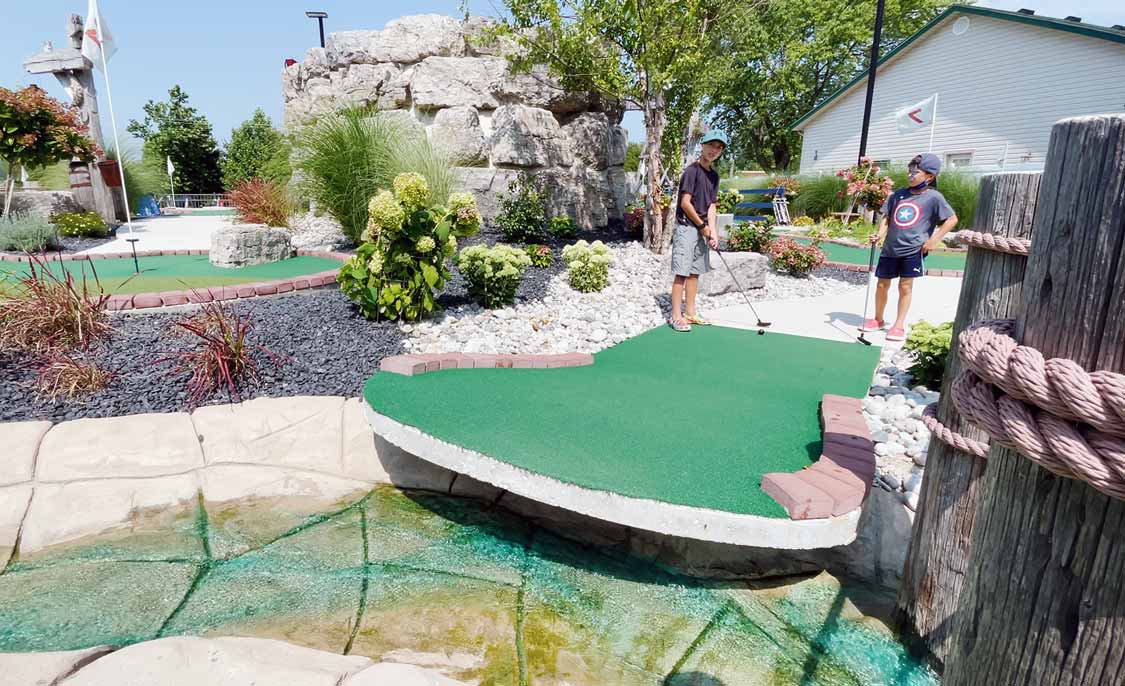 Mini golf? Seriously? Yes! Ure's Restaurant and Mini Golf is practically a right of passage for visitors to Amherstburg, Ontario. Not only because they serve up wonderful, home-style comfort food and one of the best selections of hand-scooped ice cream in Southwestern Ontario, but Ure's offers one of the most epic games of mini-golf in the province.
This popular destination was established back in 1988. And it's still family-owned and run after all this time. But the history of the location goes back long before that, over 100-years to be exact. This spot has been the go-to convenience store and gas bar in the region for that long.
Ure's Country Kitchen has become a popular evening stop for many families in the area who come by for a delicious meal and a round on their creative 18-hole mini-golf course. I wasn't sold on this place until I visited myself. And now it's one of my favourite things to do in Amherstburg.
Amherstburg Freedom Museum
Located in a small neighborhood near downtown, the Amherstburg Freedom Museum tells the story of African-Canadians who entered Canada by way of the American slave trade. This museum has been running for over 40 years and offers a fascinating and personal perspective on the importance that freed slaves and black Canadians wielded in this development of the region.
The museum is located right next door to the African Methodist Church. This building was built by hand by former slaves and free blacks back in 1848. The church and the region of Amherstburg as a whole was an important part of the Underground Railroad which helped freed slaves escape persecution in Canada.
King's Navy Yard Park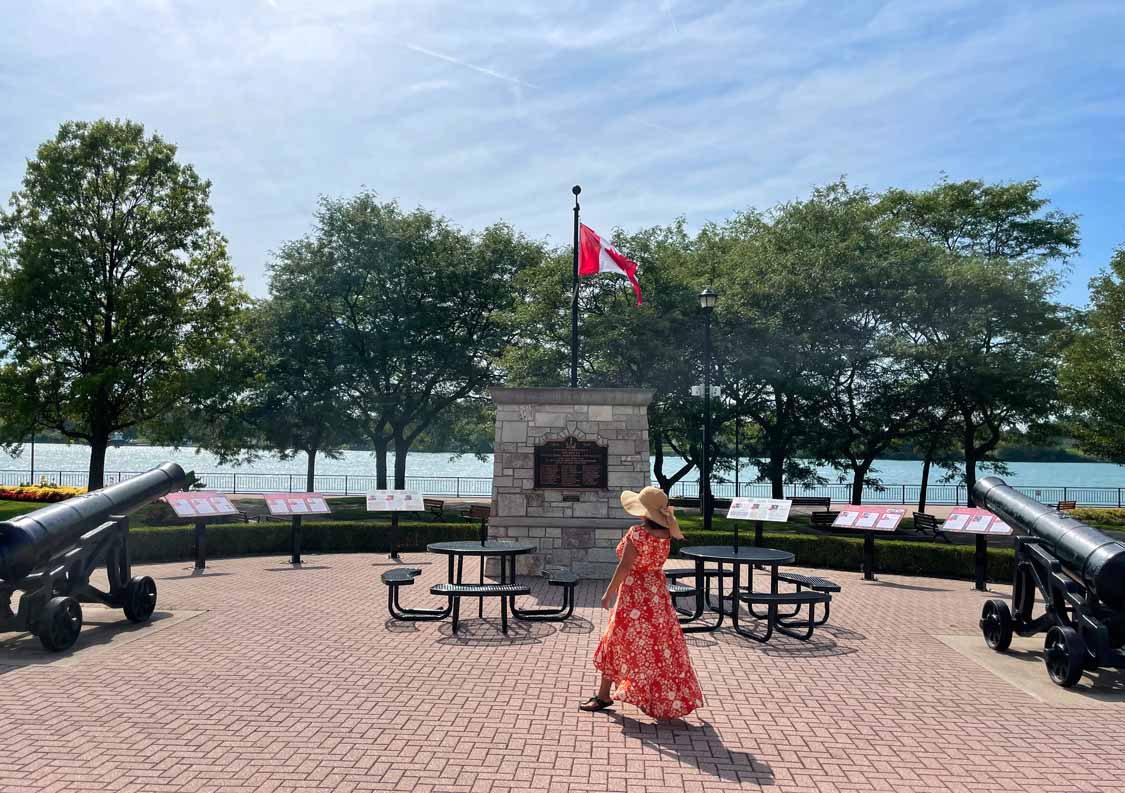 Wandering along the shores of the Detroit River south of Fort Malden, King's Navy Yard offers a series of manicured gardens, romantic trails, and historic artifacts to explore. The area, which was once a sprawling shipyard is now one of the most beautiful urban parks in the region.
Grab an ice cream from Nucelli's from one of the local shops, and watch the boats and freighters glide by along the river or take photo's in some of the well-crafted gardens that line the waterfront.
Muscedere Vineyard
Just 15-minutes from Amherstburg, Muscedere Vineyards is a local, family-run winery in Amherstburg. Not only does this local winery serve up a range of absolutely delicious reds and a few select refreshing whites, but it is a fun destination for the whole family thanks to the range of animals that call Muscedere home.
You'll find goats, chickens, ducks, and more roaming around the grounds. And you can sip your vino on the beautiful decahedron patio with views of the vineyard while munching on some wood-fired pizza made right there on-site. If you're looking for great wineries in Essex County, Muscedere should definitely be on your list.
You can find more of our favourite Ontario wineries right here.
River Books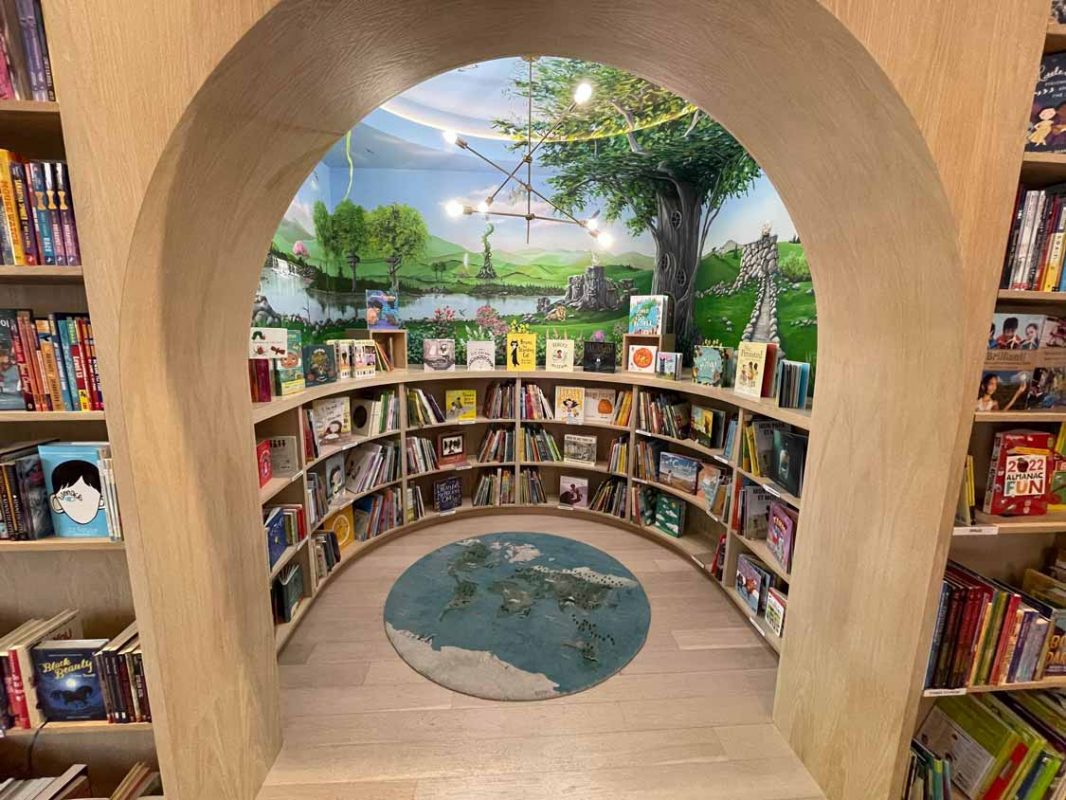 Small towns wouldn't feel right if they weren't full of small shops, and River Books offers that intimate atmosphere that feels right at home in Amherstburg.
This small, independent bookshop on Richmond St. is full of classics, children's literature, and both classic and modern biographies and autobiographies of some of the world's most fascinating people. Visitors will feel right at home in this no-pressure local shop. And it's a must-visit store in the town.
Bois Blanc Island
Easily visible from Fort Malden and Kings Navy Yard Park, Bois Blanc Island, or "Boblo Island" as it's more commonly known, is one of the most unique places to visit in Amherstburg.
Originally established to guard passage along the Detroit River, the scenic location of Boblo Island caught the attention of developers who built the Boblo Island Amusement Park in 1898. The park was a wildly popular vacation spot for both Canadians and American tourists for nearly 100 years before it was finally shuttered in 1993.
Part of the fame was derived from the two ferry's which serviced visitors to the island for over 85 years. Much of the amusement park has been dismantled, but there are still many shells of buildings that attract visitors and photographers to the site.
Today, Bois Blanc Island has been a popular cottage and resort retreat and where Bois Blanc Island Resort still welcomes thousands of visitors every year. Although much of the island has limited access and is residential.
Lot 10 Brewery
At Ultimate Ontario, we know a thing or two about craft breweries in Ontario. In fact, we've talked about Cured Craft Brewery over in nearby Leamington in the past. So, If you like beer, a visit to Amherstburg should absolutely include a stop at Lot 10 Brewery. This small-town microbrewery is located right on the downtown strip. They have a great range of stouts and ales as well as a revolving selection of seasonal favourites such as their Pinky Pledge Raspberry Wheat.
Lot 10 isn't just about beer though. They have a great selection of food available. Sip on one of their India Pale's while munching on one of their delicious flatbreads. This local hotspot is especially hopping on the weekends when crowds gather for food and bevies.
Where To Eat In Amherstburg, Ontario
For a small town, Amherstburg is absolutely exploding with awesome restaurants. So if you're looking for great places to eat in this quaint little town, here are a few spots that you shouldn't miss.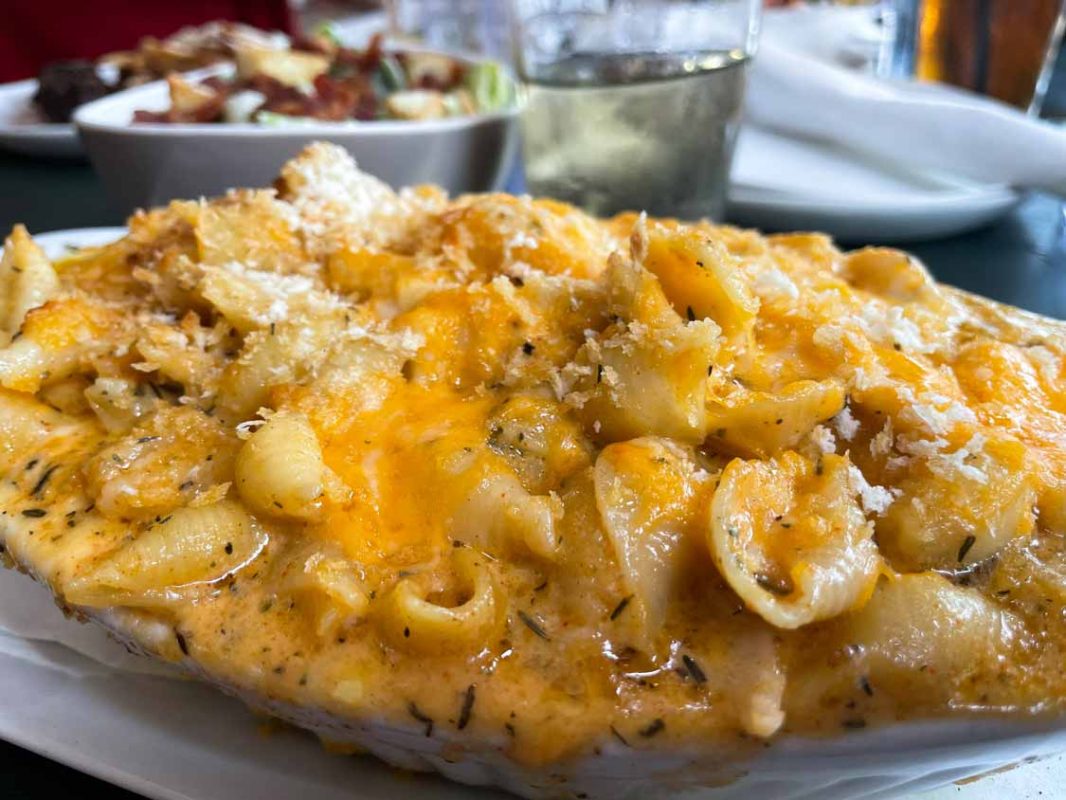 Salty Dog Restaurant
Salty Dog Restaurant is famous for its wood-fired pizzas, but it serves up what may be the most delightful lobster mac & cheese I have ever tasted. And while that is my go-to dish at this Dalhousie St. Restaurant, you'll also find a wide variety of excellent dishes that cater to many tastes.
In true Southwestern Ontario-style, the menu is loaded with fresh fish and seafood options. You'll also find a great range of local beers available to accompany your meal. You can check out their full menu here.
Nucelli's Frozen Yogourt
You'll find lots of great options for ice cream in Amherstburg, but for me, nothing beats a classic frozen yogurt in one of those hand-pulled machines. Nucelli's Frozen Yogourt, which sits conveniently right next to the picturesque Kings Navy Yard, delivers that classic flavour along with some truly unique options such as Peanut Butter, Zaps, and Cream Cheese.
If you prefer ice cream, they've got that too. Along with milkshakes, parfaits, and sundaes. It makes for the perfect treat to enjoy on a sunset stroll along the waterfront. You can connect with them here.
Chicano's Tacos and Tequila
It's never a bad time for Mexican cuisine. And if you're looking for the best tacos in Amherstburg, Chicano's Tacos and Tequila is where it's at.
The restaurant, opened by Roberto Garcia in 2019, features made-to-order guacamole, flaming cheese, and fajitas along with a great selection of classic Mexican cooking. I wouldn't have visited Amherstburg looking for authentic Mexican cuisine. But I'm so glad I found it. You can check out their menu here.
Caffiene & Co.
One of the best things about downtown Amherstburg is the lack of big chains. While you won't be able to track down a Starbucks Coffee here, you can do even better by making a stop at Caffeine & Co.
This boutique Amherstburg cafe serves up some delectable beverages served amidst a fun and creative environment that help make any visitor feel at home. Pull up a chair on their sidewalk patio and sip on one of their delicious iced coffees. If you're interested in checking out their menu, you can find that here.
Now It's Time For Your to Enjoy These Awesome Things To Do In Amherstburg, Ontario For Yourself
If you're planning a visit to Amherstburg, you'll have plenty of amazing attractions to choose from. There's something here for everyone, and it's a delightful city to spend some time in.
Many of these businesses and restaurants are anxious for visitors after a tough year. So let's support local and make the most of your Ontario travel experience.
Do you have a favourite city, attraction or restaurant in Ontario? Head over to the Ultimate Ontario Facebook Community and join the conversation! You'll find an amazing group of people passionate about Ontario and who love to share their local secrets.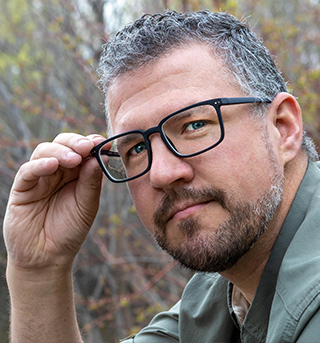 Kevin Wagar is a founder and editor of Ultimate Ontario. He has been working in the travel media industry since 2015 when he founded his family travel website Wandering Wagars – Adventure Family Travel.
Over the years Kevin has developed a deep love for his home province of Ontario and aims to showcase the incredible experiences and amazing small businesses found within it.