These incredible Ontario water parks put the fun into summer. Discover the best water parks in Ontario to cool off from the summer heat.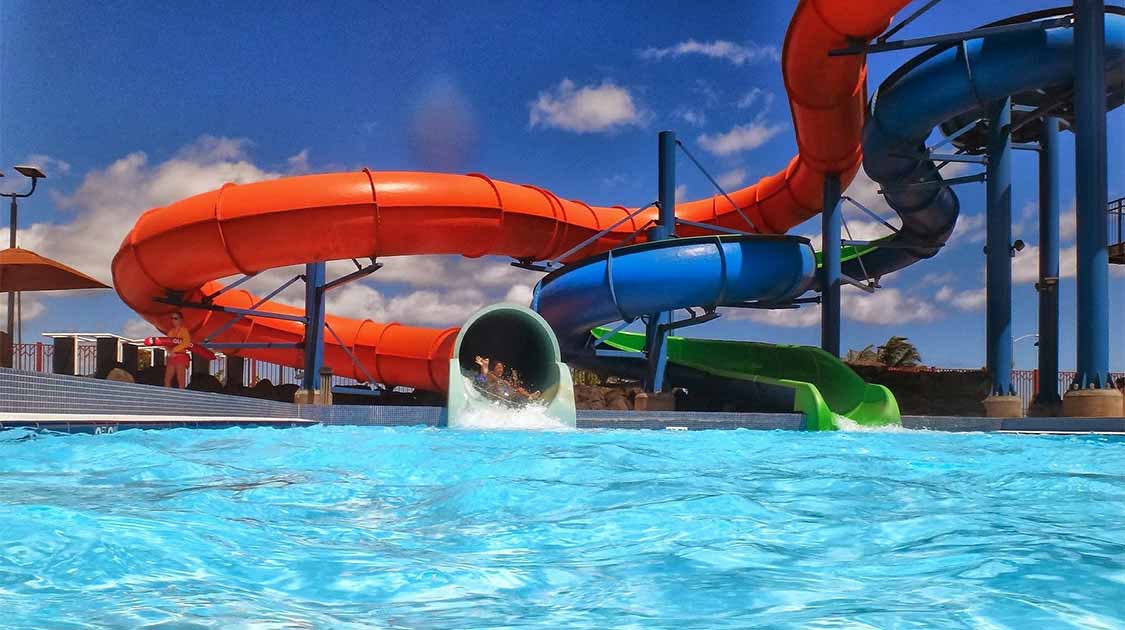 When summer is in full swing, few things beat the heat better than a water park. Whether you're looking to float around in a wave pool, fly down towering water slides, or run back and forth through the spray zone, these Ontario water parks will give you a break from the summer heat
These are our top picks to stay cool and refreshed during Ontario's blisteringly hot summer season. You'll find Ontario water parks that have private cabanas that are perfect for the whole family, great food to munch on, and awesome poolside bars to enjoy something with an umbrella in it. Because you've got to set the mood right!?
The Best Water Parks In Ontario
As water parks in Ontario begin to open up and COVID-19 restrictions are loosened, expect these operations to be running at reduce capacity and with limited services. Some may have additional safety protocols in place for when you visit. Remember, we are all responsible for a safe re-opening of Ontario.
Bingemans Big Splash Waterpark – Kitchener
Bingemen's Big Splash is Kitchener's largest water park and includes 11 huge water slides, a heated wave pool, and a massive splash pad called Spray N Play. One of the most popular attractions is their massive slide that dumps riders into a funnel that spins them round and round until they splash down into the pool below.
The park isn't just about water fun though. Bingeman's features summer day camps for tots, mini putt, bowling, an escape room, even on-site camping, and restaurants. It's truly a family fun park for those who want to stay busy. You can even spend time on their three-level indoor playground or their 28-lane bowling alley.
You can find out more about Bingemans Waterpark here.
Great Wolf Lodge – Niagara Falls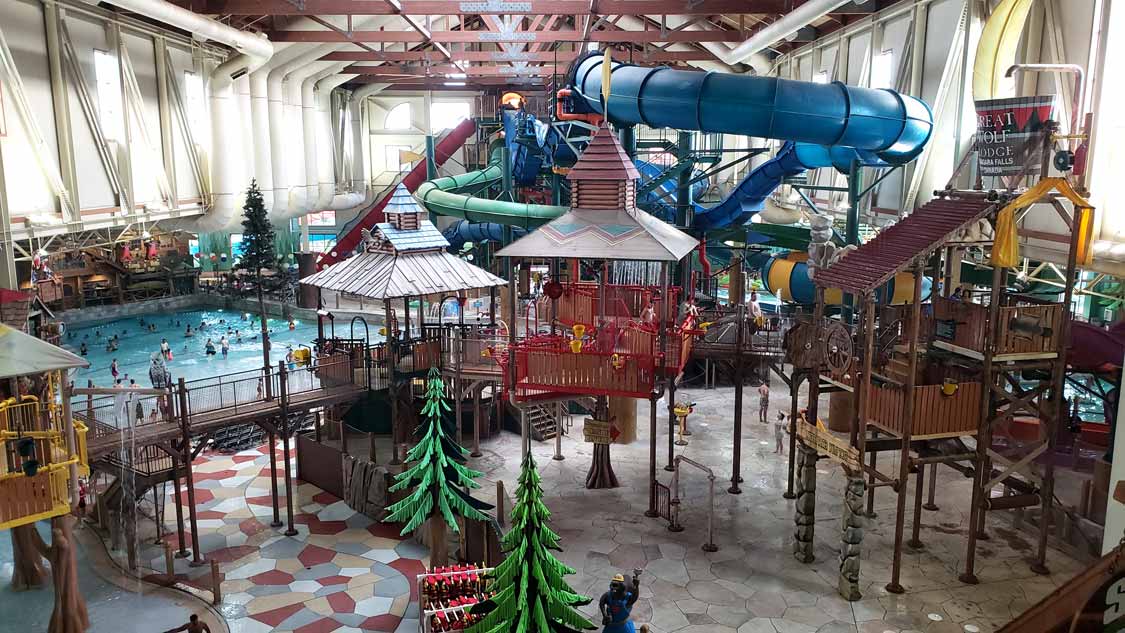 Featuring a massive indoor waterpark, this nature-themed family amusement centre and hotel is one of the most popular Ontario water parks.
Great Wolf Lodge, which is part of an American chain of amusement hotels, has attractions for every age level including their Kiddie slides and splash pad for the little ones right up to the Wolf Tail and Niagara Rapids Run for older kids, teen's and adults. They even have an outdoor lagoon and hot tub areas for enjoying the summer sun.
Great Wolf Lodge also features on-site restaurants, bars, games, arcades, and much more. Their MagiQuest game is a popular scavenger hunt that can keep kids active and guessing for a whole weekend or longer. Their spacious "camp"-themed suites give the feeling of an overnight camp for families and really pull together the mood.
You can find out more about Great Wolf Lodge Niagara here.
Wet'n'Wild – Toronto
Located on a sprawling 45-acre property in the northern reaches of Toronto, Wet'n'Wild is one of the largest attractions in Toronto. The park features an aquatic jungle gym, towering water slides, a sports complex, and a kid-sized water park for the tots.
This outdoor Toronto Waterpark has cabanas available for rent for families who want to spend the whole day zipping in and out of the water, and maybe even enjoying a nap in the shade from the summer sun. They also have a massive sports dome with a soccer field that is available for rent for those who are looking for a little action.
You can find out more about Wet'nWild here.
Calypso Water Park – Limoges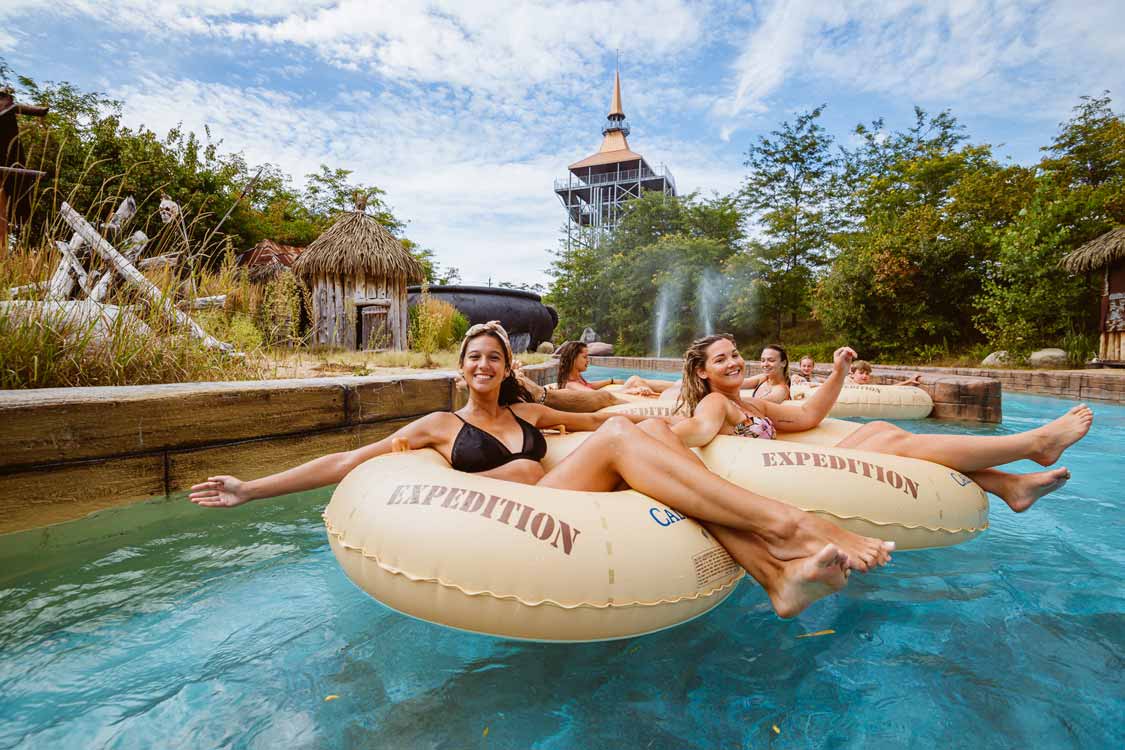 Located just 20-minutes east of Ottawa, Calypso Waterpark is one of the most popular attractions in the nation's capital. This outdoor Ontario water park has a little something for everyone including 4 towering water slides and Canada's largest wave pool. Thrill seekers will love the Summit Tower, which is the tallest waterslide tower in North America!
Families will love the 35 water slides, 100 water games, and two lazy rivers spread across the property. And the VIP zones with private cabanas and a wide selection of on-site restaurants make Calypso a fun place to spend the whole day.
You can find out more about Calypso Water Park here.
Logos Land Motel and Resort – Cobden
Situated an hour northwest of Ottawa, Logos Land Motel and Resort has become one of the top summer vacation destinations in the Ottawa Valley. The park and motel, which also features an RV park, campground, and luxury rentals, thrills visitors with its zip lines, water slides, water trampolines, paddleboats, mini golf, petting zoo, and sandy beach.
For those looking for something away from the action, Logos Land also has an on-site 18-hose golf course. And the fun doesn't stop when the leaves fall from the trees. Logos land is also a popular spot during the winter months with its snow tubing, ice skaing, snowmobile trails, and cross-country skiing. The park also features and on-site restaurant and gift shop.
You can find out more about Logos Land here.
Fallsview Indoor Water Park – Niagara Falls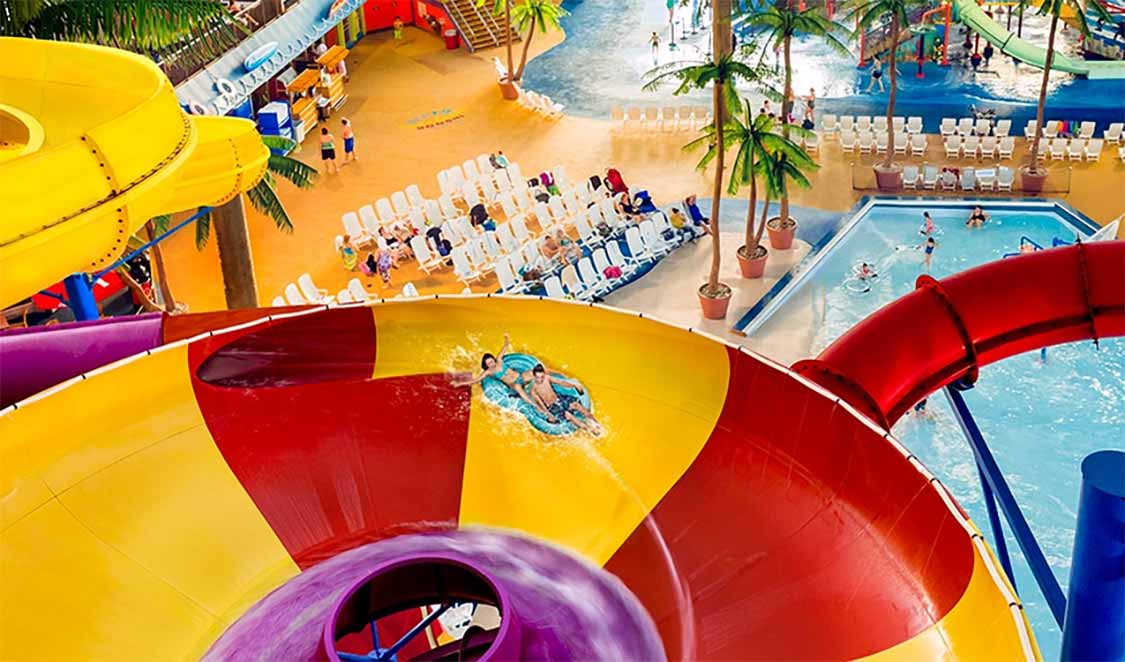 Located steps from Table Rock and Horseshoe Falls, Fallsview Indoor Water Park is Canada's largest indoor water park. This massive water wonderland is attached to three Niagara Falls hotels including the Crowne Plaza and the newly-renovated Sheraton Fallsview and is among the most popular things to do in Niagara Falls. Unlike Great Wolf Lodge, this Niagara Falls water park is open to the public, and you don't need to be staying at one of the associated hotels in order to enjoy it. Of course, this also means that it can get quite busy. Especially during peak season.
The park features 16 thrilling water slides, a massive wave pool, an outdoor lagoon and basketball pool, on-site restaurants, a children's playground and a tiny splash pad perfect for babies and toddlers. There are also private cabanas for rent for those who want to spend the whole day enjoying the park.
You can find out more about Fallsview Indoor Water Park here.
Wild Waterworks – Hamilton
Coursing with over five million-litres of heated water every minute, Hamilton's Wild Waterworks is one of the largest outdoor water parks in Ontario. Not only does it features six exciting water slides, some that tower up to six stories tall, but it's also home to one of Ontario's largest wave pools.
It's not all adrenaline-pumping action though. This Ontario water park is also home to Little Squirt Works, which is a perfect splash area for toddlers and small children. It includes a wading pool, kid-sized water slides, misters, and fun fountains. You'll find plenty of on-site restaurants, cabana rentals, and much more at this Hamilton water park.
Although Wild Waterworks won't be opening for the 2021 season, we are looking forward to welcoming them when 2022 comes around.
You can find out more about Wild Waterworks here.
Cedar Park Resort – Bowmanville
In operation since 1955, Cedar Park Resort, which sits just north of Bowmanville near HWY 115 and HWY 401, is a popular summer campground that also features a large water park that includes three large water slides, waterfalls, a splash zone, and pools. It also features an 18-hole mini golf course for those who feel like staying dry for a little while.
Cedar Park Resort is one of those multi-day destinations where you can combine all the fun of luxury camping with an Ontario water park and many more fun on-site activities. And it's all less than an hour away from Toronto.
You can find out more about Cedar Park Resort here.
Canada's Wonderland – Vaughn
Probably Ontario's most famous water park, Canada's Wonderland is home to the Muskoka Plunge, and 60 ft. water slide that drops riders at speeds of up to 40 km/h. Add to that the 7 tube slides, lazy river, Lakeside Lagoon, and the wet and wild roller coasters, Canada's Wonderland is one of the most thrilling Ontario water parks.
Of course, you can't forget the incredible roller coasters, games, restaurants, mountains, gift shops, and everything else that Canada's wonderland adds to its pot. It is, without a doubt, one of the most popular amusement parks in Ontario.
You can find out more about Canada's Wonderland here.
Sherkston Shores – Sherkston
Situated on the sparkling shores of Lake Erie, Sherkson Shores is a family campground and amusement park just 30 minutes south of Niagara Falls. This sprawling property has more than 560 acres of land to explore that includes a waterpark with water slides, a splash pad, an aerial course, a rock wall, and much more.
This Ontario camping resort is also home to soccer fields, and more. Hike or bike along the resort's lakeside trails and enjoy some of the incredible restaurants and even an on-site grocery store. And the water fun isn't just limited to the park either. Sherkston Shores launched its brand new wakeboard park in 2021.
You can find more more about Sherkston Shores here.
Now It's Time to Experience These Water Parks in Ontario For Yourself
These incredible water parks in Ontario are sure to cool you off on a hot summer day. And many offer a full-weekend or longer of family fun in Ontario. Many of these local businesses and restaurants are anxious for visitors after a tough year. So let's support local and make the most of your Blue Mountains adventure.
Do you have a favourite attraction or restaurant in Ontario? Head over to the Ultimate Ontario Facebook Community and join the conversation! You'll find an amazing group of people passionate about Ontario and who love to share their local secrets.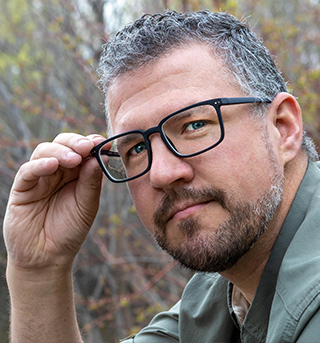 Kevin Wagar is a founder and editor of Ultimate Ontario. He has been working in the travel media industry since 2015 when he founded his family travel website Wandering Wagars – Adventure Family Travel.
Over the years Kevin has developed a deep love for his home province of Ontario and aims to showcase the incredible experiences and amazing small businesses found within it.