The city of Markham has quietly been one of the top foodie destinations in Ontario. Discover the best restaurants in Markham to eat your way through the city.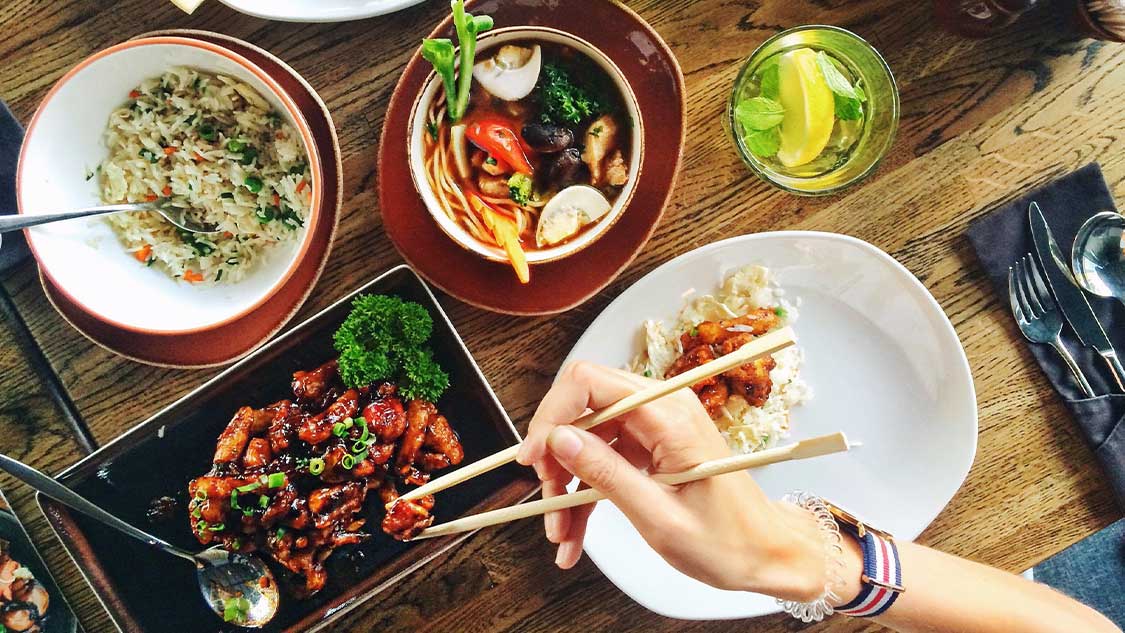 The city of Markham, Ontario, has been one of the Greater Toronto Area's secret food hubs for decades. Flying under the radar is something that Markham has done brilliantly, but the secret is out, and food in Markham is starting to take centre stage in the city's identity.
This sprawling suburb of nearly 350,000 people just north of Toronto is one of the most diverse cities in Canada. The breadth of cultures in the city has helped to foster a world-class culinary scene. Once that has come so far that the best restaurants in Markham rival those of its big brother, Toronto, to the south.
While there is plenty to enjoy when visiting what has unofficially been dubbed "Canada's Most Polite City," such as art, culture and ample green space – eating your way through Markham's culinary scene is the best way to experience this growing city.
While restaurants in Markham cover a wide spectrum from Michelin-ranked fine dining to grab-and-go cafes, there's a food experience in Markham for everyone. The community's diversity is illustrated through the mouthwatering culinary delights from every corner of the world, with options to draw visitors from across Ontario and beyond.
Where To Find The Best Restaurants In Markham
Markham is absolutely packed with amazing food experiences and delicious eats. Neighbourhoods such as Unionville, Greensborough, and The Junction are among some of the most popular neighbourhoods lined with the best restaurants in Markham. But depending on your personal tastes, here's where to look for the top restaurants in Markham
Best Restaurants for Tea and Coffee in Markham
Coffee and tea aficionados rejoice! You'll have your pick with the many options available in Markham. Whether you're a java junkie or a tea master, here are some of the top picks to check out.
The Library Specialty Coffee
32-11 Fairburn Dr.
This delightful cafe tucked away in a nondescript plaza has a minimalist vibe and is the ideal spot to go to pick up specialty beans or a fantastic cold brew. You can also pick up beautiful coffee accessories from this well-appointed little nook. You can connect with them here.
Stae Cafe
222 Copper Creek Dr.
Not only does STAE Cafe serve up delicious coffee (try the Oat Lavender Latte), but they also offer a delicious seasonal menu. The Mushroom and Feta pressed sando is an excellent choice on the savoury side, and if you have a sweet tooth, be sure to get something from their bakery tray.
The Alley
118 – 30 Gibson Dr.
You can't visit Markham without trying bubble tea, and The Alley is a great place to check out. If you're not a fan of the tapioca (aka. the bubbles), there are many options, including fruit or jelly chunks that are a lovely alternative to a second (or third) cup of joe that day. The Crunchy series, such as the Crunchy Tiramisu Milk Tea, is unique and delicious.
Benkei Hime
5000 Hwy 7
Benkei Hime is inside Markville Mall, and Mango Hime is a highly recommended pick for a drink minus tapioca bubbles. Insider tip – If you want a less sweet version of your drink, request it with 50% sugar.
Best Restaurants for Breakfast and Brunch in Markham
Whether you're looking for a leisurely brunch or seeking a quick snack on your way to work, Markham has some great options.
Next Door Restaurant
139 Main St.
Located on picturesque Unionville Main Street, Next Door Restaurant creates a menu that highlights local, seasonal ingredients and pays homage to the diversity of Canadian culture. Their famous brunch tower changes with the season, but staples include a version of shakshuka, eggs, locally-made fruit preserves, and fluffy pancakes with a variety of toppings.
Alchemy Coffee
4361 Hwy 7
Alchemy Coffee serves up delicious brunch and coffee options 365 days a year, so if you're ever looking for brunch and stuck on where to go – Alchemy is a great option. Standout options are the eggs benedict options, including duck confit benny and shrimp benny. There are also sweet brunch options that include French toast and lighter fare like salads.
Starving Artist Waffles & Espresso
5762 Hwy 7
Serving up brunch all day is Starving Artist Waffles & Espresso. True to their name, Starving Artist incorporates waffles into many of their menu items. One of their Signature Waffles is 'Fully Loaded' with two potato waffles, cheese, bacon, sour cream and chives.
The Best Restaurants for Lunch In Markham
Lunch can sometimes be an afterthought when it comes to meals, but not with the variety of options in Markham.
Chef 88 Elite
1661 Denison St.
Dim sum is the perfect lunch option if you want to taste a bit of many different things – but be warned, you may fill up quickly! Chef 88 Elite is ranked one of the best in Markham, and the selections will satisfy your Chinese food cravings.
Chef 88 is known for its large outdoor patio and has consistently been voted Best Dim Sum in the city. While it can sometimes be overwhelming to order dim sum, the menu here is organized into categories such as 'Steamed,' 'Deep Fried,' and 'Noodle and Rice' which is helpful.
The Silo Grill
10080 Kennedy Rd.
Set on the picturesque Angus Glen golf course, The Silo Grill offers a great seasonal menu featuring locally grown ingredients for brunch, lunch or dinner. On the main menu, you'll find classics such as grilled shrimp tacos and braised lamb shanks.
A standout on the brunch menu is the Cinnamon French Toast. A meal here is best experienced sitting on the modern patio, where you'll enjoy a gorgeous view of the 18th hole at this world-renowned course.
Cafe Mozaiko
60 Cathedral High St.
Here's your reminder to try Aburi sushi if you haven't already. Aburi sushi is distinct from regular sushi because it has been flame-seared or torched. When heat is applied to the sushi, it changes the texture and taste; once you've tried it, you'll be hooked!
Cafe Mozaiko is a great spot to pick up a lunch special where you can sample a few different styles of Aburi. If that's not quite your thing, try a signature beef bowl or a baked spicy salmon poke bowl. If you're an anime fan, you'll chuckle at the fun decor when you pop by to pick up your order!
Super Smashburgs
76 Main St.
For a spin on your typical burger and fries, Super Smashburgs has what you're looking for. Known as 'Your Friendly Neighbourhood Burger Joint, ' their menu focuses on delivering a few items really well. That means delicious smash burgers and fries. For the uninitiated, a smash burger smashed onto the grill, resulting in a seared burger with all the juices sealed inside.
The Best Restaurants for Dinner In Markham
After a full day of eating your way through Markham, what better way to cap it off than…more eating?
Ambiyan
149 Main St.
Ambiyan means 'fresh green mangoes,' and the restaurant lives up to its name by delivering a fresh take on Indian food while focusing on organic ingredients. Traditional favourites such as Butter Chicken and Chicken Tikka Masala are beautifully complemented by contemporary offerings such as Coconut Prawn Curry or Pan seared Scallops.
il Postino
186 Main St.
For authentic Italian in a beautiful setting, Unionville Main Street staple Il Postino is the best choice. The Pappardelle Funghi is my favourite. Sit on the patio on a warm evening and enjoy your meal with a side of people-watching along the bustling street and enjoy the wonderful hospitality of the warm staff.
Kiu Japanese Restaurant
169 Enterprise Blvd.
One of the best cocktails I've ever had was at Kiu Japanese Restaurant in the Downtown Markham area of the city. Handcrafted by the award-winning bartender, it was a delicious concoction that came from the extensive cocktail menu.
When it comes to food, you will be impressed with the options – from the raw menu to inventive sushi rolls to udon – Kiu captures authentic Japanese flavours. It's located right by a Cineplex VIP theatre, so it's a great way to start a date night.
Frilu Restaurant
7713 Yonge St.
Frilu Restaurant has earned accolades in the culinary world – from being named one of Canada's Best New Restaurants in 2019 to earning Markham's first Michelin Star – this local Markham restaurant is a must-try for high-end food lovers.
Frilu brings a tasting menu concept that's familiar to Downtown folks up to the suburbs. The seasonal tasting menu comprises 12-14 courses and uses local and seasonal ingredients. The restaurant partners with Willowolf Farm in Tottenham to bring guests a true farm-to-table dining experience.
Inspire Restaurant
44 Main St. N.
The art of Ikebana is a disciplined art form of creativity with intention, and Inspire Restaurant practices Ikebana to create Asian fusion in a truly unique way.
Everything is delicious, but the Shiitake Udon Carbonara is highly recommended, as are the Hanoi Greens. Inspire Restaurant is located on Markham Main Street, so it's a great spot to eat and then walk off your meal and check out the local shops afterward.
The Best Restaurants For Dessert In Markham
There's no better way to top off a day of exploring food in Markham than with a world-class dessert. So loosen that belt and check out some of the best treats in Markham.
Saint Germain Bakery
5000 HWY 7 E.
Saint Germain Bakery has created a unique baking style by assimilating techniques from France, Japan, Hong Kong and Australia. The results are mouth-watering baked goods that come in sweet and savoury options and are consistent time and time again.
My family loves hot dog buns as a great lunch option for kids, and the unique options, such as matcha buns and red bean pastries, are hard to find anywhere else.
Sweetie Pie
190 Main St.
As a lifelong pie lover, I was thrilled when Sweetie Pie opened up their restaurant in Markham. Offering freshly baked artisan treats made with local ingredients, this pie shop also sells cookies, quiche and cake jars. The mini pies are a great way to try a few different flavours, but you must try lemon meringue and apple rhubarb if they're available when you visit.
Love Gelato
116 Main St. N.
Love Gelato's cute little gelato shop is located on Markham Main Street and is a favourite summer stop for visitors and locals alike. Artisan-made with whole milk, this gelato comes in flavours such as Italian Biscotti and Oreo.
There are dairy-free options like Lemon Mojito and keto varieties like Nutella. If you can't decide, take a signature love box to go (also a great host/hostess gift idea if you're heading to a party).
Patisserie Fleur
180 Enterprise Blvd.
Patisserie Fleur is a French-style patisserie offering designer cakes, individual tarts, macarons and mini desserts. They also have delicious specialty drinks like a raspberry lychee sparkling soda and my personal favourite – the dirty coffee, which is truly indulgent. They don't accept reservations, but it's worth a try to sit in their small but beautiful space and enjoy an afternoon treat.
More Food Experiences In Markham For Those Who Can't Get Enough
For those who can't get enough of the food and want to venture outside of the best restaurants in Markham to some of the city's more diverse food experiences, here are a few ca n't-miss treats and culinary delights in the city.
Carma Farms
11471 Ninth Line
Carma Farms is one of the local farms in Markham that has a fantastic variety of fresh fruits and vegetables and high-quality prepared foods. You'll find General Assembly frozen pizzas, ready-made savoury pies and freshly baked goods (strudel, anyone?) Be sure to check on their website for information on when they're open.
T&T Supermarket
8339 Kennedy Rd. | 9255 Woodbine Ave. | 7070 Warden Ave.
Though not exclusive to Markham, if you're looking for Asian snacks (such as one of the widest selections of potato chips you'll find in the GTA, then you'll want to make a pit stop at one of the three (!) T&T Supermarkets that are in the city. Stock up on hard-to-find snacks and Asian delicacies, and if you didn't get your fill of dim sum, there's a takeaway counter for that, too!
Enjoy Eating Your Way Through Markham
As you can see, a visit to Markham calls for stretchy waistbands only! It was a challenge to narrow down the options, and with such a wide array of places to eat, you're bound to want to make multiple visits.
Do you have a favourite experience finding gemstones in Ontario or exploring Thunder Bay? Head over to the Ultimate Ontario Facebook Community and join the conversation! You'll find an amazing group of people passionate about Ontario and who love to share their local secrets.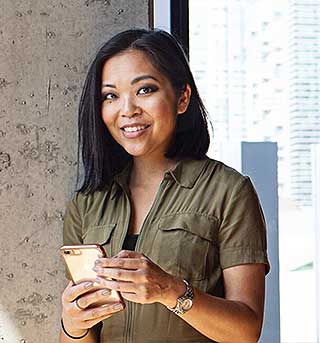 Jessica Gedge is a marketing, communications and PR professional who has worked in arts and culture, tourism and film and has a passion for writing. Jessica loves to explore and is always on the search for the best cup of coffee. She documents some of her adventures on her Instagram channel _letsgooxo_.