The Cheese Trail in Oxford County is the stuff of that dreams are made of for lovers of truly quality Canadian dairy. It's a chance to set your taste buds alight, but also a chance to understand a region that's filled with warm people, unique stories, and beautiful scenery.
---
Before you truly dig into the Oxford County Cheese Trail, you might be under the impression that you'll be hopping from one dairy farm to the next, and will need scheduled naps during the day to process the sheer volume of cheese that you'll be consuming.
Now, this is an option (and one that, for some reason, is a little enticing to me?), but the reality is that cheese here is really the vehicle that Oxford County is using to enable you to dive into a rich web of stories that will leave you feeling forever connected to this region.
There are stores with cheese galore, and there are dairy farms where you get to see where the magic happens, but there are also pubs, breweries, chocolate makers, artisanal shops with speciality products, bakeries, museums, and even places to stay the night if you're so inclined (and you should be).
So, before venturing on this trail, it's worth knowing that, yes, this is the undisputed dairy capital of Canada, but it's also so much more than that. Over and over again, I found that the products were sensational, but it's wasn't just what was made that was enticing, it was who was making it, how they got started, and how that ultimately connected them to the community around them.
What Exactly is the Oxford County Cheese Trail?
In short, it's a self-guided tour of over 30 stops that allows you to understand (and taste) Oxford County's past, present, and future through dairy.
They sum things up rather nicely when noting that, in sum:
"It is a group of cheesemakers, attractions, restaurants and retailers with fun activities, unique flavours and offers you can purchase – all related to dairy. From factory tours, unique experiences, artisan goods and delicious food, perfect for simple or splurge-worthy fun."
There are a number of ways that you can approach this. I personally went for what you might call the "wild dairy weekend" approach where I covered a lot of ground, and pretty much tried to visit as many stops as one could in a couple of days.
They recommend five stops a day and travelling by hub. So, you can look at covering stops in Blandford-Blenheim, Woodstock, Gunn's Hill, Tillsonburg, or Ingersoll, for example, which all have a few stops that are a short drive from each other.
This is something that you can experience and explore over time, and it's hard to think of a better way to develop an appreciation for a region. When I mentioned that it's the dairy capital of Canada, by the way, I mean it. Oxford County produces about a billion (yes, with "b") glasses of milk every year.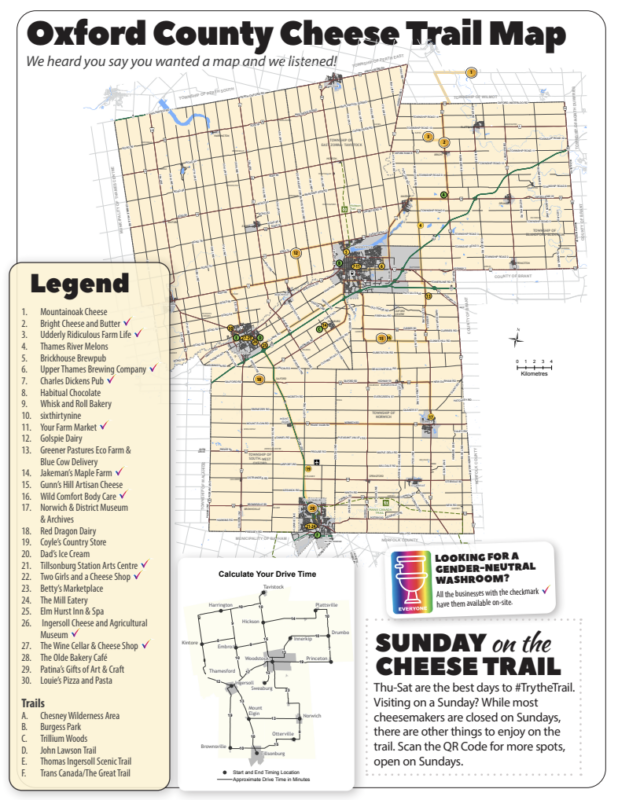 *Please note that this post contains affiliate links. Simply put, this means that we may receive a small commission for our honest and heartfelt recommendations, at no additional cost to you.
The Great Taste of Ontario Passport
A fun way to tackle (and be rewarded for) exploring the Cheese Trail is with the Oxford Cheese Trail Passport (which you can download for free here).
"As you travel, you will be rewarded with vouchers that can be redeemed at Feast On® Purveyors. Feast On® Purveyors are the growers, producers, suppliers and distributors with a commitment to using Ontario grown and raised products whenever possible and educating the public about Ontario grown, raised and made food and drink products."
Both sixthirtynine and Udderly Ridicolous's Farm Market Store are examples of two Feast On Purveyors where you could use your rewards. From my explorations alone, I was able to receive $75 dollars to redeem, which isn't small change, by any means.
All that to say, there's no downside to using the passport throughout your journey here. It's a win-win!
Your Commonly Asked Questions, Answered
Firstly, it does not cost anything to take part in this adventure. You can, of course, purchase products at the respective stops, and many of these stops even include samples, so it's sort of the opposite of it costing anything!
I would recommend that you pack a cooler with ice to store your goods in your car as you're exploring. This ensures you're not in a rush for no reason.
Oxford County recommends that you explore from Thursday – Saturday if at all possible. The trail is running all year, but it's more a recommendation based on when most businesses on the cheese trail will be open, and waiting for you with open arms.
There's no magic number for how much time you'll want to allot for each spot, but I'd recommend thinking about timing based on where it is you're stopping. You might want to have a couple of stops at shops or markets in the morning, then plan for a longer lunch at a brewpub, for example. At Dad's Ice Cream, for example, I pretty much just arrived and got right down to ice cream eating, but at the Ingersoll Cheese and Agricultural Museum, I took my time, hopped on a tour, and thought of that stop as providing the context I needed to appreciate the other stops on the tour.
Give yourself some breathing room with time, though. I hadn't expected to spend a long time at Red Dragon Dairy, for example, but when I started chatting with Ellis Morris, and he told me his story about moving over from Wales at age 50 to start a dairy farm here, I was awfully happy to listen, taste his wonderful array of products, and not be in a rush.
I enjoyed creating my own route, based on my interests, but I found Oxford County's Google Maps helpful in the planning process. If you're someone who just likes to get up and go, these maps are a very solid starting point.
Who Is on Canada's Best Cheese Trail?
To keep things easy, I'll separate this list into grouped sections. We'll kick things off with the cheese makers themselves, and then go from there, my friends.
Cheese and Dairy Makers
As you might imagine, these businesses represent a key faction of this trail, all very much worth visiting in their own right.
Mountainoak Cheese
Mountainoak Cheese was founded by Adam van Bergeijk and his wife Hannie out of their deep love for quality Gouda Cheese. They took over the family dairy farm in Holland in 1976 and later attended a prestigious cheesemaker's school in Gouda in 1981. Adam, now a seasoned cheesemaking teacher, has not shares this knowledge with others as cheesemaking teacher!
In Holland, their award-winning cheeses gained popularity among local consumers, but the limited growth opportunities prompted the family to seek a better future in Canada. In 1996, they immigrated and acquired their current farm in Wilmot Township. They only intended to focus on dairy, but when their goods got shipped over, some of the cheesemaking equipment made it over too, and the rest is history.
Today, Mountainoak Cheese aims to craft exceptional Gouda-style cheeses with high-quality fresh milk from their own dairy cows.
I loved the Farmstead Gold which has a touch of sweetness come through, but I found my true joy in their creativity when trying the Black Truffle, the Wild Nettle, the Chile Pepper, and especially the Friesian, which has a cumin and cloves, coming through in droves.
Udderly Ridiculous
We've actually written about the wonders of the Udderly Ridiculous Farm Life before, so certainly give that a read if you're keen to see what they do beyond cheese (Hint: they do a lot – and well).
Cheryl Haskett is someone whose passion for animals, and helping others experience that passion, is so clear and apparent. We follow their journey carefully, and just cannot recommend visiting their establishment enough. Suffice to say, we're enormous fans of Cheryl, and the whole team over there (very much including the animals).
They're best known for their Udderly Ridiculous Goat Milk Ice Cream "made from the finest ingredients we can find from around the world, and also as locally as possible – like the Ontario goat milk and cream we use as the base for all our fabulous flavours – it's the true inspiration for what we make."
They now have a wide assortment of flavours, including Coffee & Craft Brew, Lemon Cream, Peach Mango Tango, Vanilla Bean Lavender, Spiced Pumpkin, and Wine & Dark Chocolate.
If you're going to be heading in this direction (and I feel it's a must-stop on the Oxford Cheese Trail), then you might also want to take a look at their experiences, so you can leave with a few new memories along with your ice-cream!
Golspie Dairy
The Golspie Dairy, situated just outside of Woodstock, occupies a picturesque farm that has been in their family for an impressive 144 years. They focus on making the finest British style cheeses in the country.
One thing that needs to be mentioned – their milk vending machine! All you need to do is bring your own bottle (or get one there), then nab yourself either some full-fat white or my personal favourite, some delicious chocolate milk.
I mentioned before that they are looking at doing British style cheeses. That's where their Crowdie comes into play. For those who haven't had it before, it's somewhat similar to cream cheese, and has a delightful tangy flavour to it. I don't think you'd make a mistake spreading this on just about anything (my first thought was an everything bagel, personally).
I also thought their reusable glass jar packaging looked so sharp, and I know the whole team at Ultimate Ontario wishes them well as they venture into the cheese making side of things.
They have a long history, but their journey into cheese making is relatively new, and it was fun to visit and talk to them about that journey.
Dad's Ice Cream
Kim, Kelly, and Kristine McLaughlin, known locally simply as "the McLaughlin sisters", developed a fondness for Shaw's Ice Cream while serving it at their seasonal shop, Dad's Ice Cream, in their hometown of Tillsonburg. In 2001, they took ownership of the brand.
Now, after two decades, Shaw's is available in ice cream shops throughout Southwestern Ontario and in stores across Canada. I'd recommend going up to the window and experiencing the local favourite, Shaw's, which is crafted using 100% Canadian cream. Dad's is open seven days a week from Mother's Day to Mid-September.
They have a cheese trail offer as well – "Cinnamon Bun Ice Cream; cinnamon flavoured ice cream with cream cheese frosting and cinnamon bun pieces." That being said, whatever you're looking for flavour wise, you're going to find it here.
Gunn's Hill Artisan Cheese
You'll find Gunn's Hill just outside Woodstock, and I was fortunate enough to find one of the cheese makers there as well, Shep. He told me all about his cheese making process, so much of it inspired by his time learning about Swiss cheese making in the town of Handeck in the Swiss alps.
Five Brothers is actually their most well known cheese, and Shep told me that "it's alpine cheese – swiss meets gouda!"
Meeting Shep, and getting to see the operation here, it didn't surprise me that this has become such an important part of the community, and they've developed such a prestigious reputation. Over and over again, I heard from cheese makers that had been inspired by what Shep and the team has been able to do here in since he started formally cheese making in 2011 (though Friesvale Farms had been around for 60 or so years prior.)
I was fortunate enough to get a behind-the-scenes look at the process, and was just taken by the whole operation, and the quality of their product.
They offer fresh cheese curds every Friday, which are enormously popular, but their lineup of cheese extends well beyond that. I'd recommend the Dark Side of the Moo (modelled after Swiss cheese known as "Mutchli," and their Oxford's Harvest with Garlic and Chives is enough to wow any guest you've got over.
The reality is that, whatever cheese you walk away from here, it'll have been a good choice.
Bright Cheese and Butter
They opened their doors all the way back in 1874, and Bright Cheese and Butter can trace its roots to a group of local farmers who pooled surplus milk to create a cheese factory, which was centred around cheddar. As the 20th century began, Bright Cheese experienced substantial growth, right alongside the Canadian cheddar market, which had risen to become Canada's second-largest export. This surge actually led to the establishment of some 1,200 cheddar factories in Ontario (something I did not know before hopping on this Cheese Trail).
Today, after over 145 years, they continue to craft some delicious cheeses at their 1800s-era factory in Bright, Ontario. They've got aged cheddars, asiago, colby, monterey jack, feta, havarti, specialty flavours, and, of course, curds, all available in their shops.
They proudly bear the title of Canada's Oldest Registered Independent Cheese Company, and if you are doing a tasting anywhere, I'd still start with their cheddars, then go from there.
Red Dragon Dairy
Here's another visit that I won't soon forget, largely because of the memorable man that Ellis Morris is, and that he helped me make one of the great revelations of my life – that sheep milk cheese curds are utterly scrumptious. He told me that they're his best seller now, but when he moved over, he noted, "I didn't even know what cheese curds were!"
Ellis Morris and his family transitioned from farming to cheese-making, thus bringing Red Dragon Dairy to life. After immigrating to Ontario, they acquired their farm in 2007 and began the practice of sheep milking. "Within one day, I knew this was it," he told me.
This continued for over a decade before they made the decision to sell the farm. Their aim was to invest in the future and offer support to small local farmers in the area. This led to the establishment of a small-scale artisanal cheese plant and a local store. His son, Sion, makes all the cheeses now, and carries forth their vision for cheese making (very well, I might add).
They offer sheep milk cheeses, fresh cheese curds, cream cheese, aged cheese, and more. They also provide a selection of both Ontario-made and imported European cheeses. As if that wasn't enough, they have fresh baked bread at the ready, summer sausage that is just delectable, plus a wide assortment of lamb (frozen in different cuts and vanities).
If I was from the UK or Wales and needed to get my fix for products from the homeland, this is where I would come. Cheese is just the start really here, and I swear that I still dream about the Welsh Cakes that they make here.
When you're checking out, you'll see the Welsh Cakes by the cash, and do yourself a favour, and buy yourself at least one bag. I'm fairly sure I took down the whole bag before I got to my next location during my exploration!
Get Out on the Farm
Looking to get a deep breath of some fresh country air (something surprisingly easy to do in Oxford County), here are a few spots to do just that.
Thames River Melons
Her dad does the wholesale, but Alex has expanded the operation as a "place to experience agriculture." There's no gate fee or admission, and I'd recommend timing your visit so that you can stop by the Farm Food Truck. Everything is made here, and the food is fantastic, but the milkshakes really steal the show in my humble opinion (and are part of the reason they're on this cheese trail of all cheese trails).
"This is a space where agriculture can be experienced firsthand through berry, vegetable, and pumpkin-picking," they note. When I was walking around nabbing fresh berries, I was cognizant of the fact that escaping to places like this, and getting back to our roots as human beings is, in a sense, a form of meditation.
For families, it's worth noting that are also some walking trails nearby, a kids play area, and more. We're so excited to see how they continue to grow and expand because it's clear that they're aiming high, trying to do things differently, and it's paying dividends.
Greener Pastures Eco Farm
Andrea was there to meet me as I was pulling in, and before I knew it, I was on the wagon, with Carl at the helm, and we were exploring these beautiful grounds. Their kids joined us, and seemed much sturdier than I on the back of that wagon.
You can tell they're the type of people who welcome everyone like family. Speaking of family, Andrea let me know that this farm started in 2015 in part because "she wanted the family to connect with their food again." This eco-farm is a reflection and manifestation of that.
"Everything around ecological principles," she noted.
I learned so much here. I learned about their Belted Galloways, a traditional breed of Scottish beef cattle, and their Barbados Black Belly Sheep.
They make products, such as their all beef pepperette, which you can find in their store. Part of how they ended up on the cheese trail was that they also started selling local dairy products, to help out other businesses in the community during the dark days of the pandemic. And, as if they weren't busy enough, they also run a milk delivery business.
It's a pasture based farm where you can see that the wellbeing of the animals is at the forefront of the operation. They told me that they're leaders in the space of rotational farming, and my questions continued, as their heartfelt and well thought out answers continued as well. Did I mention I learned a lot here?
It's 75 acres in size, and they've now got official campsites for visitors if you'd like to stay the night. I can't say enough about Andrea, Carl, and their family. They've got a big piece of land, but their hearts are about ten times that size.
Breweries & Brewpubs
Care for a pint? Well all these establishments have a local cheese offering or two that makes them well suited for cheese trail exploration to get along with a cold one.
The Brickhouse Brewpub (& Upper Thames Brewing Company)
The Brickhouse Brewpub in Woodstock, an extension of Upper Thames Brewing Company, combines a love for food, local partnerships and, of course beer. Inside, you'll find warm lighting, exposed brick, and an impressive display of growlers collected by the owners, to go along with a retail area as well.
The Brewpub features an extensive selection of 25 beers on tap, including Upper Thames Brewing Company's flagship varieties like the Darkside Chocolate Stout, Timberbeast Brown Ale, Lazy Fox Amber Ale, and more. The remaining 13 taps showcase independent craft beers from various Ontario breweries, which I absolutely loved to see.
The Brewpub's menu is designed to complement their beer offerings, with dishes like the Brickhouse Burger topped with fresh curds and a gravy made from their Timberbeast Brown Ale. They also incorporate beer into other menu items, such as their soft pretzels served with a beer and cheese dip.
What better way to celebrate being on the Oxford Cheese Trail than with a beer, and beer and cheese dip, right?!
You can also pop by the Upper Thames Brewing Company venue itself, which was the first craft brewery in Woodstock and Oxford County. I'd recommend visiting when the sun is high in the sky and heading to their patio area, though the beautiful open concept taproom is no sight for sore eyes, either!
If you're an Ontario beer aficionado, then consider doing a brewery tour, which they run during their regular hours.
Charles Dickens Pub
The Charles Dickens Pub is a family-owned and operated establishment situated in the heart of Woodstock, Ontario. Since its inception in 1998, it has been known for serving one of the finest pints of Guinness in Ontario!
Did I tell you that I was happy to be staying in Woodstock for a night during these excursions?
The menu features beloved pub classics alongside authentic English cuisine, all presented in a welcoming and lively atmosphere. I'd recommend the Ace of Clubs, which features grilled chicken, strip bacon, back bacon, 5 Brothers Cheese, lettuce, tomato and mayo on white, rye, or a wrap!
And, if you want to just keep the cheese train rolling, they've got curds aplenty atop their poutines.
The Charles Dickens Pub is a staple of Oxford County, and that won't be changing anytime soon!
Restaurants & Eateries
Eating all that cheese has a way of making you hungry, don't you know? All jokes aside, here are a few spots that you'll especially want to have on your radar if you're staying overnight in Oxford County.
The Olde Bakery Cafe
The Olde Bakery Cafe in Ingersoll is all about providing fresh, healthy options, particularly for lunch. They've got three Oxford Cheese Trail options, in fact!
The All Day Breakfast Sandwich featuring Gunn's Hill 5 Brothers Cheese.
A Cajeta Latte featuring local dairy cajeta.
Their Crowdie Danish, which of course featured Golspie Dairy Crowdie.
They also do cakes, cupcakes and pies, as well as plenty of fresh bread. In terms of planning out your cheese trail adventures, this is a great spot to aim to stop after you've made a few morning stops and want to grab a breather during the lunch hour.
I personally just hopped in and grabbed a Crowdie Danish and a coffee for breakfast, and I was an awfully happy camper.
sixthirtynine.
sixthirtynine, established in 2005 by mother and son Pauline Bucek and Eric Boyar, is a restaurant committed to crafting fresh, locally-sourced, and terroir-driven Canadian cuisine. Their menus feature farm-to-table dishes prepared with a lot of creativity and flair. This is a top-tier dining option in the region, both locals and visitors can agree!
The cozy dining space offers a comfortable, high-end dining space, and they've got a reputation for excellent service. There's no shortage of cheese on the menu either – think Truffled Gouda Arancini, fresh Ontario burrata, their Mile Chocolate Tart (made in collaboration with Habitual Chocolate), or their Rhubarb Stroopwaffle Ice Cream Sandwich.
Louie's Pizza and Pasta
I don't think anyone is confused about how this restaurant could end up on the cheese trail. Louie's is a mecca for local cheese!
I've always loved the slogan of this Ingersoll staple – "Locally Sources, Locally Loved."
They've been around since 1994, and they've got a large menu with something for everyone (burgers, wraps, pastas, wings, nachos, panzerottis, pizzas and more). You can grab breakfast until noon (and 2pm on weekends), but their big thing is that they make sure that if you've got a big appetite, you're going to be happy with what you get.
"With large portion sizes, we guarantee you won't leave hungry," says Louie's!
Museums & Cultural Centres
When your stomach is a little too full of cheese, you can take a break and fill your brain with a little knowledge. I loved this part of the Cheese Trail!
Ingersoll Cheese and Agricultural Museum
If you're able to plan it this way, this is a stop that I'd make early on in your Oxford Cheese Trail adventures, and that's because it paints the full picture of the story of Canada's dairy capital, right from the heart of it.
The Ingersoll Cheese & Agricultural Museum, opened in 1977, is a 19th-century cheese factory re-created in Centennial Park, near the original cheese factory site of The Elm hurst Inn. The museum features galleries, a gift shop, a working blacksmith shop, barns, a bread oven, and a schoolhouse. With over 45,000 artifacts, including over half from The Oxford County Museum School, it tells the story of Ingersoll and its surrounding area.
Kids may enjoy Canada's only cheese playground, and if you're looking to sneak in a walk, the Thomas Ingersoll Trail is a good bet.
I took a tour with Scott, and he told me all about "the town that was built on cheese!"
Norwich and District Museum Archives
Visit the Norwich Museum to explore the area's Quaker and Dairy heritage, 200 years of rural life in Southwestern Ontario. Explore 19th-century agricultural barns, blacksmith's shop, and street gallery, and learn about the Society of Friends who settled Norwich in the early 19th century.
You'll also be able to discover Norwich's entrepreneurial heritage, including the largest broom factory and first cheese factory in Canada.
Perhaps my personal favourite part of it all? You can "Churn Back Time" with their Butter Churning Experience!
Tillsonburg Station Arts Centre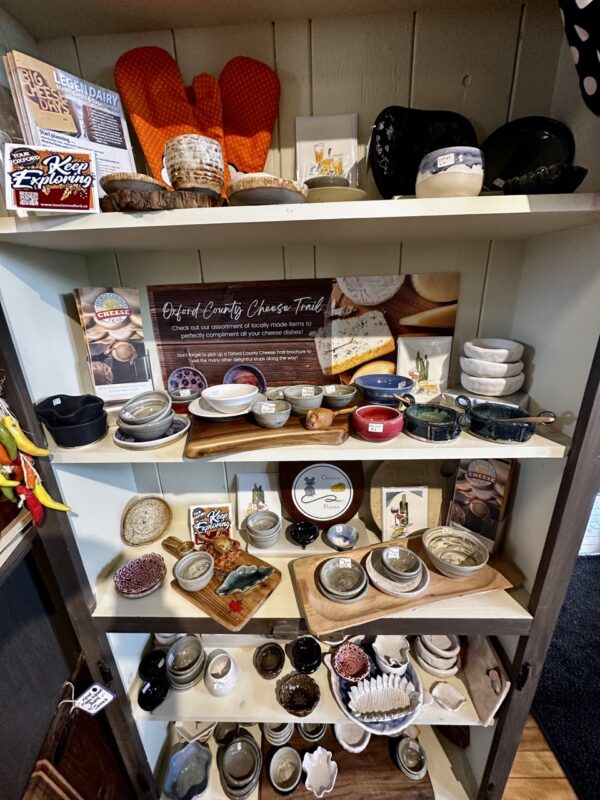 Their shop is filled with cheese related goods from local artists, and that's how they find there way onto the trail, but it's so much more than that. When I arrived, kids were having a ball at summer camp with art programming that I would have loved to have stopped and participated in!
In short, the Station Arts Centre is a local historical site that promotes arts in Tillsonburg and surrounding areas, offering visitor information, galleries, programming, in-house groups, artisan gift shop, pottery studio, and Saturday Farmer's Market.
Bakeries & Sweets
If you decided to pack your sweet tooth along with your preferred luggage, you're in luck!
Whisk & Roll Bakery
Whisk & Roll call Woodstock home, and their goal is "delighting people with fresh baked goods made from scratch just like you learned with Grandma," and "are beyond grateful to make you deliciously beautiful creations with our hands."
Where do I sign?
Bars, biscuits, brownies, cakes, cinnamon buns, cookies, cream pies, cupcakes, danishes, fresh bakes bread, loaves, charcuterie boards, mini cheesecakes, muffins and more.
Cheryl has made her dream come true in opening this establishment, and it's made our dream come true as lovers of Ontario baking done right.
Habitual Chocolate
Welcome to Canada's largest selection of bean-to-bar chocolate. That is not all they have though, of course, as you can come for things like dipped fruit, hot chocolate, and hand made local ice cream. I chatted with Angela, and asked what one unique, cheese-themed product was, and she let me know that would undoubtedly have to be their Brie Ice Cream.
I'd recommend getting something to taste or sip on, and then exploring the shop a little. I personally loved the opportunity to see behind the glass at where the chocolate is made. Angela and her staff can answer pretty much any question you've got, I can assure you of that.
Jakeman's Maple Farm
Jakeman's Maple Products, a family-owned Ontario maple syrup company, have been crafting their products for over 140 years. Their products include things like granulated maple sugar, maple spreads, and, you guessed it, maple syrup.
The company also offers a gift shop with a variety of local artisan vendors, including handmade jewelry, signs, artwork, and honey, as well as local cheeses.
Their hours are Monday through Sunday, from 9:00am to 6:00pm, and they also offer cream cookies, shortbread, and more. You'll recognize their branding when you go – when I saw their cookies, I thought, "oh goodness, I have eaten a lot of those in my day," and I have precisely zero regrets.
Markets, Shops, & Country Stores
Here are some more spots to do a little shopping, whether that's for a little more cheese, some clothing, arts & crafts or anything in between.
YOUR Farm Market
YOUR Farm Market, located in Woodstock, is an indoor market that's open daily, twelve months a year, that aims to showcase exceptional products and produce.
"Our mission is a simple one. While local produce is in season, we are out gathering the freshest fruits and vegetables from our trusted network of more than 40 farmers, all within a 100km radius of Woodstock.
It is brought back to our markets where cheerful staff take care and delight in serving you the very best of what the season has to offer."
If you've already been on the cheese trail for a while, and have driven quite a bit around Oxford County, the names of the producers become a little more familiar, which makes it a fun experience all unto itself.
Wild Comfort Body Care
Honestly, this may be the best smelling shop in Ontario. They offer goat milk soap, lotions, and bath products that are all made on-site, and of the highest quality.
Danielle used to work in mental health, and she eventually decided to take a 90 day leave, and to do something creative everyday. Well, on day 60, she made soap, on day 80 she made deodorant, and 8 years later, here we are.
This was a visit that really stuck out to me because of Danielle's passion. She and I are rather similar in our approach to taking risks, in that we both recognize that there's also risk in not taking a risk as well, sometimes.
They're now offering an array of soap making experiences, and clearly ingratiating themselves even further with the local community. I spent so much time here that I was running late for my next stop, at Greener Pastures Eco Farm, and she said, "don't worry about being late, that's my brother's farm, and I'll make sure he understands!"
It's a small, beautiful world over in these parts.
Coyle's Country Store
Coyle's, in Tillsonburg, is known for a lot of things but, in particular their famous fresh roasted nuts and their fudge. Beyond that though, they've got baking supplies galore (in case you wanted to make something special with all that cheese and dairy products), and they've also got nice giftware.
It occured to me while I was there that the baking chocolate could be put to good use if you wanted to make desserts to honour this cheese trail, but in general, just take some time to see all the incredible local products that are on display in the pleasant ambiance of a country store.
They also sell fireworks if you want to celebrate completing this mammoth cheese trail!
Two Girls and a Cheese Shop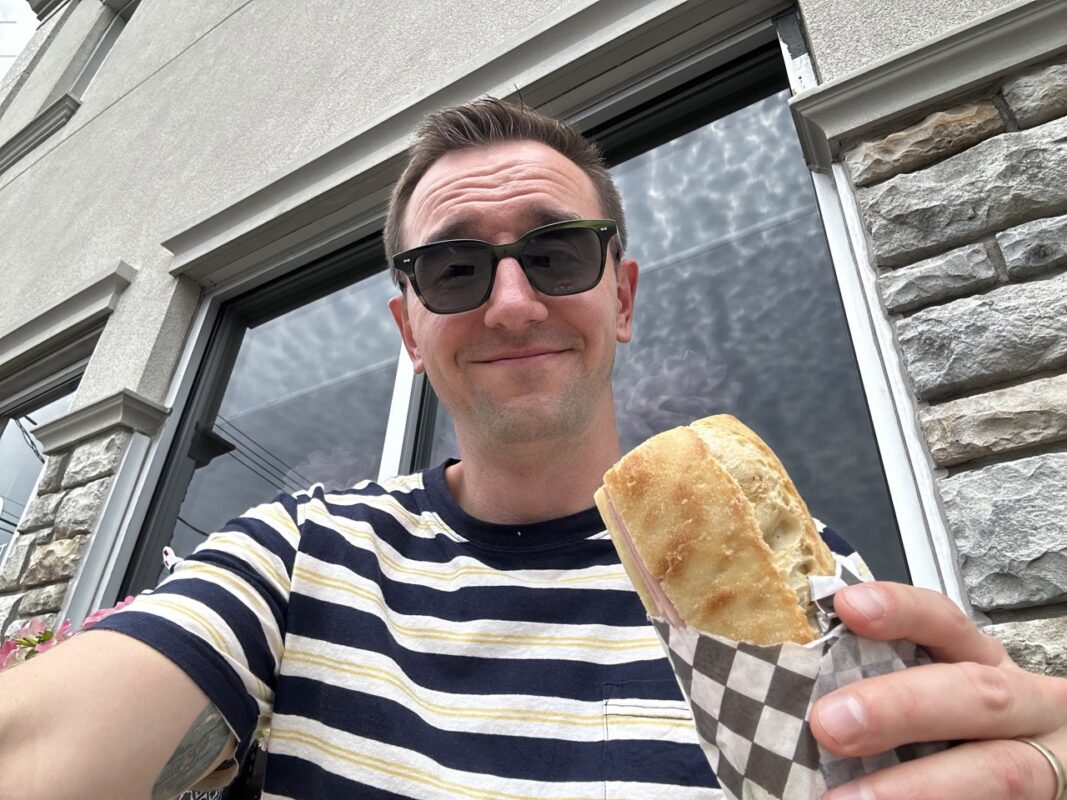 Two Girls and a Cheese Shop is a charming downtown artisanal cheese and gourmet food shop in Tillsonburg, offering a variety of picnic baskets and fresh cheese-based dishes like Buffalo Mozzarella and Blue Cheeseburger.
I timed my visit so that I could try their Thursday Specialty Sandwich, and I'd recommend you do the same if you can. My sandwich featured mortadella, burrata, and pesto, all on a fresh ciabatta baguette – it was scrumptious.
Kelly and Tracy actually used to run a hair salon, but during the pandemic, they decided to try something different. It wasn't easy sailing at first, largely because it takes time to know how much to buy and when, but they seem to have found their stride, and I just can't say enough good things about them.
I can't see a situation where I wouldn't stop by and say hello anytime that I'm rolling through Tillsonburg.
Patina's Gifts of Arts & Craft
This is a wild and funky home for the quirky and the unusual. There's a little of everything here, so prepare to come wanting to purchase one item, but leaving with a handful of others!
They've been a staple in town for a long while (since the late 80s if I'm not incorrect), and you'll find everything from wind spinners to wraps and scarves, puzzles to pottery, mugs to musical plush toys.
The story is filled to the brim, so take your time to peruse and see what catches your eye.
Betty's Marketplace
Another super fun addition to add to your Tillsonburg exploration. It's a local marketplace done right, featuring products from over 100 local businesses, including epic cheese themed items (puns galore, my friends).
When I was speaking to Danielle (who is wonderful, by the way), she let me know that "none of this was planned," but after they had some success online, they opened up a brick and mortar shop about 5 years ago.
I asked her what her goal was for their customers, and she noted that both her, and Lindsay, the owner, want to make sure that "every time you come in here, there's something different to find."
We're a big fan.
The Wine Cellar & Cheese Shop
They're on the cheese trail because they're got a fridge that's stocked with a decidedly eclectic array of cheeses, but I feel like what makes them unique as a stop is their approach to wine.
Annalise sells wine kits and juice fermentation kits, and helps people to make their own wine. I saw a fair bit of wine awaiting bottling, and the whole process seemed like a lot of fun to be a part of.
The cheese element only came into play in the last year or so, and she told me that, with her Dutch background, cheese had always been a passion for her and her family, so she thought she might as well share that passion with her customers.
I tried some cheeses here and I hadn't seen anywhere else, so kudos to Annalise on her selections!
Spend a Night on the Cheese Trail
There are two spots that you can consider, both which offer an ideal place to rest your weary head after a day of exhilarating cheese adventure. Yes, I used the word "exhilarating," because this quality of dairy deserves just such an adjective.
The Elm Hurst Inn & Spa
If I could have stayed here for a lifetime, I would have. What a place.
They've been a staple in Ontario's Southwest since 1872, and deserve to be a staple forevermore.
They offer 47 spacious guest rooms, 2 luxury suites, a fine dining restaurant, the Spa at Elm Hurst Inn, and unique reception spaces for weddings, conferences, and special events.
Located between Toronto and Windsor on 30 acres of rolling countryside, the hotel is surrounded by plenty of local attractions, both culturally speaking and for outdoor adventure. It's just down the street from the Ingersoll Cheese & Agricultural Museum, in fact.
It felt instantly like a home away from home, and I was fortunate enough to have dinner on the back patio, and be served a charcuterie board like no other, accompanied by some terrific local music. The Pan Seared Steelhead Trout with Salad Nicoise is what I had, and I still think about that meal on a fairly frequent basis!
This is a very special place, and we'd strongly recommend staying here when you're exploring the surrounding region.
The Mill Inn and Eatery
The Inn at the Mill, recently renovated with new floors and hand-crafted bed frames, offers a variety of suites for single, couple, and large families. Choose from King suites with Jacuzzi tubs or kitchenettes, as well as several queen rooms. It's Located in Tillsonburg, so within walking distance from many of the stops on the Trail.
It's well known for its rustic dining room, which resides in a Grist Mill built in 1878 by the founding family of Tillsonburg. They've got a mean breakfast menu, but our heart belongs to the Poutine with Brights Brand Cheese Curds and the Apple Cheddar Pulled Pork.
The Oxford Cheese Trail Awaits
Navigating and appreciating the Oxford Cheese Trail is one of the great adventures I've undertaken in this province, and I'm not exaggerating. The cheese and dairy is terrific, the shops are intriguing, and the restaurants know what they're doing in the kitchen – but it is the people behind these endeavours that make it so special.
The next time I visit many of these establishments, and I see some of these business owners again, I'm quite sure we'll go straight for a hug because of the relationship I was able to develop along the way. It is nothing short of an honour for me to put this together, and to guide people on their way along one of Canada's great food trails.
Christopher Mitchell is the Cofounder of Ultimate Ontario. He's visited over 80 countries, and has lived on 4 continents, but now has his eyes set squarely on exploring this incredible province, and helping others do the same.