Taking a PTBO Picnic allows visitors to explore the region of Peterborough & the Kawarthas through a new lens. Spend a night with friends or family at a local inn, and indulge in delightful bites from local shops, bakeries and grocers to enjoy on your PTBO Picnic.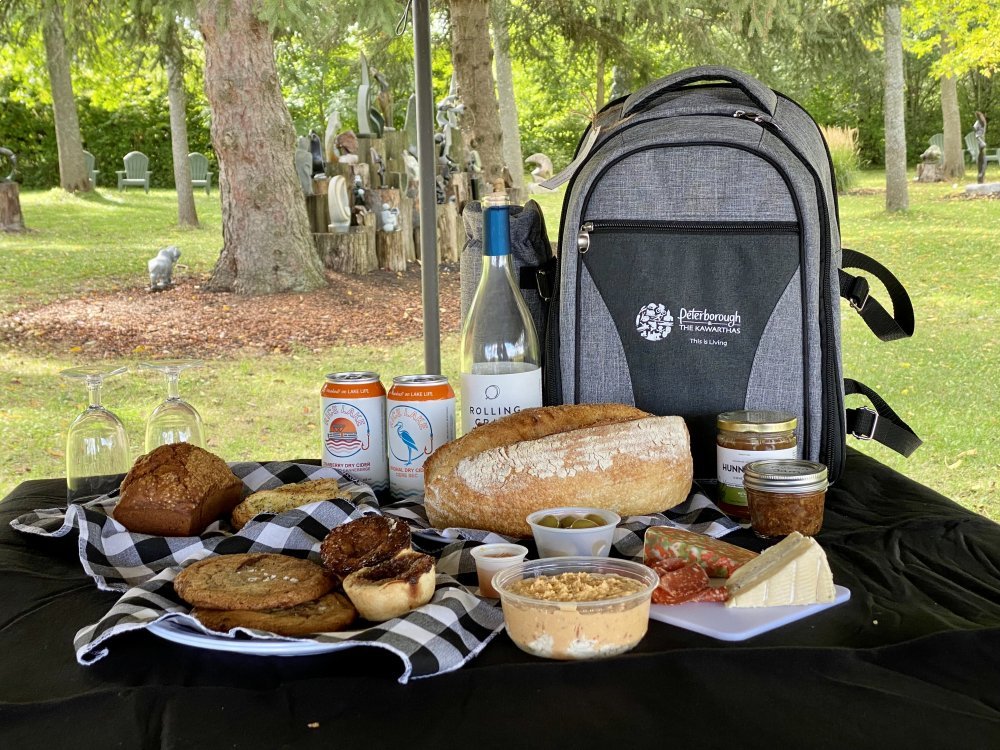 ---
After a while, you begin to realize that it's not just where you explore that matters, but also how. The approach that we take when visiting new places (or familiar places in a new way, for that matter) makes a difference.
On a larger level, that of course means visiting places with an open mind, and ideally with some kindness in your back pocket to share with anyone you might meet along the way. But it's also fun to appreciate a region by establishing a theme that you're going to focus on.
It can be as simple as saying that on a particular weekend, you're going to visit an area of the province and, for example, check out one of its most beautiful hikes, take one of Ontario's most breathtaking drives, or visit one of the province's latest festivals or events.
This time around, I decided to head to the Peterborough & the Kawarthas region to fully embrace a "fall road trip getaway" angle.
Peterborough & the Kawarthas has a list of "Authentic Adventures" to choose from during your visit, which are all about honing in on unique adventures that focus on local, sustainable experiences, connecting visitors to the region with incredible local business owners. I had such a nice time on the "Farm to Forest Getaway" with my partner, Chris, in the past, and knew I was in for a treat this next time around.
I looked through the list of their "Authentic Adventures," and settled on the "PTBO Picnic" experience for my fall getaway.
What Exactly is the PTBO Picnic?
The PTBO Picnic is an experience which aims to get people outside to visit Peterborough & the Kawarthas in the shoulder seasons of the year. It's available from September to May, and can be booked through the participating accommodations on their website.
This authentic adventure is ideal for four people but, it's also great for couples, two or more friends, or even as a solo getaway.
When you book the PTBO Picnic package, it includes a one-night stay at one of the participating local accommodations, the PTBO Picnic backpack with everything you'd need for serving a picnic for up to four people outdoors, and gift certificates to local shops offering everything from charcuterie delights and tasty wines to bakeries and sandwich shops.
When you check in to your accommodation with this package, your picnic basket and gift certificates will be waiting in your room for you.
For each place that you stop at, you have a gift card to use to help build up your "picnic basket." It's worth it to talk to the shop owners as you visit their stores and use their expertise to curate the perfect spread for your picnic.
When you find yourself shopping around for your fall picnic, you might find yourself wandering into some other fantastic shops along the way. There are so many delicious food stops and shopping hubs in the region that I found myself still snacking on some of the delicious foods that I brought back a few days after I returned.
Your picnic backpack also has an insulated pocket and insulated drink pouch, so you can easily keep all your goodies cold as you shop around to fill your basket. It includes cups, napkins, plates, cutlery, and everything else you'd need to have the perfect picnic.
Head here if you want to learn more about the cost for this experience, the gift card value that you'll be allotted at each destination, the dates that this campaign is running, and more! This is such a unique experience, and it genuinely deepened my connection to the region.
Below, I'm going to run through a brief explanation (as well as my experience) at each of the destinations on each self-guided fall picnic road trip.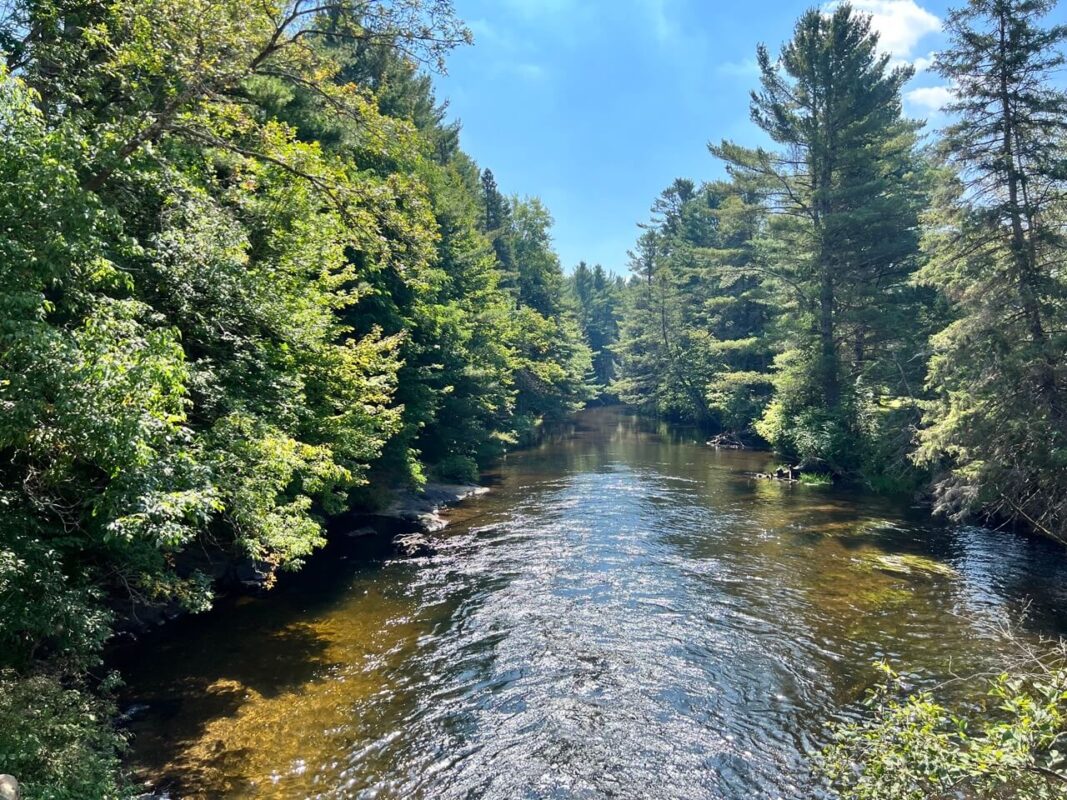 Peterborough Picnic Getaway Ideas
You have two options for where to stay on your PTBO Picnic getaway. Remember that in order to participate in this package, you have to book it through each hotel's website. You can't book through a third-party website to take advantage of these packages. You also need to arrange your trip at least 14 days in advance of your stay.
The first getaway is a focus on the charming Village of Lakefield at The Village Inn. The breakdown of the types of rooms available for this package is listed on their website under the "Peterborough Picnic Package".
The second getaway is at the Westwind Inn in beautiful Buckhorn, Ontario. You can call the inn to book your PTBO Picnic Package, and they'll walk you through the rooms that are available during your stay here.
The Lakefield PTBO Picnic Getaway at The Village Inn
This getaway is focused in the town of Lakefield. Lakefield is a charming town located relatively close to the city of Peterborough.
It has a beautiful main street, with several shops and places to pick up a bite to eat on your picnic. All of its businesses are conveniently close to The Village Inn, and it's easy to walk around this charming town.
The Village Inn
The Village Inn has been hosting guests in historic and picturesque Lakefield for nearly 20 years. They offer 30 distinct room choices, and two lavish suites tucked in the scenic Kawartha Lakes region.
When you stay at The Village Inn, I'd recommend booking a room on the street-facing side of the inn. These rooms have spacious balconies, and west-facing views of sunset over the Otonabee River.
During your stay in at The Village Inn, you'll receive gift vouchers for Lakefield Bakery on Queen and The Cheesy Fromage.
Lakefield Bakery on Queen
Lakefield Bakery on Queen is a short walk from The Village Inn. They're known as an excellent stop for artisanal breads, delicious pastries and sweet treats. They also sell local spreads and maple syrups.
If you're focused on gathering items for your picnic, then you'll likely want to go for the dessert angle. If you're feeling up for it, you could even use your gift card here to nab a whole pie.
They're well known for their desserts, so I tried some of their delicious Butter Tarts (which I'd highly recommend), as well as grabbing a few of their Date Squares.
To keep the energy high, I also grabbed myself a cup of their delightfully brewed Pilot Coffee.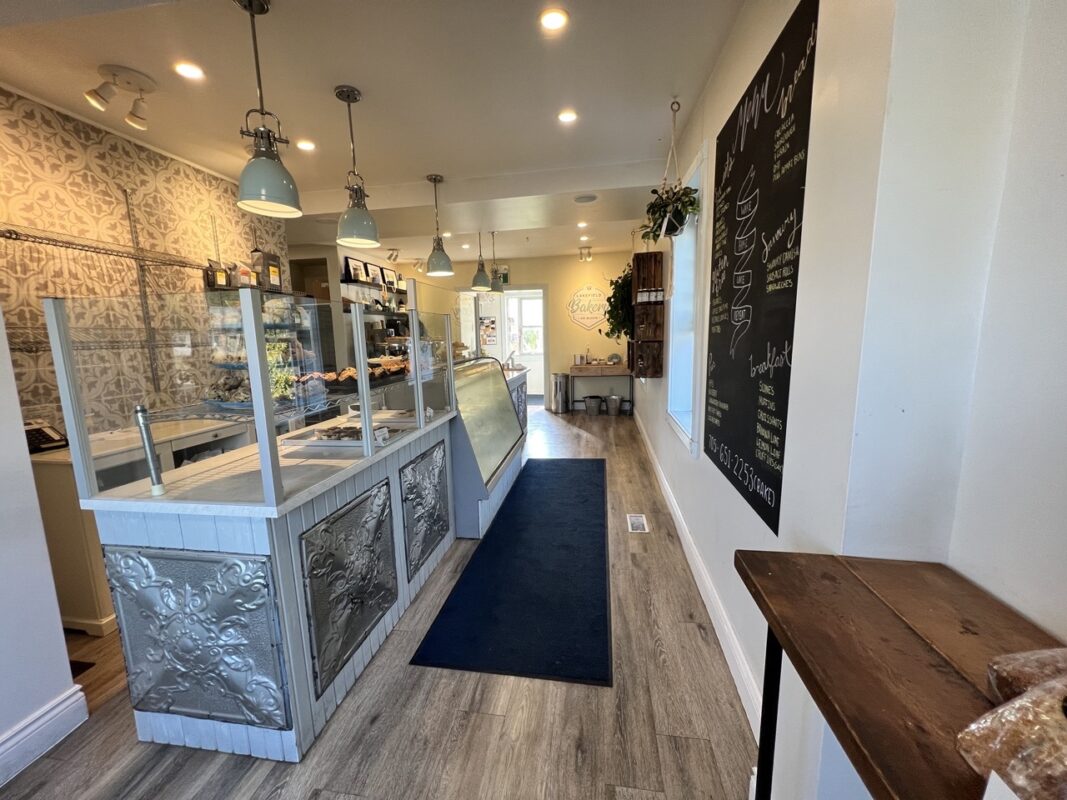 The Cheesy Fromage
The Cheesy Fromage is a lovely cheese and wine shop located on the main street in Lakefield. It's a spot you can go for a lunch, afternoon or evening charcuterie board, or you can order one to take with you on your picnic.
They have an expertly curated selection of home goods, which are perfect for making a great cocktail, serving wine and appetizers at home, and finding the unique preserve to pair perfectly with your charcuterie spread.
Their cheese monger will take you through all of the best options for you to indulge in for your picnic spread, and can create a charcuterie-to-go for your picnic.
The opportunities are endless for a spread, with Ontario and Quebec cheeses from sheep's milk to blue cheese, and preserves that are made in house, like antipasto or apple preserves, and other locally sourced preserves, too.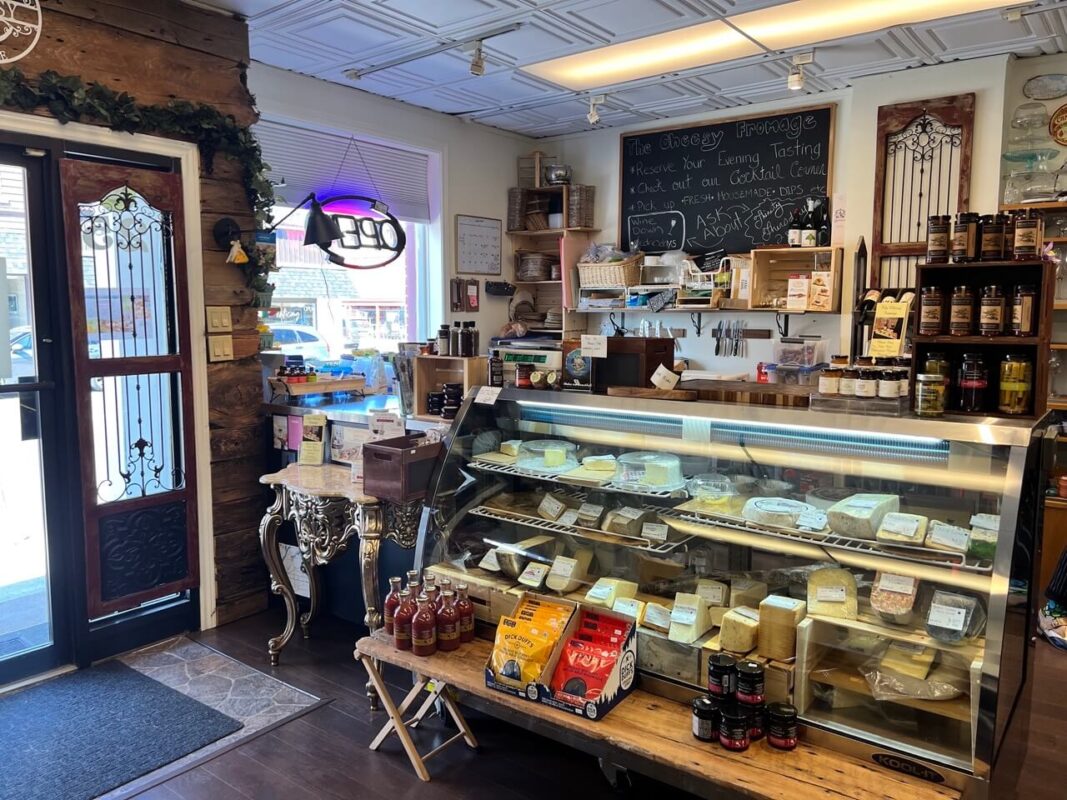 The Buckhorn PTBO Picnic Getaway at Westwind Inn
This getaway is focused in the town of Buckhorn. Situated between the Canadian Shield and St. Lawrence Lowlands, Buckhorn boasts a distinctive geography of rolling hills, picturesque lakes, and granite rockfaces. The bustling Lock 31 in downtown Buckhorn is an important part of the Trent-Severn Waterway, and is surrounded by amenities like restaurants, shops, parks, and attractions.
Westwind Inn
The Westwind Inn sits on scenic Buckhorn Lake. It's a beautiful place for guests to immerse themselves in nature and unwind. The inn has a cottage-like feel, without being at a cottage.
There are several different rooms in their lodge, some of which have a heart-shaped jetted tub. They also have more spacious rooms in their chalet, which is tucked away from the main lodge on a foot path.
It's recommended to stay in one of their rooms with a balcony during your visit, so you can relax amongst the natural surroundings from the comfort of your room. During your stay at Westwind Inn, you'll receive gift vouchers for The Grape and Wedge and Kawartha Country Wines.
The Grape and Wedge
The Grape and Wedge is an artisan food store located in the quaint town of Apsley. They offer everything you'd expect for a local boutique grocer, and then some.
You can find preserves, meats and cheeses for a picnic charcuterie here, plus homemade hummus and other delicious dips, and even artisanal sandwiches. On the day of my visit, the sandwich special was a smoked ham and brie sandwich, which I happily grabbed for my picnic.
I also picked up a few jars of local jams, artisinal croustini and stuffed olives on my stop here for my picnic basket.
Kawartha Country Wines
Kawartha Country Wines is another great stop on a picnic getaway to the region. They have a cute local shop with delicious honeys, spreads, sauces, preserves and maple products. And of course, they have an excellent selection of wine to choose from.
They create their own fruit wines at Kawartha Country Wines, offering flavour of wines like pear, blueberry, cranberry and raspberry.
If you're coming through on a Friday, Saturday or Sunday for your picnic getaway, then it's an excellent opportunity to take one of their wood-fired pizzas for your picnic, too.
Where to Enjoy Your PTBO Picnic
Depending on whether you venture to Buckhorn or Lakefield for your PTBO Picnic, there are several areas to choose from when it comes to bringing your picnic outside.
Consider taking your Lakefield picnic to Lakefield Conservation Area or Warsaw Caves Conservation Area. Both areas are in beautiful locations, and have picnic tables and walking trails to take before or after your picnic.
If you're looking for a place to enjoy your Buckhorn picnic, Kawartha Highlands Provincial Park or Burleigh Falls are excellent options, too. There are picnic tables at Lock 28 in Burleigh Falls, perfect for enjoying the afternoon next to the rushing falls and watching the boats coming in and out of the locks.
I ended up taking my picnic to the top of Lookout Trail at Warsaw Caves, which was a beautiful, protected and scenic place for a picnic.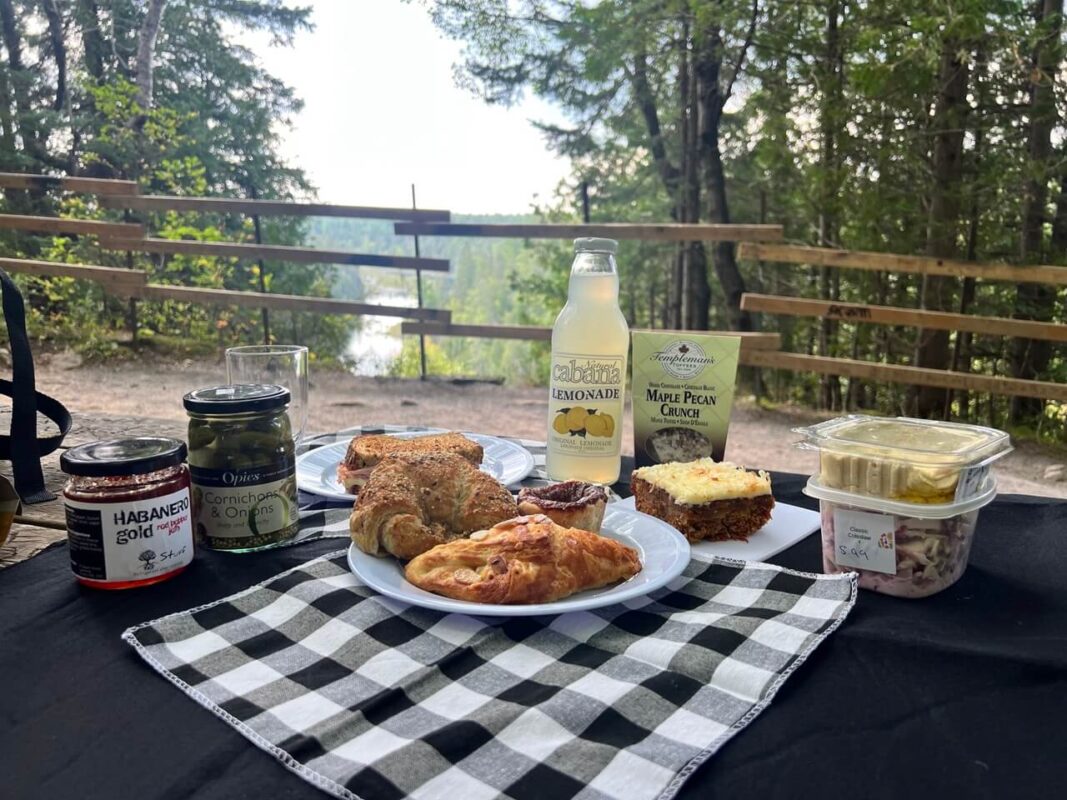 Bidding Adieu to the Peterborough Picnic
As I was packing up my picnic in Warsaw Caves Conservation Area, I realized that I'd more or less accidentally amassed this incredible array of memories and deeper connections to this region on the picnic road trip. How, for example, can I ever pass through Apsley now without stopping in at The Grape and Wedge? How can I ever roll past Lakefield without stopping to get myself a fresh coffee and baked good at Lakefield Bakery?
That, in essence, is the beauty of an experience like this. Peterborough & the Kawarthas has put forth a map that they feel encapsulates some of the best of the best in the region, and we get to take part in that once, but have this newfound knowledge and experience for a lifetime.
This province is full of new experiences. I write about this province for a living, and I came across places on the PTBO Picnic that downright wowed me, and that I will be recommending for years to come. Now that, to me, is something special, and I hope that if you do decide to take part of this authentic adventure, you'll have much the same experience as me.
Bon appetite!
---
I want to humbly thank Peterborough & the Kawarthas for hosting us as media. All opinions are completely my own.
If you appreciated this article, you'll love our newsletter, as well as our Facebook group! Feel free to join, all are welcome.
Bri was born and raised in Ontario. She spent many years living abroad, but returned to Ontario a few years ago, and is very happy to be back exploring.
She loves writing about travel experiences in our beautiful province, including unique accommodations, memorable meals and adventurous activities.
You can find her canoeing and swimming across Ontario with a craft brew in her hand in the summer, and snowshoeing or curling up with a good book and an Ontarian Pinot Noir in the winter.