Did you know that you can experience Lake Scugog ice fishing near Toronto in the small town of Port Perry just an hour from the city?
Ice Fishing is as Canadian as Tim Hortons (well, at least before they got purchased by a Brazilian company). It's quintessential to our northern identity here in Ontario. The timeless adventure of huddling in the warmth of a shelter sharing laughs, drinks, and stories is a classic Ontario experience. And it's something that everyone in the province should take the time to do.
Ice fishing in Ontario is gaining popularity with each passing season. And it's not just remote locations that are jumping on board the Ontario ice fishing market either. Those looking for ice fishing close to Toronto are the prime market for destinations such as nearby Durham County, home to Lake Scugog ice fishing.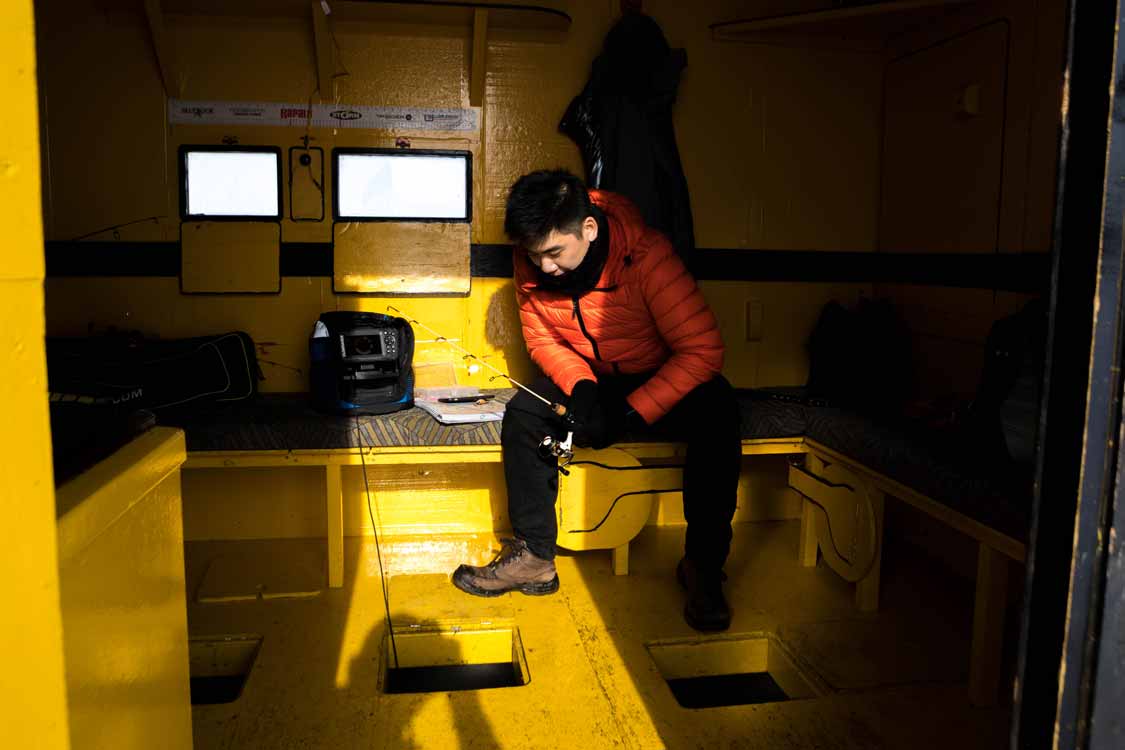 Ice Fishing Lake Scugog in Durham County
As I stood on the shores of Lake Scugog in Port Perry, Ontario staring out at the snow-covered surface, I was blown away. This wasn't the Durham County I thought I knew. The picturesque Port Perry shoreline was dotted with locals and visitors taking in the mild February weather. The million-dollar cottages that lined the shore were bustling as families spent time together enjoying the sunshine.
Spread out across the Lake Scugog surface were a dozen quaint ice fishing huts. Their presence popping from the frozen surface due to their bright yellow roofs. The crew at Scugog Ice Adventures shuttled excited anglers back and forth using a Suzuki Jimmy pulling a brilliant yellow trailer. The group of writers I was traveling with piled in, ready for adventure. Before long we were making our way across the ice to our cozy ice fishing hut.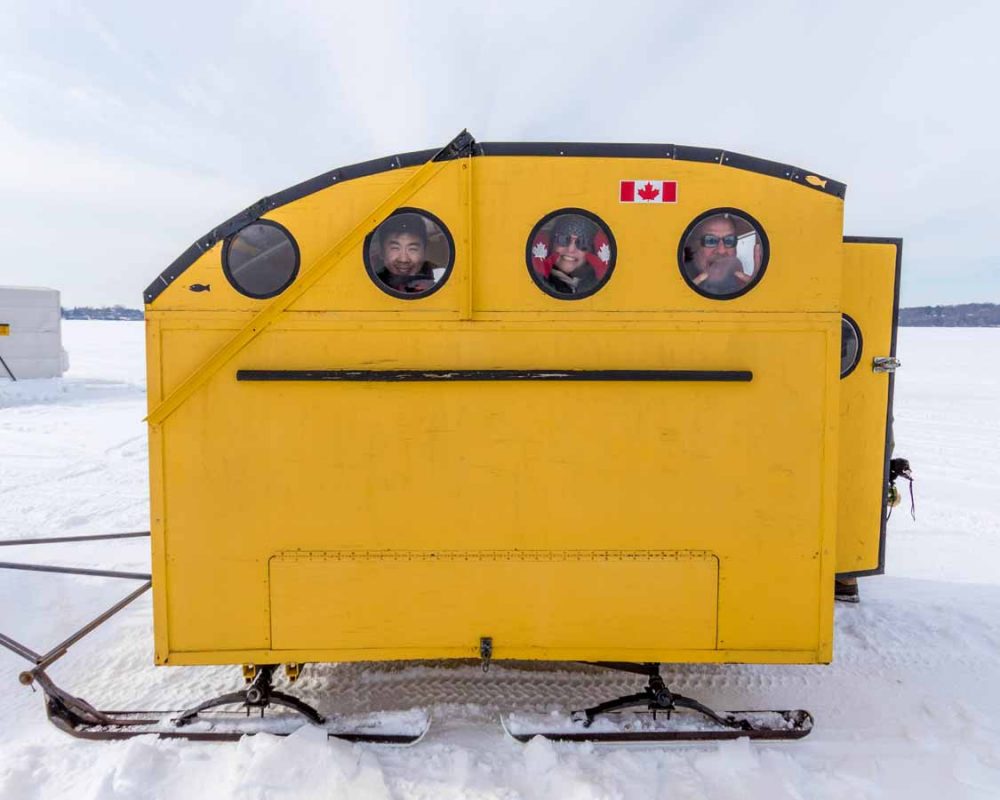 Lake Scugog Ice Fishing Huts
The Durham ice fishing huts were spacious and comfortable. The snug interior was heated by a small stove that pulls double duty for cooking your catch. Each ice fishing hut had space for six anglers. And there were holes pre-drilled into the Lake Scugog ice in front of each seat. The group that I was fishing with used a range of ice fishing rods. Scattered about the cabin was everything from small, homemade wooden dowels to expensive rods with reels that looked like they could handle a Muskee. Which I learned is a fish that is often caught in the Lake Scugog waters.
Once we were all settled into our fishing hut, the temperature inside got cozy quickly and soon we were all shedding our jackets and settling down to reel in our catches. Before long we were sharing the kind of stories that only seem to be shared when friends are stuck in close proximity for a long period of time.
We didn't need to wait long before we were reeling in our catches. One by one we pulled monsters from the shallow Lake Scugog waters. And by monsters, I mean, well, they were Perch that were small enough to have been used for bait, to be honest. But it wasn't about the size of the fish that we were catching. The real experience was the atmosphere of togetherness and bonding that ice fishing seems to create. It was hard to believe that all of this adventure sat within an hour of Canada's largest city. Our Lake Scugog ice fishing experience was every bit the quintessential Canadian experience that we had hoped it would be.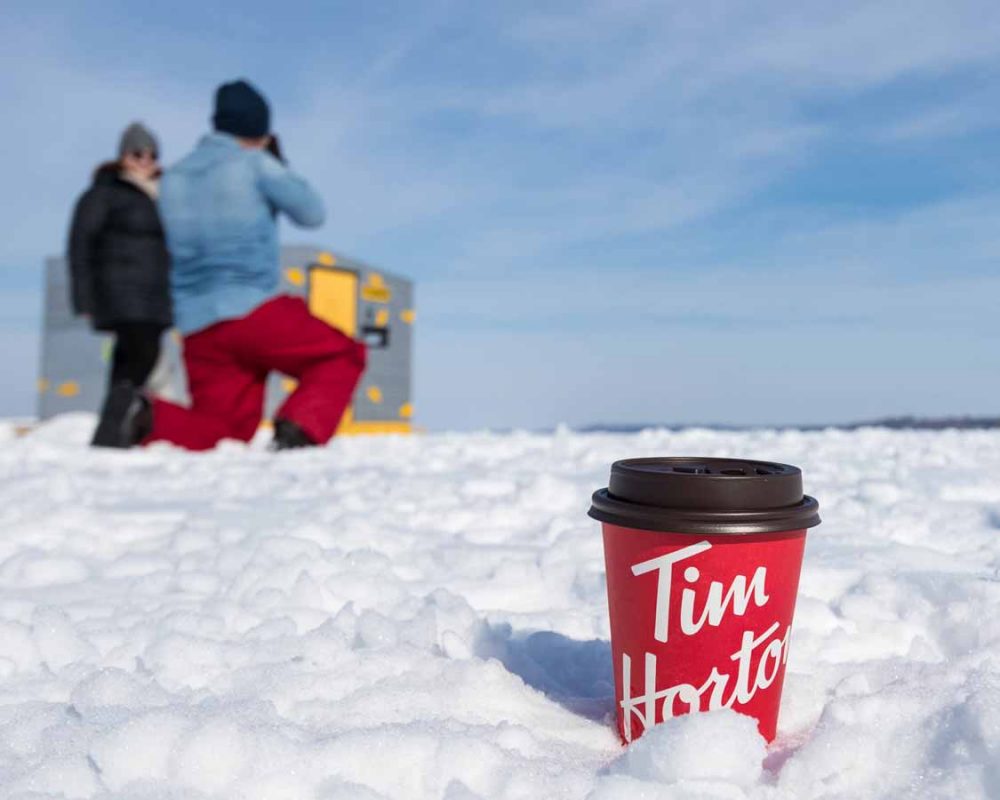 How To Plan Your Lake Scugog Ice Fishing Adventure
Lake Scugog is an ideal destination for ice fishing near Toronto. The pretty shores of Port Perry, Ontario are just an hour from Toronto. Local operators such as Scugog Ice Adventures are perfectly prepared to cater to both avid anglers and those experiencing their first time on the ice. The company operates ice huts and rentals right from the Port Perry marina. And as part of their Lake Scugog ice fishing packages, they also offer holes dug outside the huts for those wanting to enjoy the sunshine.
The ice fishing packages also include bait (in this case, minnows), as well as lines and rods upon request. It's truly the perfect way for those new to ice fishing to experience it for the first time. For those looking to extend their stay, there are even overnight huts available. These are fantastic for family get-togethers, unique romantic getaways, bachelor, and bachelorette parties.
Other Things To Do In Port Perry Ontario
Lake Scugog ice fishing isn't all that there is to experience in Port Perry. This small town has a lot going on. You can extend your Lake Scugog ice fishing adventure with some of these treats.
Stop In For An Apple Fritter At Hank's Pastries
Apple Fritters are a Canadian classic, and there are few places in Ontario that make a better one than Hank's Pastries in downtown Port Perry. Not only are these fritters delicious, but they're also the size my head! Make sure to share them with a friend. Your tummy will thank you.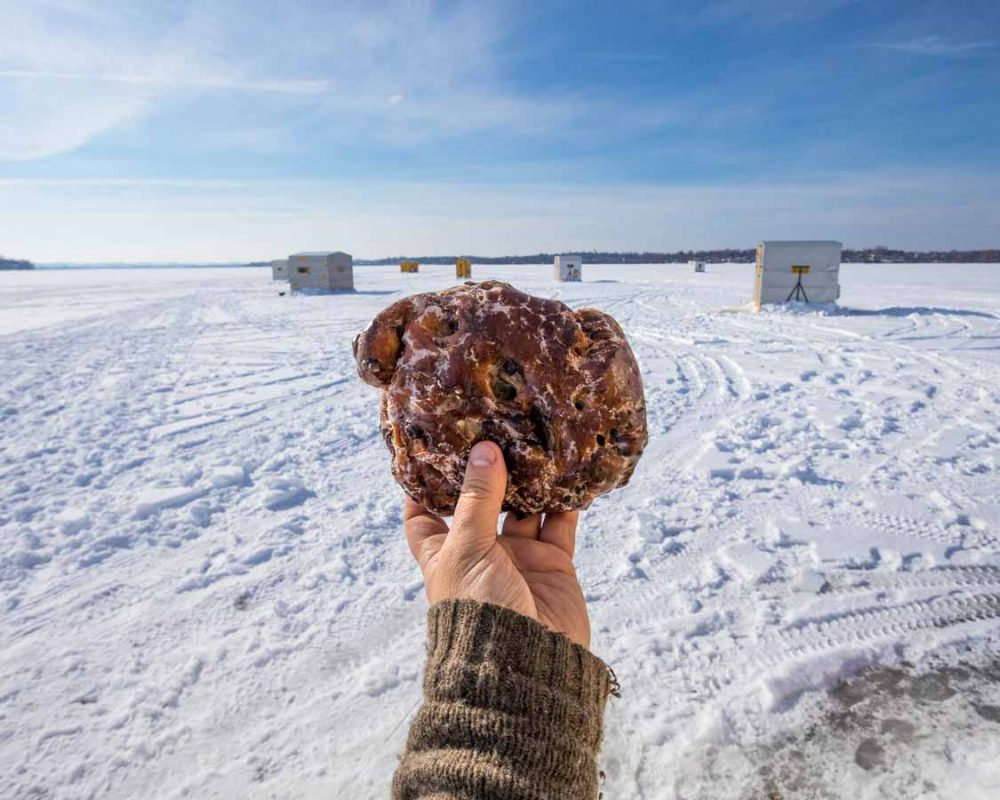 Fill Out Your Stay With A Night At The Piano Inn
The Piano Inn and Cafe in downtown Port Perry offers a classic old-town taste with a modern twist. The Inn sits above the cafe and lets you wake up in the heart of this pretty historic town. Suites range from $135-$155 per night with a discount offered for two consecutive nights or more.
Taste Some Global Flavours At Marwan's Global Bistro And The Port Social Pub
Marwan, the owner of Port Perry eatery Marwan's Bistro is an avid traveler. And he brings the flavors that he discovers on his jaunts around the world back home to share with his customers. Marwan takes his global flavors and puts a personal twist on them. The connected pub, The Port Social, is a popular local hangout and a great place to grab an apres-fishing tipper.
If you've never experienced ice fishing near Toronto, get some friends together and book a hut. It's a comfortable, fun, and exciting way to escape the city. You'll never look at winter the same way.
DISCLOSURE: The Ultimate Ontario team was invited by York Durham Headwaters to experience some of the incredible experiences of the Durham region. We were wined and dined and given cool fishing lures. As always, all opinions remain our own.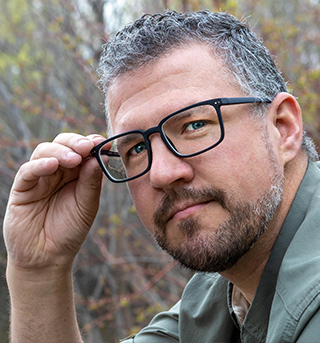 Kevin Wagar is a founder and editor of Ultimate Ontario. He has been working in the travel media industry since 2015 when he founded his family travel website Wandering Wagars – Adventure Family Travel.
Over the years Kevin has developed a deep love for his home province of Ontario and aims to showcase the incredible experiences and amazing small businesses found within it.