Ontario isn't a province that has been blessed with vertical feet. But this guide to the best downhill skiing in Ontario will show you were to hit the hills.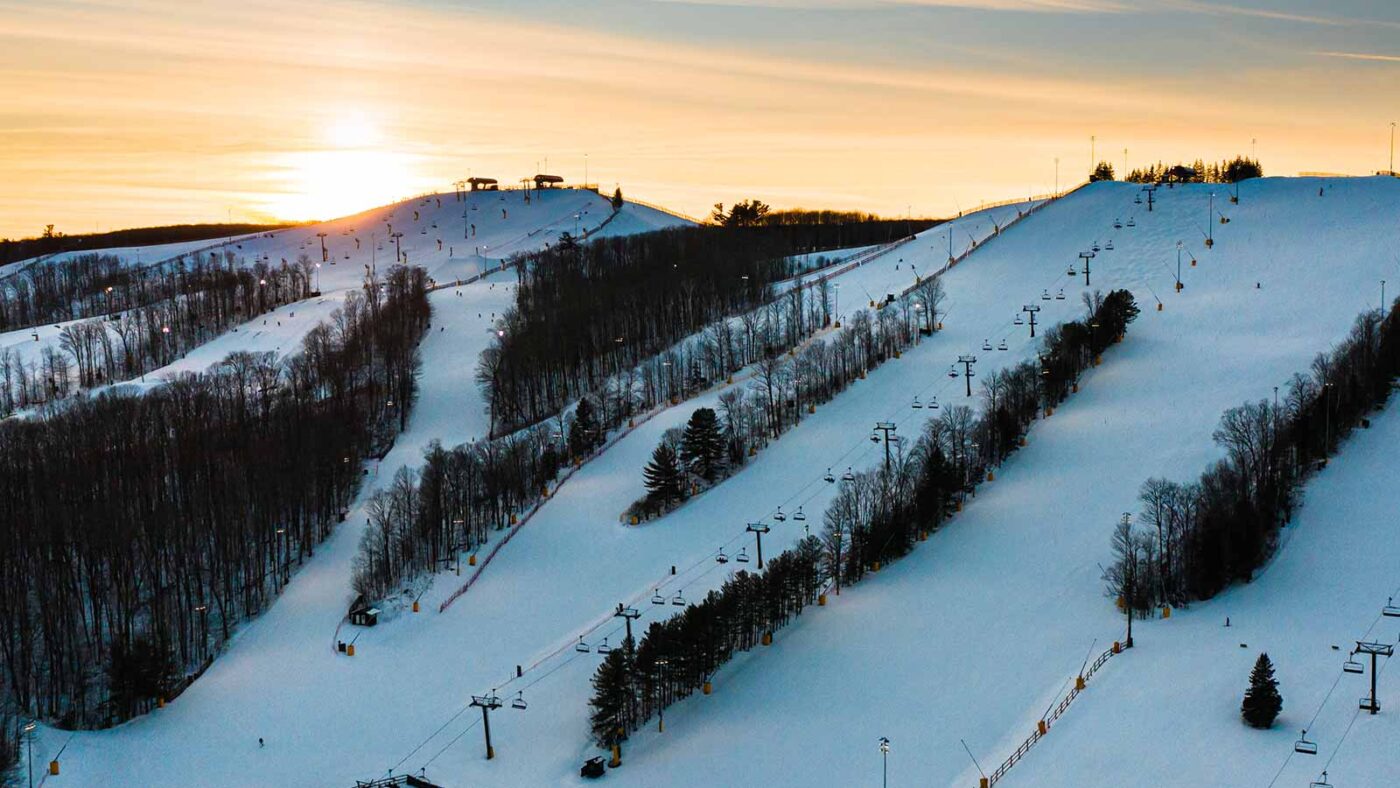 This province isn't a province that has been blessed with extreme verticals or righteous powder. Yet despite that, downhill skiing in Ontario is one of the most popular ways to spend winter in Ontario. With our northern climate and the long winters that come with it, people in Ontario are dying to get outside to shake off those winter blues. And there are few better ways to do that than by shredding on some of Ontario's best ski hills.
There are ski hills in Ontario to suit every skill level. Whether you're a beginner looking for great bunny hills, or a veteran dodging moguls on a double black diamond this list of the best places for downhill skiing in Ontario will have you covered. And, of course, we'll let you know what the Apres-Ski situation is at each of the Ontario ski resorts.
Feature image credit: Jeremy Fecteau – Mount St. Louis Moonstone.
The Best Ski Resorts In Ontario
Ontario ski resorts can be found throughout the province from north to south. Some of them are so popular that it can be tough to find a place to stay at the resort. Others are so far off the radar that they only seem to be known by the lucky locals.
Blue Mountain Ski Resort In Collingwood Ontario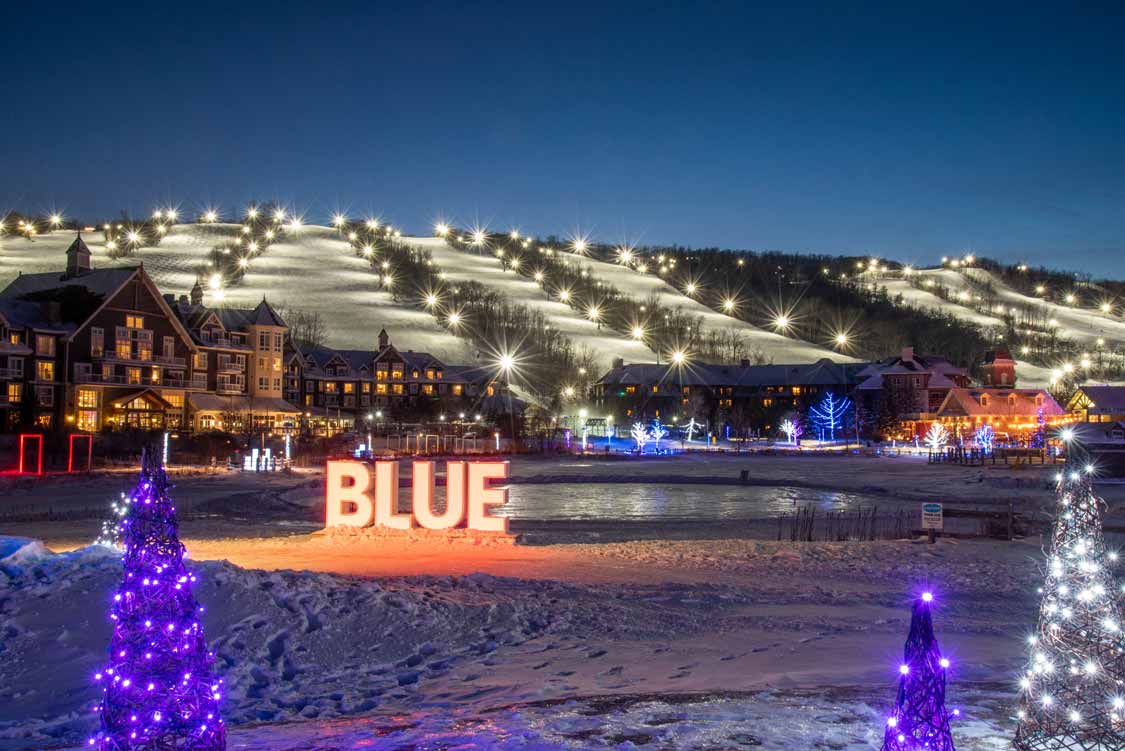 As far as popularity goes, Blue Mountain ski resort in Collingwood definitely falls in column A. This Ontario ski resort ranks up with the likes of Whistler-Blackcomb in British Columbia and Mont Tremblant in Quebec for the sheer volume of visitors. And with a vertical of 219 metres (720 feet), 42 ski hills, 16 lifts, and 3 freestyle parks, it's no surprise that Blue Mountain is one of the go-to ski resorts in Ontario. The fact that it's just an hour and a half north of Toronto certainly doesn't hurt.
But the real excitement of Blue Mountain Ski Resort lies off of the hills. This resort, which was developed by ski giant Intrawest, packs everything from incredible restaurants, waterparks, chalets, and much more. Intrawest was recently sold to startup Aspen Ski Company, and we expect the property to continue to grow and cater to the Ontario skiing community.
Calabogie Peaks Just 1-hour From Ottawa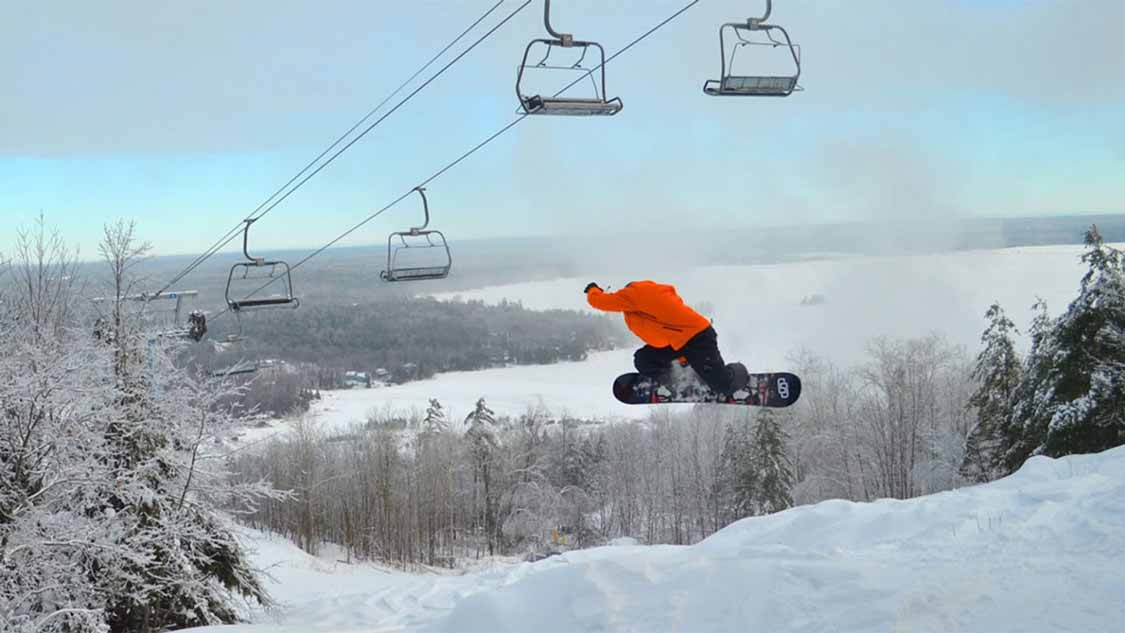 With a vertical drop of 238 metres (780 ft) and a summit height of 392 metres (1,285 ft), Mt. Calabogie is Eastern Ontario's tallest mountain. For downhill skiing in Ontario, Calabogie ski resort offers an excellent series of 24 trails spread across 32.4 hectares. The trails are set up to be a blast for explorers with loads of intersections to mix up your runs. Calabogie Peaks has a great selection of runs that range from beginner to expert. The Beginner Bowl has a magic carpet for easy loading and unloading and there are two lifts to ferry skiers up the slopes.
The apres-ski situation at Calabogie Peaks is on-point. This Ontario resort is home to the Calabogie Peaks Hotel. This cozy getaway has an indoor pool, bar, and restaurant that makes a weekend ski getaway from Ottawa both comfortable and convenient.
Searchmont Resort Near Sault Ste. Marie
Nestled in the picturesque surroundings just 48 km north of Sault Ste. Marie in northern Ontario, Searchmont Resort is one of Ontario's most unique and dramatic ski destinations. Visitors to Searchmont will discover 121 runs, 1 terrain park, and 5-lifts nestled among some of the gnarliest ski terrains east of the Rockies. This ski resort has a respectable 228 metre (700 ft.) vertical drop and over 100 acres of terrain that include bush trails & glades for those seeking a little adventure.
After a day on the slopes, visitors can grab a bevy or some food at The Kiln, Searchmonts newly opened restaurant and bar. And if you want to make a weekend out of your Sault Ste. Marie Ontario ski trip, book one of the rustic slopeside chalets or villas. Both come with full kitchens and dining rooms. The villas sleep 6 while the chalets sleep 8. You can check out special offers from Searchmont Resort here.
Hidden Valley Highlands Ski Area Near Huntsville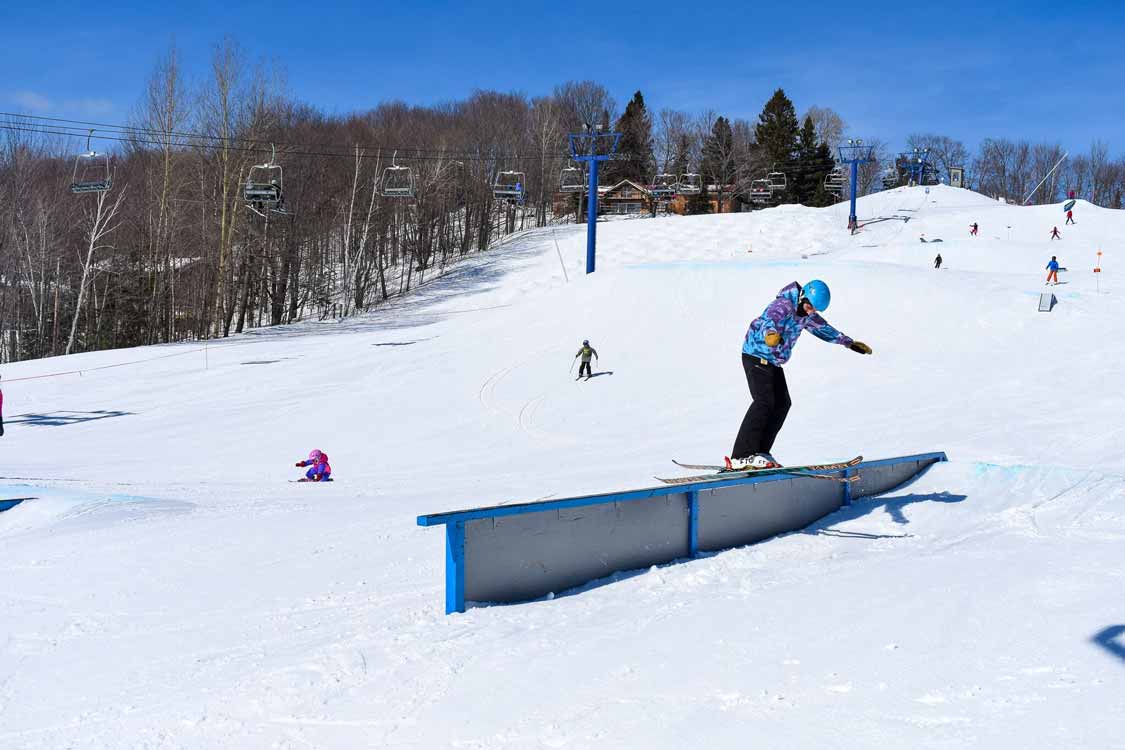 Whether you're looking for a romantic weekend away or an adventure-filled getaway, Hidden Valley may be the secret Muskoka gem you've been waiting for. This local favorite has been in business since 1965. And with 15 ski hills, 5 of which are open into the night, it's no surprise as to why. The Hidden Valley ski resort offers something truly unique to Ontario's cottage country.
And that cottage vibe doesn't disappear just because you're tearing down the ski hills. Hidden Valley sits right next to the famed Deerhurst Resort and offers the only combination slopeside/lakeside ski accommodations in the region. You can rest your tired muscles in the saltwater pool, or take a soak in the hot tub before your apres-ski festivities.
Horseshoe Resort Near Orillia
Offering easy access from the Peterborough and the Kawarthas or the Toronto area, Horseshoe Resort is consistently rated as one of the best beginner destinations for downhill skiing in Ontario. The modest 308 ft vertical means that Horseshoe Resort won't intimidate newcomers. But don't let that fool you, this Ontario ski resort offers plenty to appeal to veterans as well. There are 29 runs and 8 lifts with a total vertical drop of 315 metres (1033 ft.), offering some of the largest variety of downhill ski trails in Ontario.
Horseshoe Valley's popularity is evident in its apres-ski offerings. There is a great selection of restaurants on-site including the Eleveon01 Taphouse and Kitchen which has live entertainment every Friday evening. Or you could warm up with a cup of coffee or hot cocoa at the Shoe Brew local coffee shop. For accommodations, Horseshoe Valley has it all from the Inn at Horseshoe with cozy slopeside rooms that can fit anyone from families to couples, to chalets and condos.
Loch Lomond Ski Area Near Thunder Bay
Situated just 9 km from the city of Thunder Bay, Loch Lomond Ski Area is one of the easiest resorts to access for downhill skiing in Ontario. And with its location along the picturesque shores of Lake Superior, Loch Lomond offers some of the most awe-inspiring mountain views in the province. Loch Lomond isn't just about skiing either. At this Ontario ski resort, you'll find snowboarding, tubing, and other great slopeside side fun. And since the park was taken under new ownership in 2014 it's seen an expansion of park terrain and the growth of a popular kids skiing program.
This northern Ontario ski resort is packed with 17 runs and 3 chairlifts that service it's respectable 230 metre (755 ft.) vertical drop. There's a pretty even mix of beginner, intermediate, and expert ski runs on the hill. Plan ahead as there are no lodging or food options within Loch Lomond resort. Your best bet for accommodations and apres-ski is in nearby Thunder Bay. You can find deals on lift tickets at Loch Lomond here.
Mount St. Louis Moonstone Near Barrie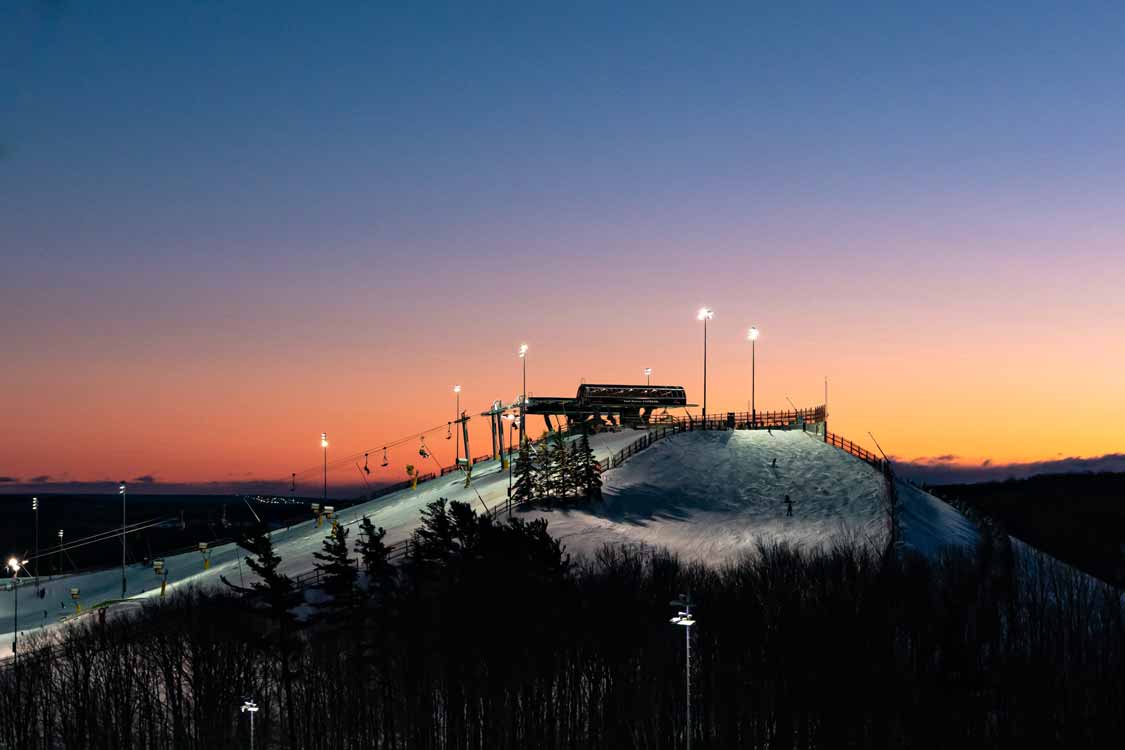 Another awesome downhill ski resort in Ontario is the popular Mount St. Louis Moonstone. This resort is just off of HWY 400 about 25-minutes north of Barrie. With 36 trails, 11 lifts and 7 ski parks, Mount St. Louis Moonstone is an awesome destination for skiers in northern Ontario, or even those looking for great ski hills near Toronto. The mountain has 156 vertical meters (550 ft.) filled with excellent hills for beginners, intermediate and advanced skiers. There are a whopping 6 black diamond slopes, so experts won't get bored. Snowboarders and fun-seekers will love the variety of parks on-site too. There are bowls, grinds, and more to keep even the most adventurous visitors busy.
One area where Mount St. Louis Moonstone is lacking is the amenity and apres-ski options. There are no food or accommodation options on-site. If you're skiing at Mount St. Louis, you'll need to pack your own lunch. If you're hoping to spend a weekend here your best bet for accommodations is in nearby Barrie. But don't let that stop you. With short lines and great snow, this Ontario downhill ski resort is worth the visit.
Hockley Valley Resort Near Orangeville
Hockley Valley is one of the closest ski resorts to Toronto. This popular resort and downhill skiing destination is just 45-minutes north of Toronto and just 13-minutes from Orangeville. Although Hockley Valley only offers a modest 114 meter (375 ft.) vertical drop, this ski resort backs a lot of winter excitement into the package. There are 16 ski hills and 2 terrain parks serviced by 4 chair lifts.
Hockley Valley also has one of the best apres-ski cultures in the province. The Ski Cafe runs 7-days a week while the Slopeside Beer Garden keeps the excitement going through the weekends. And you can, of course, make it a weekend adventure with a stay at the beautiful Hockley Valley Inn.
You can find more fun things to do in Orangeville here.
Glen Eden Ski Resort Near Milton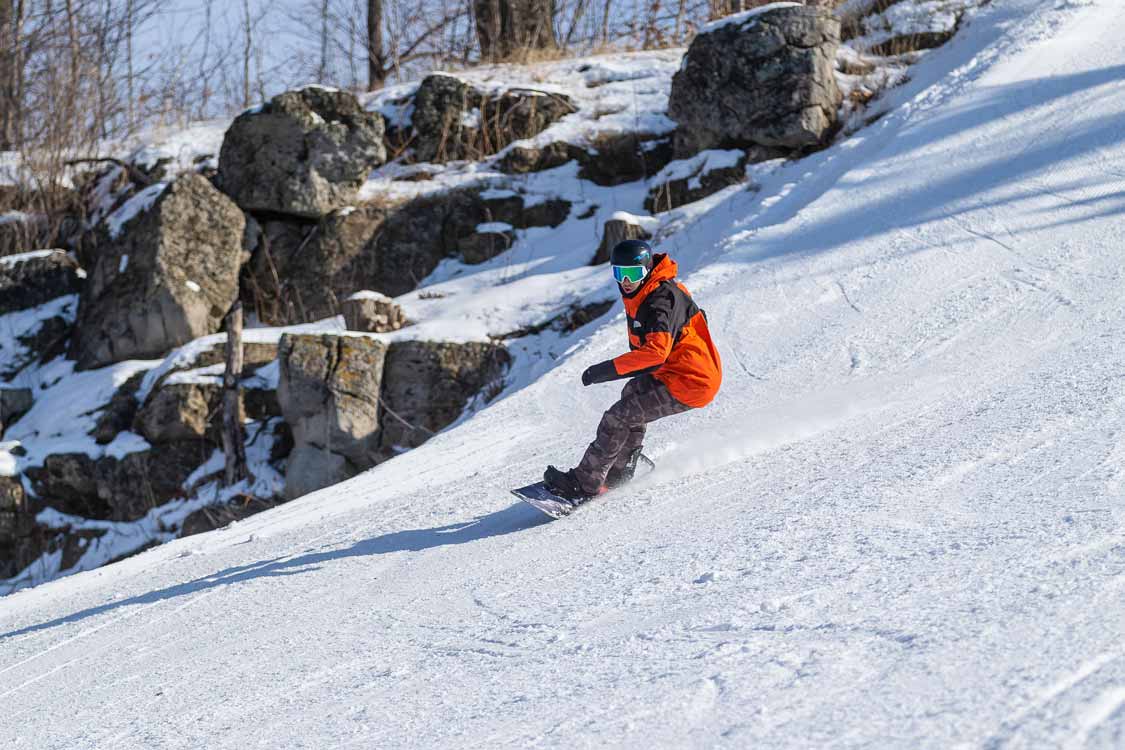 The fast-growing town of Milton offers one of the most popular Ontario ski hills for beginners in the Toronto area. Glen Eden Ski Resort is tiny by ski resort standards, but it does offer an awesome terrain park that is comparable with much larger resorts. Glen Eden offers one of the most accessible ski environments for those looking to test their mettle and try something new. From rails to half-pipes, Glen Eden is super popular with snowboarders.
There are almost no food or lodging services at the 15 ski hills and 7 lifts that make up this Ontario downhill ski resort. But it offers one of the best amenities in Ontario. The ability to shred hills with a smile while overlooking the 401 parking lot outside of Toronto below you. There are few things that will make you freer! You can pick up lift tickets and get more details here.
Mount Pakenham Near Ottawa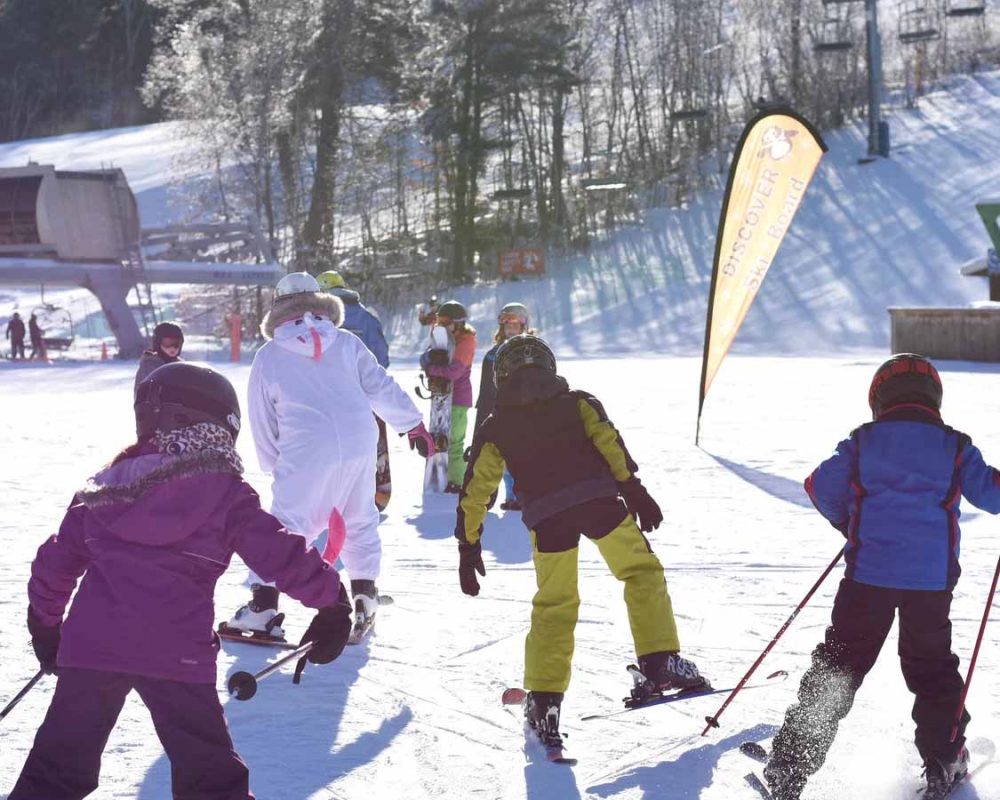 Mount Pakenham, just 60 km from Ottawa is another great resort for downhill skiing in Ontario. They've recently renovated their lodge and their apres-ski situation is now part of the experience. With 9 ski runs, snowshoe trails, tubing, and a terrain park, Mount Pakenham crams a lot of fun into a small resort. The ski hills are serviced by two lifts.
After hitting the hills you can cozy up next to the fire and enjoy some draught beer at the lounge located in the newly renovated Mount Pakenham Lounge. You can find more details about Mount Pakenham here.
Do you have a favourite resort for downhill skiing in Ontario? Drop a comment below and share it. Or head over to the Ultimate Ontario Facebook Community and share a photo of you on the hills.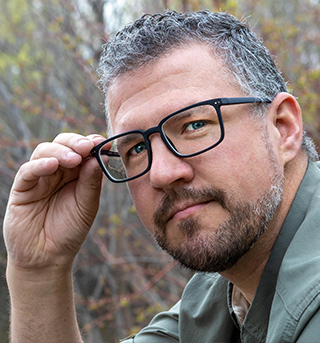 Kevin Wagar is a founder and editor of Ultimate Ontario. He has been working in the travel media industry since 2015 when he founded his family travel website Wandering Wagars – Adventure Family Travel.
Over the years Kevin has developed a deep love for his home province of Ontario and aims to showcase the incredible experiences and amazing small businesses found within it.