The Leaskdale Manse, in Uxbridge, Ontario, is a National Historic Site of Canada which offers visitors remarkable access to the life of famed Canadian author Lucy Maud Montgomery during the 15 years she called Leaskdale, Ontario home.
---
Many will recognize the name Lucy Maud Montgomery and, of course, her famed work Anne of Green Gables, but they may not know that a significant part of her story took place right here in Ontario. Of course, many of her novels were set in Prince Edward Island, but 11 of her novels were actually written at the Leaskdale Manse in Uxbridge, Ontario.
Lucy Maud Montgomery, who published under the monicker L. M. Montgomery, is perhaps one of Canada's most well read and appreciated authors, and visiting the Leaskdale Manse offers an unparalleled view into her life while she called Ontario home.
Whether you've read her work or not, you've got to respect the sheer volume of content that she was able to produce, and the remarkable impact that its had on people all over the world. In her lifetime, she published over 20 novels, over 525 short stories, over 500 poems, as well as 30 or so essays. That sounds like the stats of a small publishing house, let alone one person!
What is the Leaskdale Manse?
The Leaskdale Manse was the home of Lucy Maud from 1911 to 1926. "It was the first home of her own," noted Melanie Whitfield, President of the Lucy Maud Montgomery Society of Ontario.
It was 1911 when Lucy and her husband Ewan moved to the town of Leaskdale (which is now part of Uxbridge). He was the pastor at St. Paul's Church right across the road. In her journals, she noted that she loved the rural environment in Leaskdale, and perhaps that is part of the reasons she was so productive during her time here.
As Melanie told me, "the most prolific of her writing years happened in Leaskdale, which is rather astounding considering all that she had to cope with and that she was involved with."
Ewan was prone to what she called "religious melancholia," (which we might call bipolar today), so it wasn't always an easy time for Lucy Maud. She also had her own struggles with mental illness, and particularly depression, but she managed to push forwards and to write, which appears to be what she loved most. Most mornings from 9-12, she would in the parlour, and she would be lost in her writing.
"When she shut the door, she shut out the world," Melanie said.
Montgomery's three children were also born at the Leaskdale Manse between 1912-1915. It's evident when you're walking around the Manse that it was a place that was set up to raise a family. Rainbow Valley, one of her books in the Anne of Green Gables series tells the story of a minister and his children, and it said to be very much based on her time living at the Leaskdale Manse.
The Building Itself
The Leaskdale Manse is a two-storey house which was constructed in 1886, and it's in immaculate shape considering its over 135 years old. That's largely thanks to the efforts of community members over time ensuring that this building got the respect it deserved and would not be allowed to go into disrepair.
It's a very typical home for it's time. It has exposed yellow brick and an inviting wooden porch. The interior has been very well preserved, though many of the original furnishings are gone. That being said, there are plenty of artifacts, letters, and quotes that have been carefully placed around the Manse to help guide visitors during their visit. I particularly enjoyed her library which had over 1100 books in the collection!
The Township of Uxbridge purchased the home in 1992, and shortly thereafter it was made a National Historic Site of Canada. In 2010, the Lucy Maud Montgomery Society of Ontario undertook a massive restoration project, and assumed ownership years later.
Today, it serves as a museum, and an unparalleled window in the her life and work while she lived in this province. By the way, if you'd like to visit yourself, you can check out the tours on their website, and they also have a very active Facebook page. Currently, the site is open between hours of 10am-4pm, and you can call 905-862-0808 for all inquiries around your own visit to the Leaskdale Manse.
Visiting the building really does take you back to another time and place, and personally, I think that's always a good thing. When we're visiting a place like this, we're empathizing with how someone's life from time past unfolded. We're understanding what challenges they faced and endured, and that helps us gain perspective for our own lives.
Melanie Whitfield and The Lucy Maud Montgomery Society of Ontario
Melanie, who you'll note from above is the current President of the LMMSO, fell in love with the writing of Lucy Maud at an early age. Melanie was introduced to Anne of Green Gables by her teacher at a schoolhouse just up the road.
"I lived it. I dreamed it. I was so taken by it," she said.
Like so many do, she went away for university, but found herself back in Uxbridge after her studies. She had moved from just reading Lucy Maud's work to collecting it, and Wilda Clark was the woman you went to if you wanted collectibles.
In many senses, Wilda Clark was the one who built the flag that Melanie and so many others continue to wave proudly today. She was the one who lobbied about the importance of recognizing and celebrating Lucy Maud's time in Leaskdale. She started "Friends of LM Montgomery," and, in short, lobbied the provincial government to get a designation out front of the building. In the mid 1960s, she was also doing personal tours of the Manse, and sharing all she knew to all those who wanted to listen.
On one particular visit to buy a book from Wilda, she convinced Melanie to join the group as they "needed young people involved," anyway. The rest, as they say, is history. Fast forward, and now Melanie has been involved for over 30 years, and has played every role imaginable on her way to becoming president of the LMMSO – a title she has held for nearly a decade.
Wilda lobbied for a national designation for the Manse in the 1990's, and initially they wouldn't grant it because there was already one in Prince Edward Island, but Wilda rightfully argued that her most prolific writing period was at the Manse. They finally relented and, as Melanie said, it was "all because of Wilda's determination."
Melanie clearly reveres Wilda for the work that she's done, but in my eyes, she deserves the same reverence and recognition. In interviewing her, I could see how meaningful this story was to her and how committed she was to sharing that passion with others. I honestly could have listened to her talk about Lucy Maud Montgomery and the Leaskdale Manse for hours. I was absolutely taken with the dogged determination that I could sense in Melanie to preserve, cherish, and, ultimately, pass along this story to the next generation.
I asked Melanie what it was about Lucy Maud Montgomery that had captured her so, and she summed it up beautifully when noting that "it was the imagination that she had, and her scope of life and what people had gone through. She had an extraordinary way with words – you laugh, you cry, and the emotions just run through her writing."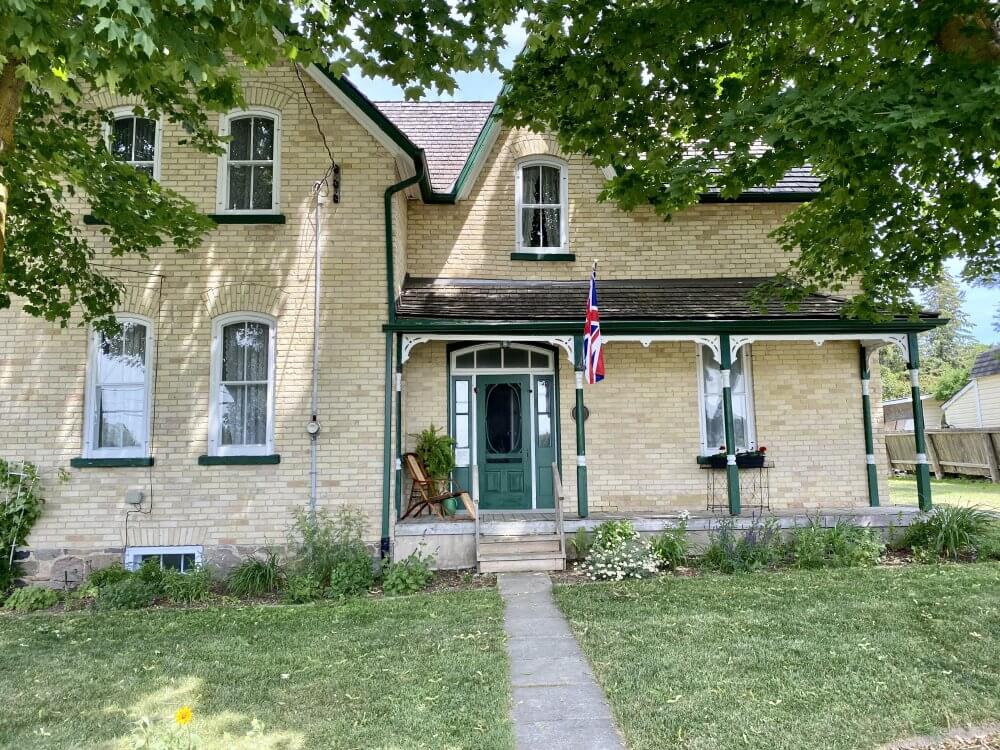 What Else Should You Know?
While you can contact the Leaskdale Manse for a tour, it's also worth knowing that Discover Uxbridge has recently unveiled the Lucy Maud Montgomery Trail. In short, though, it's a self-guided journey through Uxbridge, Leaskdale, and Zephyr, and the aim is to help you follow in the footsteps of Maud.
You should also check out the calendar of upcoming events that would make any lover of Anne of Green Gables giddy as can be. Besides the opportunity for afternoon luncheon teas (on for a limited time), the region is also celebrating the 10th anniversary of the one woman play, Maud of Leaskdale. The play is created and directed by Conrad Boyce, but the real star of the show is Jennifer Carroll who has wowed audiences for nearly a decade straight!
Performances will take place Thursday, August 26 at 7pm and Saturday, August 28th and 29th at 3:00 pm. There are also plans for a celebratory performance on October 30 as part of LMM Day. Tickets are $25 per person, and $10 for children 15 and under.
However you choose to appreciate this important story is up to you, but if you're a fan of Lucy Maud Montgomery, then a trip to Leaskdale Manse absolutely has to be in the cards. A visit to the Leaskdale Manse is not only a way that we can show our appreciation for one of Canada's most well known writers, but also a way that we can show our appreciation for the incredibly hard working people and communities that aim to preserve this history for us as well.
Simply put, there's no better time than the present to immerse yourself in this important piece of Ontario's history.
---
We want to humbly thank York Durham Headwaters and the Leaskdale Manse for hosting us as media. All opinions are completely my own.
If you appreciated this article, you'll love our newsletter, as well as our Facebook group! Feel free to join, all are welcome.
Christopher Mitchell is the Cofounder of Ultimate Ontario. He's visited over 80 countries, and has lived on 4 continents, but now has his eyes set squarely on exploring this incredible province, and helping others do the same.