This hidden gem of a local coffee shop in Lennox & Addington County is well worth a short or lengthy stop. Just make sure you're ready to try a range of fun treats!
If you find yourself in the charming and historic village of Bath, Ontario, make sure you stop by this great cafe in the area. The Lodge Coffee House brings a warm, modern and community-centred flare to the village.
The Lodge makes for the perfect place to stop if you're heading on a day trip across to Amherst Island, driving from Picton to Kingston along the Loyalist Parkway, or starting or finishing the Discover L&A Bike Ride across the region of Lennox and Addington.
What to Expect at The Lodge Coffee House
A visit to The Lodge will be met with warm smiles, friendly faces and a breath of fresh air. From their menu to their service, it's clear that a lot of thought, effort and heart goes into what they prepare for each and every customer.
The Lodge cafe is centred around creating artisanal drink, food and treat experiences for their guests. Their menu of teas and coffees and smoothies alone is impressive. In addition to an excellent selection of drinks, they offer tasty homemade sandwiches and baked treats.
The atmosphere at The Lodge is very homey. In fact, it operates out of a cute, mid-century home on the main street in Bath, Ontario. You won't mistake it for any old home when you see the words "Coffee + Community" written proudly on the window, and when you step inside to the different arrangements of cozy sitting areas and community tables, you'll instantly feel the sense of community that they pride themselves on.
Drinks to Try at The Lodge Cafe in Bath
If you are someone who has a bit of a routine when it comes to selecting things to sip and eat at a coffee house, you might be surprised by some of the tempting options The Lodge offers.
This article is being written by a tried and true coffee fanatic. I drink several cups of coffee per day, and I typically opt for a classic, hot coffee, even in the middle of summer. That being said, I was surprised by how tempted I was to try something other than a coffee when I stopped at The Lodge in Bath, Ontario.
During a visit in late June, I was immediately drawn to the term "blendy". I'd never heard the term used before at a cafe. I've heard of smoothies and iced coffees, but didn't quite know what this was. Turns out, it's kind of like The Lodge's own take on a dessert-style smoothie. I love Ontario produce in the summer, so when I saw that a Strawberry Rhubarb Blendy was available, I was instantly sold.
The people ahead of us also ordered one, and when it came out with all of its pink, frothy goodness, I knew we needed to try it! It was refreshing, sweet and delicious all at once.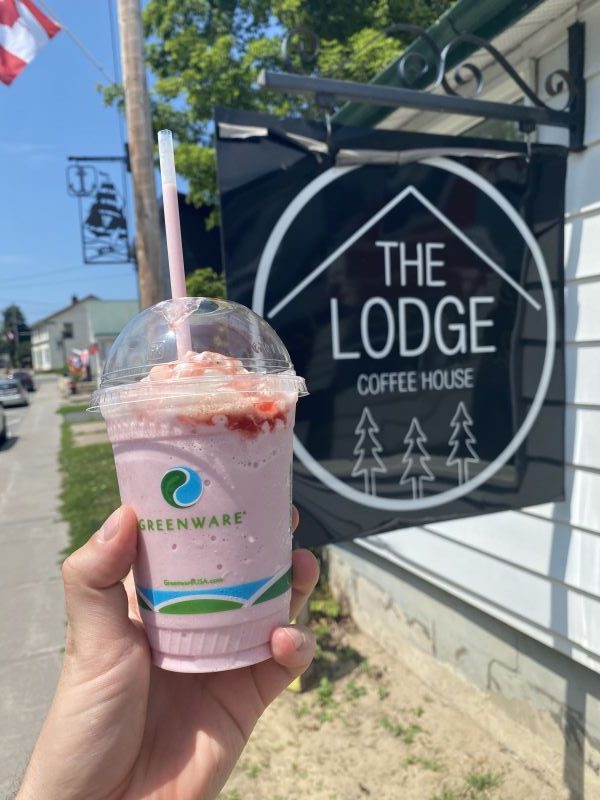 We tried a few other drinks during our visit, including a Flat White (believe me when I say the coffee is really, really good), a Birthday Cake Frap (birthday cake flavour is having a moment right now, and I am here for it!) and a Chai Tea. For tea drinkers and connoisseurs, they offer several loose leaf teas for you to enjoy, too. The chai tea was divine.
The seasonal Strawberry Rhubarb Blendy uses their own house-made rhubarb syrup, but on my next visit I'm eyeing their other house-made syrups to add to a drink. They make vanilla, caramel, maple, peppermint, lavender and raspberry syrups in house. I'm also eyeing their smoothies, particularly their Lodge Goddess Smoothie to add a green goddess kick to the day.
Food and Treats to Try at the Lodge Coffee House
As a coffee house, beverages at The Lodge Cafe are their specialty, so although the selection of sandwiches is small, it is mighty.
Since we were visiting for lunch, we tried their Roast Chicken Sandwich, which has garlic mayo, aged cheddar, red onion and greens. We also tried their A.B.C. Sandwich, which has apples, brie, roasted chicken, apple jelly and greens. Both sandwiches were tasty. The ingredients were fresh, and the soft, fresh bread was delicious, too.
They also offer a Breakfast Pita which sounds yummy, and a classic Grilled Cheese sandwich. If you're hitting up The Lodge Cafe during a meal time, all of these fresh sandwiches are the perfect, lunch-time treat.
In addition to their selection of sandwiches, they really shine in their choice of treats at. It was hard to settle on a decision, but as a sucker for branding, it was difficult to ignore the GOAT Cookie. For those who don't know, the acronym G.O.A.T. means "Greatest of All Time". So we knew we had to give it a try. This cookie has a mix of chocolate, toffee, pretzel and Ruffles chips…needless to say, it was amazing, and certainly deserving of its name.
Unfortunately we couldn't try everything during our visit, but we were eyeing the PB + J Cookies, the Cranberry Lemon Glaze Muffins, and the DBL Chocolate Cookies. We'll certainly be trying one of those on our return!
Supporting Small, Local Businesses Like The Lodge Coffee House
In addition to all of the amazing drinks and treats they offer at The Lodge, they also have all sorts of merch. T-shirts, coffee mugs and even coffee-inspired candles and lip balms are just some of the things you can buy from them.
The Lodge cafe works closely to support other businesses in Bath, Ontario. A conversation with whoever takes your order can also be helpful to point you in the direction of other places you can check out while you're in the area.
MacKinnon Brothers Brewing Company or Books on Main might be other nearby, local businesses you'd like to stop at and support during your stop or time spent in Bath, Ontario.
All too often, road trips in Ontario tend to result in drive-thru cuisine and coffee. Visiting local coffee houses like The Lodge Coffee House in Bath, Ontario serves as the reminder that taking the time to seek out local businesses across the province means you're supporting the local economy and community.
Plus, you walk away with a far more memorable and delectable experience. Not much can beat that!
---
We want to humbly thank Lennox and Addington for hosting us as media. All opinions are completely my own.
If you appreciated this article, you'll love our newsletter, as well as our Facebook group! Feel free to join, all are welcome.
Bri was born and raised in Ontario. She spent many years living abroad, but returned to Ontario a few years ago, and is very happy to be back exploring.
She loves writing about travel experiences in our beautiful province, including unique accommodations, memorable meals and adventurous activities.
You can find her canoeing and swimming across Ontario with a craft brew in her hand in the summer, and snowshoeing or curling up with a good book and an Ontarian Pinot Noir in the winter.