Dresden, Ontario, in Ontario's Southwest, is a town that has a great main street, ample parks, no shortage of events, and access to the Sydenham River.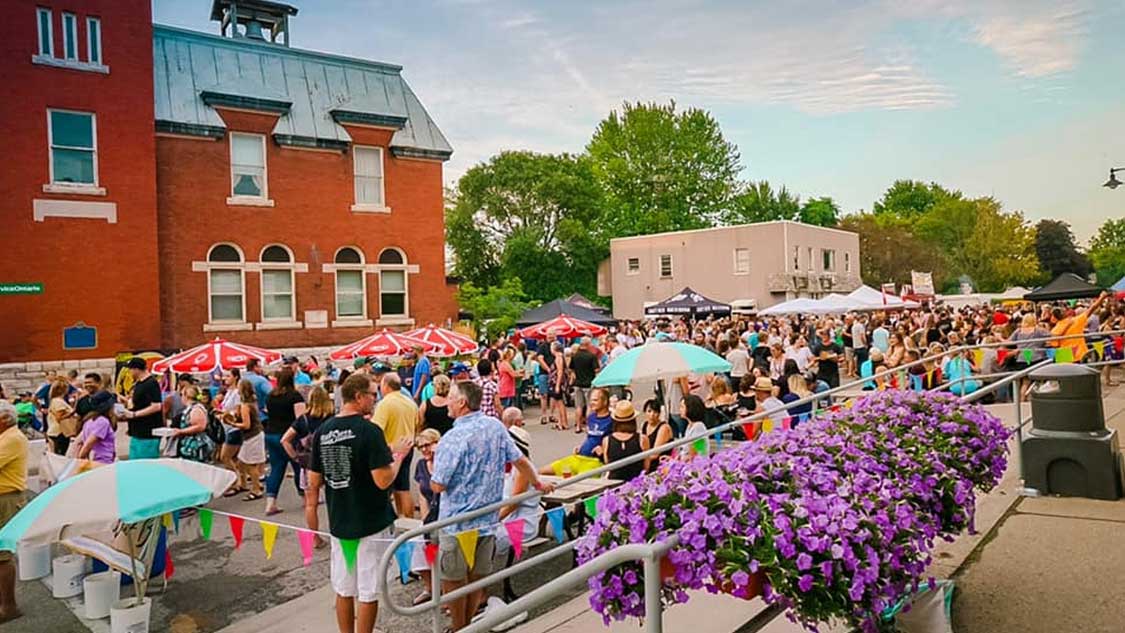 ---
It's often the case that it's the big cities that get all the press, but that doesn't mean our small towns aren't worth visiting. In fact, I'd venture to say that that's precisely the reason we should be exploring the locations without the cache of a Toronto, an Ottawa, or a Kingston.
When we take the time to visit places that aren't as well known, we're setting ourselves up to be pleasantly surprised by what we find. Generally speaking, you might have an idea of what you'll find in one of our bigger cities, but you probably don't know what awaits you in a smaller town such as Dresden, Ontario.
That was certainly the case for me when I visited. I was actually teaming up with Ontario by Bike to cover their Sarnia Lambton Loop (a roughly 162 kilometre loop that started and ended in Dresden), when it occured to me that this was an opportunity ripe for exploration.
So, I headed on down to Dresden a day earlier than the beginning of the ride, and spent an absolutely lovely day scouting Dresden for you with the intention of writing this very article. And alas, here we are.
Dresden is charming, pleasant and a whole host of other adjectives, but what stands out most for me in retrospect is the kind people I met who welcomed me into their community, and shared some great insight with me as to what makes this place special.
And I, of course, will happily share it with you.
About Dresden, Ontario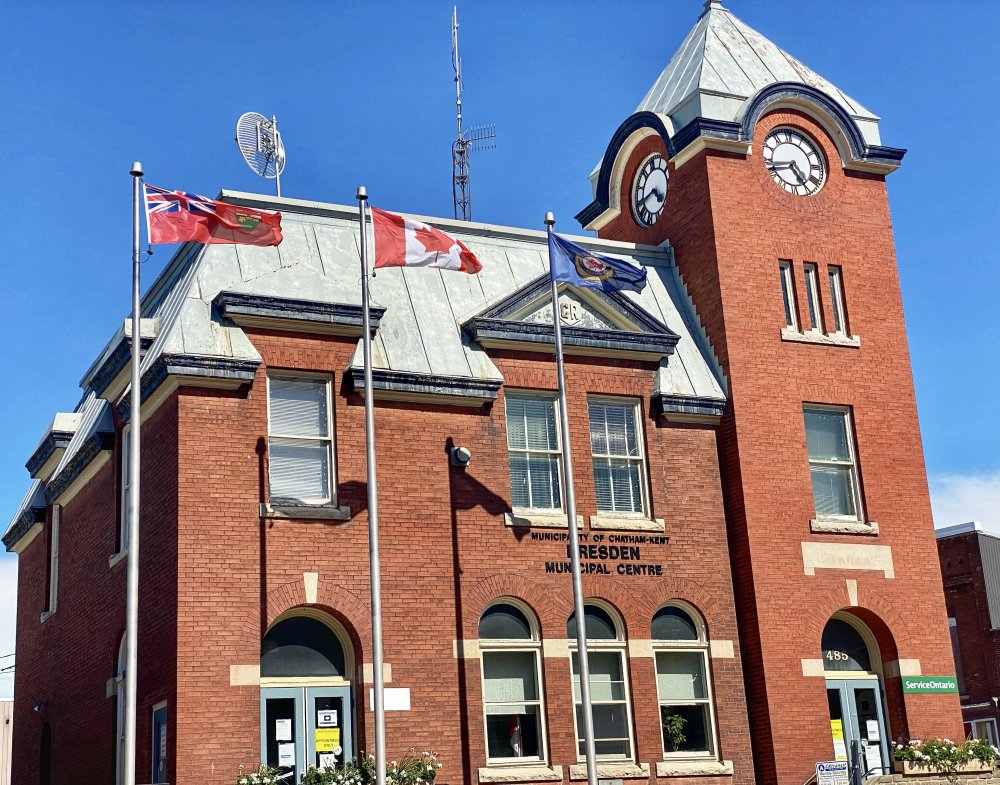 Dresden, Ontario is a town of about 3000 people in the municipality of Chatham-Kent, which is in Southwest Ontario. It's located right on the banks of the Sydenham River.
It's known as a spot that has a rich agricultural history, and, naturally, still grows some incredible produce to this very day. It's also known as the home of Josiah Henson, a former slave from the United States whose story was the inspiration for Uncle Tom's Cabin. I'll talk in more depth about that below, but for now it's worth noting that Dresden was an important stop on the Underground Railroad, and at that time Dresden was primarily known as "Dawn Settlement."
There are plenty of parks and outdoor areas for folks to spend some time outdoors, but one of my favourite things to do was to simply take my time walking up and down the main street (North Street), and to walk in and out of shops, restaurants, and so on. The sun was shining overhead while I was doing this, and I got the sense that more people than just me would appreciate spending a little time in Dresden!
A couple of fun facts before we dive into the nitty gritty. This town is in the Guinness Book of World Records for the world's largest tractor parade, and Dresden is regularly near the top for per capita funds raised for the Terry Fox Run, which, I'm told, is a microcosm the strong desire in Dresden to support and volunteer.
What to do in Dresden, Ontario
For a town this size, I was impressed with all that there was to do here. From speaking to many locals, I got the sense that they knew that this was a special little spot, it's mostly just that the rest of Ontario hadn't fully realized it yet, and hadn't planted "the tourist stop flag" so to speak.
And that's not to say that I believe Ontarians should drop everything, come here and overwhelm this little town. No, far from it. This article is merely meant to encourage you to consider stopping by or popping in the next time that you see Dresden on your map. Perhaps it's as easy as knowing that you're already going to be driving from London to Windsor, and making time to spend a portion of your afternoon here.
I mentioned in my title above that I feel that this town is up-and-coming, and I know I'm not alone in that. Stuart Kiar, who runs Union Block Bakery with his wife Kathy, summed it up nicely when noting that "what has happened to our downtown in the last 5 years has contributed greatly to our moving to being on the cusp of becoming a destination…there is a tremendous amount of energy and momentum in Dresden right now!"
On that note, here are few things you might want to check consider during your visit.
Get Out on the Sydenham River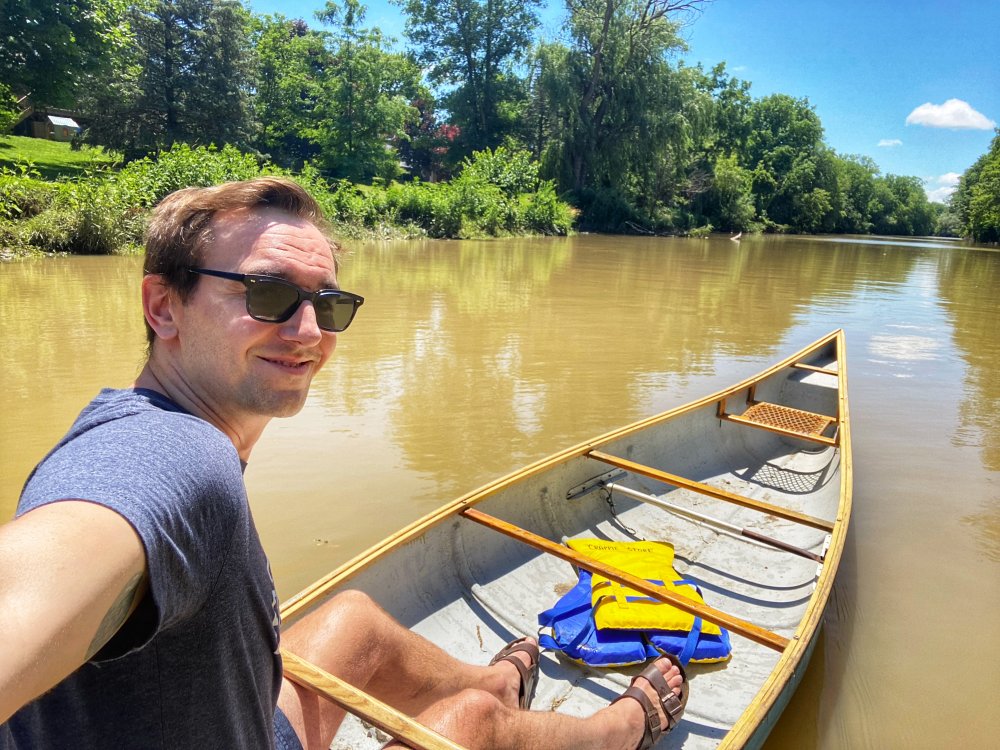 From Dresden, you can head west on the Sydenham River towards Tupperville and Wallaceburg, or east towards Dawn Mills. I went west, and from what I can gather, that's the more scenic route, or at least the recommended route. It would take you quite a while to get all the way to Wallaceburg (if your water craft isn't motorized), but you can simply head in that direction, and turn around when and if you're feeling tired.
If you're a long time reader of Ultimate Ontario or travelingmitch, you'll know that I love the chance to get out on the water. I'm a canoe enthusiast, and have no shortage of appreciation for kayaking, stand up paddle-boarding, and everything in between. If you're the same, then you're in luck because The Crappie Store has you covered. Can we pause to appreciate how great that name is?
The Crappie Store also runs "Crappie Rentals" and they rent out all measure of watercraft to those interested. I personally took out a canoe on the Sydenham River, and soloed it. The river, at least when I was on it, had a fairly fast current, so I would not recommend taking a canoe out on your own unless you're experienced. With two people it'd be no problem, or in a kayak etc.
With the murky muddied waters, and the large overhanging trees that were almost canopy-esque, I swear I felt like an adventurer straight out of Jurassic Park. I mean that in the most flattering way as, don't forget, a little adventure is what I appreciate.
I thought it genuinely picturesque in its own way, to be honest. It's a fun little experience if you're looking to get more out of your visit to Dresden and make a fun day out of it.
Visit Union Block Bakery
Since I left Dresden, this is the place that I can't get out of my mind. I am downright excited to share this recommendation with you because, after spending time with owners Kathy and Stuart Kiar, I'm confident that when you head there, you're going to leave with the same big smile that I left with.
When I arrived, I spent some time with Kathy and Stuart to hear their story. Kathy was a tax accountant for about 25 years, but had a change of heart later in life and went to Fanshawe for Bakery and Patisserie Management. Part of this change was driven by memories of her youth, and the time she spent at her grandmother's Scottish bake shop in Windsor. The way in which Kathy spoke of that time, I could see that she saw food as something which brings people together, and I believe that's at the heart of what Union Block Bakery aims to do.
Kathy worked on recipes for a long while, then they located a building in Dresden (an old shoe store) and, as Kathy said, "gutted it down to the dirt floor." They opened in November of 2018, and had a very successful first year, quickly establishing themselves as a community hub.
I should mention that Kathy actually uses many of her grandmother's recipes and so, in a very real way, is carrying on that legacy. Everything, I should add, is made in house, and that's so evident when you try their food and baked goods. Being a bit of a foodie, I think I smiled when she told me that, and in response she noted, "nothing comes from a bucket here. We're using 100% butter"
People often come in for just coffee and dessert, but I had the pleasure of stopping by for lunch, which they also offer. Honestly, the meal there was absolutely sensational. Due to the timing, I took my lunch to go and ate it over in Kinsmen Community Park, but I literally sent them an email halfway through the meal because I was so wowed by it.
I had the Beef Tenderloin with horseradish mayo on a focaccia bun with Seasonal Organic Greens that had strawberries, candied pecans, cucumber, red onion, and fresh croutons with a homemade vinaigrette. Of course, I can't forget the Chocolate Ganache that I had for dessert.
I'm going to include Stuart's response to that email here, because he let me know why, in part, my reaction was so positive.
"The salad greens are from an Organic farm on the edge of Dresden- Riverbell Market Garden (as the season progresses we use more and more of their produce in our salads and soups).

The strawberries are from Jennen Family Farms which is in Wabash, halfway between Dresden and Thamesville.

The raspberries are from Joice and Roel's Market Garden just outside Dresden.

The tenderloin is from an organic beef farm in Croton (just outside Dresden) where they raise organic beef and lamb and have an onsite farm store with their beef and lamb products.

The focaccia was baked this morning at the bakery and the croutons were made from focaccia baked this morning as well."
There's eating fresh and local, and then there's eating fresh and local.
Whatever you try here, I already know it's going to be sensational, because I feel like I got to know Kathy and Stuart, and I understand how hard they work, and how much they care.
Before I left, I asked them about what they loved most about this whole venture, and again it came back to being a community pillar, and a mainstay on main street. They talked about waking up in the morning and prepping food for their customers, and being there to deliver it to them.
"It's great. People come in to Urban Block, and they know us."
There's something different about this spot, and I will personally be following along for the ride, and doing my part to shout from the rooftops that this spot belongs on the Ontario tourism map.
Spend Some Time at Uncle Tom's Cabin Historic Site
I did not have the opportunity to visit this site when I was there since it was closed, but I will most certainly come back after I've actually read Uncle Tom's Cabin (a world famous novel by Harriet Beecher Stowe)
The Uncle Tom's Cabin Historic Site focuses on the accomplishments of Josiah Henson, a conductor on the Underground Railroad who is apparently personally responsible for rescuing over 115 enslaved people. The two hectare site also aims to tell the story of the 30,000 or so other black refugees who fled to Canada along the Underground Railroad, as well as the Black experience in Canada at large.
The Uncle Tom's Cabin Historic Site is not located all that far from downtown Dresden, and it's now once again open for visitation. Please visit their site for more details on visiting hours, or if you'd like to visit virtually. This is a history that we'd like to shed more light on at Ultimate Ontario, so rest assured I'll aim to safely visit when I'm able and create a more in-depth article about this historic site and the history around it.
The museum complex includes the Josiah Henson Interpretive Centre, The North Star Theatre, The Underground Railroad Freedom Gallery, The Henson Family Cemetery, The Josiah Henson House, The Pioneer Church and more.
Appreciate a Park or Two
When I visited Dresden, I spent a little time just visiting the nearby parks to the central core. This suggestion is probably more relevant for the warmer weather, but take note of Kinsmen Community Park, Jackson Park, Mc Veen Park, the Tony Stranak Conservation Area, and the Dresden Arboretum.
The point really is that Dresden would be a good spot to get a meal to go and enjoy in a park, or really just that when you're walking around the town, you should keep your eyes open for parks that might be a pleasant place for you spend a little time.
Get Some Ice Cream at The Sugared Spoon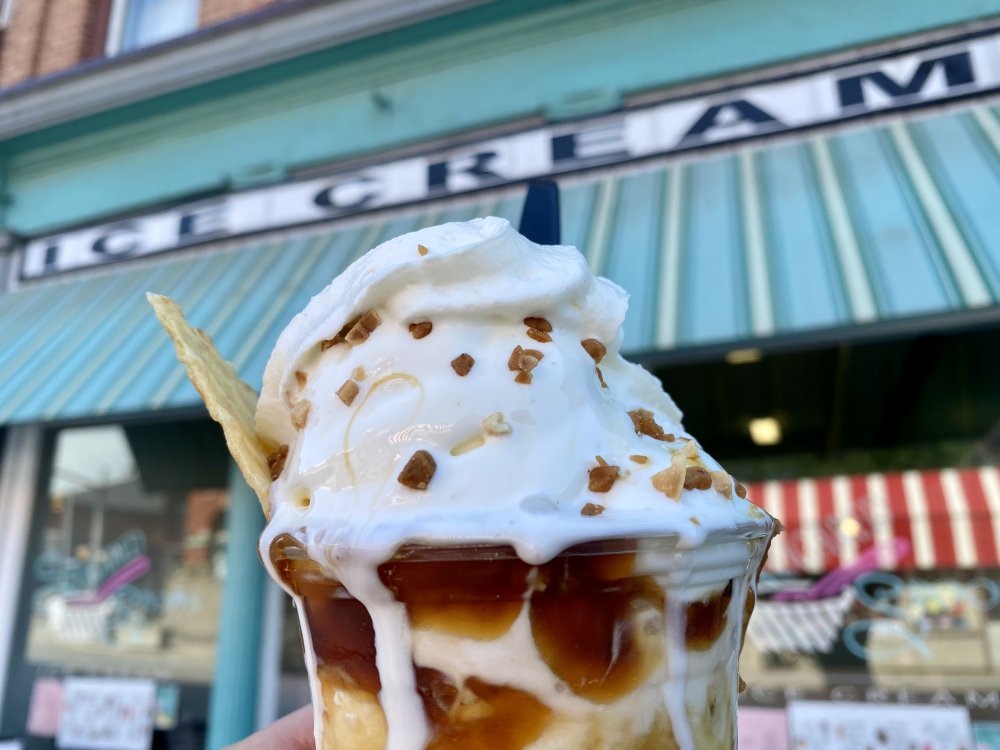 Also on North Street is The Sugared Spoon, which is the go-to ice cream parlour for Dresden, and seemingly the surrounding area. The parlour has been in the town for 7 years, but when the original owners left town, Eben stepped up to take over.
They definitely do things a little different at The Sugared Spoon, and when I noted that after viewing the menu, Eben laughed, nodded and said, "oh you're absolutely right. We have no rules here!"
The one thing that struck me was that this wasn't an ice cream shop that was going to nickel and dime you. It's like a throwback or homage to the old school ice cream shops where you got some big scoops, and there was no stingy manager weighing ice-cream. He clearly passes that message along to his young stuff who seem happy to be there, and grateful for the opportunity. I could see that it meant a lot to Eben to be able to support young people in the area.
But let's talk ice cream now. The Sugared Spoon is probably best known for their Supreme Sundaes. They've got the Triple Fudge Brownie, Cotton Candy Floss, Salted Caramel Crave, Cookie Dough Delight, Bolaro Rolo Rush, Peanut Butter Blast, and the Peanut Butter & Jelly.
I personally had a regular sized Salted Caramel Crave which includes 1 scoop of salted caramel toffee ice cream, vanilla soft serve, skor candy, caramel topping, and whipped cream. I'm pretty sure I was full for a week after, and I have precisely zero regrets.
They also do regular ice cream, floats, creamsicles, shakes, regular sundaes, smoothies, frozen yogurt, ice cream pies, and cakes.
I loved what Eben said when I was about to take off (of course with a Supreme Sundae the size of my head in my hands).
"The business is successful because of the town," he said. "We're not trying to make a boat load of money. We're focused on supporting the community and the staff."
What Should You Have on Your Radar in Dresden, ON?
For one, it's worth noting that I was initially in the area to do some cycling, so you can check out the Chatham-Kent Cycling Routes on the Ontario by Bike website here.
From talking to Stuart at Urban Block Bakery, I also know that Dresden has put themselves on the map with their Dresden Night Markets. They started them around Christmas time in 2017, and apparently its been onwards an upwards ever since. In 2019, they held a market that had over 8000 people attend it! They also started to run both winter and summer markets. You can find out more details on their Facebook page.
Fans of live horse racing may also appreciate the Dresden Raceway.
For a town this small, there sure is a lot going on, right? The fun part is that I get the sense that the fun is only getting started, and, here at Ultimate Ontario, we're excited to cheer them on.
---
We want to humbly thank Chatham-Kent and Ontario's Southwest for hosting us as media. All opinions are completely my own.
If you appreciated this article, you'll love our newsletter, as well as our Facebook group! Feel free to join, all are welcome.
Christopher Mitchell is the Cofounder of Ultimate Ontario. He's visited over 80 countries, and has lived on 4 continents, but now has his eyes set squarely on exploring this incredible province, and helping others do the same.