The Niagara Parks Butterfly Conservatory, located a short drive from the Falls, is a recreated tropical paradise that is home to over 2000 different butterflies. This ever popular Niagara attraction is its own little world that you're invited to step on into and enjoy.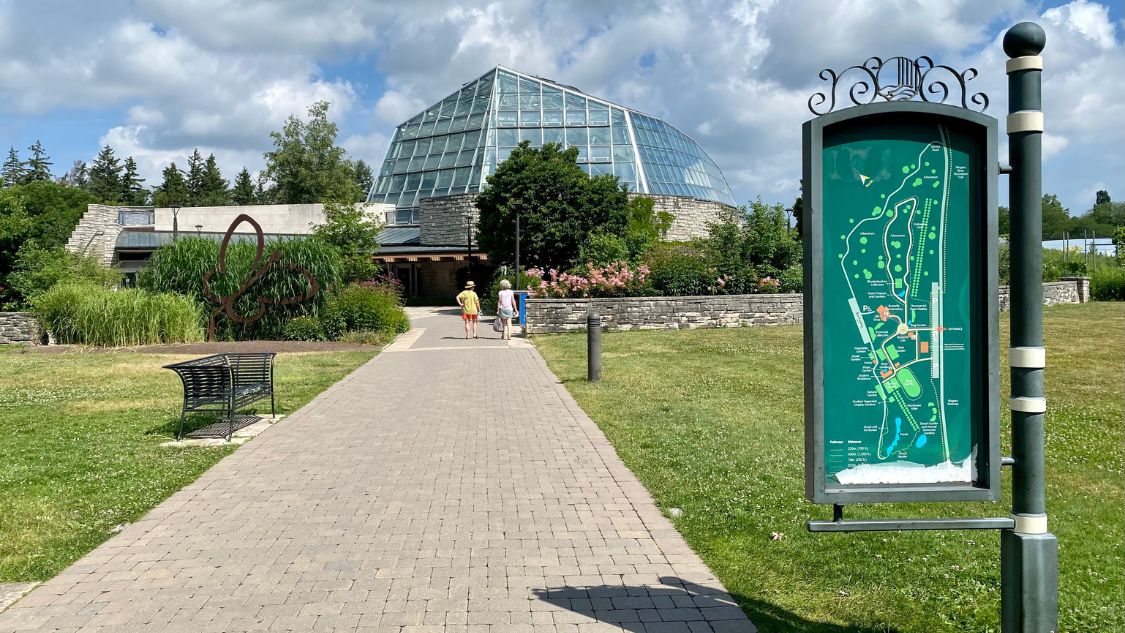 ---
We've spent a lot of time in the Niagara Falls area in research mode for our readers. We've done the White Water Walk, visited the Dufferin Islands, checked out the Niagara Parks Power Station, and dined at Table Rock, right beside the Falls.
But there's something a little different about the Niagara Parks Butterfly Conservatory. If you've got a busy day scheduled, the Butterfly Conservatory can feel like a bit of a change of pace. It's not a terribly large space, but there's a lot to see, so you're naturally encouraged to take your time and soak it all in – and that's a reminder we could all use these days.
For planning, it's also worth noting here that the Niagara Parks Butterfly Conservatory is a tourist site to prioritize for winter. It's especially fun for kids because they essentially get to shed their coats, and head indoors to rainforest-like weather.
About the Niagara Parks Butterfly Conservatory
For starters, we'll note that it's located a little under 10 kilometres north of the Falls. You'll find the Butterfly Conservatory on the grounds of the Niagara Parks School of Horticulture, right beside the Niagara Parks Botanical Gardens. Many people will do what we did and visit both sites at the same time.
It was built back in 1996, with a gift shop, an auditorium, and a climate-controlled greenhouse. It remains the largest facility of its kind in North America. Since it's opened its doors, it's welcomed millions of visitors from across the world. As Niagara Parks notes, "the facility includes an 11,000 square foot conservatory, video theatres, interactive displays and is also the teaching facility for the Niagara Parks School of Horticulture. It also includes laboratories and specialized greenhouses for rearing butterflies and growing plants."
Today, visitors can walk over 180 metres of pathways that guide you through an array of tropical plants with feeding trays places throughout so that you can get an up close look at the butterflies.
The Conservatory features over 2000 different butterflies which flutter freely throughout, representing around 50 different species. It's a self-guided walk, so photographers can feel free to take their time in any particular area which catches their attention.
The Emergence Window
The Emergence Window is where visitors can see butterflies in the stage where they typically leave their pupae and began to prepare for flight. What's neat about this is that you're able to see a variety off species here, and you can notice the differences in their colour and size as some hang to dry their wings before their first flight.
What Else is Worth Knowing Before Your Visit?
The Butterfly Conservatory has won no shortage of awards along the way, including being selected by the National Trust for Canada Prix du XXe Siècle jury and the Royal Architectural Institute of Canada to receive the 2020 Prix du XXe Siècle Award of Excellence. The award celebrates buildings that have expanded their use and function, without detracting from what made them special in the first place.
Most days, The Butterfly Conservatory opens at 10am. In the summer months, it typically closes at 6pm (and 7pm on weekends). In the colder months, it tends to close at 5pm.
Tickets (at the time of publication) are a little over $15 for adults, a little over $10 for kids, and children 5 and under are free.
In terms of accessibility, we want to share the following from Niagara Parks, "Paved paths wind through a rainforest atmosphere, featuring a waterfall and gorgeous displays of plants and blooms, all filled with over 2,000 colourful tropical butterflies. Benches are available along the path. Located just 10 minutes north of the Falls, convenient accessible parking is available at the front or rear of the building. Just follow the signs to enter the overflow parking area at the back entrance near the north end of the Botanical Gardens. A single wheelchair is available for use on a first-come, first-served basis at this location. The film has captioning available upon request, as well as transcripts in English or French." You can find out more about Niagara Parks' commitment to accessibility here.
The address is 2565 Niagara Parkway, Niagara Falls, ON L0S 1J0 and, should you need to, you can call the Niagara Parks Butterfly Conservatory at 1 (877) 642-7275.
Please be careful in handling butterflies and respecting their environment. You want to ensure you're moving slowly and carefully if a butterfly lands on you so as not to harm it.
Butterflies are attracted to bright colours, so if you're looking to respectfully engage with the butterflies, consider wearing a brighter shirt than usual!
The Butterfly Conservatory can accommodate several hundred visitors per hour so, typically, there shouldn't be much of a wait for you to come on in and explore.
Besides butterflies, you'll also see fish, toads, turtles and beetles, all of which are introduced to help the butterflies thrive in their environment (and keep insect populations in balance).
The Butterflies Await!
We hope you'll find this information helpful in terms of planning your visit to one of Niagara's top attractions. It's a little different than what you'll find elsewhere in the region, and tends to be a perennial hit with kids who have shown a love or appreciation for nature, since they're actively engaging with the environment, as opposed to viewing animals or insects behind thick glass.
If you've got any questions or want to share your experience, you can feel free to do that below. Enjoy!
---
We want to humbly thank Niagara Parks for hosting us as media. All opinions are completely our own.
If you appreciated this article, you'll love our newsletter, as well as our Facebook group! Feel free to join, all are welcome.
Christopher Mitchell is the Cofounder of Ultimate Ontario. He's visited over 80 countries, and has lived on 4 continents, but now has his eyes set squarely on exploring this incredible province, and helping others do the same.