Niagara Falls' Table Rock House Restaurant sits on historic ground but, with their creative menu and unstoppable view, they've got their eyes set on making waves in the present and future.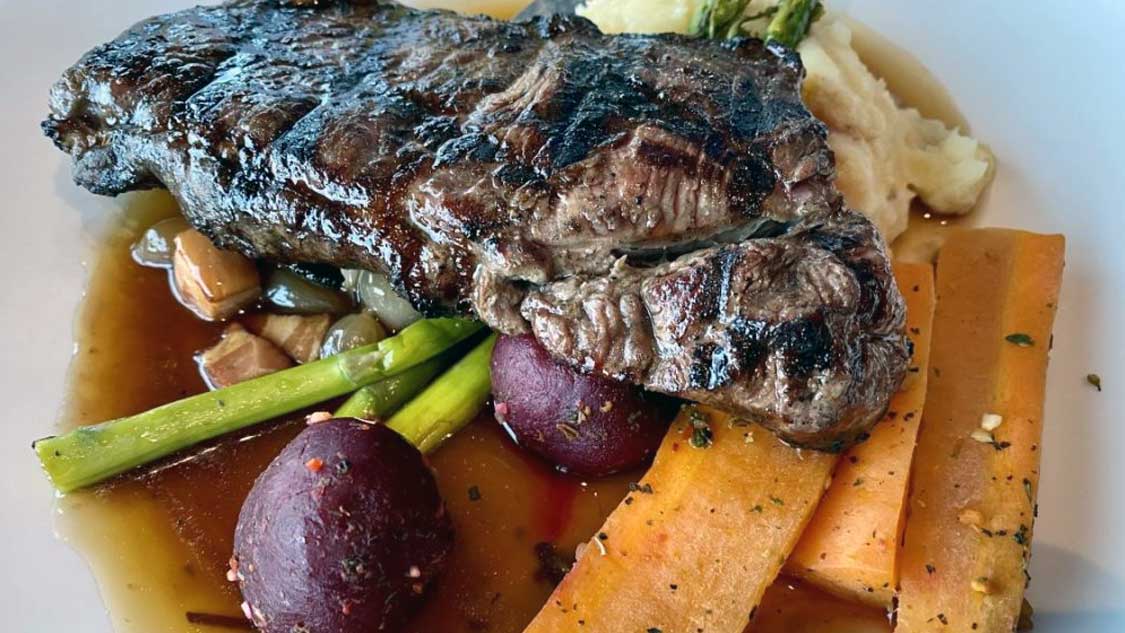 ---
Here at Ultimate Ontario, we like to focus on Ontario restaurants that do things a little differently and have a unique sort of flare. Well, it kind of goes without saying that Table Rock House Restaurant in Niagara Falls, Ontario, you're going to be treated with a view like no other!
However, Niagara Parks has put a lot of time, money, and energy as of late into ensuring that the view isn't the only thing that's notable about this Niagara Falls restaurant. They've really stepped up their game when it comes to their cuisine, as well as their wine and beer offerings.
We've recently written a lot about Niagara Falls, including a summary of our visit to check out the happenings at the Niagara Parks Power Station, but today we want to focus on the Table Rock House Restaurant. Ultimately, we want to be your go-to destination to help you explore and visit Niagara Falls, and, in light of that, having a dedicated feature on Table Rock only makes sense.
It's widely considered to be the best view of Niagara Falls available, and we would not disagree with that assertion!
The History of the Table Rock Centre
The Table Rock Centre, where the Table Rock House Restaurant calls home, has been around for as long as people have been coming as tourists to visit the Falls. Many people don't know that the "table rock" is actually a reference to a large slab of rock that used to jut out from the top of the gorge wall that overlooked the falls. The table rock partially collapsed in 1818 with the remainder of it continuing to disappear throughout the 19th century.
It was a museum, and then a prospect house, and eventually, become the "Table Rock House" in 1853. In 1925, an open competition was held for a new Table Rock House, and construction began shortly thereafter, which ultimately brought the building even closer to the Falls.
Throughout the 20th century, expansions were added, including retail space and the like, and then in 1974, "Table Rock South" was added, and it featured a larger dining facility that is now the site of Table Rock House Restaurant. Recently, the Table Rock Centre underwent an enormous facelift, and now this site with a lengthy history looks as modern and chic as it gets. In fact, this has become one of the most popular restaurants in Niagara Falls, Ontario.
The Table Rock House Restaurant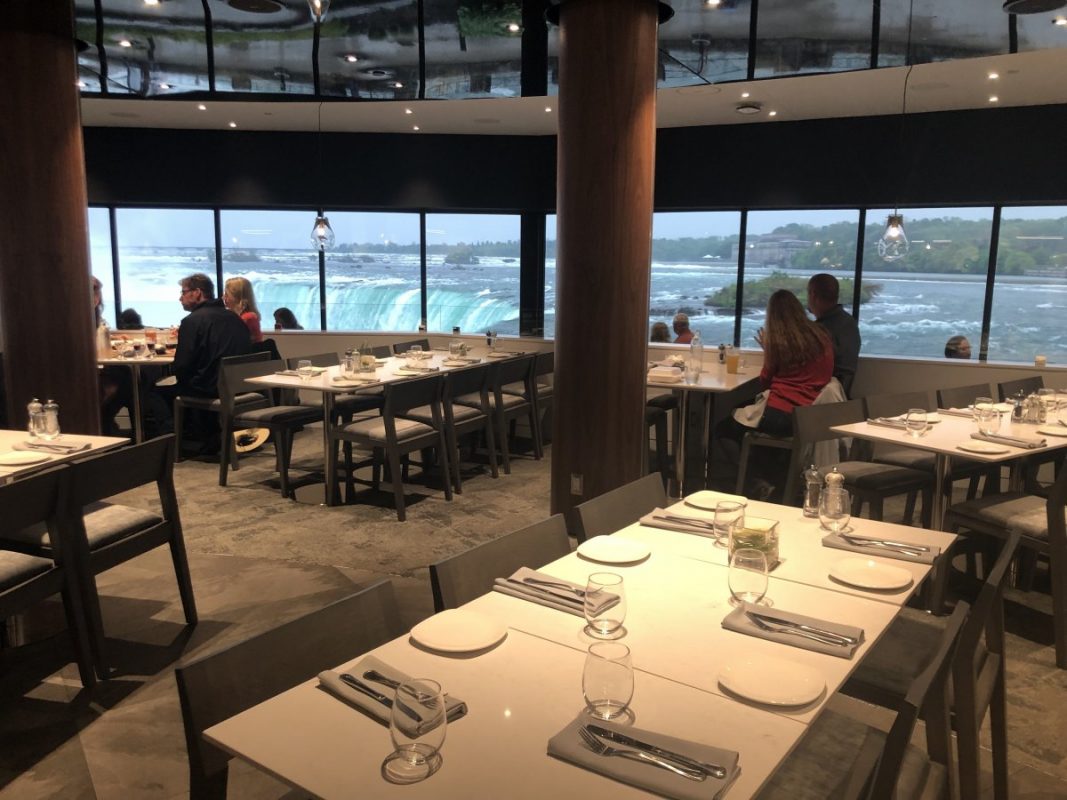 The Table Rock House Restaurant is a restaurant in Niagara Falls that offers year-round views of the Horseshoe Falls. Especially if you get a table right near the window, you're afforded mesmerizing views that are as picturesque as they come.
They're focused these days on sourcing large parts of their menu from local farms, and you'll note that their wine list features many of the top VQA wines from Niagara's vineyards, which is only fitting considering Niagara is one of the most famous wine regions in the province.
It's a romantic spot for a night out for couples, but it can also serve as a memorable dinner for your family or anything in between.
We should also note the opening of the Table Rock Patio, which is located on the upper level of the Table Rock Centre.
They're Feast ON Certified
Feast ON is a certification offered by the Ontario Culinary Alliance that signifies that a restaurant or business is committed to sourcing Ontario-grown and made food and drink. A restaurant needs to showcase that at least 25% of their annual food receipts reflect Ontario food purchases, and 25% of their annual beverage receipts reflect Ontario beverage purchases to qualify. The Table Rock House Restaurant passes both of those benchmarks with flying colours.
The Menu at Table Rock
You can access a PDF of their full menus (both lunch and dinner) at the bottom of this page, but we'll highlight some of the best parts of each menu.
The first thing we'd note is that, from experience, the Chef's Feature Soup tends to be quite good. They've got an award-winning, rather creative chef at the helm, and each time we've had the soup (often with an Artisan Bread Basket to accompany it), we've been pleased.
The salads also tend to be nice and fresh and are a good place to start if you're keen to eat local. Their Falls Salad, for example, is highlighted by Sieger's butter lettuce, green asparagus, and potatoes.
The lunch menu focuses more on handhelds. The All-Natural Smoked Ontario Turkey Sandwich is adorned with Seed to Sausage farm dry-cured bacon and Havarti from Bright's Cheese & Butter, so it's nice and flavourful (and local!). Other handhelds include the Canadian Prime Rib Burger (a favourite during lunch at Table Rock), as well as the Atlantic Smoked Salmon Sandwich, which is served on a delectable leek & parmesan bun.
The dinner menu is headlined by their Canadian 8oz AAA Striploin Steak covered in double-smoked bacon, pearl onion, and merlot glaze, their 12oz Rib Eye, an 8oz Veal Tenderloin in a mustard cream sauce, as well as a Cedar Plank Salmon with a lemon pepper crust.
Both menus include their Balsamic & Rosemary Chicken, Oven Baked Georgian Bay Pickerel & Manitoulin Island Rainbow Trout Fritter, Butternut Squash & Goat Cheese Bauletti Pasta, as well as the Vegan Power Bowl.
What Else Do You Need to Know About the Table Rock House Restaurant?
It's worth noting that every evening, at dusk, the falls are illuminated. Niagara Parks notes that "Niagara Falls is transformed into an incredible, multi-coloured water and light masterpiece." If you're particularly keen to see this, just ensure that you reserve a table after dark.

Speaking of reserving a table, to ensure that you're able to dine here during your visit to Niagara Falls, you're best to have a seat reserved. You can do that here nice and easy. If you're not near a computer at the moment and want to make a reservation, you can call 905-354-3631.

The Table Rock House Restaurant now offers Afternoon Tea. It's $35 per person and features a selection of finger sandwiches, pastries, house-made scones, and specialty teas. Of course, they also have ample mimosas, roses, sparkling wines, and ice wines on offer! Afternoon tea is available on Sundays at Table Rock.

Their hours of operation may vary by date, but typically they're open 11:30 am – 9 pm.
That's a wrap on our feature of the Table Rock House Restaurant. We hope that this article has been helpful for you, and if you go on our account, please drop a comment below to let us know how your experience was. As always, the whole Ultimate Ontario team wishes you well, and bon appetite!
---
We want to humbly thank Niagara Parks for hosting us as media. All opinions are completely our own.
If you appreciated this article, you'll love our newsletter, as well as our Facebook group! Feel free to join, all are welcome.
Christopher Mitchell is the Cofounder of Ultimate Ontario. He's visited over 80 countries, and has lived on 4 continents, but now has his eyes set squarely on exploring this incredible province, and helping others do the same.