The newly opened Niagara Parks Power Station is an attestation to what can be accomplished in Ontario tourism with the right combination of ambition, creativity, and ingenuity.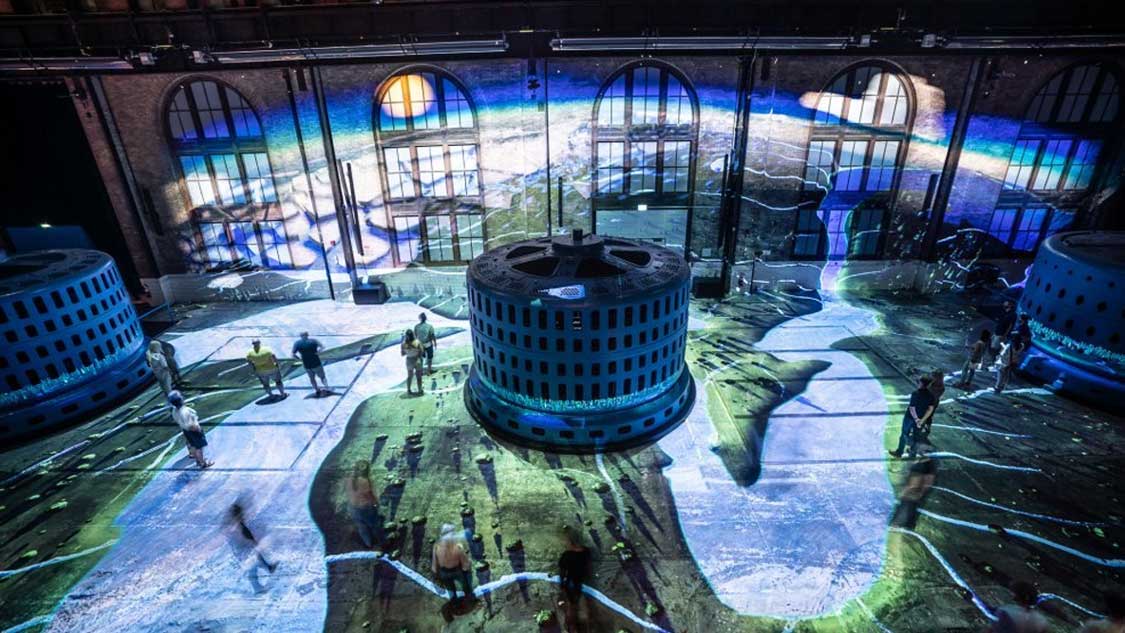 ---
Whenever a new attraction in Ontario opens its doors, we want to be there to cover it for readers just like you. Thankfully, Niagara Parks invited us down as media to get the inside scoop, so today we'll share everything you need to know about visiting, with a special focus on experiencing the station at night, and the interactive 3D projection show Currents: Niagara's Power Transformed.
We actually gave a bit of a preview for the opening of the Niagara Parks Power Station back in April and, suffice to say, the experience even exceeded our already high expectations.
There's great food and drink in the Niagara Region, and there were some remarkable Niagara Falls attractions previous to this opening, but this attraction in particular adds a feather into the cap of Niagara Parks and Niagara Falls tourism at large that is notable, and should be an enormous draw.
They did not skimp on the restoration of this facility, nor the offerings for tourists and, quite frankly, it shows.
The History of the Niagara Parks Power Station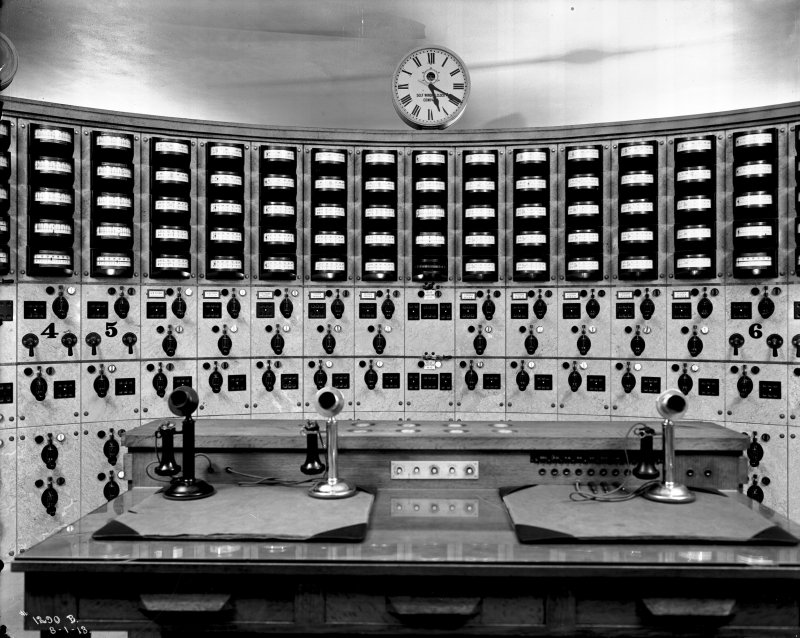 Known previously as the "Canadian Niagara Power Company Generating Station," it was the first major power station on the Canadian side of the Niagara River." The station harnessed the power of Horseshoe Falls for over 100 years.
We found that they did quite an impressive job of showcasing and preserving the history of the power station. Besides the mind-bending light shows and the interactive exhibits, there was plenty of information at hand to help contextualize the historical importance of the station and, notably, the individuals that helped make the dream of the generating station a reality.
In many ways it is as it was, and that's what makes wandering around so intriguing. There's a staircase, for example, that leads up to the second floor where you'll come into a control room with enough buttons and levers to make your head spin (and light up the eyes of any impulsive and active child). There are stately windows with stellar views, and marble floors that look like they belong in a cathedral, let alone a power station.
The Station closed its doors in 2006, and 15 years later has reopened its doors. Niagara Parks sums it up well when noting that, "years after its turbines came to a halt, the wonder of this hydropower pioneer is coming back to life in an entertaining and educational experience that highlights both the remarkable history and unique architectural features of this marvel of engineering and architecture."
What's also worth noting is that this is a unique story in Canadian history. This isn't something that was created out of nothing, it's an attraction that was built on the back of a narrative that should not be forgotten. We love that.
Kim Viney, the Senior Director of Business Development with Niagara Parks clearly shares that sentiment.
"This show could not happen anywhere else in the world. From concept to execution, it was inspired by the history, architecture and identity of this spectacular heritage building and its proximity to the Niagara River and Niagara Falls."
Experiencing the Station During the Day
During the day, the focus is really on taking in the enormity of the station, and taking the opportunity to do some learning. Wherever you look, you'll find interactive exhibits, interpretive installations, and repurposed artifacts. We'd recommend taking some time to check out the scale model of the plant and "following the flow." You'll know what we mean when you get there!
If you're into photography, you're in luck. There are no shortage of shots to take that highlight the history of the station itself, but also some shots to take of artistic or futuristic renderings (hence the interpretive installations and repurposed artifacts we mentioned above). Near the gift shop and event space in particular, there's an incredible photograp to be taken of water with a greenish hue. Again, you'll know what we mean when you get there (or if you look at the picture above!)
What we want to emphasize here is that the learning is very much first-hand learning. You're engaging with exhibits in meaningful ways, so this is far from a passive experience, and it also ensures that it's fun for the whole family. There's no doubt that the Niagara Parks Power Station attraction was carefully planned to be equally enjoyable for the youngest and oldest member of your respetive family.
For kids, it's worth mentioning the Little Inventors Workshop. On Saturdays and Sundays from 1-3pm in the forebay, there are interactive STEM workshops. Children will have the chance to do things like make a battery, design a simple circuit, and much more. Of course, all materials are provided for this from their side of things!
Tickets to visit during the day are $37 for adults 13+, and $24 for kids 6-12. Your ticket includes access to the power station and Journey Behind the Falls. You can also get a "Power Pass Family Bundle," which includes tickets for 2 adults, 2 children, and 1-day access to the Falls Parking Lot.
The Tunnel at the NPPS
When we first visited the Niagara Parks Power Station (NPPS), we didn't realize that they had some grand plans in the works to unveil "The Tunnel," shortly thereafter, and it sure adds quite a bit to the experience. I actually created a little video to showcase the experience on my @travelingmitch page, and I think it showcases why you'd want to have this on your radar.
To get to The Tunnel, you descend 180 feet in elevators that are located relatively close to the entrance of the power station itself. The glass-enclosed elevator ride is something to behold, especially as you'll have an attendant who will fill you in on a little more history.
Then, the door opens and in front of you, there's a 2200 foot long tunnel that, as Niagara Parks says, "uncovers a never-before-seen underground world and reveals more fascinating details about Niagara's incredible story of power."
When you get to the end of The Tunnel, you'll step out onto a viewing platform that sits at the edge of the Niagara River and offers exceptional, panoramic views of Niagara Falls. It's an even more intimate viewing of the Falls than the Journey Behind the Falls in some respects, actually.
Along The Tunnel, you'll also find plenty of information that will help contextualize the magnitude of the project and the goals they were trying to achieve in harnessing the power of the Falls. We thought the lighting was executed perfectly down there to create a bit of a mystical ambiance as you head towards the viewing platform, as well as on the way back.
Experiencing the Niagara Parks Power Station at Night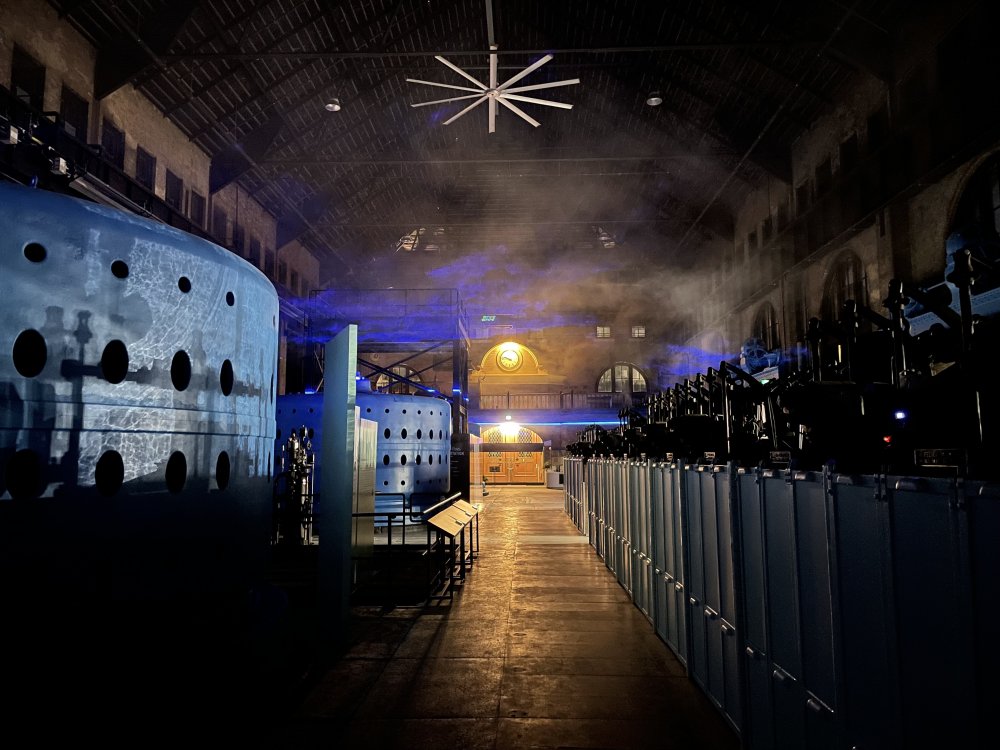 If you're coming at night, it's because you're coming to see Currents: Niagara's Power Transformed. It's not just a show, it's a sensory experience, and much like the day-time exhibits, it's interactive.
Essentially, the station comes alive again with the show through imagery, colour, lights, and a musical score that would inspire even the most cynical pundit of tourism. You're not seated for this show – in fact, far from it.
To put on a show of this scale, they utilize 23 laser phosphor projectors on 5 distinct surfaces (the wall, the floor, as well as 3 turbines), while 32 channels of audio envelop the audience through 35 speakers. There are also infrared sensors around which are triggered by the audience at different points. It's also worth noting that architectural LEDs were installed throughout the station to set the appropriate ambiance for the show!
Currents: Niagara's Power Transformed – Your Chance to Watch History Unfold Before You
The show itself is split up into three distinct acts.
Act 1: The Beginning: This portion of the show takes you back in time. You'll get familiar with the waters of the Niagara River as it flows before you, and then will freeze in its tracks as it showcases what this area would have been like during the Ice Age. It then follows the melting of the ice, and the formation of the geological wonder that we all know as Niagara Falls.

Act 2: Harnessing the Power: This act focuses on how engineers and inventors harnessed the power of the world's most powerful waterfall. It follows the Power Station through its heyday, and it's eventual move towards disuse.

Act 3: Reawakening the Station: The title of this act says it all. This portion of the show urges the audience to use movement to create currents (the show isn't named currents for no reason!), and ultimately reawaken the station.
The show itself is about 30 minutes in length. You'd be hard-pressed to find a more engaging 30 minute experience in Ontario tourism – it's really something else.
If you're looking for tickets to both Currents and the daytime experience, it's $40 for adults and $26 for kids. Tickets to only the show retail for $30 and are $19.50 for kids, so it makes sense to try to do both. In fact, the show was extra special because of the fact that we had an idea of what the power station had looked like only hours before. It was more sensational when you can understand just how much they were able to transform the station.
Not to mention, both the daytime and nighttime experiences inform each other in some way. They provide context for each other in a rather profound fashion.
Do Something a Little Different in Ontario Tourism
At Ultimate Ontario, we try to go out of our way to applaud the movers and shakers in Ontario tourism. Niagara Falls is famous for its white water walks and incredible tourism experiences along its waterfront. That's why we have to applaud Niagara Parks for aiming big here. They hired Thinkwell Studio Montreal to really shoot for the moon, and now we all get to add a new attraction to our respective Niagara Falls (and Ontario) bucket-lists.
The reason we were keen to visit, and keen to write about it, is that we want to encourage people to see this province through as many lenses as possible, and the Niagara Parks Power Station day and night tandem experience offers a handful of lenses unto itself.
Simply put – It's boldly creative, distinctly imaginative, and utterly unique.
---
We want to humbly thank Niagara Parks for hosting us as media. All opinions are completely our own.
If you appreciated this article, you'll love our newsletter, as well as our Facebook group! Feel free to join, all are welcome.
Christopher Mitchell is the Cofounder of Ultimate Ontario. He's visited over 80 countries, and has lived on 4 continents, but now has his eyes set squarely on exploring this incredible province, and helping others do the same.