Peterborough Escape Maze offers one of the widest assortment of escape room experiences in Ontario. From indoor excitement to outdoor fun, this escape room serves up a wide assortment of adventures. And they're growing!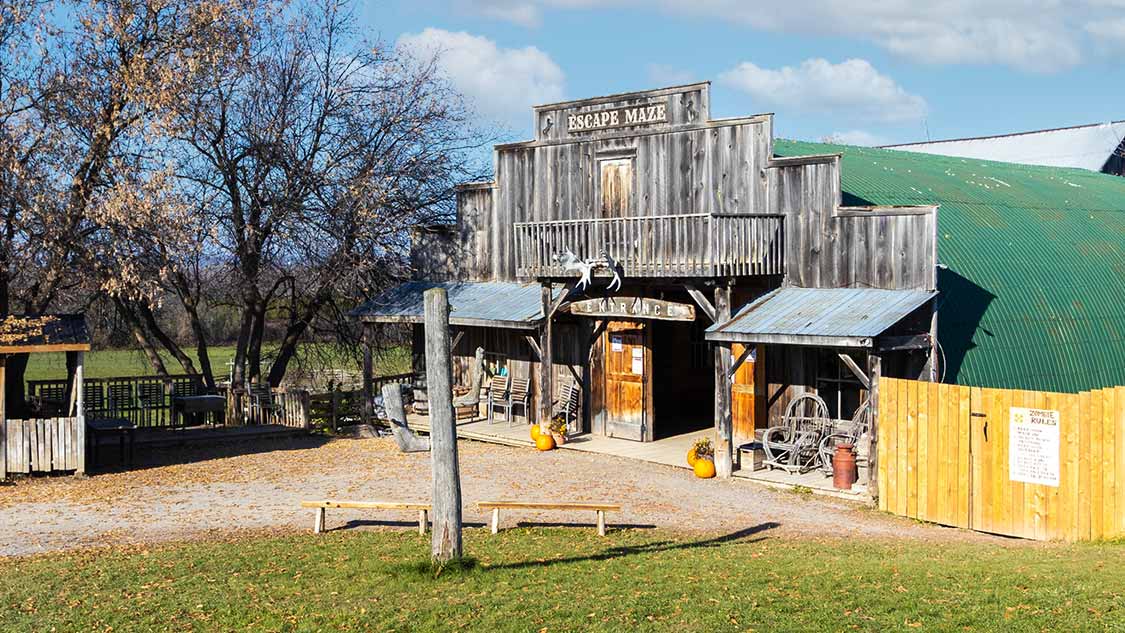 The Preddy family doesn't think small.
During a family get-together at the family farm in 2014, the family got to chatting about new ventures that they could tackle on the family's sprawling property just outside the city of Peterborough. When the idea of jumping on to the new escape room craze was raised, the family went all-in, creating one of the biggest escape-room experiences in the province. And in the 5-years since they first welcomed guests to the Peterborough Escape Maze, they just keep thinking bigger.
Within the first few months of opening, Escape Maze had already designed and built two unique escape rooms. They modeled the experience on the 1866 gold rush that took place in the Peterborough area. Guests who visit the escape room are transported back to the classic age where shotguns hung from walls, rocking chairs sat on front porches, and faux-front buildings lined the small towns.
Escape Maze Peterborough was so successful prior to 2020 that they opened a second location located in Lansdowne Place, the largest mall in the city. However, like many businesses, the arrival of the pandemic tested their ability to adapt. They had started the business as a family and ended up working through one of the most difficult periods in modern history as a family as well.
To adapt, the Preddy family shut down the Lansdowne Place Mall location and opted instead to take advantage of the massive outdoor opportunities at the family farm and expand operations there.
Four immersive outdoor escape trails were added and their interior rooms were adapted to encourage safe experiences without affecting the fun of this popular activity.
I visited Escape Maze with my wife Christina and our two boys to learn about the experience and try out one of their outdoor escape trails for ourselves. And I could not believe how much fun we had.
Peterborough's Outdoor Escape Trail
My family took on the "Young Warrior Trail", an Indigenous-themed outdoor game modeled after the Amazing Race. This extensive trail is specially-designed with younger players in mind. And in partnership with cultural experts from nearby Hiawatha First Nations.
The trail, like many of the escape rooms and trails at Escape Maze, is designed to bring a twist of cultural knowledge and historical twists into the traditional fun of the escape room craze.
The experience follows the story of a young Indigenous boy as he goes about daily life in mid-18th-century Ontario. It's perfect for younger adventurers as the puzzles you have to solve along the way are challenging, but not so much so that a little dedication and teamwork can't make it easier.
Even with choosing an easier trail, the experience still took us nearly two hours to complete. Although I'd be lying if it didn't seem much faster than that due to how much fun we were having throughout the trail.
As we worked our way through the adventure trail, we solved puzzles about local flora and fauna, learned about local wildlife, and were able to enjoy a sunshine-filled stroll through the property's back fields along the picturesque shorelines of the Ottanabee River.
Along the way, we needed to use a bag of tools provided by Escape Maze to navigate our way through forests and fields along the network of trails. We travelled from puzzle to puzzle tracking the young boy's route as he gathered berries, tracked turtles, and fished for dinner.
Much to my hyper-competitive children's dismay, we completed the trail in about one-hour and forty-five minutes, a solid 45-minutes slower than the current record holder. However, the whole experience felt much quicker. In all honesty, we were just having too much fun solving the puzzles, working together, and basking in the beautiful weather to be bothered with trying to solve it any quicker.
In fact, many adventurers opt to bring along picnics to enjoy along the way. And why not, the scenery is almost as exciting as the puzzles.
Big Things Coming At Peterborough Escape Maze
I had the chance to chat with two of the Escape Maze founders, Jake and Fred, about how the initial concept of the escape room grew into its current form and it became clear that, while this experience has become one of the top things to do in Peterborough, it's only just beginning.
Plans are in the work to grow the farm's already extensive offerings into an even more elaborate attraction that will include an on-site themed Airbnb where guests can stay in a covered wagon and even outdoor western-themed laser tag. And that's not all. There are even more fun activities being designed that Jake and Fred would only offer vague details on. But, I have no doubt that they'll draw even more excitement as they're revealed to the public.
In fact, the Preddy family's escape rooms and innovations have been in such demand that they've begun designing escape rooms for other businesses throughout the world.
The outdoor adventure trails at Peterborough Escape Maze are only open seasonally from summer to fall. This, Jake expressed, is due to ensuring sustainable trail conditions. They want to ensure that all of their visitors have a safe and memorable experience. Luckily their indoor escape rooms are open year-round.
Support Local – Set Your Sights On Escape Maze Peterborough
At Ultimate Ontario, we believe that small businesses in Ontario are the key to the diverse and amazing attractions and activities in Ontario. We know how difficult it is for these local businesses to succeed and thrive. We are so pleased to share the story of amazing places such as Escape Maze along with incredible restaurants in Peterborough to get people out to support these hard-working and innovative establishments.
These businesses build and drive energy in their local communities that help to showcase why Ontario is such a special place. And Escape Maze does this in a way that helps foster understanding and appreciation of the rich history of Peterborough itself.
So, if you're looking for some entertainment in "the Patch", head to 156 Cedar Bank Rd, just 10-minutes from downtown and tell Jake, Fred, and the Preddy family that Ultimate Ontario says "howdy".
---
We would like to offer a hearty thank you to Peterborough & the Kawarthas Tourism for welcoming us and sharing these experiences. You can find more about Escape Maze and more on their website. All opinions are our own.
If you appreciated this article, you'll love our newsletter, as well as our Facebook group where Ontario comes together. Feel free to join, all are welcome.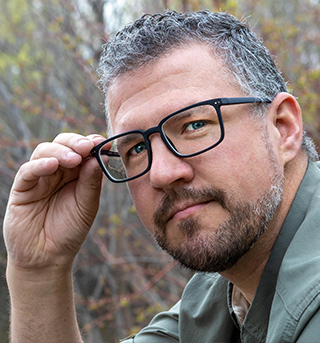 Kevin Wagar is a founder and editor of Ultimate Ontario. He has been working in the travel media industry since 2015 when he founded his family travel website Wandering Wagars – Adventure Family Travel.
Over the years Kevin has developed a deep love for his home province of Ontario and aims to showcase the incredible experiences and amazing small businesses found within it.