Look no further for where to eat in Peterborough, Ontario than our guide to some of the best restaurants and dining experiences in Peterborough & the Kawarthas.
Peterborough, Ontario is one of the primary gateways to cottage country in Ontario. But, those who take the time to visit realize that there are a plethora of incredible things to do in Peterborough as well. It's a city exploding with incredible nature, engaging museums, rich Indigenous heritage, activities for the creative and artsy travellers, and scenery that will leave you speechless.
And if you're looking for the best restaurants in Peterborough, Ontario, you won't have to look far. Because Peterborough has welcomed some of the province's best chefs for ages. And the Peterborough restaurant scene has never been more exciting than it is right now.
It seems that each year, small business restaurants in Peterborough, Ontario are welcoming more of the culinary experts in the province. And the Peterborough food explosion that began in the city core is now expanding to the borders of the city and beyond.
Each year the diverse offerings of Peterborough restaurants are becoming more and more indicative of the cultures that make up the city's population. The mix of Canadian-ethnic fusion, and traditional BBQ are staples throughout the city. But diners will also find a plethora of organic and local tastes including farm-to-table cuisine. And, of course, there is a rich collection of vegetarian and vegan cuisine as well.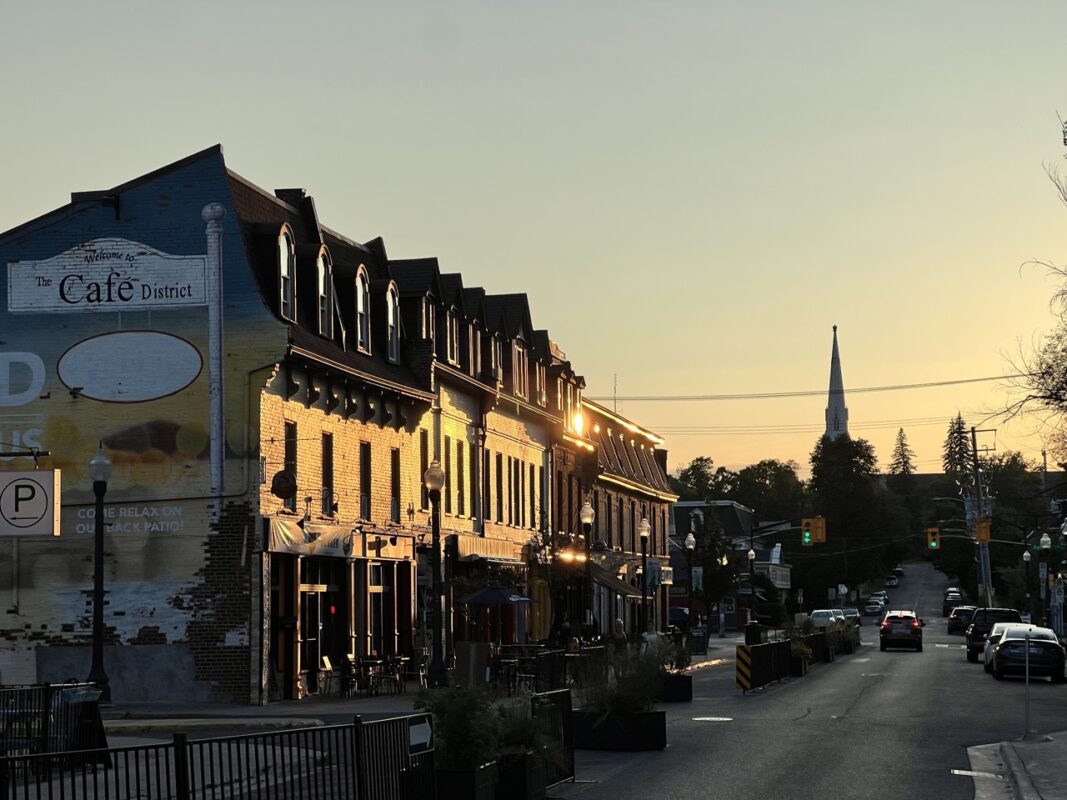 Where to Stay on a Culinary Trip to Peterborough
Planning to spend more than a day in Peterborough is definitely the right decision, since there are too many incredible restaurants to choose from for simply a brief stop in the area.
Positioning yourself in central Peterborough is an excellent option for easy access to the city's famous Cafe District, scenic Millennium Park and many of the restaurants on this list.
The Holiday Inn in Peterborough is an excellent option if you're looking for a central place to stay. I'd highly recommend booking a room on the upper floor that faces east, since these rooms look onto the Otonabee River and have a peaceful and scenic ambience. It's also walking distance to many of the major restaurants in Peterborough, so what's not to love?
A little further from the downtown core is the Best Western Plus Otonabee Inn. This is a great place to stay along Highway 7 if you're passing through Peterborough and just staying for the night, or if you're looking to book a hotel close enough to access downtown with a bit of space in between.
If you're looking for a memorable stay away from the city but still easily accessible to a host of great restaurants in the region, The Village Inn in Lakefield is an excellent place to stay. They have spacious rooms, comfortable beds, a cosy interior and friendly staff. I'd highly recommend booking a room that faces west and has a balcony, for beautiful sunset views over Lakefield and the Otonabee River.
Amazing Peterborough Restaurants To Experience
Let's get down to the best restaurants in Peterborough, Ontario. Be prepared, because the wide range of culinary delights in Peterborough means that these restaurants run the gamut from traditional fine dining to creative fusion and beyond.
You'll find everything from classic barbecue and fish joints to some of the best fine dining in Ontario. There are Peterborough restaurants to fit nearly every price range. Whether you're a local looking to explore your hometown, taking a break from exploring the incredible things to do in Peterborough, or if you're a visitor heading out to cottage country or some of Ontario's best hikes at the nearby Provincial Parks, you'll find food to satisfy in the jewel of Central Ontario.
Blackhoney Bakery
Although Blackhoney Bakery, which sits in the popular food district on Hunter St. is popular for its baked goods, this Peterborough restaurant serves up far more than pastries and treats. Blackhoney is an especially popular diner for breakfast in Peterborough. Their unique takes on classics such as their Egg McHoney and Baker's French toast are my personal favourites.
Blackhoney also serves up excellent lunch options as well as catering and takeaway (they actually catered my post-wedding breakfast!) the cozy atmosphere encourages guests to get together through the narrow dining room. It offers a relaxed location with friendly service. Don't leave without tasting some of their delicious cakes and pastries. You can find their current menu here.
Ashburnham Ale House
Located in East City, not far from the Liftlock, Ashburnham Ale House is one of my favourite restaurants in Peterborough, Ontario. With a great selection of local and house-made brews and a creative take on comfort dishes, Ashburnham Ale House offers a fantastic and welcoming casual dining experience.
The large dining area and multiple rooms make small social get-togethers comfortable, and there's always a game on the TV in the bar area. Don't forget to walk through the restaurant and check out all of the local art on display. Many of these works of art are for sale.
Sam's Place Deli
The crown of Peterborough's best sandwich shop has been firmly placed on the head of Sam's Place Deli owner Sam Sayer. Sam's Place serves up fantastical creations for vegetarians to meat-lovers.
Personally, I'm a big fan of the "Eesh", which combines avocado, bell peppers, provolone, and cheddar on a focaccia bun, and their simple, but delightful Ptbo Smoked Meat which has ultra-tender smoked brisket on a light rye bread with your choice of mustard.
You can find the menu for this Hunter St. restaurant here.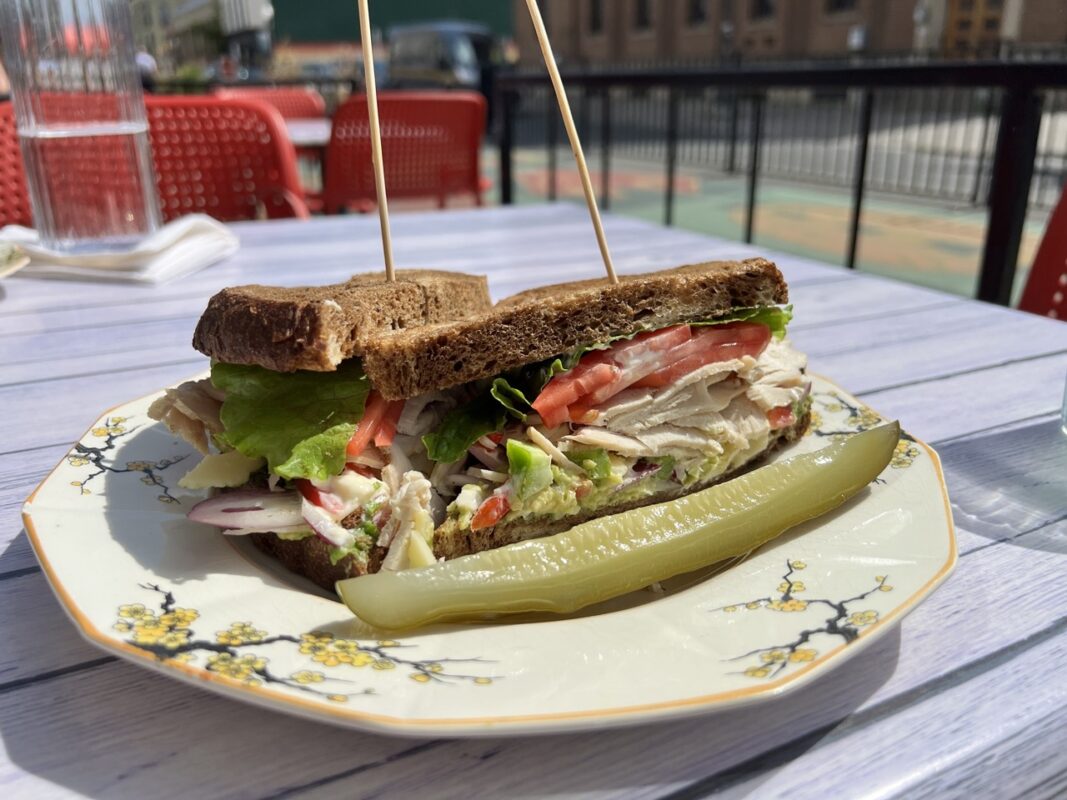 Two Dishes Cookshop
Undoubtedly a local gem, Two Dishes at 261 Charlotte St. is a Peterborough breakfast and lunch spot that is easily missed if you aren't looking for it. With a focus on diner classics that are made from scratch. They have a revolving menu sourced from local ingredients that often features hearty soups and zesty jambalaya as well as a great selection of vegetarian options.
Two Dishes is also one of the best bakeries in Peterborough. In fact, if you're looking for some Instagram-worthy doughnuts or pastries, Two Dishes often has a fine selection available. But get them while they last, because they disappear quickly. You can check out their current offerings here.
Recently, Two Dishes stopped serving dishes in-house, and they've updated to a takeout menu only. They still serve great food, but if you're looking for a sit-down meal, you'll need to look elsewhere.
Sam's Place Wienery
This is a new endeavour, and one of the latest places to open on this list of incredible restaurants in Peterborough. Located in the space behind town favourite Sam's Place Deli, Sam's Place Wienery offers delicious beef, pork, and vegetarian hot dogs.
This location is a great option if you're looking for a quick bite on-the-go, as opposed to picking up a delightful sit-down sandwich. Hot dogs come in the form of regular hot dogs and corn dog style hot dogs, and can be ordered plain, or loaded in classic and one-of-a-kind styles created by Sam.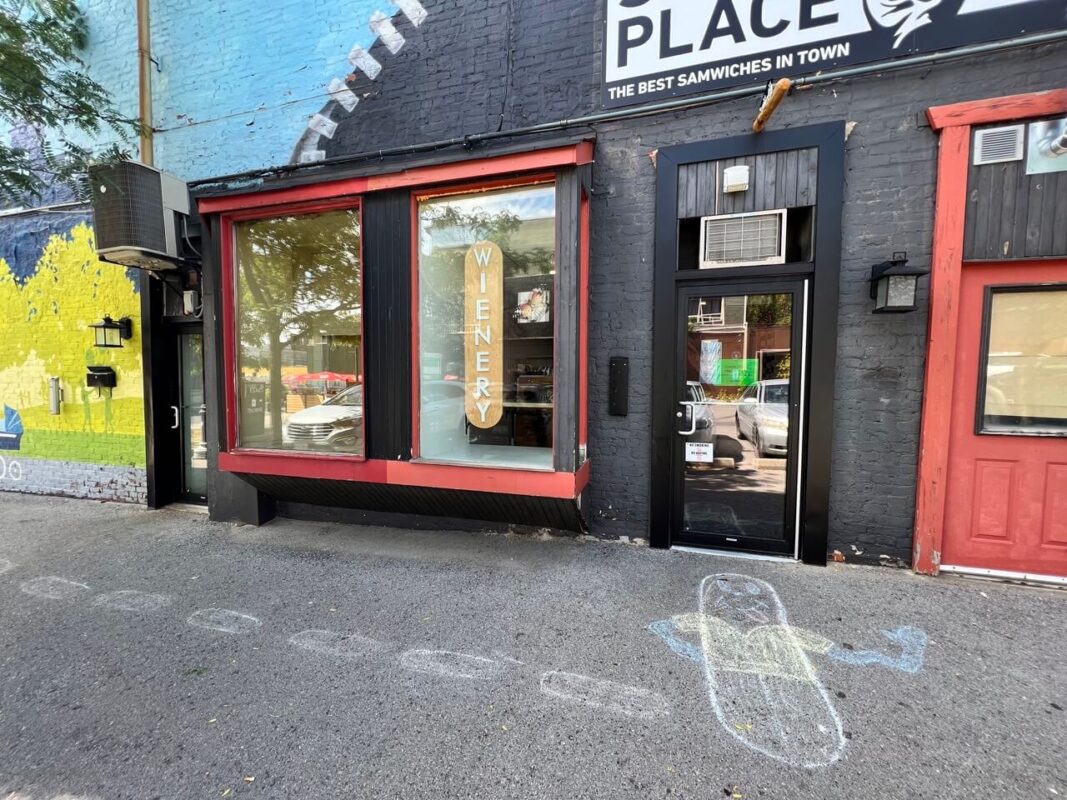 Dr. J's BBQ and Brews
Situated in what was once one of Peterborough's micro-concert hot spots, Dr. J's BBQ and Brews still celebrates the city's musical heritage. Although this establishment's focus is now firmly on serving up soft and saucy meats, it still features a hometown charm that locals have fallen in love with.
Dr. J's, whose owners have also recently taken over ownership of the storied Chemong Lodge in nearby Bridgenorth, serves up a revolving menu of BBQ sensations from ribs to chicken, sausages, and more. These are served alongside delicious sides such as mac & cheese, maple baked beans, and smoked beet salad. You can check out their current menu here.
Revelstoke Cafe
If you're looking for the best vegetarian restaurant in Peterborough, look no further than the Revelstoke Cafe on George St. Revelstoke Cafe prides itself on creating "plant-based and love-filled food" and they deliver. Peterborough is a welcoming community, but Revelstoke Cafe ups the ante with its open and inclusive space that exudes positive vibes to all while serving up healthy, nutritious plant-based cuisine.
Fill up on their Stoked Lentil Burger which combines a lentil, walnut, and apple patty topped with lettuce, tomato, onion, and garlic mayo served on a toasted bun. And on a hot day, nothing cools me off better than their Purple Rain, which combines blue matcha and lemonade over ice. You can find their current offerings here.
La Hacienda Mexican Restaurant
This restaurant is Mexican-owned and operated, offering a little taste of Mexico to Peterborough's Hunter Street. They specialize in Mexican favourites like queso fundido, quesadillas, enchiladas and tacos. Their pulled pork tacos are incredible, and you should definitely try some during your visit!
They also have an exciting selection of authentic Mexican drinks, like Topo-Chico and Mexican Coke, and fun alcoholic drinks such as palomas and margaritas.
You can find their complete menu online here.
The Only Cafe
Another fun, quirky, and welcoming place to eat in Peterborough that also happens to have one of the city's best patios, is The Only Cafe on Hunter St. This long-standing hub of the Peterborough arts community has an event space on the second floor that usually hosts everything from concerts and comedy shows to Pride dances.
The Only Cafe serves up a small collection of sandwiches and local favourites. But it's their collection of artisanal beer and the guarantee of fascinating conversation that keeps locals coming again and again. You can find out their info right here.
St. Veronus Cafe & Tap Room
This delightful restaurant and bar in downtown Peterborough is right on the corner of Hunter & Water. It's been serving the people of Peterborough for over twenty years, specializing in high quality, on-demand beers and quality food.
Located in an historic bank, St. Veronus serves up Belgian beer and Belgian food in their state-of-the-art tap room. You can find some of the most famous beers in the world, like Delirium Tremens and Lindemans Kriek Lambic on tap. Yes, you read that right!
In addition to quite the expansive draft and bottled beer list, St. Veronus has a delicious menu with offerings like Belgian-style Mussels and Frites, Flemish Meatballs and Steak Frites, among other menu staples. During the warmer months and days, they also have a beautifully situated courtyard beer garden around the back.
You can find their complete and seasonally updated beer and food menu on their website.
Silver Bean Cafe
Situated in downtown Peterborough in the gorgeous Millenium Park, Silver Bean Cafe might have one of the best locations in the city. Nestled on the edge of Little Lake, this cafe also acts as a popular canoe dock for local water-lovers. I'm a big fan of their chevre, pear, and walnut wrap.
You can check out the current menu of the Silver Bean Cafe here.
The Publican House Brewery & Restaurants
Located in an historic 170-year-old building, The Publican House Brewery is one of our favourite places to eat in Peterborough. The restaurant, which was opened as a brewery in 2008 but, due to its popularity, quickly outgrew its Charlotte St. storefront and expanded into a storied mansion next door.
Run by Peterborough plantee's Brad and Katie Watt, the Publican House has grown to be an institution in the city's culinary scene. Not only do they serve up some of the best craft beer in the city, but their absolutely gorgeous Italian wood-fired oven helps their chefs cook up some of the best gourmet pizzas in town.
Great Restaurants Near Peterborough
Not all of the restaurants in Peterborough and the Kawarthas are right in the city. In the county itself, you'll find some amazing dining options that are worth the drive.
Here are a few of our favourites.
The Cheesy Fromage in Lakefield
This wine and charcuterie shop has all of the essentials for a great afternoon grazing session with friends. You can choose from their large variety of artisanal cheeses, meats and breads to create the charcuterie board that dreams are made of.
Keep an eye on their website for special events, and make sure you take some time to sample the delightful wines they have on offer, too.
Frederick's at Beachwood Resort in Lakefield
Located north of Lakefield on Deer Bay near Curve Lake, Frederick's at Beachwood serves up fine country cuisine with one of the best views of Lower Buckhorn Lake. Local chef Michael Henson, who graduated from the local Sir Sandford Fleming culinary school, serves up a wide variety of great dishes. But, it's their long-table fish fry that often draws the crowds. This all-you-can-eat pickerel bonanza is country living at its finest. You can find their updated menu here.
The Loon Lakefield
This family restaurant offers a selection of locally sourced and inventive items. They have a lovely patio on the main street in Lakefield, and a great indoor dining area and bar, too.
Their cocktail list and menu is always changing seasonally, and there's something for everyone to choose from.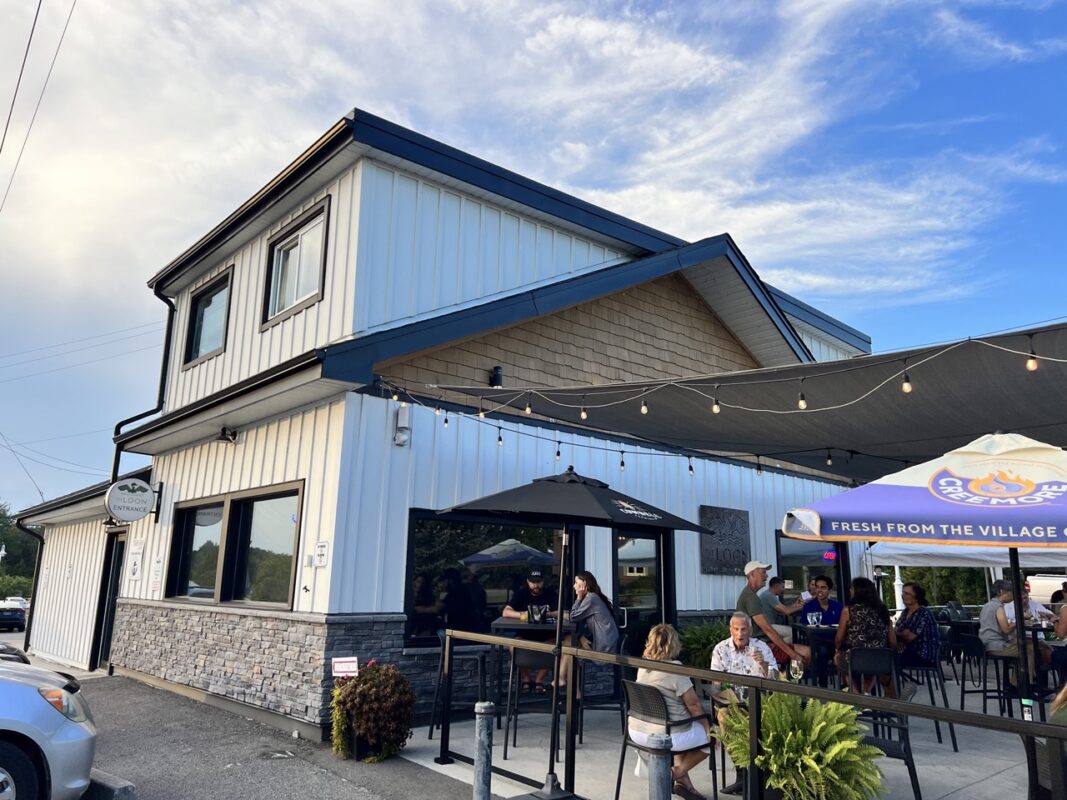 Muddy's Pit BBQ
Located in the town of Keene, just outside of Peterobourgh, Muddy's Pit BBQ serves up the best bbq in Peterborough and the Kawarthas.
Muddy's is casual, backyard dining at its best. In fact, you wouldn't even know how special this Peterborough restaurant was until you start poking around. That's when the custom outdoor smokers, hardwood logs, and BBQ smoke hit you. Then you smell it, that unmistakable scent of rubbed meat, smoked port, and bbq sauce.
Stuff'd Ice Cream, Bakery and Cafe
This ice cream shop in Lakefield has been a neighbourhood staple, serving ice cream for years. They have a bakery and fresh coffee inside too, and with its location right on the Otonabee River, it's the perfect place to stop for a more quality fast-food style treat on a road trip, or make it your destination while you're in town.
The neighbouring Canoe & Paddle Pub is owned by the same owners as the cafe, and it's the type of place that makes for a great place to stop for a pint with a group of friends after a long day.
Dining In Peterborough
If you're planning a visit to The Kawarthas, you'll have plenty of variety to choose from that make up the best restaurants in Peterborough.
And if you're passionate about Ontario, make sure to swing by our incredible Ultimate Ontario Facebook community and join the conversation of locals and visitors discovering and sharing the best things to do in Ontario.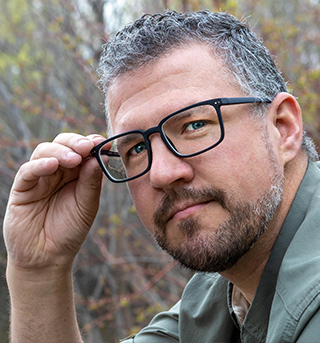 Kevin Wagar is a founder and editor of Ultimate Ontario. He has been working in the travel media industry since 2015 when he founded his family travel website Wandering Wagars – Adventure Family Travel.
Over the years Kevin has developed a deep love for his home province of Ontario and aims to showcase the incredible experiences and amazing small businesses found within it.