When visiting Casa Loma in Toronto, you might wonder about the beautiful Victorian mansion and gardens across the street. That's one of Toronto's best free museums, the historical Spadina House. And right now it's also the site of a thought-provoking art exhibition that examines the city's Black history.
---
One of the most interesting things about history is that it's always changing. The house at 285 Spadina Road, which is currently one of Toronto's history museums, has undergone many facelifts over the years, but perhaps none so great as the site for the new art exhibition, Dis/Mantle.
The mansion was built in the 1860s for the wealthy Toronto banker James Austin. (If you want to know just how rich, he founded what is now Toronto-Dominion Bank for a start.) It stands in what was one of the most upscale neighbourhoods in the city, back when it had just become a city. (If the castle next door wasn't a clue.)
Living high on an escarpment, the Austins were far from the then-polluted waterfront, with its waves of poor immigrants flowing into Toronto via our new railways, or the wild taverns of the Distillery District in the Old Town. No wonder they stayed up there for more than 100 years.
From Historic House to History Museum
When the last member of the Austin family still living in the home died in 1982, the house and its furnishings were donated to the City of Toronto, which turned it into a museum.
It's been preserved as a showcase for architecture, art and decor from its original Victorian era, as well as the Edwardian, Arts and Crafts and Art Deco styles that came after. In the early 2000s, a renovation redecorated the place to focus on a 1920s-1930s style, but parts of the house still retain their original 19th century appearance.
Spadina Museum is one of the 10 Toronto history museums that offers free admission, a policy designed to make the city's history more accessible to all. Its six-acre flower gardens are especially popular in spring and summer. Still, it remains a bit of a hidden gem. I'd guess most tourists don't know about it, and even many long-term residents have never been inside.
The Dis/Mantle Exhibition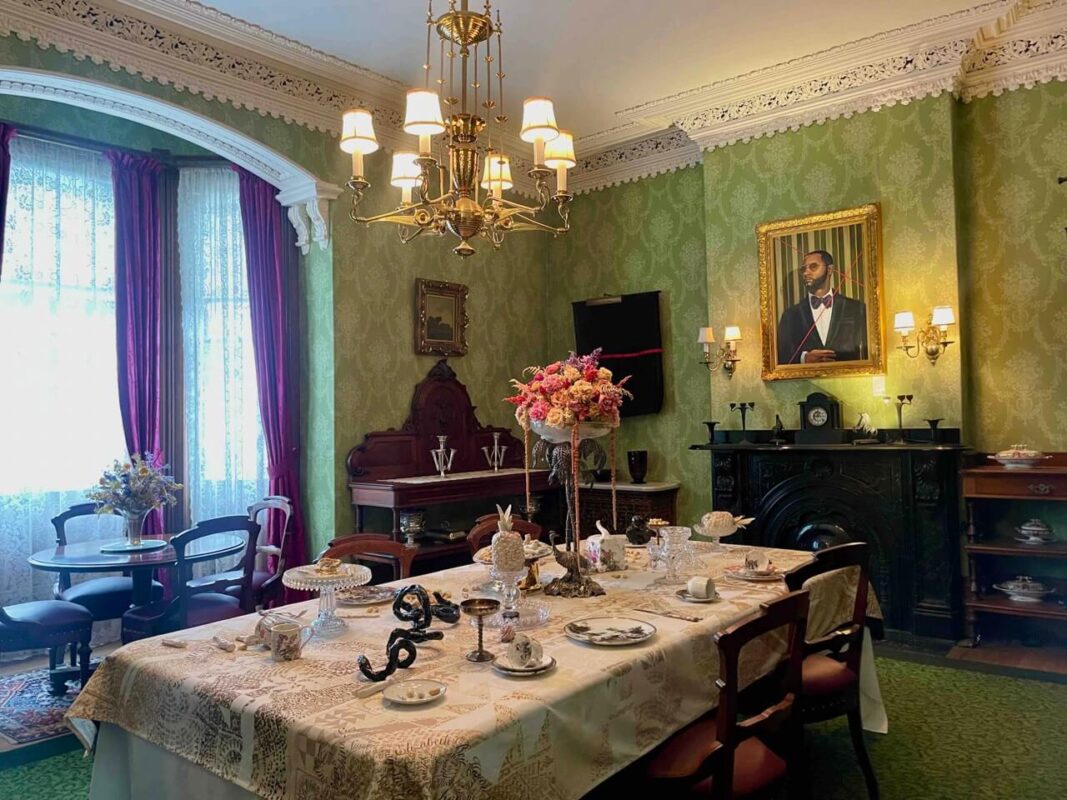 I must admit I had never been until recently. And I'm kind of glad I waited, because I also got to experience the history of that house through a completely different perspective through the Dis/Mantle exhibition.
Dis/Mantle asks the question: what if Spadina House wasn't owned by the Austins at all, but by Louisa Pipkin, one of their Black staff?
Pipkin was a freedom seeker who fled slavery in America via the Underground Railroad and settled in Toronto in 1853. She worked as a laundress for the Austins in the 1870s and died in 1888. Beyond that, we don't know what much about her, or her life.
There is a portrait of Louisa Pipkin hanging in Spadina Museum now. Painted by Brampton's Gordon Shadrach, it's just one piece of an extensive reimagining of the space by Toronto-area Black artists, who have flipped the script on historical house tours and turned the space into a contemporary art gallery.
A Guided Tour of Dis/Mantle at the Spadina Museum
To see the exhibition, or the inside of Spadina Museum at all, is by guided tour only. I slipped in just time for the last tour of the day. Following the guide up the grand floating staircase to the third floor, I spied oil portraits of Black faces hung throughout the house, next to picture frames that have been covered with black fabric.
Our guide would soon explain the meaning of this: Shadrach has created portraits of prominent contemporary Black Torontonians, in an old European style. The sports fans amongst our group point out several members of the Toronto Raptors. (The team is a sponsor of the exhibit). There's a stunning portrait of a Black woman in pearls—Dr. Dori Turnstall, Dean of the Faculty of Design at Toronto's OCAD University, and the first Black dean of a faculty of design anywhere.
These paintings made me realize how rarely I've seen such images in museum collections. Which touches on one of the big questions Dis/Mantle seeks to provoke: when it comes to history, whose history is remembered, celebrated?
Diving Deeper Into the Exhibit
The paintings also have a bright red line running through them. Our group hears that this references "redlining," the discriminatory practise of defining certain (mostly Black) neighbourhoods as "high risk" in order to deny residents mortgages, loans and the like.
Living in Toronto, I hear redlining discussed mostly in relation to American history, when the government literally outlined majority-Black neighbourhoods with red pen on maps, declaring them unworthy of support. Redlining contributed to racial segregation and urban decay, and versions of this have happened in Canada as well.
I notice red lines are also drawn on the black fabric hanging over the house. In this way, the artists have removed images of the Austins, or the life of white European settlers, and replaced them with a commentary about who gets access to housing, and who is denied.
During the Dis/Mantle exhibit, visitors to Spadina Museum can still see the features of the historic house, from a billiards room to a kitchen with its massive icebox. (Don't miss the tiny telephone room.)
But you will find different artworks added throughout, including audio soundscapes and ceramics, that imply that a Black family lives here. For one example, a vintage issue of Jet magazine—a prominent digest of Black news and culture—lays open on the side of a chaise lounge.
By visiting the Spadina Museum during the Dis/Mantle exhibit, I feel that I had two experiences in one. A chance to see how some rich Toronto families lived a hundred and fifty years ago, and marvel at beautiful antique furnishings. But also to discover new Black artists from here, who are putting their stamp on the city in modern times.
Dis/Mantle is on view until May 28, 2023 and is free with admission to Spadina Museum.
Visiting Information
Spadina Museum's gardens and grounds are open Wednesday to Sunday: 11 a.m. to 4 p.m. However, to enter the house you need to join a free guided tour.
Free guided tours are held Wednesday, Thursday and Friday at 12:15pm, 1:15pm, 2:15pm and 3pm, or Saturday and Sunday at 11:15am, 12:15pm, 1:15pm, 2:15pm. and 3pm.
Note that tours last about 1 hour and facilities close promptly at 4pm so if you join the 3pm tour you may not have as much time to explore afterwards.
There is a small gift shop with postcards of Shadrach's portraits and other books about Toronto black history.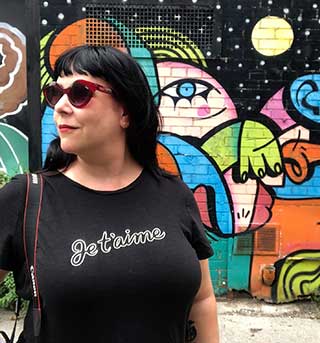 Liisa Ladouceur is a Toronto-based writer who believes adventure doesn't have to be far away – it's about curiosity and wonder. She runs the travel blog LiisaWanders where she shares lessons learned while seeing the world.