As the old expression goes, "there's no such thing as bad weather, just bad clothing." So, get out there on the hills, and make some memories. Snow tubing in Ontario has exploded recent years, and it's time to get in on the action. We've got ten spots for you to consider, across the province!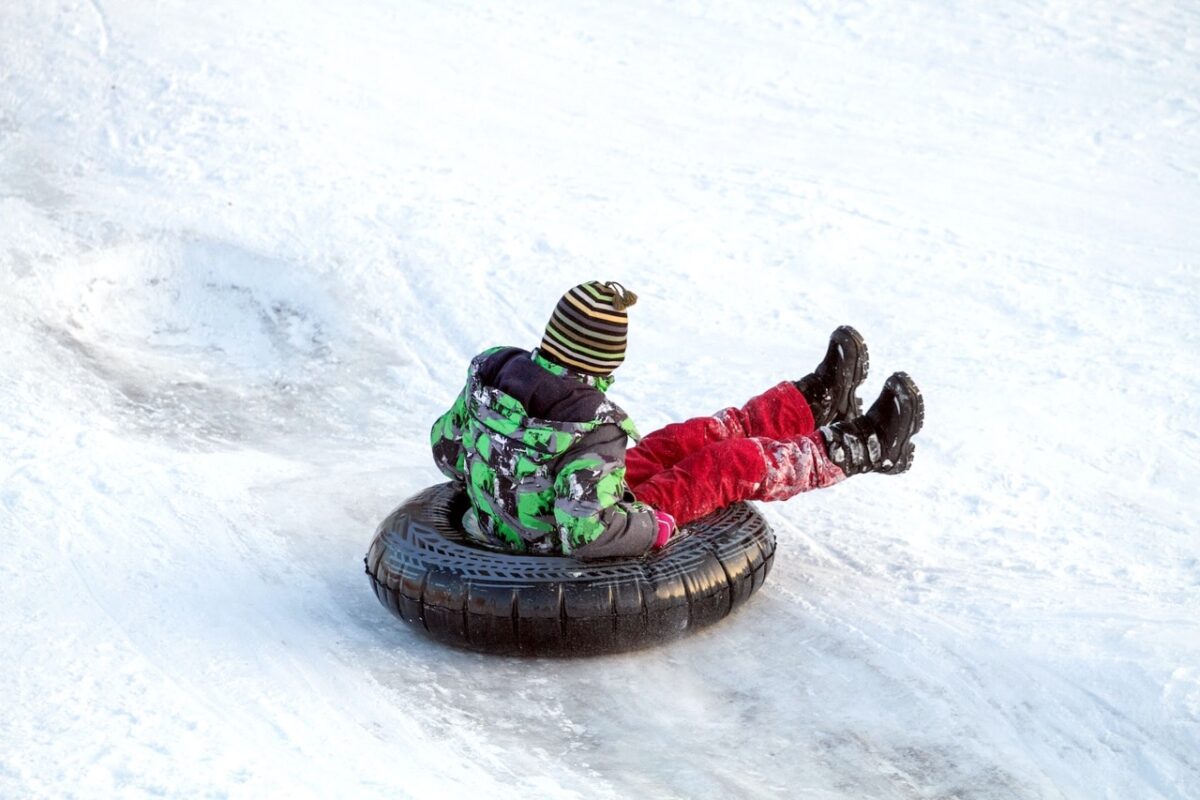 ---
Imagine zipping down a snow-packed hill at 70 kilometers per hour in the middle of winter. This is called snow tubing, one of the quintessential Canadian winter activities, other than sports such as ice skating, ice fishing, dog sledding, winter hiking, and tobogganing.
This sport is similar to tobogganing, but adds another element of surprise as, opposed to a sled, you're spinning wildly in an inner tube. You can brave the snowy hills alone or go in groups to share in the fun.
Before the winter season comes to an end, be sure to check out some of the best snow tubing parks right here in Ontario. Here is our list of 10 of the best snow tubing parks Ontario you can visit this winter:
The Best Snow Tubing in Ontario
The Tube Park at Boler Mountain
This ski resort is located in London, Ontario and features three tube runs that are 10 stories high and have reportedly reached incredible speeds of up to 70 kilometres per hour!
Tickets are available for purchase online only, and can be purchased up to 7 days in advance. Helmets are mandatory at this ski resort and you must be at least 42 inches in height to ride.
River Valley Golf Course & Winter Tube Slide
If you don't mind the drive to St. Marys, Ontario, you'll find an exciting snow tubing park at River Valley Golf Course. You can ride down 800 ft long slides at this park where they offer a lift pass and helmets available to rent.
Get cozy in their newly renovated chalet with a cup of hot chocolate and dine on some of their delicious homemade fries. You can book your tickets online or book group tubing passes for a larger party.
Chicopee Tube Park
Looking to enjoy the thrill of tubing and take in the incredible views in a 9,500 square foott log chalet? At Chicopee Tube Park in Kitchener, Ontario, you can do just that and take a stroll on their large outdoor deck overlooking their large multi-lane tube run.
Grab a hot beverage or a bite to eat at their Chalet Café. You can also unwind at The Ranger Lounge and watch a game on the big screen or choose from a wide selection of beer, wine and liquor.
Mount Chinguacousy
Dedicate an entire day to winter activities right in the heart of Brampton at Donald M. Gordon Chinguacousy Park. You can choose to go skiing, snowboarding and snow tubing at this location.
Enjoy stunning views of the snow hill with their on-site ski chalet. General admission includes six, twelve or eighteen runs on the snow hill, and riders are encouraged to bring their own helmets.
Tube & Terrain Park at the ROC
Don't limit your options to just snow tubing at this winter wonderland. The Tube and Terrain Park located in Keswick, Ontario provides a wide range of winter activities including snowboarding, skiing, snow tubing, tobogganing, skating and other outdoor and team building programs.
Gather round the outdoor fire pit to warm up or take a break from the tubing hills in the chalet where you can enjoy a view of all the outdoor activities.
---
---
Lakeridge Ski Resort
Who wouldn't enjoy two hours of unlimited snow tubing? At Lakeridge Ski Resort, you can indulge in just that without all the bumps of traditional tobogganing. Admission includes both the snow tube rental and lift.
Children under age 5 must be accompanied by an adult on the tubing hills and they must be at least 42 inches in height. And, if you're looking for a fun outdoor activity, fit for a birthday celebration, you can reserve the snow tubing hills for a larger party.
Tickets must be purchased online to reserve your spot.
Blue Mountain
If you want a gentler introduction to the hills of Blue Mountain, be sure to visit their Hike N' Tube park. While most people check out the Blue Mountain slopes to go skiing and snowboarding, there are also other family friendly outdoor winter activities like snow tubing.
Kids age 4 and under are welcome to ride the tubing hills, but all riders must ride alone.
With the purchase of admission, you'll receive on hour of tubing and a tube rental. Tickets can be purchased online.
Horseshoe Resort
Wondering what's the longest snow tubing hill in Ontario? Located at The Horseshoe Resort in Barrie, you can enjoy hours of fun choosing between their five snow hills and riding back to the top on their magic carpet lift.
This resort offers a number of unlimited packages for those who want to stay on the hills for a while. Helmets are not mandatory, but are recommended for all riders.
Snow Valley Ski Resort
Get ready to take on the powdery hills at this family friendly ski resort. Located in Minesing, the Snow Valley Ski Resort has 14 chutes and 3 lifts that are over 10 storeys high! Children under 42 inches must purchase a "Kidz Zone" ticket to go tubing on a smaller hill that has no lift access and must be accompanied by an adult.
Don't be afraid to indulge in other outdoor winter activities as this resort also offers skiing, snowboarding and snowshoeing.
During peak winter season, this resort is open seven days a week.
Loch Lomond Ski Area
If you're near the Thunder Bay area, Loch Lomond is an excellent spot to check out for some of the best outdoor winter activities. Included in the price of admission are three chair lifts and a range of snow hills to choose from. Have fun flying down the hills with snow tubing, or you can choose to go snowboarding or skiing as well.
You can also book your next event or party with Loch Lomond Ski Area. They offer several party packages for skiing, snowboarding and snow tubing.
Tickets can only be purchased at the ski area, and you can choose from day, group or multi-use passes.
---
Wherever you choose to break out the tube, we hope you have a lot of fun, and create some new fantastic winter memories. Snow tubing in Ontario offers a little something different for families that want a different kind of winter adventure!
Aileen is a writer for We Explore Canada with a wide range of writing experience. She's covered everything from restaurant reviews to sporting events and live concerts. She enjoys creating new experiences by traveling to new places across Ontario and Canada.