Local Toronto-based, Indigenous-owned stand-up paddleboard operation Oceah Oceah is combining local knowledge, island vibes, and healthy living into their Toronto SUP tours, SUP socials, and SUP yoga events.
Stand-up paddle boarding in Toronto has taken off in recent years. And it's understandable why that is. With one of the best waterfronts in Ontario coupled with the gorgeous Toronto Islands, Toronto is blessed with nearly unlimited opportunities to explore via the water.
When I arrived at Budapest Park in the west-end of Toronto, I felt like I knew Toronto pretty well. After all, I have spent the past 23 years living in and around the GTA.
But by that afternoon, I was stunned at the depth of what I didn't know. The Toronto waterfront is remarkably beautiful, steeped in history, and offers one of the best ways to experience Toronto's natural beauty.
Oceah Oceah SUP Tours
I owe that revelation to local SUP guide Jenifer Rudski. Jenifer and her sister Sharon are two local Indigenous sisters with a deep passion for the water. They grew up in Toronto but spend their winters riding the tropical surf of Hawaii. And it was on those shores where they discovered a passion for "Hoe he'e nalu," the Hawaiian term for stand-up paddleboarding.
During the summer months, Jenifer and Sharon return to Toronto to share their SUP expertise with both those new to the sport and experienced paddleboarders looking to connect with others or discover new marvels of the Toronto waterfront.
With a shared passion for the water, these two First Nations sisters started local Toronto stand up paddleboard operation Oceah Oceah. This ultimately became a full-fledged family operation with two more of their sisters coming into the business as well.
Oceah Oceah runs intro to SUP, SUP rentals, SUP yoga, Stand up paddleboard social events, and guided tours of the Toronto waterfront and Toronto Islands from their home base at Budapest Beach near High Park.
My family and I met Jenifer at their hard-to-miss van/office at Budapest Beach. The van screamed "Fun In The Sun" and was decked out with colourful designs and a palm-frond umbrella to boot. It was very clear that their Hawaiian influence was never too far from the minds of these two entrepreneurs.
We were given the customary safety lessons and set up with two beautiful wooden stand-up paddleboards. There were a variety of paddleboards to choose from that ranged from beginner to advanced models. Jenifer and other members of the Oceah Oceah team are certified paddleboard instructors and are also certified in CPR and First Aid.
Discovering The Humber River
We set the paddleboards into the Lake Ontario waters as the late-summer sun was still painting the sky over the city. These gorgeous boards were definitely more tippy than the inflatable ones that I normally travel with. But, vanity has its price! My wife and I were also both riding tandem on our boards with our children as Oceah Oceah boards are meant for teens and up.
We weren't on the water long before the stunning Toronto skyline came into view. The area around Budapest Beach is nicely protected by a concrete break wall. And perched upon the wall were dozens of white swans who seemed to be cheering us on as we paddled gracefully by.
We were making our way down the lakeshore towards the Humber Bay Arch Bridge, the dazzlingly white arch bridge that spans the mouth of the Humber River. The rocky shores were dotted with anglers casting their lines in the hopes of reeling in a big one.
This view alone made this Toronto stand up paddleboard experience worth it. Seeing "The Big S"moke from a new angle, where people were enjoying the waterfront in such a casual way, was a welcome change from the typical views of Yonge and Dundas Square or the hustle and bustle of Bay St.
But as we passed under the collection of bridges that make up Lakeshore Blvd and the Gardiner Expressway, the fact that we were paddleboarding in downtown Toronto made itself very clear.
The roar of the highways above our heads was deafening. The wide metal and concrete structures blocked out the morning sunlight casting a shadow onto our morning of relaxation.
But just as I was beginning to think that maybe Toronto stand-up paddleboarding may not be for me, we coasted out from under the bridges and into paradise.
On one side of the bridges was a concrete jungle full of high-rise condos and bustling multi-lane highways. On the other was calm waters bordered by towering willow trees with their branches brushing gently across the surface.
It was as if the entire city of Toronto had melted away. Even the noise of the highways that were just a hundred metres away seemed muted by the sea of green that now surrounded us.
Jenifer looked at me with a smile and said with a smile; "This is why the Humber River is my favourite paddling route"
We pulled our boards up to a small dock used as a portage to an even more secluded area. A turtle floated by my son's feet and in the distance, a Great White Egret gracefully stepped among the reeds searching for its breakfast.
As we paddled along with fish and frogs swimming below us, Jenifer shared that the Humber was a traditional trade route of Indigenous Peoples in what is now Ontario. In fact, It's the importance of this trade route that led to the founding of what would eventually become Fort York and ultimately, the city of Toronto.
Stand-Up Paddleboarding In Toronto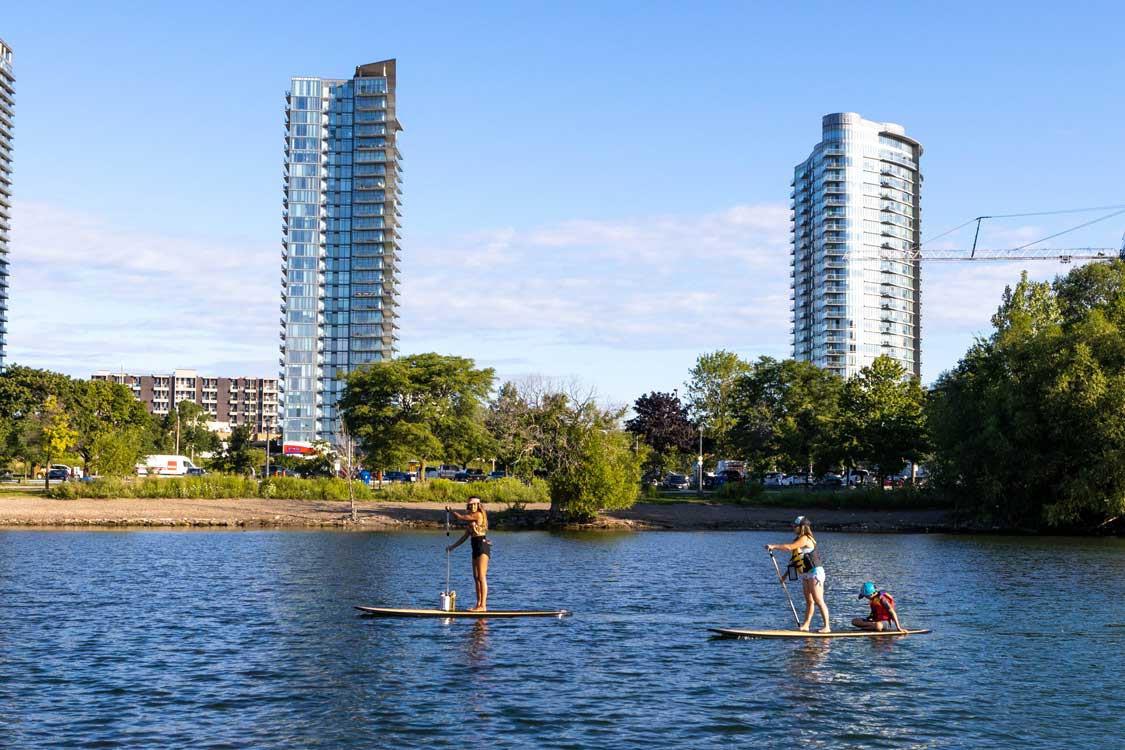 This summer, with a continued focus on local adventures and outdoor fun, stand-up paddleboarding in Toronto is set to explode to a new level of popularity. If you're looking to be introduced to SUP in Toronto or discover a community of like-minded paddlers, Oceah Oceah is a fantastic way to connect, learn, and keep it local. All while supporting an excellent Indigenous-owned business.
You can find out more about Oceah Oceah on their website, or connect with them and other Indigenous tourism experiences in Canada at DestinationIndigenous.ca.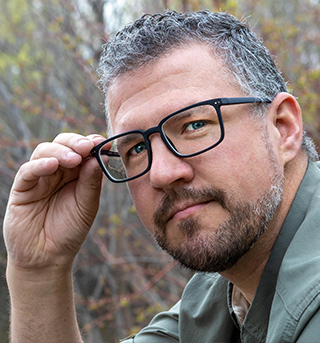 Kevin Wagar is a founder and editor of Ultimate Ontario. He has been working in the travel media industry since 2015 when he founded his family travel website Wandering Wagars – Adventure Family Travel.
Over the years Kevin has developed a deep love for his home province of Ontario and aims to showcase the incredible experiences and amazing small businesses found within it.