Regarded as one of Ontario's best spas, Ste. Anne's Spa in Northumberland Hills is ideal for a day or overnight visit.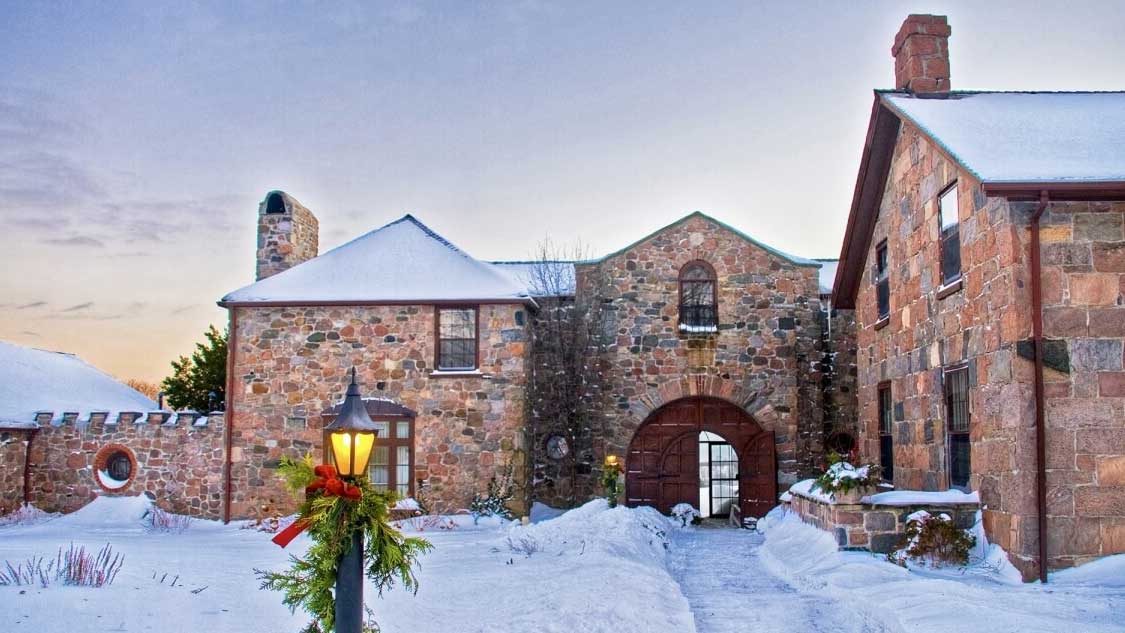 In this pandemic year, stress seeds have been planted in my mind and body germinating at a rapid pace. They are unwelcome guests and detrimental to my physical and mental wellbeing.
My decades-long spa addiction has suffered these long months. Time to act. With travel restrictions and quarantines in effect, my go-to spa getaway, Thailand, is off-limits. There is however a beacon of hope which doesn't require security checks, passport or quarantine – Ste. Anne's Spa in Grafton, Ontario. My partner Sarah, who can give me stiff competition in the area of stress with her job, joined me on this two-day Ontario spa winter getaway.
Only a 90-minute drive east of Toronto on Highway 401, Ste. Anne's Spa spells relief – it also spells romance (always a good thing!) and provides an off-ramp for stress and an on-ramp to good health.
The 30-room destination spa is a sprawling complex spread out over 500 acres with 15 rooms in the Main inn and another 15 rooms situated in spacious cottages. Perched high up on the Northumberland hillside, you are immediately transported to a welcoming 18th century country inn and castle with scenic views of Lake Ontario on the horizon. Each guest room is individually appointed with the current Corcoran owners' loving touch and design flair.
An Ontario Spa is Born
Ste. Anne's wasn't originally a spa. It had humble beginnings as a countryside home. The heritage fieldstone property resembling a castle-like structure was built in 1858 by Samuel Massey, the grandson of Daniel Massey of the famous Massey family that created one of the biggest farm machinery companies in the world. At that time the town of Grafton was only a tiny settlement known as Grover's Tavern with a couple of hundred residents.
Over the years the house and surrounding acreage were owned by several others including the Masseys, Janes, Keelers, and Blaffers families. The property and main structure had fallen into disrepair over the years. In 1981, Carl and Nan Corcoran bought the property. Carl Corcoran was president of IBM at the time and lived in Kleinburg with their seven children. Despite the falling structure and misgivings about the property, Nan sensed a healing and nurturing spirit on the property's grounds and neglected gardens. Carl and Nan's son, Jim, oversaw modernizing and redesigning the property with other family members over the years.
In 1985 Ste. Anne's was born and began as a B&B – at that time mainly for friends and associates. Cindy, Jim's sister began offering basic massage treatments. It wasn't really to the 1990s a proper spa was established and it started gaining a reputation as a spa retreat and top destination spa. It has since garnered many Canadian and international spa awards.
A Healing Sanctuary
A destination spa needs to offer more than just massages or facials but also a healing environment that permeates throughout the facilities and activities.
Ste. Anne's checks all the boxes with a plethora of opportunities for guests to immerse themselves in wellness, which you can see from their website. Clear your mind in the Zen Garden or with a peaceful stroll in the Tranquility Garden with its lavender labyrinth. Walk the grounds and nearby cedar forest trails or say hello to the horses at Ste. Anne's stables.
Ste. Anne's conducts a series of wellness classes including yoga, stretching and meditation classes. Sarah and I participated in the meditation class. Due to COVID, the classes are currently restricted to four participants plus instructor Jackie. It's a cozy room with a fireplace. Sanitized mats and headrests are supplied. Typically it takes my body and mind days to wind down. But after only 15 minutes of Jackie's soothing voice, a snoring sound echoed throughout the room. Sarah recognized this and looked over to me and shook her head. My body has surrendered to Ste. Anne's restful environment – snoring and all.
Eat, Spa, Love
When people think of going to a spa, many worry that dining will be a less than satisfying experience – a lonely pea and carrot on a plate comes to mind. Ste. Anne's with their curated farm to table country cuisine serves up a flavourful assortment of dishes prepared with health and taste in mind. Vegan and gluten-free diets are accommodated here. Many of the ingredients, herbs and proteins come directly from Ste. Anne's gardens and local area farms. Treat your taste buds to aesthetically and palate-pleasing dishes from burgers, beef tenderloin, chicken and shrimp curries, salads, organic soups, and decadent desserts.
Sarah and I also enjoyed a wonderful Ste. Anne's tradition – afternoon tea. Three tiers of finger foods –smoked salmon, fruits and cheeses, scones and macarons to keep you happy.
During COVID, 10-foot stylish partitions with smoked glass safely separate diners with all staff wearing masks. Guests wear masks moving about the dining room and can remove once seated. Menus sanitized between guests.
A unique aspect of Ste. Anne's – no liquor licence to sell but you can bring your favourite bottle of wine, beer, or bubbly to have with your meals.
My other favourite aspect – arrive at their restaurant clad only in robe and sandals. That is the wardrobe of choice no matter where you or doing on the property. Makes for easy packing!
Kneading and Wrapping: The Offerings of Ste. Anne's Spa
With its 30 treatment rooms and dozens of body and esthetic treatments, Ste. Anne's offers a cornucopia of wellness. I chose a seasonal 90-minute Festival Flare Stone Wrap treatment while Sarah had a 60-minute cannabis massage. Tamara, my therapist, warmly greeted me as we proceeded to the treatment room. The room, massage table, and linens are all sanitized after each guest finishes their treatment by cleaning staff.
Tamara encased my walrus body (I wish I could blame my rotund shape on COVID but can't) with an aromatic blend of orange, cinnamon and herbs of St. John's Wort and Echinacea. These ingredients help boost the immune system and provide a calming effect on my nervous system. In reality, it just feels good! After gently massaging and infusing my body with goodness, I'm wrapped up in a cocoon of warm soft linens. Her skilled hands then performed a scalp, face and foot massage. Finished off with warm water rinse. Revitalized and purified, Tamara completes the treatment with a little gift bag of Hot Apple Cider and chocolate.
While I was being wrapped, Sarah was in a state of deep relaxation while her therapist Angelica performed a soothing massage infused with cannabis oil. Sarah followed my lead in the meditation class and fell asleep during the massage and released not only stress but the odd snort too!
Sarah and I made frequent visits to their Chair Massage room. Multiple massage chairs (sanitized after each use and socks for each guest) kneaded, rolled, and tapped us into a blissful state. The chair gives your buttocks a proper kneading. One woman we overheard seemed to be enjoying it a little too much!
Let There Be Water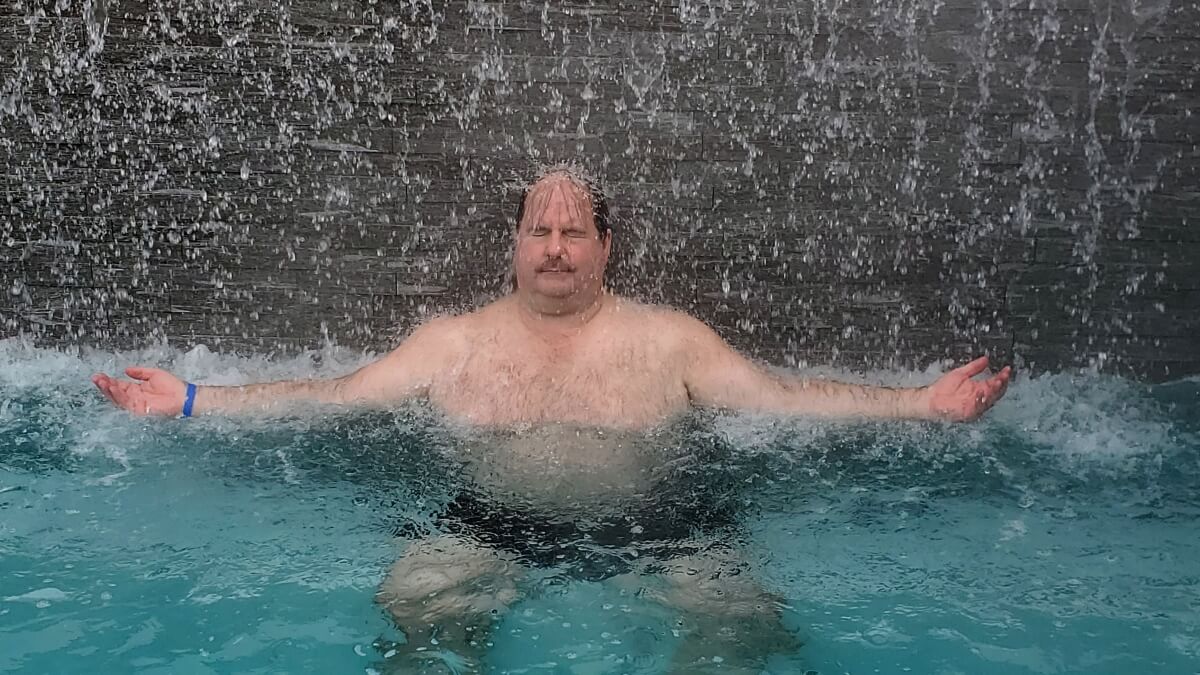 I'm a water baby so I made a beeline to Ste. Anne's new outdoor hydrotherapy pools. The four pools are set at temperatures between 90 and 104 Fahrenheit with two therapeutic waterfalls. I'm in my happy place. Nothing like being surrounded by Old Man Winter's blanket of snow as warm, pulsating jets soothe the body surrounded by people in swimsuits – summer and winter unite.
You can do a day package at Ste. Anne's but Sarah and I needed more than a day to recharge and chose an overnight stay in the Main Inn. The Anne Elizabeth room located on the second floor is beautifully appointed with a four-poster bed, gas fireplace, and French balcony doors leading to scenic views of the pools, rolling hills and Lake Ontario. The overly large bathroom comes equipped with a two-person tub which we used to share laughs, a favourite bottle of wine and bubbles.
My spa addiction once again fed after two days of countryside scenery, multiple massage chair and hydrotherapy sessions, meditation, healthy dining and just taking a few precious moments to breathe and reflect.
Ste. Anne's – my comfort food.
Disclosure: We want to thank Ste. Anne's Spa for hosting our media visit. Please note, my views and words are wholly my own.
Chris has travelled to the far ends of the earth to more than 80 countries on 6 continents from New Zealand to the Galapagos Islands but equally enjoys exploring Ontario's cultural, historical and scenic treasures. He has written for publications including The Globe & Mail, The Toronto Star, Westjet, Travel Life, Dreamscapes, Travelweek, TravelMarketReport.com, Skift.com, Yahoo, Ensemble Vacations and others. Chris also has a fondness (some say addiction) for spas where he's experienced everything from whiskey pedicures, caviar facials to massages overlooking the Serengeti. His travel motto – Learn, experience and respect the culture.