Every year, Canada's Wonderland transforms into a winter wonderland for WinterFest. We let you know exactly how to get the most out of the magic at this Vaughan, Ontario attraction.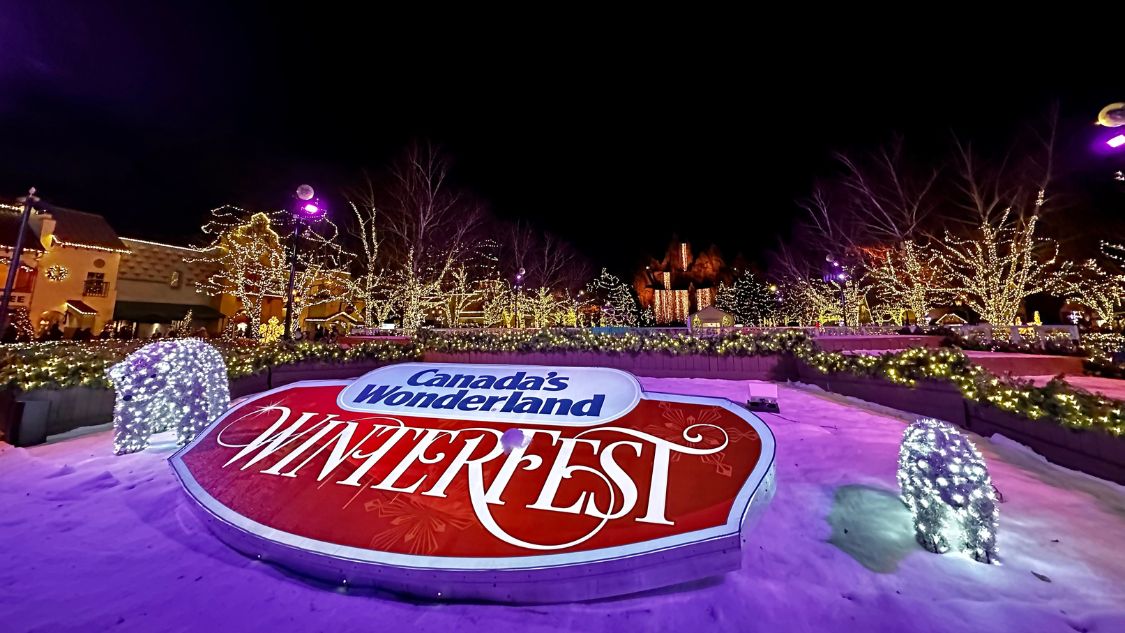 ---
We recently had the chance to step into a world of holiday magic at Canada's Wonderland. Many of our readers will be familiar with Canada's Wonderland, but for those who aren't, it's a very popular amusement park located on 300 acres of land in Vaughan, Ontario.
It originally opened in May of 1981 and has been a tourist giant in this province ever since. We're talking about a place with over 200 attractions (including 17 acclaimed roller coasters, the third most on the planet), two areas built specifically for kids, 10,000+ parking spots, over 7000 trees and around 75,000 shrubs.
In recent years, Wonderland has seen success with its seasonal offerings, and especially with their fall "Halloween Haunt." In 2019, they launched WinterFest, and it's been a fan favourite ever since as well.
A Bit More About WinterFest at Canada's Wonderland
Traditionally, WinterFest runs from mid-November to New Year's Eve (though with some days off, including Christmas Eve and Christmas).
Tickets to WinterFest retail for around $30, but you can check out their ticketing section to see if it would make sense for you to nab a Season Pass and get access that way. The Gold Pass and Platinum Pass both offer unlimited access to both Haunt & WinterFest.
Most days, they're open from 3pm – 9pm.
You're not going to have access to many of the main rollercoasters, but the park has been totally redone and revamped to fit in with the holiday spirit. We had a wonderful time just walking around the different areas which are International Street, Season of Lights, North Pole, Tinsel Town, Frontier Canada, Candy Cane Lane, Charlie Brown's Christmas Town, Elf Village, and the Christmas Market.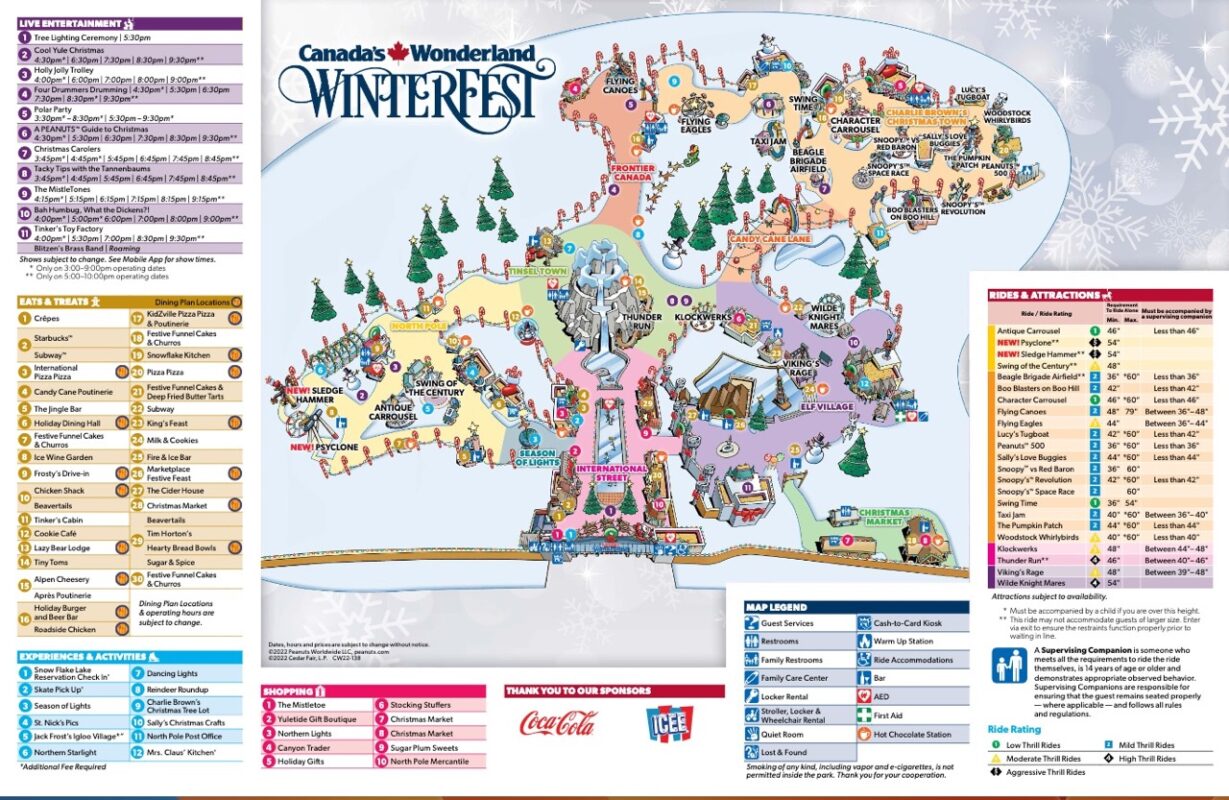 For a broad overview, Canada's Wonderland notes that they "transform into a magical, winter wonderland for WinterFest – an immersive holiday experience for the whole family. This event features ice-skating on Snow Flake Lake, more than a dozen live shows and holiday entertainment, millions of spectacular lights, and hundreds of beautiful Christmas trees throughout the park, including two 50-foot Christmas trees on International Street.
Join us at this one-of-a-kind holiday event in Vaughan, just outside of Toronto, and make special memories with family and friends. Explore the larger-than-life themed areas, enjoy festive food, shop seasonal merchandise, and so much more."
How Can You Get the Most Out of Your WinterFest Visit?
Here's what you can do to ensure that your visit is a memorable one, and that you don't miss a crucial part of the WinterFest experience.
For starters, we found it was worth downloading the Canada's Wonderland app so we had a live view of what was going on while we were there (live shows, ride wait times etc.)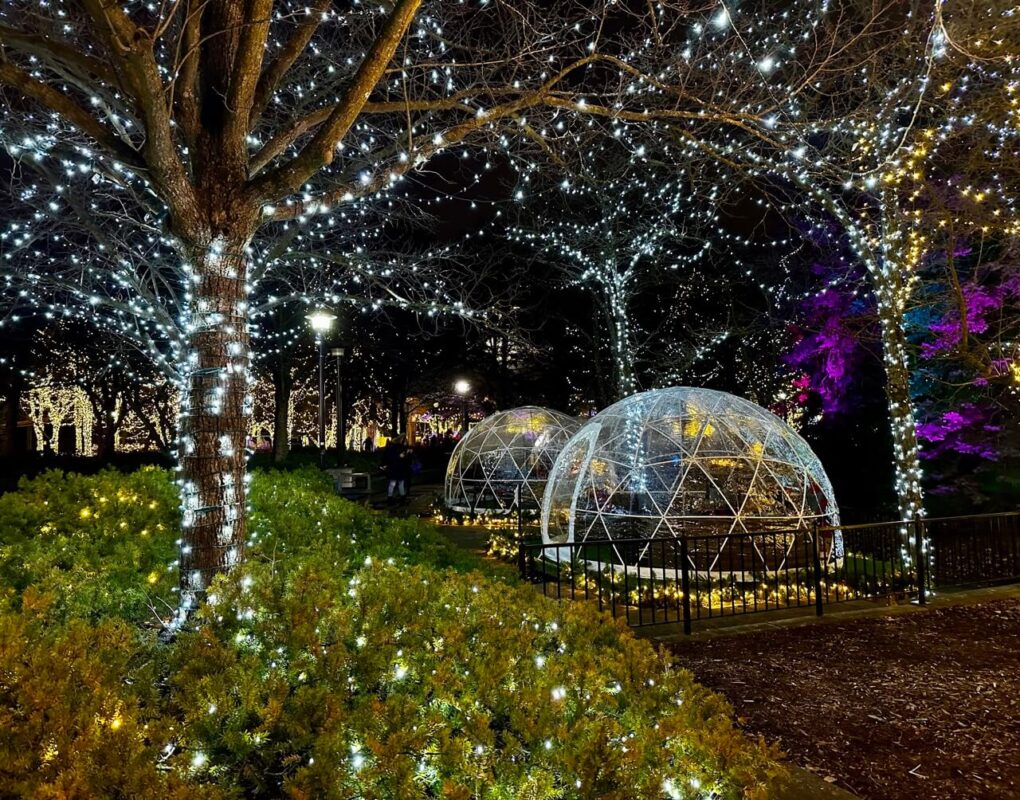 Lace Up for Some WinterFest Ice Skating
You can't miss the enormous rink that's been set up on International Street called Snow Flake Lake. It's certainly one of the most popular experiences at WinterFest, largely because it's an ideal activity for both couples and families, and the lights and music do a brilliant job of setting a holiday tone.
There's limited availability, so typically guests book a 30 minute session, and you're welcome to bring your own skates if you like, but you can also rent them for an extra $5. You will need to book this ahead of time once you've got your admission ticket/Season Pass secured.
There are many holiday activities like this on offer. You can see the full list here, but if skating isn't at the top of the list, then maybe Christmas crafts, writing a letter to Santa, or St. Nick's Pics are.
Embrace the Live Entertainment
Almost every section of the park seems to have their own spin on holiday entertainment. The performers were all very talented and they put their whole heart and soul into what they were doing.
Each night is kicked off with the Christmas Tree Lighting Ceremony, which happens on International Street at 5:30pm, so aim to be there for then if you're able to.
There's holiday music (Four Drummers Drumming in Frontier Canada, The MistleTones in Tinsel Town, and Blitzen's Brass Band and the Christmas Carolers in Charlie Brown's Christmas Town) almost everywhere. We've listed some of the current performances for this year to give you an idea of what you can expect whenever you're headed to WinterFest.
There are also a multitude of holiday live shows. Tinker's Toy Factory in the Canterbury Theatre is a popular choice for families, but Cool Yule Christmas (holiday hits under the 70 foot Christmas tree) is also sure to please, and if you've got a Charlie Brown fan in the family, then you won't want to miss "A Peanuts Guide to Christmas."
Again, this may not be the exact shows you see if you're headed to a WinterFest down the line, but WinterFest is clearly finding its groove with these offerings, so we'd be shocked if they veer too far away from these offerings.
Hop on the WinterFest Rides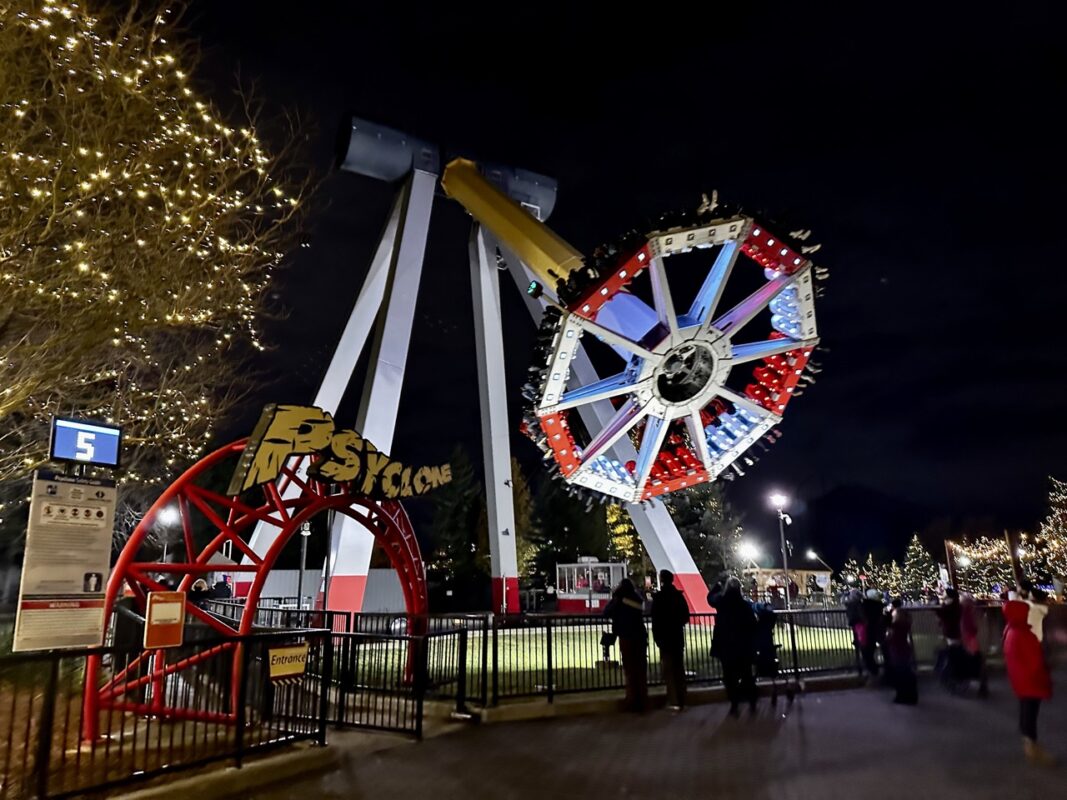 Most of the rides that are open are geared more towards family and kids, but there are a few thrill rides as well that run during WinterFest. Here's the full list of what's open:
Antique Carousel (family, kids)
Beagle Brigade Airfield (kids)
Boo Blasters on Boo Hill (kids)
Character Carousel (family)
Flying Canoes (family)
Flying Eagles (family)
Klockwerks (family)
Lucy's Tugboat (kids)
Peanuts 500 (kids)
Psyclone (thrill)
Sally's Love Buggies (kids)
Sledge Hammer (thrill)
Snoopy vs. Red Baron (kids)
Snoopy's Revolution (kids)
Snoopy's Space Race (kids)
Swing of the Century (thrill)
Swing Time (kids)
Taxi Jam (kids / roller coasters)
The Pumpkin Patch (kids)
Thunder Run (roller coasters)
Wilde Knight Mares (thrill)
Woodstock Whirlybirds (thrill)
The highest concentration of WinterFest rides for kids and families can be found in Charlie Brown's Christmas Town, whereas thrill seekers are going to be more included to head to the North Pole.
Stroll the Streets
A lot of the the fun in WinterFest is in happening upon things and being pleasantly surprised. Especially after dark, WinterFest becomes a playground of light and colour. The Candy Cane Lane is a popular place after dark for its light displays (and photo ops), but we felt there was plenty to see on the way to and from most areas (especially from Tinsel Town to Frontier Canada).
If you ever want to take a moment to rest and take it all in, you can also take a seat in some of the muskoka chairs that WinterFest has placed around fires throughout.
Arrive With an Appetite
Food is a big part of the WinterFest experience, and they've launched over 100 holiday items in the form of snacks, desserts, hot and cold drinks, and, of course, full meals.
You'll find plenty of turkey, stuffing, bread bowls, adventurous poutines, outlandish drinks, and a healthy dose of beavertails, crepes and funnel cakes.
Wonderland has done a nice job of outlining all of their options right here, and we want to share that with you in case you have any dietary needs, preferences, or restrictions.
The roast turkey dinner at the Marketplace Festive Feast and holiday waffle chicken sandwich (at Chicken Shack/Roadside Chicken) are popular choices amongst guests. The Lazy Bear Lodge probably has the most "ski-lodge/holiday" feel to it in terms of venues, and the Christmas cake funnel cake (or Churros with Strawberries & Ice Cream) should be on the radar for sweet lovers.
We had the Premium All Day Dining pass which means we had a wristband that gave us access to "a select entrée & side, or snack, as often as every 90 minutes at participating locations, and FREE refills on refreshing Coca-Cola beverages every 15 minutes all day long."
Do a Little Shopping
Along with the Christmas Market, there are shops everywhere with holiday themed goods. Namely, The Mistletoe, Yuletide Gift Boutique, Northern Lights, Canyon Trader, Holiday Gifts, Stocking Stuffers, Sugar Plum Sweets and North Pole Mercantile.
I wouldn't worry about going to any particular one shop (except perhaps the Christmas Market), but would just wander around and keep an eye out for spots that catch your eye. After all, the shops are located in almost every area, so you're not going to miss them if shopping is at the forefront of your to-do list.
WinterFest Awaits!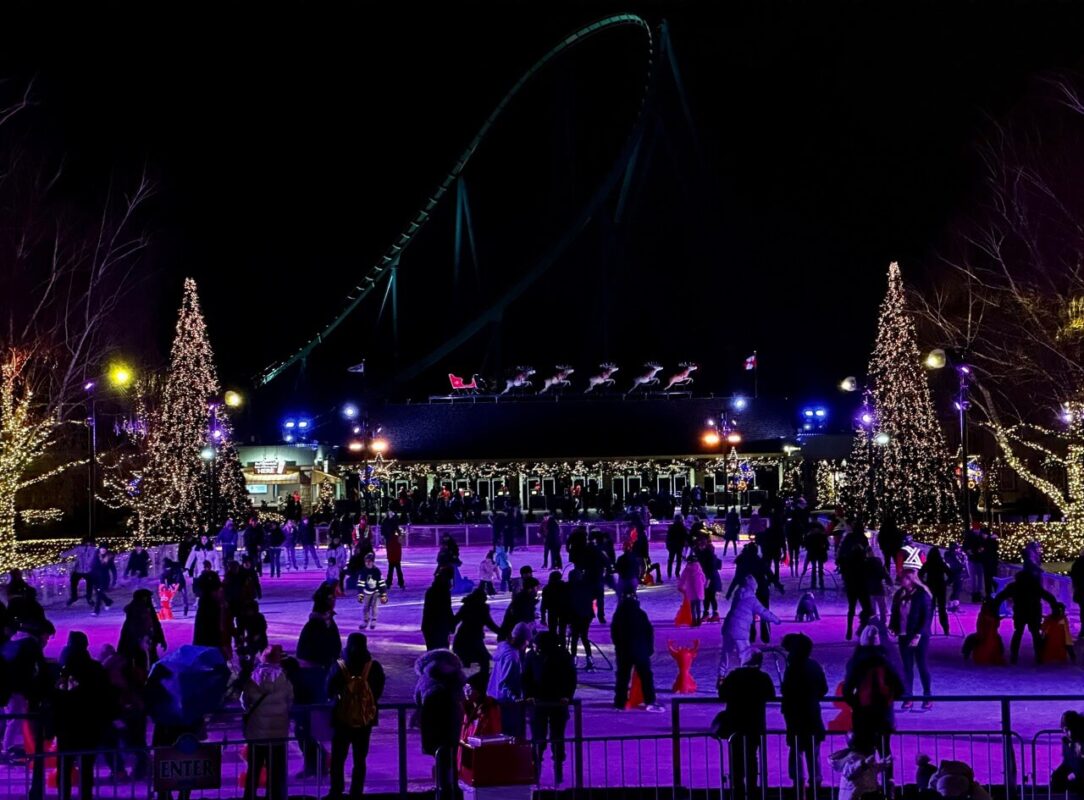 One last thing that we'll see (and it may be painfully obvious), but dress warmly. There are some indoor areas (dining etc.), but you'll be spending a fair bit of time outdoors, so bundle up. Our other piece of advice? Well, have fun.
This is the sort of event where you can feel free to just let it all go for a moment and embrace the magical.
---
We want to humbly thank York Durham Headwaters for hosting us as media. All opinions are completely our own.
If you appreciated this article, you'll love our newsletter, as well as our Facebook group! Feel free to join, all are welcome.
Christopher Mitchell is the Cofounder of Ultimate Ontario. He's visited over 80 countries, and has lived on 4 continents, but now has his eyes set squarely on exploring this incredible province, and helping others do the same.