The McMichael Canadian Art Collection, in Kleinburg, Ontario, initially found fame as a cultural stronghold for the Group of Seven, but over time has expanded to become a mirror to the Canadian art landscape. There's also a myriad of exploration to be done on their trails, in their gardens, as well as visiting the McMichael Cemetary (where 6 of the Group of 7 are laid to rest), and the Tom Thomson Shack.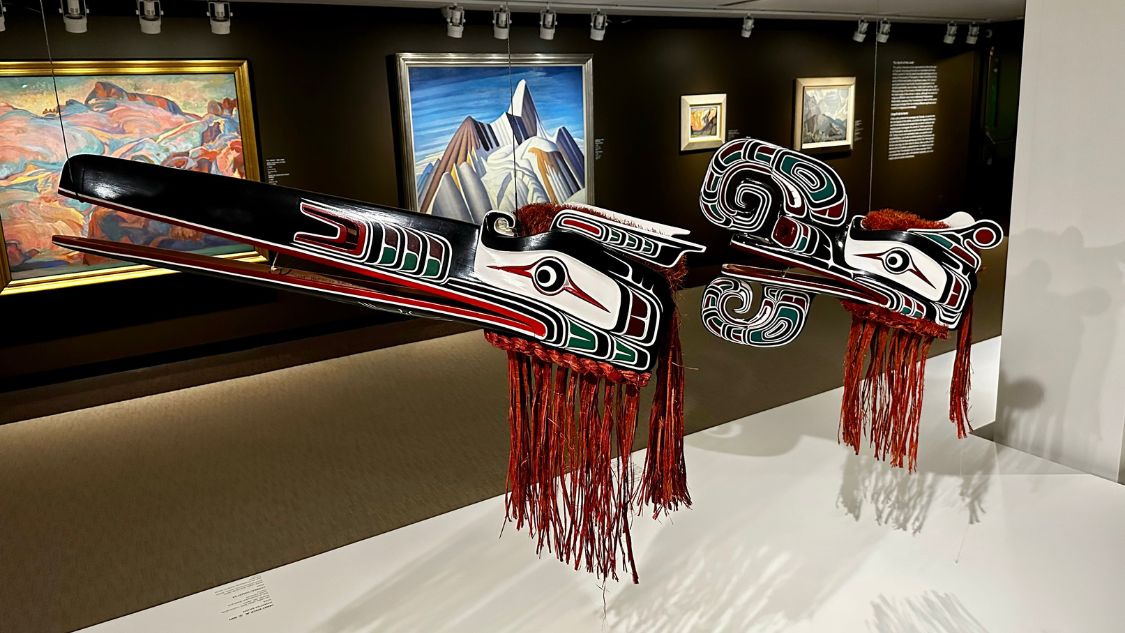 ---
The McMichael likes to say, rather aptly, that they are "home to the art of Canada." That's a big statement to make, but their collection backs it up in spades.
The renowned art gallery can be found in the unincorporated village of Kleinburg, Ontario which is, in itself, a part of the city of Vaughan. One mistake is to think of the McMichael as merely a building that aims to house Canadian art. It sits on 100 acres of land, which means you can visit the museum, and see an incredible repertoire of pieces, and then walk out the door, take a deep breath, and recall why this land is so inspiring in the first place.
The museum, however, is no slouch, as the main building comes in at around 85,000 square feet, but it's important to know that the McMichael is also well known for its sculpture garden, the relocated Tom Thomson Studio, the sculpture garden, walking trails, and, of course, the cemetery for six members of the Group of Seven.
It is Canada's largest publicly funded art gallery that focuses exclusively on Canadian and Indigenous art, both historical and contemporary, and it is a truly special place that is close to our hearts here at Ultimate Ontario. Every time we go, we leave with new, important perspective about what it means to be Ontarian or Canadian, and that's something we all need to continue to question, reiterate, and ponder over.
How the McMichael Canadian Art Collection (MCAC) Came to Be
Robert and Signe McMichael began collecting art back in 1955, and that's when we can say that the McMichael as we know it today began to take shape. At first, they were solely focused on pieces from the Group of Seven, and they showcased the pieces with pride at their Kleinburg home.
About a decade later, the McMichaels began to think about the gravity and legacy of this work and so came to an agreement with the Government of Ontario to donate their collection and property in order to establish one of Canada's premiere art galleries, by and for Canadians.
A year later, the doors opened, still with a focus on the Group of Seven. Over time, it became clear that a gallery that had "Canadian art" in the name needed to focus on more than just the Group of Seven. And so, rightfully, contemporary Canadian art began to become a focus, as well as art from Indigenous Canadians.
The Museum Today
When the museum was first established, it only had 194 paintings to its name. Today, "the permanent collection consists of over 6,500 artworks by Tom Thomson, the Group of Seven, their contemporaries, and First Nations, Métis, Inuit and contemporary artists who have contributed to the development of the art of Canada. The McMichael is also the gallery of record for works on paper from the Inuit community of Cape Dorset (Kinngait) and is the custodians for the Cape Dorset archive, a resource of more than 100,000 artworks."
They've digitized over 4000 of the Cape Dorset works, by the way, if you want to take a peek. They also have an "emuseum" for their 6500 pieces of artworks comprising their permanent collection.
Visiting the McMichael
To give you an idea of layout (and what sort of content they showcase), we'll add a gallery map below. Naturally, when you visit, there will likely be some shift in what's on, as this is a museum that's always looking forward, always changing things up.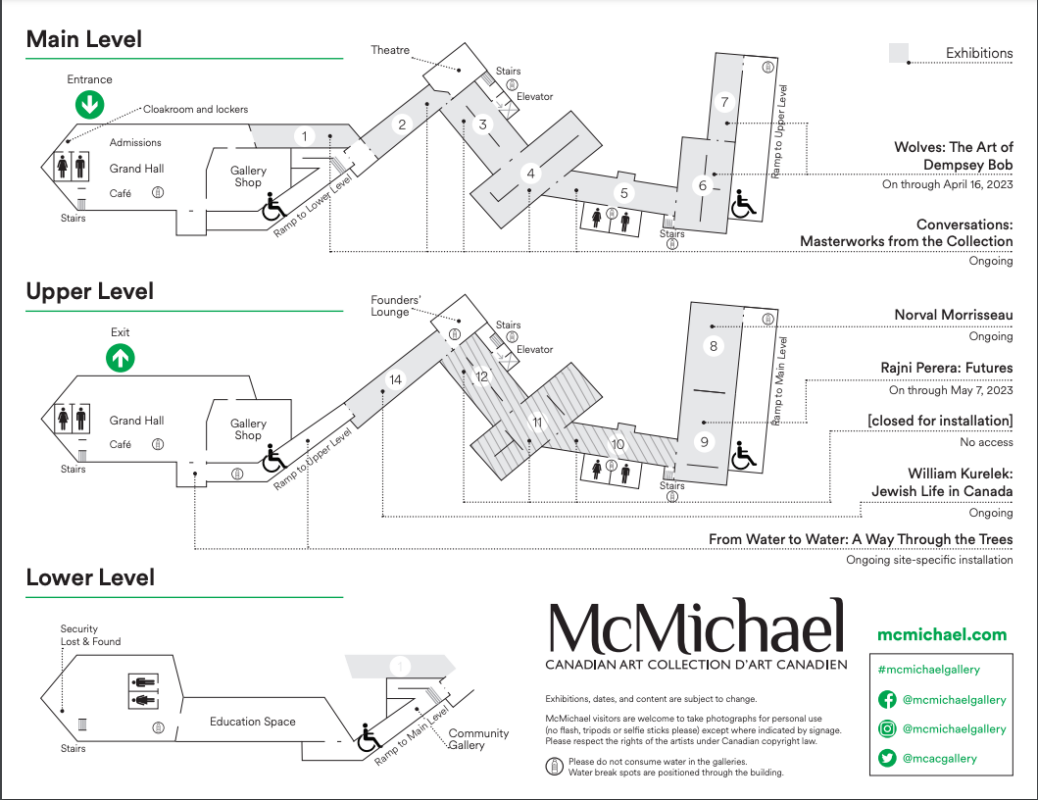 What Sort of Exhibitions Can You Expect?
We'll list what they have on now so you can see how they aim to showcase "the art of Canada," even if you may come after one of these exhibitions is over.
Conversations Masterworks from the Collection: A selection from their permanent collection which aims to "convey something of its current breadth, taking particular pleasure in placing apparently disparate works in creative conversation with one another." It currently features works from "Kenojuak Ashevak, Rebecca Belmore, Edward Burtynsky, Franklin Carmichael, Emily Carr, Kim Dorland, Sorel Etrog, Paterson Ewen, Lawren Harris, Prudence Heward, Gershon Iskowitz, A.Y. Jackson, Cornelius Krieghoff, Jean Paul Lemieux, Arthur Lismer, An Te Liu, Zachari Logan, Helen McNicoll, David Ruben Piqtoukun, David Milne, Michael Snow, Tom Thomson and others."
From Water to Water: A Way Through the Trees: A site specific mural installation and mentorship project from Anishinaabe/Ojibwa artist Bonnie Devine .
Jewish Life in Canada: William Kurelek's paintings aim to honour his friendship with Toronto art dealer Avrom Isaacs.
Revelations: Exploring the life and career of the legendary artist Gathie Falk who was born in Brandon, Manitoba.
Futures: An extraordinarily intriguing collection of imagined futures from Rajni Perera, one of Canada's most recognized contemporary multimedia artists.
You can check here for upcoming exhibitions.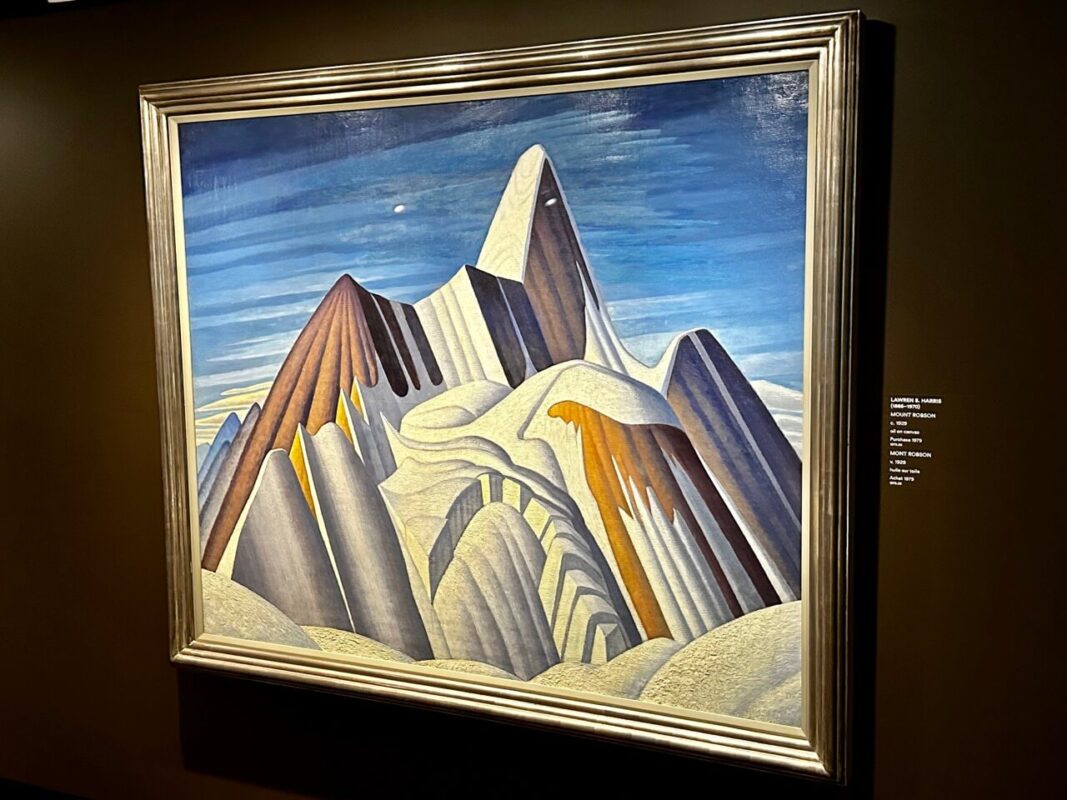 If you want to dive deep into their collection, we'd suggest booking a guided tour. We were fortunate enough to be shown around by Sheena who has been involved with the museum since 1997. Her knowledge was impressive, her demeanour was warm and welcoming, and it was easy to see the passion she had for this iconic museum. We counted ourselves very lucky.
You can learn more about their talks and tours, as well as programming right here. A lot of their work is often on tour as well, so if you're exploring other parts of Canada, you may want to see what's on where. They've currently got work in about 30 other museums across the nation.
Exploring the Outdoors
If you don't know exactly where to start, we're a huge fan of the audio guided tour that the McMichael has put together to explore the grounds. It features "significant facts, insights and details about key landmarks while walking the grounds of the gallery."
Trails
If you're looking for a short walk to add onto your indoor visit, we'd recommend the Gallery Loop Trail.
If you want more of dedicated walk, then you can either combine the Gallery Loop Trail with the Trail to Bindertwine Park, or focus solely on the Valley Walking Trails, or the longest trail (coming in at around 1 kilometre), the Granger Greenway Trail.
Gardens
The gardens, at their core, exemplify McMichael's efforts to bridge the gap between art on a wall and, in effect, art in the forest, as well as, hopefully, seeing the "art" that's inherent in the forest itself.
The most famous garden on the property is The Sculpture Garden, which you'll find at the front of the McMichael. There are nine bronze statues that were donated by the artist Ivan Eyre who is known for his passion for mythology. The garden is open all year long, so just dress for the weather and you're all set.
The other garden is The Minokamik Garden. It was planted by school groups from the York Region District School Board and local community members in 2019.
"Designed and planted under the guidance of Elder Shelley Charles, Chippewas of Georgina Island First Nation, Elder Advisor to the McMichael's Creative Learning team, and Lynn Short from the Humber College Horticulture Department, the Minokamik Garden represents the commitment of the McMichael's staff, volunteers, and community members to restoring the land on which the Gallery sits, along the traditional Carrying Place Trail adjacent to the Humber River Valley, to its native flora, promoting biodiversity and providing a space for environmental education.

The design of the garden is based on the traditional Anishinaabe teachings of the Four Directions and includes plantings of sage, pearly everlasting, wild strawberry, sweetgrass, tobacco, and red bee balm among other species.

The name Minokamik, generously provided by Elder Shelley Charles, refers to the good earth, the first scent of the new soils of the spring renewal. It represents the coming together of people from all nations in the restoration of Indigenous plants and creating new interconnected relationships in our mutual stewardship of the earth and our extended family relations."
Tom Thomson Shack
In 1914, Lawren Harris and Dr. James McCallum built a studio offering rental space for Canadian painters in Toronto's Rosedale Ravine. Behind the studio building was a small shack, and by 1915, Thomson began to call that shack home.
This allowed Thomson to take off regularly exploring Ontario's north because rent was only a dollar, a sum he could make work while. It was him home until 1917.
We'll be honest, we were a little dismayed to see that Tom Thomson's Shack isn't a place that you can enter and explore anymore. When we visited, it seemed to largely be used as storage. We applaud the McMichael for getting so much right, but this does, to us, feel a touch wrong.
The shack was moved from the Rosedale Ravine to the McMichael grounds in 1962.
The McMichael Cemetery
The McMichael Cemetery is the eternal home of six members of the Group of Seven, as well as their spouses, and the founders of the gallery, Robert and Signe. It was A.Y. Jackson that spearheaded this idea in 1967, and that was fortunate as he became ill not too long after and, sadly, passed away.
It's a place to take pause and pay your respects to some of Canada's most famous painters, namely Lismer, Varley, Harris, Jackson, Johnston, and Casson.
What Else Do You Need to Know?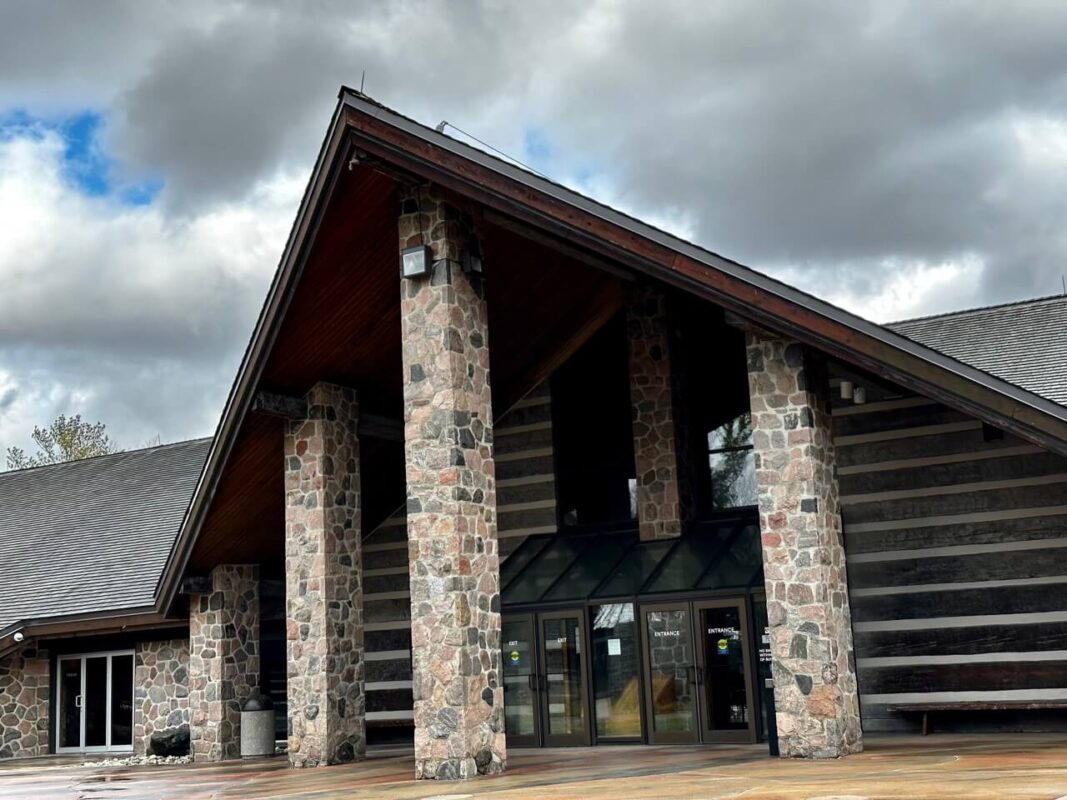 If you have any accessibility concerns, you can head here for more information.
CABIN is the McMichael Restaurant, and a popular one at that. They aim to serve classic Canadian dishes while sourcing quality, local ingredients. You can't make a reservation ahead of time, but you should be okay, especially on weekdays.
Membership is a steal in our humble opinion. You can become a member for (at the time of writing) as little as $65 a year. Parking is free for members, by the way! Tickets are around $20 for adults, so if you think you'll want to return (and we have a feeling you will), then membership is the way to go. Plus you're supporting a very worthwhile Canadian institution.
You can enjoy free admission on Family Sundays, the third Sunday of every month.
Don't leave without popping into the Gallery Shop. We find something every time that we end up bringing home with us and adorning our walls, tables or desks with. It's better than your average museum shop, trust us.
We've tried to cover all the bases to give you the most enjoyable visit possible. If you've got any further questions, simply ask them below, and we'll be happy to get back to you. Enjoy!
---
We want to humbly thank York Durham Headwaters and the McMichael for hosting us as media. All opinions are completely our own.
If you appreciated this article, you'll love our newsletter, as well as our Facebook group! Feel free to join, all are welcome.
Christopher Mitchell is the Cofounder of Ultimate Ontario. He's visited over 80 countries, and has lived on 4 continents, but now has his eyes set squarely on exploring this incredible province, and helping others do the same.