If you've got a sweet tooth, you'll be happy to know that Perth County has you very well covered. From butter tarts to beignets, fry pies to fritters, there's a little something for everyone.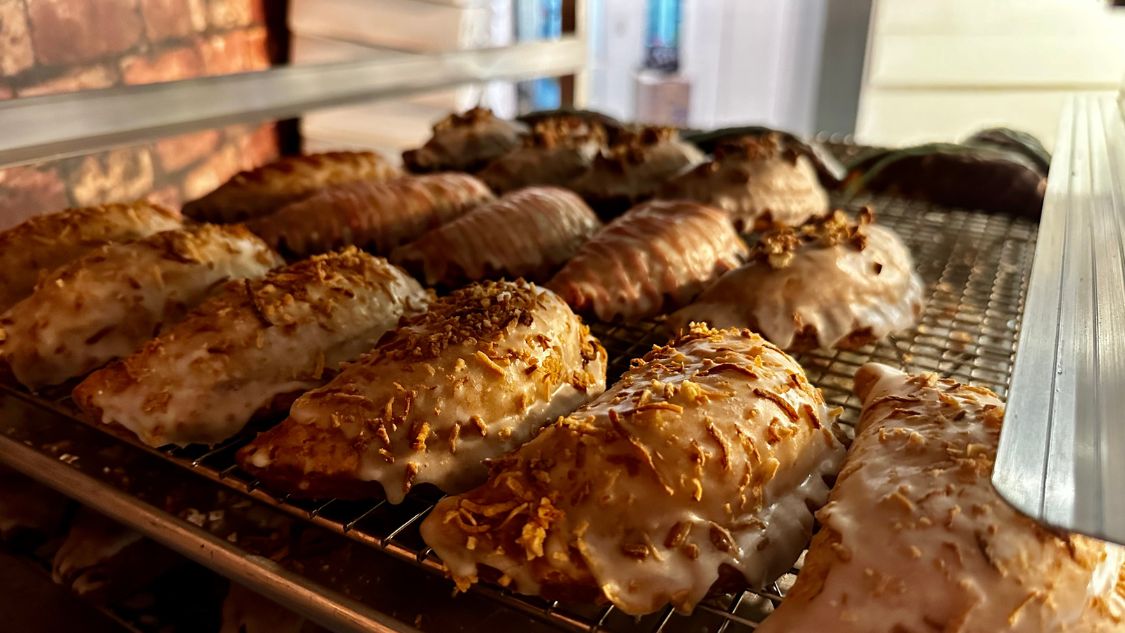 ---
We regularly visit Perth County to get involved with and appreciate their initiatives which aim to support local business owners. Not long ago, we headed down to visit some locations on their innovative Farm Gate Map, a map specifically designed to highlight the county's robust local food culture.
Well, when we got word that they had a new idea cooking (no pun intended), and it was centred around a dessert trail of sorts – well, we were all in.
In terms of logistics, this is something I would set aside a full day for.
Honestly, it's an ideal way to spend a day on the weekend. It's not just the desserts and the baked goods, but it's also giving yourself time to have a conversation with shop owners, to stop for lunch or dinner (or lunch and dinner, like I did), to get out and stretch your legs and take a deep breath of some fresh air, and to celebrate the fact that you don't need to be in a rush all the time.
And what better way to honour that then with dessert? By the way, if this is right up your alley, you may also want to check out the Lanark County Chocolate Trail.
A Fun, Delicious Dessert Trail in Perth County, Ontario
This trail was put together with the idea of showcasing ten different spots, that all do things differently (and deliciously). Each place is known for something unique which means you're constantly confronting new flavours and styles of baking – and at the end of the day you end up with a backseat full of goodies (much to your family's delight).
The itinerary is constructed so that you're not backtracking almost at all. We drove from Toronto to start the trail, but this is a very doable day trip from London, Guelph, Hamilton, Niagara Falls and many more hubs in Ontario.
Here's a bird's eye view of the dessert trail, which you can use if you're looking to replicate it. Here's the map if you're looking to replicate it exactly.
The 10 Bakeries, Markets & Shops On the Trail
Firstly, we should mention that this is a region known for its baking. So, there could conceivably be a list that's 20 or 30 places long, but this is a manageable, diverse list to get you familiarized with what's on offer, and help you to find a new favourite spot.
As you can see from the map above, it's essentially an extended semi-circle, so you'll get to see a good chunk of the County while you're out and about, without backtracking at all.
Personally, I love driving around a region listening to a mixture of good tunes and insightful podcasts, so I couldn't have been happier (and the sugar didn't hurt either, I'm sure).
As I mentioned before, all of the bakeries are known for different things, and I'll note them below, but part of my strategy was also talking to those working at these establishments and simply asking, "what would you make sure you didn't leave without trying?" It ended up being surprisingly effective.
Alright, let's get to it!
1. Anna Mae's Restaurant & Bakery
Anna Mae's is a family owned and operated Mennonite restaurant and bakery that has been around since the late 1970s and is a culinary icon in the region.
The last time that I went to Anna Mae's (when I was staying at Wild Rose Sanctuary), I had a meal at the restaurant and tasted their famous broasted chicken, then promptly finished the meal with a delicious piece of homemade pie – but I didn't actually step foot in the bakery.
Well, on the most recent visit I changed that, and my goodness does the bakery ever smell heavenly.
You won't be disappointed with their pies, tarts, cakes, cookies or squares, but for me, it's the donuts that you need to try. Whatever you do, don't leave here without one of their scrumptious apple fritters. I also ended up with a few honey dipped, and they were pillow soft.
4060 Perth County Line 72 – Millbank, Ontario
2. Guenther's Bakery
This is not a mistype – Guenther's Bakery has been family run for five generations, and first opened its doors in 1894.
You get the sense with Guenther's that it's a part of the social fabric in Milverton, and that it's a staple up there with the local school and recreation centre.
It's just one large, quaint room without too much in it other than great baking. They have an array of jams and things on the sweeter side, but this is actually the spot where I think you're best to nab fresh baked bread and dinner rolls. Personally, I went with the Multigrain 9 Grain Bread and the Clover Leaf Rolls.
39 Main St N – Milverton, Ontario
3. Fresh Start Bakery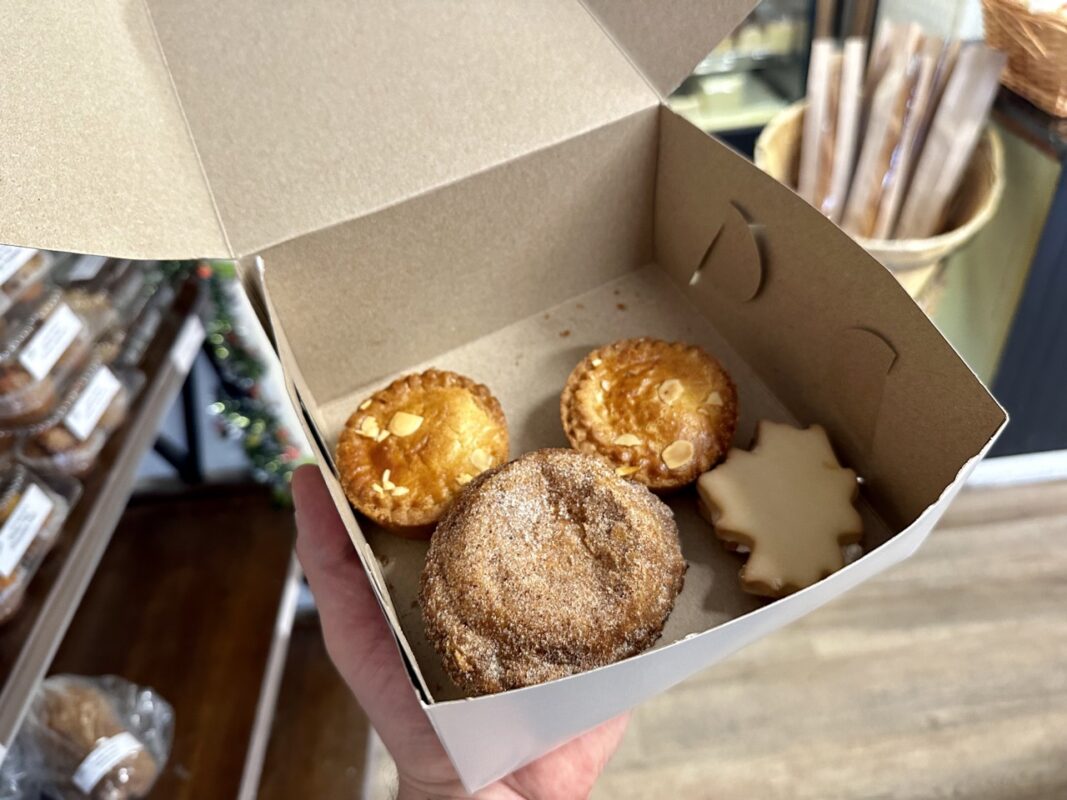 You can find a little bit of everything here, including muffins, cupcakes and pastries galore. That means it's rather easy to walk out of here with a lot of stuff.
I asked the staff what people seemed to come here for the most, and almost immediately, she mentioned their apple beignets. It's a fried pastry that has half an apple inside alongside homemade almond paste, and it's all rolled in cinnamon sugar.
You're not going to go wrong with whatever you grab is my guess, but their almond rounds and maple cookies were delicious if you happen to appreciate either of those rather Canadian desserts!
4. Impressions Bakery Cafe
Impressions, in Listowel, is an absolute gem. They make everything daily, from scratch, using real dairy. Every time I visit, I can swear I lock eyes with customers who give a knowing nod, as if we've found the holy grail of Ontario bakeries and dessert makers.
They do great lunch (I love their mango chicken lettuce wraps), make a solid cup of coffee, and I'm sure all of their baked goods are off-the-charts, but it's the fry pies that legitimately tempt me to drive 2 hours each way for.
For my money, Impressions Bakery's fry pies are the best dessert in the province. They come in a variety of flavours (often around 10-15), and they have some staples (blueberry cheesecake comes to mind), but they also always have something seasonal that they're trying, and that makes it fun to pop in anytime you're in the area.
They're pies that are filled, folded over, and fried – and they're out of this world.
151 Main St W – Listowel, Ontario
5. Life's a Party
Please note: Life's a Party has recently closed, but a new bakery is opening up just down the street!
As you might gather from the name, this establishment (which is right across the street from Impressions) dapples in catering parties (both sweet and savoury), but they're particularly well known for their sweet offerings, which encourages people to pop in and grab some to go at a fairly regular clip.
If you're looking for what they do uniquely well, I'd have to say it's their fudge bars, and in particular the cookies and cream fudge bar. These things have a serious weight to them, which make them perfect to share with a partner or the whole family – or you can just throw on your favourite movie, eat the whole thing, and have the time of your life.
You also might want to add in some of their incredible shortbread.
Life's a party, after all, right?
By the way, this is another solid lunch option if you're feeling for something more than just baked goods or dessert.
240 Main St West – Listowel, Ontario
6. The Sugar Maple Restaurant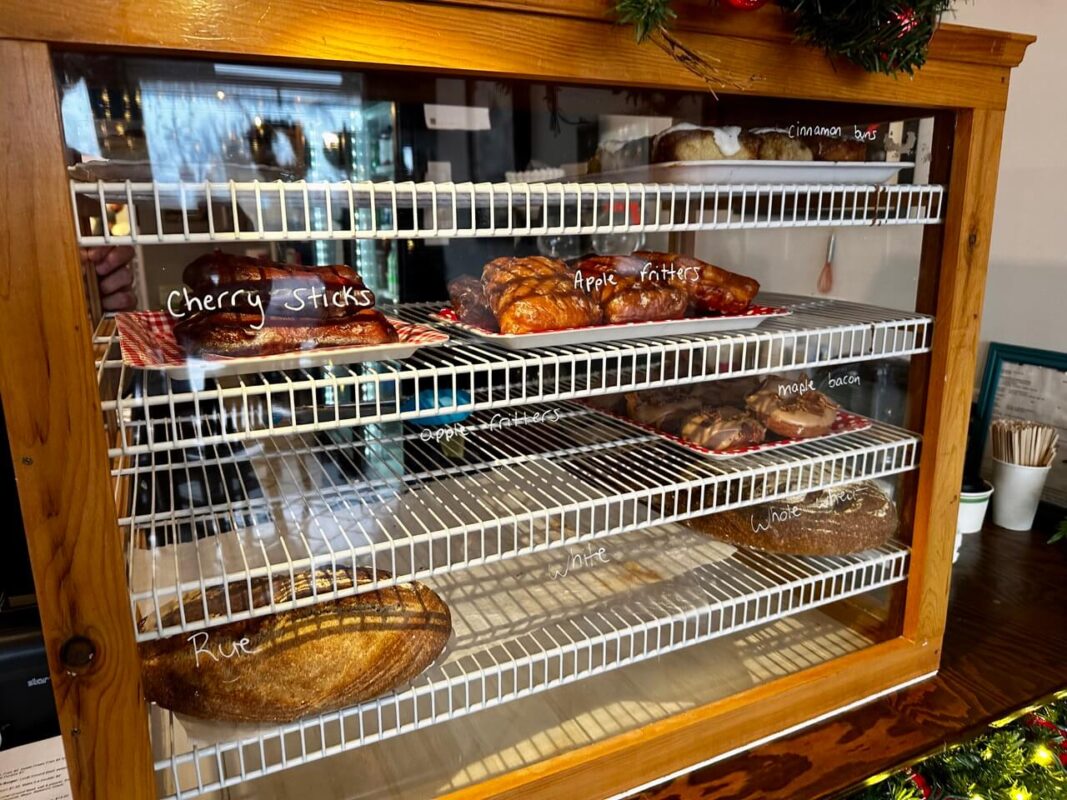 You'll find The Sugar Maple Restaurant on Mitchell, Ontario's main strip.
They're a full service restaurant, but at the front and side counter, they offer a wonderful array of treats. I spent a fair bit of time there talking to the helpful staff as kids poured in after school to get their sweet fix. I honestly couldn't have felt more welcomed.
They've always got a seasonal nanaimo bar on offer, so that's where I'd direct my attention first if I was you. Since I was arriving around the holiday season, they had a while chocolate nanaimo bar that was sprinkled with crushed candy canes.
However, perhaps the biggest surprise of the entire Perth County Dessert Trail was just how remarkable their cherry sticks are. A dark, red-ish donut with a bright pink interior that's lightly fried and kind of feels like the apple fritter's very cool cousin.
They also sell fresh bread for those interested!
89 Ontario Road – Mitchell, Ontario
7. Country Roots Fresh Market
This is a market that's aiming to do more than dessert (preserves, fresh produce, meat, flowers, decor etc.), but they make the list on this dessert trail because they also happen to thrive in the dessert department.
The storefront is also as quaint and cute as they come if you also happen to have a penchant for photography, and they've typically got an old pickup truck on the property as well that is decked out for the season.
Look towards the cookies here. They too go seasonal, so around holiday times you'll find their famed grinch hearts on offer, and their snickerdoodles, ginger snaps, and chocolate crackles are all fan favourites – but it's the it's the cornflake cookies that I think deserve the crown here.
1985 Perth Road 163 – St. Marys, Ontario
8. McCully's Hill Farm
The McCully family settled in Perth County all the way back in 1847 and shortly thereafter the late family patriarch, Norman McCully, got to work. His work with livestock, soil conservation, education and tree planting landed him a spot in the Ontario Agriculture Hall of Fame.
Seven generations later, and McCully's Hill Farm is still a beloved staple in St. Mary's, known especially well for their maple products and home-made baked goods. You can let your preferences guide you here as everything has a baseline of quality ingredients, but it's their pies and their butter tarts (particularly the Maple Butter Tarts) that often draw people from near and far.
4074 Perth Line 9 – St. Marys, Ontario
9. Wild Hog Country Market
After a long day of driving and eating desserts (tough life, I know), this is where I ended up getting dinner. The roast beef sandwich I hate here was fantastic, and showcased what I had known before arriving – that Wild Hog had three generations of butchers at the helm.
That quality extends to the rest of their offerings. They do lattes very well, and the cranberry lemon scone that I had on the side of that really hit the spot.
In general, they're very well known for their coffee (particularly espresso), bread, and sticky buns and other assorted baked goods.
2785 Line 24 – Perth East, Ontario
10. Shakespeare Pies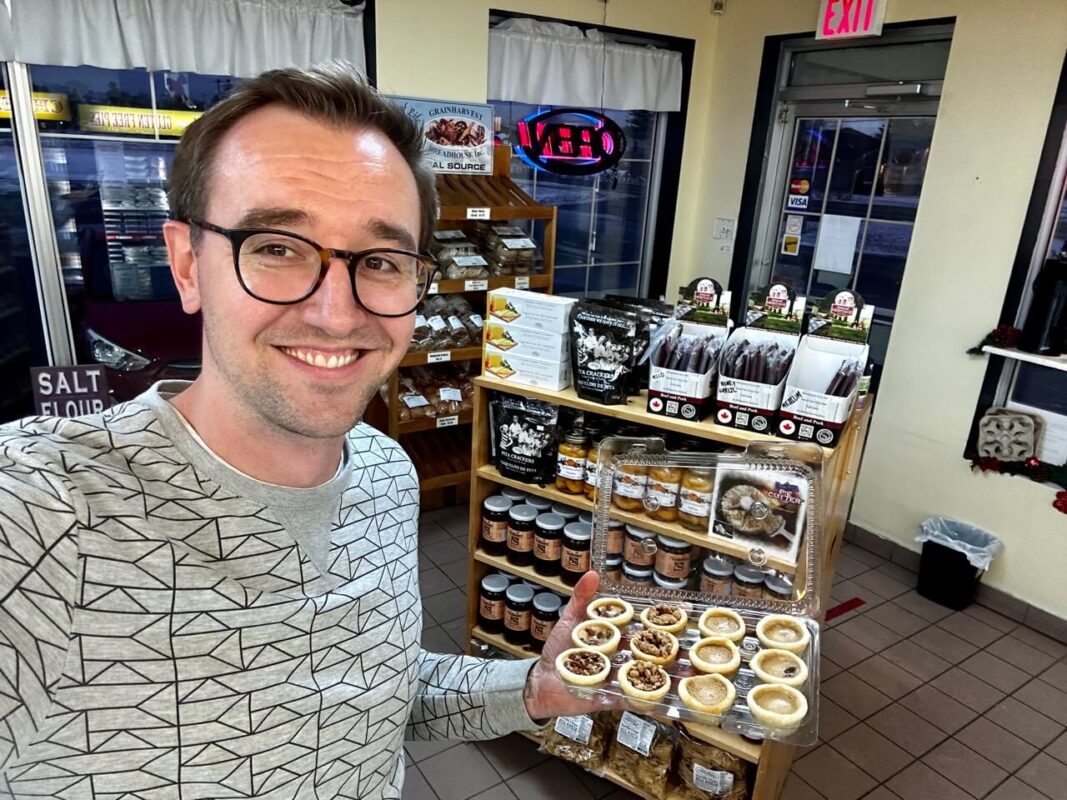 Your final stop is Shakespeare Pies in Shakespeare, Ontario!
Like so many other places on this list, they're family-run, and they too have a link to a rich Mennonite heritage focused on quality, and making everything from scratch.
They've been in business for over twenty years, and have over twelve bakers on staff, and thirty different pie flavours on offer. They're known for their sweet pies, but they also have a selection of savoury pies ranging from steam and mushroom to ham and broccoli.
Don't sleep on their butter tarts, though. They make these adorable little tarts, and you can mix and match them. So, I walked out with our different flavours, and three of each – something my wife was rather happy I did!
2264 Line 34 – Shakespeare, Ontario
Perth County's Baked Goods Are Off the Charts
This was, quite honestly, one of the most fun days that I've had in recent memory. To have the chance to meet so many of these hardworking business owners, and then to let our readers know exactly why we appreciate these places at Ultimate Ontario – well, it means everything to me, and to us as a brand and site.
This is part of why we started Ultimate Ontario, to showcase the uniquely Ontarian experiences – things you couldn't quite replicate anywhere else. So, we wish you safe travels and a big appetite on your very own Perth County Dessert Trail explorations.
If you do tackle it, comment below, as we'd love to hear what stole your heart. And if you'd like to see it all visually, it's up on TikTok for your enjoyment.
---
We want to humbly thank Perth County for hosting us as media. All opinions are completely our own.
If you appreciated this article, you'll love our newsletter, as well as our Facebook group! Feel free to join, all are welcome.
Christopher Mitchell is the Cofounder of Ultimate Ontario. He's visited over 80 countries, and has lived on 4 continents, but now has his eyes set squarely on exploring this incredible province, and helping others do the same.