Amherst Island, Ontario is a small island in Lake Ontario, just off the coast of Bath. This island is rich in history, small community culture and is a great way to escape the hustle and bustle of everyday life.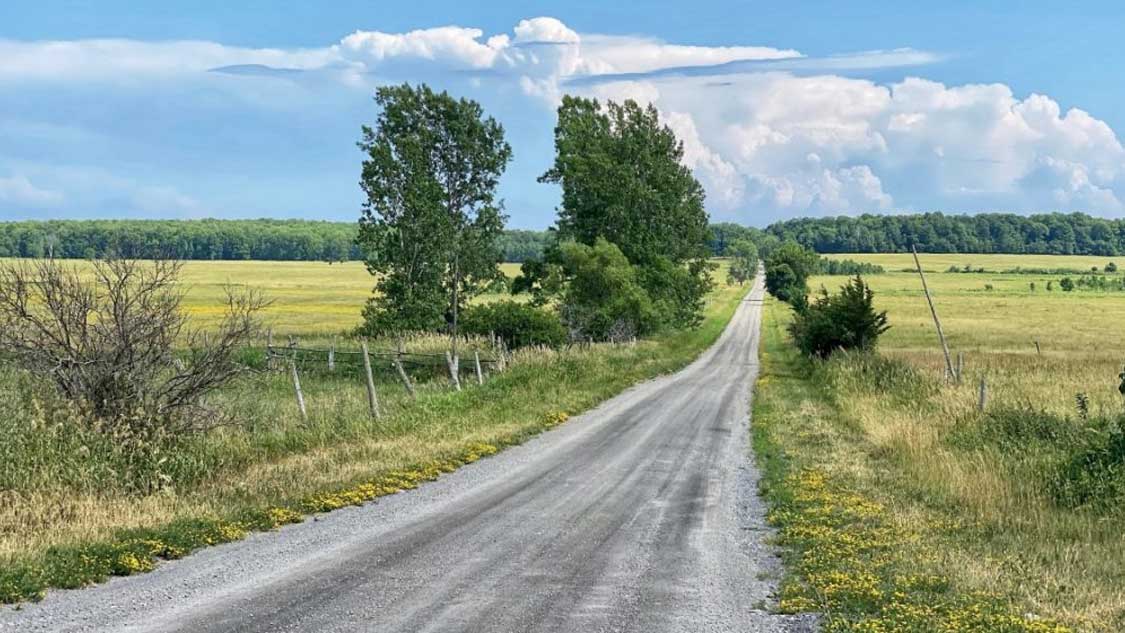 There are so many islands in Ontario, that it can be hard to decide which one you should head to next. If you're looking for unique ways to experience Ontario's nature, a hidden gem is certainly that of Amherst Island, Ontario.
Amherst Island is located in South Eastern Ontario, just west of Wolfe Island in the region of Lennox and Addington. The history, size and landscapes of Amherst Island are all incredibly interesting. It's a lesser known island near the mouth of the St. Lawrence River, and offers an escape from the hustle and bustle of the mainland.
In this article, we'll break down exactly how and why you should visit Amherst Island. It is definitely a gem in the province that is not to be missed.
The History of Amherst Island, Ontario
Amherst Island was a well-known place in the early days of Canada. It was settled by Loyalists to the Queen in the 1790's, and became a prominent settlement by the 1830's. Settlers were primarily interested in the island because of its access to water. At that time, trade, travel and commerce along waterways was one of the most essential ways to remain relevant and connected.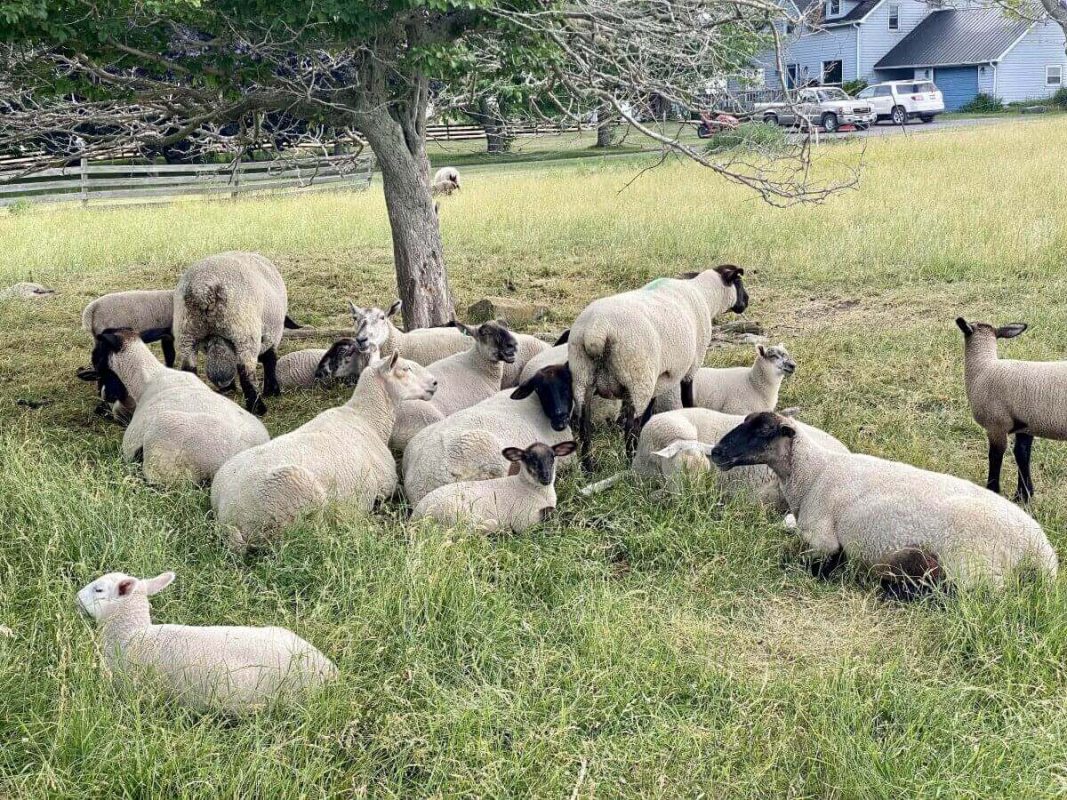 One of the largest groups to settle the island around the 1830's was that of Irish immigrants. They made a home on the island, and helped the island to become self-sufficient during its heyday. When you visit Amherst Island today, the Irish footprint is still noticeable in its abundance of Irish dry stone walls.
There are many notable examples of Irish dry stone walls remaining on Amherst Island today. In fact, Amherst Island has the greatest concentration and collection of dry stone walls in Canada! The Amherst Island community's devotion to its history and preservation is evident as you tour around the island and see these walls during your visit.
Taking the Amherst Island Ferry to Stella, Ontario
When you plan your visit to Amherst Island, you're going to need to rely on the Amherst Island ferry service to get there. If you're taking an Ontario road trip, or linking a stop on Amherst Island to one of Ontario's most breathtaking drives, you're in luck. The Amherst Island ferry comfortably fits several vehicles and trucks.
Depending on the time of year (we visited in late June), the number of ferries leaving per hour will vary. The ferries depart from Millhaven, Ontario on the half-hour mark, and from Stella, Ontario (on Amherst Island) on the hour mark.
If you plan on leaving your vehicle in Millhaven and walking to the ferry terminal, this is an option, too. Whether you are walking or driving, the ferry is easy to take.
Some ferries require booking or ticketing in advance. The Amherst Island Ferry just requires your arrival a few minutes before departure (plan for at least 10, in case there are many vehicles waiting to cross), and a cash fare of $10 per small vehicle. You can find the full details for the Amherst Island Ferry on their website.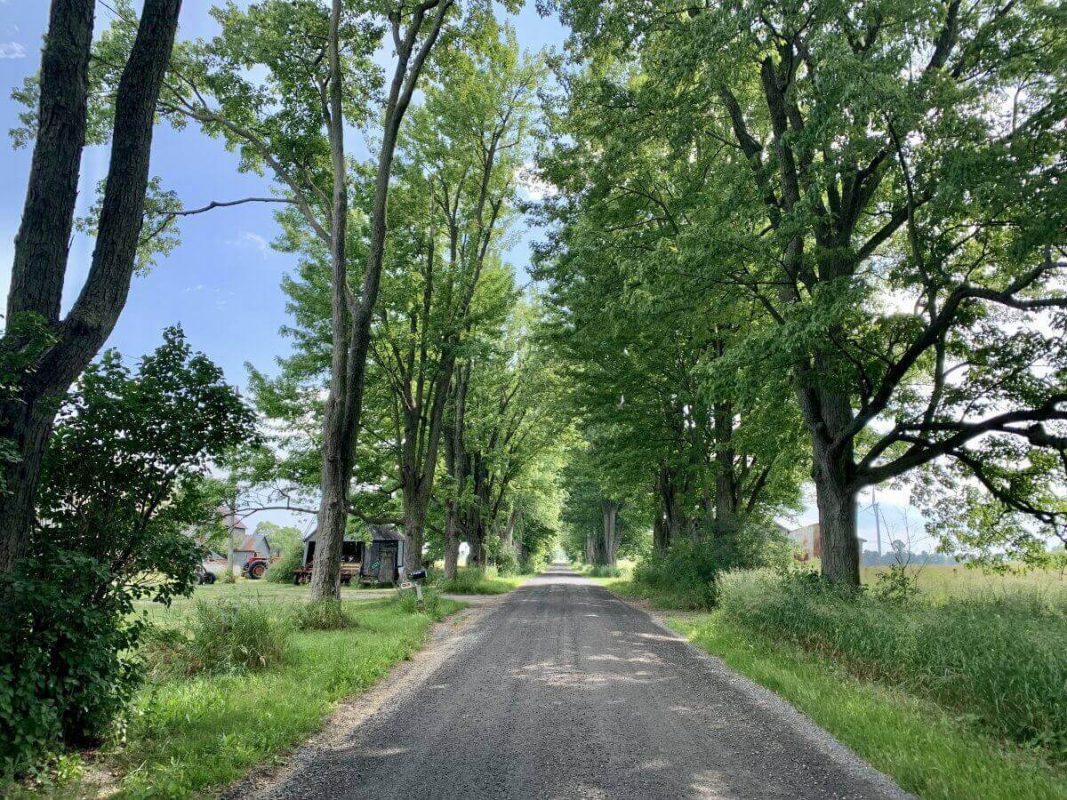 Things to Think About on Your Visit to Amherst Island
If you plan on taking a trip to the island, bear in mind that it is a small, tightly-knit community. There are only about 450 full-time residents of the island throughout the year, and just less than 1000 total residents in the summer months. Many families have lived on the island for generations, and Amherst holds a special place in their hearts.
This is important to know, because the island residents are more than happy to welcome visitors, but they also take a lot of pride in their island. They want to ensure that visitors treat it with the respect it deserves, as does the team at Ultimate Ontario.
We encourage our readers to think about travelling to small islands in Ontario the same way they would think about visiting provincial and national parks: leave no trace. This means that considering a way to bring any food scraps, waste, packaging, etc. with you on the return ferry is ideal.
This is by no means a requirement, but it should be a reminder that island communities have to navigate this kind of thing differently than mainland communities.
Another positive thing to be prepared for on the island is to interact with locals! If you are driving your car, the common courtesy is a lot like that of boating. It's typical to pass another car and hold a hand up and wave. This heartwarming reminder really signals that you're in a bit of a different place than that on the mainland. And if you're from the city like me, it definitely puts a smile on your face.
What to Do on Amherst Island
There are several things to on Amherst Island that make for a great day trip, or a relaxing overnight trip. The focus of a trip to Amherst Island, though, should be less on what to "do", and more on how to feel.
Island life is slower-paced and relaxing. People often think of this as true for far-away islands in Europe or The Caribbean, but you don't need to go far for the island life. The same can be said for other islands in Ontario, like on Pelee Island. Whenever you're in a place that doesn't even require a traffic light, you know you've reached a certain level of stress-free living.
Despite the relaxed pace of a visit to Amherst Island, there are still some great places to check out. We've put together a list of a few below.
Visit the Sheep and Marvel at Local Wool Products at Topsy Farms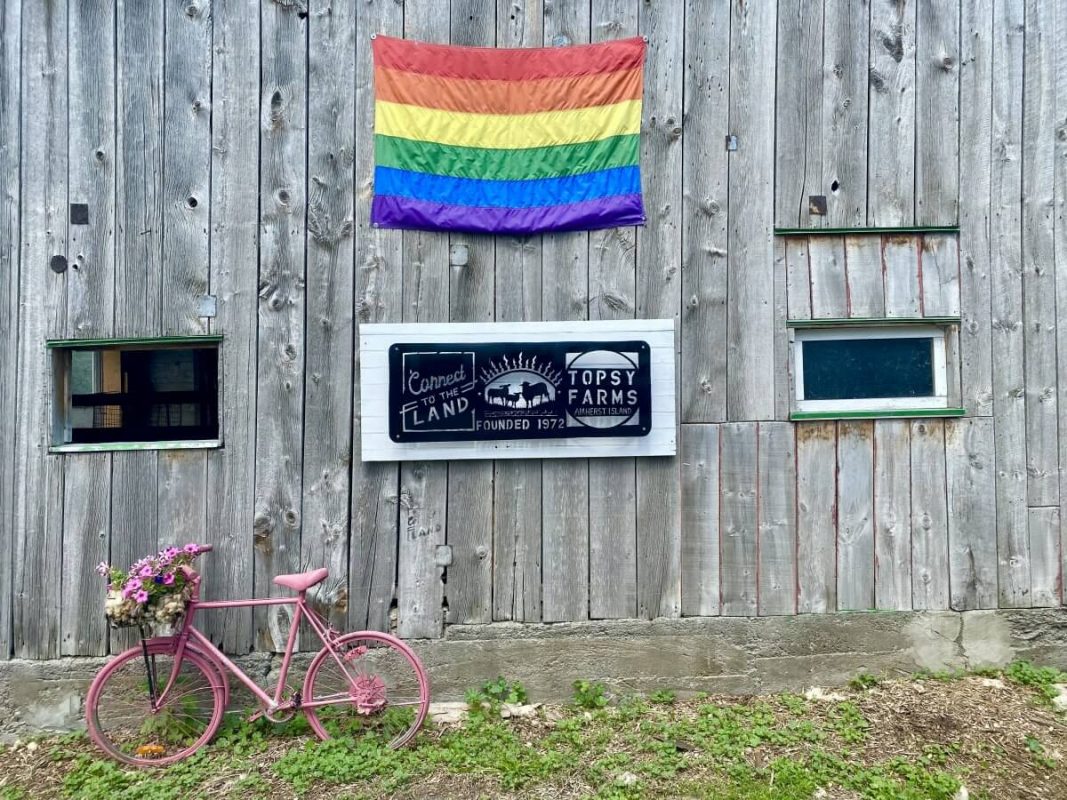 We couldn't introduce Topsy Farms any better than they did on their website, so we'll just go ahead and quote them here: "In 1972, a boatload of free-thinking, peace-loving hippies showed up at the west end of Amherst Island." And the rest was history.
This should tell you all you need to know about the conception of this special farm! What began in the 1970's as a vision and a lifestyle has grown into an amazing farm and community hub to visit. Topsy Farms still keeps its core roots and value intact, but it also offers incredible experiences and wool products, so you can bring your own slice of Amherst Island home with you.
The first sheep came to the farm in 1976. Today, Topsy Farms has all sorts of initiatives to help with Canadian sheep. One of their most popular draws is from mid-May to mid-June, where they foster lambs from all around the province. They are known as a really wonderful place for sheep to be raised, so if there are moms who can't keep up with their lambs, farmers know that Topsy has a program that will help to care for and raise their lambs for them.
During the foster period, visitors can book a session to interact with, feed and spend time with the baby lambs. It is a very cute experience, and certainly a great idea for animal lovers!
The farm offers many other activities, including a kids play area, scavenger hunts for kids, a hiking trail that goes into their back forest and a chance to visit with their Highland cows and sheep.
In addition to all of the above, Topsy Farms is at its root a family endeavour, deeply connected to the spirit and culture of Amherst Island. Owner Sally Bowen shared that they restarted and ran the island newsletter for 40 years, helped start the radio station on the island and have supplied their local, fresh food for neighbouring communities such as Kingston and Bath for a long time.
Visiting and supporting Topsy farms isn't just about the incredible local products and experiences, but it's about their spirit and passion for keeping the atmosphere and history alive on Amherst Island. They are deeply connected to the island, and you can feel good about supporting them for that reason.
Visit the Neilson Store Museum in Stella, Ontario
The Neilson Store Museum is a great place to stop in Stella, Ontario to learn more about the history of Amherst Island. It has artifacts and pieces of history from the island and the families who've lived on it, dating back to the years of its early settlement.
The museum is also a historic site in its own right. It was opened by the grain merchant James Neilson, who started his general store on the site in 1873. The building itself was in the Neilson family for over one hundred years, and it was turned into a museum in the early 2000's.
Unfortunately, due to the pandemic, the museum hasn't been open for the past two seasons. It typically opens every summer, beginning on Victoria Day weekend, but this has been postponed until further notice.
We look forward to when it will reopen, so visitors to Amherst Island can learn about its history once again. You can check to see its status on opening on their website.
Take in the Dry Irish Stone Walls Across the Island
Based on the settler history of Amherst Island, it should come as no surprised that Irish dry stone walls are a staple on the island. As we mentioned above, the collection of Irish dry stone walls on the island is said to be the largest concentrations in all of Canada.
As a visitor on the island, seeing these stone walls certainly makes you feel like you are, in fact, in Ireland. It even feels like you're stepping back in time! The walls were originally created many years ago. Today, community members on the island take time to rebuild and recreate the walls in their pristine glory. All of the rocks that the walls are created from are originally from the island itself.
When you arrive on Amherst Island, make sure you get a printed copy of the Amherst Island map. Topsy Farms has copies, or you can find some in Stella, Ontario. The maps clearly mark where all the stone walls are located on the island. There are more than ten, and they are each unique and picturesque in their own right.
On the day of our visit to Amherst Island, the weather was having some fun on the mainland, so we were lucky enough to have a backdrop of some stunning dark clouds in contrast with the stone walls. The clouds certainly added to the ambiance created by the stone walls.
Pack a Picnic to Eat on the South Shore
The south shore of Amherst Island has several picturesque places, perfect for enjoying a bite to eat and either sit and enjoy the surroundings, look out at Lake Ontario, or even take a swim.
When you set your sights on the south shore, you can expect to find some great Amherst Island beaches. Lanes End Park has a pretty clearing with some picnic tables. It's also directly south from Stella, Ontario, so it is a direct spot to head to if you're just arriving on the island.
Perhaps the most memorable Amherst Island beach is at Sand Beach Wetlands Conservation Area. It's a really beautiful stretch of beach that comes out to a point in the water. A picnic at Sand Beach will also offer views of the small island called Nut Island, just off the coast of Amherst Island.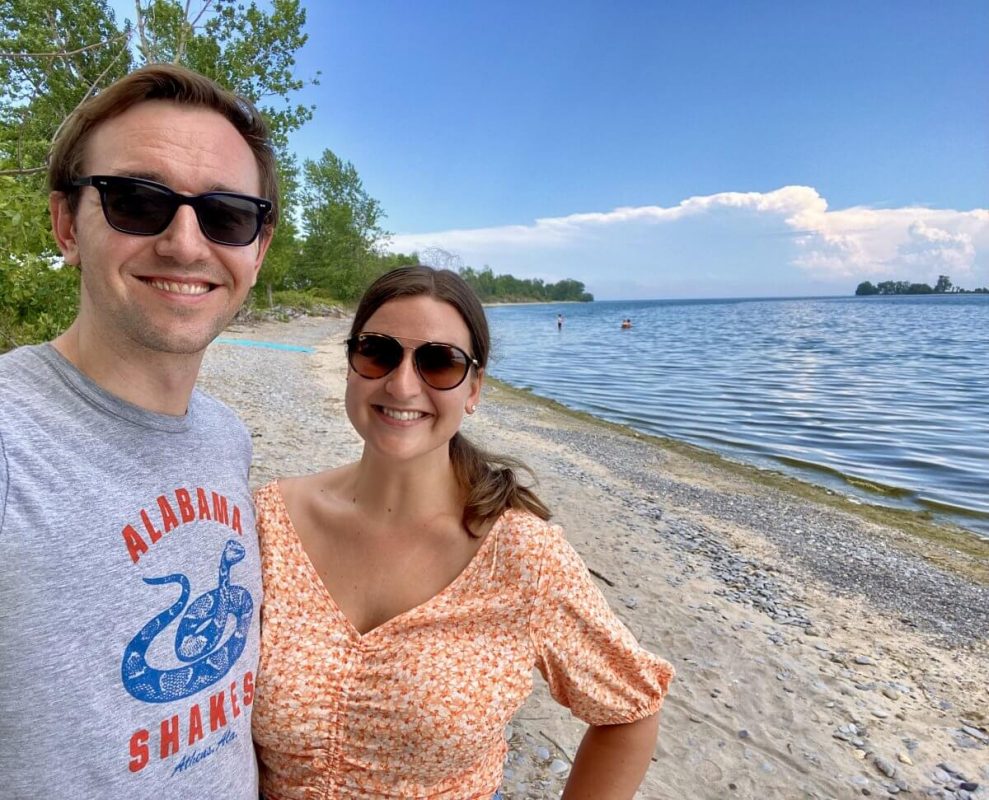 A Memorable Trip to Amherst Island Should Be on Your Radar
If we haven't convinced you yet, a trip to Amherst Island is the perfect excuse to enjoy the best of what exploring Ontario, and specifically the Lennox & Addington region, has to offer. You have the opportunity to feel truly disconnected in a place like this.
Time spent on Amherst allows for the time to drive, bike or walk slowly. It encourages you to take the moment to breathe in your surroundings, look around at the natural beauty we have in our province, and escape the crowds.
This little slice of paradise is well worth the visit. And whether you're a free-thinking, peace-loving hippy, or if you're just in the market for a different pace of life, then make sure you carve out some time to catch your breath on Amherst Island.
Bri is an Ontario native who has spent many years living abroad, but has been happily reconnected with Ontario for the past three years.
She loves writing about travel experiences in our beautiful province including all things nature, food and culture.
You can find her canoeing and swimming across Ontario with a craft brew in her hand in the summer, and snowshoeing or curling up with a good book and an Ontarian Pinot Noir in the winter.