There is no shortage of road trips from Toronto, and that's why we break down the top 5 road trips from Toronto, with a little something for everybody.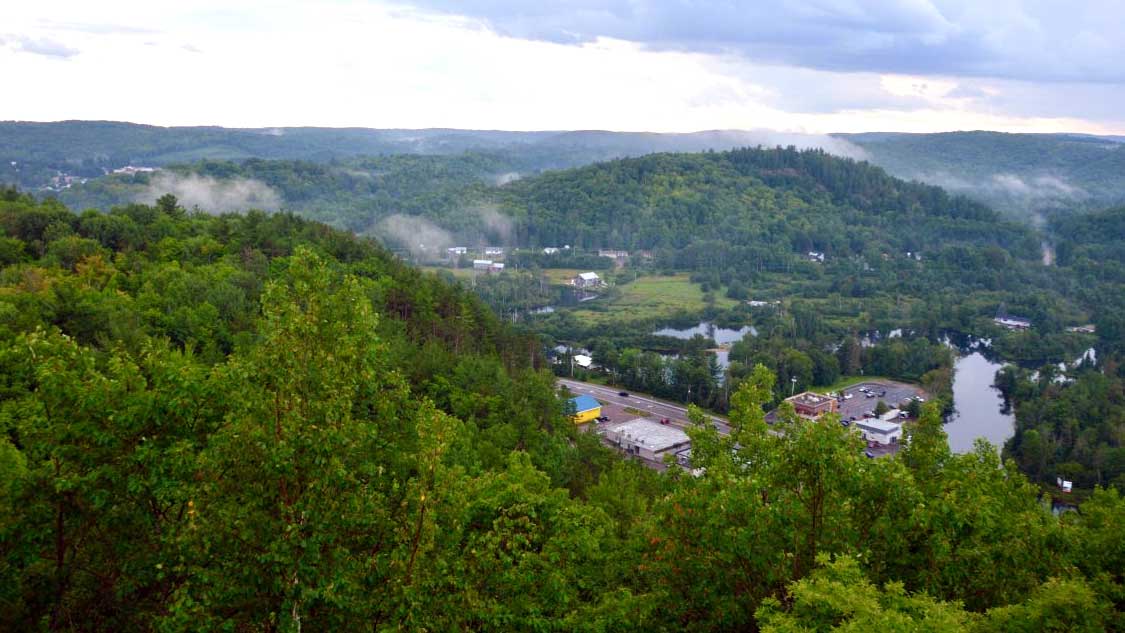 Thinking about ways to travel locally within Ontario has become more critical than ever before. Luckily, here in Ontario, we're blessed with many great experiences right at our doorstep.
Depending on what kind of experience you're looking for, there are plenty of charming small towns, beautiful hikes and romantic getaways scattered across the province.
Some of these options are great for a day or two. However, sometimes–especially if you live in or around Toronto–you might be looking to escape for a little bit longer.
There are so many ways to plan multi-day road trips from Toronto. You could leave Toronto heading any direction and easily find a week's worth of activities to do.
If you live in Toronto or the Greater Toronto Area and are searching for the best Ontario drives, then you're in luck. Keep reading to choose from this list of the five best road trips from Toronto.
The Best Road Trips from Toronto
City life is the best for those who love it. But even the most dedicated Torontonian needs to escape the big smoke once in a while. So to help you out, this is a list of the five best road trips from Toronto.
There's a lot of power in taking a spontaneous trip. The benefit of these trips is they're all local and easily accessible by car. If the decision is too difficult to make, I don't blame you! I promise you that there isn't a short straw in this bunch of Toronto getaways.
Road Trip from Toronto #1: The Eastern Shores of Lake Ontario
Recommended Length: 3-5 days
Round-trip Distance from Toronto: 530km
When you're planning a road trip from Toronto, heading east is a great option. There are plenty of scenic drives and beautiful towns to enjoy.
Port Hope
For this road trip from Toronto, we'll make the first stop in Port Hope.
Port Hope is a charming little town with over 250 heritage designated buildings. It's also the hometown of the Canadian author and environmentalist, Farley Mowat. Make sure you see a play at the intimate Capitol Theatre, a Canadian National Historical site, during your visit.
If these reasons aren't enough to sell you on it, Port Hope is also one of the most charming small towns in Ontario.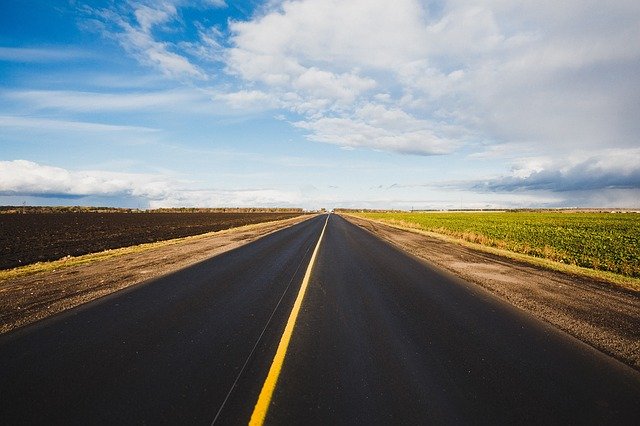 Cobourg
Continue your road trip from Toronto by making the short drive to Cobourg. Also located on Lake Ontario, Cobourg is known for its large sandy beach.
It's unexpected to see a beach of this calibre within an hour's drive from Toronto. If you want to spend some extra time on the Cobourg beach, I'd recommend choosing from one of the quaint bed and breakfasts in Cobourg. And if it's too busy, consider this list of the best beaches in Ontario.
Prince Edward County
Next on this great drive from Toronto, head to Prince Edward County. This gorgeous Ontario wine region is often fondly referred to as "The County."
If you're taking the 401, consider stopping at the iconic Big Apple in Colborne on the way. You'll know where it is when you see it. It makes for the perfect pit stop for those with a sweet tooth. They have a variety of baked goods (including homemade apple pies!) and an 18-hole mini-putt and outdoor picnic area.
There are endless opportunities to explore Prince Edward County. While it's known best for its wide array of wineries and breweries, The County has way more to offer than just that.
Prince Edward County makes for a fantastic romantic getaway in Ontario. It has delicious restaurants and cute bed and breakfasts. The small towns of Picton and Wellington and the drive-in movie theatre between are not to be missed.
Be sure to drive east on the peninsula from Picton to Lake on the Mountain before leaving for some beautiful panoramic views of Lake Ontario's surrounding bays.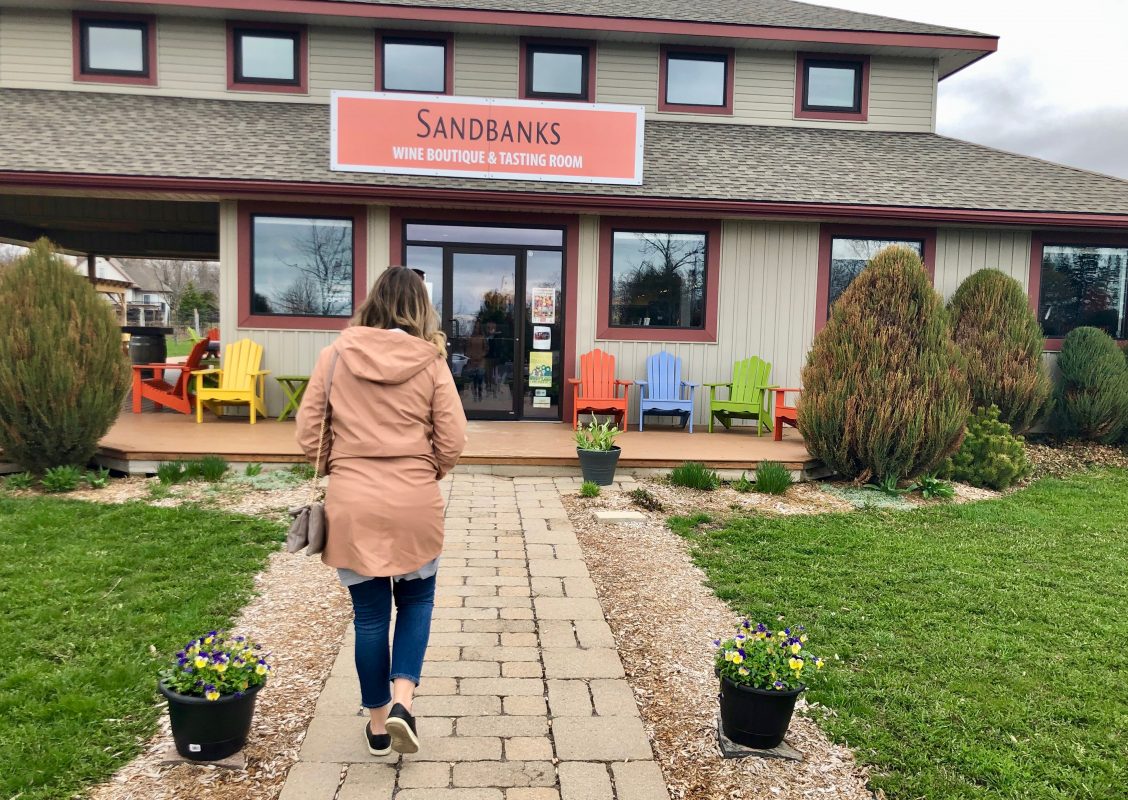 Sandbanks Provincial Park
If natural surrounds are more to your taste, head to Sandbanks Provincial Park while you're in Prince Edward County.
It has some of the most impressive sand dunes in Ontario and expansive trails for biking, hiking and camping. Plus, the beaches on the shores of Lake Ontario make for an excellent day trip.
Belleville
Continue your road trip from Toronto by heading east to Belleville.
I'd recommend taking the Loyalist Parkway from Picton to Belleville. It's one of seven breathtaking drives in Ontario.
When you arrive in Belleville, it has a really lovely downtown area. The city has put quite a lot into redeveloping its historic core over the past few years. You may be there on a Saturday morning for a delicious croissant breakfast sandwich at L'Auberge de France. Or maybe you'r there for an afternoon beer at Signal Brewery, or a cocktail at The Lark. Or perhaps you're even there for dinner and live music at Capers. There are so many great places to eat and drink.
Finish your time in town by touring the historic homes in the East District. Head through Corby Park to Glanmore Estate. Finally, take a stroll or bring your bike along the waterfront trail before heading east to Kingston.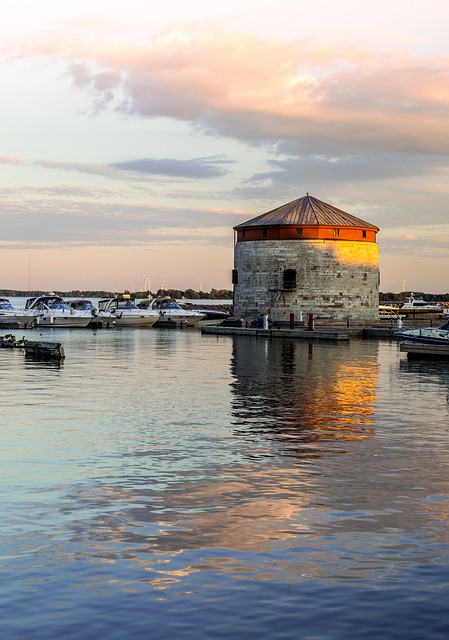 Kingston
The last stop on this road trip from Toronto is to head to Kingston. Continue east on the Loyalist Parkway to get here.
Kingston was the original capital of Upper Canada and was intended to be the capital city of Canada. Despite its significant role in Canada's history, this is still a fact that surprises many Canadians.
The capital city, as we know, became the lesser-known (and lesser-settled) town of Ottawa. This was due to fear of attack by the Americans on Kingston thanks to its proximity to the American border.
All that being said, Kingston has a lot to offer. Its history speaks for itself, and the incredibly preserved limestone buildings of downtown Kingston and the historic Queens University campus are an Ontario treasure.
On top of that, there are some wonderful restaurants, performances, festivals and opportunities to spend time on Lake Ontario on your visit to Kingston.
Also, be sure to arrange a tour of the historic and picturesque Fort Henry before leaving town.
If you have a little extra time on your road trip from Toronto, be sure to check out Wolfe Island. It's a unique island in Lake Ontario just across from Kingston. You'll need to arrange for a ferry to get yourself there.
Road Trip from Toronto #2: Ontario's Highlands
Recommended Length: 5-7 Days
Round-trip Distance from Toronto: 590km
Ontario's Highlands make for a great place for a road trip from Toronto. There are a lot of fantastic lakes and small towns in this region. If you're looking for something a little extra, then this route is for you.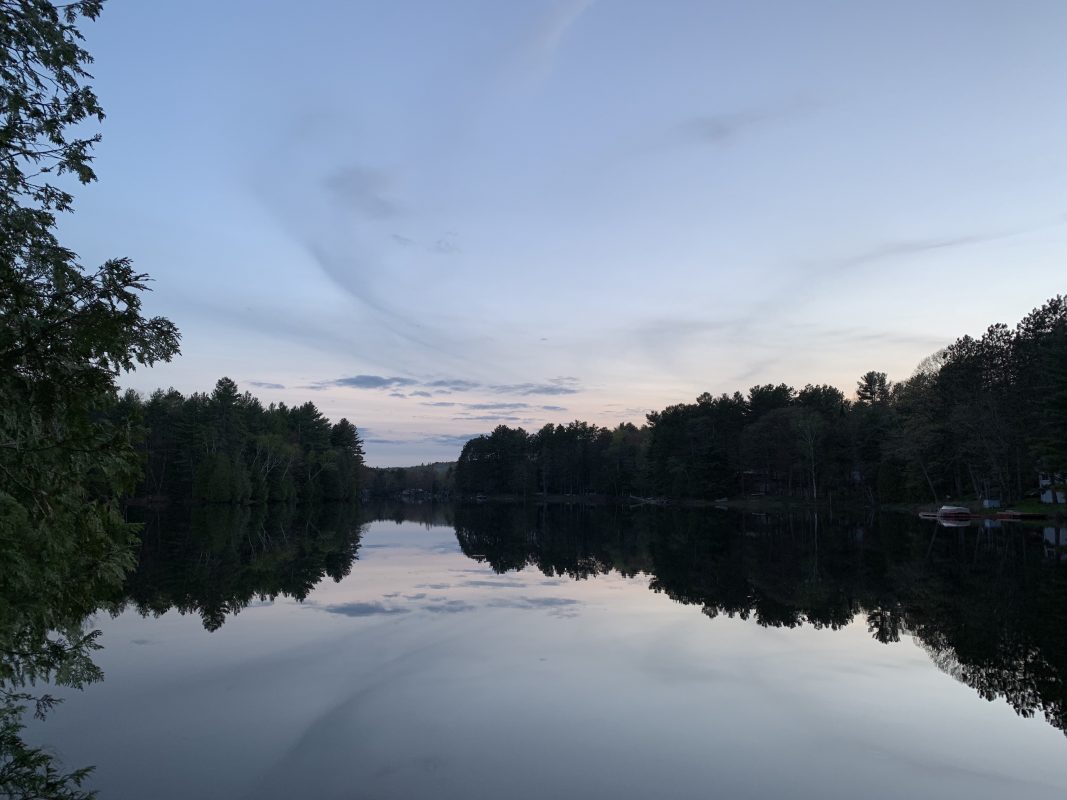 Peterborough and the Kawarthas
About an hour outside of Toronto sits the Kawartha Lakes region.
It's home to the famous Ontario creamery, Kawartha Dairy. But there's a lot to see in this region that goes beyond heaping scoops of ice cream. By the way, if you haven't sampled Kawartha Dairy ice cream yet, you're officially missing out. You'll see what I mean about the scoops' size when you visit one of their locations on your road trip from Toronto.
The two largest lakes in this region are Sturgeon Lake and Balsam Lake, but given the name of this region, as you can imagine, there are many other lakes that you can enjoy.
You can visit the charming harbour town of Rosedale or the larger town of Fenelon Falls. As many will know, the Trent-Severn waterway runs through here. Be sure to stop and watch the locks at Fenelon in action if you're able to.
Minden
Continuing north on your road trip from Toronto from the Kawarthas, Minden and the surrounding Minden Hills are a great place to spend an afternoon or an overnight. It's part of what makes this route one of the best road trips from Toronto.
In the historical centre of Minden, you can take a peaceful stroll along the Gull River. Stop for a beer tasting at Boshkung Social, a favourite local watering hole.
If you visit in the summertime, they've recently opened Minden River Run, which is basically Ontario's take on the "lazy river." If walking is old news for you, rent a tube beginning at a higher point in the Gull River, and drift into town.
If you're looking to extend your time spent in this region, between the Minden and Haliburton areas, there are many unique bed and breakfasts and cottages for rent. The lakes in this region are special – that's worth noting when you're planning this road trip from Toronto.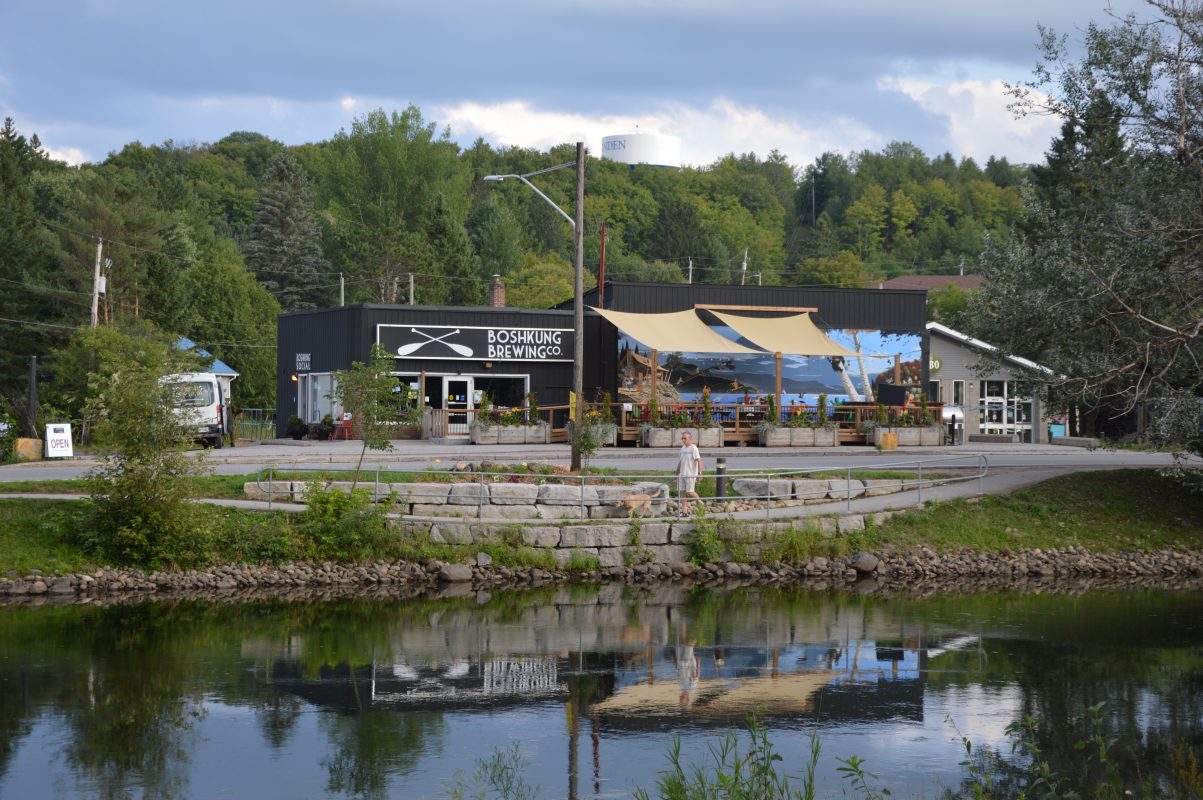 Haliburton
Driving about 30 minutes northeast of Minden, you'll find the charming town of Haliburton. It's a great stop on this road trip from the GTA.
Nestled around the shores of Head Lake, Haliburton is a small but tight-knit community and town. It's home to a lot of local arts and culture. There are many artists who live there year-round or spend time there in the summer.
You can visit the sculpture forest at Fleming College's Haliburton School of Art and Design, or walk along the main street of Haliburton to enjoy the shops and restaurants.
Be sure not to leave before stopping at Baked and Battered for some delicious fish and chips.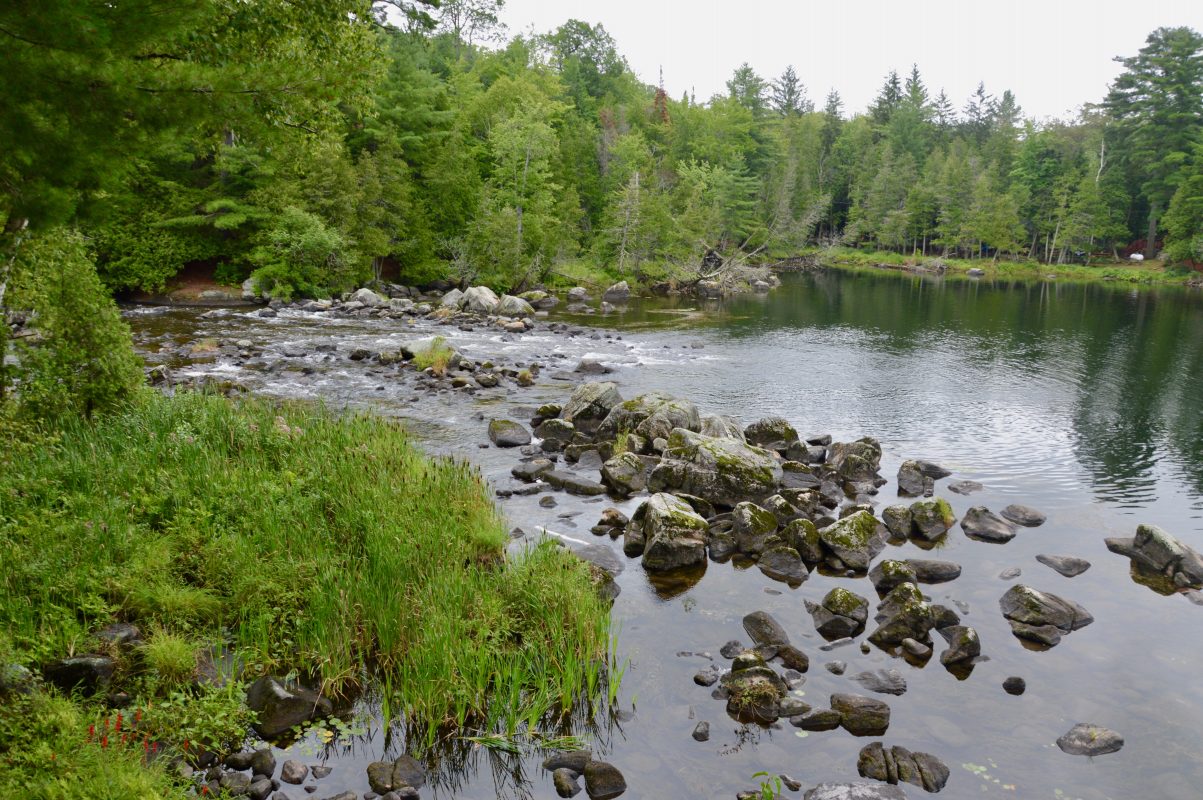 Bancroft
After staying overnight somewhere in the region of Minden or Haliburton, continue your road trip from Toronto by heading towards Bancroft.
As you drive between Haliburton and Bancroft, be prepared to pass some pretty views of lakes and hills, as this is the heart of Ontario's Highlands.
Bancroft is known for its high hills with scenic panoramic views from Eagle's Nest Lookout. You can see all of the town and surrounding region. They also have a wonderfully intimate and historic theatre called The Village Playhouse. It's definitely worth a stop to check out a performance.
An optional extra to add to this road trip from Toronto would be a trip to Bon Echo Provincial Park. It takes you a little further west before coming back to Madoc.
If you're interested in hiking, Bon Echo Provincial Park also made our list of 10 of the Most Beautiful Hikes in Ontario.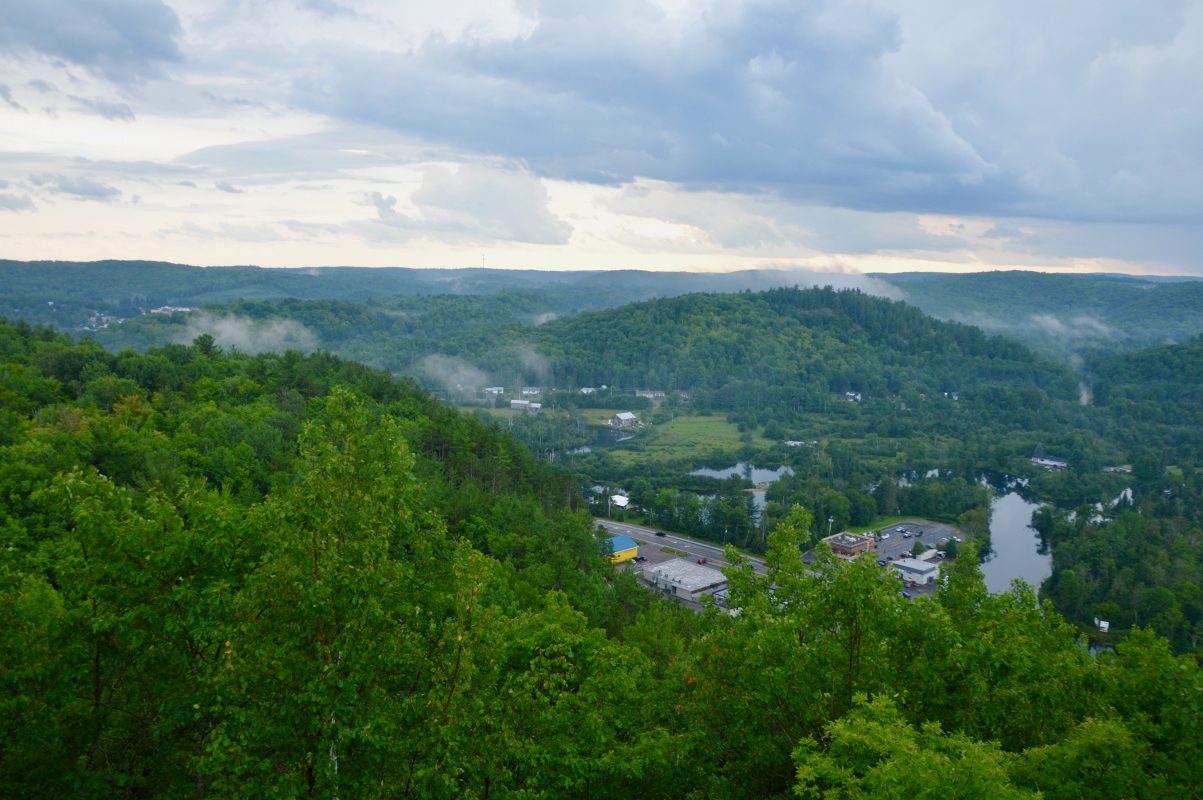 Madoc
The small town of Madoc makes for a great stop to finish this road trip from Toronto.
Madoc has a charming main intersection with historic brick storefronts. You can visit the grounds and trails of the O'Hara Mill Homestead & Conservation Area to explore some of the local nature.
Be sure to stop by Hidden Goldmine Bakery for one of their signature butter tarts before leaving. You could also stop by Ivanhoe Cheese if savoury is more to your taste.
From Madoc, you can head south to Belleville, and then back to Toronto. Feel free to check the recommendations for Trip #1, since you'll pass many of these stops on your way home.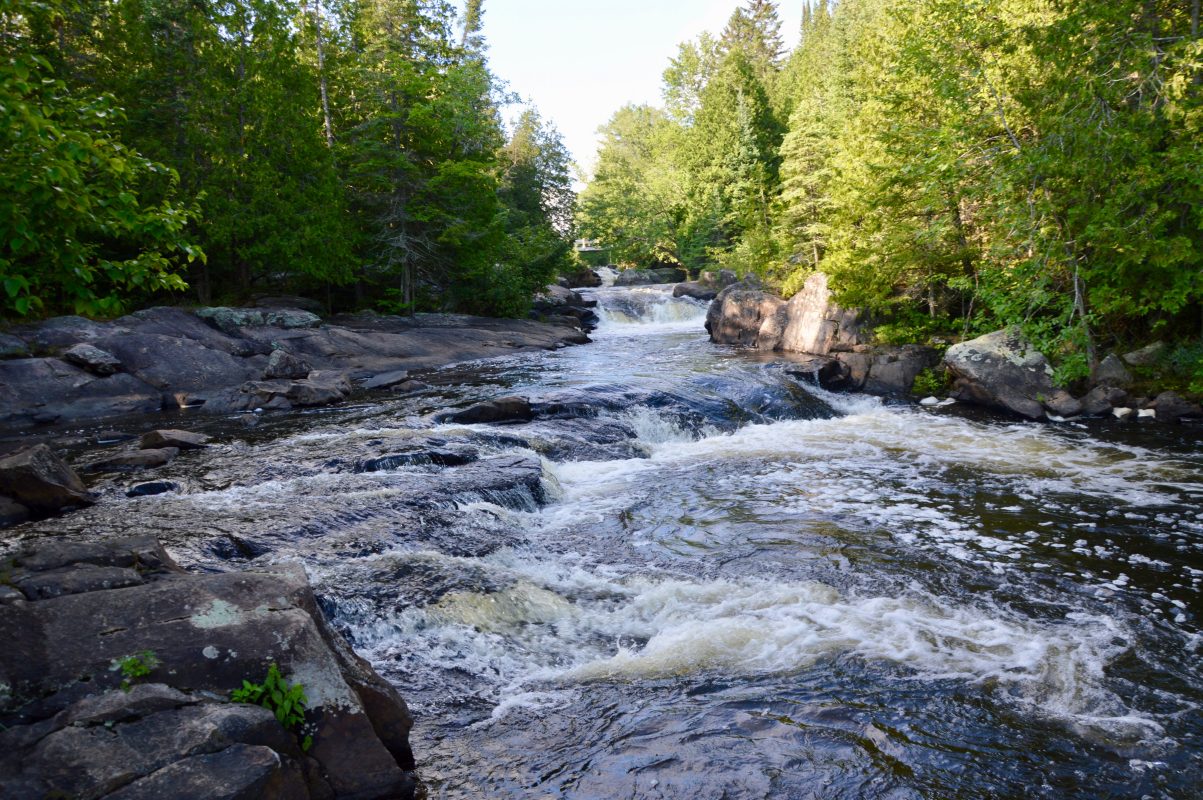 Road Trip from Toronto #3: Northern Nature
Recommended Length: 5-7 Days
Round-trip Distance from Toronto: 690km
If you drive north from Toronto, you could theoretically drive straight for nearly 20 hours, and keep going until you reach northwestern Ontario and Manitoba.
Given that people planning a road trip from Toronto are likely looking to circle back, I've decided to keep this option relatively close to home.
Collingwood & The Blue Mountains
The first stop on this road trip from Toronto is Collingwood and the Blue Mountains. They have a lot to offer for a Toronto road trip, and many Torontonians will be familiar with Collingwood.
Collingwood is just over two hours from Toronto. It's an excellent option for those who want to remain close but feel away from it all.
This region is home to the famed Scandinave Spa near Blue Mountain. In Collingwood's centre, there are some tasty local restaurants and breweries and a variety of scenic rental properties.
Finally, you can head to the charming Blue Mountain Village for an evening out. There are some great restaurants, bars and clubs in this picturesque town.
If you're interested in outdoor activities, there are plenty of opportunities for skiing and snowboarding on Blue Mountain in the winter and mountain biking and hiking in the summer.
Sauble Beach
Just an hour's drive from Collingwood, Sauble Beach's main attraction speaks for itself.
Known for its long, white sandy beach and rental cottages, this area makes for a great place to relax and enjoy the shores of Lake Huron.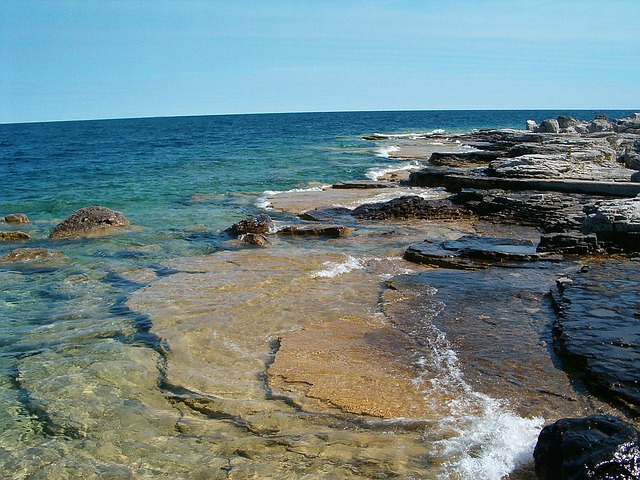 Bruce Peninsula
Sauble Beach is just one of the many fantastic places to check out on the Bruce Peninsula.
This small peninsula on Lake Huron makes a significant imprint on its visitors. You can head to Sauble Falls Provincial Park, go hiking on the Bruce Trail or the Apple Rail Trail.
If you're keen on camping, there are some beautiful spots in Bruce Peninsula National Park.
If you're staying overnight, the Bruce Peninsula is also one of the best places for stargazing in Ontario.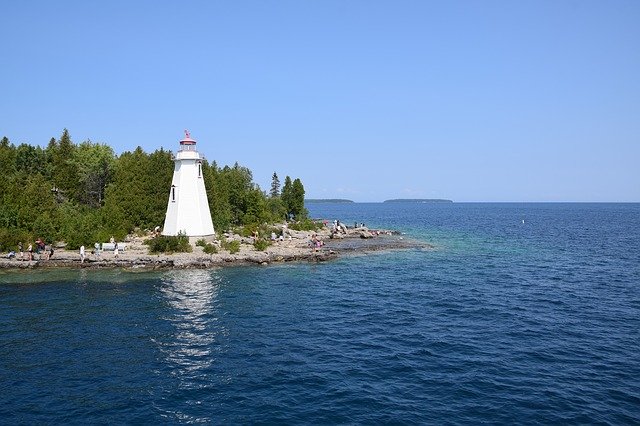 Tobermory
Your tour up the Bruce Peninsula can take as long or short as you'd like. It's only an hour's drive from nape to neck, but there are so many things to see and do that you'll be spoiled for choice.
Regardless of how long you choose to spend on this road trip from Toronto, if you drive the full length of the peninsula, you'll find yourself in the charming town of Tobermory.
Tobermory is a small yet charming harbour town on Lake Huron. Its location is primarily used as the jumping-off point to explore the sights of Flowerpot Island and the Blue Grotto.
Tobermory makes for an excellent place to stay if you're looking to explore the surrounding areas.
You can check out the vast array of options for overnight accommodations for yourself. They have everything from charming bed and breakfasts to rustic cottages.
You can finish your road trip by heading back to Toronto the same way you came, or cutting down south towards Guelph and back to Toronto.
If you plan to do the latter, see if you can make a plan to intersect with some of the suggestions from Trip #4.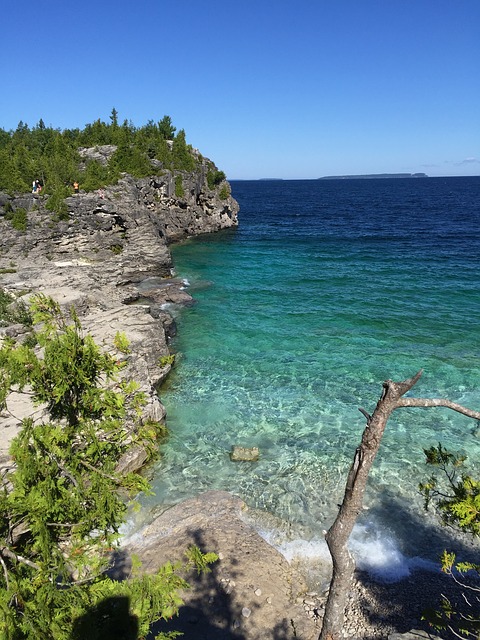 Road Trip from Toronto #4: The Central Hills of Arts and Nature
Recommended Length: 4-6 Days
Round-trip Distance from Toronto: 358km
The beautiful thing about this trip is it's one of the short road trips from Toronto. It's a closer loop than several of the other road trips from Toronto on this list.
Forks of the Credit Provincial Park & Cataract
Start by driving an hour and a half to Forks of the Credit Provincial Park. You can enter from either McLaren Rd. or Cataract Rd.
The driving entrance and the parking lot is off McLaren, but Cataract is more off the beaten path, and there's a beautiful train leading in. You can do a loop to reach either place in the park.
Whichever entrance you choose, this park has some excellent and pleasant areas for hiking. There are dramatic hills and cliffs, rolling rivers, and scenic bridges and train tracks.
This whole area is also friendly for biking. If biking is more your speed, then you'll be happy to know that you can actually bike all the way from the small town of Cataract to Elora on the Elora-Cataract Trailway. Many people do, in fact.
Choose which adventure suits you, but I'd recommend looking into staying at the charming Forks of the Credit Inn as your jumping-off point on this road trip from Toronto.
It's owned by a wonderful couple and has some of the coziest rooms in the Provincial Park's beautiful natural surroundings. It also makes for a great place if you plan on spending an extra day exploring Alton, as you should.
Alton
The next stop on this road trip from Toronto isn't very far from Cataract. Just a few kilometres away, Alton is a beautiful area with a lot of character. For the arts and culture lovers, Alton Mills is not to be missed. Alton Mills is a fantastic community hub.
There's a marketplace with many goods and crafts for sale made by local vendors. There are also artists' spaces upstairs which you can walk around and visit with the artists' permission.
In the summer and winter, the grounds around the mill are great for walking around and exploring. It was originally a mill, after all, so it's worth exploring.
Be sure to stop by Good Lot Farmstead Brewing Co. while you're in Alton. It's located on the farm where they grow their own hops, and the beer is delicious.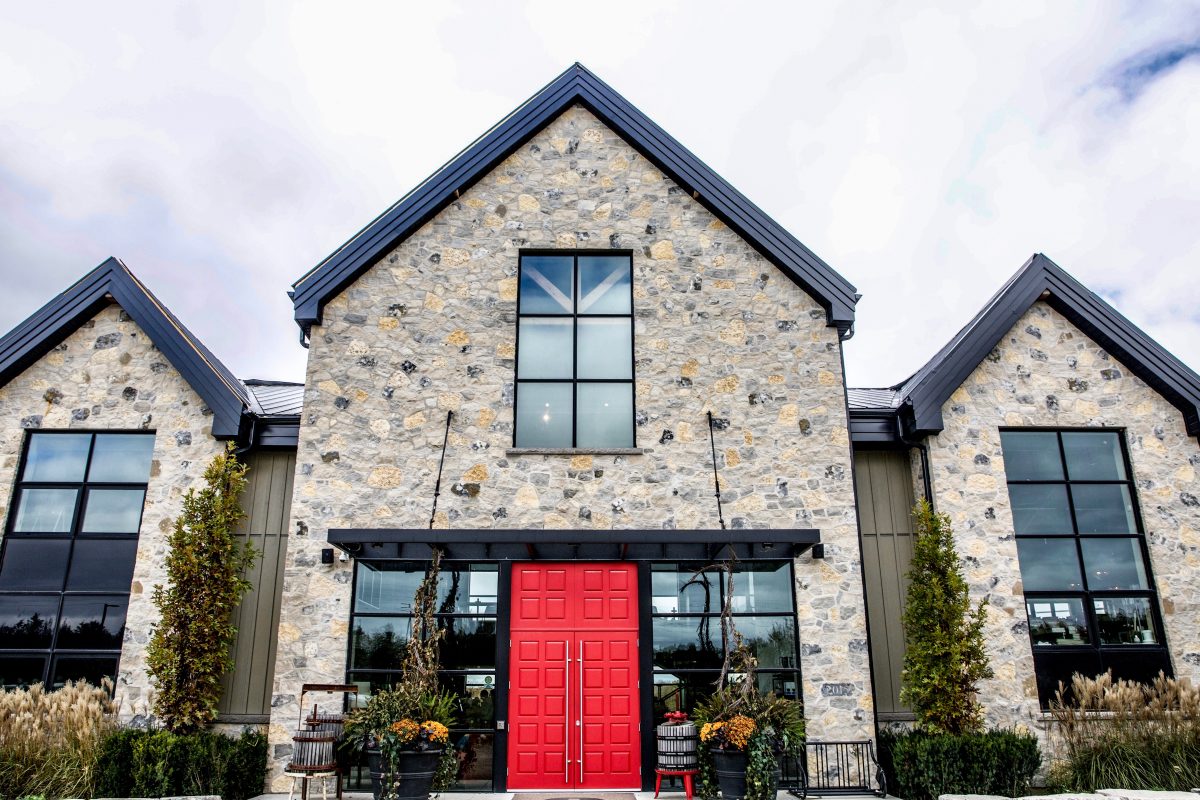 Orangeville
Another short drive from Alton is the city of Orangeville. Orangeville has a charming little historic centre, with a renowned theatre and excellent bars and restaurants. If you're interested in tasty cheeses, Fromage Orangeville is definitely worth a stop.
While you're in the area of Orangeville, be sure to visit Adamo Estate Winery for a tasting.
If you plan on spending a little extra time in the area, you can head to Hockley Valley Cabin restaurant, or stay overnight at their resort.
If you visit the region in winter, Hockley Valley made our list for the 10 Best Resorts for Downhill Skiing in Ontario.
Elora
On this road trip from Toronto. you're going to spend longer getting to Elora from Orangeville. Elora is known for the beautiful Elora Gorge.
It's also home to the Elora Centre for the Arts. Similar to Alton Mills, it's a space where artists can share their work with the community. Be sure to stop by Elora Brewing Company.
You have to take a tube along the Grand River if you visit Elora in the warmer months. This tubing experience is a well-known one in Ontario, and for a good reason.
Stratford
The final stop on this road trip from Toronto is an hour from Elora.
Stratford is a charming small town. It's known for its world-renowned Stratford Festival. Each year, theatre professionals from around the world come to act, direct and create for its stages.
In addition to its famous festival, Stratford is very picturesque. It's set on the scenic Avon River and Lake Victoria. You can typically find small groups of swans on its waters.
There are some beautiful gardens and outdoor spaces to explore in Stratford. There are also some charming cafes, restaurants and shops. Be sure to see about staying at a local bed and breakfast when you go.
If you want to extend this road trip from Toronto, from Stratford, you can head south to connect with the end of Trip #5, and then loop back to Toronto from there.
Road Trip from Toronto #5: Westward to Norfolk County
Recommended Length: 4-6 Days
Round-trip Distance from Toronto: 370km
This is another one of the short road trips from Toronto. It takes you southwest of the city.
Hamilton
Start by driving just under an hour (depending on traffic) to the city of Hamilton. It has a history of being an industrial hub on the shores of Lake Ontario. However, in today's time, it's more notable for its many historic brick buildings and Victorian houses.
In addition to some fantastic restaurants such as Earth to Table Bread Bard and tasty cafes like Brown Dog Coffee Shoppe, there are great places to stop here.
Before pressing on to Norfolk County, there's good hiking here, and the region is known for its waterfalls. Head to Albion Falls, Webster's Falls or Bronte Creek Provincial Park.
Norfolk County
Next, head to the charming Norfolk County. It's home to some amazing farms, restaurants, breweries and wineries and outdoor experiences.
Port Dover
Port Dover is a small and intimate beach town. It's a breath of fresh air on the shores of Lake Erie.
You can stay for a day by the beach or just stop for lunch and some ice cream while taking in the sandy views.
Instantly, when you visit Port Dover you feel away from it all. Top your visit off by seeing a show at the Lighthouse Festival Theatre or the Port Dover Harbour Museum.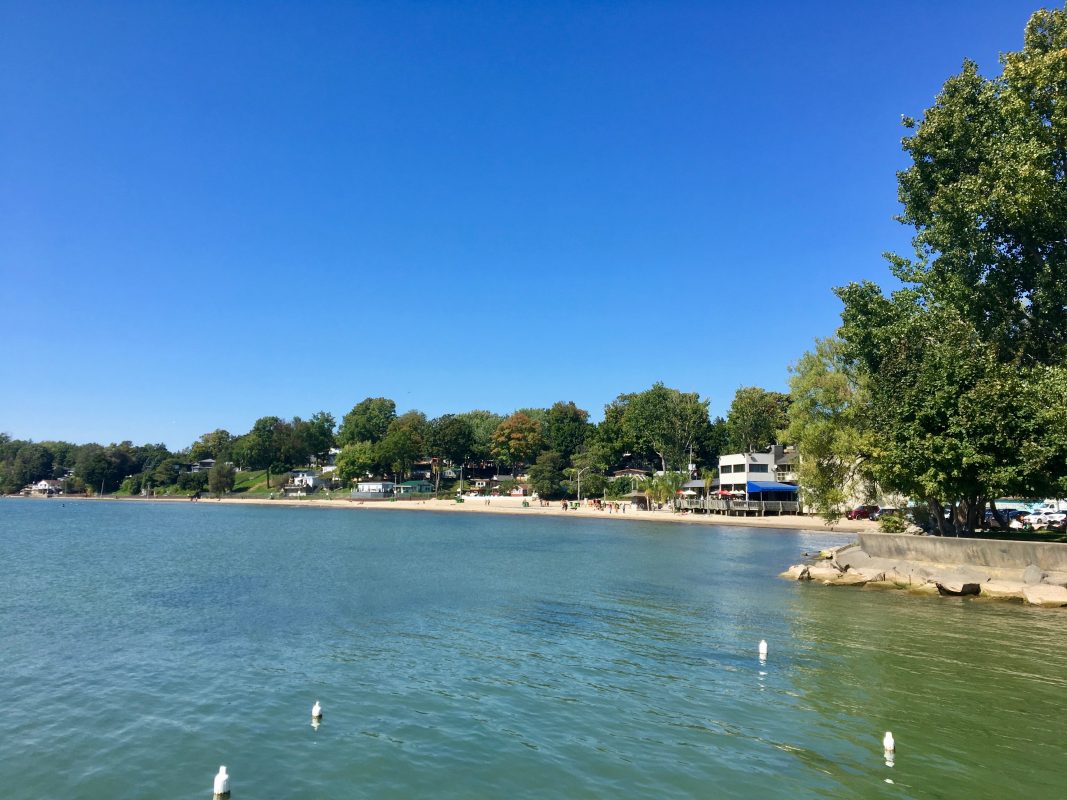 Simcoe
Simcoe is the largest town in Norfolk County, however, its centre is still very small and charming.
The historic centre of Simcoe has some excellent places to stop for a bite. Joy Bakery Cafe has delicious coffees, lattes, and baked goods if you're looking for a quick snack.
If you're in town with time for a sit-down meal, The Combine restaurant is an great choice. Come for the historic charm of this old home which has been converted into a restaurant, but stay for the tasty food.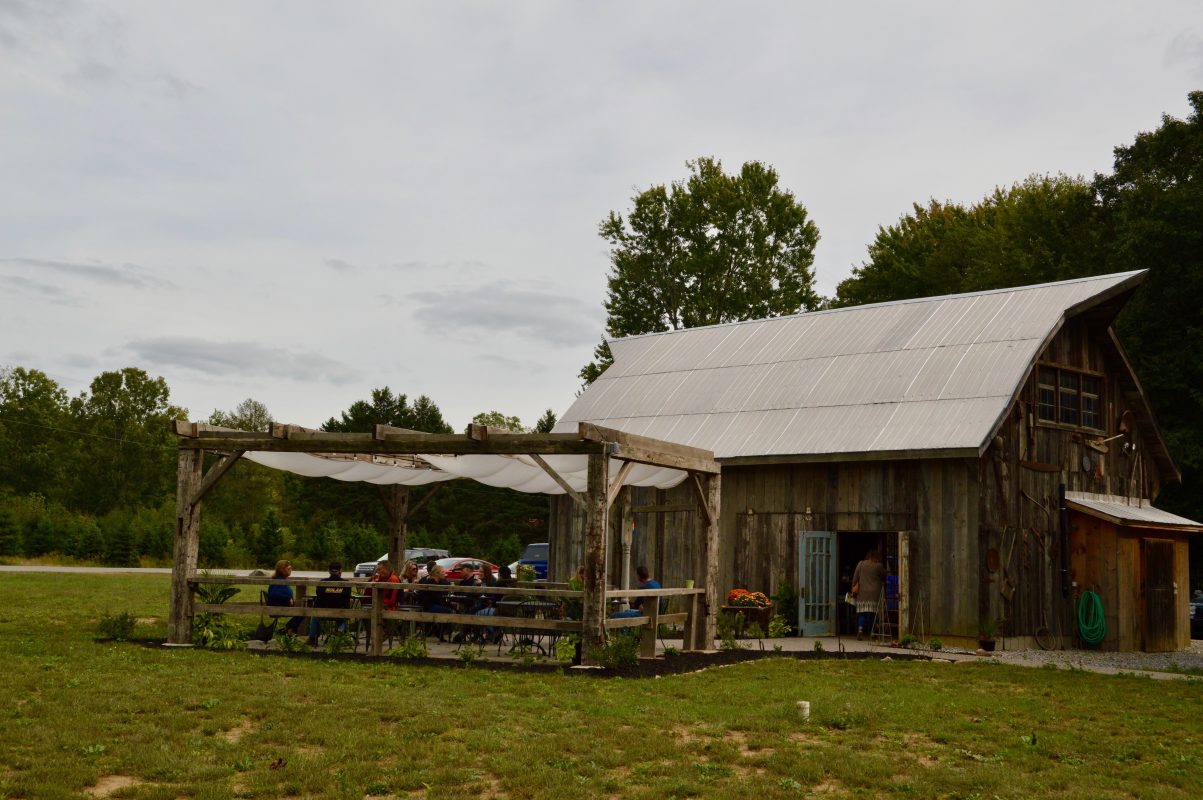 Turkey Point & Long Point
On your drive to Turkey Point from Simcoe, be sure to detour and check out Charlotteville Brewing Company. It's a beautiful and rustic spot, with lovely owners and a great outdoor patio if the weather permits.
Turkey Point is home to Turkey Point Provincial Park and the small coastal town of Turkey Point. There's a lovely beach on this quiet little slice of land on Lake Erie.
In addition to the natural beauty of Turkey Point, the region is also home to some must-visit places to visit such as Burning Kiln Winery and Long Point Eco-Adventures. The two are across the street from one another.
Long Point Eco-Adventures offers many different types of activities including zip-lining, guided foraging hikes and apiary tours. They also offer a great place for people to camp, stay in cabins or use their glamping tents with full electricity.
After your visit, top it off by walking across the street to try some of the award-winning "Kiln Hanger" wine from Burning Kiln.
You can finish this road trip from Toronto by heading back the way you came, or heading north to connect with Stratford at the end of Road Trip #4.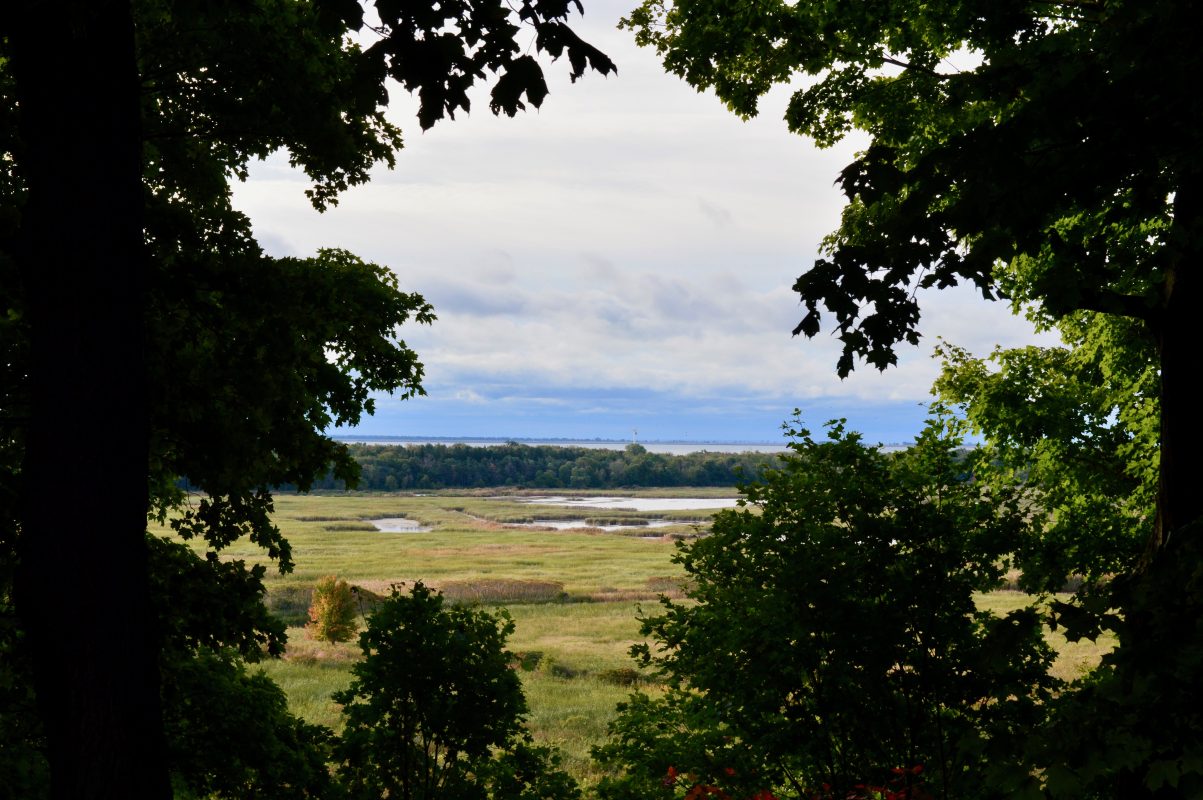 Choosing the Best Road Trips from Toronto
By now you've had a good overview of different options. When you're choosing the road trips from Toronto, consider the length of time and the distance you spent driving.
Even from this list of unique road trips from Toronto, it's amazing to think about how mildly this even begins to scratch the surface of what's available in Ontario.
When you're looking great drives from Toronto, you might want to go even farther or longer. There are so many great options that will take you further in this province, but that will have to wait for another time.
Do you have a list of favourite road trips from Toronto? Swing by our Ultimate Ontario Facebook community and share them with us! Join in the conversation and you're bound to get even more great ideas for travel in Ontario.
Bri was born and raised in Ontario. She spent many years living abroad, but returned to Ontario a few years ago, and is very happy to be back exploring.
She loves writing about travel experiences in our beautiful province, including unique accommodations, memorable meals and adventurous activities.
You can find her canoeing and swimming across Ontario with a craft brew in her hand in the summer, and snowshoeing or curling up with a good book and an Ontarian Pinot Noir in the winter.