Glamping in Ontario lets you experience the wonder of the great outdoors without sacrificing luxury and comfort. Here are our favourite Ontario glamping spots this year.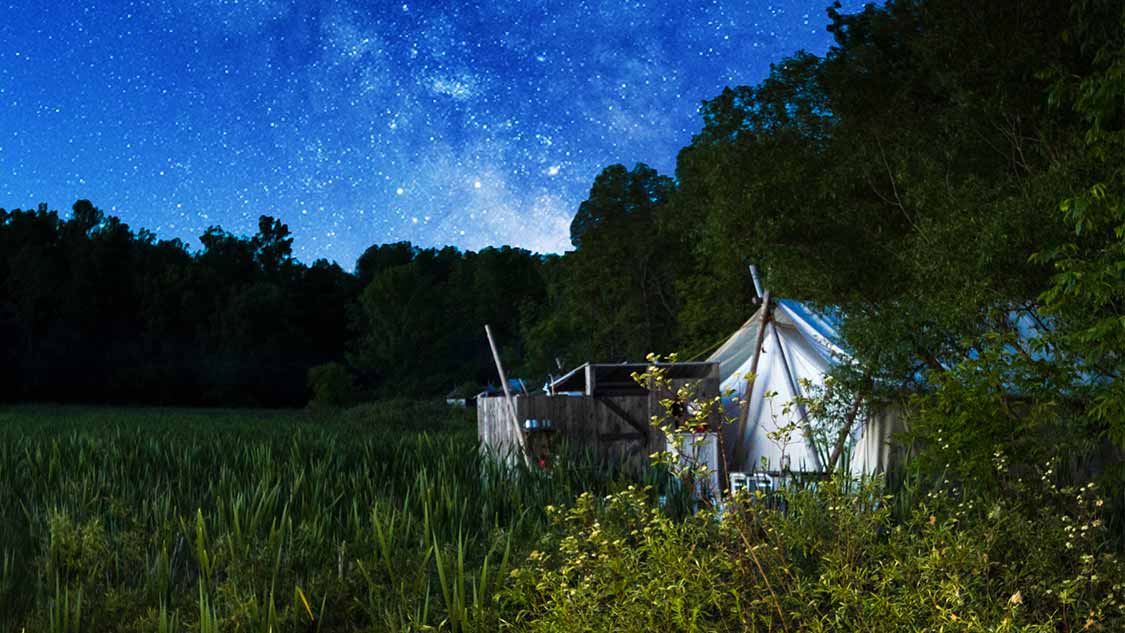 Scenic nature without compromise. Glamping in Ontario offers the best of both worlds. And each year more incredible Ontario glamping experiences are added to the list of unique accommodations in the province. From Windsor to Thunder Bay and beyond, glamping has become one of the hottest accommodation choices for those wanting to get away from it all without the fuss and bother of traditional camping.
What is Ontario Glamping?
For those of you who haven't yet experienced glamping in Ontario, this "glamorous camping" is a hybrid between camping and luxury hotel stays. While far from new, glamping has skyrocketed to popularity thanks to the rustic-chic style that has permeated social channels such as Instagram and TikTok.
And one glimpse at these photos and video and you'll quickly understand why. Picture gorgeous frontier-style tents perched spectacularly next to mirror lakes. These accommodations often come decked out with antique trunks that harken back to the golden days of travel.
The amenities offered at glamping sites vary from location to location and experience to experience. Some offer a pre-set tent with beds such as the yurts and oTENTiks at Ontario's Provincial and National Parks. These provide the glamping accommodations but leave the food prep and set up to the users. Other glampsites come kitted out with everything you might need including pillowtop mattresses, outdoor kitchens, tent-side food services, and more.
The truth is, that everyone's idea of "luxury camping" in Ontario is a little different. And finding the best glamping in Ontario for you really comes down to where your expectations lie. Your glamour, might not be the same as someone else. But these incredible Ontario glamping locations are bound to have something that fits your personal luxury to a tee.
So if you're looking for the best of glamping spots in Ontario, hang on to your hats. We have it all laid out for you right here.
The Best Glamping In Ontario
Hide Away Hills in Vittoria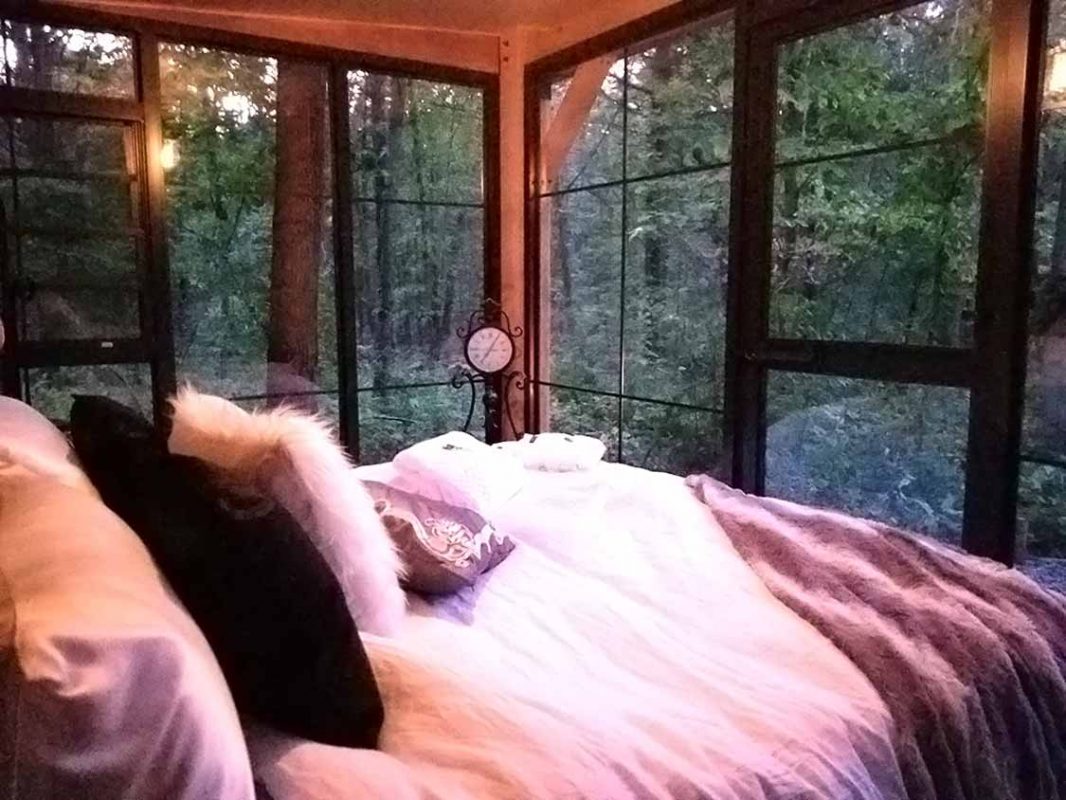 Launched in October 2019, Hide Away Hills in Norfolk County is one of the news glamping locations in Ontario. This secluded retreat, located across from Turkey Point Provincial Park, is nestled within the glorious Long Point UNESCO World Biosphere Reserve.
The glamping cabins at Hide Away Hills offer chic luxury amidst 40,000 acres of Carolinian forest. The large deck overlooking the wilderness offers a prime spot to connect with nature. This prime location also offers easy access to Turkey Point Provincial Park and the wide sands of Turkey Point Beach. And don't forget about the fantastic Norfolk county wineries that are starting to get noticed.
The accommodations offer 2,000 sq ft of living space that includes a sitting room, bathroom, bedroom, outdoor shower, and an outdoor deck. The chic glamping site offers 2000 sq ft of space, which includes a sitting room, bathroom, bedroom, couples outdoor shower, dining room, and spacious outdoor deck. And unlike many glamping locations in Ontario, you aren't left without a few modern conveniences. These include a 52″ flat screen tv.
Visitors to Interested in learning more about Hide Away Hills can find information on their website.
Bartlett Lodge in Algonquin Park
There are few better places to commune with nature in Ontario than in the world-famous Algonquin Provincial Park. And nestled within the borders of this massive nature preserve amidst the wondrous hiking, canoeing, and wildlife opportunities is Bartlett Lodge.
Visitors to this Algonguin glamping experience are close enough to hear a wolf pant or a tree whisper. The rustic-chic platformed tents include a king-sized bed decked out with hypo-allergenic pillows and cedar-lined outdoor showers that offer the perfect chance to tune in to the outdoors. There are also battery-operated lamps, towel and bedding services, and a deluxe breakfast available in the Lodge Dining Room.
There is simply no better way to explore Algonquin Provincial Park in style than Bartlett Lodge. You can find out more here.
Fronterra Farms in Prince Edward County
Prince Edward County is one of the most spectacular and unique places in Ontario. Whether you're in the area exploring the magical Prince Edward County wineries, or perhaps it's all of the PEC breweries that drew you there, this special area of Ontario is a must for anyone looking for a summer escape.
There are several amazing places for glamping in Prince Edward County, but few have the perfect combination of luxury and location as Fronterra Farm in Consecon. This 58-acre heritage waterfront farm is steeped in history. Settled in the 1800s by a sheep farmer and once owned by the winner of the 1900 World Agricultural Fair "Best Malting Barley" category, Fronterra has beer in its blood. And owner Jens Burgen is re-discovering those routes as he works to create the region's first organic brewery.
The woodland camps sit near the edge of West Lake across from North Beach Provincial Park, which we've listed as one of the best beaches in Ontario. Each one of the 12 frontier-style tents includes an outdoor kitchen, private bathroom, and outdoor shower. The interiors are decked out with luxury bedding, and a fire pit.
If you'd like to stay at Fronterra Farms, you can book your stay here.
Long Point Eco-Adventures in St. Williams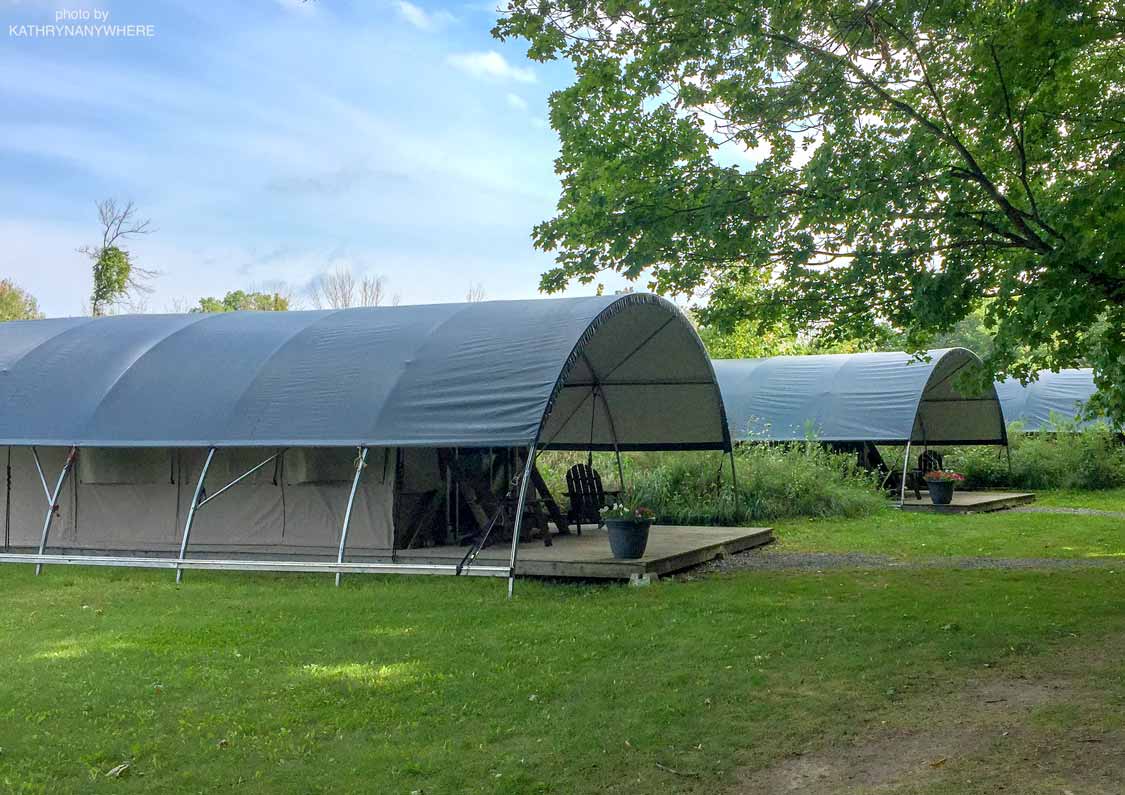 Another popular Norfolk County glamping experience in Ontario is the popular Long Point Eco-Adventures. What makes Long Point stand out isn't just their wonderful glamping tents and pods, but that Long Point is a veritable outdoor playground ripe with incredible adventure activities.
The campgrounds here aren't secluded, or even particularly private. They offer choices between king beds or two queens and include on-site bathrooms. However, visitors here will never get bored with the incredible list of activities on offer. There are zip-lines, axe-throwing, canoeing, fishing, and more.
Long Point may not be a dark-sky preserve, but they are very conscious of light pollution, making them a great place for stargazing in Ontario. It's also right across the street from Burning Kiln Winery, which is helped push Norfolk County into one of the up-and-coming wine regions of Ontario.
If you're interested in booking a few nights at Long Point Eco Adventures, you can book your stay here.
Nature's Harmony Eco-Lodge in Mattawa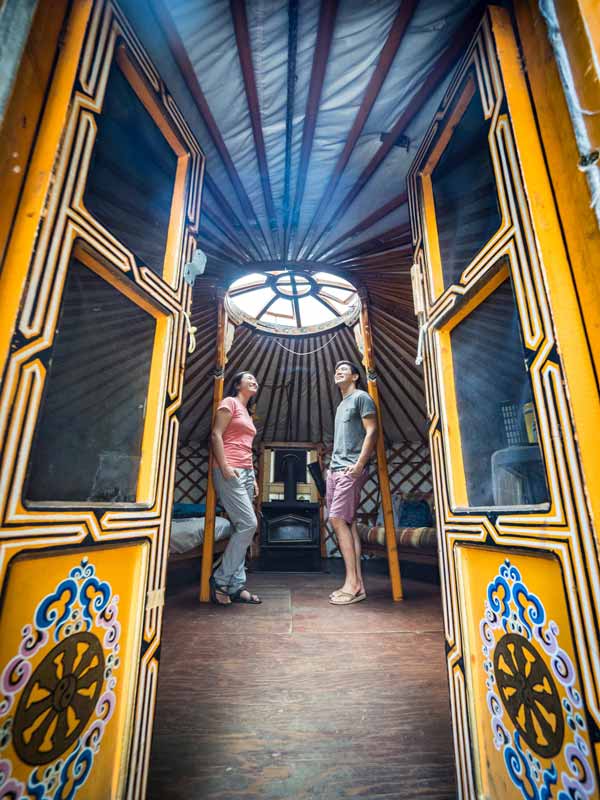 Offering a wide range of Ontario glamping accommodations in the gorgeous Mattawa Valley, Nature's Harmony Ecolodge is a wonderful place to enjoy the Laurentian Mountains.
Although they have cabins and cottages on offer, it is their Mongolian yurts and Pacific yurts that draw the most attention. Each is equipped with a wood stove, double bed, and futon. They have large decks that include a BBQ, a composting toilet, and all the comfort for those wanting to relax amidst the stunning surroundings. The lodge also has eco-showers that are located close to the main lodge.
You can find out more about Nature's Harmony on their website.
Outpost Co. Luxury Camping in Temagami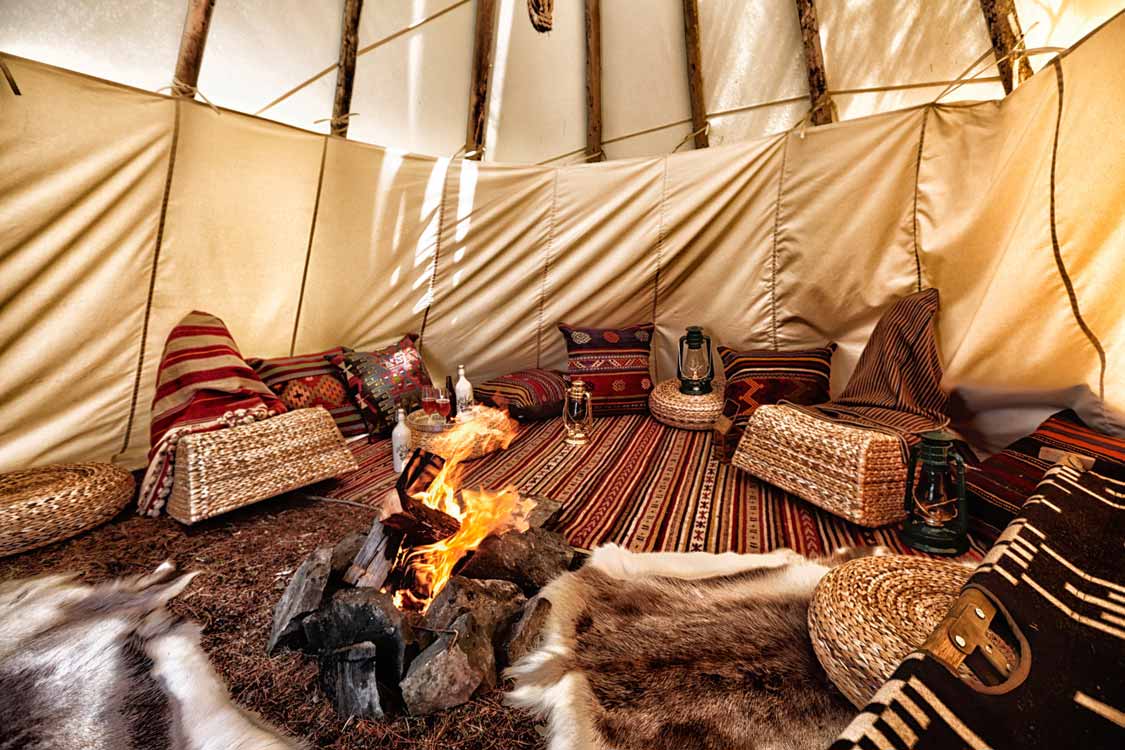 Tucked away on the north shores of Georgian Bay, Outpost Co. is rooted in the traditions of Canada's First Peoples. If you're looking for a remote experience away from the crowds where you'll be wrapped in nature, this Ontario glamping experience ticks every box.
You won't find WiFi or electricity at Outpost Co. The best recharge here is for your soul. The luxury tents on wood platforms and portable bell tents are equipped with Egyptian cotton sheets lain on beds made of 250-year-old reclaimed white oak. Each tent is laden with comfortable lounging spots for the ultimate stress relief.
The experience includes masterful food catered by one of Toronto's top restaurants, canoeing and hiking in the endless wilderness, and everything you need to re-connect with nature and yourself.
You can connect with Outpost Co. on their website.
Wild Exodus in Timmins
Known for its upscale outdoor tour packages, Wild Exodus also offers some of the best glamping in Ontario. This Timmins outfitter brings visitors on tours to explore the magical wilderness of Ontario's Boreal forest by water and land including their "trapper for a day" experience and pontoon cruising on Kenogamissi Lake.
This Ontario glamping accommodation serves up locally sourced meals, has comfortable, luxury accommodations, and will leave visitors with a deeper understanding of Canada's spectacular wilderness and the human impact on its footprint.
You can connect with Wild Exodus here.
Alabaster Acres in Caledon
Just 45-minutes north of Toronto in Caledon is the scenic Alabaster Acres. This small but cozy Ontario glamping experience was designed as a quiet escape for city dwellers and includes three large frontier-style tents decked out with all the comforts of a luxury retreat without the crowds.
The tents are equipped with leather couches, chairs, and coffee tables and all include a wood-burning stove in case it's a cool night. The supple king-sized beds will keep you rested while the small fridge and barbecue ensure that you can stay well-fed. Each campsite also includes a hammock and fire pit.
At the "glampground" you'll find a mini-library, bathing facilities including an outdoor shower and a claw-foot tub with a meadow view. In the nearby fields, large Clydesdale horses roam around enjoying a meal on the long grass.
You can connect with Alabaster Acres here.
Whispering Springs Wilderness Retreat in Colborne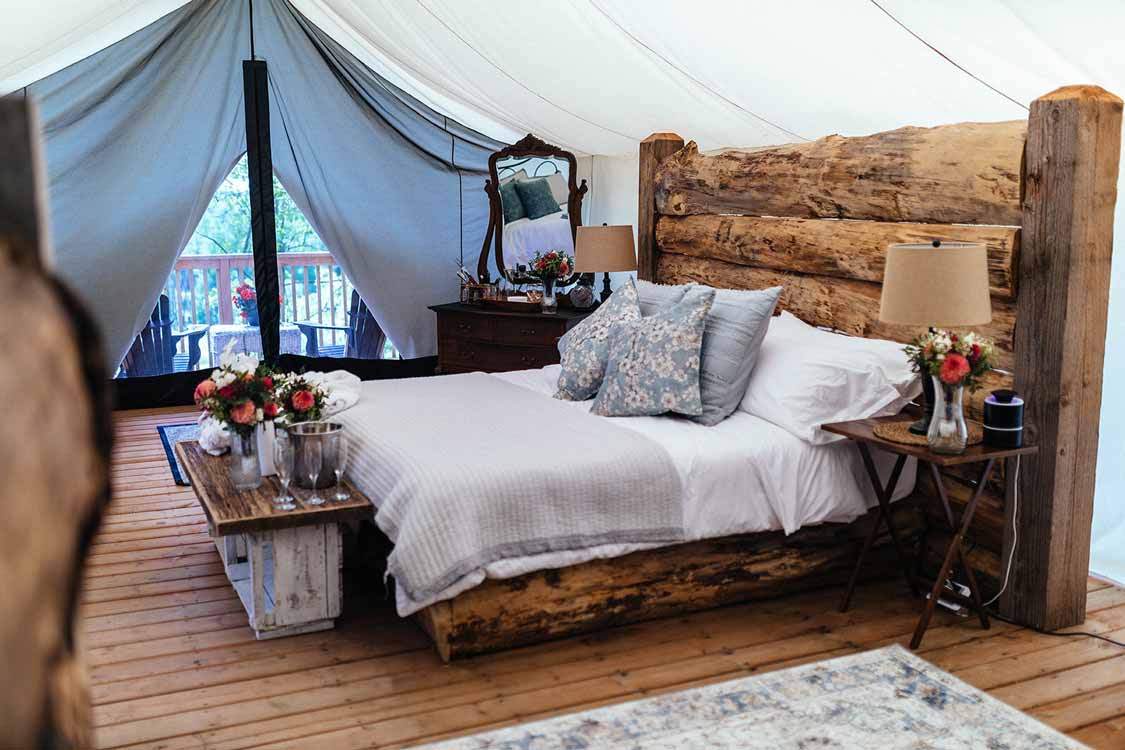 Located on 200 acres of pristine wilderness in the heart of Northumberland County, Whispering Springs has established itself as one of the best places for glamping in Ontario. This retreat is designed as a space where guests can slow down and reconnect with family, friends, and the outdoors. The location is a popular spot for weddings and events, but its true elegance is as a nature retreat.
Whispering Pines offers a nice combination of safari tents, bell tents, and cabins. You'll find private decks for relaxing, BBQs, King or Queen sized beds, washrooms, fans, coffee makers, electricity, and more to help make your stay comfortable. There are even electric blankets available for those chilly nights.
Visitors can also take advantage of the spa and wellness centre, lounge and bar, and saltwater pool and hot tub. Interested in finding out more? Check out their website.
The Buffalo Farm in Calvin
Offering the chance to camp amongst a herd of buffalo, the aptly named Buffalo Farm in Calvin near North Bay is an Ontario luxury camping experience to remember. With a selection of yurts, tipis, prospector tents, and cabins, there are accommodations here for every group size.
The yurt, tipi, and prospector tents all offer off-the-grid living that includes composting toilets but has running water or showers. The tiny home has electricity, showers, and a full kitchen. This wonderful spot offers a "close to camping" experience where most days are spent outside enjoying the wilderness via hikes and canoe rides or on-site with the cooking and candle-making workshops.
You can connect with The Buffalo Farm on their website.
Now It's Time to Experience Glamping in Ontario For Yourself!
There incredible luxury camping experiences throughout Ontario. While they vary in style, they all have nature at their heart. Whether you're looking to head north or south, or just have a wonderful Ontario staycation, you'll be well taken care of.
Many of these businesses and restaurants are anxious for visitors after a tough year. So let's support local and make the most of your Ontario glamping experience.
Do you have a favourite attraction or restaurant in Ontario? Head over to the Ultimate Ontario Facebook Community and join the conversation! You'll find an amazing group of people passionate about Ontario and who love to share their local secrets.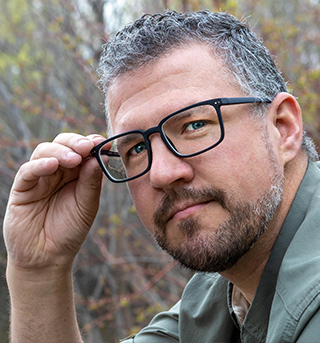 Kevin Wagar is a founder and editor of Ultimate Ontario. He has been working in the travel media industry since 2015 when he founded his family travel website Wandering Wagars – Adventure Family Travel.
Over the years Kevin has developed a deep love for his home province of Ontario and aims to showcase the incredible experiences and amazing small businesses found within it.