With ample outdoor space, a storied history, and one of the most vibrant main streets in the province, Belleville, Ontario is an underrated Ontario city well worth exploring.
---
As a former student of Queen's University, I made countless trips from Toronto to Kingston, and for far too long, Belleville was simply a sign that I passed on the highway as I was going to and fro. Admittedly, for many years I was excited about gallivanting the globe, and exploring all the places that were totally unfamiliar to me, often at the expense of worthwhile places to visit that had been near me all along.
Of course, all that changed when I moved back to Ontario in 2017, after spending three years teaching in Istanbul, Turkey. I fell back in love with this province and, shortly thereafter, Kev and I started Ultimate Ontario. The rest, as they say, is history. I often think of the Trudeau quote that, "you have to leave your homeland to be able to thank God for having one in the first place."
I believe my partner Bri and I carry that attitude with us when we're exploring this province, and I know we felt that way when we recently were able to visit Belleville, Ontario. We discovered that there are plenty of things to do in Belleville, Ontario that make Belleville a city well worth the visit.
In this article, I'll share my top tips on what to do in Belleville, so that you can make that you make the most of your next visit.
About Belleville, Ontario
You'll find Belleville situated on the eastern end of Lake Ontario, right at the mouth of the Moira River, and on the Bay of Quinte. Belleville is the largest city in the Bay of Quinte region, and located roughly in the centre of the region.
Belleville has a lengthy history, as it was incorporated as a town all the way back in 1850. Many readers will know that year predates the establishment of the Dominion of Canada. From there, largely due to its status as an important spot on the railway, Belleville continued to grow. The first iron bridge in the region was built here over the Moira River (at aptly named Bridge Street), and Ontario's first school for the deaf was established shortly thereafter. There are many little historical tidbits like that once you start to explore Belleville's history.
Anyway, in 1873, the Town Hall was constructed, and you can't miss it if you're visiting today. I'll talk more about this below, but if you're keen to find it, simply look for the building on Front Street that is constructed in the High Victorian Gothic Style. It's a gorgeous building.
Belleville is situated on the traditional territory of the Wendat, Anishnaaabeg, and Haudenosaunee peoples.
Some Fun Things to do in Belleville, Ontario
There's quite a bit to do in and around Belleville, Ontario. Bri and I personally went for to visit for a weekend, and we found that we were busy doing things we enjoyed pretty much start to finish. In fact, we'll shortly be heading back to Belleville to do even more exploring, since we enjoyed our initial exploration so thoroughly.
I'm going to give some specific recommendations below, but the first thing I'll say is that you should try to find lodging in and around Front Street. With almost 200 shops, restaurants etc. in Belleville's Downtown District, you want to be where the action is, and that's Front Street (and the connected streets). The main strip has been totally revitalized, and it makes it one of the more appetizing downtown strips in the province.
Stroll Around the Historic Old East Hill Neighbourhood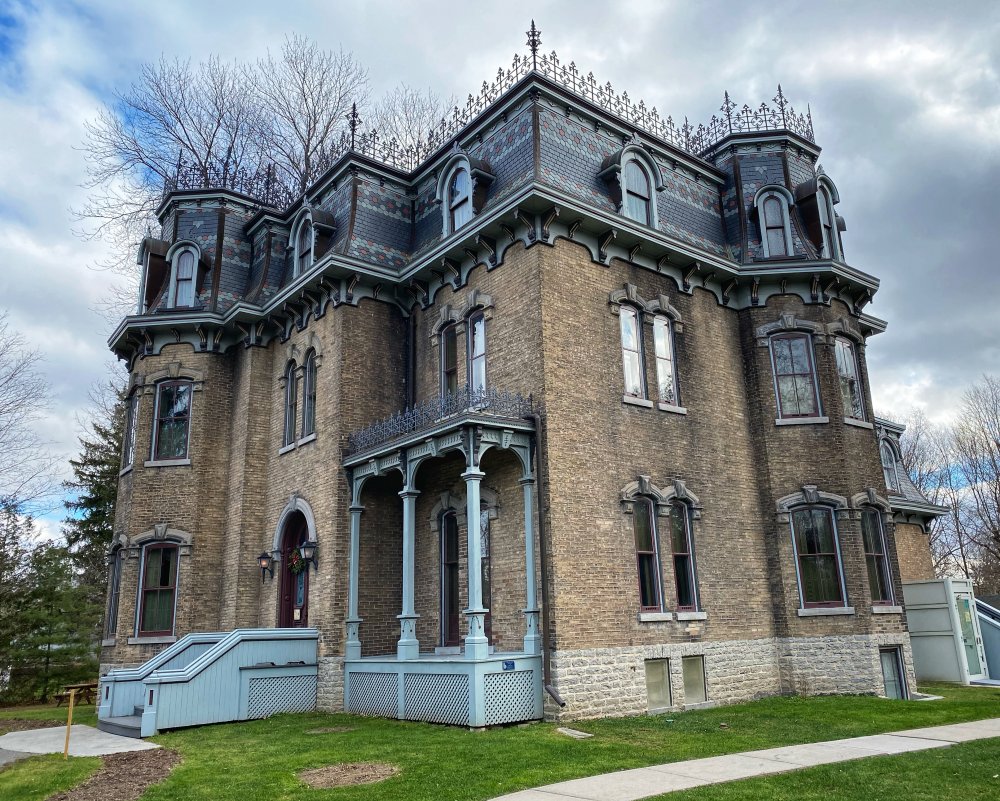 To the east of the Downtown District is the Old East Hill Neighbourhood, and it has to be in the running for one of the prettiest neighbourhoods in the country – and I'm not exaggerating. Think resplendent architecture and exteriors, well manicured gardens with birds chirping, and tree lined streets that extend as far as the eye can see.
I'd recommend wandering down Church Street until you hit Bridge Street and then heading east until you reach the Glanmore National Historic Site. They describe themselves as "Belleville's Community Museum," and they feature artifacts that reflect the history of the city. You can learn more about entry times and tickets here.
After you've taken a picture or two there (or visited) Glanmore, I'd then recommend that you go back to Ann Street, and spend a moment or two in Corby Park. It's also known as the "Corby Park Rose Garden" as you can find roses there in the warmer months. Its most notable feature is likely the stunning water fountain in the centre of it all. That's a nice place to stand to get a full view of the beauty of the park.
If you want to head back into Belleville's downtown core, then go west onto Victoria Street, and you'll run back into Front.
Experience Belleville's Waterfront Trails
There are a number of waterfront trails that I'd recommend for those who have a sincere appreciation for the Ontario outdoors. When you're exploring Belleville, you'll note that there's usually a trail nearby that pedestrians are using to get a little exercise. They've built quite a nice network around the city.
Here are a few that you may want to check out:
The Kiwanis Bayshore Recreational Trail: It's 2.75 kilometres in length, and runs along the north shore of the Bay of Quinte. It's well-lit and paved, and it's part of the Lake Ontario Waterfront Trail. Along the path, you'll encounter the Meyers Pier Marina, as well as a CN train monument which commemorates Bellville's railroad history.
The Parrott Riverfront Recreational Trail is a 1.6 kilometre trail which is also paved and lit. It runs along the banks of the Moira River, and if you're lucky, you'll spot ducks, turtles and even blue herons. This is the trail that skirts right alongside the downtown core, so it gives you easy access to Front Street.
The Riverside Park Recreational Trail: This is the longest trail that I'll mention, coming in at 5.25 kms. It's partially paved, and it passes through Riverside Park, and under Veteran's Memorial Bridge.
The Zwick's Recreational Trail is a double looped, paved and lit trail. It tracks a beautiful section of the Bay of Quinte that's filled with parkland and nature. As Belleville notes on their site, "for those who enjoy a social experience with their dog, visit the Quinte Dog Park at East Zwick's Park – a three acre fenced park for your four legged friends." Whether you do the full route or not, Zwick's Centennial Park (often just called Zwick's Park) is a spot that's worth spending a little time, especially in the warmer months.
Head to Signal Brewing Company
I've got a lot of time for Signal Brewing Company.
A whisky plant in Corbyville closed its doors in 1991, and 25 years later, Signal Brewing Company picked up the baton, restored the old buildings, and proceeded to open a craft brewery, restaurant and event venue.
For reference, it's about a ten to fifteen minute drive from Belleville's Downtown District. Its location right on the river makes for some mighty fine patio beers and photos. However, I'd argue that the views of the interior are equally cool. When we visited, we took the time to dine there as well, and we found the food to be excellent. They've got a menu that changes daily, and there's typically something on there that's coming fresh of the BBQ.
As far as beers are concerned, they've got a little something for everyone. I was a fan of their Wave, a 6.1% ABV New England pale ale that had a complex mixture of hops as its backbone. The FireWire, brewed with Citra hops, was also a winner. I'm not a big sour guy, but I know that Bri thought their sours were top-notch, and she also liked their Gamma Ray stout.
All their beer had a certain quality to it, so I'd honestly just recommend getting a flight based on your palette, and then seeing what you particularly enjoy, and then ordering a pint of that.
Do a Little Shopping on Front Street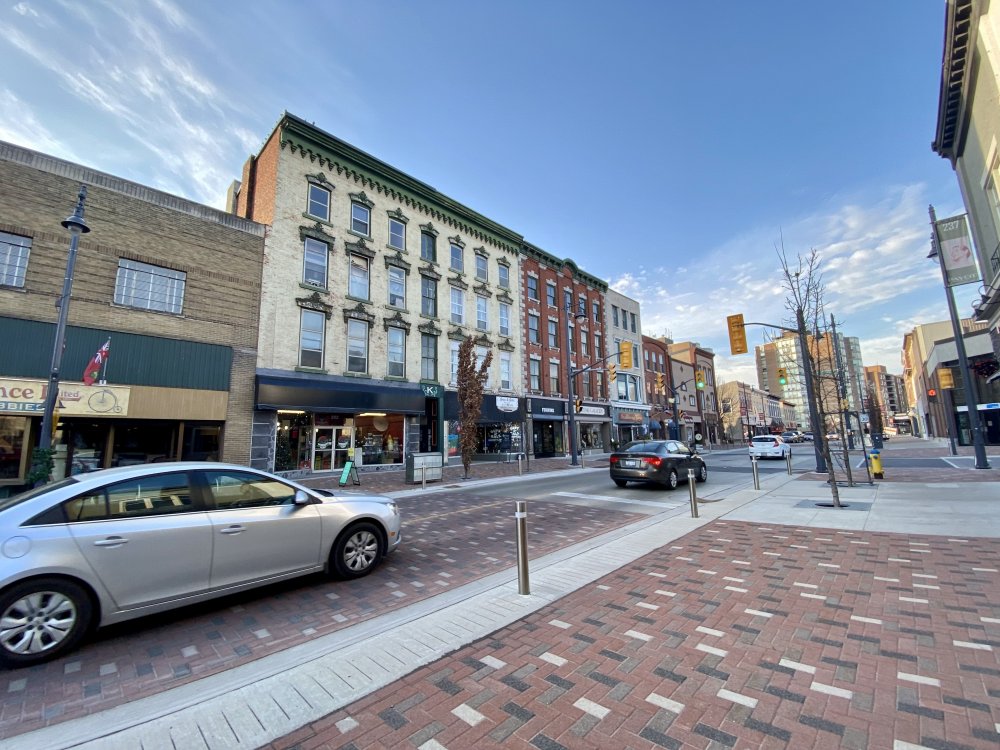 Bri and I had a ball hoofing it up and down Front Street, peering in and out of store windows, and entering when we saw something that caught our eye.
I particularly liked Park Provisioners Barbershop & Haberdashery. I got a stylish yet outdoorsy rain coat there that I wear all the time now, and I also bought a drink at the bar and got my haircut while visiting. I mean, what more can you ask for?
Similarly, it was also love at first sight for Bri at Pure Honey Boutique, where the owner, Jessica, clearly has an eye on tasteful trends. The space, as well, had a lovely ambiance.
I would strongly recommend just walking up and down Front Street and seeing what catches your eye. Other spots that you might want to consider include:
Thomas Estevez Design: A unique jeweller which is more like gallery than a classic jewlery store. Creative and artistic.
Boretski Gallery: A vintage clothing shop with some spunk.
Kate's Kitchen: Homeware and decor, also featuring some gluten free baked goods.
Laferty's Crossing: A menswear shop that's been around for more than 50 years!
Funk & Gruven A to Z: Antique furniture, and a fun place to walk around and see what you stumble across. (Note, this is actually on nearby Bridge Street, but I wanted to include it here nonetheless.)
Obi's Kitchen: A gourmet grocery store that does things a little differently.
Appreciate Belleville City Hall
As I mentioned above, Belleville City Hall was built in 1873, so quite a ways back now (and, for reference, it's the building featured at the top of the article). It was originally built as a town hall and market, but became the city hall in 1877 when Belleville was formerly declared a city. Nowadays, it's home to Belleville City Council, and you'll find it located towards the bottom of Front Street (Between Macannay and Market).
In my humble opinion, it's the most striking building in the city, and that's largely to do the fact that it's built with a combination of limestone and red brick that really pops, and makes for a great photo.
Attend a Festival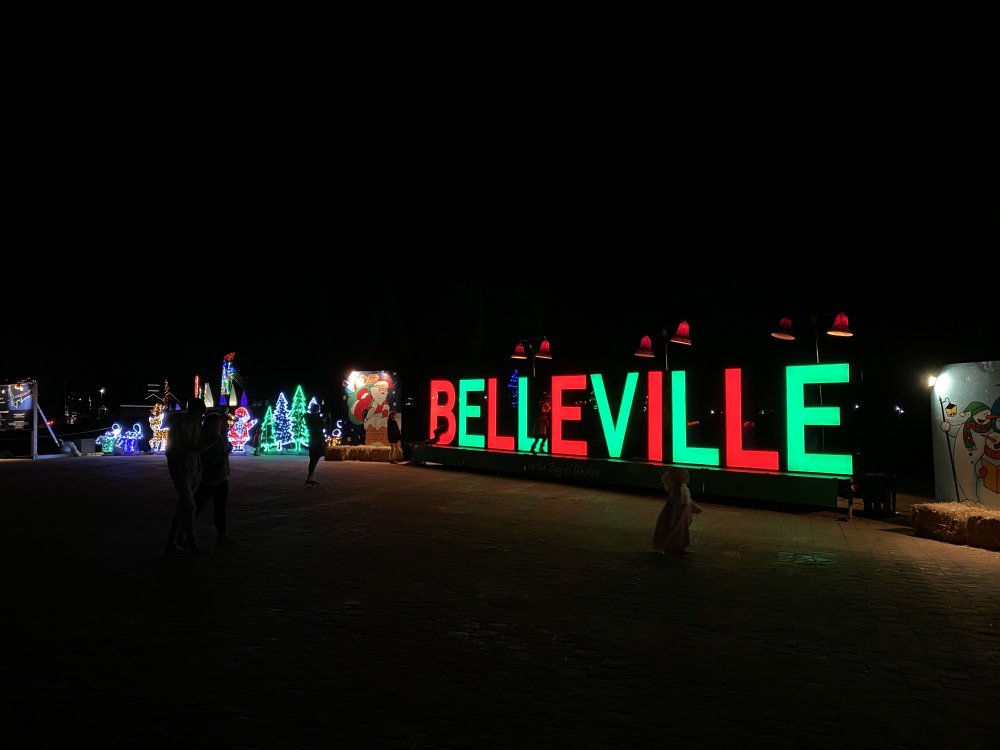 The last time that Bri and I visited Belleville, a large part of the reason that we went was because of their famed Festival of Lights, which runs from from late November all the way through December. It's an unofficial kickoff to the holiday season that thousands of people from across the province come to appreciate. I know that Bri and I really felt like the holiday spirit was alive in the city and surrounding area because of the Festival of Lights.
From May through the summer, Belleville is typically a hotbed for festivals, and has become well known for its [email protected] event, the Waterfront and Ethnic Festial, and Summerfest. In the fall, you've got Flavours of Fall, and most notably Porchfest, which is a neighbourhood celebration of music.
You can find full details about Belleville's festivals here.
Enjoy Belleville's Restaurant Scene
There are some sports that I visit in Ontario (like London or Gananoque etc.) where it quickly becomes clear that the restaurant scene there is criminally underrated, and I'd also put Belleville in that category.
For breakfast, absolutely do not miss L'Auberge de France. Their freshly baked croissants are otherworldly, and both Bri and I had a breakfast croissant that had egg, bacon, and some other heavenly ingredients. Seriously, I still dream about those croissants. I also tried their quiche while I was there and was very impressed. It's the perfect place to get a bite and a coffee early in the morning, and then watch the city come alive, since it's right on Front Street. Go early on Saturdays, by the way, as they're known to run out of croissants!
For lunch, our top recommendation would be Toro Sushi. Bri and I spent about 15 months living in Asia a little while back, so I'd like to think we know our Asian cuisine, and we were thought it was excellent. They do justice to both Japanese and Korean cuisine here, and it's great value for the quality and quantity of food on offer.
For dinner, our can't miss Belleville restaurant would have to be Capers. They've got an inventive menu, a lengthy local craft beer list, and a really nice indoor ambiance that is often amplified by live music. If it's on the menu that night, I wouldn't sleep on the Capers Smash Burger, which has bacon, onion, cheddar cheese, dill pickle, lettuce, and Russian dressing all on a fresh brioche bun.
That's far from the only restaurants in Belleville worth visiting, though. Other spots you might want to consider include:
The Lark: If you're looking for award-winning cocktails, then look no further. Their food menu is all about being a little different, and with an emphasis on creativity. That being said, they do put their own twist on some classics with great results. Take, for example, their Brown Butter Gnocchi, which features just the right blend of ricotta, sun-dried tomato, spinach, and parmesan.
Paulo's/Dinkels: We haven't had a chance to visit this famed Belleville restaurant duo, but I want to add it in here because it's a downtown staple. Paulo's is all about authentic wood fired pizza, and Dinkel's is all about a more fine dining experience.
Chilangos Mexican Restaurant: Authentic Mexican cuisine in the heart of Belleville. The focus here is on a homemade style of cuisine that will make you feel like you took a quick flight south.
And That's Your Quick Hitting Belleville, Ontario Itinerary
As with many other of our Ontario city guides, this is meant to give you a starting place to explore a city that you may not know in more depth. As I mentioned above, Bri and I are actually headed back to Belleville shortly, so we're excited to create some more content on Ultimate Ontario (as well as travelingmitch), and continue to put eyes on the sights, experiences, and businesses that make Belleville well worth the visit.
It's a city that has a lot going on, and I'm excited to see how this city continues to grow in the world of Ontario tourism, and how it continues to spread its wings!
---
If you've visited Belleville before, feel free to let us know your favourite spots below, or in our Facebook Group! If you're keen to learn more about how best to explore Ontario, you should also sign up for our fast growing newsletter!
Christopher Mitchell is the Cofounder of Ultimate Ontario. He's visited over 80 countries, and has lived on 4 continents, but now has his eyes set squarely on exploring this incredible province, and helping others do the same.