Ontario is a province best experienced on the road. Discover the best drives in Ontario from the far north to the deep south.
Ontario is blessed with some of the most gorgeous drives in Canada. I have driven through Ontario from top to bottom on countless occasions. And I'm constantly left in awe over just how incredible some of the most beautiful drives in Ontario are.
The landscape in this province ranges from the dramatic rockiness of the Canadian Shield to the sparkling lakes of the Muskoka region, and even sub-tropical fern-filled landscapes in the region of Windsor-Essex.
The most spectacular Ontario drives don't just pass through romantic regions such as Niagara-on-the-Lake. Some of these Ontario road trips passed through seldom-seen landscapes in Northern Ontario.
But no matter where you live or are visiting in Ontario, you'll find some of the best drives in Ontario nearby. So fill up the gas tank and pack your snacks. Because these are the most beautiful drives in Ontario.
Incredible Scenic Drives In Ontario
Ontario is vast and beautiful. And with over 650,000 kilometres of roadway snaking through the province, you'll find it all.
Whether you're pairing your drive with some of the province's incredible wineries or looking to get physical on the province's most beautiful hikes, here are some of the best drives in Ontario.
I know that I won't be able to get everyone's favourite Ontario drives into this article, so if I missed one, drop a comment below to tell us your favourite Ontario road trip. Or, swing by the Ultimate Ontario Facebook community and share a photo of your trip. The Ultimate Ontario community is awesome and we would love to hear your ideas.
From Waterfalls To Vineyards On The Niagara Parkway From Niagara Falls To Niagara-On-The-Lake
The Niagara Parkway has everything you want for an Ontario road trip. This drive isn't a long one. But what it lacks in distance, it makes up for with a combination of history, flavours, and incredible views.
The Niagara Parkway can be done in about 30-minutes. But that's only if you want to do the drive itself. If you want to really experience one of the best Ontario drives, you'll want to give yourself between 2-4 hours, plus anything that you want to do in Niagara Falls.
Along the Niagara the Niagara Parkway you'll experience historic sites such as the monument to Isaac Brock and the historic homestead of Canadian hero Laura Secord.
You'll also encounter some of the most incredible scenery in the province. This, of course, starts with the legendary Niagara Falls. But as you continue on this road trip through southern Ontario you'll also take in some of the most beautiful views of the Niagara River.
If you'd like to take a tour while you're in Niagara Falls, we'd highly recommend booking this helicopter tour while you're there. But if you prefer staying closer to sea level, booking this jet boat tour is an excellent way to see the beauty of the Niagara River from the water.
As the Niagara Parkway makes its way closer to Niagara-on-the-Lake, the escarpment views change from towering cliff faces to the agricultural beauty of Niagara wine country. Along the way, you can stop for some tasty bites at one of the many roadside produce stands.
Distance: 24.1 km
Driving Time: 20 minutes
Recommended Time: 2-4 hours
Experience Ontario's Rich History Along The Loyalist Highway And Highway 2 From Picton To Kingston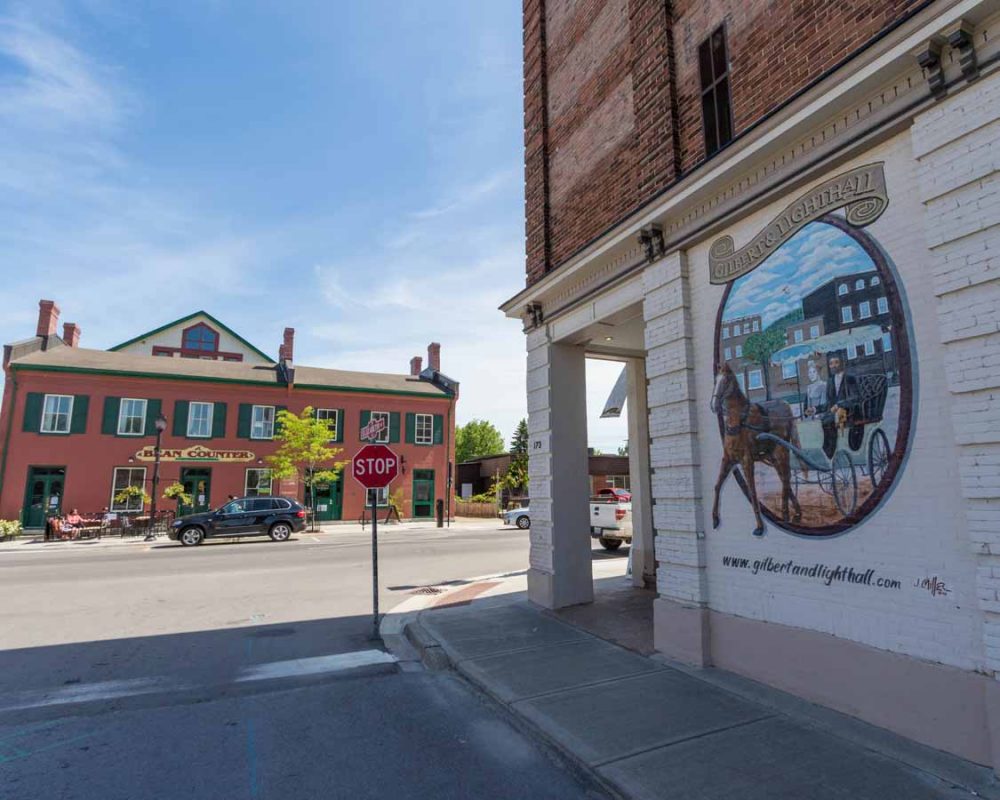 Another one of Ontario's most beautiful drives is the Loyalist Parkway that stretches the shores of Lake Ontario. This gorgeous Lake Ontario road trip begins in the quaint Prince Edward County town of Picton.
After winding through northern Prince Edward County cheese country, road trippers will take a scenic trip on the Glenora Ferry across Lake Ontario waters before continuing along the Loyalist Parkway towards Kingston.
Along the mainland shores, you'll experience some of Ontario's most historic towns. Some towns, like Bath, Ontario, were settled by the United Empire Loyalists as far back as 1784. Make sure you stop at The Lodge Coffee House in Bath. Along with the blue waters of Lake Ontario, you'll find majestic colonial homes, small-town diners, and some of the most gorgeous properties in the province.
As the drive pulls through the historic city of Kingston, you'll find an incredible selection of restaurants. There's everything from great local pubs to high-end fare. If you're thinking of breaking up your Loyalist Parkway/HWY2 Ontario drive into two days, Kingston also offers a wonderful place to stop for the night.
You can also combine your visit to Kingston with incredible sites such as historic Fort Henry, the Kingston Penitentiary, and Kingston's incredible waterfront.
Distance: 87.1 km
Driving Time: 60 minutes
Recommended Time: 3-5 hours
Wildlife And Landscapes On The Highway 60 Corridor Through Algonquin Park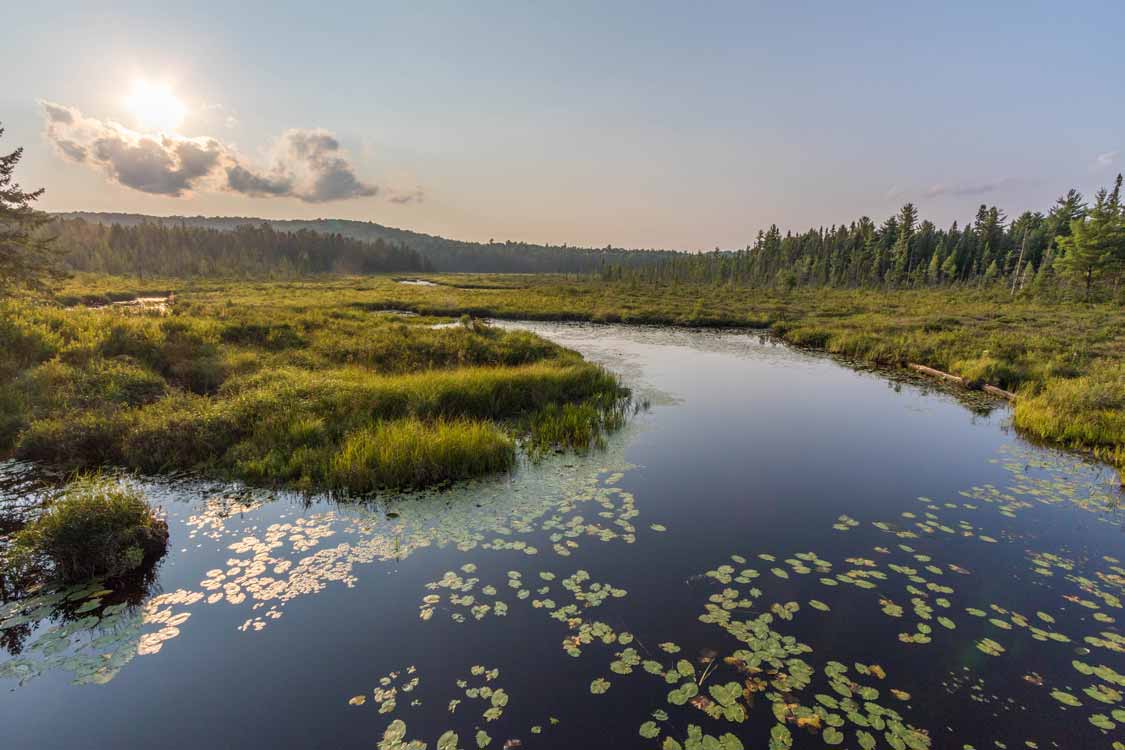 There are few more iconic natural areas in Ontario than Algonquin Park. Algonquin is one of Canada's most famous landmarks, with people from all over the world travelling to this gorgeous area near Huntsville.
The HWY 60 corridor, which passes through southern Algonquin Park could make it one of the best Ontario drives on scenery alone. But add easy access to Ontario's most incredible natural playground, and the high likelihood of seeing local wildlife to the list, and this becomes one of the best drives in the country.
The HWY 60 corridor drive is a straight shot from the East Gate to the West Gate. But your drive can easily be extended by combining it with camping, beaches, museums, and more. A stop at the Algonquin Park Visitors Centre at kilometer 43 is a must.
Make sure to include some dips into the park roads to maximize your HWY 60 road trip. Some of the most beautiful sections lie within the dirt roads of Algonquin Park.
Along the way you may see moose, black bear, deer, bald eagles, beavers, and much more.
Distance: 56.5 km
Driving Time: 40 minutes
Recommended Time: 3-4 hours
Alternatively, if you'd like someone else to drive, and take a day tour from Toronto to Algonquin Park, booking this tour is a great idea!
Blue Waters And Towering Cliffs Of The Lake Superior Circle Tour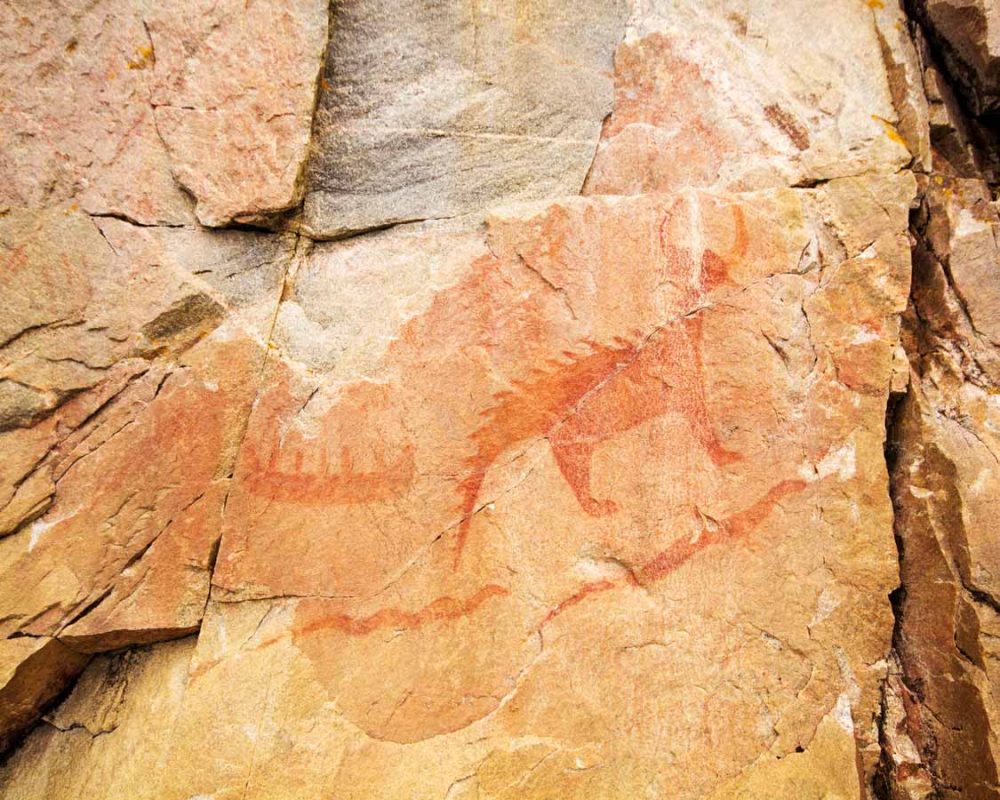 One of the most epic and scenic drives in Ontario is the route around the world's largest freshwater Lake (by area), the aptly named Lake Superior.
The Lake Superior Circle Tour stretches for an incredible 2,092 kilometres. It's far and away from the longest of the drives in Ontario on our list. However, it's also a bit of a cheat. You see, part of the Lake Superior Circle Tour dips into the states of Minnesota, Wisconsin, and Michigan in the United States.
Don't have a passport? No problem! It's just as easy to circle back near the border and look for new and unique Lake Superior scenery on the way back. This route is still an epic 767 km one-way journey and is perfect for those RVing in Ontario.
With all of this road to travel, a drive along the Lake Superior Circle will have dramatic landscape changes happening before your eyes. You'll pass lighthouses, waterfalls, sparkling lakes, and towering cliffs. And all of these will be dotted with some of the routes' most fascinating historical markers. These include the magnificent Agawa Rock indigenous pictographs.
One of the things that make the Lake Superior Circle one of the best Ontario drives is that it can be as active, or relaxed as you would like. The drive itself is beautiful enough that you can sit back and enjoy the views. But you can also take part in incredible activities such as some of Ontario's best hiking, biking, climbing, kayaking, and canoeing.
No matter how you tackle the Lake Superior Circle, you'll soon realize why this greatest of lakes holds such an important place in the history and culture of Ontario.
Distance: 2,092 kilometres
Driving Time: 24 hours
Recommended Time: 5-7 days
Fishing Towns And Ferries of the Georgian Bay Coastal Route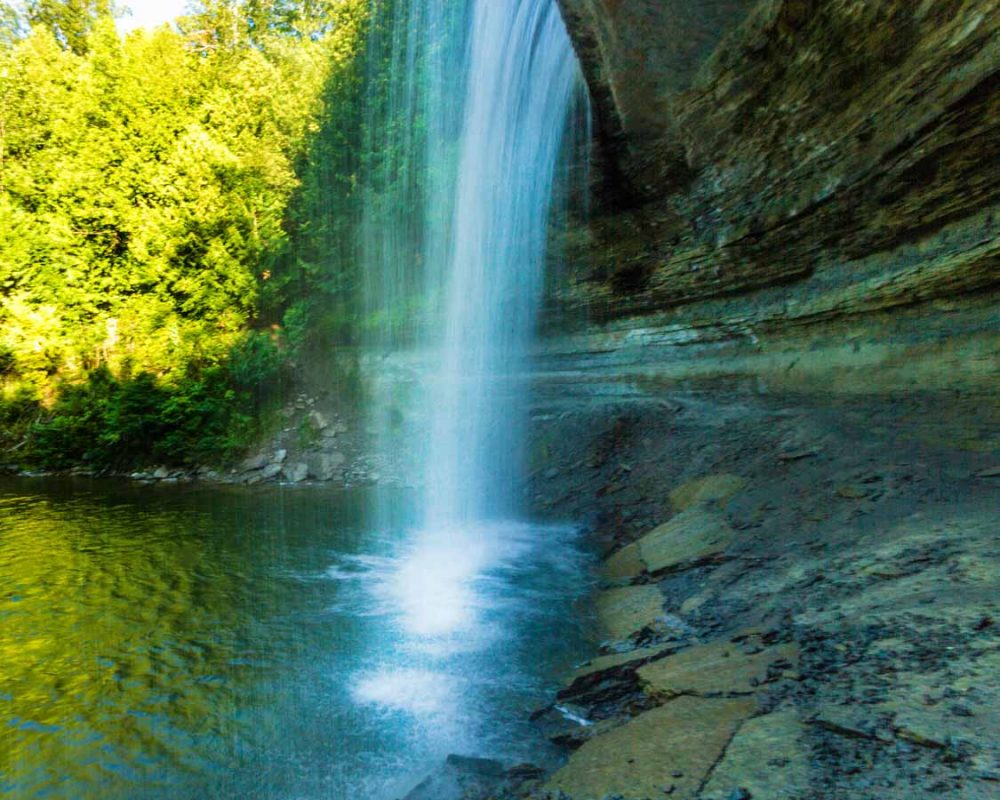 The Georgian Bay Coastal Route is another big undertaking among the best drives in Ontario. This 1,350-kilometre route explores some of the most beautiful and accessible areas of the Great Lakes shoreline in the province.
What makes the Georgian Bay coastal route such a magical journey isn't just the views and landscapes, and the azure waters of the Georgian Bay shores, but also the serene pace of driving through some of Ontario's most idyllic small towns.
Georgian Bay is contained within the southeastern section of Lake Huron. And the coastal route winds through some of the Ontario heartland's most important regions including Manitoulin Island, Sudbury, Killarney, and the Bruce Peninsula.
As you travel the Georgian Bay coastal route watch out for incredible Ontario lighthouses such as Big Tub Lighthouse in Tobermory and Kagawong Lighthouse on Manitoulin Island.
You'll also get the chance to feel the sand between your toes at some of the best beaches in Ontario. And for those looking to take a dip, you can jump in the mystical waters of Bruce Peninsula Provincial Park's Blue Grotto.
Distance: 1,350-kilometre
Driving Time: 10 hours
Recommended Time: 3-4 days
Visit Canada's Southernmost Point On The Niagara Falls To Pelee Island Drive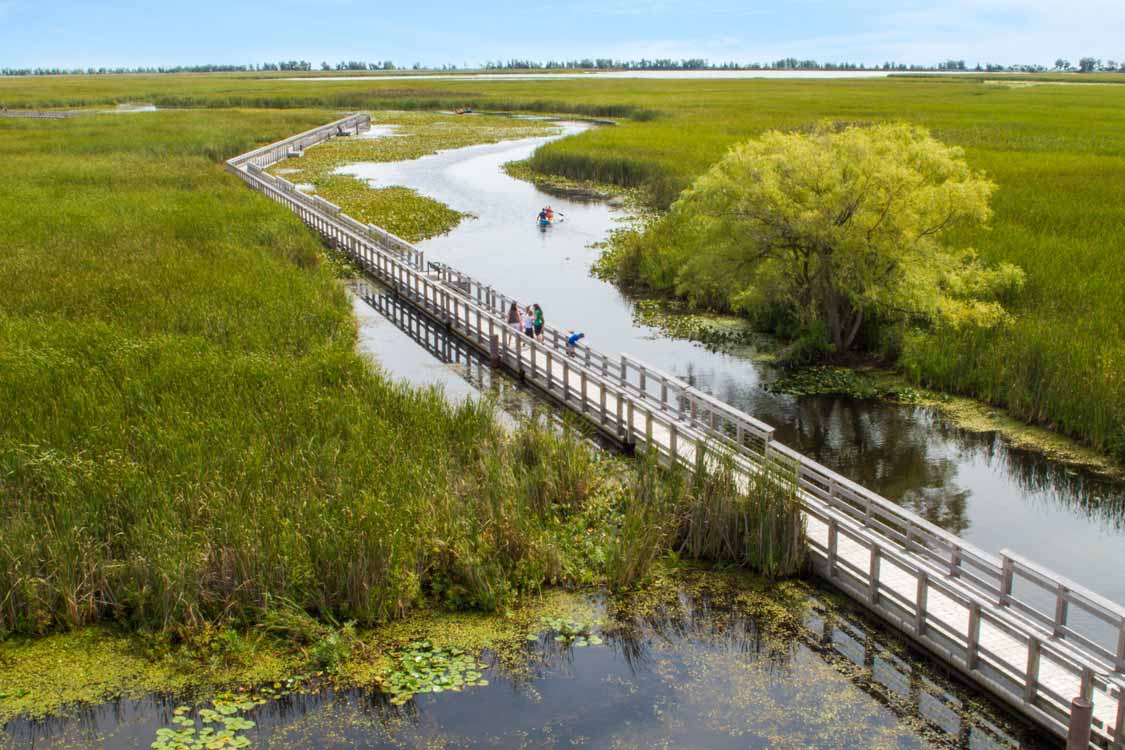 For one of the most beautiful drives in southern Ontario, you'll want to make sure you have an Ontario Provincial Park pass. You'll be passing through some of the province's most gorgeous agricultural country as you drive along the shores of Lake Erie from Niagara Falls to Pelee Island.
Along this Lake Erie coastal trail, you'll pass some of southern Ontario's most beautiful parks including Turkey Point, Long Point National Wildlife Area, Rondeau Park, Hillman Marsh, and, of course, the southernmost point in Canada at the tip of Point Pelee National Park.
It's not just nature that you'll experience on this most southern of the Ontario drives. You'll also roll through some of the most picture-perfect towns in the province such as Port Stanley and Leamington.
Make sure you have an appetite as well because along this Ontario drive you'll find loads of roadside food stands, produce markets, and plenty of small, locally run restaurants serving the region's signature perch platters.
While you could continue your drive down to the border town of Windsor, Ontario to explore some of its incredible neighbourhoods such as the Ford City neighbourhood, I recommend topping it off with a ferry ride to Pelee Island, the province's most southern wine region.
Distance: 414 kilometres
Driving Time: 6 hours 30 minutes
Recommended Time: 12 hours across two days
Hop Between Idyllic Islands On The Long Sault Parkway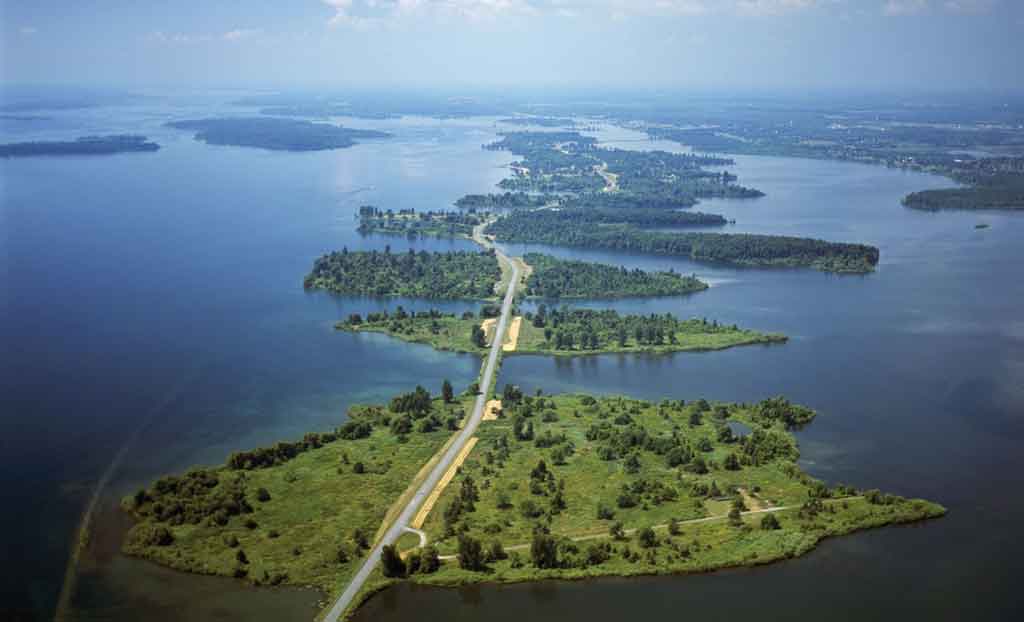 The Long Sault Parkway, which skirts from island to island between the towns of Ingleside and Long Sault isn't just one of the best drives in Ontario, it's also one of the province's most unique places.
This Instagram-worthy drive hops across 12 different islands in the St. Lawrence River. You can experience some of the provinces best camping on the Parks of the St. Lawrence sites. And treat yourself to some delicious small-town cooking in both Ingleside and Long Sault along the way. I highly recommend the pizza at Water View in Long Sault.
The Long Sault Parkway isn't a long trip, but there are plenty of places to picnic along the way. It's also a popular place for SCUBA divers exploring some of the shipwrecks in the St. Lawrence River.
Make sure you stay for some of the island chain's legendary sunsets as well. And if you're visiting during Canada Day, be prepared for one of the best small-town fireworks presentations in the province!
Distance: 11.6 kilometres
Driving Time: 22 minutes
Recommended Time: 2 hours
Now It's Time to Experience These Unique Places in Ontario For Yourself!
There are countless unique places that can be found throughout Ontario. While they vary in landscape, people, and experiences, they all hold the opportunity for a truly fascinating getaway. No matter which region of Ontario you're looking for, there's always something awesome waiting for you.
Many of these businesses and restaurants are anxious for visitors after a tough year. So let's support local and make the most of your Ontario glamping experience.
Do you have a favourite attraction or restaurant in Ontario? Head over to the Ultimate Ontario Facebook Community and join the conversation! You'll find an amazing group of people passionate about Ontario and who love to share their local secrets.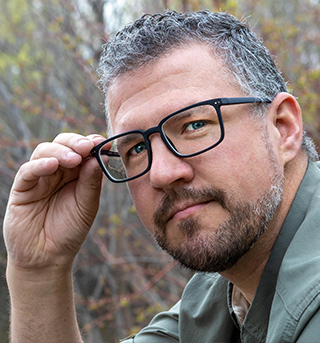 Kevin Wagar is a founder and editor of Ultimate Ontario. He has been working in the travel media industry since 2015 when he founded his family travel website Wandering Wagars – Adventure Family Travel.
Over the years Kevin has developed a deep love for his home province of Ontario and aims to showcase the incredible experiences and amazing small businesses found within it.