The Barton Village Festival is a showcase for local talent and eats, and a fun, casual atmosphere to appreciate the power of community.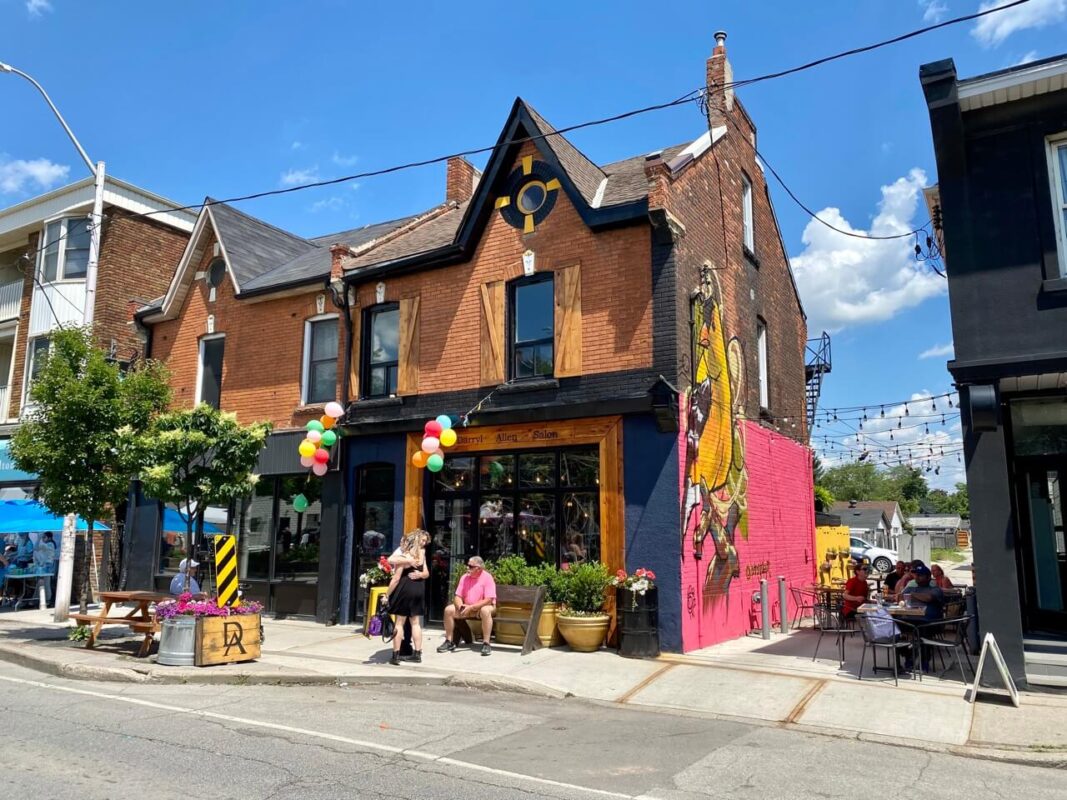 ---
Recently, we were in Hamilton to attend a performance at the Theatre Aquarius, and to get better acquainted with FrancoFEST, the largest celebration of Francophone art and culture on the Niagara Peninsula. During all these explorations, we stumbled across the Barton Village Festival, and instantly fell in love with the fantastic community vibes that couldn't have been more apparent.
Our job here at Ultimate Ontario is to cover all aspects of this province, so we wanted to take a moment to double click on Barton Village (which was established in 1816, believe it or not), and the festival that encourages people to come and explore Hamilton's historic shopping district.
About Barton Village
Nowadays, it's often called the Barton Village Shopping District. Perhaps not surprisingly, it runs along Barton Street East in downtown Hamilton. It's widely recognized as an area where art and entrepreneurial spirit are thriving, and where there's a little bit of everything going on.
Just from our own exploration, we came across everything from fantastic food to quaint cafes to obscure hobby shops to impressive furniture stores.
On their site, Barton Village notes:
"Where creativity, community, and the entrepreneurial spirit are alive and well. We invite you explore Barton Street from Ferguson Avenue to Sherman Avenue and discover all the treasures offered here. A thriving mix of dining, retail, services, and community organizations, Barton Village has something for everyone.

We are a hub for independent, family-owned businesses and young entrepreneurs, and our business community is rich in collaborative spirit and community pride. With your enthusiastic spirit and our many resources, we will work together to make dreams come true in Hamilton's historic business district."
By the way, the Barton Village BIA is quite active, and we love following what they're up to over on their Instagram page. If you're not on Instagram, they're also on Facebook as well as Twitter.
Before moving on, we feel it's important to acknowledge what the BIA has as well, that the BIA is "situated upon the traditional territories of the Erie, Neutral, Huron-Wendat, Haudenosaunee and Mississaugas. This land is covered by the Dish With One Spoon Wampum Belt Covenant, which was an agreement between the Haudenosaunee and Anishinaabek to share and care for the resources around the Great Lakes."
The Barton Village Festival
The festival can trace its roots back to June 2015 when it launched in Woodlands Park. There were vendors and musicians aplenty, and the community came out in full force. Fast forward to now and the Barton Village Festival has grown enough that they're able to shut down Barton Street and fully focus on activities, live music, vendors and the local businesses that make this community what it is.
According to the organizers, an estimated 20,000+ people attended this year, and based on the fun that we saw people having, we'd guess that the number, and the ambition of the organizers, is only set to grow.
Typically, the festival happens yearly in June. Below, we're going to provide some further information for you in case you'd like to get further involved or support the festivities.
This is a festival that relies on its volunteers. There's a small team that works hard on this to make the dream a reality. If you're keen to be involved, you can head here.
The Barton Village Festival is dedicated to showcasing local artists. Typically, they're looking for musical performers, visual artists, dancers, and theatre performers, but we get the sense that anything goes really. If you'd like to perform this upcoming year, check out this page. We got to spent some time with the talented Kristen Prince, a Canadian saxophone player, while we were there, and it was a blast! It'd be our pleasure to point you to her site.
If you're a local seller or crafter, the festival is absolutely looking for folks to set up a space and promote their respective businesses. This applies to both vendors who sell things like arts and crafts, as well as food trucks and so on. Last year, there was a $95 vendor fee, and a $295 for those who are in the food space. For what it's worth, there was a lot of street traffic, so this might be a fun way to get more eyes on what you're up to. Here are the full details.
Like so many other Ontario festivals, the Barton Village Festival relies on the support of its sponsors. Head here if you want to be involved in that capacity.
You can also feel free to pop into restaurants and shops that call Barton Village home on a permanent basis, of course. We had lunch at a creperie called Verlan, for example, and it was absolutely outstanding. It's nice because when we had back now, we already have an excuse to spend some time in Barton Village, and that's the whole point!
Here's a little map if you're curious how this all plays out on Barton Street!
In truth, the best thing to do is to simply allot some time to go and explore. Arrive hungry and curious, and the rest will take care of itself.
We have an opportunity moving forwards to sincerely support our communities, since it's festivals like these that remind us that we're part of something larger, and at the end of the day, that's incredibly meaningful.
---
We want to humbly thank Hamilton Halton Brant aka The Heart of Ontario for hosting us as media. All opinions are completely our own.
If you appreciated this article, you'll love our newsletter, as well as our Facebook group! Feel free to join, all are welcome.
Christopher Mitchell is the Cofounder of Ultimate Ontario. He's visited over 80 countries, and has lived on 4 continents, but now has his eyes set squarely on exploring this incredible province, and helping others do the same.