Over nearly 50 seasons, the Theatre Aquarius has become synonymous with the rise of Hamilton's theatre scene, and the work they do continues to reflect, showcase, and uplift the surrounding community.
---
Recently, we had the pleasure of heading back to Hamilton, a city which never seems to have a shortage of things to do and, quite frankly, seems to be one of the most exciting places to be these days. The main reason for our most recent visit was to better acquaint ourselves with FrancoFEST, one of the largest celebrations of francophone art and culture in the province.
That trip led us to Theatre Aquarius, which immediately made an indelible mark on us, and inspired us to put together this article on what amounts to a bonafide leader in Ontarian and Canadian theatre at large.
To give some context here as to its history, Theatre Aquarius has spent almost 50 seasons as Hamilton's professional theatre, often putting on around 150 performances per year, and delighting around 125,000 people per year.
The History of Theatre Aquarius
Theatre Aquarius can trace its roots back to 1973. At that time, they were performing primarily at Studio Theatre at Hamilton Place, but it quickly became apparent that the appetite for theatre in Hamilton required a bigger venue. The community rallied behind the theatre and by 1991, Theatre Aquarius finally had its own theatre centre, the Dofasco Centre for the Arts.
If you haven't yet been, the Dofasco Centre for the Arts encompasses the 700 seat Irving Zucker Auditorium, the 125 seat Norman and Louise Haac Studio Theatre, a gorgeous two story glass and steel lobby, as well as a rather posh Director's Lounge.
We want to take a moment to highlight their Performing Arts Programme, a theatre school that was started in 1976 and has run continuously since then. Arts can be a difference maker for youth, so we want to applaud the efforts of this program in supporting thousands of young Ontarians over the last few decades.
Theatre Aquarius sums things up perfectly on their site when noting that:
"Theatre Aquarius is recognized as a leader in Canadian theatre. Theatre Aquarius produces work of the highest quality, premieres new plays, develops the skills of professional artists, invests in youth and families and contributes to the quality of life in this region.

Theatre Aquarius is dedicated to improving this region through the arts and embodies the qualities that define us as a community: an appreciation for excellence, an appetite for diverse ideas and a need to connect with one another.

Our vision to provide a leadership role in this region drives everything we do as we seek to create outstanding, accessible live theatre that entertains, challenges and educates."
The 2022/2023 Theatre Announcement
For those interested, we want to share the press release from Theatre Aquarius which talks about what they have in store for this coming season.
"Theatre Aquarius is delighted to announce its 2022/23 Season – an all Canadian season that speaks to identity, finding your voice, feeling relevant in a world obsessed with youth and innovation, the power of friendship, tolerance and chosen family.
Aquarius proudly presents six plays to provoke, delight, inspire and transform!
The first must-see show of the new season is Falen Johnson's modern comedy Salt Baby about identity, assumptions and the desire to fit in. Followed by Serving Elizabeth, the ingenious contemporary comedy by Marcia Johnson that keeps us guessing as it explores issues of colonialism, nationalism and the question of who gets to have a voice.
Then for the holidays, Aquarius brings music, stories and tradition to the stage with A Hamilton Holiday featuring a spectacular Hamilton-proud cast of performers. This season boasts three world premières. The Extinction Therapist by Clem Martini takes us to an unconventional support group for those facing imminent extinction – a libidinous woolly mammoth, a testy shorteared shrew, the uncompromising smallpox virus, an insecure tyrannosaurus rex and the hapless Minister for the Environment.
The Gig by Mark Crawford, is a contemporary comedy where three drag queens are hired to
perform at a private function: The catch? The event is a fundraiser for a Conservative politician.
The season finale is the thrilling new musical, Maggie, by Matt Murray and international recording artist Johnny Reid. A tribute to Johnny's Granny and the people of an almost forgotten generation, this exciting new musical is a celebration of family, community and the joy and laughter that can be found, even in the darkest of times.
'We want people to see themselves here at Theatre Aquarius. This is a season to embrace the unexpected joy found in new stories, new ideas and shared worlds,' explains Artistic Director Mary Francis Moore. 'Aquarius staff and artists collectively feel a sense of renewed hope and optimism as we reach new audiences, deliver new programs and create value added opportunities."
Aquarius is thrilled to be able to tell new stories, reflect our community and broaden our impact – locally,
nationally, and internationally. From stunning new productions by renowned artists to Theatre Aquarius School, Outreach and Artist Development efforts – Aquarius is committed to the pivotal role it plays in the region."
When we visited last, we were at the Studio Theatre and saw an interactive family focused performance of Yassama and the Beaded Calabash that was so much fun. As they noted on the event page, "Acclaimed artist Lua Shayenne weaves vibrant dance and music with engaging storytelling in an interactive performance created especially for young children. Yassama and the Beaded Calabash was commissioned and developed with the support of the WeeFestival of Arts & Culture and Théâtre Français de Toronto."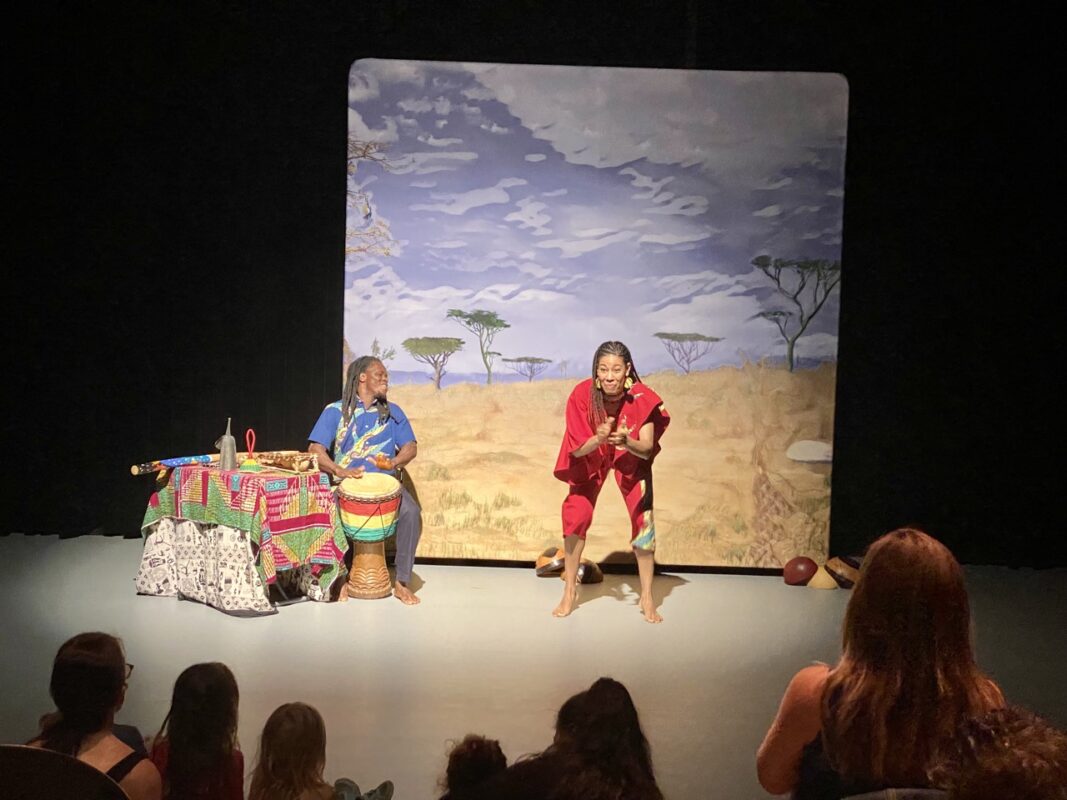 What Else Should You Know Before Visiting Theatre Aquarius?
Here's some information we feel is worth knowing about this well known Hamilton theatre!
In terms of getting to the theatre. Visitors from Toronto should take the QEW, then Hwy 403 to Hamilton, and exit at Main Street East. Then, travel east to John Street and turn left, then turn right on King William Street. Visitors from Brantford can follow Hwy 403 to Hamilton and exit at Main Street East, then follow the same last step.
Theatre Aquarius is a not-for-profit corporation and registered charitable organization. That means that support means a great deal to them and while they aim to serve the community, they also need some reciprocal love to accomplish their lofty goals. If you have the means or ambition to do so, You can find out more about supporting them here.
You can buy tickets for performances online, by phone (905-522-7529 or toll free at 1-800-465-7529), or email [email protected]. Apparently, a number of third party websites resell tickets online, so it's worth knowing that they are not affiliated with the theatre in any way.
We mentioned prior that education was at the forefront of a lot of what Theatre Aquarius does. They function in "Education Terms," and the summer term is open. Typically, they function as fast faced two-week programs in which theatre pros lead sessions on everything from playmaking to design, music to songwriting. At the end of the two weeks, there's a performance! Depending on when you see this, you may not be able to attend the summer term, but if you can, head here. Either way, that link will lead you to further information about how to be involved if this is something that piques your interest for you, a family member, or a friend.
They also have a robust Outreach and Artist Development programs such as Indigenous Arts, Newcomer Arts, LGBTQ+ Arts, Play Club for Underserved Youth, Sponsored Ticket programs and more.
We hope this gives you all the information you need to go and visit, and to ensure that despite being such a historic and longstanding attraction, the best days of Theatre Aquarius might just be ahead of it.
---
We want to humbly thank Hamilton Halton Brant aka The Heart of Ontario for hosting us as media. All opinions are completely our own.
If you appreciated this article, you'll love our newsletter, as well as our Facebook group! Feel free to join, all are welcome.
Christopher Mitchell is the Cofounder of Ultimate Ontario. He's visited over 80 countries, and has lived on 4 continents, but now has his eyes set squarely on exploring this incredible province, and helping others do the same.