The arrival of The Smith Hotel has changed the Kingston accommodation landscape, and very much for the better. It's a first class experience and a top-notch location in Canada's first capital.
---
Here at Ultimate Ontario, we've tried to make it our job to stay on the lookout for places that make a statement. We have a sincere appreciation for businesses that look at a situation, see a void, and become fully committed to filling it.
In our humble opinion, that's exactly what The Smith Hotel has done.
For far too long, when someone asked us to think about hotels and Kingston in the same sentence, our mind would drift immediately to nondescript hotel chains that called the less busy parts of Princess Street home – well away from the lovable downtown core, mind you.
Well, The Smith Hotel has noted that "it's time for something new" and they've doubled down on their "thoughtfully elevated" approach to welcome "Kingston's hotel alternative."
We had high hopes for The Smith, but when we arrived, those hopes were dramatically exceeded because this place has thought of everything.
Click here to book your stay at The Smith Hotel.
A Bit More on The Smith Hotel
The Smith Hotel has been in the works or quite some time, but it's only this summer that they've begun welcoming guests. This building hails back to the 19th century when it was a centrally located church. Kingston, as you might know, is known as the "The Limestone City," and this is a classic example of impressive limestone architecture.
Their focus is doing everything they can to offer an upscale, unconventional and extraordinary experience. In essence, you're paying more to stay here because the experience will be memorable, something that can't be said about some of the other roadside hotels and motels that call the city home.
Everything has been thoughtfully handpicked from the shampoo to the records. When you first check-in, we'd honestly just recommend spending fifteen or so minutes looking for the little details. We, for example, appreciated their tea selection, and quickly brewed a pot that we enjoyed with some music on the side.
We appreciated the craftsmanship that was displayed throughout the entire property, and also know from speaking directly with The Smith that both in building and in operating the hotel, they're also committed to supporting local businesses – and longtime UO readers will know that matters to us.
*Please note that this article may contain affiliate links. Simply put, that just means that we may get a small commission from some of our recommendations at absolutely no extra cost to you.
The Lofts
There are 10 suites in total at The Smith, all of which are located within the lower level of the former church.
Each suite features a stunning open-concept floor plan that we felt made the space feel much bigger than whatever its actual square footage was. As we noted above, the curated amenities really added something. Everything from the speakers to the sparking water had been put there with some intention.
As they note on their site:
"Arrive during the day to exposed limestone and brick walls flooded with natural light. Industrial features like steel beams and heated concrete floors ground the space. When the sun goes down, warm lighting and wood accents create an inviting ambiance, a backdrop for connection and relaxation."
You'll have a full kitchen and living room with custom furniture, and a Silk & Snow Mattress to sleep on. For those that want it, you'll also be able to run a Vitruvi diffuser with a selection of oils, and if great smells are your thing, then you'll probably be happy with the Sange de Fruta bath products as well.
You'll also have a flat screen smart TV, Audio Technica turntables, and Marshall speakers.
Other things that you may want to know:
It's a contactless check-in. You'll enter through the door on Queen Street, and directly to your right will be an automated setup to get your keys. All this will be explained to you via text and email before your arrival. We also found it very easy to contact staff if we needed any help with anything at all throughout the stay.
The Wifi was solid enough that we could use The Smith has a place to relax, but also to do business if need be. It's included, as you'd imagine.
Parking is easy and on-site.
The location, for those who don't know Kingston, is absolutely stellar. You're within walking distance to most things, and coffee runs or breakfast runs are easy as pie. We liked The Grocery Basket nearby on Princess to nab breakfast sandwiches and bring them back. They have a great coffee and tea setup in the room, so we didn't even end up grabbing coffee during our breakfast runs.
You'll find a curated concession stand of local Canadian food and drink items that really adds to the experience.
If this sounds up your alley, you can check out their rates and availability here.
We also wanted to mention that the other part of this church built all the way back in 1864 houses the Santuary Coworking space. We had the chance to wander around the space a little bit, and it looked fantastic, especially with all the stained glass that was all lit up as the light came in. If you're based in Kingston for a little while, perhaps this is something you'd want to look into as well.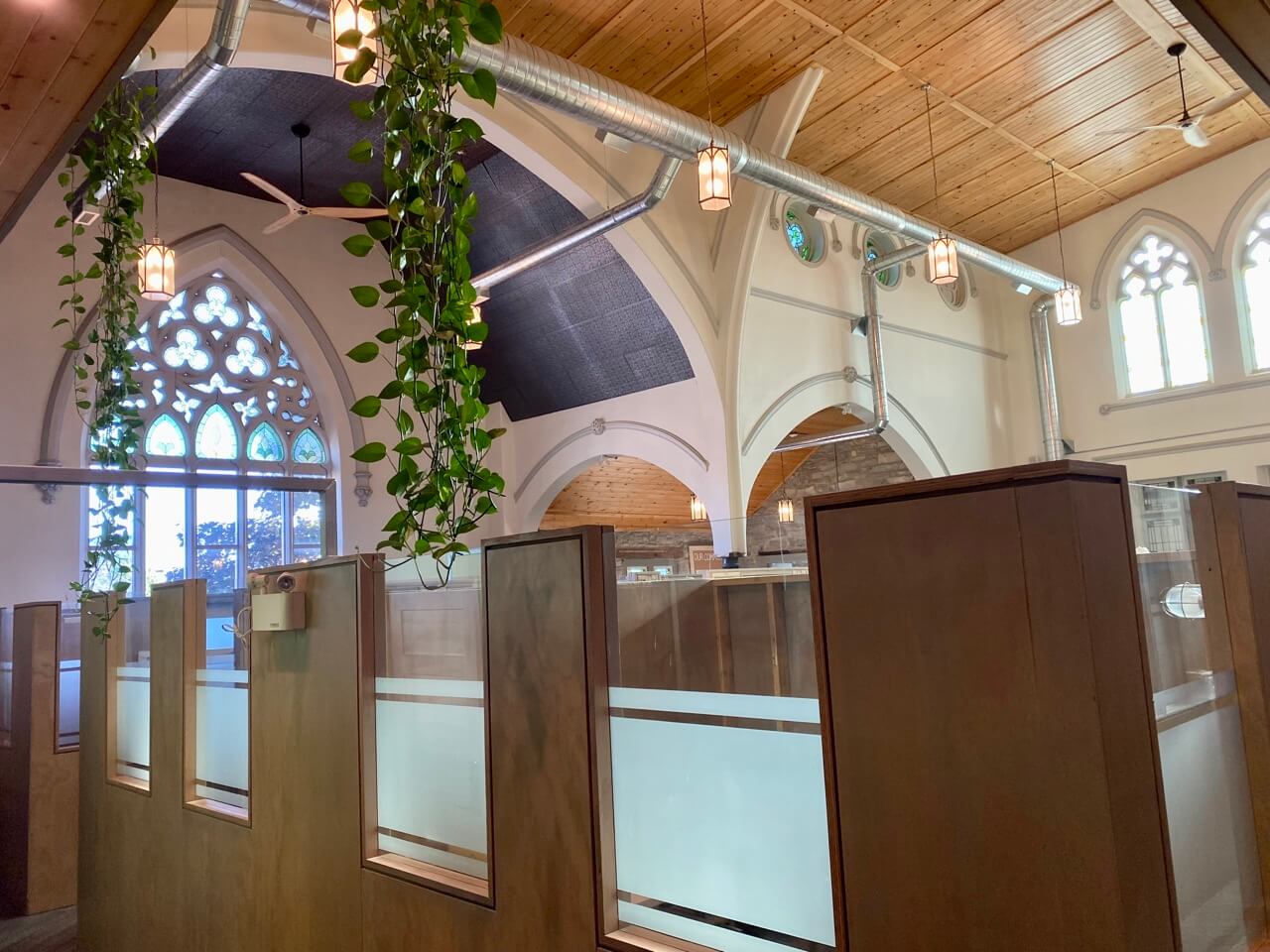 Kingston's Hotel Alternative Awaits
The Smith Hotel is the sort of place that you want to go if you're looking to treat yourself. Maybe you've just had a long stretch at work, you're looking for a couple's escape, or you just want to sleep in great bed that's different from your own.
It's that kind of place – an upscale experience that checks all the boxes, and a welcome addition to the Kingston and Ontario tourism scene.
---
We want to humbly thank The Smith Hotel for hosting us as media. All opinions are completely our own.
If you appreciated this article, you'll love our newsletter, as well as our Facebook group! Feel free to join, all are welcome.
Christopher Mitchell is the Cofounder of Ultimate Ontario. He's visited over 80 countries, and has lived on 4 continents, but now has his eyes set squarely on exploring this incredible province, and helping others do the same.