Looking for a waterfront camping experience on the Bruce Peninsula and want to support Indigenous businesses? Check out the hidden gem that is Cape Croker park.
---
The Bruce Peninsula is stunning. It's one of the best places in Southern Ontario for lake swimming, serious trail hiking, or just relaxing with gorgeous sunset views. With so many natural attractions, it's also very popular.
Like so many Ontarians, I've found it increasingly difficult to score a reservation for a campsite on the Bruce during the summer. The two national parks up in the area, (Bruce Peninsula National Park and Fathom Five National Marine Park) book up months in advance.
If you can find a private campground, you might be shocked by the price for basics. But sometimes a little hardship leads to great reward, and I say that because in looking beyond my usual accommodation sites, I found a true hidden gem: Cape Croker Park.
About Cape Croker Park
Cape Croker Park is an Indigenous-run campground on the Eastern side of the Bruce, between Tobermory and Sauble Falls. It offers more than 300 sites for tents or RVs set on 520 acres of scenic parkland nestled between high limestone bluffs. There's a 100-year-old lighthouse, and caves, and a whole lot of those famous Bruce peninsula views that are well worth the Ontario road trip to set eyes upon.
This is Saugeen Ojibway Nation, and they've opened it up to visitors looking to rest or explore the land and their culture. A sign at the boundary to this reserve welcomes and teaches visitors its proper name: Neyaashiinigmiing, Home of the Chippewas of Nawash.
Cape Croker Park came to be in 1967, and since its opening, it has provided seasonal employment for both students and community members. On their site, they describe being able to open and run this park as a "dream come true."
They also note:
"Another dream came true in 2018 – Ziibaakdakaan Maple revived the tradition of making ziiwaagmide, maple syrup in our centuries-old ziibaakdakaan, maple sugar bush. The following year, a new state-of-the-art processing facility was up and running. At sunrise in the early morning of March 9, 2020, a "First Tap Ceremony" was held at the start of the maple sap run. Guests from far and near attended and enjoyed a feast of pancake and maple syrup. This ceremony was held to pay respect to the ancient maple forest who provides so much – sap for medicine and maple syrup, fire wood for heating and cooking, shade on hot summer days, and beauty all year round. The plan is to have an annual First Tap Ceremony on the full moon closest to the first sap run.
What Cape Croker Campground Is Right for You?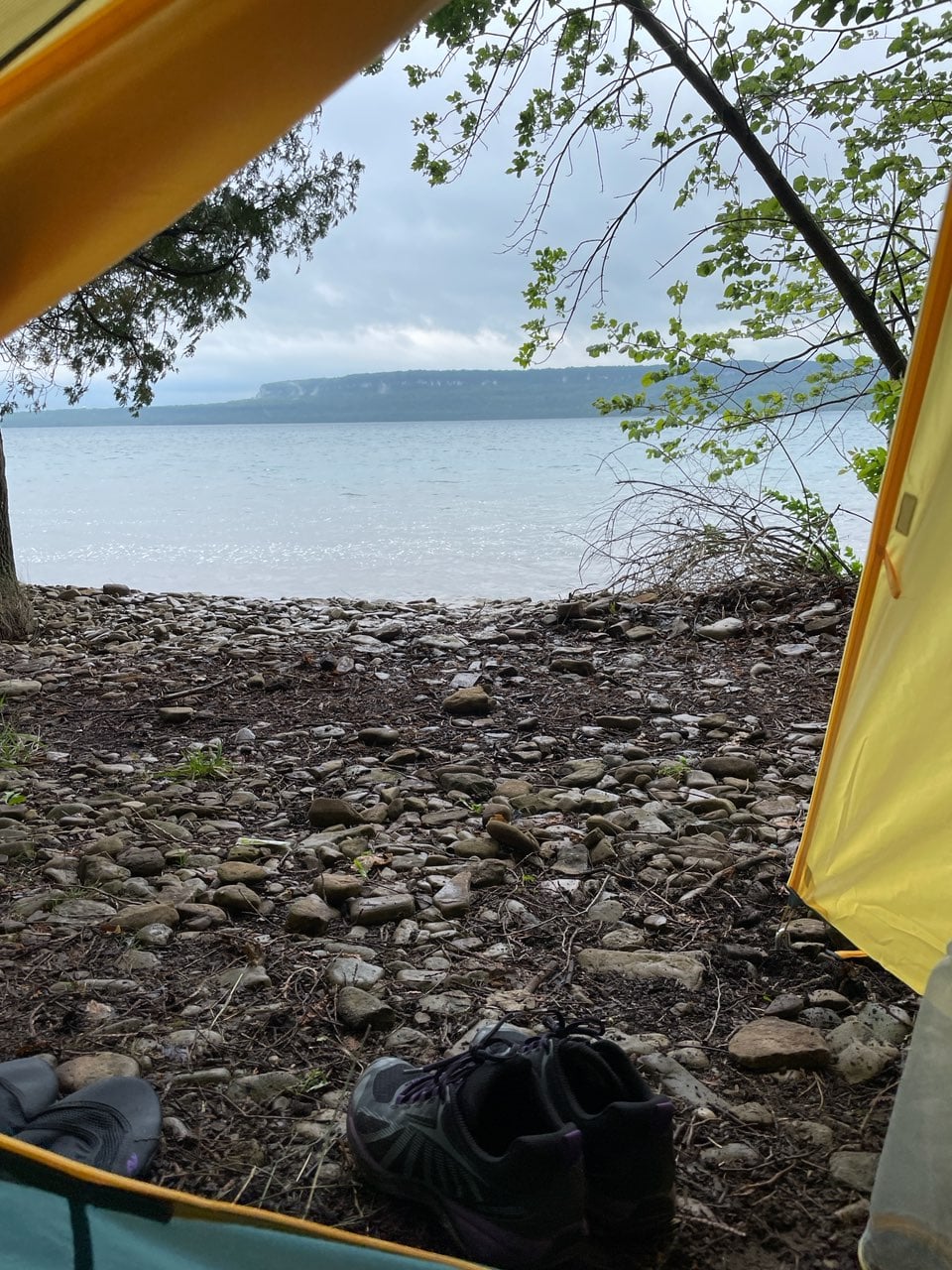 On my first visit to Cape Croker Park I chose a waterfront site in their "Rough" campground. They did mean rough – facilities were limited to nearby porta potties. But they also really meant waterfront! I could crawl out of my tent and practically roll right into the cool waters of Georgian Bay.
This is my favourite kind of "car camping" site – lots of trees provide shade and privacy between neighbours, with easy access to swimming.
Some friends had parked their RV at the nearby "Beach" campground that same weekend, so we took advantage, and hung out there, too. We all enjoyed the expansive waterfront, with a beach volleyball court, a boat launch, a dock for sunbathing and perhaps the most important feature: a fish 'n' chip wagon!
If you prefer more services, the "Maples" campground has showers, laundry facilities, WiFi (for a cost) and basic items for sale like firewood and ice. In general though, you'll want to double check your supplies before arrival because Cape Croker is a 20km drive from Wiarton, the closet small town.
Water is especially important to bring with, because like so many Indigenous communities, Neyaashiinigmiing is under a boil water advisory – in short, you can't just fill up from a fountain in the park.
I'll admit it was a slight shock to hear this upon arrival, but this is a national disgrace Canadians shouldn't forget, and should be reminded of. Thinking about the water situation here also made me want to learn more about the land we were vacationing on.
You can find more information about car camping, seasonal camping, Wiigwaaswag group camping, the cabin, and rates and reservations here.
The Wiigwaaswag (The Birches), by the way, "can accommodate 15 to 35 people. This campsite is in a nice private drive-in site. It is located on the north shore of Wiikwedoonse (Sydney Bay). It has a central fire pit and space for tents or trailers. There are picnic tables, and the site is serviced with two portable toilets. Our main comfort station, with showers, is a short drive or bicycle ride away. Wiigwaaswag is a popular site, so we recommend early reservations. Youth and special groups may be eligible for a discount on camping fees."
Indigenous Cultural Experiences at Cape Croker
More than just a place to pitch your tent or park your van, Cape Croker offers day programmes to share Indigenous knowledge with visitors.
These Anishinaabe Cultural Activities include guided nature walks that teach how native plants are used for food, medicine and ceremony, or workshops for storytelling, or arts and crafts.
There are programmes for both children and adults, and of varying degrees of physical difficulty. Check the schedule in advance to book a spot (or else, like me, you might find out when you get there that the Fire Making & Wilderness Skills workshop was yesterday, and you really should have come a day earlier!)
Hiking the Bruce Trail at Cape Croker
The Bruce Trail is the longest marked footpath in Canada, and you'll find Cape Croker along the Bruce trail between Wiarton and Tobermory.
Ambitious hikers can be rewarded with gorgeous views from the top of Sydney Bay, and the park also offers more comfortable strolls such as Ginebek Miikaans (Snake Trail Boardwalk).
A quick tip – Bruce Trail Members receive a 10% discount on overnight campsite fees, parking and day-use fees if you show card upon registering.
Cape Croker Awaits!
There's no question that when you come to the Bruce Peninsula there are so many things to do you may find it hard to slow down in any one place.
So, yes, you can use Cape Croker just to sleep while you play in the surrounding towns and beaches during the day.
But, let's be clear – there is enough to enjoy here to truly make it a destination unto itself.
---
If you appreciated this article, you'll love our newsletter, as well as our Facebook group! Feel free to join, all are welcome.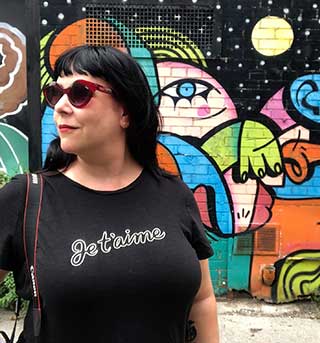 Liisa Ladouceur is a Toronto-based writer who believes adventure doesn't have to be far away – it's about curiosity and wonder. She runs the travel blog LiisaWanders where she shares lessons learned while seeing the world.