These beautiful Hikes in Ontario will get let you experience some of the best scenery in the province. Find the best Ontario hiking trails here.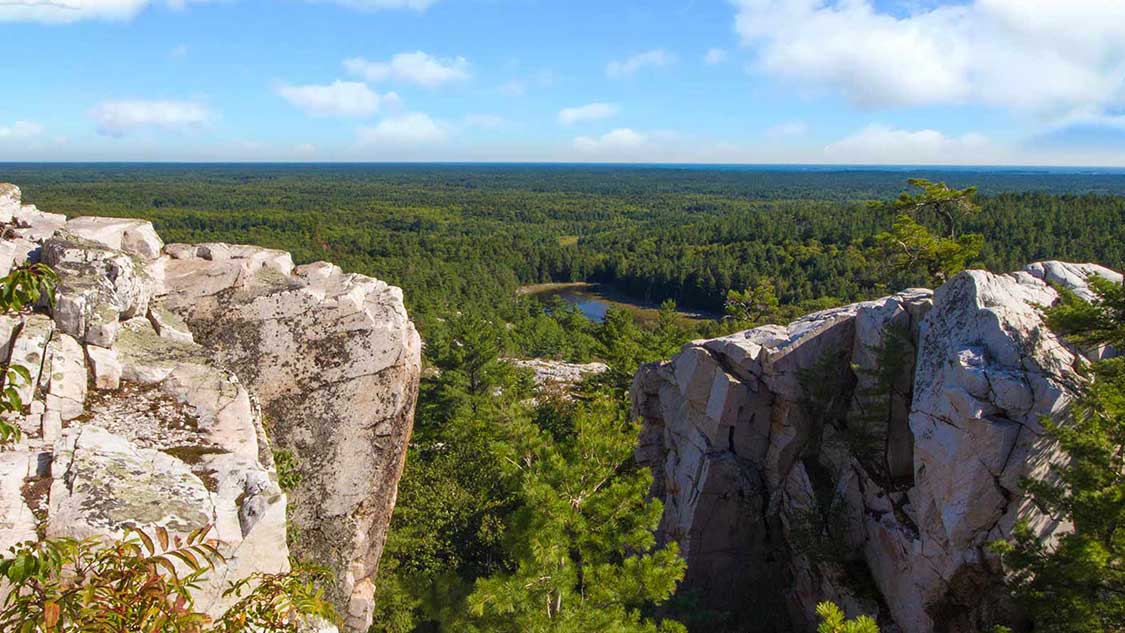 Ontario has some of the most varied landscapes in Canada. From the hard granite of the Canadian shield to the mossy ferns of Canada's southernmost tip, this province is an outdoor-lovers paradise. And when trying to narrow down the most beautiful hikes in Ontario, there is a huge swath of territory to consider.
Luckily the Ultimate Ontario community has a large number of nature lovers in its midst. Our awesome members jumped at the chance to help us narrow down the best hikes in Ontario. And from north to south, we wanted to bring them to you.
Hiking in Ontario can bring you to some of the country's most dramatic vistas. Many of these are located in places that you might not expect to find them. And while some of these beautiful Ontario hikes might feel like a leisurely stroll, others might require days of backcountry slashing in order to complete.
But no matter what your hiking style is, you are guaranteed to find something in this list that will make you want to strap on your hikers and hit the trails.
So kick back and get comfortable, these are our winners for the most beautiful Ontario hikes.
The Most Scenic Ontario Hikes
Without further ado, here are our votes for the most beautiful hikes in Ontario. Have a read and let us know. Did we miss one of your favourites? Is there a hike here that you don't think makes the grade? We want to hear from you.
1. La Cloche Silhouette Trail
Killarney Provincial Park – Killarney, Ontario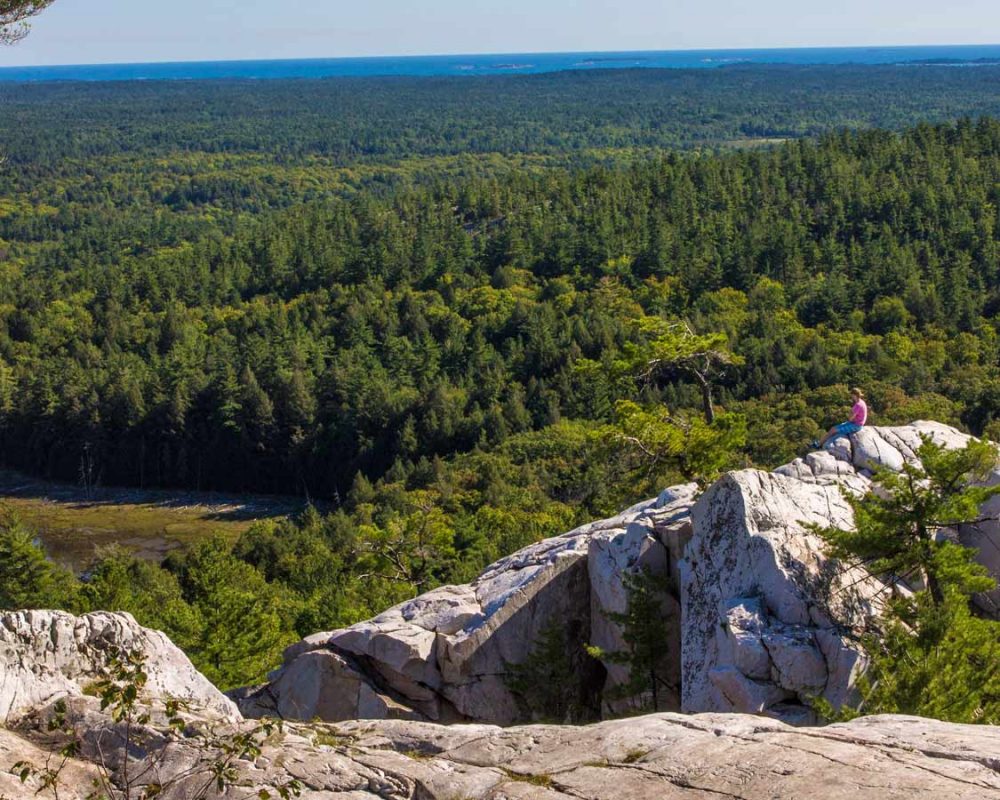 Killarney Provincial Park in Northern Ontario is home to one of the top hikes in Ontario. The rugged, 73 km loop of the La Cloche Silhouette Trail takes most hikers between five to ten days to complete.
The La Cloche Silhouette trail treats ambitious hikers to the scenery that inspired the legendary Group of Seven painters such as Franklin Carmicheal as well as other popular Canadian artists such as Tom Thompson. The long-distance and numerous creek crossings make this trail one that you'll need to plan ahead for.
The relative accessibility of this Ontario hike means that, if you plan on tackling it, you'll need to book the campsites well ahead of time. There are 54 campsites spread out along this Ontario hiking trail.
Keep in mind that this epic Ontario hike isn't for the faint of heart. The loop begins and ends at the George Lake Campground and takes an average of seven days to complete. Many sections of the trail are rocky and steep. Along the way, you'll trek over quartzite hills and experience some of the most dramatic views in Ontario.
Total Distance: 100 km
Average Time To Complete: 7 days
Difficulty: Difficult
If you'd like to take a day trip from Toronto to hike around Killarney Provincial Park, book your ticket here.
2. Cup And Saucer Trail
Manitoulin Island – Sheguindah, Ontario
Manitoulin Island, the world's largest island within a freshwater lake, is generally pretty flat. But for those who venture to the Eastern half of the island can discover one Ontario's best hikes.
The Cup and Saucer Trail has consistently been ranked among the most beautiful hikes in North America, and the views from the top of this moderately difficult 14 km hike never disappoint.
The hike, which is located between the towns of M'Cheegeeng and Sheguiandah is worth the journey and makes a visit to the island unforgettable. And while you're there you can discover all of the other incredible things to do on Manitoulin Island.
This Manitoulin Island hiking trail can be as easy or challenging as you would like. It includes trails that range from 15-minute strolls to four-hour climbs. But those who tackle the walk to the cliffs will win views that seem to stretch over the entire island.
Reaching the highest point of the island requires a steep climb on the side Adventure Trail. This rugged and rocky climb requires some wild scrambling through caves, squeezes, and more.
Total Distance: 14 km
Average Time To Complete: 4 hours (complete)
Difficulty: Moderate to Difficult depending on your route
3. Shield Trail
Bon Echo Provincial Provincial Park – Cloyne, Ontario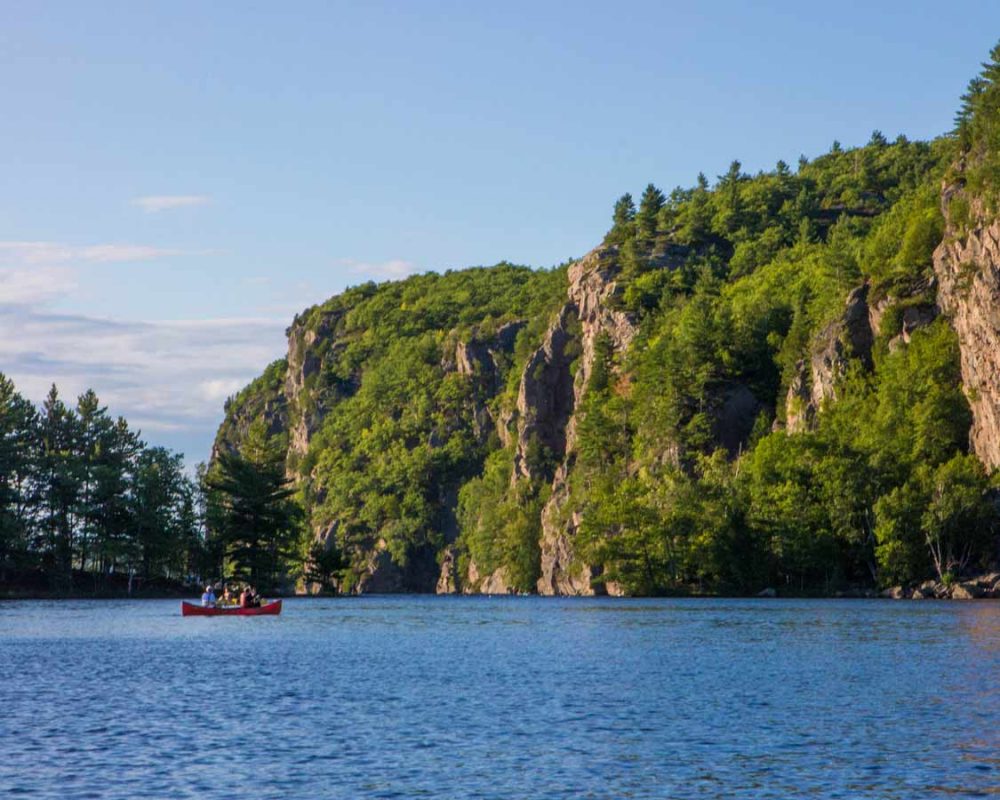 Bon Echo is one of my all-time favourite provincial parks in Ontario. On one side you have the picturesque bays and forested campgrounds. On the other lie the towering 100-metre Mazinaw Rock cliffs.
Mazinaw Rock makes it to our list of the most beautiful hikes in Ontario by views alone. This 4.8 km cliff-top trail isn't overly difficult. But you will need to climb to reach the three cliff-top observation decks.
If you don't have your own canoe you'll need to shell out a few bucks to take the Mugwump Ferry across Mazinaw Lake to the cliffs. The trail is only accessible by water.
The Ferry doubles as a sight-seeing tour as well. Along the way, you'll find pre-colonial indigenous pictographs painted onto the walls of Mazinaw cliff just above the waterline.
Total Distance: 4.8 km
Average Time To Complete: 1 hour
Difficulty: Easy to Moderate (steep climb required)
4. Coastal Trail
Pukaskwa National Park – Heron Bay, Ontario
There are few places in Ontario that feel as disconnected and untouched as on the coastal trail in Pukaskwa National Park. Pukaskwa is as breathtaking as it is difficult to access. Those few explorers who make it to this remote region between the town of White River and Thunder Bay will be met with pristine Lake Superior shorelines and breathtaking vistas.
The Pukaskwa National Park Coastal Trail is rough, raw, and quite possibly one of the most beautiful places in Ontario. The campsites along the coast are incredible. And the five-day hike, on average, ensures that only the hearty attempt to take in the views.
Expect to find driftwood strewn beaches, lichen-covered rocks, and very few through-hikers along the way.
The first leg of the Coastal Trail hike takes you to the White River Suspension Bridge. This dramatic bridge sits an impressive 23-metres over the rushing waters of the White River and Cigamiwinigum Falls. This section of the hike is popular as an 18-km return day trip as well.
Total Distance: 60 km
Average Time To Complete: 6 days
Difficulty: Difficult
5. Spencer Creek Gorge To Old Dundas Loop
Hamilton, Ontario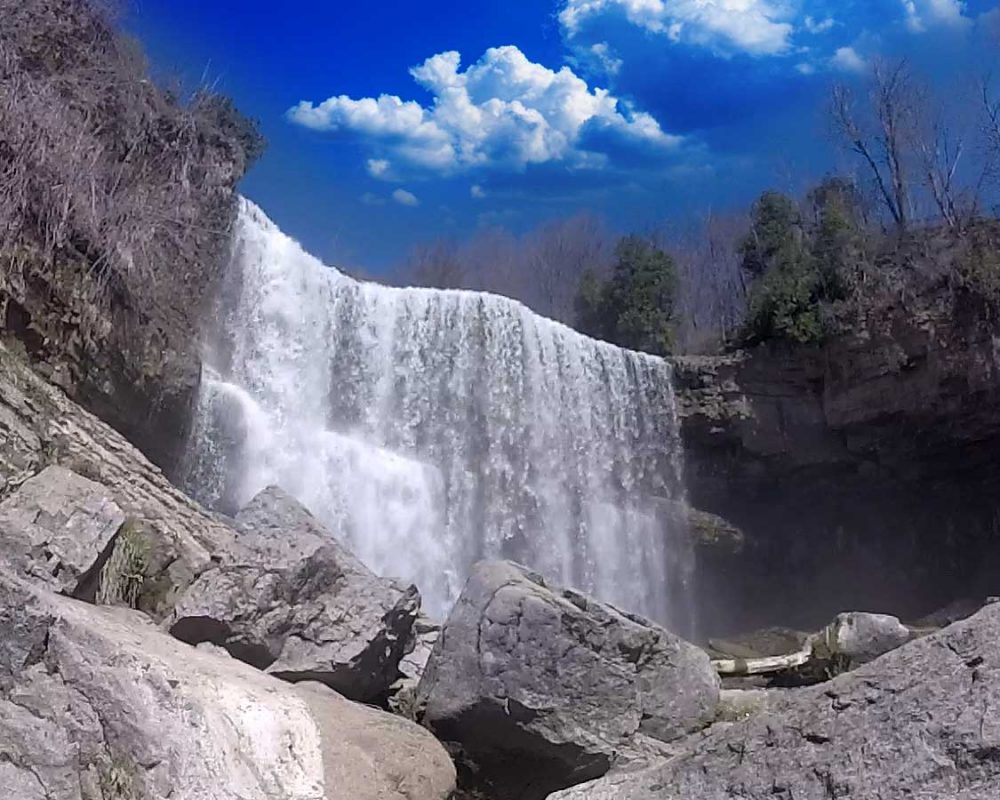 Not all of the best hikes in Ontario need to be remote. The Spencer Creek Gorge to Old Dundas Loop hike in Hamilton Ontario offers beautiful scenery in an urban setting.
Hamilton is famous for its waterfalls. And this Ontario hike will take you along forested paths and the Spencer Creek Valley to showcase mesmerizing views of the Niagara Escarpment.
Along the way, you'll see Tew's Falls and Webster Falls. This is a perfect hike in Ontario for couples and families. It's well-maintained, easy to navigate, and shows off some of Ontario's natural beauty. You can find a complete map of all of the Hamilton waterfalls here.
Total Distance: 6.2 km
Average Time To Complete: 2.5 hours
Difficulty: Easy
6. Coastal Trail
Lake Superior Provincial Park – Wawa, Ontario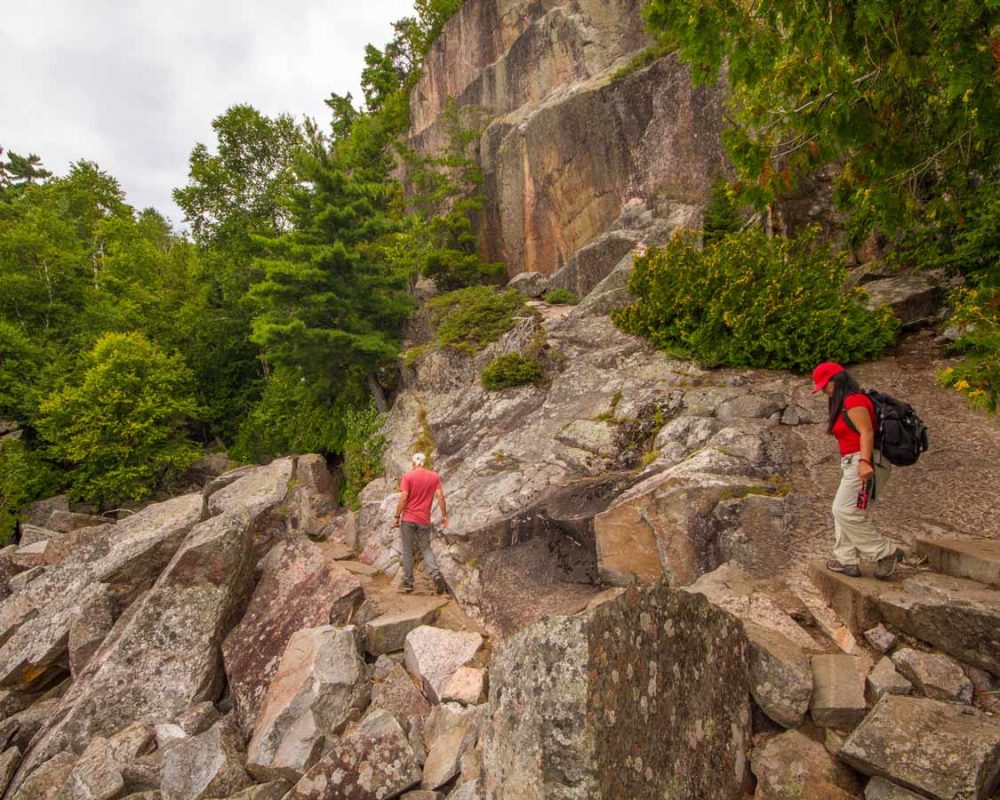 Similar to the Pukaskwa Coastal Trail, the Lake Superior Coastal Trail hugs the Lake Superior coastline. This epic 65 km trail runs from Agawa Bay to Chalfant Cove. There are also shuttle pickups available for those who want to hike the trail from end to end.
This is easily one of the most beautiful hikes in Ontario. You'll climb over towering cliffs, cobblestone beaches, and untouched forests along the way. There are also several sections that can be tackled independently. So if you don't feel like tackling the entire trail, you can break it up into segments.
The Lake Superior Provincial Park Coastal Trail is well-mapped and easy to navigate for moderately-experienced hikers. But it is quite long and remote. So don't tackle this, or other Ontario hiking routes without proper preparation.
But if you set out on this hiking trail you'll be blessed with views of indigenous pictographs, magical landscapes, and crystal-clear rivers.
Total Distance: 65 km
Average Time To Complete: 6 days
Difficulty: Moderate to Difficult
7. Kabeyun South Trail And Top Of The Giant
Sleeping Giant Provincial Park – Thunder Bay, Ontario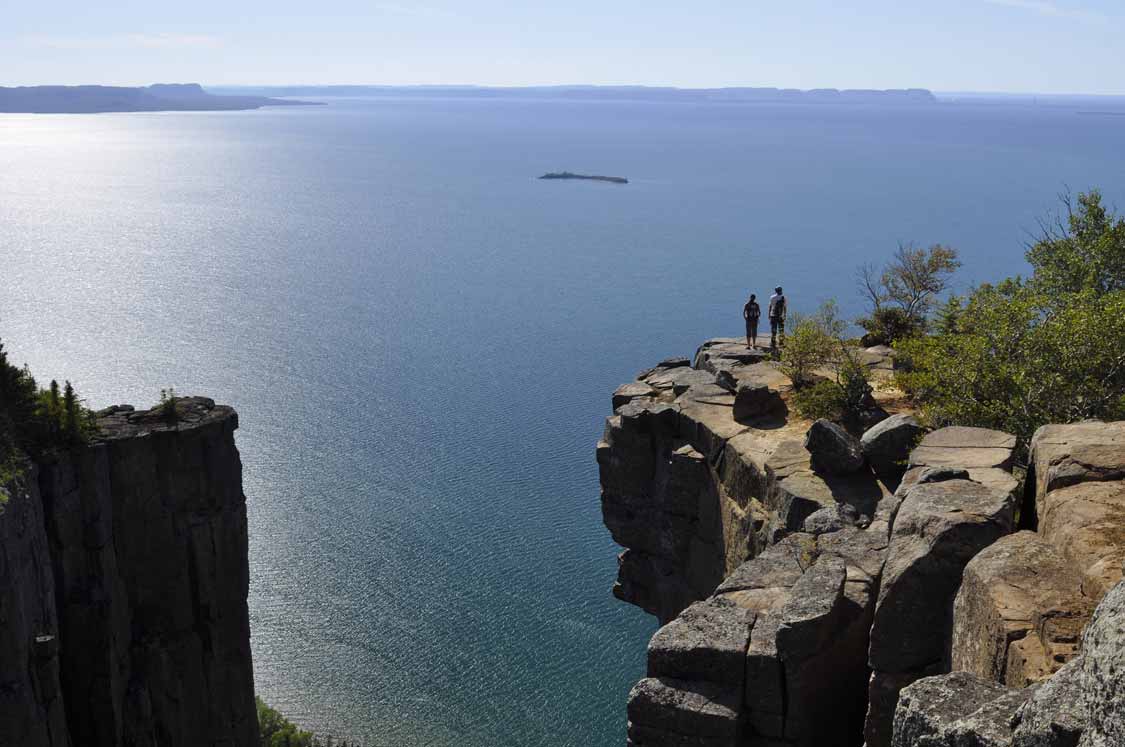 It seems that the further north you travel to Ontario, the bigger the views. And that is certainly the case for Sleeping Giant Provincial Park near Thunder Bay. The views from the Top of the Giant hike are some of the best in the province.
This 22 km return trail features a steep climb that culminates in some of the most incredible views of Lake Superior from the towering Sleeping Giant cliffs.
Don't take this hike lightly. The climb will take your breathe away. But the 5-7 hour round trip is worth the effort. If the whole Kabeyun trail seems like too much to bite off though, you can always make the shorter 2.7 km Top of the Giant trail directly.
Total Distance: 22 km
Average Time To Complete: 6 hours
Difficulty: Difficult
8. Bluff Trail
Awenda Provincial Park – Tiny, Ontario
Awenda Provincial Park, just two hours north of Toronto is one of the many Ontario Provincial Parks that doesn't get the credit that it deserves. Awenda is home to the largest stretch of old-growth, deciduous forests in the country. And it's also home to one of the most beautiful hikes in Ontario.
The Bluff Trail, which is even more spectacular during the Fall season, is an easy, 8 km loop that crosses through some of central Ontario's best greenery.
You'll find Awenda Provincial Park two hours north of Toronto near Penetanguishene on the Georgian Bay. It is home to the largest stand of old-growth deciduous forest in Canada. And, even though it's not a tough hike, you can still end your hike with a refreshing dip at the beach.
Total Distance: 22 km
Average Time To Complete: 6 hours
Difficulty: Difficult
9. Barron Canyon Trail
Algonquin Provincial Park – Hunstville, Ontario
Algonquin Provincial Park is one of the most expansive provincial parks in Ontario. This park is especially popular for back-country explorers looking to navigate the countless lakes of Ontario's Muskoka region.
The Barron Canyon is arguably the most scenic trail within Algonquin Park. This easy 1.5 km loop explores the north rim of Barron Canyon.
The views of the 100-metre deep canyon alone make this one of Ontario's best hikes. The canyon is home to a copious amount of birdlife, rare plants, and beautiful rock formations.
If you're looking for a longer Algonquin Provincial Park hiking trail, try the11-km Mizzy Lake hike. This route passes several ponds, lakes, and woodlands for some wonderful views.
Total Distance: 1.5 km
Average Time To Complete: 1 hour
Difficulty: Easy
10. Orchard Trail
Rouge National Urban Park – Toronto, Ontario
Rouge National Urban Park is Canada's only urban national park. It's located along the Rouge River right in Toronto, Ontario. Not only is this urban park accessible by public transit, but it's also home to the Orchard Trail, one of Ontario's most beautiful hikes. This short but sweet two-kilometre one-way trail offers a unique glimpse of nature reclaiming urban environments.
The trail winds through human-made wetlands which are often home to swans. You'll also find apple orchards that harken back to the early European settlements that once supported pioneering families for hundreds of years.
Total Distance: 2 km (one-way)
Average Time To Complete: 1 hour (2 hours return)
Difficulty: Easy
Have you Hit These Ontario Hiking Trails?
There are so many passionate Ontario hikers, so I know that this list won't satisfy everyone. We tried to keep it diverse and find beautiful Ontario hikes that can match the lifestyles of as many different people as possible. If we missed yours, drop a comment down below and tell us about it! Or head over to our Ultimate Ontario Facebook group and share a photo.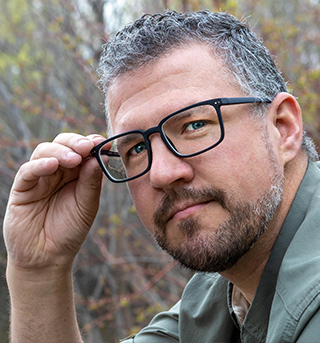 Kevin Wagar is a founder and editor of Ultimate Ontario. He has been working in the travel media industry since 2015 when he founded his family travel website Wandering Wagars – Adventure Family Travel.
Over the years Kevin has developed a deep love for his home province of Ontario and aims to showcase the incredible experiences and amazing small businesses found within it.