Pine Farms Orchard was one of the pioneers in popularizing the apple orchard in Ontario. Nowadays, they've expanded into baked goods, freshly made food, a gift shop and so much more!
---
We love putting together our popular guides to Ontario cities and towns, but it's the opportunity to put extra light on the small businesses, the community traditions, and the places that aren't written about enough that keeps us going.
The truth is, we'll never run out of worthwhile articles to write because there are so many stories worth telling in this province, and Pine Farms Orchard is certainly one of those stories.
And when you visit, you get to tap into that story, and even be a part of that story which, in our humble opinion, is an awfully lovely thing to consider.
Pine Farm Orchards started from humble beginnings, but now it's not only a pick-your-own and ready-picked apple orchard, but also a bakeshop, a quaint country cafe, a gift shop, a place to access both hiking and biking trails, and even a place that runs educational school programs!
The Story of Pine Farms Orchard
Pine Farms Orchard notes on their site that they're proud to be a part of the history of the Oak Ridges Moraine. For starters, we thought we'd link to more info about the Oak Ridges Moraine for those who don't know much about it right here. But, in sum, it's the environmentally diverse and important area that stretches from the Trent River in the east to the Niagara Escarpment in the west.
It was all the way back in 1942 that Ernie and Mary Rolph purchased 100 acres of pine forested land in King Township. Before long, a small log cabin was built there, and they grew to love this land, despite the fact that it wasn't always easy to get to with the road systems back then!
They began to plant flowers and vegetables and thankfully for us, after a little while Ernie became very interested in apples. He began to do extensive research, and his first tree was planted in 1948, effectively making him a pioneer in the world of Ontario apple orchards.
Eventually, Ernie and Mary's granddaughter, Pam, took over operations to ensure the family legacy was carried on. She's been at the helm since 1998. One thing we learned while researching – there are family businesses, and then there are family businesses!
"Her husband Elliott is now the Orchard Manager, their daughter Chloe is the Store Manager and Chloe's husband Robin is the Farm Manager. Pam and Elliott's son Aidan is currently experiencing life out West but helps out when he's at home.

A small family run business!"
What's On Offer at This Ontario Orchard?
For starters, it's worth knowing that Pine Farms Orchard shouldn't be a very long drive for you if you happen to be based in the Greater Toronto Area. They're just off Highway 400, only a handful of minutes from Canada's Wonderland.
In terms of hours, from January to March, they're open Tuesday – Sunday, 9am to 5pm.
From April to October, they're open Tuesday – Sunday 9am to 6pm (but they do close on 5pm on Sunday). For a list of when they're closed as well as contact information, you can head here.
It's always a good idea to check "What's On This Week at the Farm" before you're heading their way.
Let's talk about why you'd want to visit, shall we?
Apple Picking
As they like to say over at Pine Farms, they've got "21 varieties fresh off our kid-sizes trees."
On the What's On page above, they'll typically note what apples are available in the Market. Right now, for example, they've got McIntosh, Cortland, Gala, Honeycrisp, Janagold, Crimson Crisp, Ambrosia and Mutsu. They sell from $2.5 to $4 per pound.
In terms of picking your own, apples typically sell for 2 dollars a pound. In terms of ripeness, Melba, Paula Red, Gingergold, and Wealthy apples tend to be best in August. McIntosh, Cortland, Royal Gala, Jonagold Honeycrisp, Empire, Spartan, Golden Delicious, and Red Delicious tend to be ripest in September. Then Russet, Northern Spy, Mutsu/Crispin, and Ambrosia are usually ripe in October.
Admission costs $5 at the time of writing. We'll copy and past their rules for the orchard here.
"Our attendants are happy to help! Please ask them for assistance and follow their instructions.
Please don't pick apples that are not in season or pick from areas that are blocked off. They're not ready for eating and you might damage the tree!
Please don't climb trees – trees are easily damaged and children can be hurt when climbing or hanging onto branches.
Remove apples carefully by turning them on their stem and they will stay in your hand. 'Eye to the sky and twist' The eye is at the bottom of the apple where the remnants of the apple blossom is.
No picnics or outside food allowed in orchard or store area. Local parks and community centres offer this service and space area for you.
Service dogs and friendly family dogs on-leash are welcome and poop and scoop there are garbages in orchard and at store. No off-leash pets, please. We also sell dog ice cream!
Remove apples carefully by turning them on their stem and they will stay in your hand. 'Eye to the sky and twist.'
Garbage and recycling pails are provided – please be courteous to others and use them. Do NOT throw masks or gloves on the ground use the recepticals provided or take them home with you to dispose of.
Using your own reusable bags for picking is cool — and good for the environment!
No bags? No problem. We provide them on site.
Please don't block entrances or exits
Safety first! This is a working farm: enjoy your time here at your own risk.
Please respect the environment and the orchard"
The Bakeshop
If we're not careful, we could end up writing a whole article about what's on offer at Pine Farms Orchard's Bakeshop. You can find the full menu here, but we'll talk about a few things you may want to have on your radar.
Our first suggestion would be there homemade, real fruit pies with butter pastry. Let your tastes guide you here, but don't be scared to try something a little out of the normal like the Apple Caramel or the Apple Cranberry.
Not enough people know about their homemade ice cream, which comes in 500 ml tubs. Honey Fig is a favourite of ours, but the kids also can't get enough of the Mini Egg Easter. We also love dog-friendly businesses here in Ontario, so you can imagine home much we love that they make a Barker & Snouts Dog Ice Cream.
They make a great cake (especially Carrot), and their Apple Crisps are something nice to bring home with you that the family can snack on.
Of course, they've also got butter tarts galore, and a classic array of cookies. Feel free to go with the staples (Chocolate Chunk or Ginger Molasses), but if you want to try something different, go for the Lemon Ricotta Cookies.
The sweet loaves and bread are also a crowd favourite (we can't get enough of the Banana Bread with Chocolate Chips), but people also come from far and wide to get their hands on PFO's scones, croissants, pastries & donuts. The Almond Croissant and Apple Fritter sure have a way of making any afternoon just a touch more enjoyable, we'll say that much.
The moral of the story? There's a little something to get everyone happy at the Pine Farms Orchard Bakeshop.
Orchard Cafe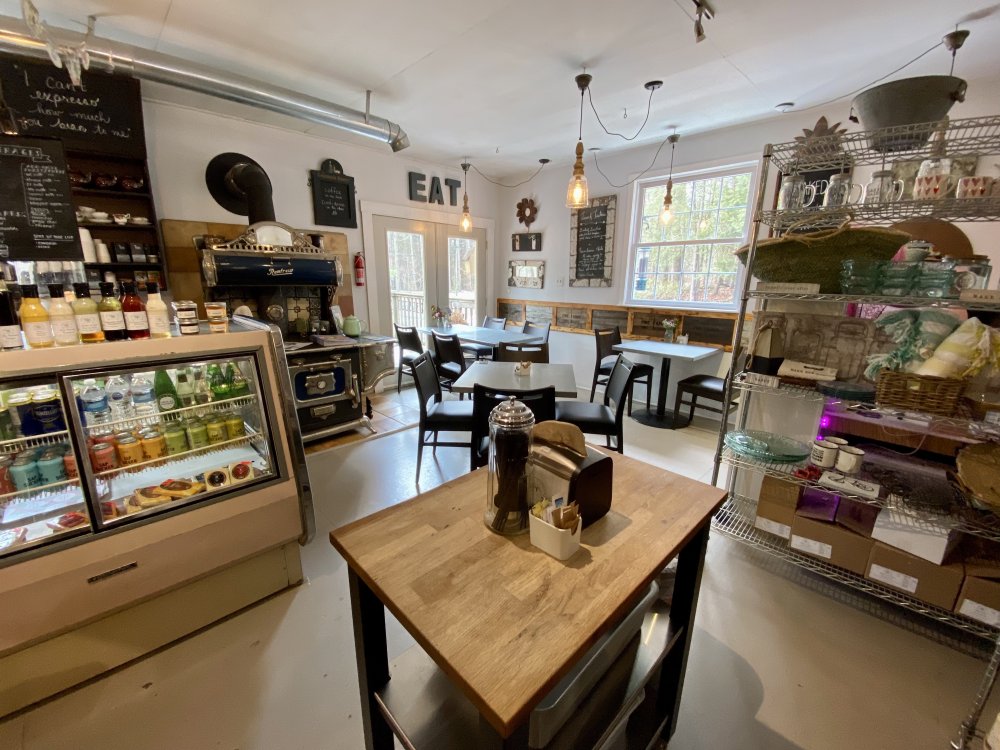 So, if you're not keen to fill up on only baked goods (no judgment, by the way!), we've got good news for you – they also serve weekday lunch and weekend brunch.
For small groups, the Sharing Board is a nice option. It features cheese, pickled eggs, fruit, olives, fresh bread, crackers, olives and assorted dips.
They have salads & bowls on offer, all of which are packed with fresh veggies and ingredients. For something simple on a hot summer day, the Pine Farms Salad is quite refreshing. It features lettuce, chickpeas, craisins, carrot ribbons & pumpkin seeds and a homemade apple Dijon vinaigrette.
We love their sandwiches and paninis, and you're not going to make a bad choice here. However, if you want to respect the fact that this is an apple orchard after all, give the Brie & Apple Melt a go which consists of brie with matchstick cut apple and a house made chutney on a demi baguette.
The soup will be different each time you visit most likely, as it's made in-house, and usually with what's in season! Same goes for their quiche and torte as well. They'll always be one no offer, but it might be a slight variation each time you pop on in.
What Else is Going On at PFO?
Here are a few other things you might want to note before your next visit!
If you're looking to treat someone, they do custom gift baskets. You can pick out the items you want at the shop, and they'll make it look all kinds of pretty for you. Their shop is filled with lots of delicious, gourmet foods including farm fresh honey, maple syrup, jams galore, chocolate, oils, and local coffee. They've also got some fun knick knacks kicking around, so spare a moment to peruse what they have on offer.
You can access the Oak Ridges Trail right across from the farm on the 16th side road. It's perfect for folks who want to go for a nice walk or to tae out their bike for a spin.
If you're in education, note that they run curriculum-based programs for schools. The Fall Harvest Tour and Busy Bee Program are perfect for the younger grades, but they also have programming for high school geography centred around the Oak Ridges Moraine.
However and whenever you decide to go, we sincerely hope this article will serve as a great guide.
As we noted above, it's an honour for us to put eyes on Ontario family businesses that have been around for almost a century – all in the hopes that our work may help them stay open a century more.
---
We want to humbly thank York Durham Headwaters for hosting us as media. All opinions are completely our own.
If you appreciated this article, you'll love our newsletter, as well as our Facebook group! Feel free to join, all are welcome.
Christopher Mitchell is the Cofounder of Ultimate Ontario. He's visited over 80 countries, and has lived on 4 continents, but now has his eyes set squarely on exploring this incredible province, and helping others do the same.