Visiting the Essex County wineries in Southern Ontario is a treat. Read on for our detailed review of the vineyards in Essex County!
Essex County wineries on the north shores of Lake Eerie are a pleasant surprise to visit. Wineries have been growing grapes and producing wines for in this region for a long time. Believe it or not, Essex County wineries are officially Ontario's oldest, starting way back in the 1860s on Pelee Island.
Vineyards in Essex County all started because people began to notice the ideal soil conditions and longer sun exposure in the region. Since it's Canada's southernmost county, it sits at the same latitude as other pristine growing areas like Tuscany and the Mediterranean. This makes it a great place for growing French hybrid wine grapes, along with several other varietals.
Today, there are officially 14 wineries on the EPIC (Essex-Pelee Island County) wine route. Whether you're coming for the day from Windsor or heading to the region to spend a few nights in Kingsville, you'll have plenty of great options to plan the perfect trip.
All in all, it's actually a fairly easy road trip from Toronto, and very much worthwhile.
Planning Your Visit to EPIC Wine Country
When you plan your trip to Essex County wineries, a part of EPIC Wine Country, make sure you pick the way to explore that's right for you.
You can hire a local driver or company for one of the full-day Essex County wine tours in the region, you can do a self-drive tour where you visit a few wineries with a designated driver or you can choose my personal favourite, a self-guided bike tour.
Before planning how to see the wineries, you'll want to organize the best place for you to stay during your visit.
Where to Stay on the Lake Eerie Wineries Route
When you're planning a trip to visit Essex County wineries, it's important to think about where you want to stay and for how long. The city of Leamington or the town of Kingsville make for great options.
We'd recommend staying in Kingsville, since it's a little closer to the heart of Essex County wineries, and its quaint main street is full of great places to eat and shop. It's worth looking into The Grove Hotel, Inn 15 Loft Suites or Lil' Heart and Soul Inn to check availability for your stay in Kingsville.
Between stops at the wineries, make sure you save some time for shopping and browsing. In downtown Kingsville, start at The Local Maker. They sell handmade goods made by, you guessed it, local and sustainable makers in the region. You can find everything from handmade soaps and macrame wall hangings to jewellery and pet accessories.
Next, grab a gourmet coffee or tea and an artisanal macaron at Kings Bake Shop. Their famous macarons come in flavours like Orange Creamsicle, Dunkaroos and Raspberry Champagne.
Finally, head to Nomad. This store is oozing with carefully selected home and furniture wares from around the world. You'll find luxurious Turkish towels, hygge-inspired Danish candles and Peruvian throw pillows.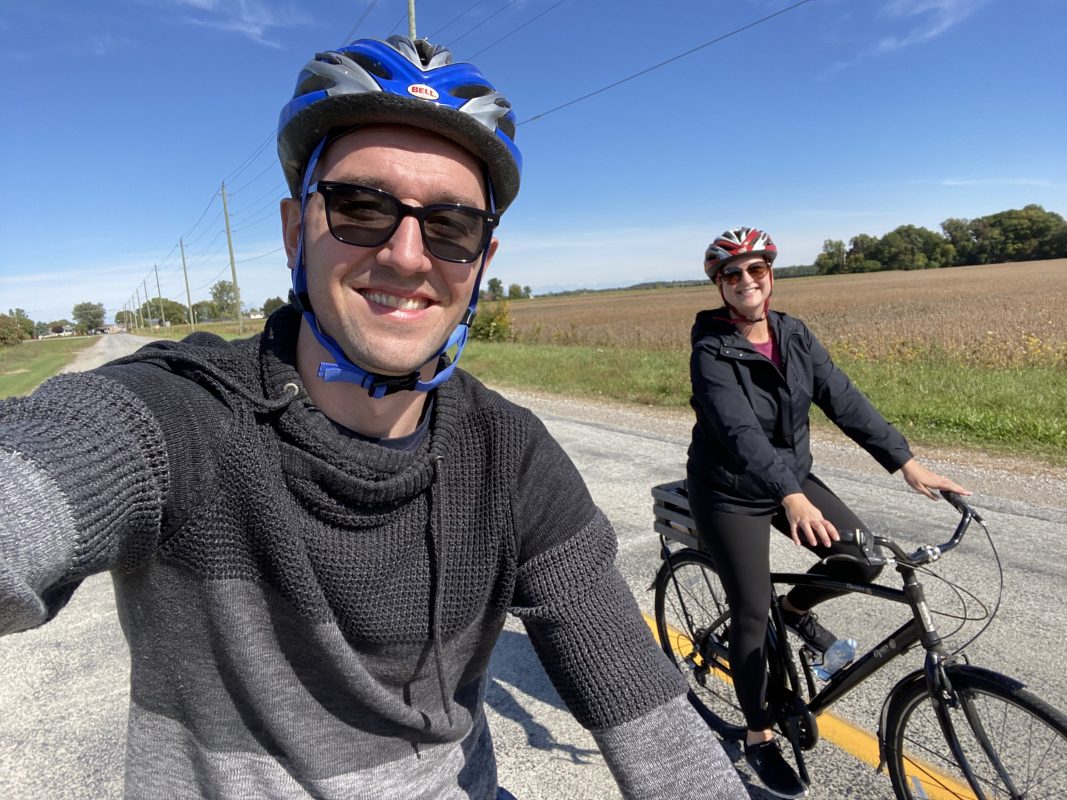 Self-Guided Essex County Wine Tours by Bike
A great way to get a little exercise while sipping and sampling the fine wines of Essex County wineries is to do it by bike. We'd highly recommend renting a bike from Farm Dog Cycles. This independent, locally owned and run company prides themselves in partnering with the best local wineries in the region.
Experiencing Essex County wineries by bike is a great way to see the region. Essex County is full of flat, small country roads and has bike lanes on more major routes.
It's easy to park your car at the pickup point for Farm Dog and get on your way in great time. Each bike rental includes a helmet, maps and information about the region, as well as a cute and functional wine crate bike basket, which can fit up to 6 bottles of wine. Most of the wineries have bike stands as well, making it easy to safely park your bike at each winery.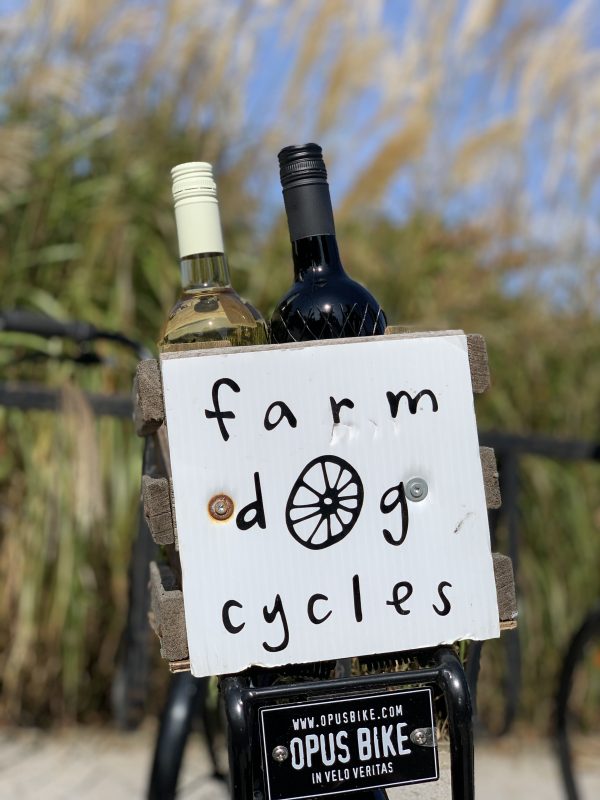 A Complete Guide to Essex County Wineries
Here's a list of the wineries that we've visited and feel are worth carving out the time for on your visit to the Essex County wineries. We've also detailed the wines that we enjoyed the most at each winery.
We weren't able to get across to Pelee Island during this visit, but, of course, that's also where you'll find Pelee Island Winery. Naturally, you can't quite get there via bike.
We'll start by walking you through the wineries most easily accessed on a self-guided biking tour of Essex County wineries, and then let you know some other wineries you can check out along the way.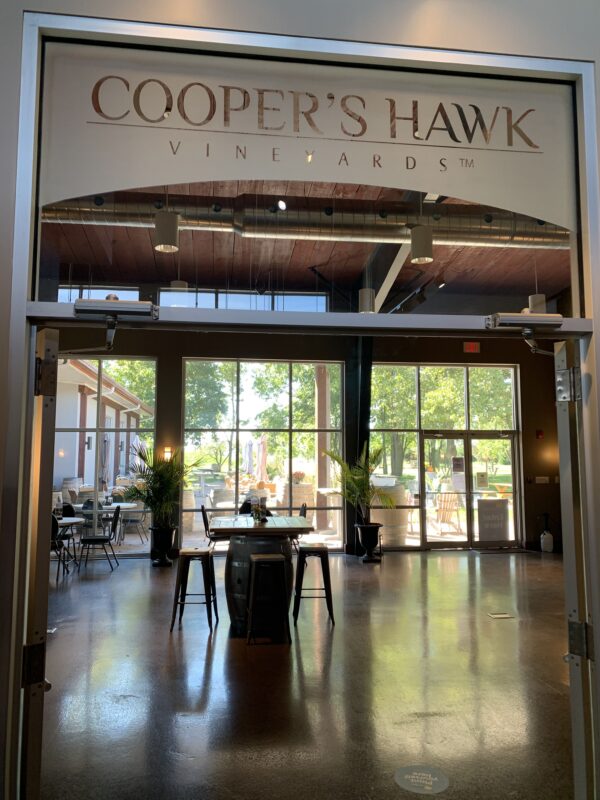 Cooper's Hawk Vineyards
Cooper's Hawk is a great starting point for discovering the region. They're the only winery on this list that is located north of County Road 50, but it's a short, flat drive (or bike) regardless, and you'll have lovely views of the vineyards in Essex on your way to visit.
They have a large tasting room and area, with a lot of friendly staff to help you decide which wines to pick. They also have a full-service restaurant on site, which we heard great things about, but didn't get a chance to try this time around. We selected two flights of wine after talking to the staff, one of whites and one of reds. We opted to take our samples out back to their "wine terrace", which is a cute little rustic-chique patio, filled with Muskoka chairs, picnic tables and beautiful, mature trees.
Of their selection of white wines, we the 2017 Pinot Grigio is pretty good. It has overly ripe cantaloupe on the nose, and stone fruit on the palate. We were over the moon when we sampled the North Block Sparkling 2016. It was our favourite white (albeit, it was sparkling) that we sampled there. It has an essence of white peaches and citrus zest, with a warm and pastry-like finish.
On the side of reds, the Heritage 2018 is very enjoyable. It's full bodied, with notes of raspberry and lavender, as well as cherry and cranberry. Their 2017 Syrah is also a fantastic red. It smells of smoke and blackberry on the nose, but presents flavours of plum and black pepper on the palate.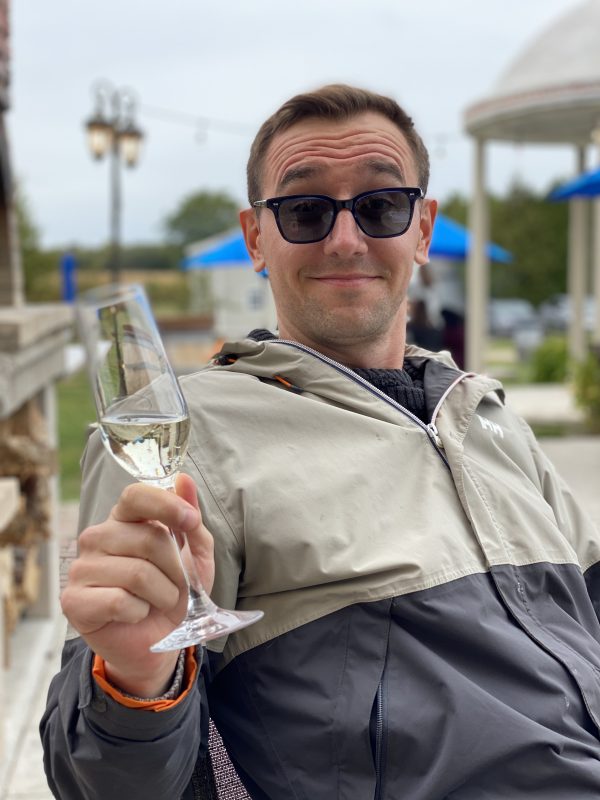 Paglione Estate Winery
Paglione is a small, family-owned and operated winery in the EPIC wine region. Pulling up to the property, you feel immediately transported to a charming Tuscan winery. Their warm indoor space has a baby grand piano, Italian-style frescoes on the ceiling and murals on the walls, and a warm, familiar feeling. They are famous for their brick oven pizzas, of which many were being ordered while we were there.
Sitting outside is a nice option, as they have plenty of space to sit on their patio or picnic tables beyond the patio. You can order the tasting to your table, and the friendly staff and owners will be sure to help you out.
Of their whites, the 2019 Riesling is very enjoyable. It's medium-bodied and slightly tart, with notes of apple and grapefruit, yet it finishes dry. Of their reds, their 2019 Cabernet Merlot is also very good, but their 2019 Cabernet Franc is the best red on offer, in our opinion. Both are relatively bold, smooth and dry. The Cab Franc is particularly well-balanced.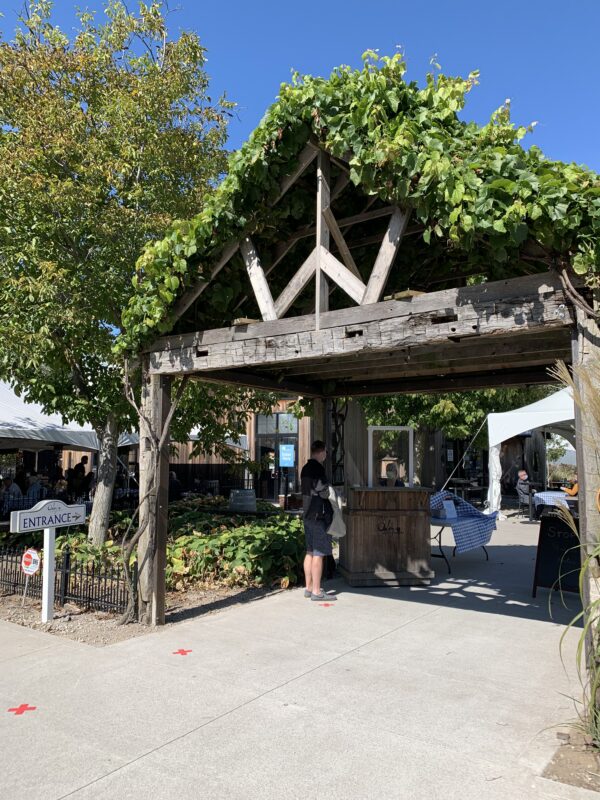 Oxley Estate Winery
Another stop on a trip around Essex county wineries is Oxley Estate Winery. The thought and care that has gone into developing the outdoor spaces to sit and relax at Oxley is really impressive. It's a great choice to have lunch at the winery. There are picnic tables in the sun and a covered outdoor patio if you're planning on dining outdoors.
Oxley has a small but mighty lunch menu. They rotate their options on a regular basis. We enjoyed seasonal carrot and zuchinni fritters for our appetizer, followed by their beer-battered Lake Eerie Pickerel and their savoury seasonal quiche as our main meal. The food is fantastic. They pay such close attention to detail with the flavours and ingredients on their menu, that a lunch here is not to be missed.
Alongside lunch, several of the wines pair perfectly. Their 2019 Pinot Gris is very enjoyable, and has a bright, honey-like colouring with notes of peach, lemon and ginger in its taste. Their 2016 Ripper Red is also tasty. It's their own blend of wine, with aromas of blueberry, orchid and sandalwood and a well-rounded body. Finally, Oxley's 2017 Cabernet Franc Reserve is delicious. It has a beautiful mix of fruit and earthy spice notes.
Colchester Ridge Estate Winery (CREW)
Colchester Ridge, or more fondly known as "CREW" is the furthest west along County Road 50. This means that it's a good place to either start or finish your visit to the Lake Eerie wineries. It's one of the newer wineries in Essex County, and it's definitely worth checking out–their second level screened-in porch which has a beautiful view of the surrounding vineyards. This is a perfect spot to begin a second day of wine tasting (which we assume will be Sunday for most people), because you'll have the opportunity to try out their new brunch menu.
Their Sunday Brunch menu features a lot of delicious staples with a twist. We tried the eggs benedict and the duck pastrami hash. Both were unique and delicious. If you're coming for the brunch, you can enjoy a Crew Caesar or Mimosa with your meal. Or if you're like us and want to get straight to the wine tasting, you can do that too.
The range of delicious wines at CREW is impressive. This is one of the Essex County wineries that has the best variety of enjoyable wines. Their 2019 Flagship Chardonnay is delicious, and since neither of us tends to gravitate towards a chardonnay ordinarily, it was a welcome surprise. It's barrel-fermented and aged in French Oak, with a full and complex mouthfeel. Their 2019 Sauvignon Blanc is also delightful. It has flavours of pineapple and citrus, and a subtly grassy nose.
Of their reds, the 2017 Merlot is a delicious and dry red. It features the rich, fruity flavours of chocolate and cherry. Their 2017 Cabernet Sauvignon is one of our favourites. Its robust flavours combining dark fruits and spices left us wanting another glass to ourselves.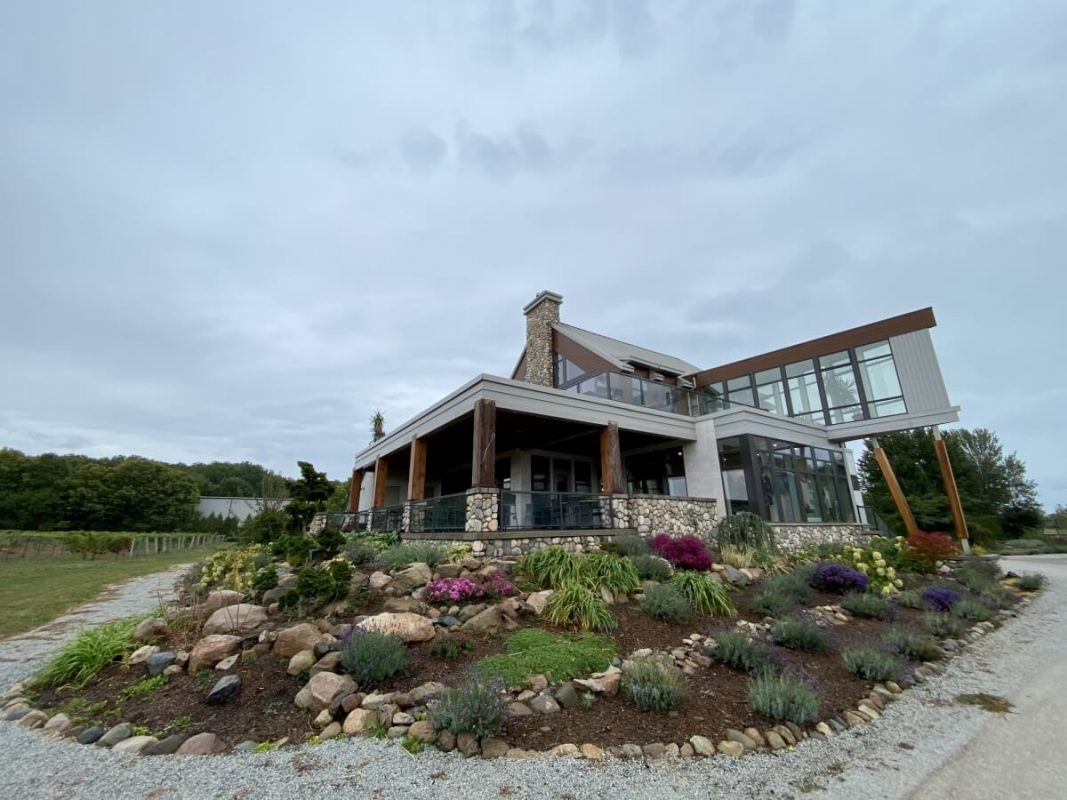 North 42 Degrees Estate Winery
Last but not least, a great final stop on a tour of Essex County wineries is North 42. It is a charming, sleek and modern winery, with friendly staff and a cosy feel. Sitting on their back porch area to sample some of their delicious wines makes for a great choice. It will be the cherry on top of your visit to the region.
Their 2017 Sauvignon Blanc is fruity and delightful. It has aromas of white florals and orange peel, with notes of citrusy lemon and lime to taste. Our favourite red, by far, is their 2016 Cabernet Sauvignon Reserve. It has an intensely satisfying smell, giving off aromas like cherry, earthy and smokey scents. Its plush and full-bodied texture and flavour carries over from its nose, with currant and vanilla notes to taste.
Visiting these Essex County Wineries
Whichever wineries you pick from this list, if you aren't able to visit them all, you'll certainly be happy with your choice. A visit to the Essex County wineries will leave you surprised and eager to return.
We visited these wineries on a sunny and relatively warm weekend in early October of 2020. We were really impressed with the close attention these wineries were paying to proper regulations and COVID protocols. Their ample options for outdoor seating during our visit were also much appreciated by us.
If you spend a little extra time in the region, another option not listed here is Viewpointe Estate winery. They have an expansive and uninhibited view of Lake Eerie from their winery. If you're looking to further explore the region, you can head to the EPIC Wineries website for a full list of wineries in the region.
Bri was born and raised in Ontario. She spent many years living abroad, but returned to Ontario a few years ago, and is very happy to be back exploring.
She loves writing about travel experiences in our beautiful province, including unique accommodations, memorable meals and adventurous activities.
You can find her canoeing and swimming across Ontario with a craft brew in her hand in the summer, and snowshoeing or curling up with a good book and an Ontarian Pinot Noir in the winter.