Ford City is a vibrant Windsor neighbourhood that can rightfully be called one of Ontario's most exciting up-and-coming areas!
There are few things I appreciate more than exploring and writing about an up-and-coming neighbourhood such as Ford City.
And, I'm not talking about neighbourhoods which have long ago been gentrified – I'm talking about honest-to-goodness neighbourhoods which are still in the process of forging their new identity.
I'm talking about neighbourhoods like Ford City in Ontario's southernmost major city of Windsor where, if you look closely, you can see that its dripping with potential, and there's once again optimism in the air.
I want to first run through a bit of history when it comes to Windsor's Ford City, and then we'll talk about how to best appreciate this area in the present times.
Visiting Ford City is a unique Ontario experience, and one that you should have on your radar.
A Brief History of Ford City in Windsor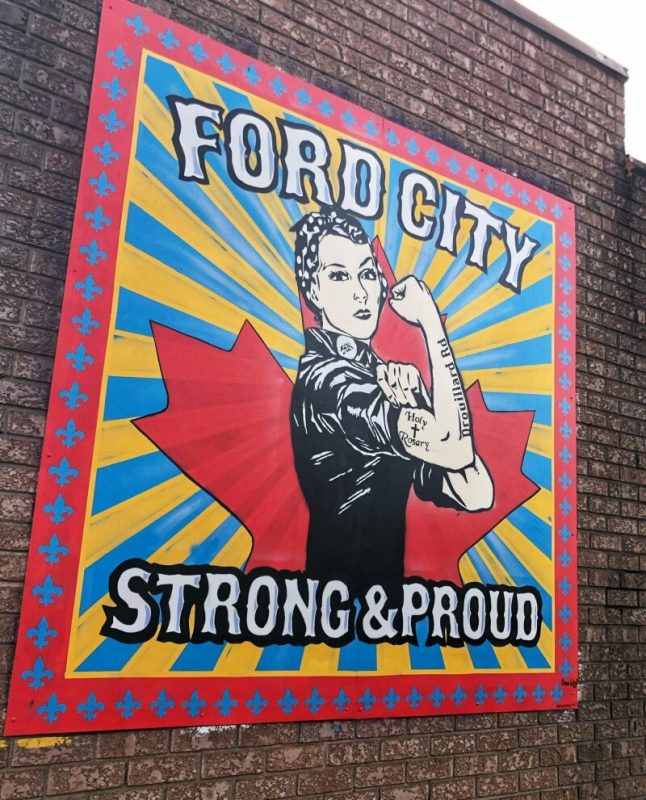 It's perhaps unsurprising that the history of "Ford City" is closely connected to Ford Motor Company. I mean, if I ever came across "Nutella Town" in Italy, I'd expect to find a touch of Nutella there, right?
We'll pick things up just before World War I, when there were nearly 1400 employees working for Ford and getting paid great wages to do so. By 1915, the area achieved town status. This all occurred long before Southern Ontario became one of the province's top wine regions.
It was then boom time for quite a while, but, apparently, it grew a little too fast in that there wasn't always time to plan the area, since it was expanding so quickly.
Fast forward to the 1920s, and some sixteen thousand people called Ford City home, and many were immigrants who moved to find their part in the prosperity.
As you can imagine, there was plenty of work in World War II, but in the 1950's, the head office and assembly plant was moved to Oakville. Ford City, as you can imagine, went into devastating decline.
And it's really only now that we're seeing Ford City flourish once again. A Ford City Redevelopment Committee was put into place and revitalization plans are in full-swing including the rejuvenation of storefronts, and enticing incentive plans for business owners.
I wrote recently about Walkerville in Windsor, another intriguing neighbourhood in one of Ontario's most criminally underrated cities, but Ford City is at a different stage of development, and one that you could argue is even more exciting.
Ford City is once again open for business, my friends.
So, What Should You Do in Ford City?
Winter or summer, rain or shine, there's plenty going on in Ford City that's intriguing.
That being said, I visited in the late fall, and got the sense that the neighbourhood would be absolutely abuzz with action in the warmer months, especially summer, so take that into account for your explorations.
Start With A Walk
Simply wandering around Ford City a little and getting your bearings is something worth doing. Below, I'm going to recommend specific places that you should check out, but walking up and down Drouillard Road isn't a bad start!
Also, keep in mind that there's a little something for everyone here. What I like, you may not, so I'd recommend checking out the Ford City directory, where you can see all that's going on in the area.
Pop into Pressure Drop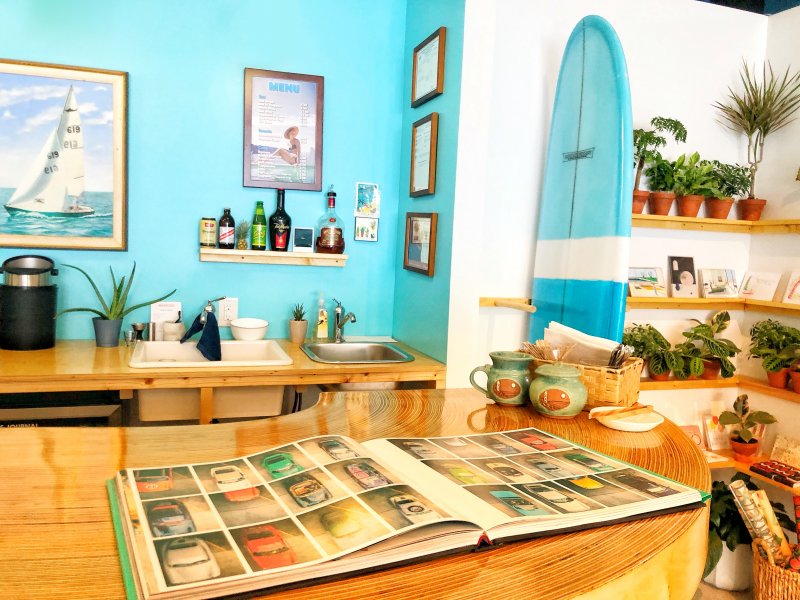 Pressure Drop is a hip clothing shop run by Michael Weber and Marina Maffessanti.
It's got a surfing vibe that makes you feel like you've left Ontario for a moment, and gone straight to California. And yet, it works.
I visited this shop with my brother, Dave, and we started off by getting an espresso and chatting with Marina. She talked all about the excitement of taking a gamble to open up your own business, and also exuded a certain sense of pride to be on Ford City's main strip – and rightfully so.
And the reason I want to highlight Pressure Drop is because they're trying to do something unique, and I want celebrate the heck out of people who go all in, and take chances on their dreams.
After looking around, and seeing plenty we liked, we chatted a bit more, and then continued exploring Ford City. Had it been later in the day, though, I'm sure we would have stayed for a cold beer.
It checked all the boxes for me – coffee, beer, nice clothes, and good, honest conversation.
Grab a Bite at Sawyer's Craft BBQ
Sawyer's Craft BBQ is the new spot in the neighbourhood, and they're fitting in beautifully. I had the chance visit recently, and all I can say is that Texas style BBQ looks very good on Ford City.
If it's warmer weather, I'd recommend grabbing a spot in the back, as it's a fun atmosphere, and you can admire some of the local street art, plus set eyes on the smoker in the back.
The brisket and jalapeño cheddar sausages stole my heart in an instant, and that love was deepened when I tasted the maple chipotle cornbread, apple dill potato salad, wedge salad, and homemade mac and cheese. To be honest, it was ALL delicious in different ways, so this is a place to let preference guide you, but also not to be scared to be a little adventurous.
We'd recommend following them on Instagram to see what they're up to, and what specials, events, and new offerings they've got.
Check Out Michael Difazio Reclaim Artistry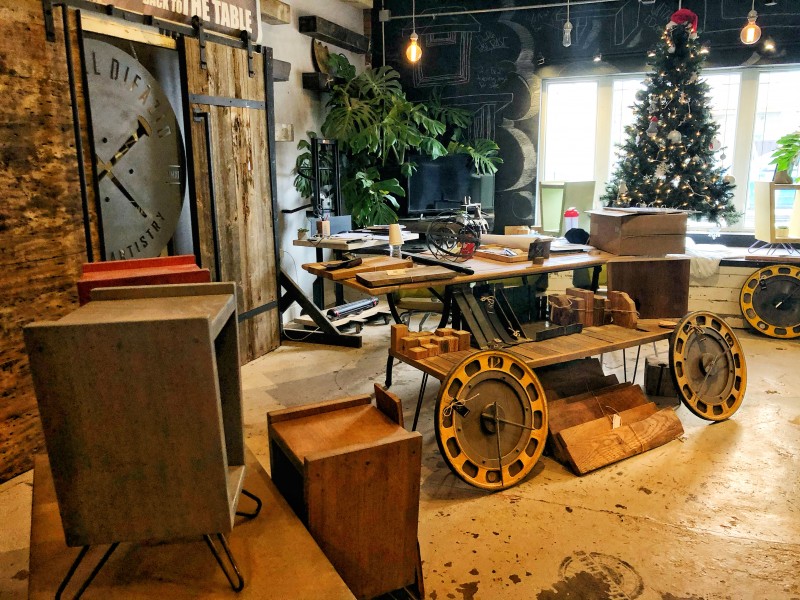 Meeting Michael, and hanging out in his shop, I just got the sense that he's a catalyst for change in Ford City. He personifies the spirit of the neighbourhood, and his growth is the perfect microcosm for the growth of Ford City at large.
Michael notes on his website, "I am a reclaim artist, I build furniture and art pieces out of older materials that no longer serve the purpose they were originally built for…There's more to the pieces I make than just a simple piece of furniture, there's a story to tell.
When you take something that already has history and a past, once it becomes something new, it takes on a new life, depending on what the material was, and you're creating its next life, because these materials aren't going anywhere else."
Michael and his team are a young, ambitious group that are creating their own road map. I know Dave and I had a ball just perusing what was on display in the shop, which was a pleasant amalgamation of a store and functioning workshop.
Meeting Michael, I was struck by the notion that this guy has roots in this area, and thus wants to put Ford City on his back. It's fitting that in some sense, he's spearheading the "reclaiming" of the spirit of the once industrious and entrepreneurial Ford City neighbourhood.
Take Note of the Ford City Murals
In and around Drouillard Road, you'll find thirty six different murals in twenty different spots.
The murals work to honour the history of the Ford City neighbourhood, but also allude to its bright, promising future.
I thought of the murals much like an outdoor museum for the area, highlighting everything from the glory days of the auto industry to the diversity of Ford City's inhabitants past and present.
You could conceivably do this on your walk that I mentioned initially, but I did want to mention that the murals in this neighbourhood, in my opinion, should be viewed with some intentionality.
These murals aren't just graffiti or street art – they're capturing or alluding to a distinct history.
That's a Wrap on Ford City!
Kevin and I started Ultimate Ontario because we wanted to dive deep into what makes this province tick.
This article, to me, signifies why we started a niche Ontario travel website in the first place – to dive deep into the stories of Ontarians and Ontario.
I can only imagine that there are dozens and dozens of other people and businesses that deserve your attention in Ford City, but that's why I've added a link to the business directory up above.
The best way to develop a connection with the area is to go and explore it for yourself, and my hope is that these initial recommendations and this context will serve you well in your journey.
Every time I travel in this province, it's the stories that I'm struck by. It's the stories that keep me interested and exploring.
It's the stories that keep my fingers typing, and remind me to never leave home without my trusty pen and notebook fit snugly into my pocket.
---
Thanks so much for reading today. If there are more stories that you feel deserve some coverage, shoot an email over to ultim[email protected] – Of course, you can also find us on Instagram, Twitter, or in our Facebook Group.
Christopher Mitchell is the Cofounder of Ultimate Ontario. He's visited over 80 countries, and has lived on 4 continents, but now has his eyes set squarely on exploring this incredible province, and helping others do the same.