illumi Mississauga is a dazzling light show that aims to provide a little something for everyone. Explore their "universes" at your own pace, and leave with no shortage of fantastic photos and great memories.
---
Cavalia, the largest Canadian-owned cultural enterprise, certainly shoots for the stars with illumi Mississauga. When we pulled into the parking lot to park our car, it was impossible not to immediately notice the Tree of Lights, which is visible from kilometres around, and is as tall as the Statue of Liberty.
Each night, when darkness falls, illumi Mississauga comes to life. For perspective, we're talking about over 20 million lights, 13 unique universes, all on over 600,000 square feet (which is the equivalent of 10 football fields).
Sometimes you buy a ticket to something like this, and you're in and out the door in a minute, but this is the sort of experience where, if you're snapping photos and letting it all soak in, you could spend an hour or two no problem.
What Do You Need to Know About illumi Mississauga?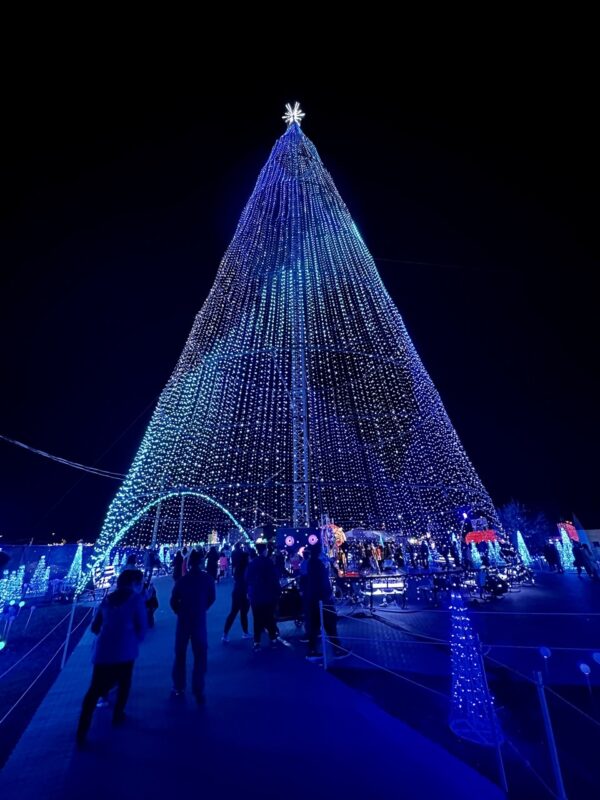 The most important thing to note is that illumi Mississauga is only running until January 8th, so you'll want to plan a visit before that date. You can take a look at ticket availability here, and generally speaking the event is running from roughly 5-9pm each day.
It's not too hard to find, largely thanks to that aforementioned Tree of Lights, but for reference, you'll find illumi Mississauga where the 407 and Hurontario St. intersect in Mississauga (7174 Derrycrest Drive, Mississauga, L5W 0G5). Parking is free of charge, and located right near the entrance – you can't miss it.
The walking path that winds through the universe is accessible for persons with reduced mobility. It can be a little crowded right as you enter, but things do open up as you move further from the entrance.
There are also food trucks, snacks, hot and cold beverages, candy, and alcohol available on-site.
The last thing that we would note here in terms of key details is that you're going to want to dress warmly. There's a fair bit of wind around the area, so it's going to be better to be a touch overdressed than the opposite.
Illumi's Magical Universes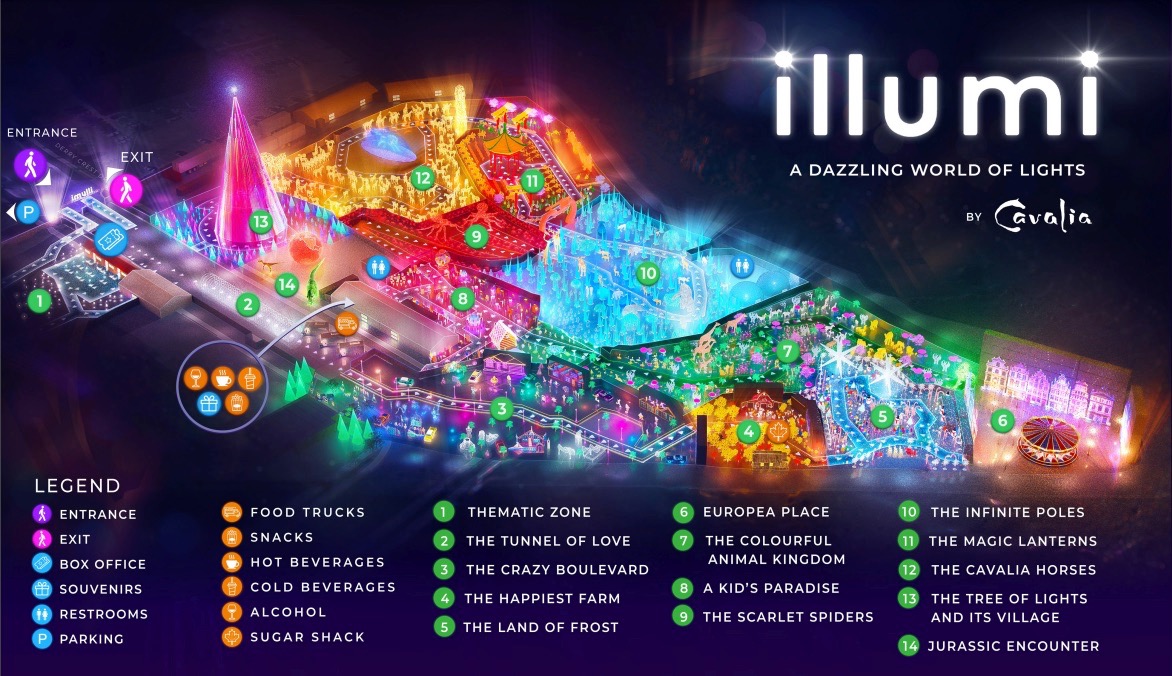 illumi notes that "Inventive concepts are transposed into thousands of larger-than-life light structures" all with the goal of providing "epic adventure for kids and adults alike." They go on to note that:
"Cutting-edge programming technologies and high-definition projections blur the boundaries of reality. Thousands of light sculptures and soundtracks immerse visitors in Hollywood film scenes."
Let's take a closer look at some of those universes, and what you'll experience there. For starters, you enter and pass through the "Tunnel of Love," and then more formally enter the immersive universes. We'll talk about the universes below in the order in which you'll experience them.
The Crazy Boulevard: Stroll down the boulevard of this make-believe neighbourhood. This universe was all about glamour, glitz, and somewhat kitschy fun. There are nods here to everything from sports stars to Hollywood movies, and their use of music in this section was neat to behold because of how they utilized synchronization.
The Happiest Farm: This universe was a big hit with kids and families. You've got all the farm animals that illumi has said aims to be "a nod to rural Canada." Personally, we thought what made this section so photogenic is the use of red and orange maple leafs that can't help but remind you of the best of Ontario's autumn months.
The Land of Frost: A world of glowing snowflakes and shining stars, and even a few reindeer. This is a universe that's going to get more and more enjoyable to visit as we get further towards the holiday season, as it's got some great built-in photo ops (the House of Elves which is red and green, for example).
The Europea Place: First off, got to love the name of this universe. We were really impressed with how they seemed to make a bit of a European town square (which felt like something out of Belgium or the Czech Republic) in the middle of Mississauga. The big draw here is the mechanical carousel, but just note that there may be a few minute lineup to give it a ride.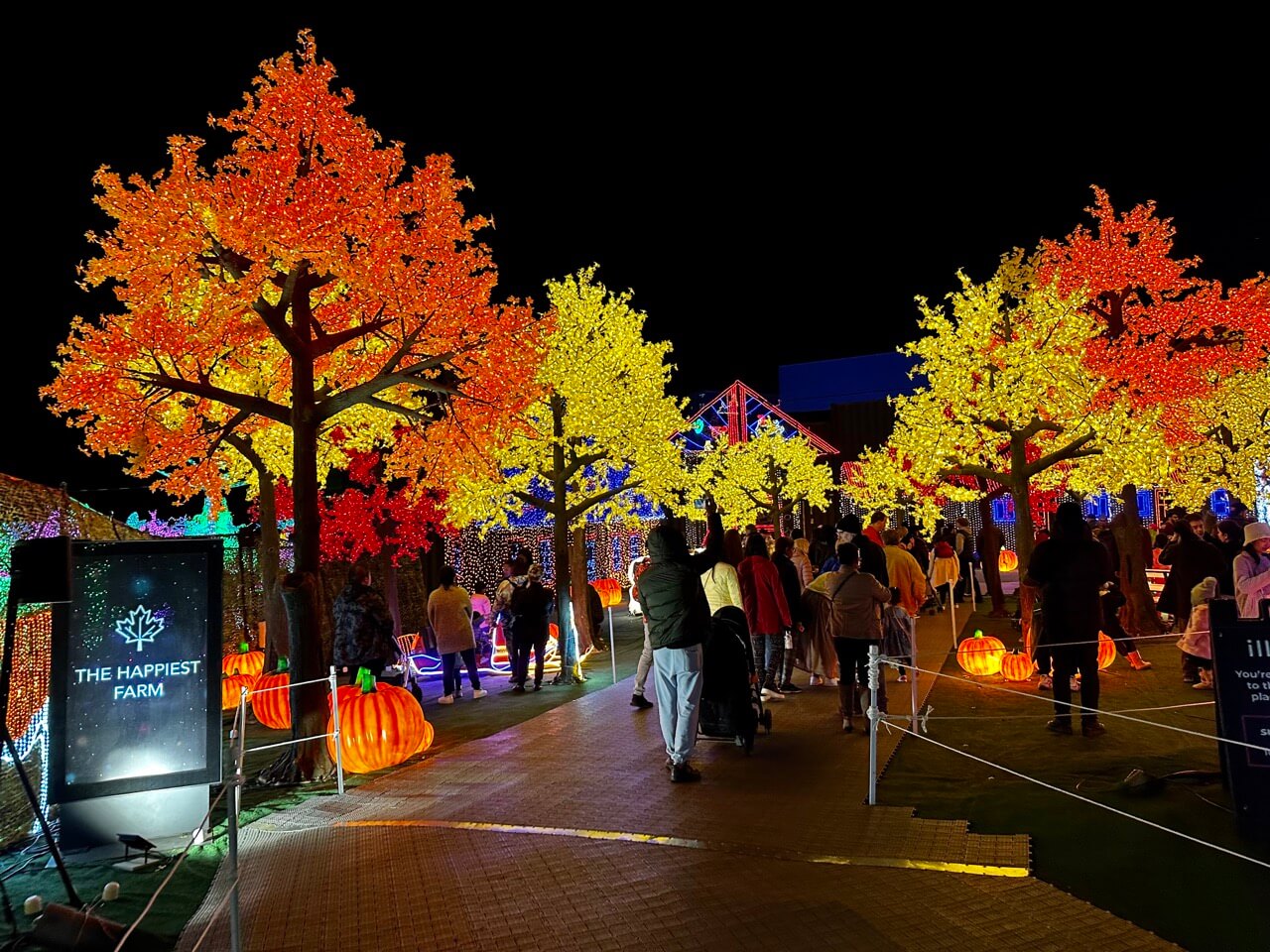 The Colourful Animal Kingdom: In this section, you're looking at animals that would conceivably roam the Sahara Desert, all together in one of the most colourful and vibrant sections of illumi. There are bright greens, oranges and pinks everywhere, and they pop magnificently against the night sky.
A Kid's Paradise: What would a kid's paradise entail? Well, giant candies, of course. There are cakes, ice cream cones, doughnuts, and lollipops galore. Any children with a bit of a sweet tooth will likely have their eyes go pretty wide in this universe!
The Scarlet Spiders: This spooky section features hundreds of red tarantulas, with some ominous music playing in the background. If you've got a family member who doesn't love spiders, this may not be their favourite section, but we think it's neat all the same, since it's a very fitting section for those who came to visit illumi Mississauga around Halloween (when it first opened).
The Infinite Poles: This universe harkens back to "The Land of Frost" a touch, but the whole idea here is that they're blending the north and south poles. Expect to see penguins, whales, igloos and icicles.
The Magic Lanterns: This section had a lot of wow factor. Orange traditional arches, bamboos shoots, pandas and ancient soldiers highlight The Magic Lanterns area. You'll also find some koi fish along the way and, of course, a striking imperial dragon.
The Cavalia Horses: 200 sparkling horses call this area home. To us, the area actually felt like it could have used a few more horses to fill it out. That being said, the real sight to be seen is the projections of horses playing in the fountain. The music that the horses are romping around to was created by Canadian composer Michael Cusson.
The Illumi Tree of Lights and its Village: Believe it or not, almost 45,000 luminous spheres light up this tree and allow it to flow and dazzle as it does. In a way, it kind of serves as the beating heart of the whole illumi Mississauga setup.
Jurassic Encounter: Keep your eyes out for the hyper realistic Tyrannosaurus rex and velociraptor in this universe. It's not as much "a universe" as much as a chance to get up, close, and personal with a couple of examples of modern day robotics, but some kids are sure to be in awe regardless, that's for sure.
illumi Mississauga Awaits
As you might be able to gather from the article, we were impressed with the sheer variety on offer. It made it fun to be media here because there's no shortage of spots to snap photos, nor universes to write about. Most importantly, when we looked around, people were engaged and having fun, especially families. And, in the end, that's what it's all about.
---
We want to humbly thank Visit Mississauga for hosting us as media. All opinions are completely our own.
If you appreciated this article, you'll love our newsletter, as well as our Facebook group! Feel free to join, all are welcome.
Christopher Mitchell is the Cofounder of Ultimate Ontario. He's visited over 80 countries, and has lived on 4 continents, but now has his eyes set squarely on exploring this incredible province, and helping others do the same.