Dynamic Earth is the home of the Big Nickel, but it's also home to a lot of other attractions and programming that not only shed light on billions of years of the earth's history, but also tell the story of Sudbury's mining history, and all with a very hands on approach.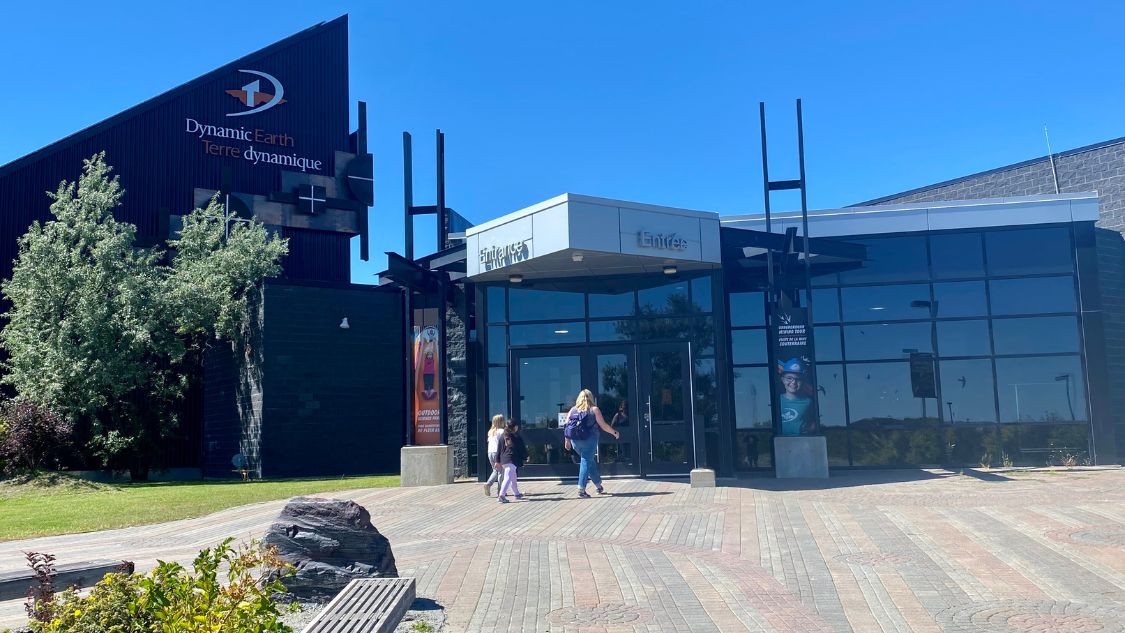 ---
Sudbury has done a nice job from a tourism perspective on doubling down on what makes them unique – on attractions that communicate their story. Dynamic Earth, a very hands-on, immersive science headquarters of sorts, certainly accomplishes that.
Dynamic Earth is really a collection of things, all under one umbrella. There's a guided underground tour (that we'd highly recommend), science exhibits, an outdoor science park that's wonderfully kids friendly, a handful of multimedia theatres and, of course "The Big Nickel," one of Sudbury's most iconic symbols.
Dynamic Earth is owned and operated by nearby Science North (Northern Ontario's top attraction), and we've got an in-depth guide to visiting Science North on our sister site, We Explore Canada.
A Bit More About Dynamic Earth (Terre Dynamique)
This Sudbury attraction opened in 2003, with the idea of being an earth sciences museum which could tell the story of Sudbury through exhibits on geology and mining history.
Before you visit, we'd recommend taking a brief moment to check to see if the museum is open (you can check here), as they're regularly doing construction and renovations, plus their hours are often shifted (or they're closed for stretches) in the winter months (at least for some of the experiences).
Dynamic Earth represents a very popular tourist site for Northern Ontario, but they often also have up to 50,000 students per year visit, and nearly the same amount of people join for different science workshops and programming, so it's an active educational centre in Greater Sudbury without a doubt.
How Can You Get the Most Out of Your Visit to Dynamic Earth?
We've put in the time here to make sure that, when you visit, you see exactly what you need to. Here's what we'd try to make happen when visiting Dynamic Earth.
Don't Miss Out on the Underground Mine Tour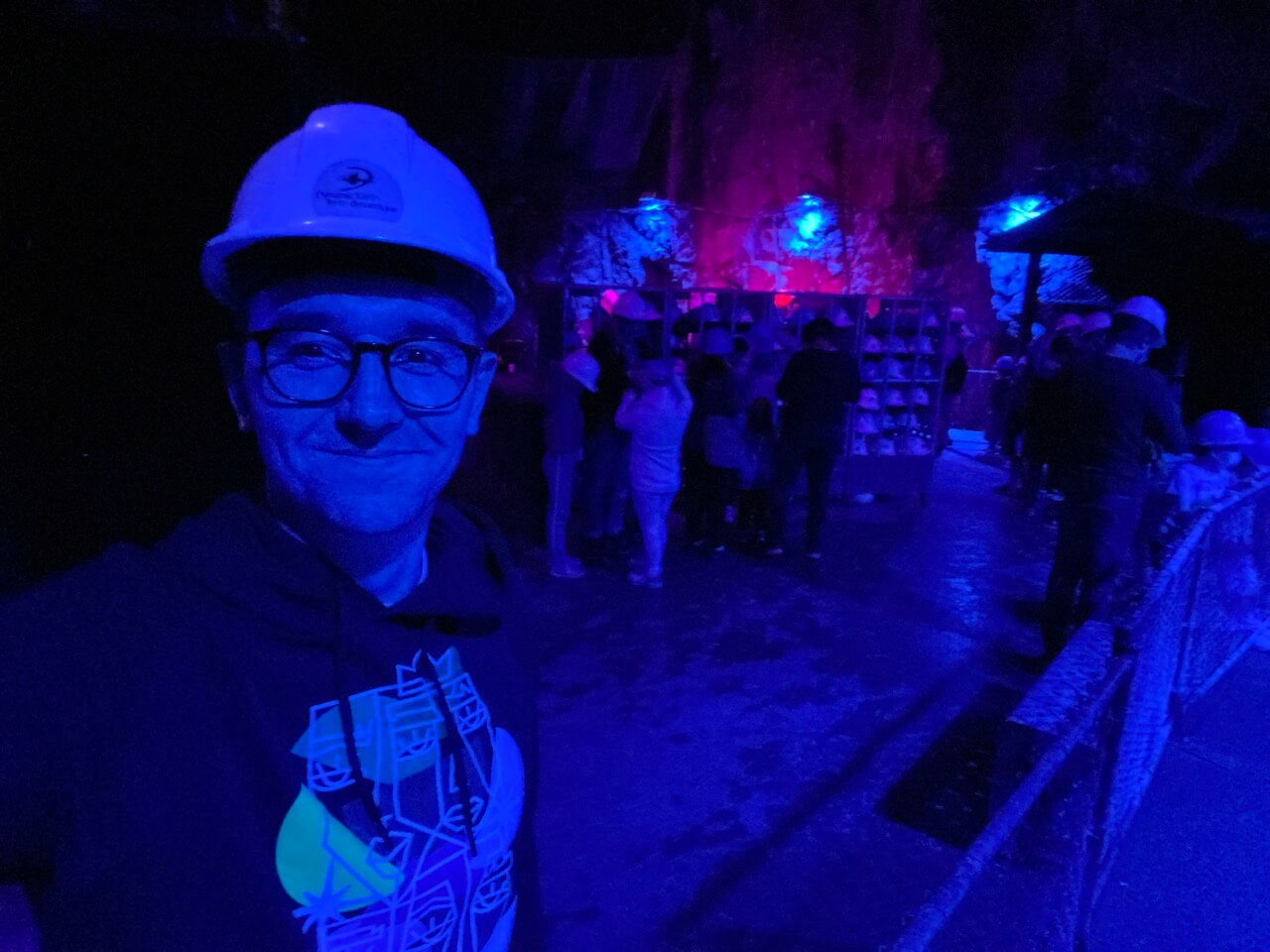 This tour honestly doesn't exist anywhere else in Canada, let alone Ontario, so it's a huge draw for visitors. The tour guides here are excellent, and they play the role of educators, but they also do a wonderful job of playing the role of actor or actress at certain points, especially for those with families.
We don't want to get too into that side of things and ruin any fun surprises, but our advice is to go into ready to learn, smile, and go with the flow.
It all kicks off with heading seven floors underground and putting on a hard hat. The tour tends to last between 1 hour and 1.5 hours, and the purpose of the tour is to take you through the evolution of mining – through Sudbury's mining evolution, essentially.
As Dynamic Earth itself says, "This guided tour takes you through our demonstration mine to discover the evolution of mining from turn-of-the-century to modern day."
One recommendation that we'd have for those visiting is to bring a layer. It's often damp and cool down there (around 13 degrees), so if you're prone to getting cold, you'll want at least a thin sweater.
Explore the Earth Gallery
The Earth Gallery is great for visitors of all ages.
On the one hand, you've got some exhibits and sections that deal with fossils, minerals, and rocks (particularly as it relates to identification), but there's also a big emphasis on walking people through the earth's processes (think plate tectonics, earth quakes etc.) in plain language.
All of it, though, circles back to Sudbury, as one key piece of knowledge shared here is that everything we see today, Sudbury's whole mining industry, all started with a large meteorite that came crashing down in what we now know as Greater Sudbury.
By the way, if you're visiting as a family, and everyone is loving the identification side of things, then you'd love the Mineral Wall, which is located across from the Copper Cafe. The Mineral Wall gives people the chance to use touchscreens and technology, but you still have the chance to physically touch different textures from the natural world.
Snap Some Photos at The Big Nickel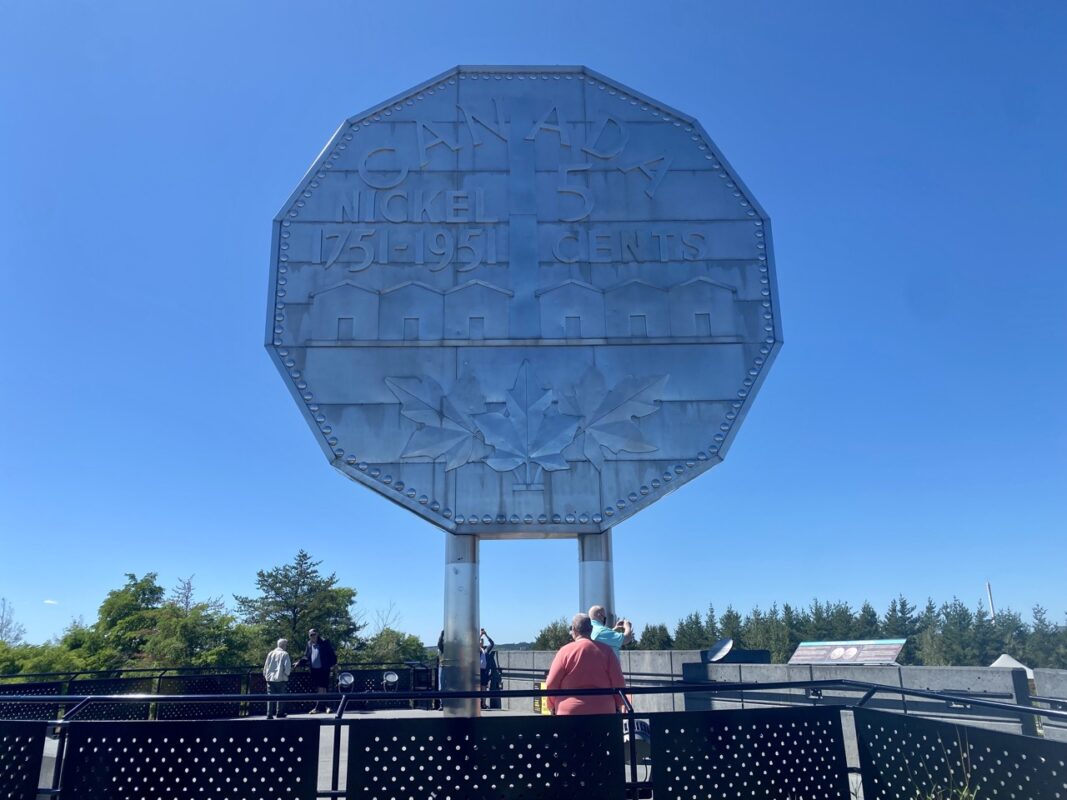 The Big Nickel is probably Sudbury's most iconic attraction. It was built in 1964 (and is an exact replica of a 1951 Canadian nickel) and it's meant to rather bluntly symbolize the wealth and prosperity that Sudbury has contributed to the Canadian economy through its nickel production.
In practice, it's a can't miss spot to snap a photo. The coin itself weighs almost thirty pounds, and it's easy to walk around (and under) this massive coin. The Big Nickel is the largest coin in the world, which adds up considering it's about 65 million times larger than the standard nickel.
Catch Your Breath by Catching A Show
The primary place to enjoy a film here is the Epiroc Theatre. Honestly, that theatre may have the biggest screen we've ever seen. Epiroc specializes in nature documentaries, and they always seem to have something new showing.
If you're looking for something a little more quick, relaxing and intimate, we'd strong recommend Nickel City Stories, located not far from where you'll start your Underground Mine Tour. There's also "Rocks to Riches," both of which offer a nice excuse to get off your feet for a moment and to do a little learning.
The Macleod Rock Gallery is a fan favourite because "you can test your skills in our Mine Training Centre while operating one of our exciting simulators." This includes the chance to "join a rescue team for a mine rescue adventure" or to "create mountains and lakes with the new virtual sandbox and pan for REAL gold flakes in our gold panning table."
Carve Out Some Time for the Outdoor Science Park
When we were visiting, it seemed like there was no shortage of fun being had by visiting youth. In truth, it looked like we could have spent about a million hours there when we were younger without getting bored.
There's an ever popular digger for the Sand Pit Zone, a rock xylophone to come up with some unique rhythms, a Scooptram underground loader to hop into and a whole lot more.
This section is weather permitting, and tends to be open from May to September.
Sudbury's Big Nickel and Dynamic Earth Await!
We hope this content serves you well in your visit to Dynamic Earth, which is truly one of the most unique tourist attractions that we have in this province. We should also probably note that if you plan to be there for a while, the Copper Cafe does offer light snacks and beverages. Also, there are lots of fun gifts and souvenirs at the Big Nickel Boutique, and members save 10%.
If you do visit using this article, feel free to comment below. That's what we're all about! Enjoy your visit to one of Northern Ontario's premiere attractions.
---
We want to humbly thank Discover Sudbury for hosting us as media. All opinions are completely our own.
If you appreciated this article, you'll love our newsletter, as well as our Facebook group! Feel free to join, all are welcome.
Christopher Mitchell is the Cofounder of Ultimate Ontario. He's visited over 80 countries, and has lived on 4 continents, but now has his eyes set squarely on exploring this incredible province, and helping others do the same.