Ontario Parks are ideal to see the colour change of leaves in the province. Below, we focus on which Ontario Parks would be ideal for you to visit in order to see the best fall colours in Ontario, and look closely at Algonquin Park, and the parks nearby.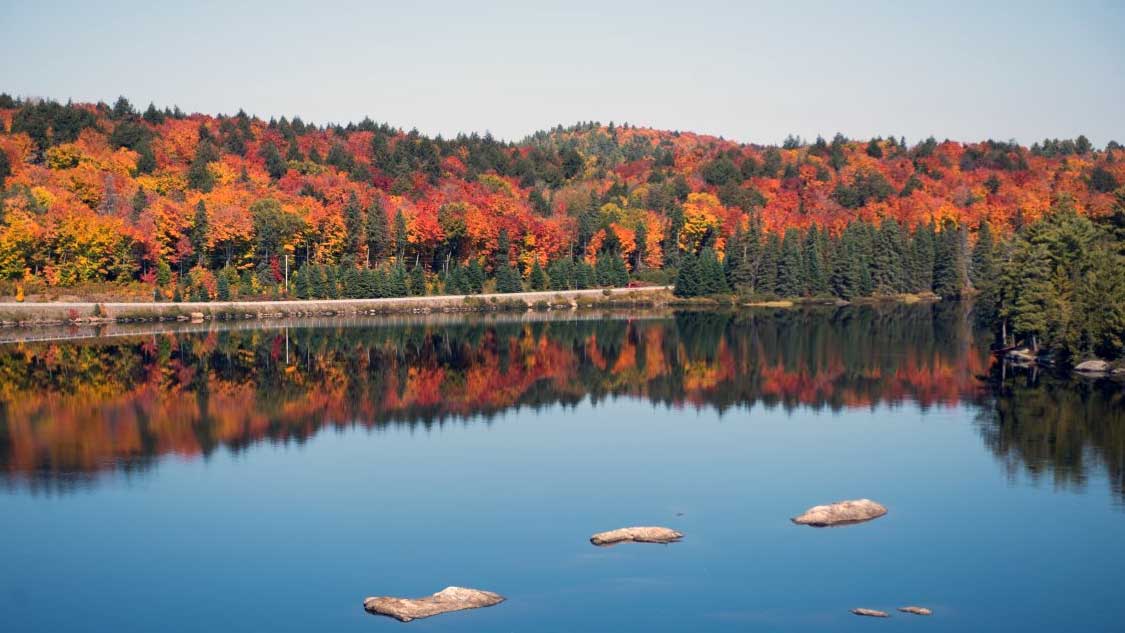 ---
Though autumn does signal that winter is on its way, it's hard not to have a soft spot for autumn in Ontario because of its sheer beauty. San Diego might have the perfect weather all year round, but they don't know what its like to see the trees bursting with bright oranges and reds that would have any painter salivating.
We've written about some of the most breathtaking places to see fall colours near Toronto, but today we're going to run through where else you can and should be looking to make the most of fall in Ontario. Specifically, we'll focus in on how to see the fall colours at Ontario Parks.
If you're looking for a great little autumn Ontario weekend getaway, or perhaps even to take a day off during the week and to soak it all in (don't worry, we won't tell your boss), then this article is for you.
The Ontario Fall Colours Report
Many Ontarians don't know that Ontario Parks Fall Colour Report actually does a brilliant job of tracking fall colours for us. You can find their interactive map if you click right here, and its diligently updated through the fall as the leaves change from green to orange, yellow and red.
On the right side, you'll see a colour icon that is representative of each specific park and its fall leaf colour report, so you'll know which parks are changing on which date. The colour of each region is determined by averaging all parks within that region.
If you're wondering when is fall in Ontario, the best Ontario fall foliage is typically seen from the middle of September to the middle of October, but each year is going to be different, and that's why we're such a big fan of the Ontario fall colours report.
This is also a good way to discover new parks in the province. You might come across a lesser known park that has gorgeous fall colours, and decide to go and check it out. Here at Ultimate Ontario, we try to put the focus on lesser known parks where we can, and that's why we focus on things such as Quetico Provincial Park's Dark Sky Designation.
Where to Stay Near Ontario Parks in the Fall
We've outlined the best tips and provincial parks to visit in and around Algonquin Park below. If you're planning to visit one of these provincial parks as the nights turn cooler, you may be more excited about the opportunity to stay at a heated accommodation as opposed to a tent to make a weekend out of it.
Deerhurst Resort is an excellent place to base yourself as an access point to the Muskoka Lakes region and beyond. Located in Huntsville, it's conveniently located close to Highway 11, while still being a short drive to several of the provincial parks listed here.
Windermere House, JW Marriott The Rosseau and Miners Bay Lodge are also excellent places to stay in and around the region.
How to Get to this Region in Ontario
Since the parks in and around Algonquin Park are some of the best to see fall colours, you'll want to ensure that you find the best way to get here.
Unfortunately there are no public transportation options to access these Ontario provincial parks. Your options are to either rent a car, or drive in your own vehicle.
There is one well-known tour company that does day-trips to Algonquin Park from Toronto. If you'd like to book a spot on an adventure tour from Toronto to see the fall foliage in Algonquin Park on a small, guided group tour that involves hiking and seeing some of the more famous natural landmarks in the park, then you can do so by clicking this link to book here.
What You Need to Know About Fall Colours at Algonquin Park
The most famous place to see fall colours in Ontario is undoubtedly Algonquin Park. There's absolutely no question that it's stunning, but it's also as busy as can be.
We're going to include some tips here directly from Ontario Parks to help you navigate seeing Algonquin fall colours in autumn without getting snubbed because there's no space for you left in the park.
You can book your day-use vehicle permit up to five days in advance of your visit. We've detailed how to do this on our post about The Best Ontario Provincial Parks.
If you arrive from a road trip at any provincial park without booking in advance and they've already sold all daily vehicle permits for the day, then you're out of luck, so make sure you book in advance.
You'll want to make a reservation if you're visiting for the day.
From Ontario Parks:
"We know you don't want to spend your time driving to Ontario Parks or sitting in lines, only to be turned away because we are already full.

If you're coming for fall colours in Algonquin Park, book the Highway 60 Algonquin access point.

You can obtain a daily vehicle permit up to five days in advance of your trip, beginning at 7:00 a.m.

Make your reservation:

Online at OntarioParks.com or by phone at 1-888-ONT-PARK (1-888-668-7275) – open daily from 7:00 a.m. to 9:00 p.m. EST

Not sure how to book? Here's a walkthough."
Even if you have a season permit, you'll need to make a reservation.
They've noted that you're best to come on weekdays to see the Algonquin fall foliage Ontario. You can indeed stay overnight as well if you'd like at a selection of lakes, but, again, reservations are strongly encouraged.
What Other Ontario Parks Should I Have On My Radar for Ontario Fall Colours?
Some of this will depend on your location in Ontario, as well as you using the Ontario Fall Colours Report to find the best spot, but we'll quickly run through some other excellent spots to see Ontario fall foliage.
The list below is in no particular order, and they're all wonderful in their own right. We've focused more heavily on provincial parks that are near Algonquin Park in case you're aiming to see the fall colours at Algonquin, but then have to make some alternative plans. Most of these parks are located within a 2 hour drive of Algonquin.
Arrowhead Provincial Park
Arrowhead boats large, treed and private campsites in the heart of Muskoka Lakes. You'll also find three sand beaches on Arrowhead Lake, which make for some lovely photography. Motorboat-free lakes, and over 15 kilometres of hiking trails, including a trail to a waterfall (Stubb's Falls).
Restoule Provincial Park
The ancient cedars of Restoule are lovely to paddle alongside in the summer, but they're even more stunning in the fall. If the weather is nice, consider hiking the Fire Tower Lookout Trail for an amazing view of Stormy Lake. This park is also known for mountain biking if that's your thing!
Whether you choose to do some waterfront camping or backcountry camping, Restoule quietely offers some of the best Ontario fall colour viewing opportunities.
Silent Lake Provincial Park
Silent Lake has almost 20 kilometres of hiking trails, and to go along with that, they've also got 17 kilometres of mountain biking trails. Wherever you go, and however you choose to see this provincial park, note the remarkable lookout over Silent Lake. There are two sandy beaches, no motor boats, and some campsites available for walk-in camping enthusiasts.
There's also four season accommodation at yurts and camp cabins available.
Earl Rowe Provincial Park
Earl Rowe is known for its abundance of quality hiking trails, including one that is a paved trail for those with accessibility needs. Earl Rowe Lake is a great spot for canoeing, fishing, swimming and everything in between. They've got a fair bit of RV and car camping for those interested in that.
Samuel de Champlain Provincial Park
Many will know that Samuel de Champlain Provincial Park is located on the historic Mattawa River, which was a fur trade route in the scenic Mattawa Valley. This park is known province wide for its fall colours, and hiking trails which give vantage points of the colours. It's also a fantastic place to explore via canoe, which is part of the reason the Voyageur Adventure Interpretive Experience is headquartered here.
Mikisew Provincial Park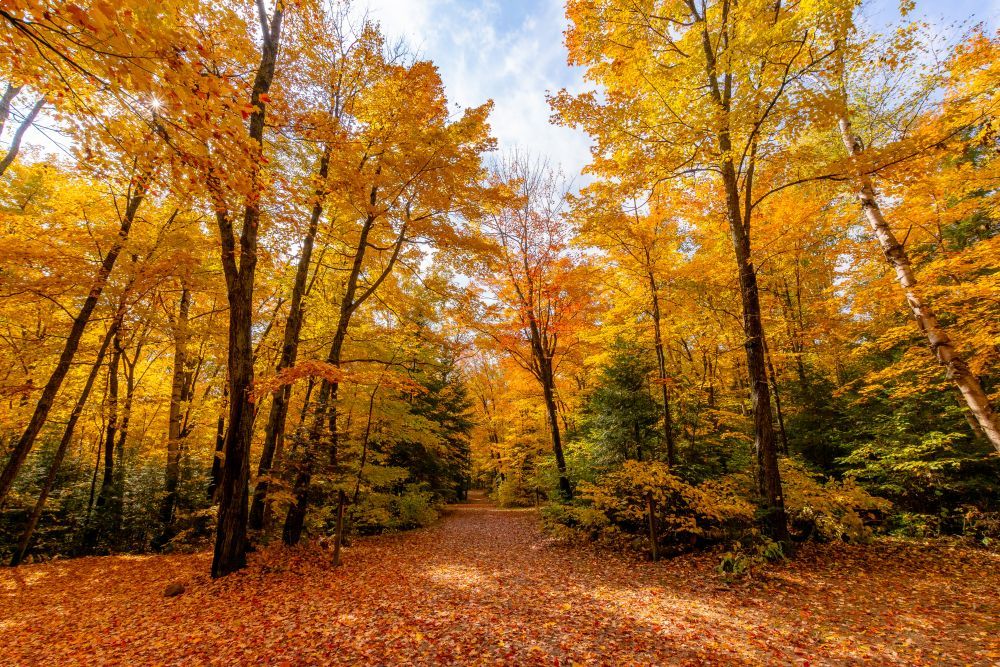 Mikisew has plenty of private campsites in mature maple and open red pine forests, which makes it a nice spot for fall foliage. If you're fine with cold water, then you'll be happy to know they've also got three shallow sandy beaches (which are popular with families in the warmer months). The hiking here will take you through hardwood forests and some picturesque ponds and wetlands.
Lake St. Peter Provincial Park
A large lake that's ideal to explore via boat that, like Balsam, has ample fishing opportunities. Not to mention, a handful of beaches if you're keen to take a dip (but, again, we know it may be a touch too late in the year). Lake St. Peter is located only 30 minutes from Algonquin's East Gate, so it's a fairly good backup if you can get into Algonquin because they've run out of permits for the day, but it is certainly beautiful in its own right.
Bonnechere Provincial Park
Bonnechere has a rich Ottawa valley history, but it's got a lot more than that. They've got a lovely beach on the shores of Round Lake, the McNaughton Trail, a historic depot with log ranger cabins, and some rustic cabins to rent for those who are looking to see some fall colours and then spend the night.
Oxtongue River-Ragged Falls Provincial Park
Oxtongue River Ragged Falls Provincial Park is located only 5 minutes from Algonquin's West Gate so, again, that's worth noting if you're unable to get into Algonquin if it's already full. You'll find the impressive Gravel Falls here, and it's only a short trail from the parking lot to get to a lookout of the thundering Whitewater Falls. Many people consider the falls here to be some of the most beautiful waterfalls in Ontario.
Balsam Lake Provincial Park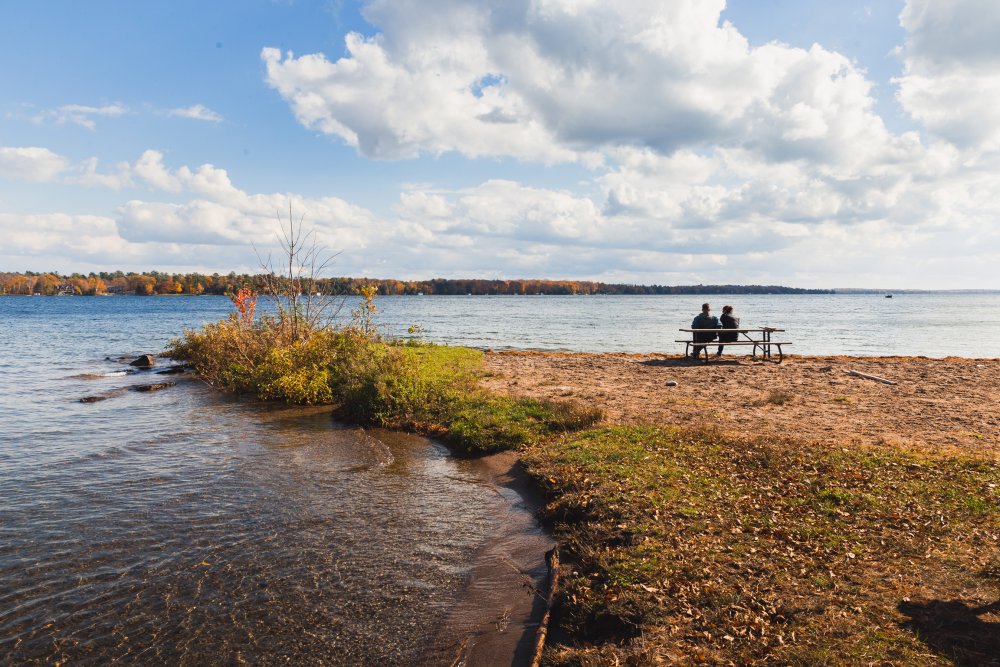 This is a spot to have on your radar if you wouldn't mind doing some fishing while you take in the fall colours. Balsam is known for having some great Walleye, Muskellunge, as well as Large and Small Mouth Bass. There are some easy hiking opportunities here, as well as the chance to do a little boating on the Trent-Severn Waterway. Not to mention, a large sandy beach.
You may also want to know that they've got a fully-furnished four bedroom rental cottage available.
Make the Most of Fall in Ontario
We're lucky that before winter in Ontario, we get to see this remarkable transformation take place before our very eyes.
Some years, we barely stop to take it all in, so we hope this article serves as a kind reminder that it's worth it to make the drive or to stay overnight in places that allow us to truly appreciate the majesty of fall in this province.
---
If you appreciated this article, you'll love our newsletter, as well as our Facebook group! Feel free to join, all are welcome.
Christopher Mitchell is the Cofounder of Ultimate Ontario. He's visited over 80 countries, and has lived on 4 continents, but now has his eyes set squarely on exploring this incredible province, and helping others do the same.