The A.Y. Jackson Lookout Trail, located about 35 kilometres from Downtown Sudbury, is a gorgeous hiking loop that will appeal to lovers of the outdoors, Canadian art aficionados, and visitors with a fascination for geology.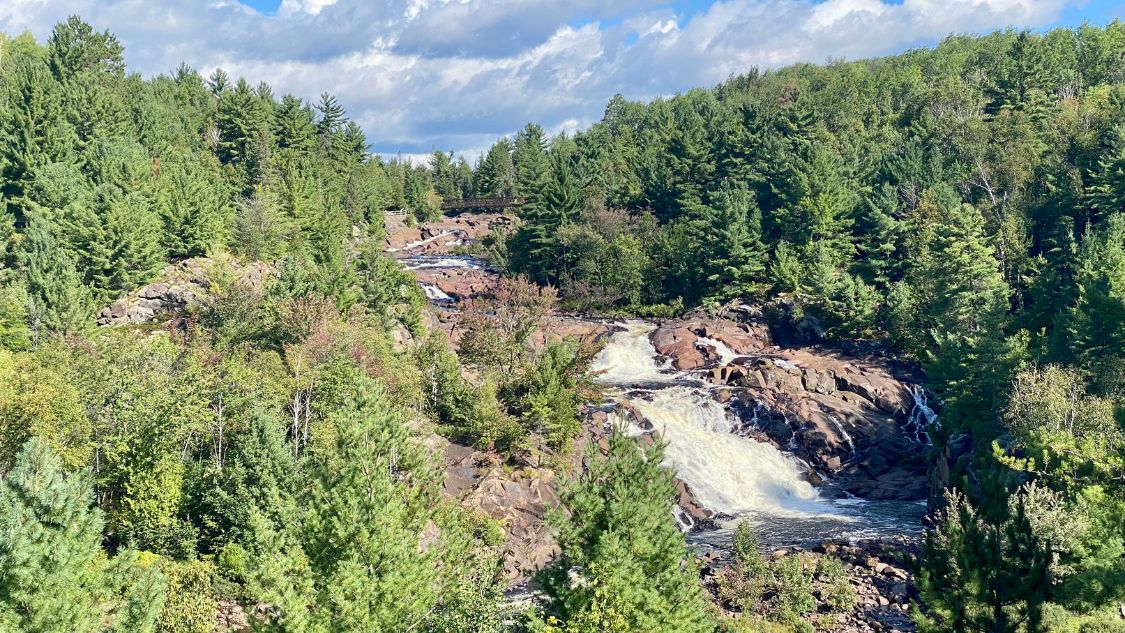 ---
As you might guess, if the scenery was deemed good enough for one of Canada's most famous painters to put brush to canvas, it's got to be pretty special. When we first arrived, we headed straight to the lookout, and the view of the rushing waters of High Falls were spectacular.
There was also a strong sense that you were not only out in nature but, in a sense, walking through history. When you park, you'll walk down to the trail, and in only a moment, you'll be at the A.Y. Jackson Lookout.
The best part about this experience is that from there, visitors are able to walk right down to the Onaping River, then follow a marked trail to the bridge. You can then walk across the bridge and hike a little loop that's been built out. It's very kid-friendly (though a touch rocky in spots), but the whole experience shouldn't be too taxing from either a physical or time perspective.
That being said, we're willing to bet that you'll end up taking some of your favourite Ontario hiking photos yet if you choose to visit.
A Bit More About the A.Y. Jackson Lookout Trail
If you're looking for the exact route, we'd recommend taking a peek at AllTrails. You'll see that they have the route labelled as 2.4 kilometres, with a 73 metre elevation gain, and it taking an average of 41 minutes. Personally, we took our time, and did the loop on the other side of the bridge a few times just to truly soak in the atmosphere, and to extend things a touch.
In terms of location, The A.Y. Jackson Lookout is located on Highway 144, about 35 km northwest of Greater Sudbury (and we'd certainly recommend popping into the city to visit places like Science North, some great local restaurants, or to spend a touch more time in nature at Kivi Park).
There's ample parking available on-site (at the A.Y. Jackson Welcome Centre, which also has restrooms). The best times to visit the trail is typically between May on through to October (though some people say there's great snowshoeing to be had here, too).
The highlight is High Falls, and it plunges 55 metres down in one stunning cascade. It was, naturally, the focal point of Jackson's painting.
We understand that the trail has been developed and supported through the help of the Rainbow Routes Trail Association (a not-for-profit based in Greater Sudbury that's focused on encouraging more folks to get outdoors and be active), so we acknowledge their efforts here, and thank them.
Who Was A.Y. Jackson?
A.Y. (Alexander Young) Jackson was a member of the Group of Seven, Canada's most famous painting collective. They were known worldwide for their landscape paintings drawn largely between the early 1920s and the middle 1930s. Lawren Harris, a close friend and supporter of Jackson, noted:
"No man can roam or inhabit the Canadian North without it affecting him, and the artist, because of his constant habit of awareness and his discipline in expression, is perhaps more understanding of its moods and spirit than others are."
A.Y. Jackson was one of the founding members, and is considered to have had an enormous impact on Canadian painting at large. He, like the other members, focused on landscapes, but it's also worth mentioning that he was a war artist during WWI.
His most famous landscape paintings are many but include such works as The Red Maple (1914), The Winter Road, Quebec (1921), Barns (1926), Algoma in November (1935), and many, many more. Here, he painted Spring on the Onaping River (1953), and it hung in Sudbury Secondary School from 1955-1974 until one day, unfortunately, it disappeared.
Our favourite A.Y. Jackson quote is from a letter he wrote to a close friend in 1913:
"The obedient in art are always the forgotten . . . The country is glorious but its beauties are unknown, and but waiting for a real live artist to splash them onto canvas . . . Chop your own path. Get off the car track."
Looking at the Trail Through a Geological Lens
Greater Sudbury, as we well know, has a rich mining history, and that can be traced back to meteorite strike that took place a little under 2 billion years ago. The A.Y. Jackson Lookout, according to the Ontario Government, "overlies the layer of fall-back debris near the northern edge of the crater. The highway route from downtown Greater Sudbury to the lookout crosses the ancient crater."
In the parking area, you'll see representative samples of rock types related to the meteorite impact crater.
If you're curious about the process, Greater Sudbury's ores didn't come from the meteorite itself necessarily, but rather by the earth rocks that were melted by the remarkable impact.
When you're walking along the river, keep your eyes open for bare bedrock which, if you look carefully, are "composed of rock fragments in a dark rock matrix." We'd recommend that you walk to the bridge and get a view down the falls.
Those interested in geology will be interested to know that "the river here tumbles down the north
rim of the Sudbury Basin, a topographic feature that reflects the eroded remnants of the ancient meteorite crater. Melt and fall-back rocks around the crater edge are resistant to erosion form the rim, while the softer sedimentary rocks that fill the centre of the ancient crater have eroded away
to form the flat agricultural plain of 'The Valley.'
If GeoTours are your thing, we'd recommend checking out these Northern Ontario GeoTours.
This Greater Sudbury Hiking Trail (and Lookout) Awaits
We've spent a lot of time hiking in Ontario, and there's something special about the A.Y. Jackson Lookout Trail because of the mixture of striking beauty, Canadian history, as well as the opportunity to learn more about the minerals that have fuelled Sudbury's growth. It's a highlight of any visit to Sudbury, and making the drive from Downtown Sudbury to the A.Y. Jackson Welcome Centre is one we can almost guarantee you won't regret making.
Happy trails from the Ultimate Ontario team.
---
We want to humbly thank Discovery Sudbury for hosting us as media. All opinions are completely our own.
If you appreciated this article, you'll love our newsletter, as well as our Facebook group! Feel free to join, all are welcome.
Christopher Mitchell is the Cofounder of Ultimate Ontario. He's visited over 80 countries, and has lived on 4 continents, but now has his eyes set squarely on exploring this incredible province, and helping others do the same.