The Ottawa Farmers' Market is an organization that runs 4 markets in Ottawa, including their flagship Lansdowne Farmers' Market.
The Ottawa Farmers' Market, established in 2006, started from humble beginnings over at Lansdowne Park, and now its become a shining example of what an Ontario farmers' market can be.
At this point, it may be more apt to call it the "Ottawa Farmers' Movement," since, at its core, the Ottawa Farmers' Market isn't just an event, but rather a producer-run organization that features over 150 vendors that are within 100 kilometres of our nation's capital.
It's easy to talk about the importance of supporting local by buying local, but visiting the Ottawa Farmers' Market at Lansdowne Park is your ticket to walk the walk.
Imagine, you might even be able to talk to the person who grew or made your food! Now that's a concept that I'm sure we all wish was more familiar in today's world. In a way, visiting a farmers' market in Ontario, is a way that we can actively combat the anonymity of modern grocery stores.
Exploring the best of our province doesn't always have to involve a trip to see the northern lights in Ontario, or a stay at an historic Ontario inn (though they're both wonderful in their own right), it can also be as simple as going to a local market, where the best of the area is brought right to you.
The Origin of the Ottawa Farmers' Market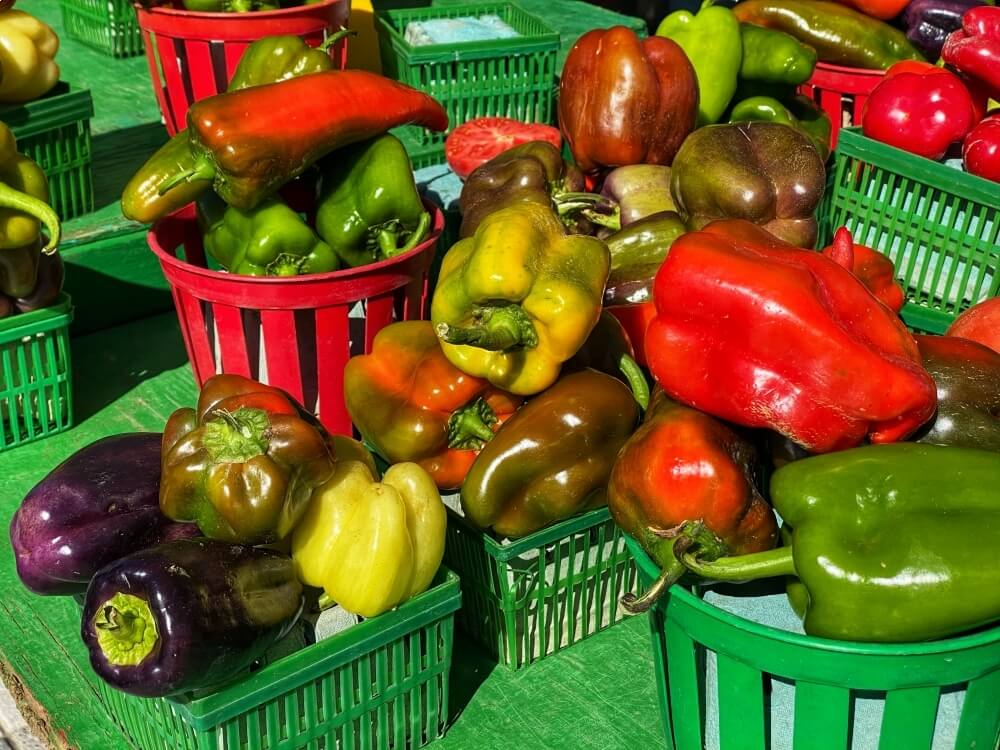 The Ottawa Farmers' Market, as we mentioned, started at Lansdowne Park roughly 15 years back, and it was also colloquially called "the Lansdowne Market," or "Lansdowne Farmer's Market."
The approach and intent that they started with is still as true today as it was then, and can be exemplified by their motto, "from the heart of the land, to the heart of the city!"
What needs to be stressed about the Ottawa Farmers' Market is that it's a member-based organization, and that means that the farmers are in charge.
The initial market wasn't formed just to sell produce, though – it was formed to showcase local vendors and individuals and foster a sense of community. Nowadays, you've got ready made food from local restaurants, live music from local artists, buskers from Ottawa and the surrounding area, and everything in between. It's a refreshing twist on what an Ontario farmers market can be.
Obviously, their approach has paid off since they've since expanded from the initial location at Lansdowne Park, and added 3 more! We'll talk more about the other locations towards the end of the article, but first want to highlight the flagship Ottawa Farmers' Market at Lansdowne park.
The Lansdowne Market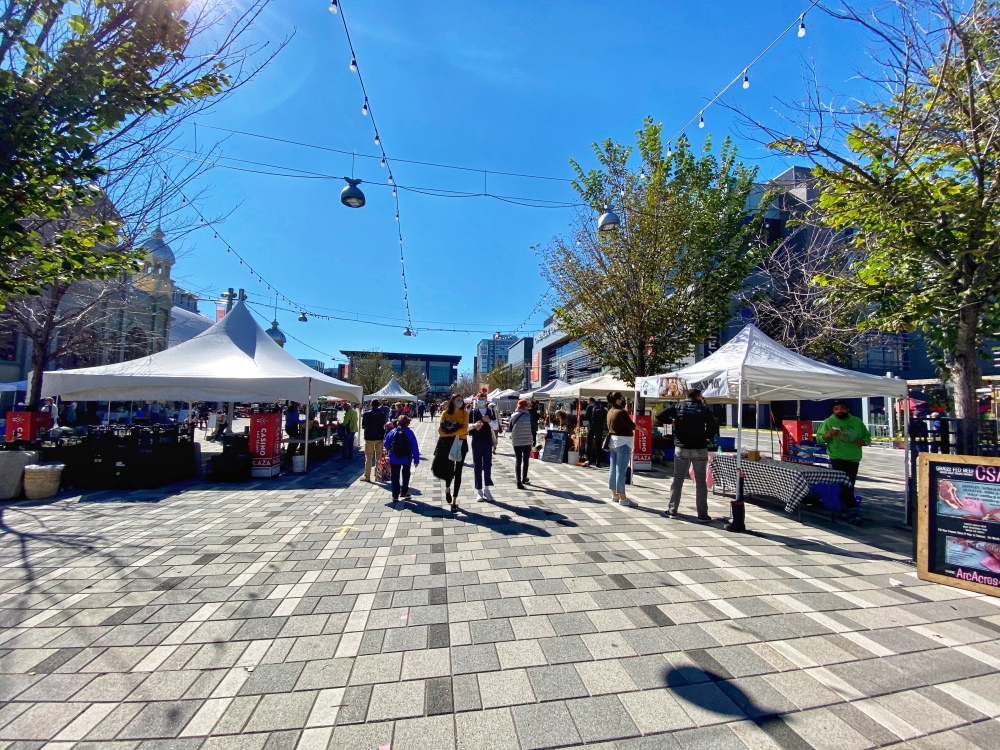 The Ottawa Farmers' Market's Lansdowne location is the only year-round, producer-only farmers' market in Ottawa.
First and foremost, this is a great place to do some shopping for fresh produce, which is something that all good Ontario farmers' markets have in common. In fact, a minimum of 51% of the vendors at Ottawa Farmers' Markets have to be agricultural producers, and that keeps them line with the definition of a being a "true" farmers market.
Beyond produce, you'll find specialty items like tea and coffee, homemade baked goods, handmade crafts, prepared foods like frozen pies, butchers with specialty meats such as game meat, and all of that with some music (often live), and a healthy amount of cheer.
The Ottawa Farmers' Market at Lansdowne Park takes place on Sundays from 9am-3pm. The market is outside from May to October, and then inside from November through April in the Lansdowne Park's Aberdeen Pavilion.
We'd recommend arriving around 11 or so, and grabbing a coffee or tea from one of the local vendors. Then, do your shopping and peruse, and when you're finished and you've worked up an appetite, you can get a meal from one of the local restaurants there. You can then finish that off with a baked good for dessert! You'll probably know by now that we're a sucker for good Ontario chocolate.
Most vendors take credit card, as they have Stripe at their stall. That being said, it's smart to bring cash, since some vendors still operate with cash only.
If you're driving to Lansdowne Park, you can park underground at Aberdeen Square, but note that it will cost you about a buck fifty every half an hour. In light of that, you're best off to look for free parking on Bank Street or nearby sides streets.
A few stalls that we appreciated that you might want to stop-by at:
DiversiTea – An array of locally blended organic teas from sustainable tea estates.
Art-is-in Bakery – it's worth actually making it to their physical location, but if you can't, then trying some of what they have on offer here is a good start! Exploring Hintonburg, and getting brunch here, is definitely worth it on any Ottawa weekend.
Bombay Garden – They make a mean, mean samosa.
Yummy Cookies – The name says it all. Not to mention, they've been a deserving staple of the market for quite sometime.
Purebread Bakery – I wouldn't leave the market without snagging a loaf from them. The organic sourdough is off the charts, but we also tried a pumpkin seed rye from them which blew us away.
Blue Shoes Honey – Great honey, and all about promoting organic beekeeping.
All About the Soup – all natural vegetarian soups to go!
You can find a full list of vendors attending the market here. If we had more time, I'm sure we could say something great about every single vendor on the list. All of these vendors are deserving small businesses, so spend where you're able and support local.
Also, take note of what vendors you appreciate, and see how else you can support them. For example, if you try an apple at the market that you fall in love with, plan to go apple picking in Ottawa the next weekend at their orchard (if it's the right season, of course).
The Other Farmers' Markets in Ottawa
As we mentioned prior, the Lansdowne Market isn't the only market run by this organization.
They also run the Barrhaven Market at Nepean Woods Park & Ride. That market also takes place on Sundays, but from 10am-2pm. It runs from August 2 to October 25th.
The Orléans Market is located at the Ray Friel Recreation Complex Parking Lot. The Orléans Market is actually a weekday market, and runs Thursdays from 11am-4pm. The market starts in July and ends in October.
Finally, the Westboro Market is held at McKellar Park. It takes place on Saturdays from 9:30am to 3pm. It's held from May until October.
If you do come to visit one of these markets from out of town, considering staying the night in Ottawa. A trip, we've learned, can turn into a vacation rather quickly if you add on a stay at an Ontario hotel like the Fairmont Château Laurier.
Whichever market in Ottawa you choose, we hope this article serves you well, and encourages fellow Ontarians to think and support local.
Christopher Mitchell is the Cofounder of Ultimate Ontario. He's visited over 80 countries, and has lived on 4 continents, but now has his eyes set squarely on exploring this incredible province, and helping others do the same.