One of Toronto's biggest tourist attractions is a foodie paradise in waiting. Ultimate Ontario contributor Liisa Ladouceur gives us the low down on the top eats at the St. Lawrence Market!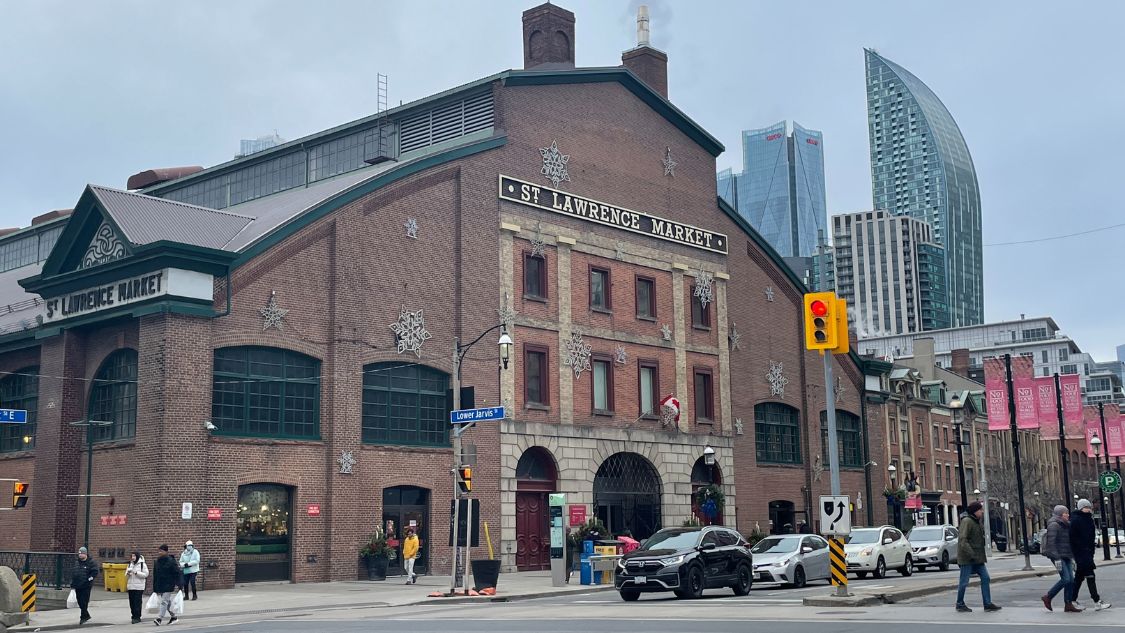 ---
Is the best food market in the world in Toronto? On the streets outside Toronto's St. Lawrence Market large banners proclaim that it is — an honour bestowed by no less than National Geographic. But you don't have to take their word for it, it's easy to visit yourself and decide.
A warning though: much taste testing may be required!
St. Lawrence Market is the most famous food market in Toronto, the oldest, and one of the most beautiful. More than 120 permanent vendors over two floors sell staples and delicacies from around the world. Cheese from France, Iranian caviar, Greek olive oil, lobsters flown in from Canada's East Coast, all the teas in China. Savvy local foodies keep the stalls bustling year-round and it's entertaining just to walk around and watch the fishmongers, butchers and bakers plying their trade.
But I happen to think the best reason to visit the St. Lawrence Market is to eat! Eating your way through St. Lawrence Market is a great way to learn some history of Canadian food and support local farmers and businesses while making your tastebuds very happy.
So here's everything you need to know about visiting St. Lawrence Market and where to find the most delicious and traditional Canadian food to fuel your journey.
Where is St. Lawrence Market?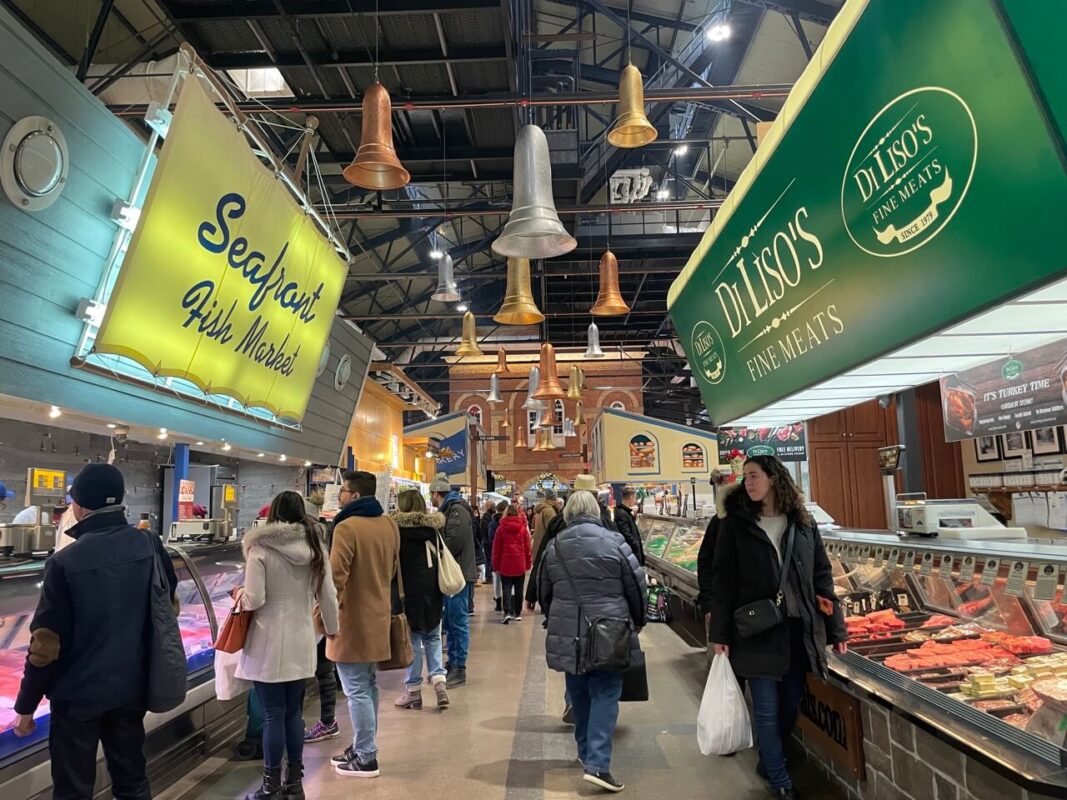 St. Lawrence market is located on Front Street East at the corner of Jarvis Street in the downtown west area, often called Old Town Toronto. If you're taking public transportation, it's about a 15 minute walk from Union Station and the nearest streetcar stop is the 504 King car stop at Jarvis. There are also many paid parking lots nearby.
The market is open every day except Monday. Saturday from 7am to 5pm is the busiest time to go. They've recently opened on Sunday as well from 10am to 5pm. Tuesday to Friday hours are 9am to 7pm. There is no fee to enter.
Local tip: Cash is king. Many vendors prefer cash — and a few are cash only. There's an ATM on site.
The History of St. Lawrence Market
One thing that makes St. Lawrence Market special is the historic building. Built in 1845, it was originally Toronto's first City Hall, and was also used by the Toronto Police department, and housed a jail. In 1899, City Hall moved to new digs on Queen Street west and the property was remodelled for use as a market. The St. Lawrence Market you see today has been operating since 1902.
A second building, on the North Side, has been home to the weekly famer's market. (Currently held outside on the street on Saturdays from 7am to 3pm while the building is under construction.)
Walking in from Jarvis you'll be on the main floor. A second lower level can be accessed by stair or elevator. There are also entrances to the lower level off Esplanade.
Local tip: There's a free art gallery on the upper floor showcasing the city's collection of Toronto art, and an antique council chair from when the building was used as City Hall. It also offers a great view of the main market from above through huge glass windows. Open Saturdays from 11am to 5pm. Take the elevator to Market Gallery at the Front Street Entrance.
What to Eat at St. Lawrence Market
The real question is what can't you eat here! There's a true smorgasbord of food items to choose from.
Although I will say it leans heavily on European foods – reflecting the early waves of immigration to Canada from the French, British, Italian, then Eastern European countries such as Ukraine. With exception of sushi, bubble tea and a Chinese takeaway on the lower levels, there isn't so much Asian food here.
It could also use an Indigenous food vendor or restaurant to be truly representative of the city. But all that said, there's still a great variety.
Here are some of my favourites:
Butter Tarts
Butter tarts are a quintessential Canadian desert. A gooey sweet filling of butter, sugar and egg nestled in a flaky pastry tart that's good at any time of day. Entire festivals exist in Ontario and there's a "butter tart trail" through many small towns.
At St. Lawrence Market, you can taste one of the best at Future Bakery.
Future Bakery is an institution in Toronto. The family business was started by a Polish-Ukrainian couple who immigrated to Canada after the Second World War and their recipes for breads and baked goods have passed down through generations. You'll find them on the main floor.
There are several types of butter tarts at Future Bakery. Get two and try to settle one of the great controversies in Canadian food culture: which butter tarts are best, the plain ones, or the ones with raisins?
St. Urbain Bagels
Montreal-style bagels are the Canadian equivalent to New York bagels, considered the best in the country.
St. Urbain started making them here in Toronto in the early 1990s, and you'll likely find a line up outside their stall from early morning when the fresh ones come out of the oven. They're on the main floor, in the back of the building.
Plain, sesame or everything bagels are the most popular, and you can order with different flavours of cream cheese, add traditional lox, or opt for non-dairy spreads like hummous and babaganoush. An excellent choice for sharing.
Back Bacon Sandwich
Disclaimer: I'm a vegetarian so I haven't personally tried this sandwich. But Anthony Bourdain gave it the thumbs up when he visited St. Lawrence Market, so that's good enough for me. Carousel Bakery is on the main floor –in the same location for 30 years.
Also known as "peameal" bacon (because it was originally rolled in ground yellow pea, now cornmeal) or "Canadian bacon" (because it was first developed here) it's a cured bacon with a distinct yellow edge, best served sliced on a Kaiser bun.
Local tip: If you're buying some back bacon to take away for later, head to the Kozlik's booth and pick out some mustard to go along with it. Since 1948, Kozlik's Mustards has been a family-owned business using Canadian seeds and ingredients. There are so many varieties so try something new. Also makes a fine gift.
Award-winning Cheeses
St. Lawrence Market has so many excellent cheeses, it feels horrible to make you choose between them. The very best imports from France are available here, but why not look for Quebec cheeses?
Oka is a very popular cow's milk cheese that's widely available, with a strong aroma, nutty flavour and a semi-firm consistency that melts well.
Small Quebec cheese company produce some award-winning artisanal cheeses, and the staff at the different cheese shops will be happy to help you sample them. My personal fave is Riopelle de l'Isle, a soft cow's milk triple cream that melts in your mouth, named for a beloved Quebec painter.
Explore and find your own new fave.
Ukrainian Pierogis
Canada has the third largest population of Ukrainians outside of Ukraine and Russia. They started settling here in the late 1800s, so we've been lucky to have the delicious Ukrainian pierogi on the menu here for a long time.
Head downstairs to European Delight, a family business pushing pierogis at St. Lawrence Market since 1999. They'll hook you up with traditional potato or sauerkraut pierogis and even sweet desert pierogis like cherry.
Local tip: it can be hard to find a seat in the lower level on weekends. When the weather permits, head outside to the terrace instead.
Eggplant Parmigiana Sandwich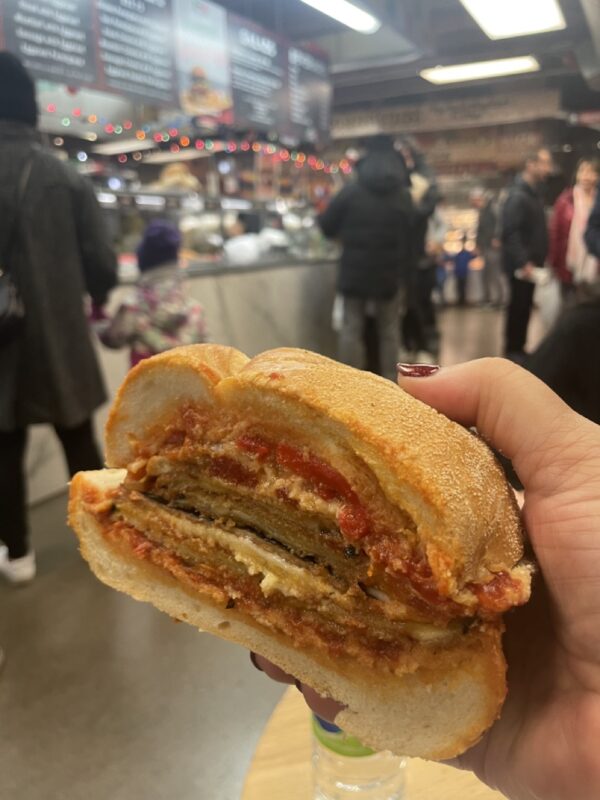 For my money, the best sandwich in all of Toronto is in the lower level of St. Lawrence Market at Uno Mustachio. I have been known to visit the market just to eat at this Italian take-out counter, located on the lower level.
Breaded eggplant, fried peppers, fresh mozzarella cheese, homemade tomato sauce, more parmesan cheese, on a soft kaiser bun — it sounds so good. And then you see it and realize it's big enough to feed three people.
So share it, wrap half for later, or finish it yourself. Just get one!
Maple Syrup
If you got this far and haven't yet picked up any Canadian maple syrup, you can do that on the lower level across from Uno Mustachio at the gift shop or Eve's Temptations, which serves desserts from great Toronto bakeries like Dufflets cakes and Chudleigh's pies.
Foodies can go even deeper by taking a small group tour of St. Lawrence Market, for more historical details and sampling with a local guide.
Check out the Canadian Food Discovery tour with Urban Adventures or the St. Lawrence Market and Old Town Food Tour with Eating Through TO.
Happy eating!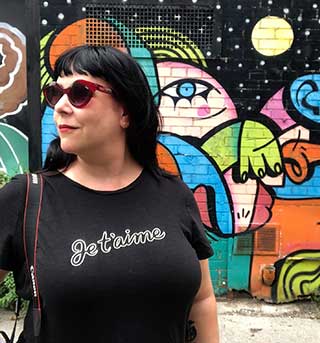 Liisa Ladouceur is a Toronto-based writer who believes adventure doesn't have to be far away – it's about curiosity and wonder. She runs the travel blog LiisaWanders where she shares lessons learned while seeing the world.