If you can't make it to Germany, celebrating an Ontario Oktoberfest is the next best way to celebrate this epic Bavarian festival!
While it might not be known across the world, celebrating Oktoberfest in Ontario is an incredible experience.
In fact, if you're not in central Europe, and specifically Germany, it's really not going to get much better than an Ontario Oktoberfest for you.
The old German traditions stay true to form, but they're mixed in with new Ontario twists. It all just keeps getting better and better as our beer in Ontario continues to do the same!
Oktoberfest in Canada, Eh?
Oktoberfest is a celebration which originated in Germany, but has long since spread out to different parts of the world, including the Great White North.
Some places were brought Oktoberfest for experience's sake, while others have a historical reason for hosting Oktoberfest in their region.
When tempted by the thought of experiencing Oktoberfest in Germany itself, the cost of a plane ticket to Germany, especially only for a few days, makes it seem like a frivolous thought.
However, It's moments like that when you think to yourself "I wish there was an Oktoberfest near me where I could celebrate just like the people in Bavaria."
Fortunately in Ontario we have a fairly lengthy German history, and thus we have some longstanding and some newer Oktoberfest celebrations in southern Ontario to tickle our fancy.
Here's a list of a few ideas for how you can celebrate Oktoberfest near you when Oktoberfest in Ontario returns again.
You'll also find some information about enjoying your German Beer Festival in true Ontarian style!
The Top Ontario Oktoberfest Locations
There are several places where you can enjoy the best of Oktoberfest food, music and Ontario beer this fall. Here's a list with some details about what you can enjoy and where you can find more information.
Oktoberfest Kitchener-Waterloo
This is Ontario's most longstanding Oktoberfest, having started in 1969.
The Kitchener-Waterloo Oktoberfest was created to celebrate the traditions of the German Canadians who have strong roots in the region.
It has been running since then, and lasts for eight days in October. Since its inception, this festival has since grown to become the largest Bavarian festival in North America. They have thousands of visitors to their Festhallen every year.
Speaking of Festhallen, this German beer festival has expanded to include several Festhallen throughout the region, so make sure you do some research in advance to get a glimpse of the types of halls, times and tickets that are available so that you can pick the Oktoberfest location that's best for you.
Believe it or not, Kitchener was once called Berlin, Ontario, so you know the German history here is as real as it gets, and that's largely why it's considered the number one Oktoberfest in Ontario by many.
Oktoberfest London, Ontario
A little newer in its history with four years of festivals under its belt, the Western Fair District Oktoberfest takes place over two days.
This Oktoberfest location is hosted at the Western Fair District's Festhalle (also known as the Carousel Room) in mid-October. Tickets range from $8-11 and are available in advance or at the door.
They have some fun opportunities and entertainment at this location including watching and learning how to polka, or listen to some classic polka hits.
Oktoberfest Toronto
This Oktoberfest location was the first Oktoberfest in Toronto, and it started a little later in the game, in 2012.
Toronto Oktoberfest runs as a three day festival from a Thursday to a Saturday in late September. You can purchase tickets in levels of single entry, a table for 10, VIP entry, and a VIP table of 10.
Depending on the time and date you're looking for, single entry tickets will cost anywhere from $16-26 for the date and time, and they go up from there.
Last year, they had a special with Hotel X. It's just across the street, and you could get a weekend pass to the tent for free for the duration of the weekend if you stayed at Hotel X. Staying at this hotel is just one of the many top luxury experiences in Toronto.
Oktoberfest Food & Drink
When it comes down to food and drink at a German beer festival, the latter is relatively self-explanatory. Serving everything from traditional Bavarian beers like Paulaner and Erdinger to beer from Ontario breweries, you'll be sure to find the German or Ontario beers to satisfy your craving.
As for discussing the food, you'll want to try at an Oktoberfest, here is a list of some of the classics you can expect to find both in Munich and at an Oktoberfest in Ontario:
Schnitzel
Schnitzel is a classic staple of Oktoberfest food. Traditionally made from veal chops ("wiener schnitzel"), but sometimes made from pork chops or chicken, schnitzel is prepared by seasoning a cutlet in a combination of ingredients to get a tasty and crunchy exterior, followed by frying it. No German beer festival would be complete without it.
Depending on where you are, if schnitzel on a bun is offered, it also makes more a great meal which is easily transported if you're walking around a tent or from place to place. Regardless of how you take your schnitzel, it's traditionally served with a side of potatoes that may or may not be on the creamy side.
Oktoberfest Sausage or Bratwurst
Another staple on any Oktoberfest menu is a traditional German sausage or Bratwurst.
This is an Oktoberfest food you're likely to see regardless of which German beer festival you're at.
Made of a combination of herbs and spices known only to the keeper of the family recipe or your local butcher of choice, a bratwurst makes for a great food pairing as you're celebrating a "Prost!" with friends.
Soft Pretzels
Perhaps the most Instagrammable and notable of the aforementioned Oktoberfest foods, the traditional giant soft pretzel is the right snack for any time, any place.
Made soft and tender bread and covered over traditionally with butter and served either plain or with sizeable pieces of salt, these are certain to be found at every Oktoberfest in Ontario.
In fact, it just wouldn't be Oktoberfest without some pretzels!
Oktoberfest Music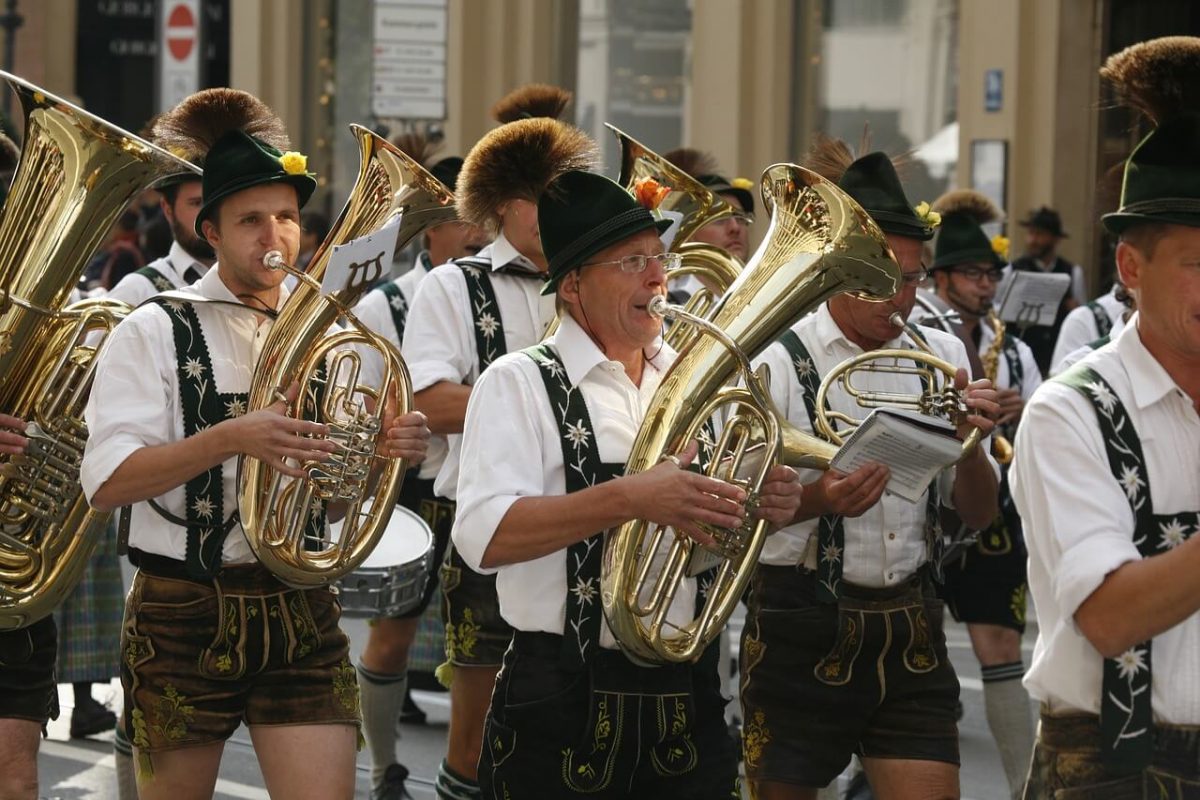 The style of live Oktoberfest music is typical of the Bavarian Polka persuasion.
Some songs are instrumental while others are more lyrical with vocals people will know in droves.
A favourite song which you're almost certain to hear is "Ein Prosit", which translates to "I Salute You". Played over and over throughout a festival and sung loudly by people know are in the know of this song, maybe give it a listen before your first visit so you can have an idea of what you're in for and recognize it when it comes on. Better yet, you can learn the lyrics!
There are many other classic songs to talk about. Regardless of which songs come on when you attend an Oktoberfest, you're sure to want to get up and dance or sing your heart out. And if you can't do either of those things, then you'll certainly do a good job pretending!
Oktoberfest Outfits
Sometimes mistakenly referred to as "Oktoberfest costumes", the true Oktoberfest Lederhosen or Dirndl are something German and German Canadians take very seriously.
To them it is not a costume, it's an outfit celebrating traditional Bavarian culture and history, and is a true staple of Oktoberfest.
Oktoberfest Dirndl are worn by women. It is important to remember that a traditional Dirndl is meant to be tasteful and respectful. It is considered distasteful to choose to wear a "sexy" costume version of the traditional outfit to an Oktoberfest in Munich, and the same can be said for any Oktoberfest in Toronto.
A dirndl consists of typically a white or light coloured blouse worn beneath a dress. Lederhosen is traditionally worn by men and also consist of a white shirt beneath a pair of overalled shorts, typically with a hat.
Wait, is it October in Ontario Yet?
Whenever you're reading this, you should know that it is never going to hurt to start planning your Ontario Oktoberfest experience. Especially at Oktoberfest Kitchener-Waterloo, things book up months and months in advance, so you want to get ahead of that.
Plus, you've got to do some planning. I mean, you need to at least start drinking German beer by the litre a few months in advance – call it training!
If it's summer, enjoy the beaches in Ontario, When October strikes, make sure you find your way to the nearest Oktoberfest and celebrate like you're in Bavaria – there's certainly no shortage of opportunity to do just that in this province!
Below, feel free to comment if you've been to an Oktoberfest in Ontario, or have any additional tips and tricks for
Christopher Mitchell is the Cofounder of Ultimate Ontario. He's visited over 80 countries, and has lived on 4 continents, but now has his eyes set squarely on exploring this incredible province, and helping others do the same.