The best beaches in Ontario are spread across our incredible great lakes and smaller shorelines. These incredible Ontario beaches will have you skipping the Caribbean for our local sand.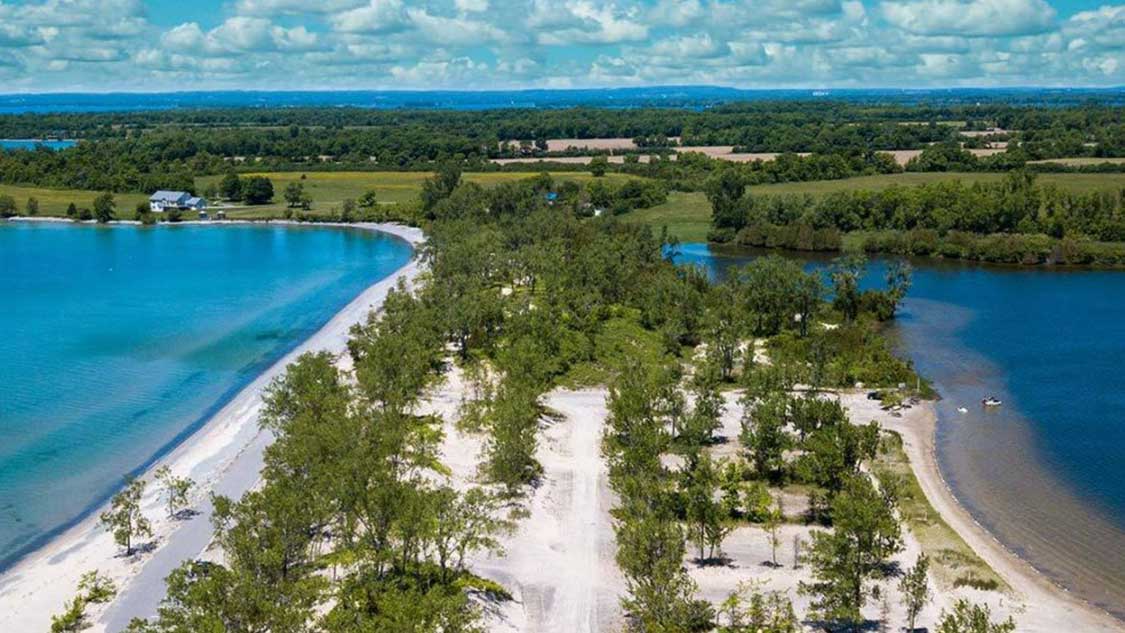 Beach culture in Ontario is booming. Ontario summers may be shorter than we would like, but there is a wealth of beaches in Ontario that can put many Caribbean destinations to shame. With more lakes than most of the countries in the world combined, finding the best Ontario beaches might be like finding a needle in a haystack. So we've put together this guide to help you get your bottom sandy.
From the tip of Lake Superior to the sandy shores of Point Pelee, the best beaches in Ontario can compete with anything you might find abroad. In fact, Ontario is home to the two longest freshwater beaches in the world! And when you share your beach photos on the 'Gram', your friends will never believe that all of these are beaches in Ontario.
Some of these are incredibly popular Ontario beaches. Others are hidden gems that you can introduce your friends to. So whether you're looking for long stretches of white sand, quiet beaches for that family picnic, or sandy stretches that act as the perfect party spot, here's our guide to the most amazing beaches in Ontario.
The Best Ontario Beaches To Enjoy This Summer
It's time to hit the sand with some of Ultimate Ontario's best beaches. From white sand to quiet getaways, here are our highest-ranked Ontario beaches to enjoy this summer.
Best Ontario Beach for a Caribbean Atmosphere – North Beach in Prince Edward County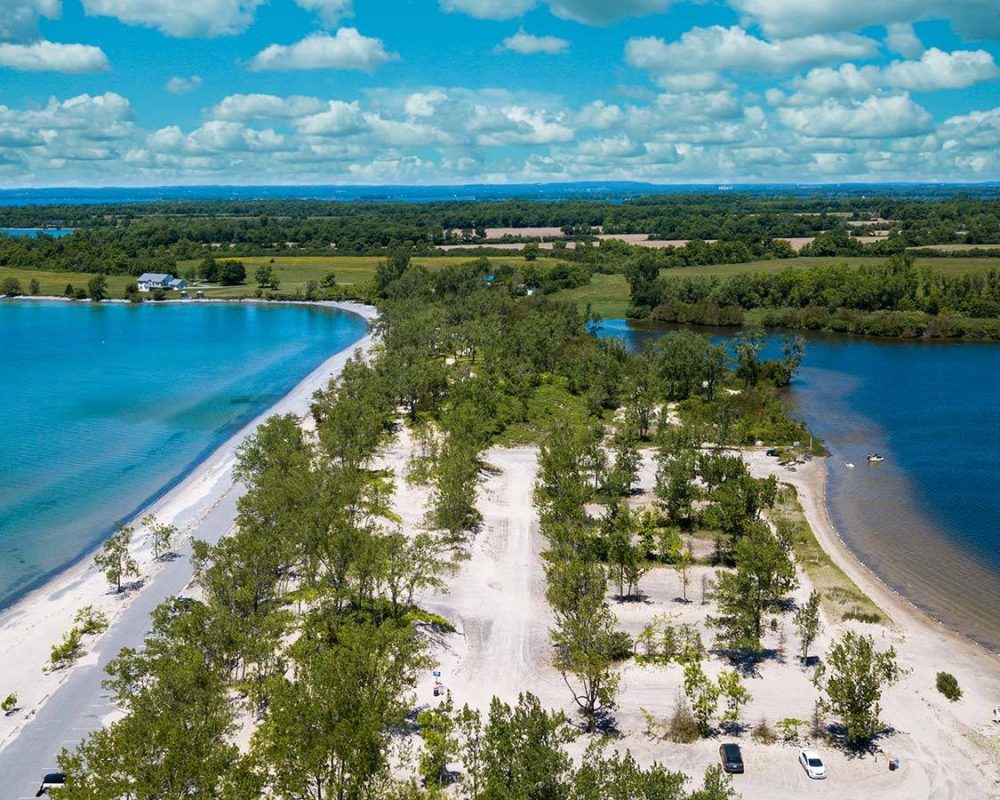 The first beach on our list of the best beaches in Ontario is one that very few people have heard of. North Beach in Prince Edward County might just be one of the most unique and beautiful beaches in Ontario.
North Beach in Prince Edward County is actually two Ontario beaches in one. On one side of this thin strip of golden sand are the blue waters of Lake Ontario. While on the other side are the clean, warm waters of North Bay.
This means that North Beach Provincial Park occupies a thin strip of beautiful sand and shady trees that has two of the best beaches in Ontario on either side of it.
North Beach Provincial Park has all the character of a remote Caribbean island. It's isolated, beautiful, and even has a comfort station and small restaurant on-site. So you can hang out at North Beach all day and still have everything you need nearby.
You could easily fool your friends and make them think you're relaxing on the tropical shores of the Dominican Republic rather than a two-and-a-half-hour drive from Toronto. While you're touring the area, check out some of the magnificent Prince Edward County wineries and Prince Edward County breweries that dot this picturesque region of Ontario.
Best Beach In Ontario for Crowds and Parties – Wasaga Beach in Simcoe County
As far as beaches in Ontario go, there are few as popular as Wasaga Beach. At an epic 14 km long, Wasaga Beach is the longest stretch of freshwater beach in the world. The word about Wasaga Beach has been out for a while now, and it is easily one of the most popular beaches in Ontario. And being less than two hours north of Toronto and less than an hour from the Blue Mountains, it's no surprise that this Ontario beach gets crowded.
During long weekends, the population of Wasaga Beach swells, with over 1.2 million people exploring the town and Wasaga Beach during the summer. It's no surprise that this is considered one of Ontario's biggest party beaches. So, if you're looking for a similar vibe in a quieter atmosphere, consider Sauble Beach or Turkey Point.
Best Beach In Ontario for Endless Sand – Sauble Beach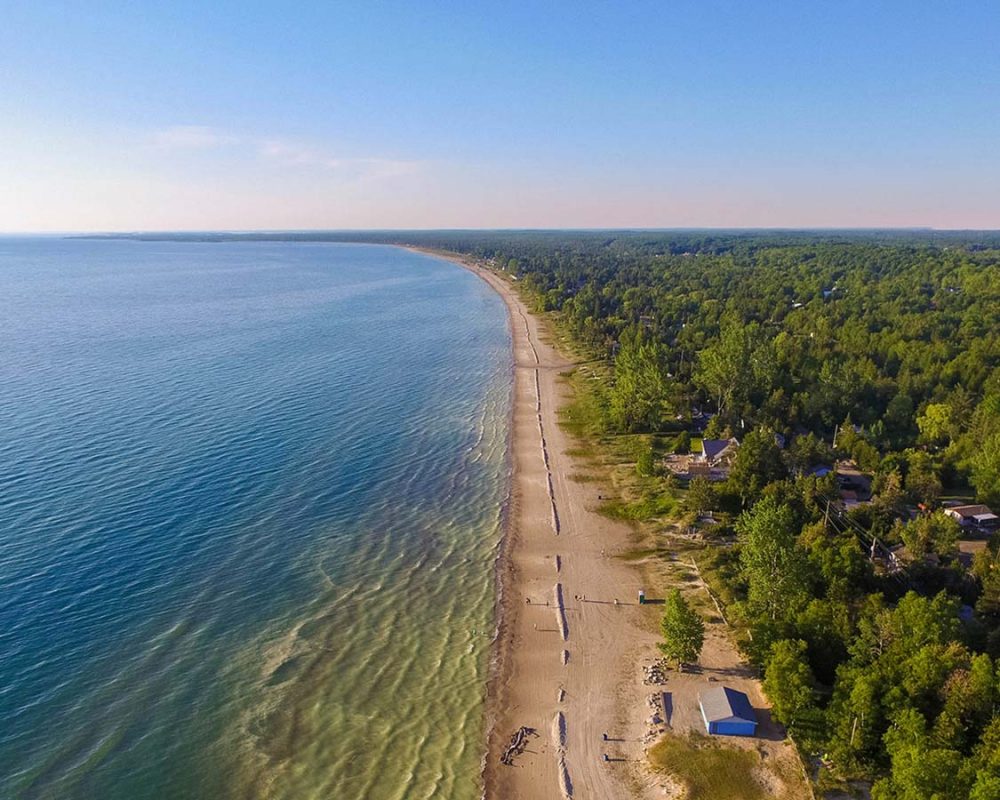 Sauble Beach is Wasaga Beach's smaller, quieter sister. At 11 km, this is the second-longest freshwater beach in Ontario. And while it can still be a raucous destination, especially on long weekends, Sauble Beach is nowhere near the party town that Wasaga Beach has developed into.
Within the town, you'll find fantastic restaurants, an adventure course, an arcade, and plenty of things to do for the whole family. If you're feeling adventurous, you can even go explore nearby Sauble Falls Provincial Park and splash around in the cascading waterfalls.
Sauble Beach is divided into two areas. The public area of Sauble Beach offers free access close to the town of Sauble itself. While the majority of the beach is governed by the Saugeen First Nations. This area has a small admission fee but is far less busy and offers a quieter experience for families.
Best Ontario Beach for Outdoor Play – Elora Gorge Quarry in Elora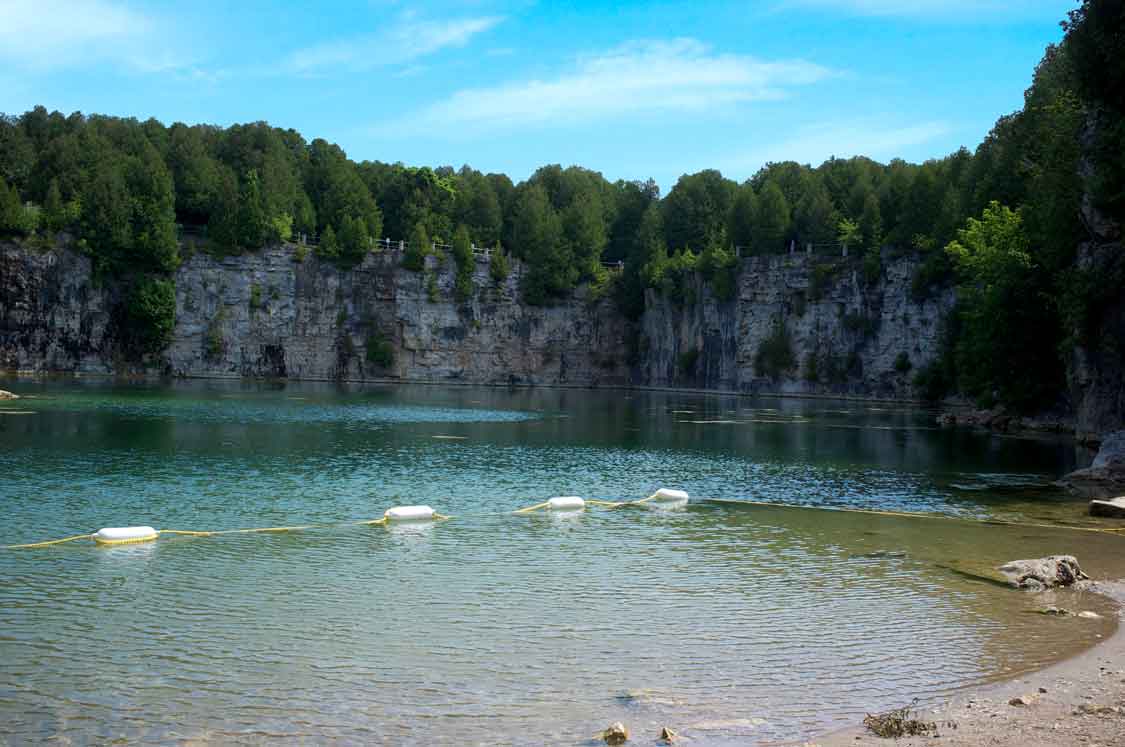 The Elora Gorge is located just 25 km from the city of Guelph and 1.5 hours from downtown Toronto. It has long been seen as one of the most popular swimming holes in Ontario.
The Elora Quarry combines a small beach with towering cliffs and beautiful turquoise water. It is already legendary among those north of Toronto, but its popularity is on the rise among those in the know.
At the centre of the Elora Conservation Area is a two-acre water-filled quarry that is encircled by sheer limestone cliffs that rise up to 12 metres (40 ft) in height.
Visitors can also enjoy tubing down the Elora Gorge, picnics, and forest walks. There is no alcohol permitted in the Elora Conservation Area. You can find out more about the park here.
Best Beach In Ontario for That
Florida Feel" – Port Dover Beach in Port Dover
Port Dover is a town full of contrasts. During the summer, this southern Ontario beach town is lined with Instagram-worthy live palm trees. The town is lined with casual restaurants, walk-up ice cream parlours, and quaint antique shops.
But on every Friday the 13th, the town of Port Dover explodes with a roar like thunder. On this day, Port Dover hosts one of Canada's biggest motorcycle rallies. People come from all over North America to take part in the festivities. This makes it one of the best beaches in Ontario for motorcyclists.
Port Dover Beach sits on the shores of Lake Erie, which is the shallowest of the Great Lakes and also the most southern great lake in Ontario. That means that Lake Erie offers some of the warmest water and best swimming in Ontario's big lakes. The town of Port Dover is just 45 minutes from one of our favourite southwestern Ontario towns, Port Burwell.
Take a stroll on the pier or do some fishing by the small lighthouse on the pier. The town is just 2.5 hours from Toronto and just 1.5 hours from London. You can find out more about Port Dover Beach here.
The Best Ontario Beach for Nightlife – Grand Bend Beach in Grand Bend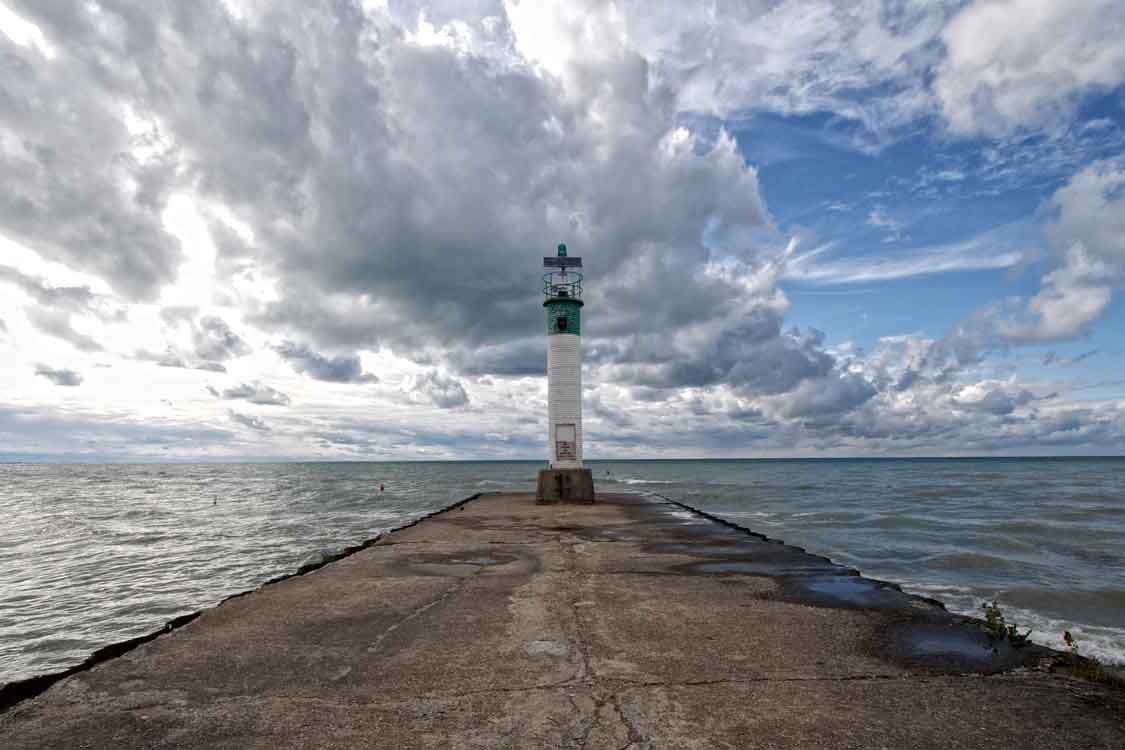 For years, Grand Bend Beach in Southern Ontario has been considered one of Ontario's best beaches. During the summers, this town of 20,000 explodes to over 50,000 as summer revellers make their way to Grand Bend to experience the town's popular beach and epic nightlife.
What makes Grand Bend such a great beach destination in Ontario is that the shoreline is actually a combination of several beaches that cover over 30 km of sand. Two of these beaches have received the coveted "Blue Flag" that is only given out to the best beaches in the World!
Grand Bend is a great destination for those looking for something a little more than just a great beach. You can find loads of water activities here, from parasailing, fishing, motorsports, and much more. The narrow streets of the town are also populated with a plethora of excellent restaurants, funky beach shops, and cool antique stores.
Those looking for a quieter atmosphere can explore nearby Pinery Provincial Park, which offers its own great beaches, camping, and picnic areas.
The Best Beach In Ontario for Families – Canatara Park Beach in Sarnia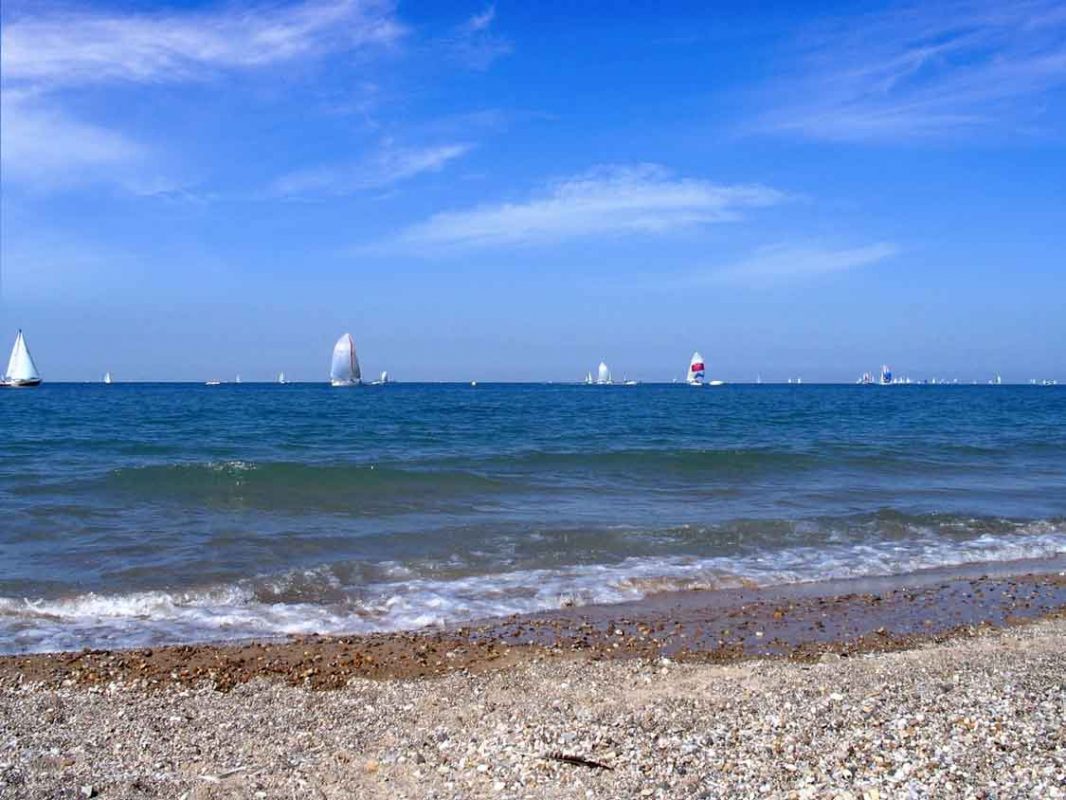 Ontario families will love making a visit to Canatara Beach in Sarnia. This family-friendly beach is perched at the southernmost tip of Lake Huron. Canatara Beach has been rated as one of the top beaches in Ontario for families due to its amazing selection of kid-friendly beach activities.
When you combine these with over 1 km of fresh sand, you have a recipe for an amazing Ontario family vacation spot.
Canatara Beach is located in Canatara Park at the mouth of the St. Clair River. Families can take part in activities such as BMX biking, a mini train, a petting zoo, and much more.
The beach is also stroller-friendly, and there are a great series of trails to enjoy the Lake Huron shoreline. You can learn more about Canatara Beach here.
The Best Off-The-Beaten-Track Beach In Ontario – Old Woman Bay in Lake Superior Provincial Park
To visit the best beaches in Ontario for amazing scenery and epic vistas, you have to travel a little distance. But if you're willing to travel, the views from Old Woman Bay in Lake Superior Provincial Park make it one of the most incredible beaches in Ontario.
This sandy beach on the shores of Lake Superior might be a bit chilly for swimming, but the stunning vistas of the 122-metre-tall cliffs that cradle this picturesque bay make the visit more than worth it. This beach, which is about 2-hours north of Sault Ste Marie, is one of the most beautiful places in Ontario.
Old Woman Bay is great for picnics and exploring. You can find loads of great hikes to overlook at the top of the towering cliffs as well. You can read more about Old Woman Bay here.
The Best Ontario Beach for Sand Dunes – Dunes Beach in Sandbanks Provincial Park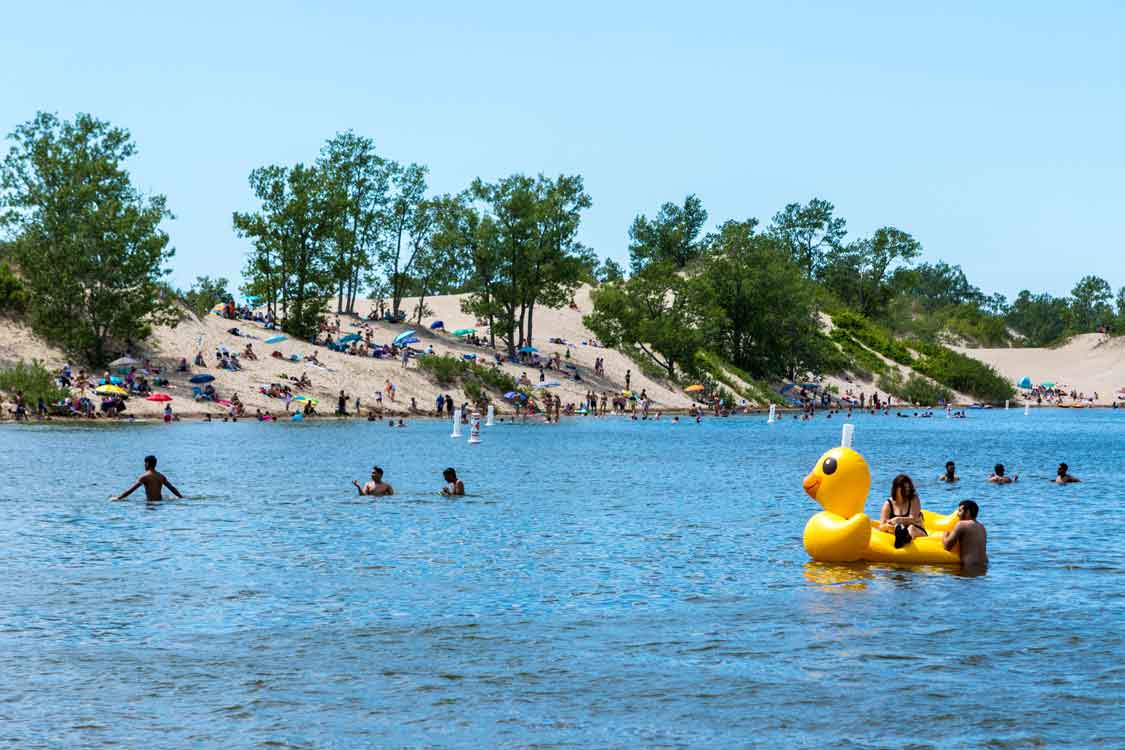 Dunes Beach in Sandbanks Provincial Park is totally unique among the best beaches in Ontario. This beach, which sits away from the main beach in Sandbanks, offers a soft, shallow, and sandy bottom.
This makes it an amazing beach to enjoy the warm clear waters of Lake Ontario. The water is protected from the wind by a series of towering sand dunes for which the beach was named.
Many visitors to Dunes Beach arrive by boat or canoe, but there is a large parking area available as well for the throngs of visitors. But beware, if you plan on visiting Sandbanks Provincial Park on a long weekend during the summer, you could be stuck waiting.
This is one of the most popular summer staycations in Ontario. You can find out more about Dunes Beach here.
The Best Beach In Ontario for An Urban Experience – Sugar Beach in Toronto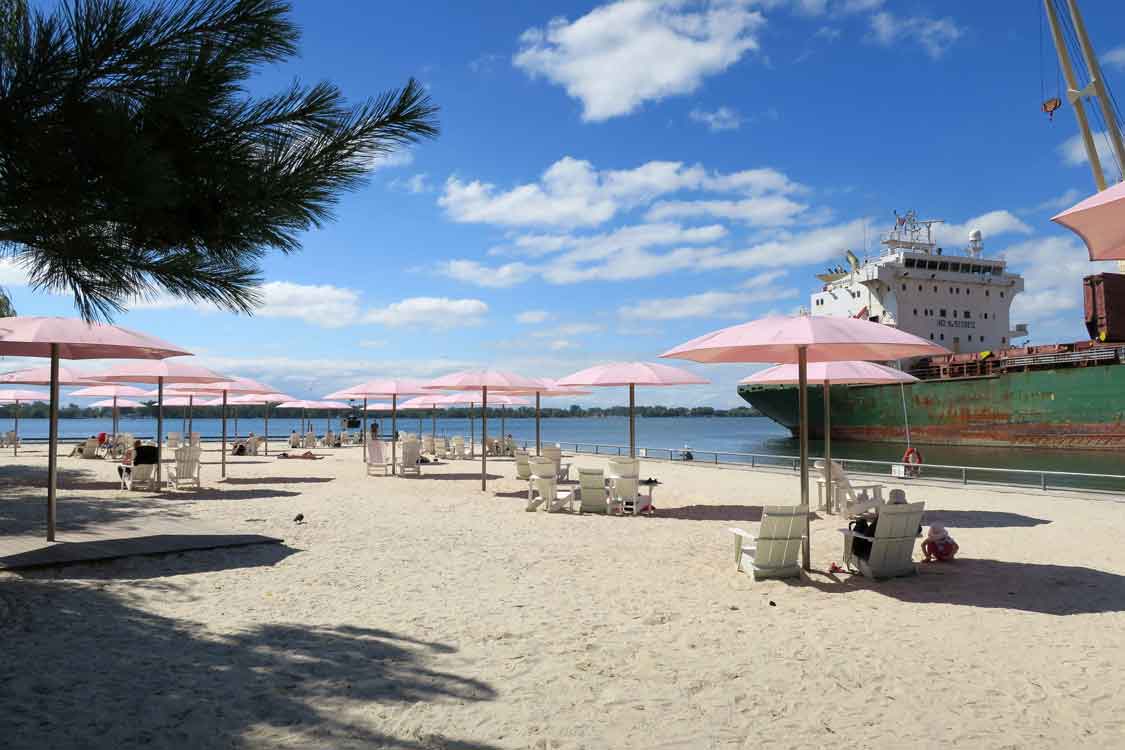 Sugar Beach may not be for swimming, but the beach is as sweet as its name. This is one of the best beaches in Ontario for city dwellers. Sugar Beach got its name from the nearby Redpath Sugar factory.
The whole of Sugar Beach Park includes a promenade, a plaza, and the popular, professionally-designed Sugar Beach.
The beach is a playful, fun, and beautiful destination that contrasts well with the industrial feel of the nearby neighbourhoods. Visitors can lounge under the pink umbrellas and while away the hours near the granite maple leaf cooling pad.
And while Sugar Beach can get busy, its location in Toronto actually makes it far more accessible than many of the more remote beaches in Ontario. This is a popular stop for those hopping around the best bars in Toronto as well.
The Best Ontario Beach for Getting Away From The City – Cobourg Beach in Cobourg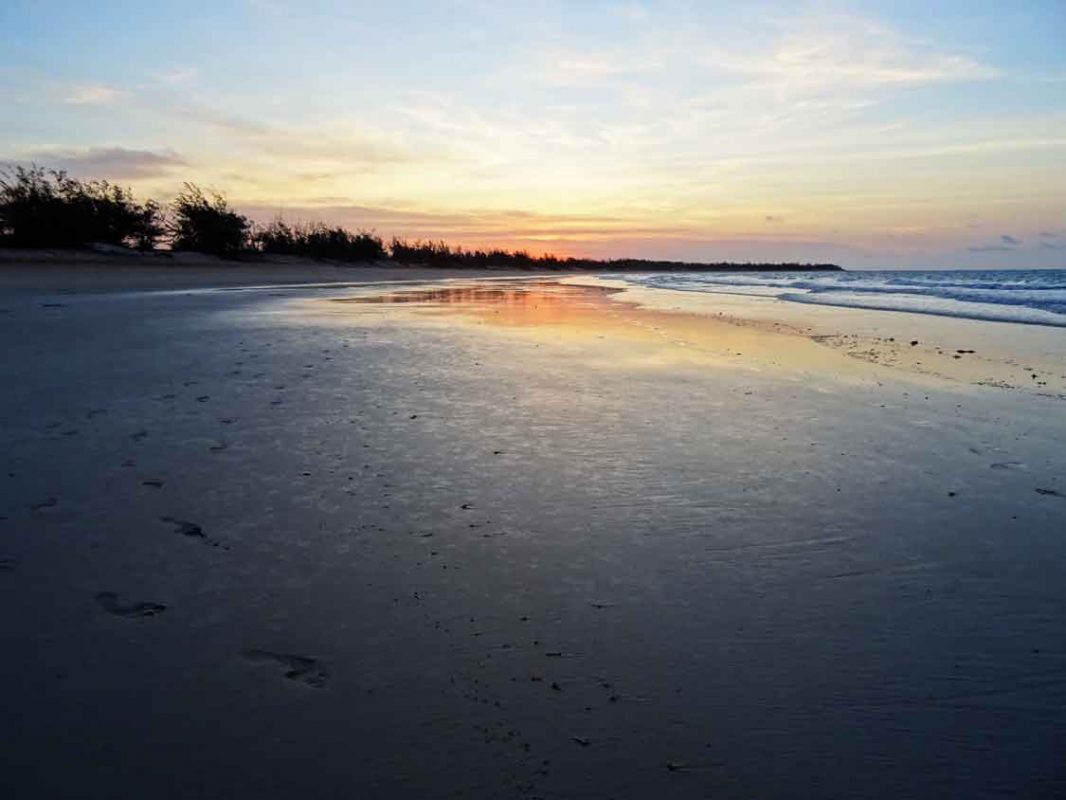 One of the best beaches in Ontario for getting away from Toronto is Cobourg Beach. Cobourg Beach has long been touted as one of the most underrated beaches in Ontario. Cobourg Beach is located just one hour from Toronto on the shores of Lake Ontario. This makes it a perfect place for a road trip from Toronto.
The sand at Cobourg Beach is soft, and the beach stretches for a huge distance along the blue waters. You can visit Cobourg for the popular Sandcastle festival in early August. Cobourg offers much more than the beach, too. The town itself offers a fun and engaging old-school charm.
Can't Find The Perfect Beach For You? Here are More Of The Top Beach Destinations In Ontario
Southampton Beach in Southhampton
Renowned for its natural beauty and atmosphere, Southampton Beach is nestled along the shores of Lake Huron, just a short drive from Sauble Beach at the base of the Bruce Peninsula. Offering a stunning stretch of sandy shoreline that goes on for kilometres, the lake's crystal-clear waters provide an inviting environment for swimming.
Its accessible location and slow-sloping bottom make Southhampton Beach a popular spot for beachgoers during the summer months. The beach is also known for its epic sunsets, which colour the sky with vibrant hues of orange and pink.
Visitors to Southampton Beach can treat themselves to numerous recreational activities, including beach volleyball, picnicking, and walks along the shoreline, all while enjoying breathtaking views.
Driftwood Haus is a charming boutique hotel located in Southampton, Ontario, near the shores of Lake Huron. The hotel's cozy and rustic decor offers a unique and inviting atmosphere, perfect for those seeking a relaxing and beach-inspired getaway.
Singing Sands Beach in Bruce Peninsula National Park:
Situated high up on the Bruce Peninsula, Singing Sands Beach is an enchanting destination renowned for its fascinating natural phenomenon. As you walk along its sandy shore, a distinct sound is sometimes produced that resembles a gentle hum.
This melodic resonance underfoot occurs due to the High Quartz content in the sand. The beach contains pristine white sands and clear turquoise waters, inviting all to relax, swim, and soak up the sun.
Surrounded by Bruce Peninsula National Park, Singing Sands Beach offers an abundance of attractions, such as hiking trails, diverse wildlife, and breathtaking vistas. This makes it a popular choice for nature enthusiasts and beach lovers alike.
Located in the serene town of Tobermory, just a short drive from Cape Croker, Adventure The Bruce Inn is a highly-rated cottage-style accommodation that offers outdoor facilities such as a hot tub, BBQ areas, microwaves, patio areas and gardens.
MacGregor Point Beach in MacGregor Point Provincial Park
MacGregor Point Beach is a captivating destination with its stunning shoreline and natural beauty. Stretching along the shores of Lake Huron, Macgregor Point offers a serene and picturesque environment. The soft sands and clear waters provide ideal swimming, sunbathing, and beach activities.
Birdwatchers also flock to Macgregor Point Beach, as the area is home to various bird species, especially during the spring and fall when countless migratory birds stop in the park. The diverse ecosystems, hiking trails, and opportunities for camping and wildlife make this an ideal spot for nature enthusiasts. Whether you seek relaxation or adventure, MacGregor Point Beach offers a tranquil escape amidst the wonders of nature.
Balm Beach in Tiny Township
Located in Tiny Township, Balm Beach is a popular destination known for its soft, sandy shores and crystal-clear waters that stretch along half a kilometre of sand, giving amazing views of Georgian Bay. You can relax on the beach, swim, or partake in water sports such as kayaking and paddleboarding.
A boardwalk lined with shops, restaurants, and ice cream parlours line Balm Beach, making it a delightful spot for strolling and indulging in local treats.
Super 8 by Wyndham Midland is a budget-friendly hotel located in Midland, Ontario. Offering comfortable and affordable accommodations, it provides amenities such as complimentary breakfast, free Wi-Fi, and parking, making it a convenient choice for travellers visiting the area.
More Of The Best Beaches In Ontario For Your Summer Getaway
These aren't the only beaches in Ontario. In fact, there are thousands of peaches throughout the province. If you're looking for more of the best Ontario beaches, try some of these.
Pinery Provincial Park Beach
Located on the shores of Lake Huron near Grand Bend in Pinery Provincial Park, Pinery beach offers a huge stretch of sand, glorious sand dunes, and pristine nature to explore.
Turkey Point Beach
Situated in the town of Turkey Point on Lake Erie, Turkey Point Beach is actually part of Turkey Point Provincial Park. This popular small town beach offers a huge stretch of sand and a soft-sloping bottom making it a great place to relax.
Bayfield Pier Beach
Also known as Bayfield Main Beach, this ake Huron gem is another Blue Flag Beach in Ontario that shouldn't be missed. Enjoy the crystal clear waters and easy access to the marina for a wonderful day of small-town fun that includes cafes, restaurants, and shops.
Port Stanley Beach
Another Lake Erie Beach with Blue Flag status is Port Stanley Beach. This huge beach near London, Ontario has plenty of space to spread out and a slow-sloping sandy bottom that is perfect for wading. The little beach town of Port Stanly has great restaurants, cafes, and shops to enjoy as well.
Little Beach
Another Port Stanley, Ontario beach is Little Beach. This is a wonderful stop for families as it's much quieter than Port Stanley Beach but still offers the same great water and soft, sandy bottom.
Crystal Beach
Although its official name is Bay Beach, This Ontario beach is almost exclusively referred to as Crystal Beach by locals. This private beach on Lake Erie has a small entrance fee, but it's well worth it for access to the soft sand and well-maintained restrooms.
Bluffer's Park Beach
Idyllically situated beneath the incredible Scarborough Bluffs in East Toronto, Bluffers Park Beach is definitely one of the best beaches in Ontario. You'll have access to the blue waters of Lake Ontario along with some of the best hikes in Toronto. Oh, and did we mention that Bluffer's Park Beach is one of Toronto's Blue Flag Beaches?
Hanlan's Point
Hanlan's Point is another of Toronto's Beautiful Blue Flag beaches. This wonderful spot is located on the popular Toronto Islands and has some of the best views of the Toronto skyline.
Pancake Bay Provincial Park Beach
Head north of Sault Ste Marie and you'll find some spectacular beaches in Ontario. One of the best is Pancake Bay which is located in Pancake Bay Provincial Park. The shallow waters take the edge off of the cool Lake Superior waters, plus you can enjoy lots of camping and hiking here.
Time To Get Out And Enjoy These Ontario Beaches
If you're planning on relaxing at one of these beaches in Ontario, you'll have plenty of variety to choose from. And if you're passionate about Ontario, make sure to swing by our incredible Ultimate Ontario Facebook community and join the conversation of locals and visitors discovering and sharing the best things to do in Ontario.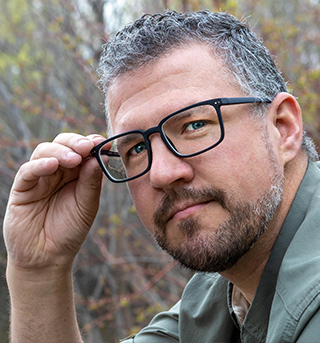 Kevin Wagar is a founder and editor of Ultimate Ontario. He has been working in the travel media industry since 2015 when he founded his family travel website Wandering Wagars – Adventure Family Travel.
Over the years Kevin has developed a deep love for his home province of Ontario and aims to showcase the incredible experiences and amazing small businesses found within it.