These unique places in Ontario will have you thinking twice about Canada's most populous province. From amazing beaches to island chains.
Ontario is a province packed with surprises. From Thunder Bay to Windsor there are fascinating discoveries to be found that will make you second-guess what you know about the province.
It's hard to believe some of these unique places are even in Ontario. From a chain of islands with mysteriously vanishing roads to palm tree-lined beaches on Caribbean-blue waters, these unique places in Ontario are waiting to desperate to be discovered.
Unusual places in Ontario stretch from the far north to the deep south of the province, and we have laid out some of the coolest and most accessible Ontario attractions for those looking for Ontario destinations that lie outside of the ordinary.
Ride the Rails in Agawa Canyon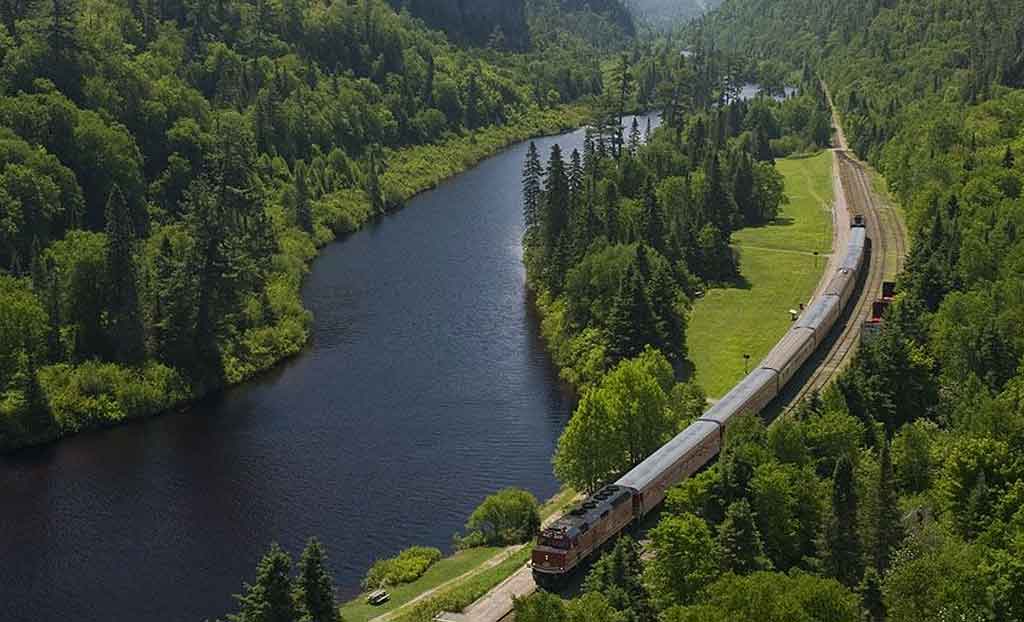 One of the most unique places in Ontario is the picturesque 175-metre-deep Agawa Canyon near Sault Ste. Marie. In Agawa Canyon, visitors can take part in a daylong rail adventure. The Agawa Canyon train tour departs from Sault Ste. Marie and rumbles through the jaw-dropping scenery of northern Ontario.
.As you chug through stunning landscapes, you'll be surrounded by spectacular granite towers and pass by rainbow-misted waterfalls.
The Agawa Canyon train tour winds along the beautiful valley floor before making a 90-minute stop that allows you to hike and explore the canyon floor. Those looking for a little exercise can climb the 372 steps and walking path along the Lookout Trail to get an Instagram-worthy view from high up Agawa Canyon.
What to Do Near Agawa Canyon
While you're in the region, explore some of the other incredible things to do near Agawa Canyon. The City of Sault Ste. Marie could easily make it onto the list of unique destinations in Ontario. This often-overlooked city features a wealth of experiences and excellent restaurants. "The Soo," as it's often called, has an incredible food scene and some of Canada's most important Indigenous history.
Take in the beautiful trails of Whitefish Island and the historic Sault Ste. Marie Canal Historic Site. The Canadian Bushplane Museum is a fun place to explore some of the incredible aviation history of Canada.
Flowerpots and Shipwrecks at Fathom Five National Marine Park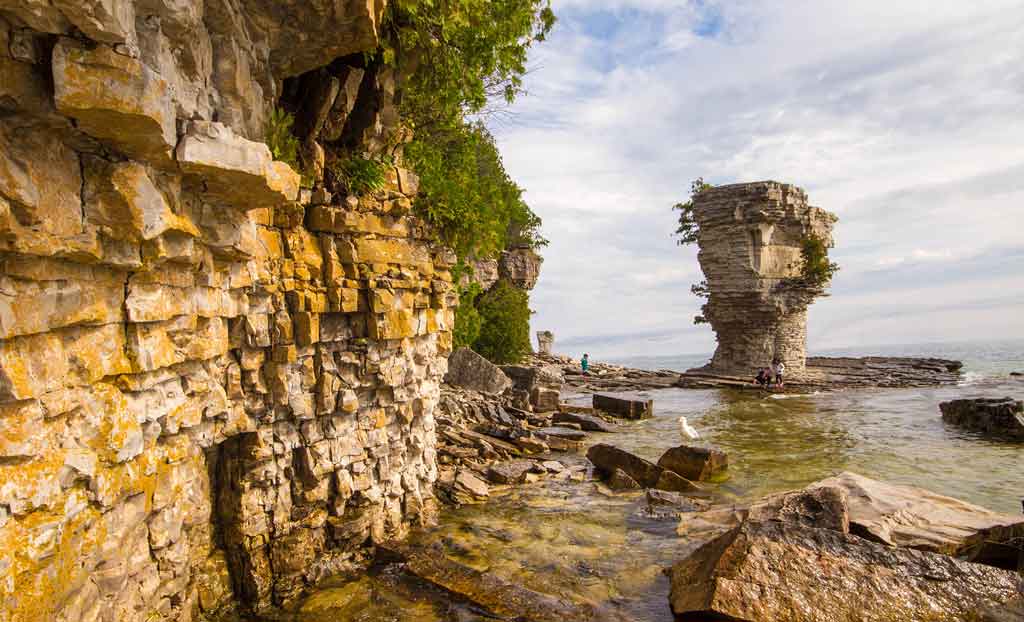 There are few destinations in Ontario where you can hike among some of the most unique rock formations in Canada in the morning and then dive or snorkel among shipwrecks in the afternoon. But you experience these unique Ontario attractions and more at Fathom Five National Marine Park near the town of Tobermory at the tip of the Bruce Peninsula.
Fathom Five is the resting place of 22 well-preserved shipwrecks. These wrecks have made it one of the world's premier freshwater diving destinations. Some shipwrecks lie just off the shores in water so shallow and clear that they are easily accessible to snorkelers. Another way to see them is via a Fathom Five glass-bottom boat tour to see the wrecks without getting wet.
If you explore deeper into the park, you'll discover Flowerpot Island. This unique island boasts two massive "flowerpot" rock pillars that tower above the rocky shore. These pillars are one of Canada's most iconic attractions. Flowerpot Island also boasts several hiking trails and shallow waters for swimming in the blue waters of Georgian Bay.
What to Do Near Fathom Five National Marine Park
Not only is Fathom Five National Marine Park one of the most unique places in Ontario, but it's surrounded by some of the most incredible places to visit in Ontario.
Located at the tip of the Bruce Peninsula, Fathom Five visitors can swim at the Grotto in Bruce Peninsula National Park in the morning and then experience a sunset dinner cruise on the Chi Cheemaun Ferry to Manitoulin Island. All on the same day that you explore Fathom Five Marine Park.
Turn your Fathom Five experience into a long weekend by enjoying meals at the Tobermory Brewing Company, one of the town's legendary waterside hotspots..
Drive The Long Sault Parkway
Located halfway between the city of Kingston and Montreal, Quebec, Long Sault Parkway offers one of the most amazing drives in Ontario. This sweeping series of 11 islands was once a series of hilltop villages. The region was flooded to create International Seaway and Power Dam project in 1958.
Now, the remains of the villages make up a series of green jewels connected by causeways and bridges that stretch out into the St. Lawrence River from the town of Long Sault.
This drive along the Long Sault Parkway offers road trippers and cyclists the chance to explore one of the most unique things to do in Ontario while enjoying beaches, campgrounds, and much more. You can even wander through the remains of the former communities that once made up the Long Sault hilltops.
What to Do Near Long Sault Parkway
The area near Long Sault Parkway is ripe with amazing waterfronts and rich Ontario history. Make sure to make the short drive to Upper Canada Village. This recreation town explores some of the early history of Ontario, including a fun collection of locals in period costumes.
If you have the chance to visit Long Sault during Canada Day, make sure to take in the fireworks display. It's one of the best fireworks shows outside of Ottawa and Toronto. And finding a seat is never a problem.
Explore Not One, But Two Castles in The Thousand Islands
Ok, I'll admit, this one may be a bit of a cheat. While the Thousand Island tours leave from Gananoque in Ontario, the two Thousand Island castles are technically in New York State. You will a passport in order to explore them on your own. But if you go on one of the 1000 islands boat tours that isn't required.
Boldt Castle and Singer Castle are majestic works of architecture on the St. Lawrence River. Boldt Castle, whose construction was abandoned after the death of the owner's wife, has one of the most stunning properties in Canada. While Singer Castle is still privately owned and occasionally acts as an ultra-exclusive accommodation for the rich and famous features cool easter eggs and hidden rooms.
What to Do Near Thousand Islands, Ontario
The Thousand Islands are one of the most spectacular places in Ontario. There's no lack of things to do in the area. Take the time to explore Thousand Islands, National Park. You can take in some iconic views from their red Muskoka chairs.
Make the short drive to Canada's first capital, Kingston, Ontario, and take in some of the amazing culinary creations coming out of this historic town. While you're there, visit the popular Fort Henry to see how important the military has been to the growth of the St. Lawrence River route.
Or head further north to the city of Brockville, Ontario where you'll find Canada's first rail tunnel and an absolutely incredible marine museum.
Southernmost Point of Mainland Canada, Point Pelee National Park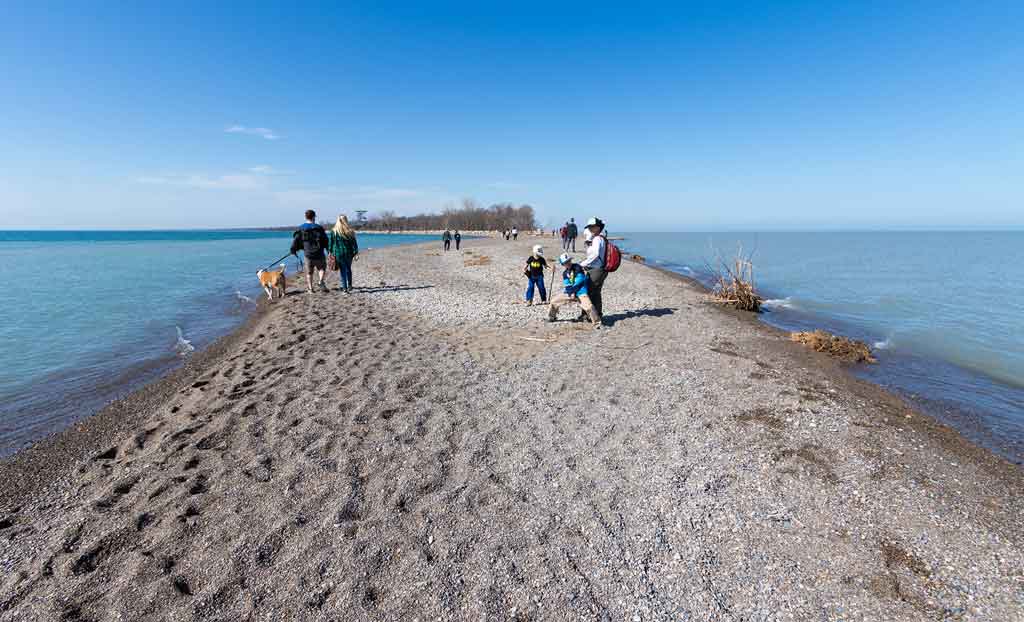 Canada's always considered pretty "far north," according to much of the world. But Ontarians know that this province also dips pretty far south.
Just how far south does Ontario go?
Well, the southernmost tip of Canada sits at the bottom of Ontario on a long stretch of sand within Point Pelee National Park. Point Pelee dips so far south that it's basically in line with northern California and European cities such as Barcelona.
Combined with the warming air coming from Lake Erie, Point Pelee National Park in Leamington, Ontario, has sub-tropical plant species that are completely unique from the rest of Canada.
Point Pelee is home to one of the world's largest monarch butterflies and bird migrations. A visit here during the spring is an absolute must for outdoor lovers. And that's not all there is to explore in the park. Check out the beautiful marsh boardwalk and the ruins of historic homes and farms that once thrived here.
Point Pelee is a phenomenal destination all year round. The dark sky viewing is at its best in winter when the park is the least crowded. You can find out all about visiting Point Pelee in winter here.
Other Things to Do Near Point Pelee, National Park
Southern Ontario has loads of incredible experiences on offer. Visitors looking for unique places in Ontario can visit the southernmost Ontario wineries on Pelee Island. For something closer to the park, drop over to Birdie's Perch for some local-caught fish and chips. You can either eat in the clever double-decker bus or enjoy your meal next door with a beer at the pub.
Explore a little further with visits to King City, Canada's southernmost town, or larger cities such as Windsor.
Get A Taste Of The Caribbean At North Beach Provincial Park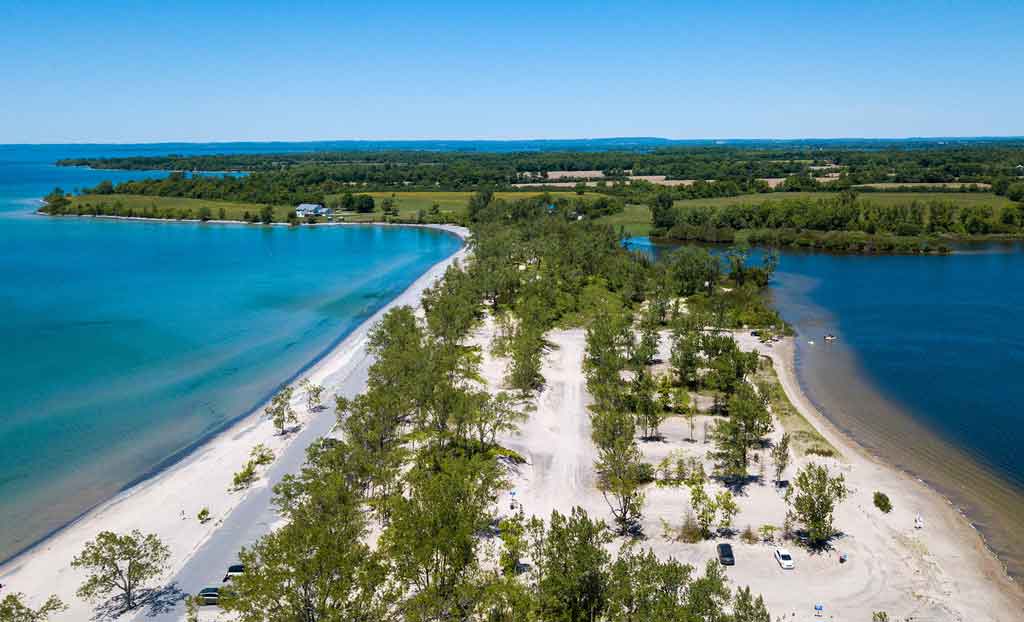 Imagine a white sand dune-covered strip of land stuck between two beautiful bodies of water. Teal-blue water as bright as a Jamaican beach on one side, warm, fresh water on the other.
Nope, this isn't in the Caribbean. This is North Beach Provincial Park in Prince Edward County, Ontario. Not only is North Beach considered one of the best beaches in Ontario, but it's almost unknown by anyone except locals of "The County."
Most beach lovers heading to Prince Edward County make a bee-line for the popular Sandbanks Provincial Park. But that leaves the dramatic North Beach, just a little further southwest, free for the taking. The park has bathroom facilities and even a concession stand for those who don't bring their own food.
What to Do Near North Beach, Provincial Park
There are loads of things to do in Prince Edward County when you aren't enjoying the beach. Take a Prince Edward County Wine Tour and get a taste of some of the flavours of the region. Or take a walk around Lake on the Mountain.
This unique spot is as beautiful as it is unusual. Prince Edward County is also a great place for a romantic getaway in Ontario. Check out a local spa for some relaxation, or visit small towns like Bloomfield and do some antiquing.
Walk Through Time at the Oldest Rail Tunnel In Canada
Opened in 1860, the Brockville Rail Tunnel was the first rail tunnel to be completed in Canada. Since then, it has established itself as one of the coolest and most unique places to visit in Ontario.
This has been helped by a modern light and sound installation that makes visitors feel like they're stepping through time as they explore the fascinating world beneath the earth.
Located in the city of Brockville, Ontario, along the shores of the St. Lawrence River, a visit to the Brockville Rail Tunnel is just one of the many amazing things to do in Brockville.
What to Do Near the Brockville Rail Tunnel
Brockville has some incredible attractions to experience. Try SCUBA diving among the dozens of local shipwrecks or through the underwater sculpture museum. Or, drive along the Loyalist Parkway to the nearby Upper Canada Village, where you can experience a turn-of-the-century Ontario town re-enacted in real-time.
Six Nations, Ontario Longhouse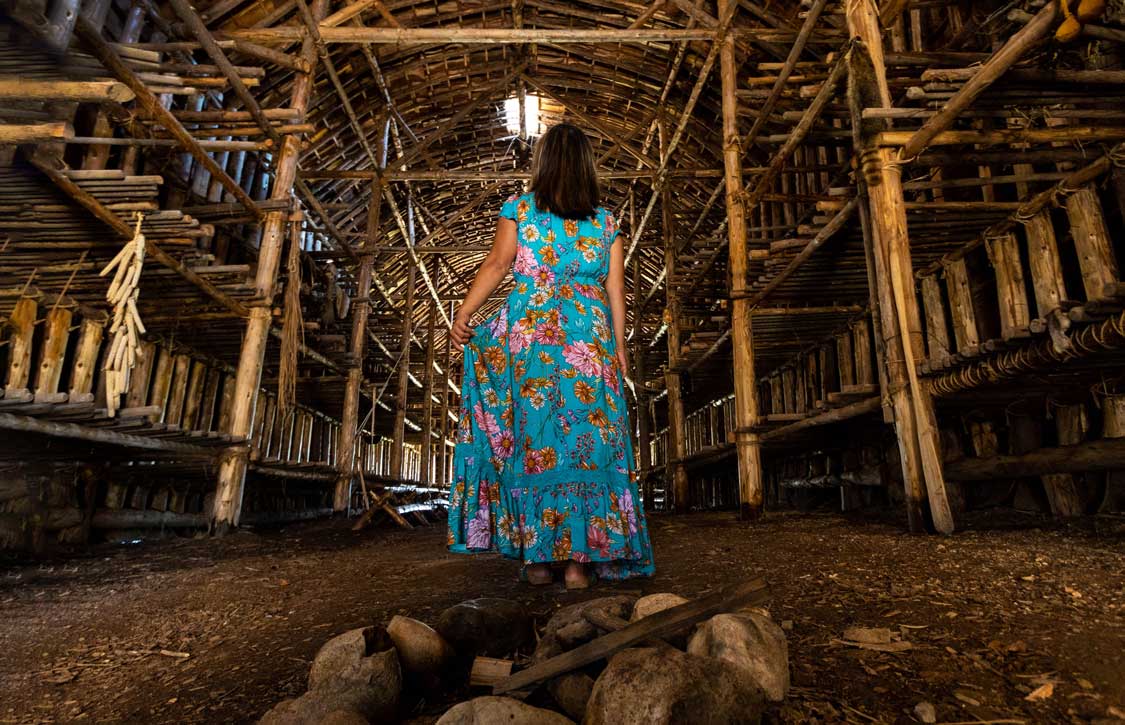 Located in the Six Nations Community just outside of Brantford, Ontario, the Osttc: Longhouse invites visitors to explore 10,000 years of history of the Haudenosaunee People, from ancient to modern, in one of the most important buildings of their culture.
Throughout the experience, you'll learn about agricultural practices, art, and lifestyle, as well as the hard work of re-establishing traditional Carolinian plants that have been cleared from the area.
What To Do Near The Six Nations Longhouse
Six Nations Ontario is an amazing community full of incredible attractions. Don't miss a visit to nearby Chiefswood Park, home to the legendary poetess E. Pauline Johnson. You might also want to make a quick trip to Brantford to explore the oldest church in Canada, the gorgeous Mohawk Chapel.
Explore Dozens Of Waterfalls In Hamilton
A truly unique natural wonder, the waterfalls in Hamilton, Ontario boast an exceptional concentration of over 100 waterfalls within easy reach of one another. This makes it one of the best places in Ontario for waterfall enthusiasts.
The accessibility of the city's vast waterfall network is unparalleled. Most of these stunning cascades are easily reached by trails and viewing platforms, offering visitors breathtaking views and Instagrammable photo opportunities.
The diverse and remarkable waterfalls range from smaller picturesque ones like Tiffany Falls to the 30-meter-tall, mighty Webster's Falls.
What to do near The Hamilton Waterfalls
Make Visitors Inn your home base when visiting Hamilton. Visitors Inn is a welcoming hotel with comfortable accommodations and excellent service.
With an impressive collection of Canadian and international artwork, explore the vibrant art scene by touring the Art Gallery of Hamilton. The city is also home to the Royal Botanical Gardens, where nature enthusiasts can lose themselves through beautiful gardens, hike trails, and even enjoy a treetop walkway.
For something a little different, the Canadian Warplane Heritage Museum showcases its awe-inspiring collection of vintage aircraft, allowing visitors to learn about Canada's aviation history.
Bonnechere Caves, Eganville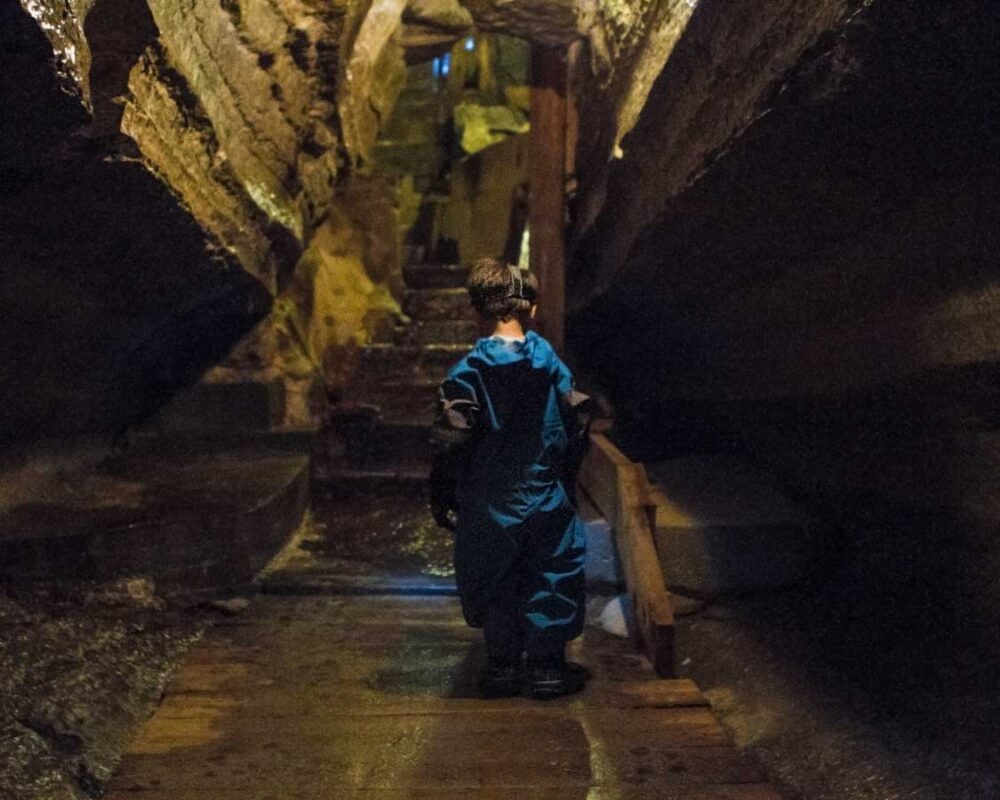 Both Captivating and one-of-a-kind, Bonnechere Caves is one of Ontario's most fascinating places to visit.
Bonnechere Caves offers adventurers an extraordinary underground experience. These ancient 500 million-year-old caves made of limestone are in Eganville, Ontario and are packed with stunning natural formations such as stalactites, stalagmites, and flowstones.
On top of its natural beauty, the caves serve as an archaeological site. Journey through time and witness history as evidence dating back thousands of years proving indigenous habitation.
Things to do near Bonnechere Caves
Conveniently located in Renfrew, Ontario, Days Inn by Wyndham Renfrew is a comfortable hotel that's a short 30-minute drive from Bonnechere Caves.
The surrounding area offers a range of activities for nature enthusiasts to enjoy. Explore Bonnechere Provincial Park. This gorgeous park provides opportunities for hiking, camping, canoeing, and wildlife viewing.
For those who love paddling, the Madawaska River allows visitors the opportunity to canoe, kayak, and fish. The Bonnechere Museum lets you delve into the local heritage by showcasing artifacts and exhibits related to Bonnechere's historic past.
Cheltenham Badlands, Caledon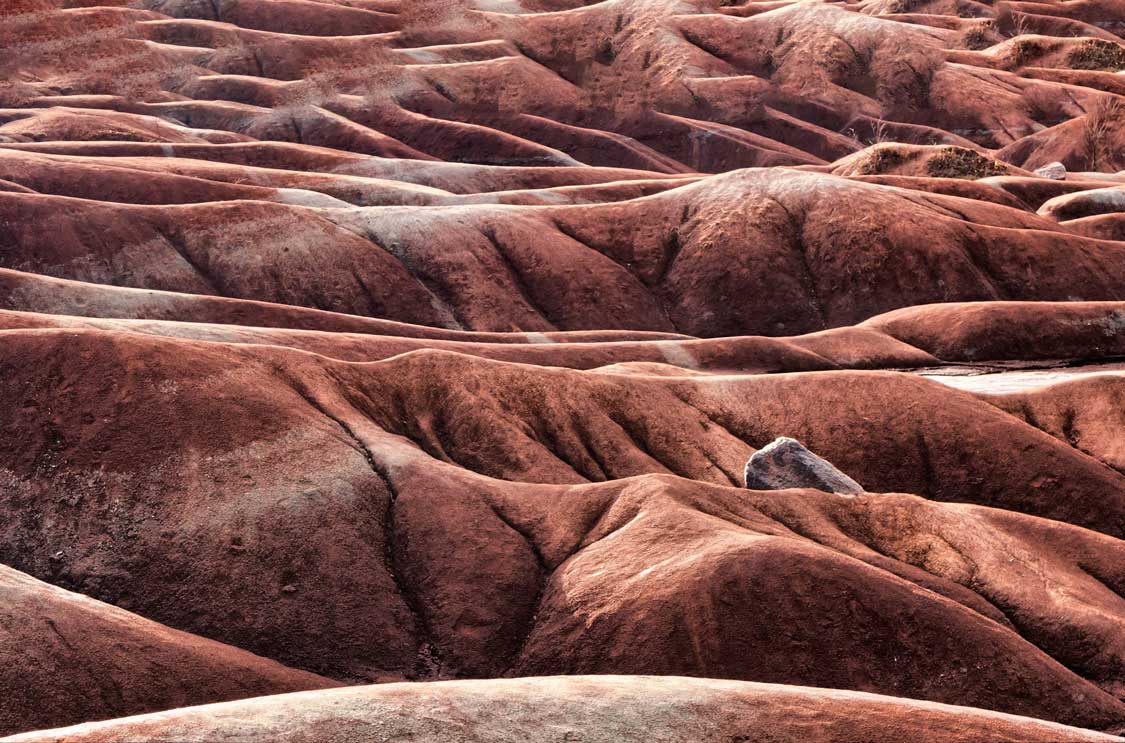 The Cheltenham Badlands is a truly unique and captivating destination that attracts visitors from all over Ontario. With its unique red and white marbled clay, this geological wonder showcases a rare formation of exposed red shale and sandstone hills.
Its striking appearance, resembling an otherworldly Martian landscape, stands out dramatically from the low-lying forests that surround it.
Exploring the Badlands offers a chance to witness the power of nature and learn about the area's geological history, making it an unparalleled experience for nature enthusiasts, photographers, and anyone seeking an unforgettable adventure.
Things to do near the Cheltenham Badlands
The Cheltenham Badlands sit between the cities of Orangeville, and Brampton along a quiet country road. While you're in the area, consider a stay at
Mount Alverno Luxury Resorts in Caledon is a premier destination for indulgent relaxation and upscale accommodations.
A visit to the Cheltenham Badlands takes just over an hour. There are several exciting activities to fill your day.
Begin by exploring the nearby Forks of the Credit Provincial Park, where you can hike along picturesque trails, discover scenic waterfalls, and even go fishing in the Credit River.
For history buffs, a visit to the Alton Mill Arts Centre is a must, featuring art galleries, studios, and a rich heritage. Additionally, take a short drive to the charming village of Caledon, where you can enjoy local cuisine, browse boutique shops, and immerse yourself in the relaxed small-town atmosphere.
Finally, nature lovers can venture to the Belfountain Conservation Area, known for its beautiful gardens, hiking trails, and the stunning Belfountain Falls.
Other Unique Places You'll Never Believe Are In Ontario
Grand River Tubing, Kitchener
Kingston Shipwrecks, Kingston
Dynamic Earth, Sudbury
Elora Quarry, Elora
Eagles Nest, Bancroft
Tallest Inukshuk, Schomburg
Balaklava Ghost town, Balaklava
Now It's Time to Experience These Unique Places in Ontario For Yourself!
There loads of unique places to visit throughout Ontario. While each one offers a distinct glimpse into one aspect of the province, they all come together to show just how wonderful and special Ontario truly is.
Many of these businesses and restaurants are anxious for visitors after a tough year. So let's support local and make the most of your Ontario glamping experience.
Do you have a favourite place to visit in Ontario? Head over to the Ultimate Ontario Facebook Community and join the conversation! You'll find an amazing group of people passionate about Ontario and who love to share their local secrets.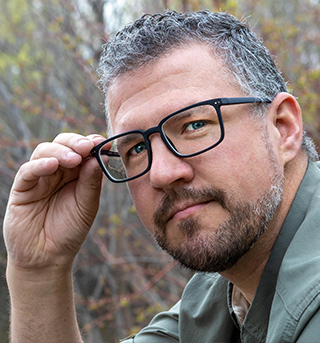 Kevin Wagar is a founder and editor of Ultimate Ontario. He has been working in the travel media industry since 2015 when he founded his family travel website Wandering Wagars – Adventure Family Travel.
Over the years Kevin has developed a deep love for his home province of Ontario and aims to showcase the incredible experiences and amazing small businesses found within it.