Experiences nature's wonder at these amazing places to see the Northern Lights in Ontario. Where To see the northern lights in Ontario and how to photograph them.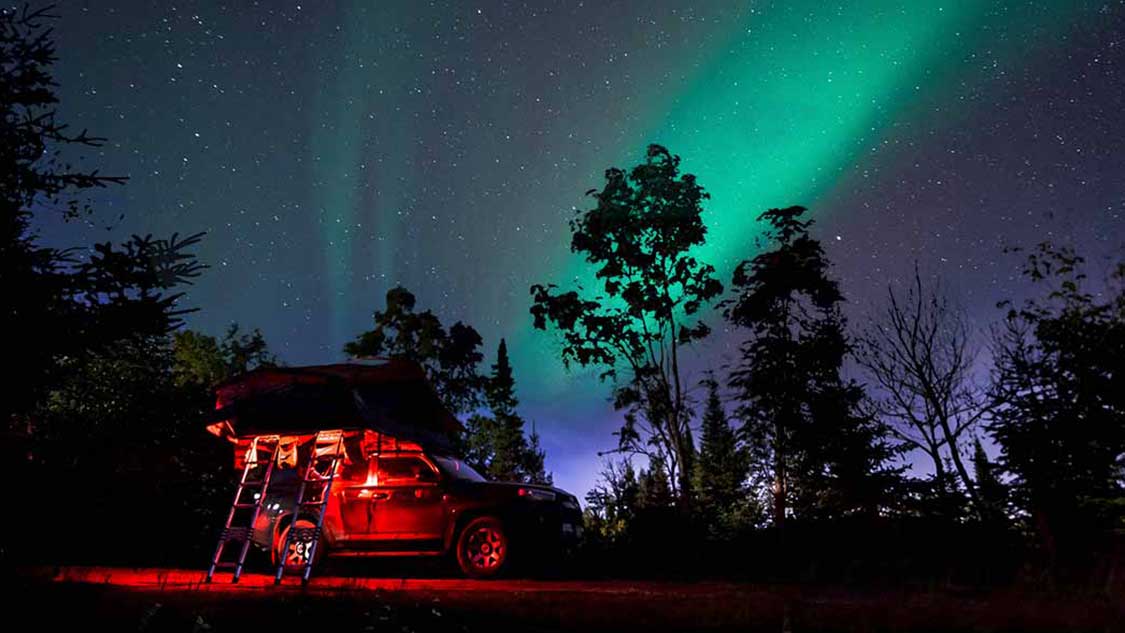 One of the best aspects of life in Ontario is the weather. As the southernmost of all the provinces and territories in Canada, Ontario gets some spectacular summers and winters that don't reach the frigid temperatures of many of our northern neighbours.
It also, however, means that people in Ontario often miss out on one of the most spectacular natural light shows in existence. But, if you're looking to experience the northern lights in Ontario, rest assured, it is possible. We just have to be a bit more patient in how we approach it.
I've been lucky enough to have seen the Aurora Borealis in places around the world. I've witnessed them in Iceland, Norway, Finland, and even here in Canada. Ontario, though, is home for me.
So I've made it my mission to track down the best places to see the northern lights right here in Ontario, and then share it with you.
What Are The Northern Lights?
The Northern Lights, which are often called by their scientific name, Aurora Borealis, are a natural phenomenon where electrically charged particles interact with the Earth's atmosphere. The particles are often caused by increased solar activity such as solar flares.
As the particles enter the atmosphere they collide with oxygen and nitrogen gasses causing curtains of colour to dance in the night sky. The northern lights in Ontario can be seen in several different colours including greens, blues, and reds. The colours are based on what type of element the solar particles are interacting with.
Are you wondering whether these lights are exclusive to the north? Well, they aren't the Southern Lights, or Aurora Astralis, which are also a thing. However, because the southern hemisphere has a relatively unpopulated landmass, these lights are much less likely to be seen.
Solar activity tends to run in cycles that last between 11-15 years. They start low and reach a peak before cycling down to begin the next cycle. The current cycle reached its peak in 2014 and is on its way down. However, don't let that dissuade you. In fact, 2019 was one of the best years for solar activity due to some fantastic solar storms.
Can You See The Northern Lights In Ontario?
If you're wondering if you can see the northern lights in Ontario, the answer is yes!
While it is true that you are more likely to experience the northern lights in northern regions such as the Northwest Territories, Yukon, and Iqaluit, Ontario is still a hot spot for northern lights experiences. And because this province is so huge, there is a lot of territory to experience Ontario's dark skies.
How Can You See The Ontario Northern Lights?
With long days and short nights, summer in Ontario isn't ideal for seeing the northern lights of Ontario. But as the days get shorter and the nights get longer, fall and winter offer the best opportunities for seeing the Aurora. October through late March tend to be ideal. However, the nights through December and January are often cloudy. Cold, clear nights are your friend when searching for the northern lights in Ontario.
The darker the sky, the better the opportunity for catching this elusive phenomenon, so waiting till the sun drops far below the horizon is best. Between 11 pm and 3 pm tend to be ideal. For your best opportunities head to one of these amazing Ontario stargazing spots to take advantage of Ontario's official dark sky preserves.
What Are The Best Places To See The Northern Lights In Ontario?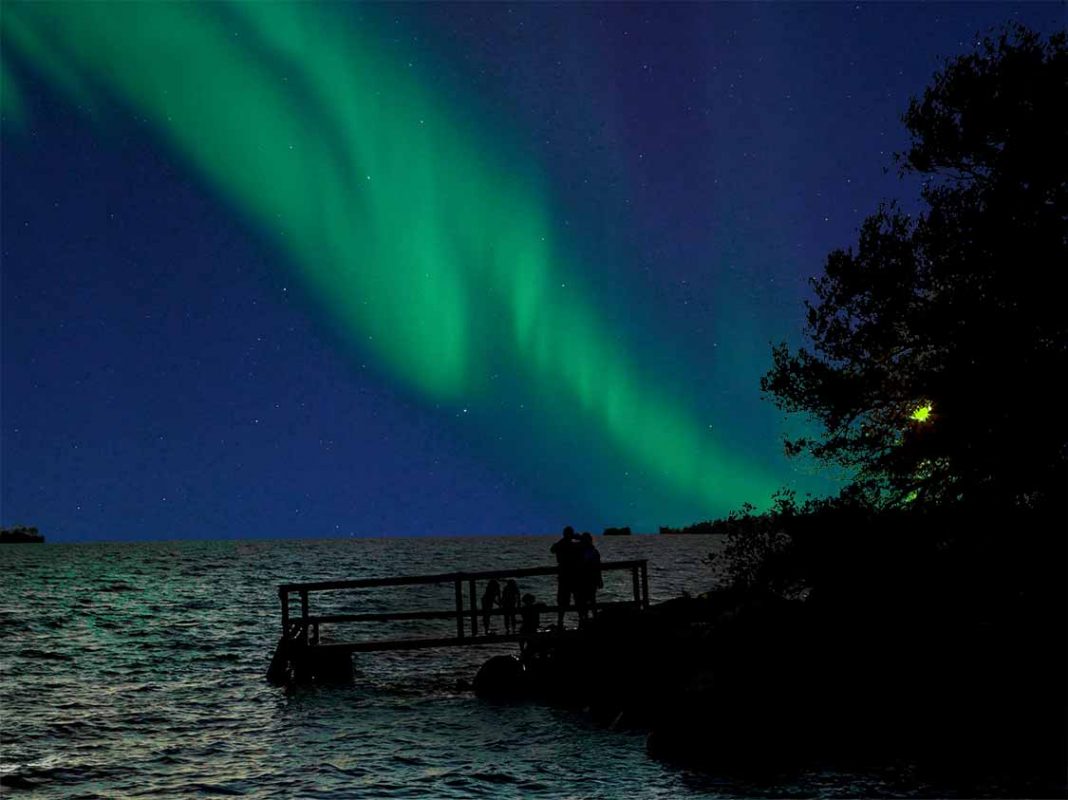 Ok, so we've figured out the basics of northern lights viewing in Ontario. So let's get on to where you can find the northern lights in Ontario! Well, you'll be happy to know that some of the best places to see the northern lights in Ontario aren't too far away from major cities such as Toronto and Ottawa. If you're looking to see the northern lights in Toronto or Niagara you'll need only drive a few hours north to get to some incredible places.
Manitoulin Island
Manitoulin Island is one of Ontario's most overlooked destinations in Ontario. The largest island in a freshwater lake, those who haven't been to Manitoulin Island don't know much about it because those who have been want to keep the secret to themselves.
During summer, Manitoulin Island is packed with anglers, cottagers, and adventure types enjoying some of the best hikes in Ontario. But during the fall and winter season, the island is quiet with just a few locals relaxing in peaceful bliss.
Manitoulin, which sits on the northern shores of Lake Huron is a magical place teeming with Indigenous culture. Life here moves at a relaxed pace that might seems almost absurd to those from the bustling big cities. But Manitoulin is also home to some of the darkest skies in Ontario.
While much of the island offers fantastic northern skies for viewing the Northern Lights in Ontario, Gordon's Park Eco Reserve specifically has nights dedicated to viewing the night sky. The pollution-free air combined with the windy skies of Lake Huron helps keep the skies clear for stargazing through much of the year.
Gordon's Park is a popular spot for night-sky pros, so if you're new to astrophotography or the northern lights, you'll likely find some experts who might be willing to share their tips.
Lake Superior Provincial Park
Landscape in Ontario doesn't get much more spectacular than the Lake Superior coast. And anyone who loves northern lights photography knows that a big part of what makes night sky photography so thrilling is finding an epic foreground.
Northwestern Ontario has some incredible skies, and Lake Superior Provincial Park is a designated dark sky preserve. All of these things combine for one of the most amazing places to see the northern lights in Ontario.
For some of the most incredible foregrounds for northern lights photography, head to Old Woman Bay where 1,000 metre cliffs surge from the dark waters of Lake Superior.
Cree Village Eco Lodge
It's no surprise that the further north you go, the better your chances of experiencing the northern lights in Ontario. And it doesn't get much more north in Ontario than on the shores of Hudson Bay.
Cree Village Ecolodge sits on the Moose River near James Bay in Moose Factory. This most epic of northern lights getaways in Ontario is accessible only by train or air. A visit here can include exploring Moose Factory Island, which was the home of the world's oldest existing company, the Hudson's Bay Company.
Cree Village Ecolodge allows you to combine an incredible Indigenous tourism experience with the spectacular skies and wildlife that only a visit to Hudson's Bay can offer. All while enjoying the simple luxury of a spectacular property and dining on Cree-fusion dishes in the beautiful dining room or roasting bannock and berries over an open fire outside.
During the winter you'll likely be accessing Moosonee via plane and either taking a helicopter (when the ice is broken) or via taxi over the ice road (during midwinter) to access the lodge.
Torrance Barrens Dark-Sky Preserve
The closest place to see the northern lights near Toronto is Torrance Barrens Dark-Sky Preserve which is northwest of the town of Gravenhurst, about two hours north of the GTA.
With so much light pollution disrupting the views of the sky in Southern Ontario, getting great views of the northern lights in southern Ontario is very challenging. Torrance Barrens offers an incredibly accessible night-sky viewing experience for those who want to stay closer to home.
If you time your visit with one of the larger solar flares, you'll have a great chance to see the aurora close to home.
Chapleau
The small town of Chapleau hardly registers on the radar of most travellers in Ontario. But there is a lot happening in this historic Ontario town, especially during the winters.
At 7,000 sq. km, the Chapleau Game Preserve is the largest wildlife preserve on the planet. This town, which was originally established as a Hudson's Bay Company outpost back in 1777, sits right between Wawa and Timmins. And it has some inky black skies.
It's combination of both northern positioning and remote location, means that Chapleau is perfect for seeing the northern lights in Ontario.
Quetico Provincial Park
In February, 2021, Ontario Parks announced that Quetico Provincial Park had been given the coveted International Dark Sky Park certfication by the Dark-Sky Association. This makes it one of the newest places for Northern Lights viewing in Ontario. This makes it the 3rd publicly-owned land in the region to achieve Dark Sky stats.
Quetico, which borders Minnesota west of the shores of Lake Superior has long been a favorite destination for those looking to experience the magic of northern Ontario. And this offers another enticing reason to visit.
Quetico isn't just one of the best places to see the Northern Lights in Ontario. For those enjoying winter in the park, it offers some of the best ice fishing in Ontario.
Tips for Northern Lights Viewing In Ontario
Check the weather and cloud cover before you head out.
Learn if there have been any reported solar activity that may contribute to northern lights in Ontario at SpaceWeather.com.
Get as far away from the city lights as possible.
Make sure to bring a red light with you. Red light does not affect your night vision. Avoid using white light as it will lower your ability to see in the dark for up at 60-minutes.
Bring a thermos with some hot chocolate to keep warm. Pack blankets, sweaters, and jackets. Most northern lights in Ontario happen while it's cold.
Tips For Photographing Ontario's Northern Lights
I would love to say that those magical shots of glowing skies matched perfectly with a crisp and clear foreground came with no effort. But photographing the northern lights in Ontario does require a little bit of work to get the right shot. Here are a few pro tips that will help you out.
Most northern lights in Ontario are relatively faint. In order to brighten them up, you'll need to take a long-exposure on your camera. Ensure that your camera has a "manual" or "night" mode that will allow you to keep your shutter open for at least a few seconds.
Use a tripod and set it on a solid surface to get your shot. This will ensure that wind, hand, and even breathing doesn't make your photo blurry.
If you have a manual camera, set your shutter speed (how long your camera's lens is open) to between 10-30 seconds and your iso (your film or sensor sensitivity) to around 800-1600.
Use a manual camera release (remote) or an on-camera countdown timer to ensure you aren't touching the camera when the picture is taken. That can cause shake or blurriness.
If your camera allows for manual focus, set your camera's focal length to infinity (∞). If your camera only has automatic focus, try to set it to the sky and ensure that it isn't trying to focus on objects in the foreground.
Do you have favourite places to see the northern lights in Ontario? Head over to the Ultimate Ontario travel community on Facebook and join our conversation. Or sign up for the Ultimate Ontario newsletter to stay informed about the best things to do in Ontario.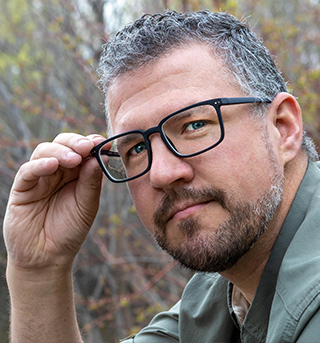 Kevin Wagar is a founder and editor of Ultimate Ontario. He has been working in the travel media industry since 2015 when he founded his family travel website Wandering Wagars – Adventure Family Travel.
Over the years Kevin has developed a deep love for his home province of Ontario and aims to showcase the incredible experiences and amazing small businesses found within it.