The Lanark County chocolate trail explores some of Ontario's best chocolatiers through Perth, Smith's Falls, Almonte, and Mississippi Mills.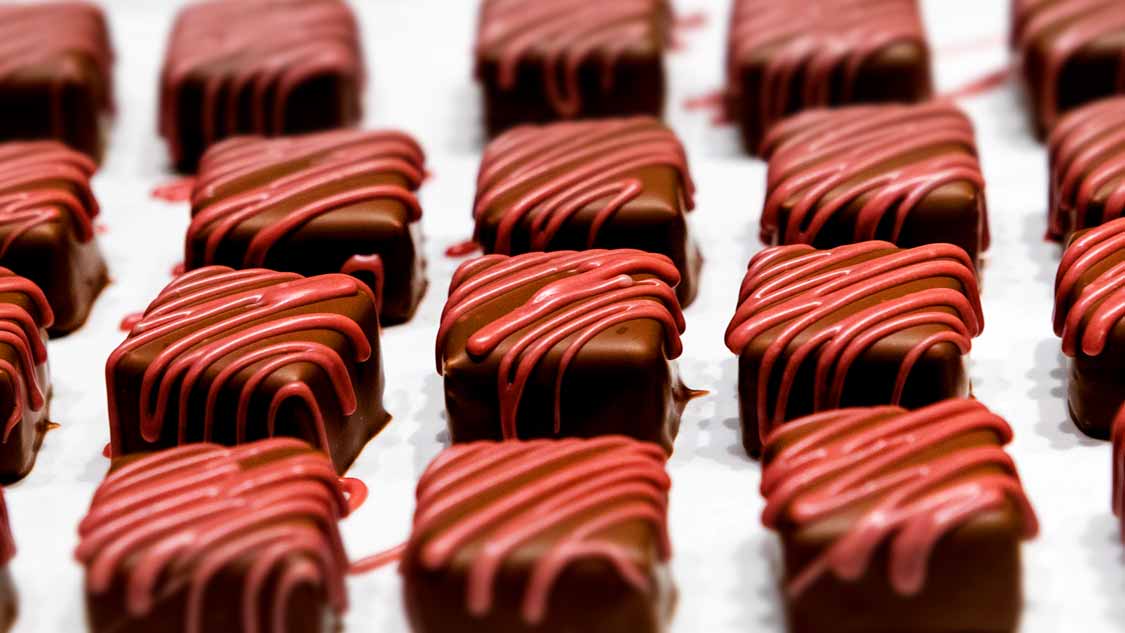 There are few things that bring as much joy as chocolate. This ancient delicacy has long been the desert of choice for everyone from paupers to royalty.
Ontario has exported some of the world's top chocolate makers for ages. But in the past few decades, some of these elite chocolatiers have opted to stay local. To celebrate the growth of delicious local chocolate creations, Lanark County, near Ottawa, Ontario launched a chocolate trail through the towns of Perth, Mississippi Mills, and the Lanark Highlands that explores some of Ontario's top chocolate makers in what may be one of the most delicious trails in Ontario.
Where Is Lanark County?
Lanark County is a sprawling region just beneath Ottawa that stretches from the Rideau River east to White Lake. Within its borders are the picture-perfect towns of Perth, Almonte, and Smiths Falls.
This region of Ontario has gotten some huge press lately due to the gorgeous scenery, incredible parks, and a wide range of culinary treats on offer. Lanark County is close enough for easy day trips from Ottawa. and fantastic weekend getaways from Toronto. And, to be honest, there's more than enough to do here to keep you busy for a few days or more.
The towns of Perth and Carleton Place are the most popular spots in Lanark County. But Perth can get pretty busy, especially during the summer long-weekends. If you're looking for amazing things to do, but with a quieter vibe, Smiths Falls and Almonte are both great choices.
Chocolate-making isn't all that the Lanark County chocolate trail isn't all that's on offer either. Lovers of the cocoa bean can find all sorts of unique and delicious chocolate treats sprinkled along this chocolate route. Follow along and I'll share the best flavours along the way.
The Chocolate Trail in Lanark County
The Lanark Chocolate Trail covers three amazing chocolatiers in three equally gorgeous towns. It can easily be done in a day (if your body can handle that much chocolatey goodness without crashing), but if you want to experience the Chocolate Trail in Lanark County in the most fulfilling and less-filling) way, you'll want to spread it over a weekend.
Lanark Chocolate Trail Stop 1: Perth Chocolate Works in Perth, Ontario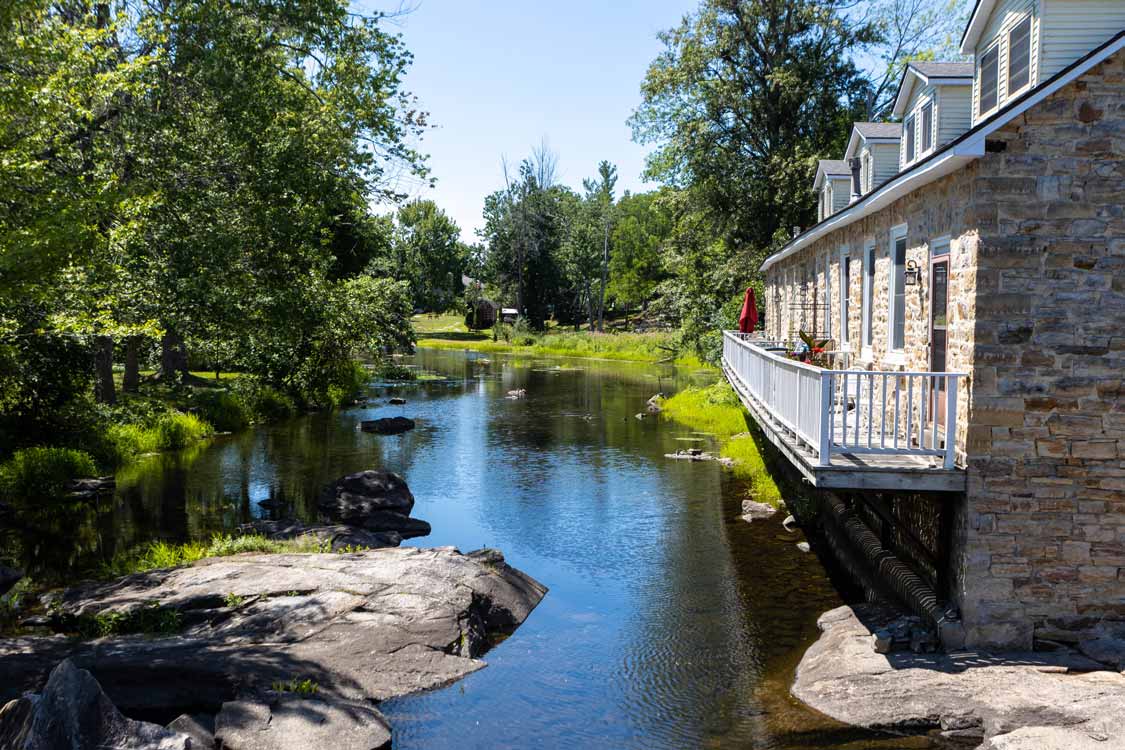 Perth, Ontario is an absolutely gorgeous town. It's no surprise that this spot made it onto our list of the most charming small towns in Ontario. Perth is a town that proudly displays its heritage. It's a town where it wouldn't seem odd to see a horse and buggy rolling down the road. The city is intersected by a series of waterways and sprawling lawns and gardens.
All of these are lined with heritage buildings crafted by masons that knew a thing or two about building things that last. But the most spectacular spot in Perth is the beautiful Stewart Park. This heritage park looks like it was designed for a harlequin romance novel. With beautiful lawn, streams perfect for splashing, and gardens teeming with flowers, it's a must-visit spot in Perth.
Perth Chocolate Works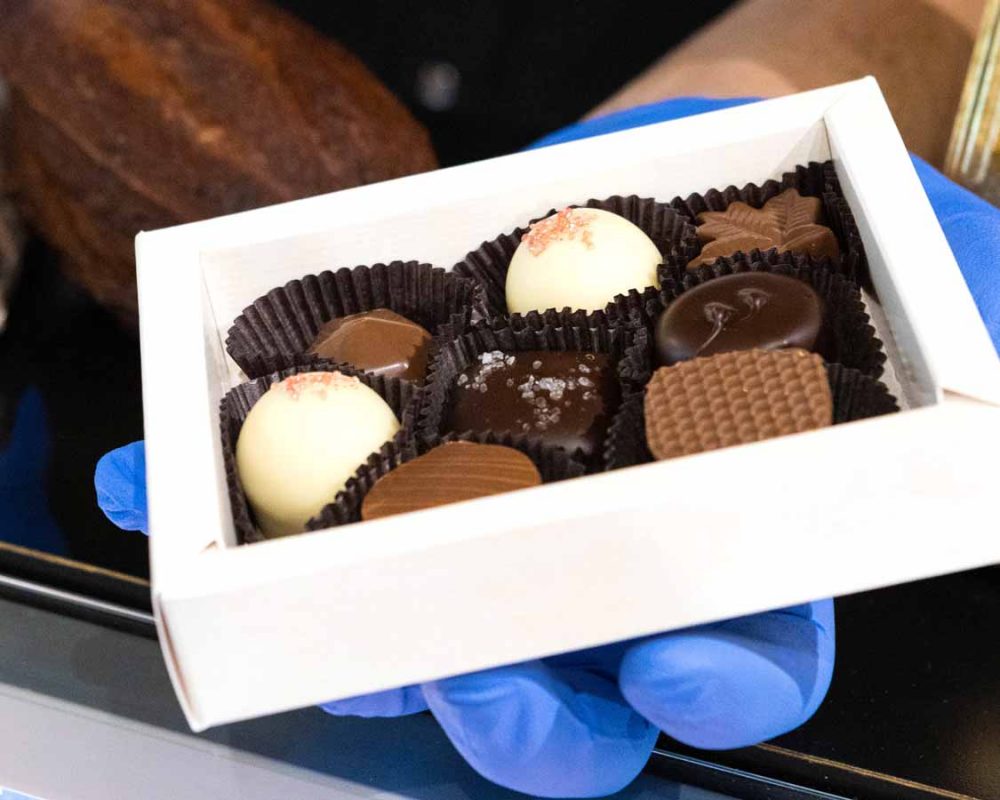 Just across the street from Stewart Park is Perth Chocolate Works. This small business began its life on Manitoulin Island as Manitoulin Chocolate. But when they saw how beautiful Perth was, they decided that it was the perfect spot to expand their business.
This Lanark County chocolate trail stop is located in the beautiful Code's Mill shopping centre, which is truly a destination on its own. Wander through the beautiful courtyard and taste the delectable chocolate by the fountain inside.
Perth Chocolate Works has become famous for its hand-crafted Belgian chocolates. This family-run business creates a variety of chocolate treats that will satiate even the sweetest tooth. Make sure to try one of their local Lanark Maple treats while you visit. You can pair your chocolate with a cup of Peru Dark from nearby Coutts Coffee Emporium.
Perth Chocolate Works
17 Wilson Street E. Perth, ON.
613-466-0248
Lanark Chocolate Trail Stop 2: Hummingbird Chocolate Maker In Mississippi Mills, Ontario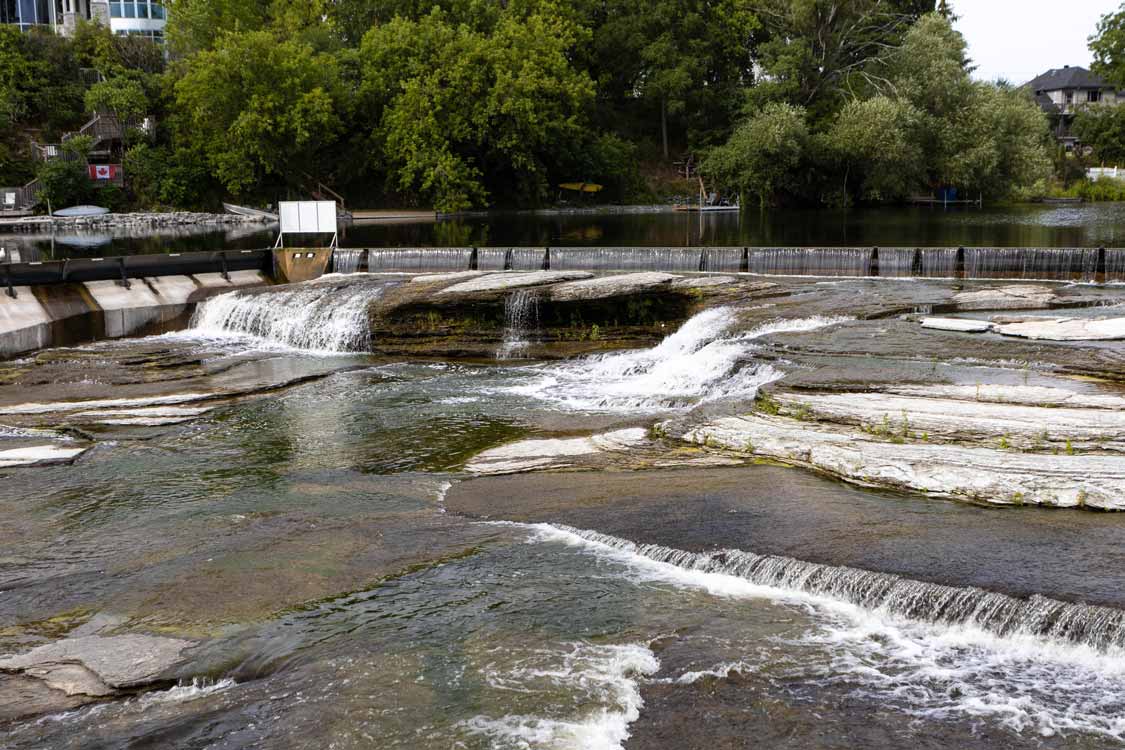 Mississippi Mills is a quiet spot along the Lanark County chocolate trail. It's a popular winter destination for those visiting Mount Packenham, one of our favourite Ontario downhill ski resorts. But this small town is often overshadowed by the nearby town of Almonte.
But Mississippi Mills has its own spectacular attractions. And my absolute favourite is the beautiful Mill of Kintail. This beautiful park is full of picnic grounds, historic buildings and beautiful streams that are perfect for a romantic getaway or just a fun family day out.
The Mill of Kintail is home to the Robert Tait Mackenzie gallery and hosts a load of gorgeous sculptures from this famous local artist. On the bottom floor of the gallery you'll also find a section dedicated to local legend James Naismith who was born in nearby Almonte and went on to invent the game of basketball.
Hummingbird Chocolate Maker
In the town of Mississippi Mills, located in an out-of-the-way location is Hummingbird Chocolate Maker. This award-winning bean-to-bar chocolatier has become famous for crafting delectable dark chocolate bars.
At the helm of this Lanark chocolate destination are Drew & Erica Gilmour. This couple has spent a lifetime working with farmers in destinations from Afghanistan to Zimbabwe. But settled in Almonte to hone their chocolate craft to perfection.
Hummingbird Chocolate Maker sources cocoa beans from around the world and processes them right there in there small shop. Each bar takes 10 days to be crushed, mixed and poured into each perfect bar of chocolate.
You can pair your Lanark chocolate with some java from Equator Coffee Roasters and enjoy them both on a picturesque stroll along the Almonte Riverwalk.
Hummingbird Chocolate Maker
9 Houston Drive, Almonte, ON K0A 1A0
613-601-0357
Lanark Chocolate Trail Stop 3: Village Treats In Lanark, Ontario
Lanark County may derive its name from the tiny Lanark Village, but this small speck often gets overlooked by visitors to the region. Like most of the region it was settled by Scottish Immigrants back in the early 1800s.
This sleepy community might seem a little out of the way, but it's smack in the middle of the Lanark Highlands, the heart of maple-country in Ontario. Lanark Village is also home to one of the most popular stops on the Chocolate Trail in Lanark County, Village Treats.
Village Treats
Village Treats has been in operation since 1979. Over the years this Lanark chocolate trail stop has become a local hotspot. Popular for crafting handmade chocolates and truffles as well as seasonal molds for every occasion.
This chocolatier was purchased by Galen Neilson and Nick Levac back in 2001. Since then it has continued to produce some of the regions most decadent treats. They've become famous for their dark chocolate salted caramel treats. I burned through a box of them on my drive back to Toronto and I'm not even ashamed.
While your in town head over to Serendipity Alpacas and say hello to some of these adorable creatures.
Village Treats
70 George St, Lanark, ON K0G 1K0
613-259-5556
Lanark County
No matter how you pick the route for the chocolate trail in Lanark County, you're bound to have a blast. There are loads of things to do in the region from boat cruises to fishing, amazing restaurants, and beautiful beaches.
If you've spent some time on the Lanark Chocolate Trail drop by the Ultimate Ontario Facebook community and share your experience with us.
Disclosure: My family was invited to explore Lanark County by Lanark County Tourism. When they told me this involved chocolate, I couldn't say no.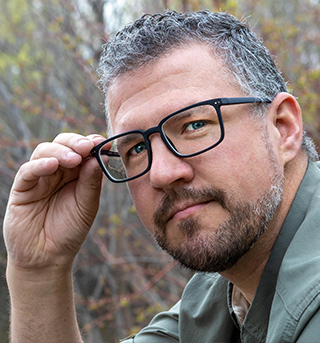 Kevin Wagar is a founder and editor of Ultimate Ontario. He has been working in the travel media industry since 2015 when he founded his family travel website Wandering Wagars – Adventure Family Travel.
Over the years Kevin has developed a deep love for his home province of Ontario and aims to showcase the incredible experiences and amazing small businesses found within it.